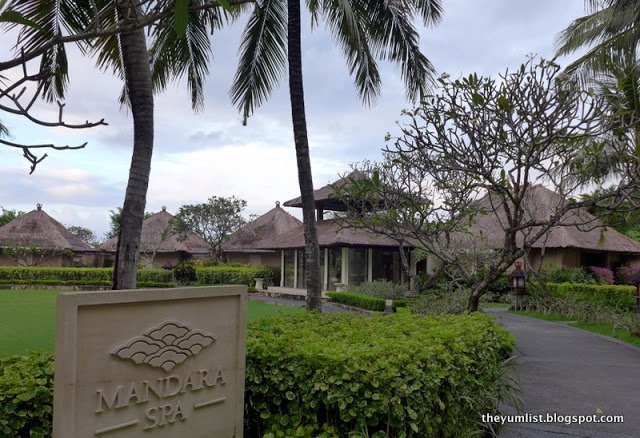 Mandara Spa, Nikko Bali
Mandara Spa at Grand Nikko Bali
Words by Kirsten Durward
Photos by The Yum List (Monica Tindall)
The spa at the Grand Nikko Bali is a Mandara Spa, fittingly, as Mandara was born in Bali though the brand now has 70 outlets in all corners of the world. The concept is based on the premise that the healing arts are passed down from generation to generation with reverence for Balinese Tradition. The spa journey begins with the desire to seek solace and relaxation. The promise is that the expert touch of the therapists will bring a positive effect resonating through the core of your being. Well let's see…
The Serenity Spa boasts eight traditional, open-air Spa Villas set behind high stone walls, offering a covered and fan cooled treatment area for two people. They are dedicated to peaceful pampering, relaxation and rejuvenation. Guests can also choose to enjoy hand and feet treatments at the beachside bale, which features two areas with fabulous sea views.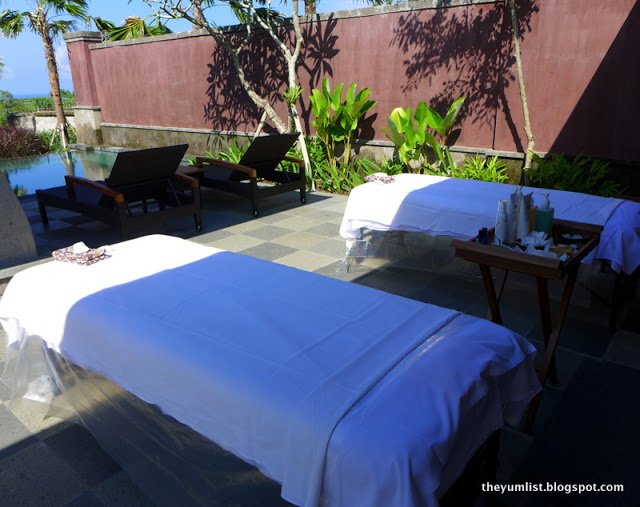 Treatment Set Up in Villa
As we are being spoiled in our pool villa, we decide to try an in-house treatment. In our temporary house that is. While we are at breakfast, silent angels come and set up a fantasy by our pool. Arriving back, we are ushered through the garden gate and invited to take a delicious cup of hot fragrant tea before showering and donning a traditional Balinese Wrapper. After the signature foot washing ritual, I experience a gentle body brushing which stimulates my skin in the warm sea air. Thereafter I am given a scrub down with natural organic products to ensure that I glow later at dinner.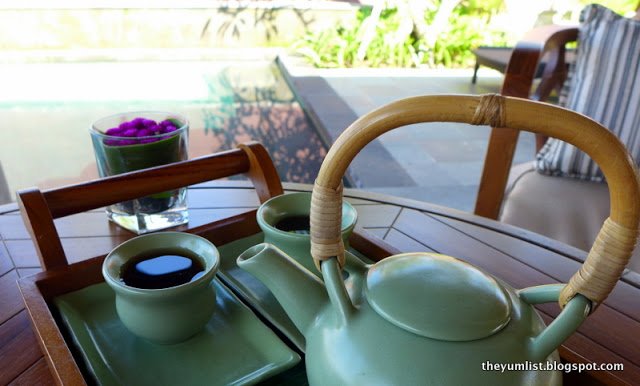 Spa Tea
A soft seaweed and clay concoction is smeared over my body and I am wrapped tightly as a sausage in plastic film under the covers. While I cook away in my clay oven, the therapist skillfully carries out a mini facial. Deep cleanse, tone, and facial massage with natural oils. I am sure I will look a new woman after this. She finishes with a gentle head massage before I head to our glorious outdoor shower once again.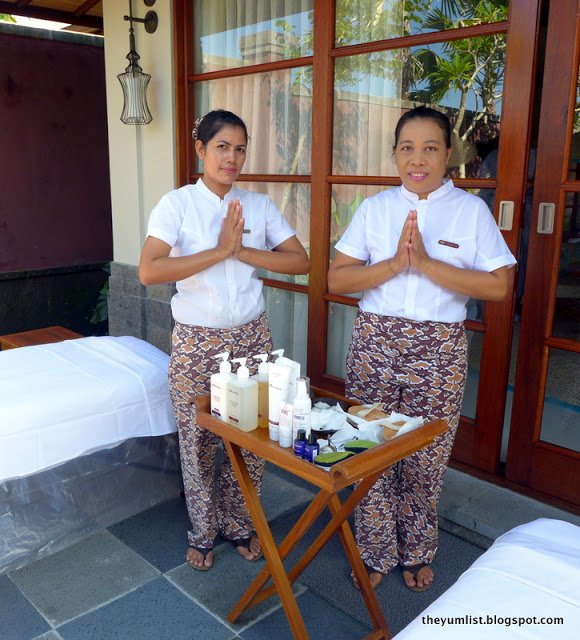 Spa Therapists
It is delightful to have the option to spa at your villa. Straightaway you can relax in your soft toweling robe or even take a dip right away in your personal pool. The service is efficient, and the tools and tricks of the therapist's trade are whisked away as quietly as they arrived. I feel cleansed and revitalized and ready for what the day has to offer. Which, if I know Monica, is probably quite a lot!
The Mandara Spa offers a range of signature treatments and award-winning facials, and personal requirements are catered for as much as is possible.
Reason to visit: Spa treatment in splendid surroundings. Efficient, careful service.
Mandara Spa
Grand Nikko Bali
Jl. Raya Nusa Dua Selatan
Nusa Dua, Bali
Indonesia
+62 (0) 361 773 377