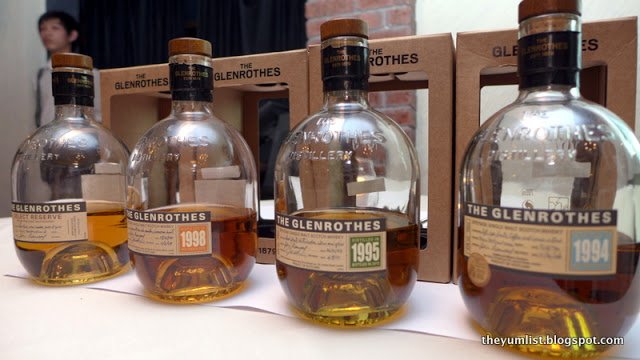 Glenrothes Whisky
Glenrothes Whisky Tasting at the Whisky Bar
Words by Caning Jaramillo
_________________________________________________________________________________
For a good Latin American, appreciation of good whisky is a never ending pastime. And… my case is not the exception! While travelling across the world looking for great food and experiences, I always reserve time to explore and sample new labels of these fine spirits. Duty free at the airport has kept me happily engaged for many a hour until my flight is ready to board (… or my dear wife gets a headache from rolling her eyes at my enthusiasm) – I definitely love this pastime!
Fortunately for me, I had the opportunity to partake in this hobby when we were invited to a tasting of, "The Glenrothes Single Malt Scotch Whisky," in Changkat Bukit Bintang at the Whisky Bar.
"The Glenrothes is an award winning Speyside Single Malt Whisky of exceptional quality." This whisky is crafted in the Scottish Highlands. The Speyside area is universally known as the heartland of Single Malt distillation. This impeccable whisky draws its richness from the prime barley of the region, attentive craftsmanship and, from barreling in American and Spanish oak casks. The flavours, structure and body of this scotch are chosen by Master Blenders around all of Scotland.
The Glenrothes finest casks are selected from a given year's distillation only when judged to be at their peak of perfection. Vintages account for a little more than 2% of the distillery's production. Each one is rare, finite and sold on allocation.
My mouth was already salivating as the Glenrothes representative began explaining the characteristics of each vintage. I couldn't wait to get my mouth and nose into those nectars. Following the program however, I patiently waited for the speaker to finish to sample the first drop. We tried a flight of four of their best vintage malts. (I wish I could have taken a courtesy bottle home but no luck this time! hehehe)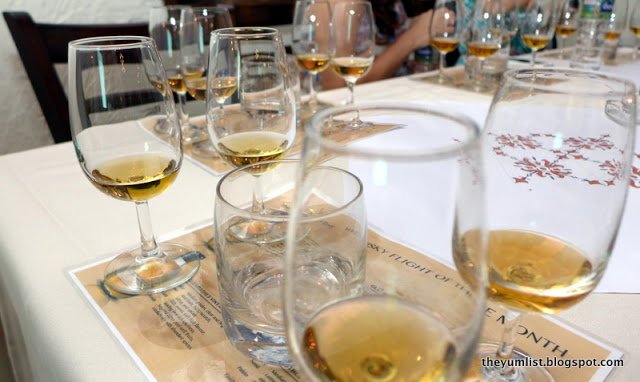 Whisky Tasting
First up was the, "Select Reserve" – pale golden in appearance, with a bouquet of American oak, vanilla and coconut and, a final whiff of plum. It is a full malty flavoured scotch with medium sweetness, vanilla and orange zest, ending with a distinct spice in the palate. Magnificent!
Next we enjoyed, "The Glenrothes Vintage 1998." This whisky was matured from a combination of Spanish and American oak, previously seasoned with both sherry and whisky. The combination gives the citrus notes a delicious cooked orange flavour and plenty of fruits as well, which can be noted in the nosing and palate. Enjoyable!
Third, we took, "The Glenrothes Vintage 1995," a perfect after dinner sip. Golden in colour, with flowers, orange zest and caramel on the nose, a touch of white pepper is detected on the finish. It's fruity, full flavoured and sweet on the palate, ending with citrus and spice. Very agreeable!
Our tasting culminated with, "The Glenrothes Vintage 1994". This scotch is ideal as a before dinner aperitif or after a light meal. It's pale gold in colour with caramelized sugar in the bouquet. It's supple in the mouth with a long smooth finish of fruit and citrus. Simply outstanding!
Throughout the tasting, humble staff quietly refilled our glasses, topped up our water and, provided us with a seemingly ceaseless supply of tasty bites to satisfy our tummies. All in all, the experience was a very positive one. I socialized with other whisky lovers, expanded my palate and knowledge of this fine spirit and, had a great time too.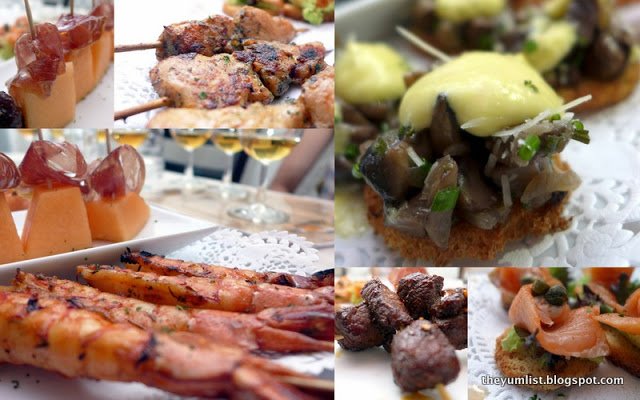 Snacks to accompany the whisky
The Whisky Bar holds whisky tasting events once a month. The next one will be held on the 21st of August at 7:30pm at a price of RM88++. Check out their website or Facebook page for more details.
Reason to visit: a great selection of whiskies from around the world, tasting flights enabling you to sample a number of vintages at a time, tasting nights to expand your knowledge and palate
The Whisky Bar Kuala Lumpur
48 Changkat Bukit Bintang
52000 Kuala Lumpur
Malaysia
+6 03 2143 2268
thewhiskybarkl.com