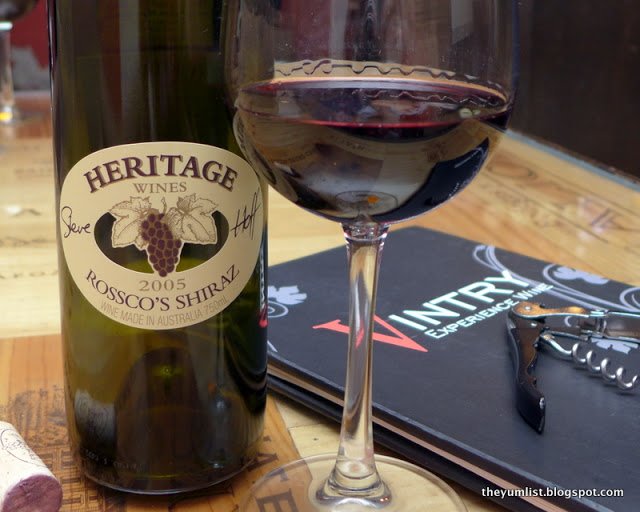 Heritage Rossco's Shiraz 2005 – my favourite wine of the night – Vintry's is worth a visit for many reasons, but this wine alone is enough
Ribs by Vintry and Heritage Wines
Ribs by Vintry is a long respected institution in Kuala Lumpur. Known not only for their sumptuous pork dishes, but also for a superb collection of wines, attending a wine paired dinner here is a must in one's culinary journey to find the best of the best.
A key feature of the design of Ribs by Vintry is a walk-in cellar where guests can browse the shelves to select a bottle. Exposed brick walls and lots of wood give a rustic feel. It's possible to imagine you might be sitting in the basement of a winery in Southern France.
All labels are hand selected offering a balance of old and new world award winners, alongside boutique wines of excellent quality. Reasonable prices too mean diners can enjoy a gratifying bottle of wine without worrying too much about the hole left in their wallet.
Wine by itself can be great, so too can be food. Put them together though, in a thoughtful pairing, and there's the potential to elevate the experience to heavenly heights. With so many varietals out there and diversity even within the same grape and vineyard, you can get a lot of average or even unpleasant matches before you find a good one. Having the expert team at Vintry do it for you, saves you time and money. As is The Yum List's motto, "Life is too short…"
This dinner was all about the reds. Heritage Wines is a family run enterprise in the acclaimed viticultural region of the Barossa Valley, South Australia. Steve Hoff and his wife Christine have earned a reputation for excellence with many of their drops scoring over 90 points (Parker), and a sample of what they produce is what we were lucky enough to imbibe in this evening.
Vetriano Prosecco was the bubbly welcoming guests as they had a chance to speak with the wine maker himself and learn some of what they'd indulge in later on with the meal.
The Heritage Cabernet Sauvignon 2005 (94 Parker Points) began the dinner. Eight years of cellaring have done wonderful things for this wine. Rich, intense and smooth, it proved a lovely match to the first course of Portobello Mushroom. Sautéed and drizzled with truffle oil the fungus was thinly sliced with substantial bite-me texture. Topped with shredded carrots, radish and capsicum the meatiness of this mushroom stood strongly aside the cab sav.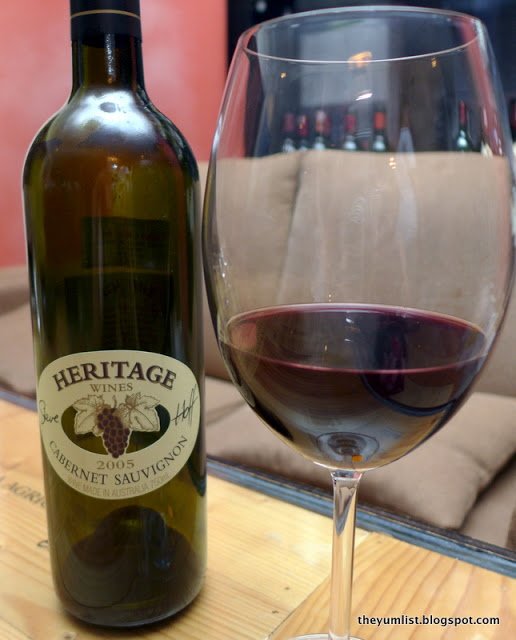 Heritage Cabernet Sauvignon 2005
Next came the Heritage Cabernet Sauvignon 2008. Deep ruby in colour with chocolate, oak and vanilla on the nose, this red was full bodied and very pleasant drinking. Suggestions of ripe plums, cocoa and sultanas in the mouth finished with a lingering tinge of spice. Round hunks of Jamon Meatloaf crowned with a creamy cauliflower puree were topped with pink strips of shaved ham and livened with garden green chives. The moderate saltiness of the cured meat and, mild but tittle of nuttiness of the cauliflower, added complexity to the big red.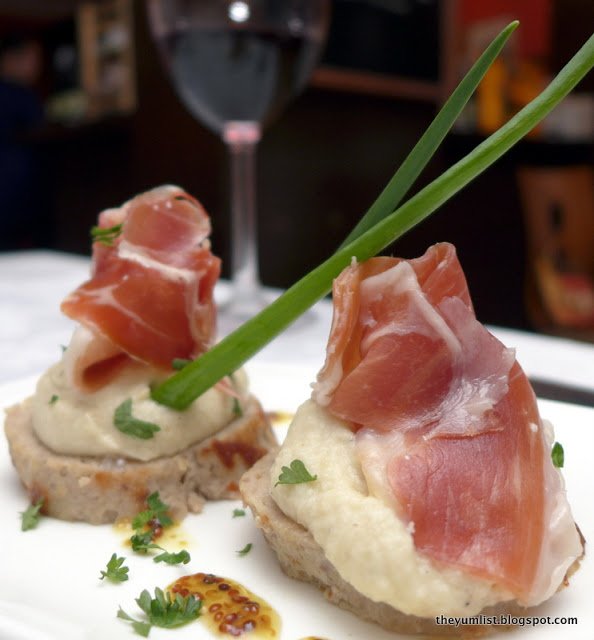 Jamon Meatloaf
Two shirazes accompanied a Black Angus Rib Eye Steak and showed why this varietal and simply cooked red meat are sublime partners. The Heritage Barossa Shiraz 2009 was full-bodied with a balance of fruit and oak on the palate. Heritage Rossco's Shiraz 2005, gaining 93 Parker Points, however was like eating a bouquet of flowers. Unusually more floral than peppery this shiraz is something I'll dream about for weeks to come. Heroic and spirited, this is a big, flavoursome mouthful.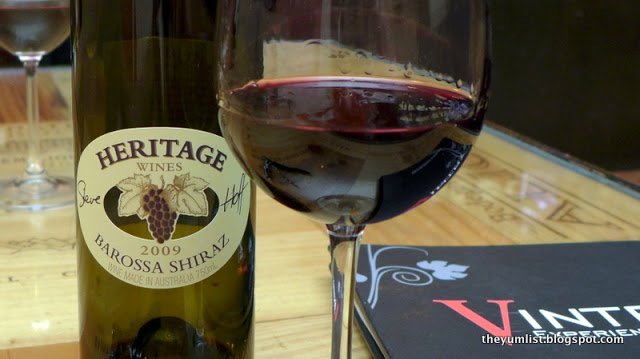 Heritage Barossa Shiraz 2009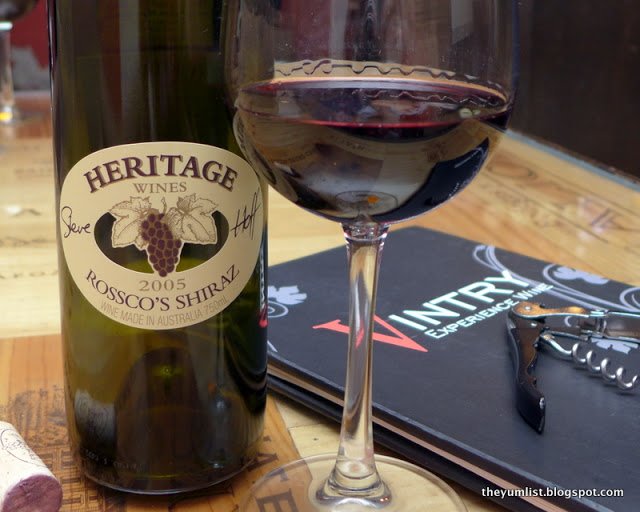 Heritage Rossco's Shiraz 2005
Molten Chocolate Cake did not disappoint in supplying a sweet ending. The warm gooey centre seeped onto the white plate begging to be licked off. Its competition for getting the most endearing mmms however was the Heritage Tokay NV, a sweet white named after wine maker Steve's late father. Matured for 20 years, this fortified wine was a honeyed, decadent finale.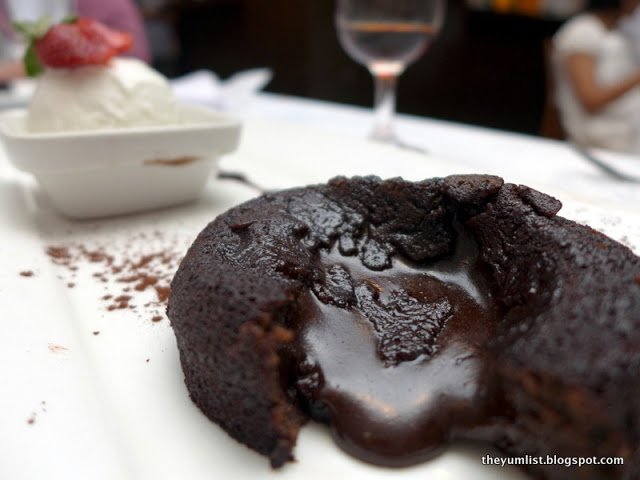 Molten Chocolate Cake
This wine dinner of four courses paired with six quality wines was priced at RM160++. Check out their web page and sign up for their newsletter to stay informed of future wine and food events with Vintry.
Reason to visit: hand picked selection of wines by one of KL's most respected wine experts, juicy ribs, great dinners like this one where you can learn more about food and wine pairing, Heritage Rossco's Shiraz 2005
Ribs by Vintry
120-122 Jalan Kasah
Medan Damansara
50490 Kuala Lumpur
Malaysia
+6 03 2096 1645
Open 12 noon until 11pm daily.
Kitchen closes 3-6pm but drinks are still available during those hours.
Closed on some public holidays. Call ahead to check.