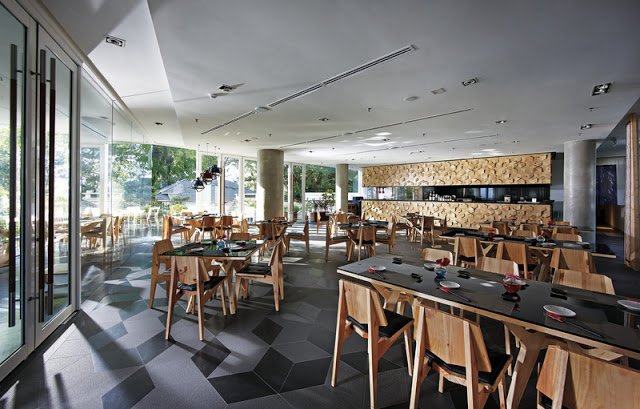 Matsu, Japanese Restaurant
Matsu Japanese Restaurant, Lone Pine Hotel
Upstairs from batubar at Lone Pine Hotel you find Mastu, the
only Japanese restaurant on Batu Ferringhi. You wouldn't know it though as they
don't take advantage of the fact that they have a hold on the market. Crusading,
as if fighting the fiercest of competition, they provide only top quality
dishes with stylish presentation and excellent service.
Traditional Japanese food is served at Matsu, but in a
contemporary setting. You'll find no private rooms or low floor seating, but a
modern ambience with glass walls allowing both ocean and garden vistas. A patio
offers outdoor tables and is quite pleasant in the evenings cooled by air
drifting in off the sea.
The mood music too is contempo. Lively Japanese pop tunes
and other international artists tingle the sound system. Chopping sounds from
the kitchen almost provide supporting percussion to the boppy beats.
Chef Alex Ong is the man leading the kitchen. Dedication to
hard work, perfection and creativity are clearly evident in his menu. Dishes
are fresh and presentation holds true to the Japanese belief that you "eat
first with your eyes," with Chef Alex adding his own touch of style to every
plate.
Here's our exploration of the menu:
Shashimi Moriawase
for two persons (RM160) included five different kinds of imported raw fish
chosen daily by the chef for their freshness. Presented in a large iced white
bowl, the plate was a glorious garden of the best of the sea. Neatly arranged
cucumber wafers mimicked fan shells providing a backdrop to the brightly
coloured fish and crustaceans. Black rocks added drama to the presentation.
Prawns (ama ebi), surf
clam (hokkigai), white tuna (shiro maguro, also known as butter
fish), yellow fin tuna (kihata maguro),
salmon (sake) and yellow tail (hamachi) are what were fresh on our
visit. Sliced to just the right thickness, each melted in the mouth with its
own delicate flavour and distinct texture.
All were delicious, but the fight for the last pink, draping-as-if-a-silk
ribbon, piece of pink salmon was a battle of the least polite. I won – hee,
hee! Hubby wasn't too disappointed though as that meant he had rights over the
last of the prawns which in his words were, "the butteriest critters in the
sea."
Ika Naruto Age
(RM28) were deep fried calamari seaweed rolls with a lemon mayonnaise. The
primary ingredient, Pacific flying squid, are giant sized and held in esteem
for their sweet flavour. Fried kelp tangles garnished the dish with a salty seaweedy
sapidity. Squeeze a few drops of lemon on top and dab in the home made
mayonnaise for the ultimate taste sensation.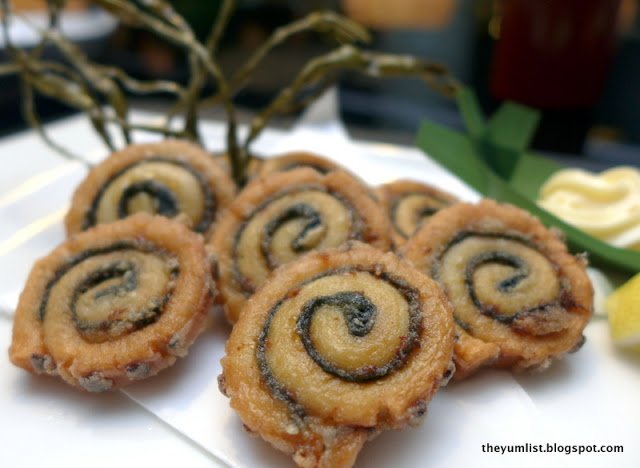 Ika Naruto Age (RM28)
The Beef Enoki Roll
(RM39) was a long slice of beef wound with stringy enoki mushrooms and cooked Teppanyaki
style in a red wine sauce. Again presentation was striking. Layers of cut rolls
exposed hairy mushrooms from the bottom, and long stalks poking out the top.
Spring onions left a green trace in the roll and shavings of fried garlic on
the side spiked up the flavour. These
mouthfuls of texture warranted a number of bites.
Pepper Tuna Tataki
(RM39) was seared exceptionally lightly turning just the edges a pale fawn
colour and the heart remained a rosy pink. A fan of tuna slices fanned upwards
towards a green garnish supported by shredded white radish. Pink peppercorns
and fine circles of spring onions showered the top. Seasoned with a spicy Japanese citrus sauce, this delicate
dish received lots of satisfied, mmms
of satisfaction.
Salmon Skin Salad with
Soft Shell Crab (RM28) presented as a bowl of leafy salad holding cucumber
rounds, tomato wedges and white onion rings. Brittle fish skin spiked from above
and the fried pieces of crab were a solid foundation in the middle. A Japanese
wafu vinaigrette dressed the dish and was eagerly soaked up to finish the last
drops with lingering lettuce leaves.
Said to be the favourite roll of sumo wrestlers, the Sumo-San Maki (RM38) even resembled the
plump girth of one of these giants. With crab and avocado in the centre, a lazy
wad of pink salmon draped above and, finally crowned with juicy roe and white
sesame seeds, we can see why these are popular.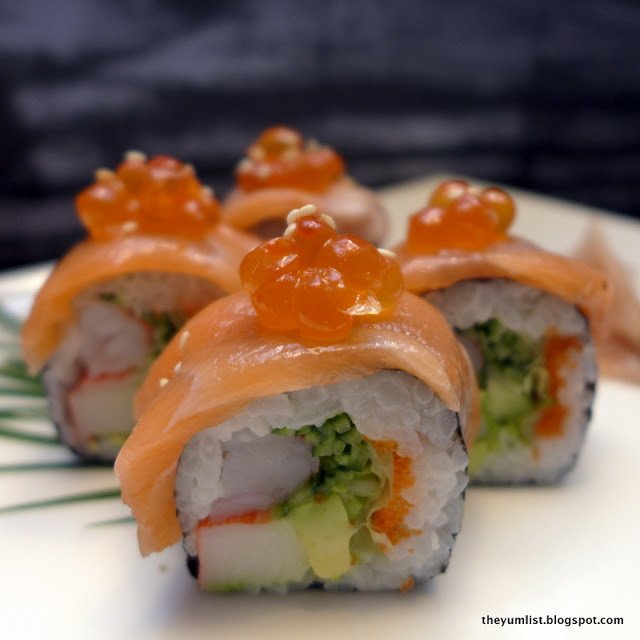 Sumo-San Maki (RM38)
This alliterated roll, the Mega Mango Maki Madness (RM38) caused the tongue to pleasantly twist
in more ways than mere pronunciation. This reversed roll held assorted raw fish
and was hatted with canary yellow slices of tropical fruit. A bite of chili at
the end zestfully surprised.
Desserts are not to be missed at Matsu. They're all proudly
made in the Japanese kitchen from scratch. The
Matcha Tiramisu with Orange Twist
(RM18) is a tri-coloured square –
the base, a thin lining of soft matcha sponge, the middle, a strip of white and,
the top a pale kaki. Crushed nuts, a ruby red strawberry and a chocolate truffle
garnish the top.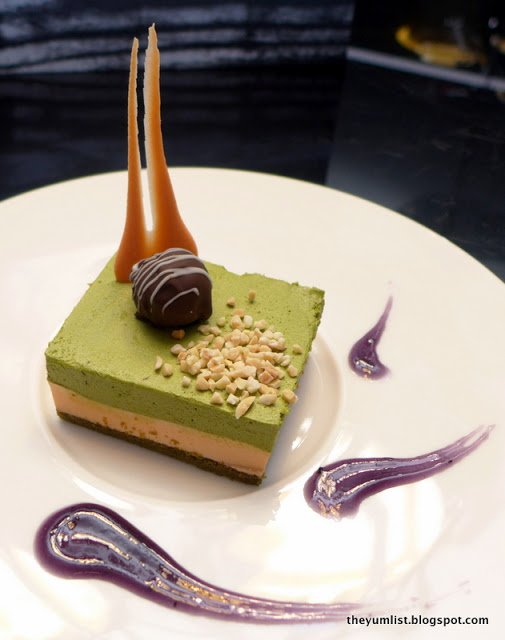 Matcha Tiramisu with Orange Twist (RM18)
Black sesame, Kurogoma
Ice Cream (RM12) was a creamy chilled silver-grey ball. An understated
sesame taste was infused throughout the thick velvety orb. Roasted sesame
seeds, crushed peanuts and a spear of white chocolate adorned the top. Both desserts
were heavenly and proved yet another battle for our spoons to get the last
scoop.
Reason to visit: Dare
I say everything mentioned above? Truly, it was THAT good.
Matsu
97 Batu Ferringhi
11100 Penang
Malaysia
+6 04 886 8555
lonepinehotel.com
Open daily 6:30pm – 11:30pm