Words by Polly Szantor
Images by Cheryl Hoffmann
@font-face {
font-family: "Cambria";
}p.MsoNormal, li.MsoNormal, div.MsoNormal { margin: 0cm 0cm 10pt; font-size: 12pt; font-family: "Times New Roman"; }a:link, span.MsoHyperlink { color: blue; text-decoration: underline; }a:visited, span.MsoHyperlinkFollowed { color: purple; text-decoration: underline; }div.Section1 { page: Section1; }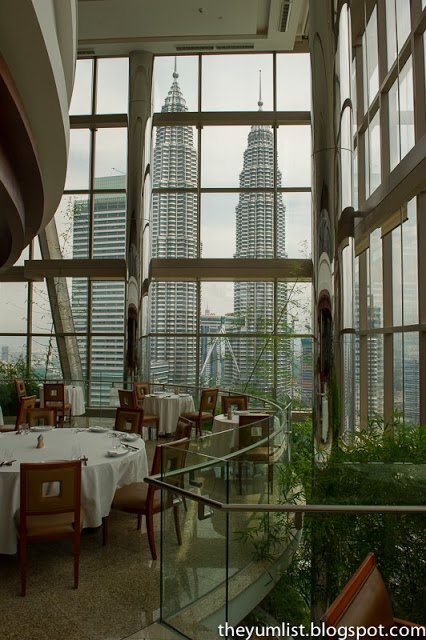 View of the Twin Towers from Thirty8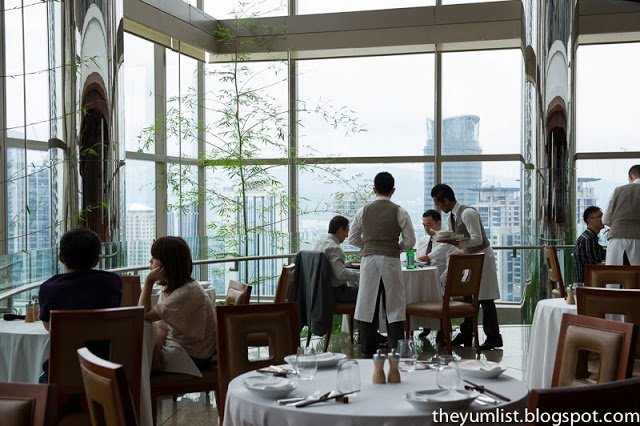 Thirty8 at the Grand Hyatt, Kuala Lumpur
The first time I
stepped out of the elevator at the sky lobby on the 39th floor of
the new Grand Hyatt, I'm sure my jaw dropped. The view of the Twin Towers is
awe-inspiring. Take the bubble
elevator or the stairs down to the 38th floor and the view expands
to a panoramic 360˚ vision of Kuala Lumpur as you walk around the dining area
at Thirty8 Restaurant. The open kitchens and
live cooking stations are in the centre of the building, and it's worth another
circuit just to take everything in. I was feeling a bit blasé on my second visit,
however I found that I was just as impressed. The thrill of arriving at the 39th floor, with the towers
straight ahead, must be one of the iconic experiences in the hotel world. If
you haven't tried it yet, I totally recommend it.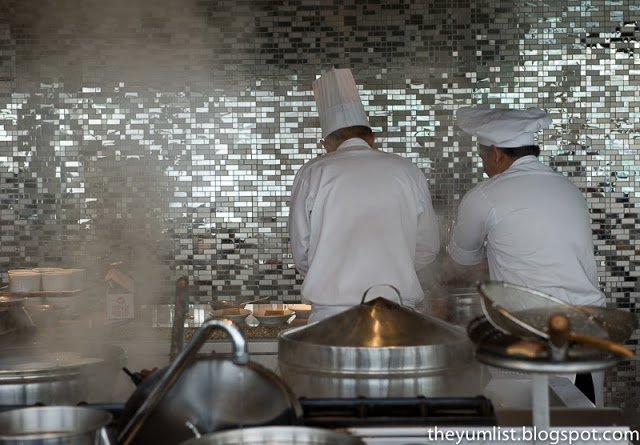 Chefs at Thirty8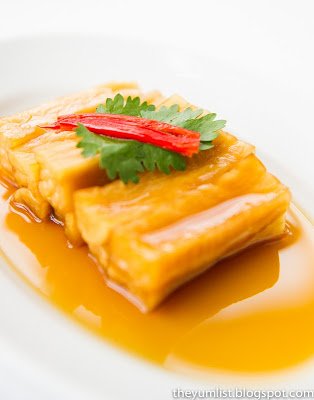 Radish in Sweet Soy Sauce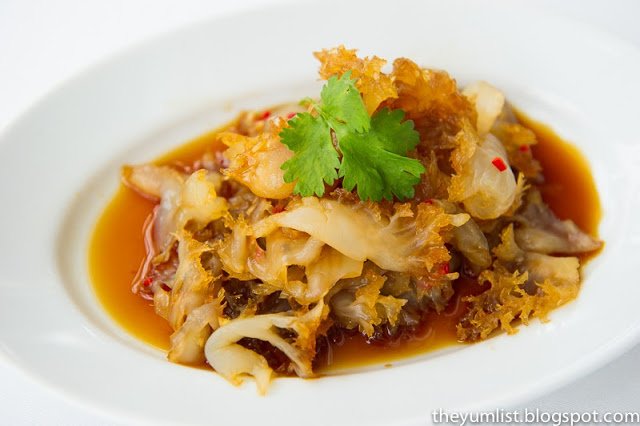 Jellyfish and Fungus in Vinegar
Thirty8 serves
Japanese, Western and Chinese food and I was delighted with the Chinese Sharing
Set Menu, especially created by Chef Byron Zhang to celebrate the Mid-Autumn
Festival. The four appetisers are
in perfect harmony, creating an explosion of tastes and textures. Radish in
Sweet Soy Sauce combines sturdy blocks of pickled radish with quite a sweet
sauce. The flavour is intense and
this dish has a brilliant crunch. For those who don't mind the occasional chewiness, the bouncing Jellyfish and Fungus in Vinegar will please, with its slightly sour
sauce.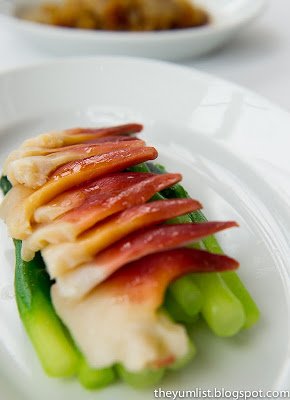 Pacific Clams with Kailan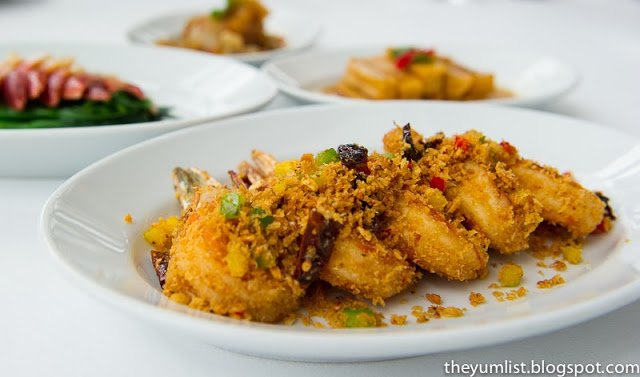 Golden Sand Prawns
The Pacific Clams
come from somewhere near Russia (I have to wonder if the exact location is a
trade secret) and are air-flown for maximum freshness and flavour. They are served on a bed of blanched
kailan with just a hint of wasabi and sesame oil. I think this was the best
kailan I've ever tried. Even better were the Golden Sand Prawns;
superbly flavoured tiger prawns gently sautéed in butter, along with seasoned
breadcrumbs, tiny morsels of red and green pepper, and dried chilies – very
delicious.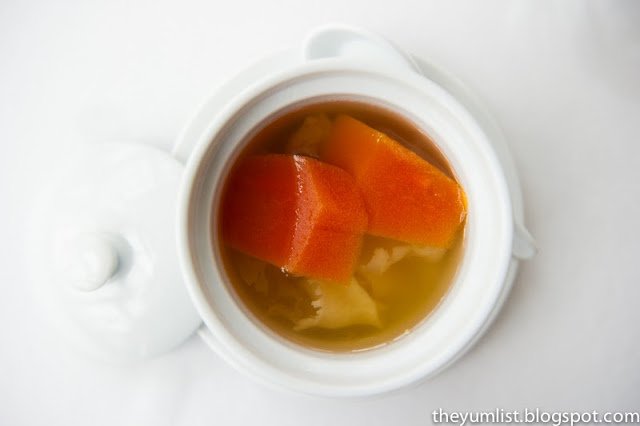 Double-boiled Chicken Soup
Double-boiled
Chicken Soup with Fish Maw, Papaya and Snow Fungus was served individually. I
found it a little delicate for my taste, but then I'm used to a more robust
Western style chicken soup; my Chinese friends assured me that this was the
very best of comfort food for them.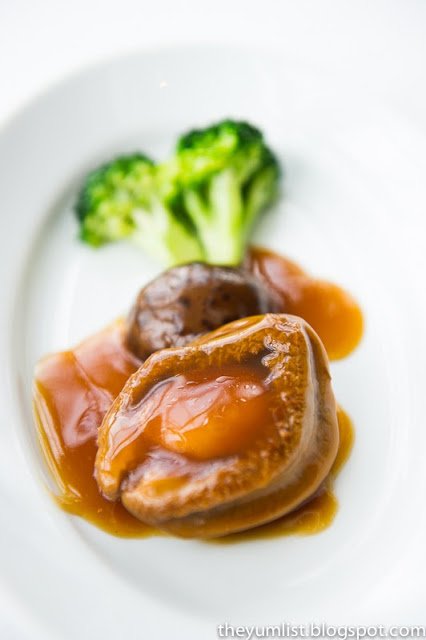 Braised Whole Abalone with Black Mushroom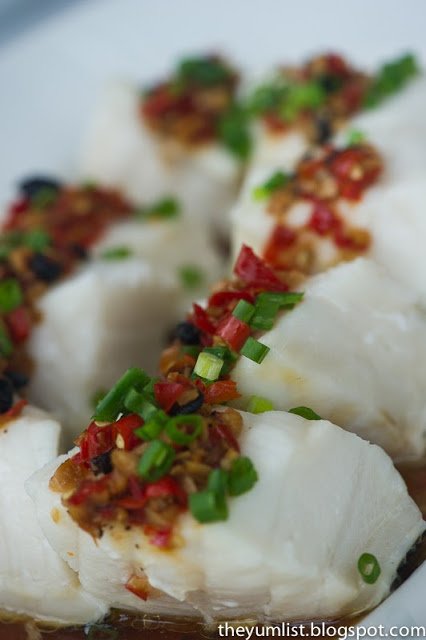 Steamed Codfish with Black Bean Chili Sauce
The four main
dishes were for sharing and they presented a combination that was pleasing to
the eye. I loved the Braised Whole
Abalone with Black Mushroom and Broccoli in Oyster Sauce. The shellfish was
meaty with a taste of the sea and it was interesting to note that the
mushroom had a similar texture but of course, a completely different flavour.
The Steamed Codfish with Black Bean Chili Sauce was cooked to perfection. Here again, the flavours were light to
complement rather than compete with the subtle cod.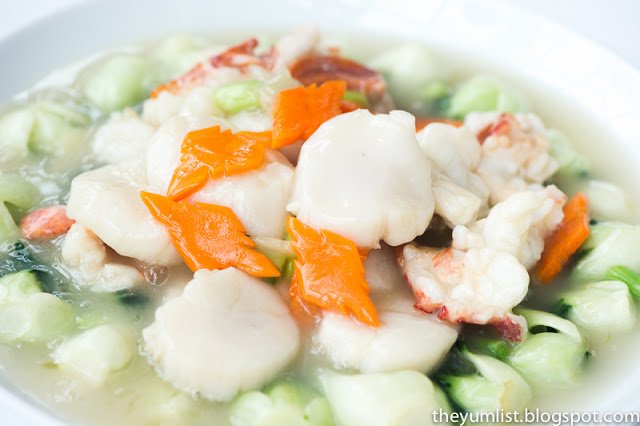 Braised Boston Lobster with Scallops and Vegetables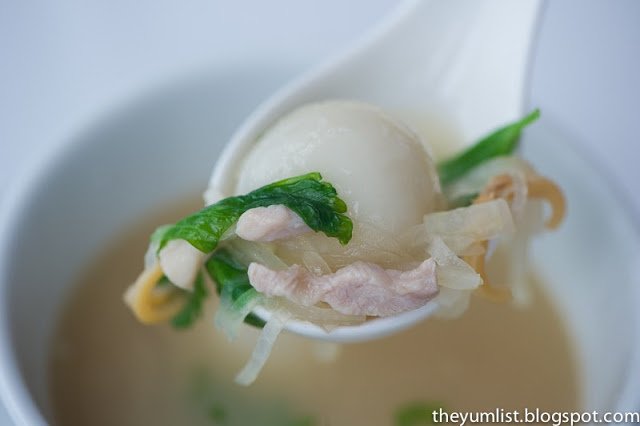 Chinese-style Salty Glutinous Dumplings
I enjoyed the
Braised Boston Lobster with Scallops and Vegetables (carrots and bok choy). The
sauce was quite strong however, which rather overpowered the generous serving of
lobster. The stars here were the air-flown scallops from Australia, sweet,
tender and tasty. To round out the mains, Chef Zhang prepared a Hakka dish,
Chinese-style Salty Glutinous Dumplings, which are traditionally served in his
native Guangdong Province to celebrate the Mid-Autumn Festival. I missed
having a filling in the glutinous rice balls, but it's always good to try
traditional dishes and the soup was rich and hearty.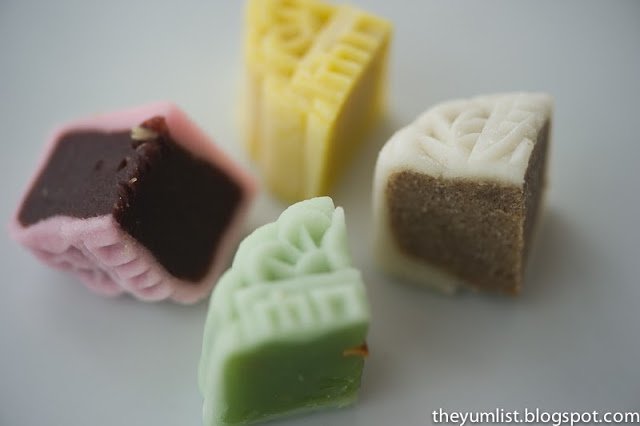 Snowskin Mooncakes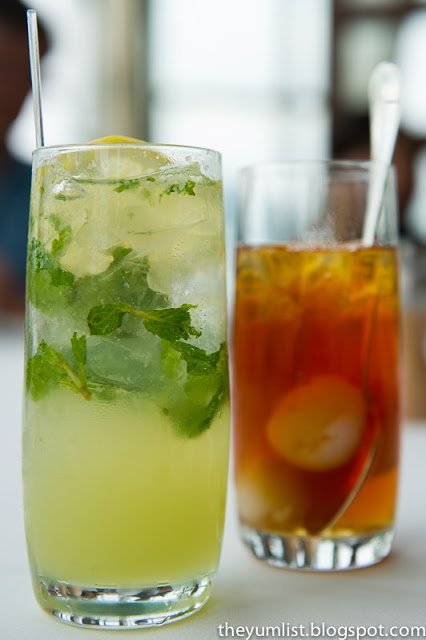 Lemonade and Iced Lychee
For dessert, what
else but Mooncakes? Because the
hotel is newly opened, it was decided that they would only make traditional
mooncake flavours this year, such as Red Bean, Lotus and Pandan. They also prepared mini snowskin mooncakes,
with corn, date and white lotus fillings, plus my favourite that's filled with
extra-tasty pandan.
Thirty8 offers an
extensive beverage menu, and I tried its signature non-alcoholic drinks, Iced
Lychee Tea and Homemade Lemonade with Mint and Soda (RM12++). The tea is quite sweet, while the
lemonade is nicely concentrated and tangy.
Reason to Visit:
For delectable dining in a beautifully designed space with stunning views in
every direction.
There are three
variations of this special Sharing Set Menu priced at RM188++, RM208++ and the
set that's reviewed above, RM238++ per person, with a minimum of two
dining. Hurry, hurry as this
special will be ending with the arrival of the Mid-Autumn Festival on September
19th.

Thirty8
Grand Hyatt Kuala Lumpur
12 Jalan Pinang
50450 Kuala Lumpur