A pianist softly caresses the ivory and warm lighting glows from the lofty ceilings.  White marble-topped dark wood tables, softened with chalk and navy cushions, dot the grand dining room. Blue and white ceramics adorn glass shelving and white light throws a ritzy shine onto the pottery. Dramatic crimson curtains drape the doors and ornate dividers with gold leaf and glass separate the courtyard and kitchen from the eating area. Staff dressed in Peranakan threads are softly spoken and magically appear and disappear as needed. Hand picked antique tiles and furniture add the finishing touches to beautifully restored Anglo Chinese architecture. Kebaya Restaurant should be part of your Penang experience, whether fortunate enough to stay at Seven Terraces or not.

Presenting modern Nyonya cuisine in a cultured ambience, every dish we tried here was full flavoured and a happy intrigue to the palate. French cooking technique combined with local produce results in a menu with character. A trim list of offerings, limited capacity and restricted opening hours (dinner only) aid in the production of a hand crafted memorable dining experience.

Menus are only sold as sets. A four-course meal including appetizer, main course, greens and dessert costs RM100++ per person. Portions are not tasting size though, servings are generous and ideal for sharing. Wine starts from RM20++ a glass and RM95++ per bottle. It's not likely you'll still feel hungry after this feast but if you just can't resist trying something extra on the list, additional appetizers are priced at RM25++, main courses RM45++, greens RM20++ and dessert RM20++.

We tried three exceptional starters. All sounded like familiar Asian dishes but each had their own twist, elevating the traditional from something common to a stunning introduction to an evening of culinary enchantment.

Mian Kham of Salmon Roe presented as envelopes of betel nut leaf filled with toasted coconut, shrimps, lime and cashew nuts and, were topped with pink Norwegian salmon roe. Sweet, spicy, fresh and pungent – the textures and flavours changed throughout the full minute it took to fully masticate and swallow – a mouthful of fabulousness.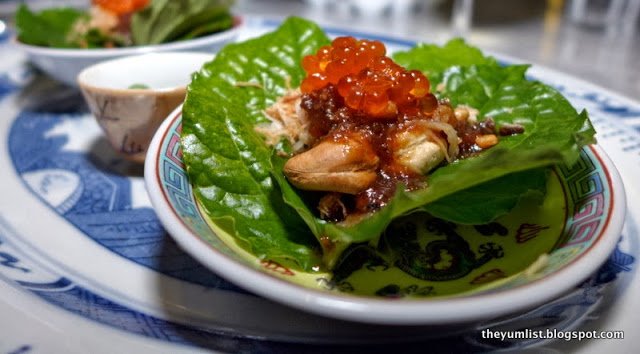 Mian Kham of Salmon Roe
Kebaya Ban Xeo had the appearance of Mexican fish tacos. Crispy folded wafers brimmed with shredded chicken, juicy bean sprouts, crispy tofu, dried shrimp and stir-fried vegetables. A tamarind sauce added the finishing tang to these beauties.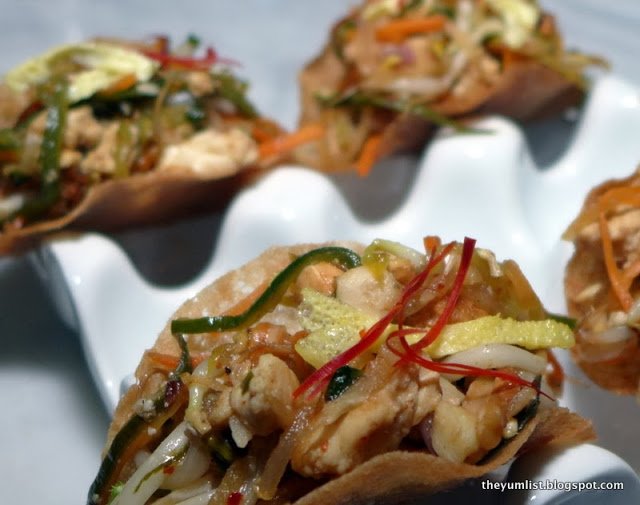 Kebaya Ban Xeo
I would never have named Kebaya's version of Otak Otak by just looking at its appearance. Red snapper cooked with garlic and turmeric forwent the usual banana leaf wrapping and was instead baked in crispy pastry made from roti canai. Big chunks of flaky white fish filled the inside and, a creamy yellow curry was rich and moreish. While the spice was not the punch-in-the face variety, the chili lingered at the back of the throat long after it left the oesophagus.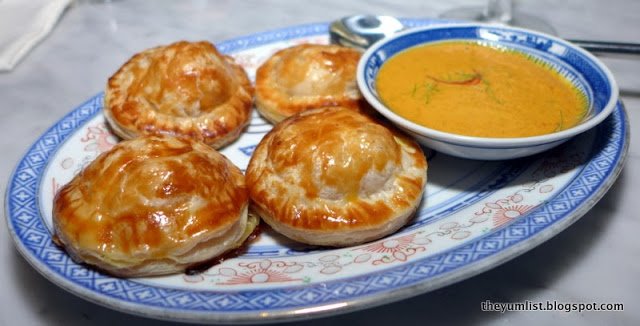 Otak Otak
It's difficult to pair such powerfully flavoured food with wine but we did our best with the assistance of the softly spoken food and beverage manager Prakaash. An Arniston Bay Rosé from South Africa (RM22) kept hubby happy and, my Arniston Bay Dry White (RM22) blend of chenin blanc, colombard and Semillon grapes, was a pleasant enough match for our starters. The mains were more challenging to partner as each dish promised great intensity and complexity of flavours. Both the Australian McPherson Merlot 2012 (RM24) and the Chilean Cono Sur Pinot Noir Reserva 2011 (RM26) were drinkable drops on their own. Our excitement in choosing a variety of mains however didn't serve us well in helping to match our food and the strong tastes collided rather than played together amicably. We ended up eating the mains first and enjoying the wine after.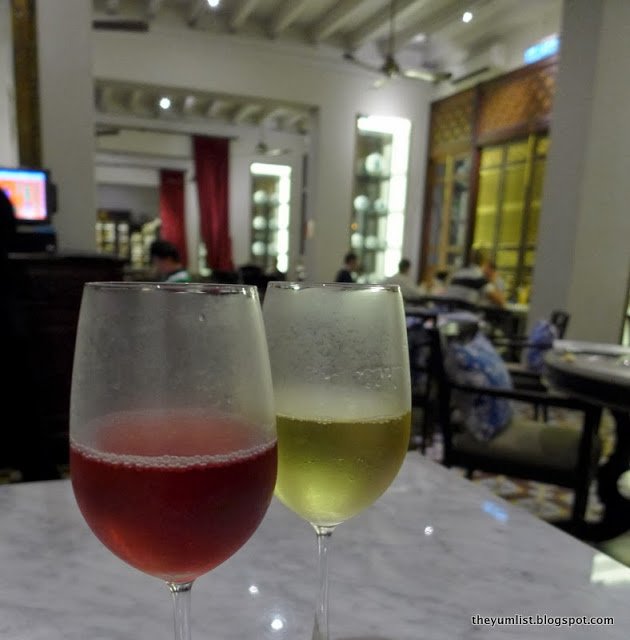 Rose and Chenin Blanc, Colombard and Semillon Blend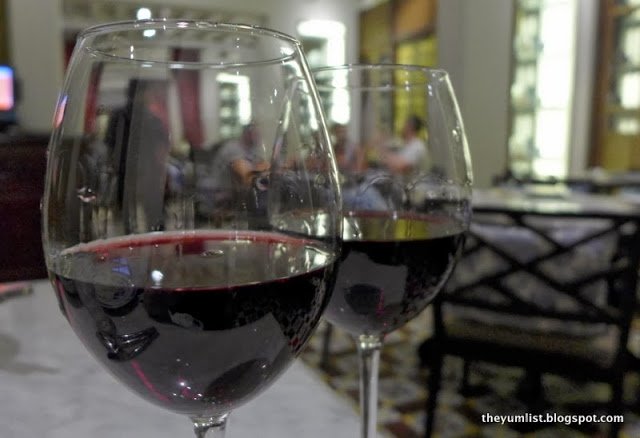 Pinot Noir and Merlot
Organic Roast Pork displayed a good balance between meat and fat. Salty flesh was tamed with a sweet sticky sauce.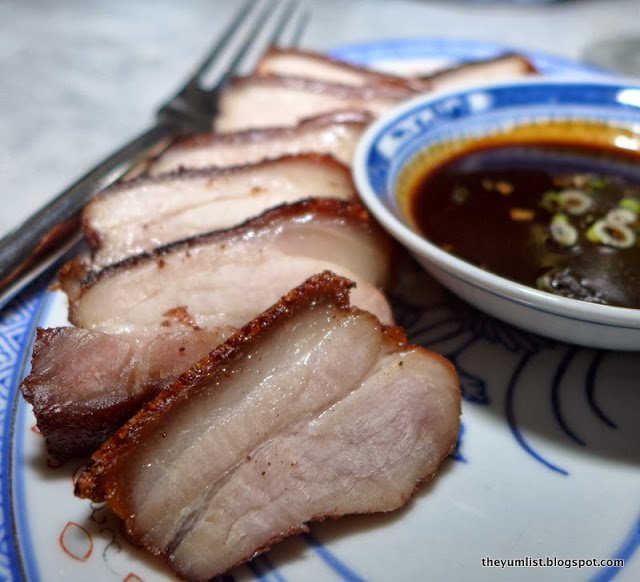 Organic Roast Pork
The Hong Bak Lamb came highly recommended but with a warning too – "some love it, some hate it." Prime New Zealand shank is prepared sous vide for 48 hours and served in what has been described as an Indian korma done Chinese style. Thick rich sauce resembling a rich curry turned out to be faintly sweet and full of spices. I'm told the recipe is kept secret but I detected coconut and coriander for sure. I can't say we either loved or hated it. I found the meat scrumptiously falling off the bone and the sauce decadently delicious, but I'm not sure that the two are best served together. My taste buds would like to try the same rich gravy with fish or chicken.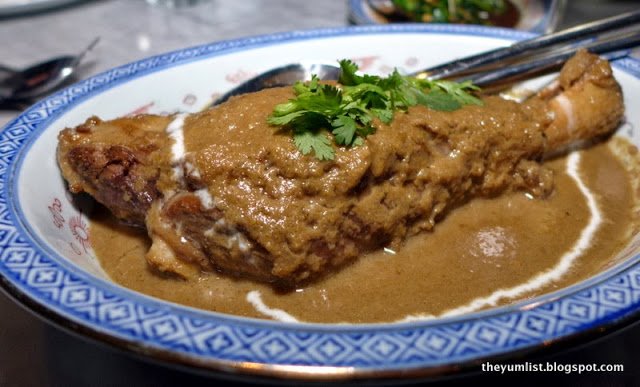 Hong Bak Lamb
The Lor Ark was our favourite main. Duck confit came served with caramelized spiced plums and oranges in a cinnamon, star anise, clover and nutmeg broth. Bringing the best of Chinese and French cuisines together, these strong flavours didn't compete with each other but worked as a mighty team to create a powerful mouth-filling dish.  The fruit proved a luscious addition and the almost Christmassy spices lingered on the roof of the mouth.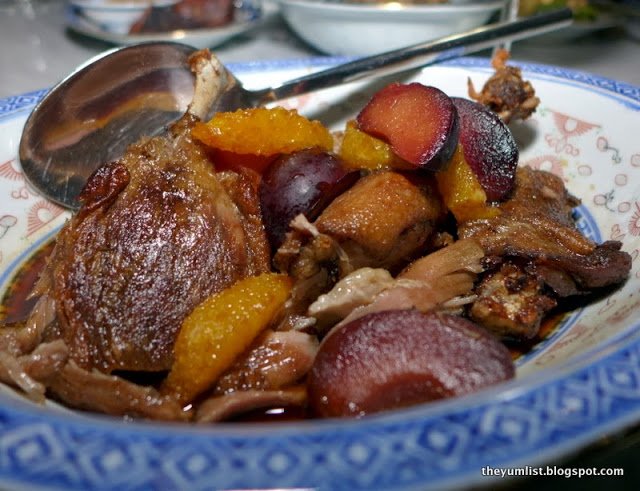 Lor Ark
Cher Chai, a sautéed market fresh selection of smoky, salty greens and, Sambal Goreng, sautéed French beans, baby corn, lemongrass, shallots, cashew nuts and belachan coconut cream, were great vegetable accompaniments balancing out our meaty mains.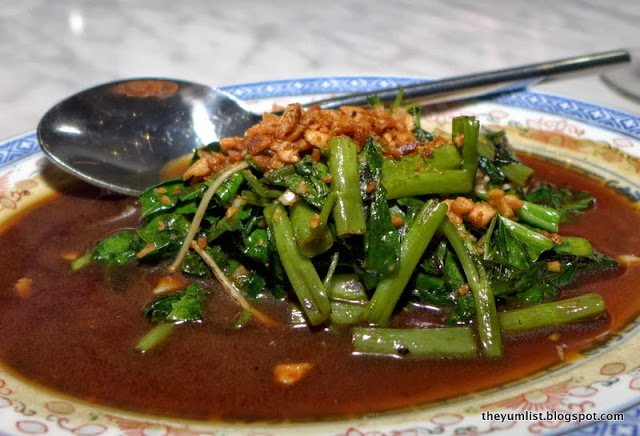 Cher Chai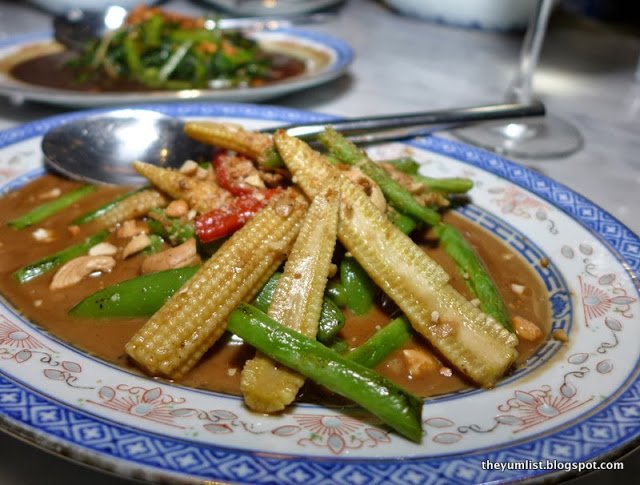 Sambal Goreng
Space must be saved for dessert as the Tang Yuen is well worth the vigorous workout it might take to work off the calories. House made glutinous 'onde onde' rice balls were stuffed with coconut, simmered in Melaka palm sugar and, served in a warm coconut broth. The marigold flower gave the chewy rice a mystical blue hue and the sweet velvety coconut broth was slurp worthy.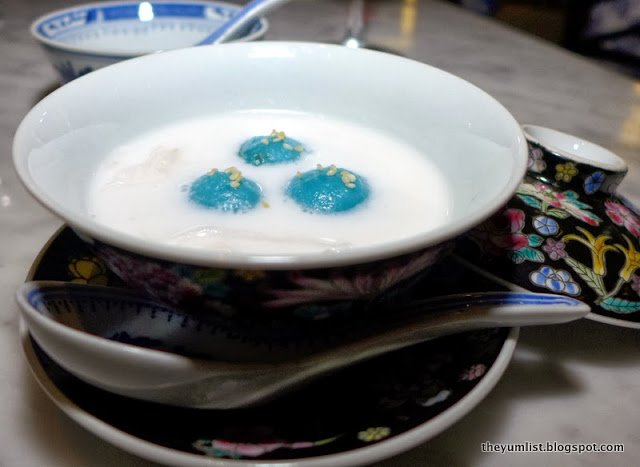 Tang Yuen
With hubby's fancy for Gula Melaka, the Mousse flavoured with it had to be ordered. A puffy saccharine hemisphere of homemade palm sugar mousse centred the plate. A light layer of sponge supported the base and, a crumbling of cashew nuts (listed on the menu as macadamias) were sprinkled over the top. Equivalent to fairy floss in sugar intensity it was too sweet for me but perfect for hubby (who at times in behavior and tastes resembles a six year old ;-).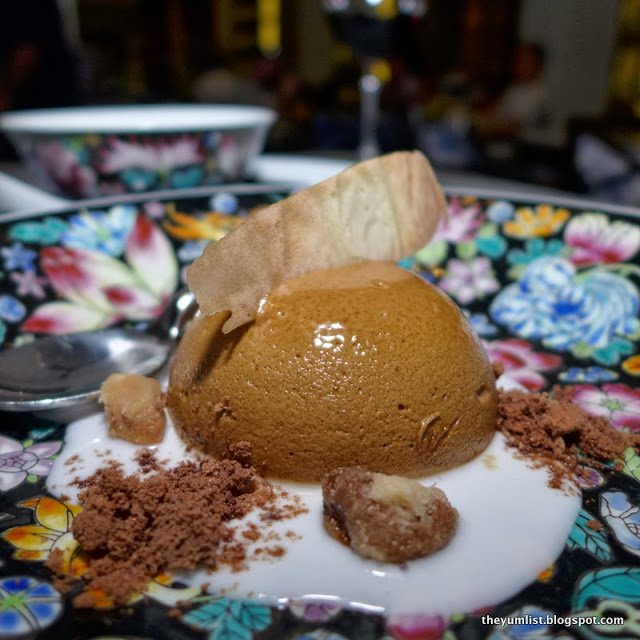 Gula Melaka Mousse
Chamomile Tea (RM12) tastefully presented in petite tea cups and a dainty pot was a cleansing finish.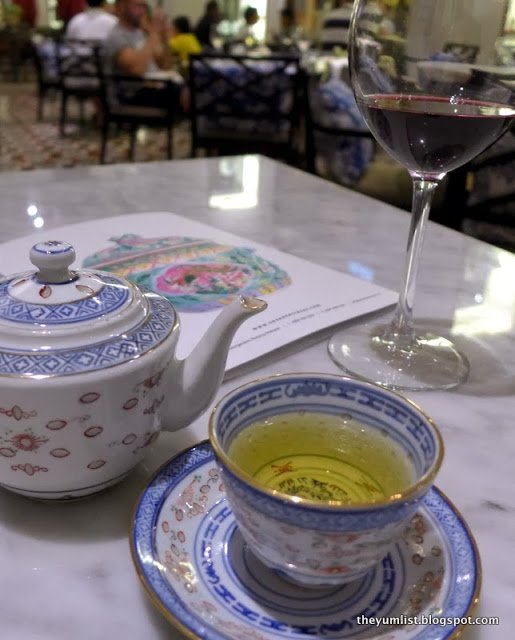 Chamomile Tea
Reason to visit: modern Nyonya cuisine, elegant ambience, all of the starters, Lor Ark, Tang Yuen
Kabaya Restaurant
Seven Terraces
Stewart Lane
10200 Georgetown
Penang, Malaysia
+6 04 264 2333
+6 04 261 2862
Open daily 6-10pm