The entrance of the Banjaran never fails to impress. Giant limestone outcrops rise above a hot spring lake and, lush green vegetation invokes thoughts of dinosaur times. At the right time of day you can actually see steam drifting from the water's surface in what appears to be a mystical oblation to the gods.
 
Greeted warmly by name (you must pass through tight security before arrival), but also with the tranquil sounds of nature and soft music, deep breathing is easier at the Banjaran. The pulse immediately lowers and, with every intake of green vista, peace becomes more of a reality.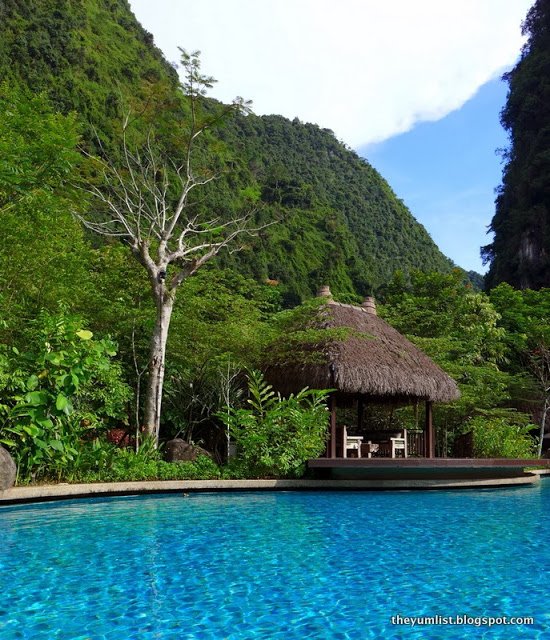 Banjaran Pool
Pomelo, The Banjaran's signature restaurant is open walled with a high thatched roof and cooled by ceiling fans. Natural timber is used in a variety of forms for décor. Installation artworks, shelving, tables and hanging wall pieces take advantage of the organic beauty of wood and provide connection to the surrounding pristine environment.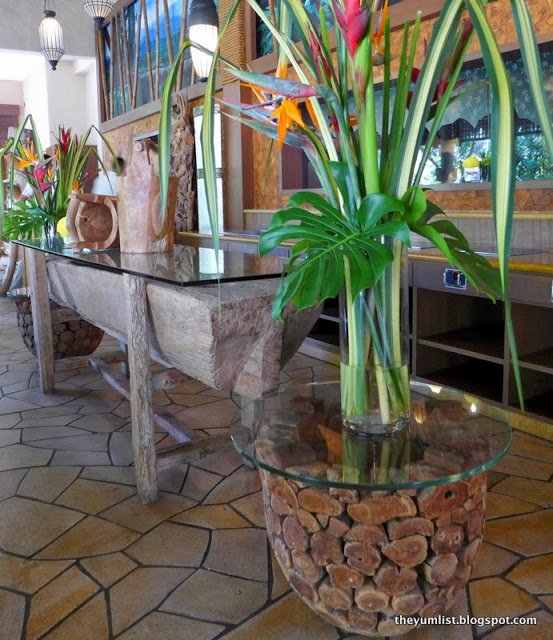 Pomelo, Rustic Wood Furniture
Priding themselves on food that not only tastes good but makes you feel good too, Pomelo serves up their version of a high tea aptly named, The Good Afternoon. Savouries, sweets and a host of hot and cold drinks are presented in portions just the right size to abate afternoon hunger twangs but not spoil your appetite for dinner.

All the Day (Light Savoury Dishes)
Bringing my mum and dad along, who are visiting from Australia, it's fun to hear everyone's very different opinions of the food. Beef or chicken can be chosen for the Club Sandwich (RM26). Hubby chooses the sliced chicken, which comes with lettuce and fresh tomato layered between a trio of toasted wholegrain bread slices. Hubby says, "It's fresh and hits the spot."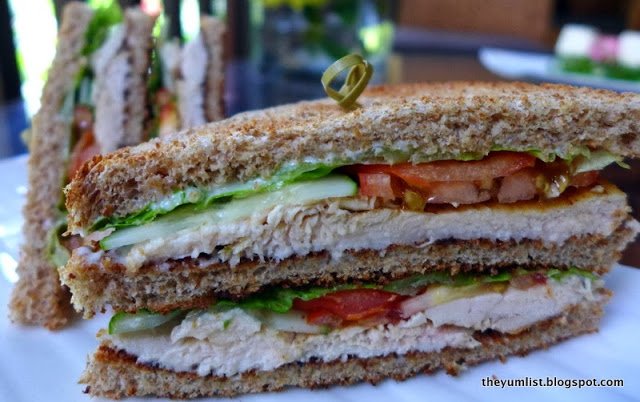 Club Sandwich
Cold Brochette (RM20) is a refreshing afternoon nibble. Skewers of crimson watermelon cubes are alternated with rectangles of firm pressed yoghurt. The yoghurt feels surprisingly creamy and tastes more of a smooth cream cheese than tangy yoghurt. A bed of pea leaves carries the fruit and dairy, and is seasoned perfectly with a light honey dressing. I love it.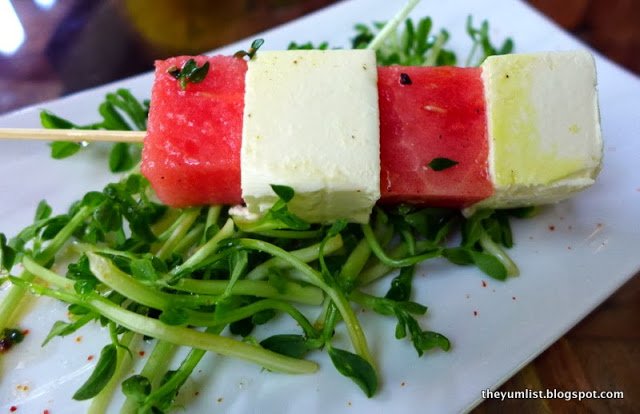 Cold Brochette
Hot Brochette (RM28) brings local flavours to the menu with chicken satay sided by a cacahuete (peanut) and coconut sauce. Chunky pieces of nut in a gently spiced salsa are an all round hit! Even after the chicken pieces are finished, spoons continue to scrape the bottom of the sauce dish. Mum says this is her favourite.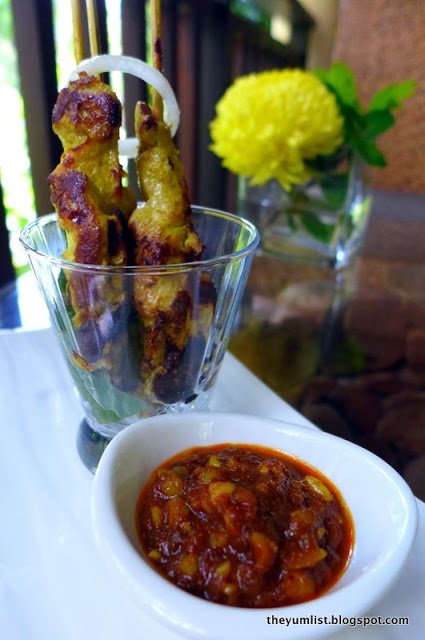 Hot Brochette
Large Blini (RM28) is a round pancake topped with a trio of pink salmon spirals, fat capers, white onion rings and a dill dressing. It's clean and simple and dad enjoys this savoury plate the most.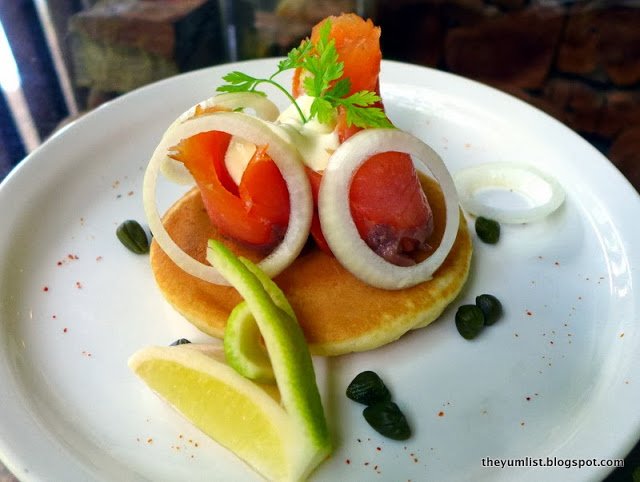 Salmon Blini
Culinary Cocktails (RM25) – NOT TO BE MISSED!
Real highlights on the menu are the Culinary Cocktails. These are something special and worth ordering all four varieties. The family agrees. Hubby says, "A gift from heaven." Mum remarks, "Died and gone to heaven." Dad confirms, "No matter what you pick you won't be disappointed."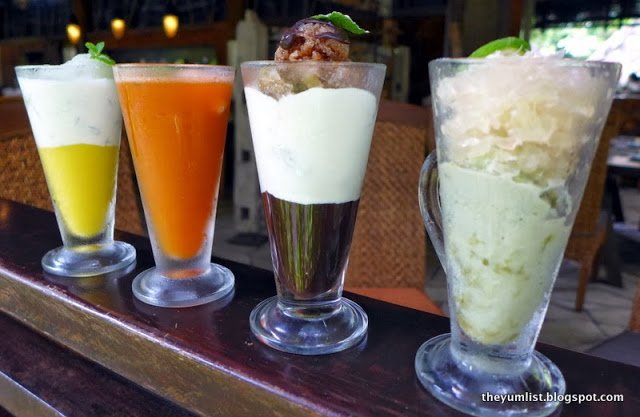 Culinary Cocktails
Fruits – mango and granita with yoghurt and mint. A canary yellow bottom of pureed fruit proves naturally sweet. The white yoghurt top is freshened with shredded mint. All politeness is forgotten as everyone tries to get the last spoonful.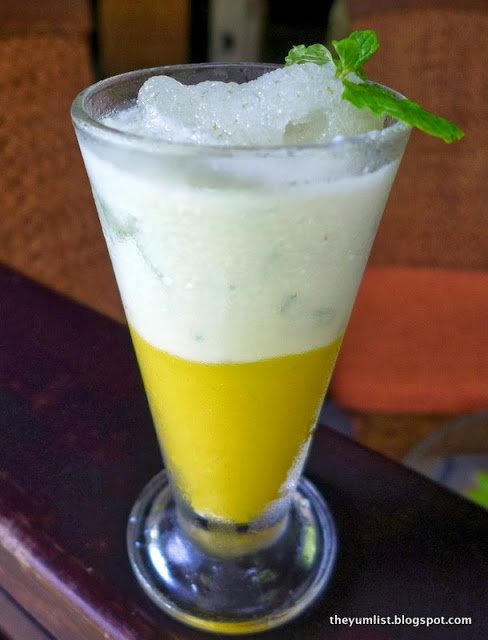 Culinary Cocktail – Fruits
Tea – pomelo and green tea espuma with lime kaffir café. Plump pomelo juice vesicles burst with freshness and the green tea and lime further enhance the best of Asian flavours.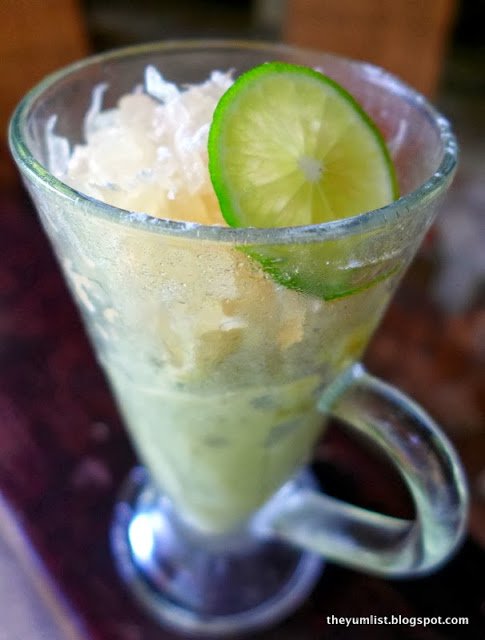 Culinary Cocktail – Tea
Café – three textures and two temperatures. Chocolate, coffee, creamy, hot and cold – it's a wonderful contrast. Be sure to dig deep to capture it all in the first mouthful.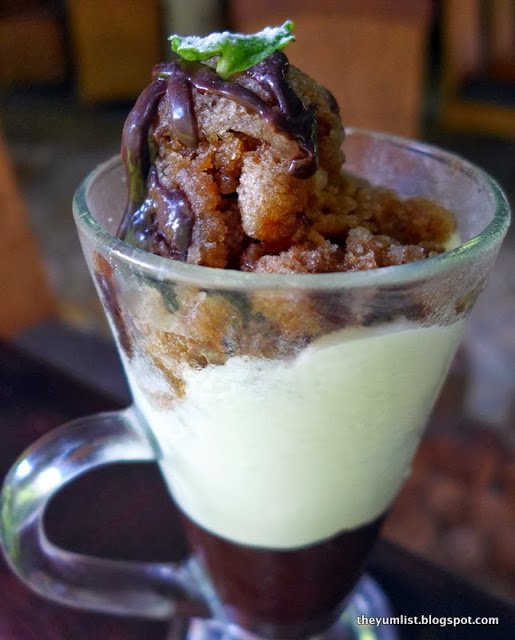 Culinary Cocktail – Cafe
Vegetable – white carrot milk, honey, star anise, ginger and organic brown sugar. This is the mildest of the four. It's more liquidy and tastes like a drinkable fruit cocktail.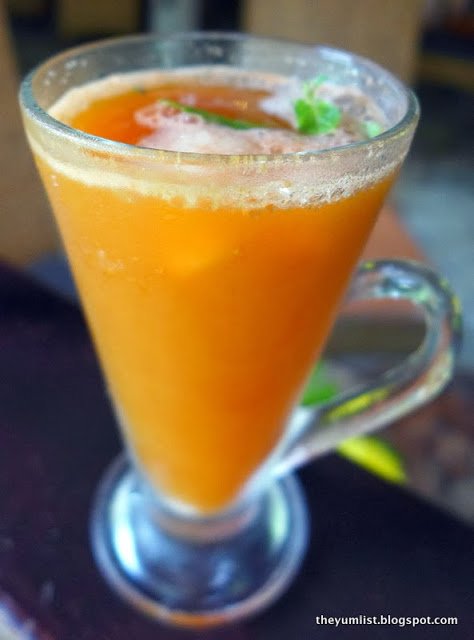 Culinary Cocktail – Vegetable
Assorted Cake
Varieties (RM6)
For those just wanting a small, uncomplicated bite that barely dints the pocket, a variety of cakes are simply presented fanned across white rectangle platters with shooters of sauce and an adornment of green leaves.
Mango Cake with Raspberry Sauce proves sweet and moist and is given a refreshing tang with a tart berry topping.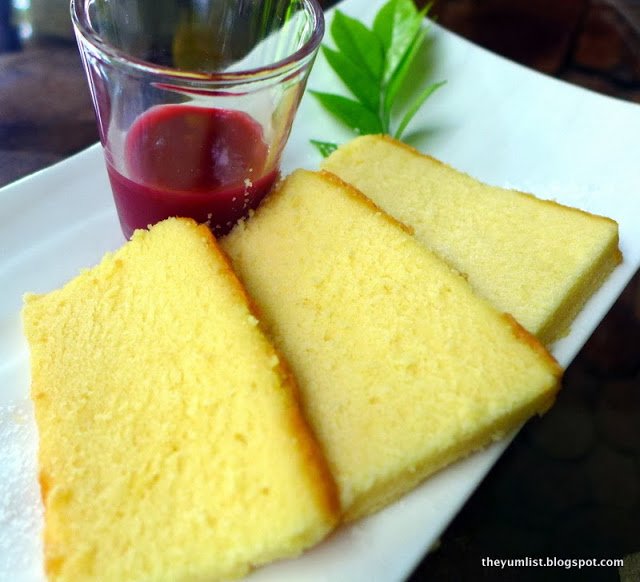 Mango Cake
Banana Cake with Chocolate Sauce is apparently a local favourite.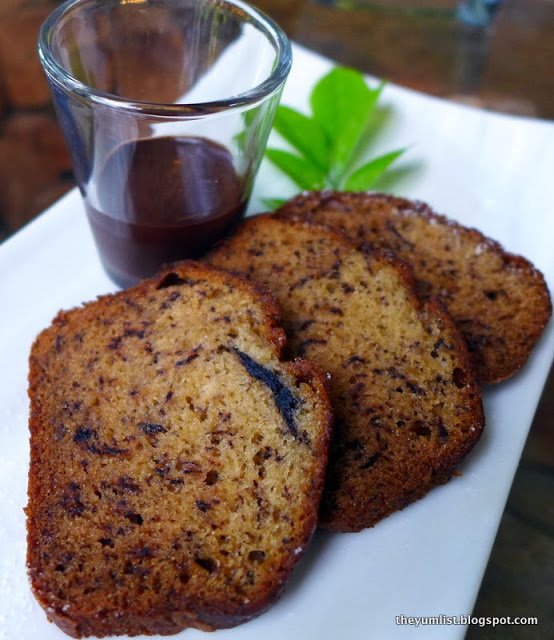 Banana Cake
Chocolate Cake with Mango Sauce is a slightly drier cake encouraging a generous pouring of the fruity mango dressing.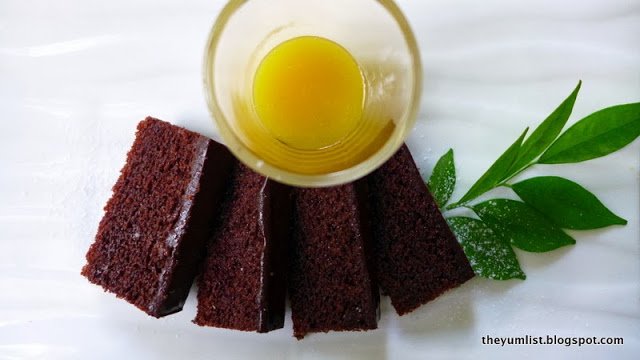 Chocolate Cake
Drinks
A variety of freshly squeezed fruit juices are listed on the menu with their health benefits alongside.  The Pineapple Juice (RM16) is full of digestive enzymes, while the Mango Juice (RM16) is claimed to be rehydrating and improve blood circulation. Mum was happy with her juices finding them full flavoured and not watered down.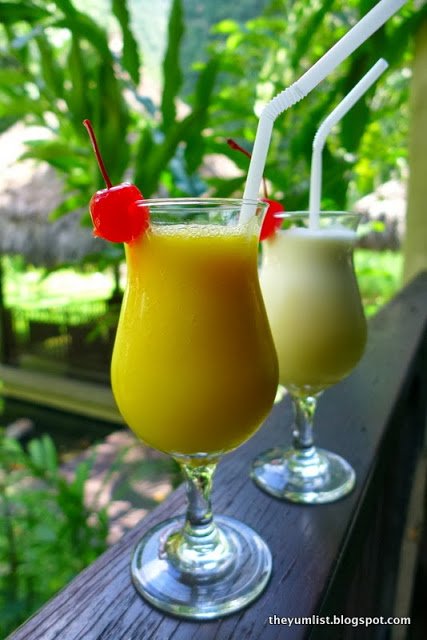 Mango and Pineapple Juices
I had a Freshly Brewed Coffee (RM15) and found it well balanced, while the boys chose tea, which are also accompanied by their supposed nutritional advantages. Dad had the Crème Caramel (RM20), which is a delicate red tea from South Africa blended with French spices. He says it could be dessert in itself and would drink it warm or iced. From the Flower Tea menu hubby ordered the Lavender, which claims to calm the nerves and relieve stress and is a lovely mauve colour.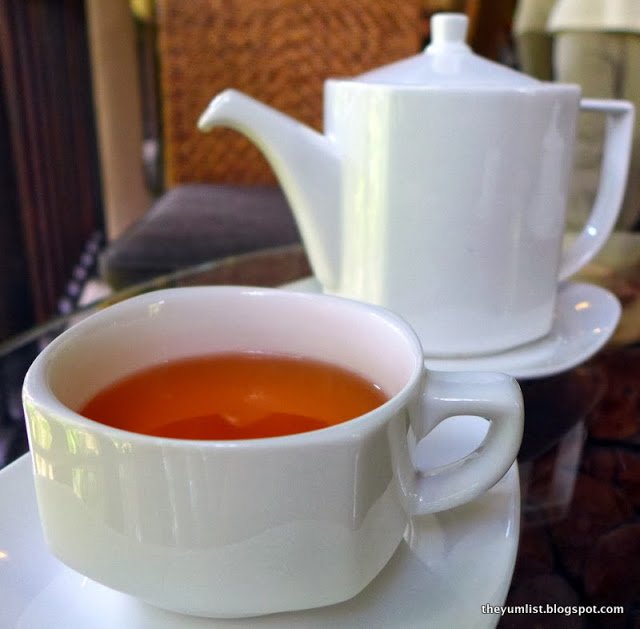 Creme Caramel Tea
Dreamily leaving the paradise of the Banjaran, dad sums up our afternoon tea with a quote showing his down-to-earth-Aussiness, "It's bloody good tucker." We all have to agree.

Reason to visit: gorgeous setting, healthy meals, culinary cocktails

Pomelo
The Banjaran Hotsprings Retreat
1 Persiaran Lagun Sunway 3
31500 Ipoh
Perak Darul Ridsuan
Malaysia
+6 05 210 7777