If you follow The Yum List regularly, you probably guessed by our last write up on Suffolk House Restaurant, that we are pretty excited about the new chef in the kitchen. Gordon Robertson, with a wealth of international experience, is livening up the menu at this elegant dining establishment with some cheeky twists and turns on the table.

Last visit, our mouths were left watering with Chef Gordon's: signature Suffolk House Butter Fudge with Vanilla Salt; Pumpkin and Honey Bisque with Spiced Sour Cream; Pan Roasted Salmon and; a magical Burnt Lemon Tart. When we heard that more creations had been added to the a la carte menu and, that the traditional afternoon tea had been revamped, it was almost reason enough to make the four-hour drive from KL to Penang.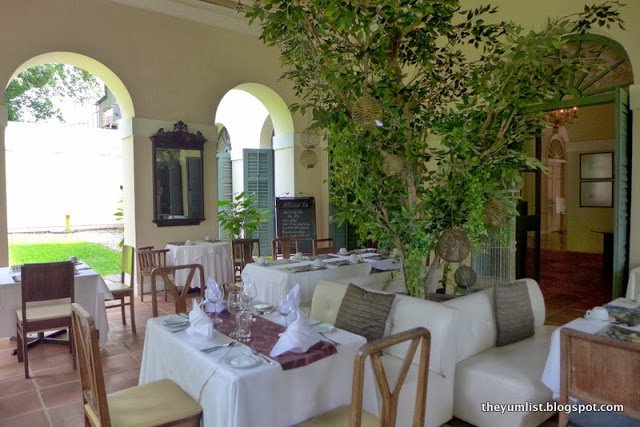 Patio Dining, Suffolk House Restaurant
This time however, we were accompanied by my folks. Coming from country Australia, my parents are experts in identifying quality produce. From dad growing his own fruits and vegetables and butchering his own meat, to mum making everything from scratch (on top of holding the regional reputation for best scones), Chef Gordon had some serious palates to please.
New Additions to the Lunch Menu
Such a fine setting and scrumptious food deserve liquid companions. A 2009 New Zealand Riesling, Whitehaven, from the Marlborough region is presented. It is a drier white with a dainty floral aroma. Delicate in the mouth with a wisp of citrus, it works well with the seafood starters. A red Cabernet Sauvignon 2010, Santa Ines Reserve from Chile, is a little more robust and goes well with meat and cured beetroot.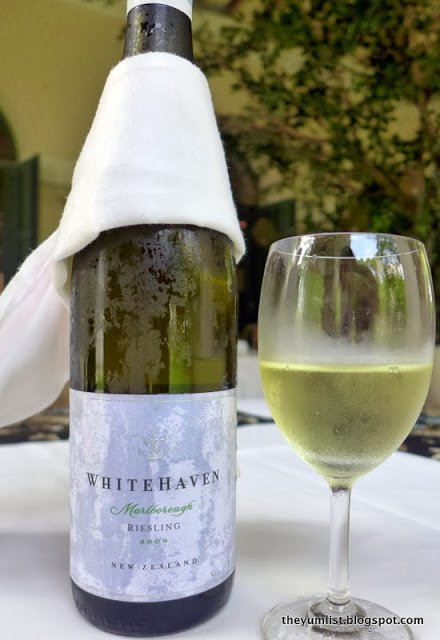 Whitehaven Riesling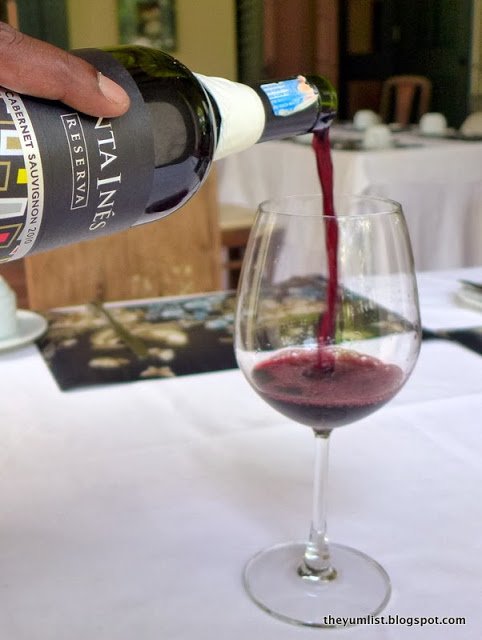 Santa Ines Cabernet Sauvignon
A Crab and Prawn Martini is delivered in a cocktail glass. The lowest part is a tangle of green and red lettuce, fine yuzu strips (Japanese citrus fruit) and nori (edible seaweed). The heart is an ample ring of shredded seafood with a creamy dressing raveled with herbs. Crisply fried shallot ribbons grace the crown. A contrast of textures – crunchy, silky and meaty (real pieces of seafood giving something to chew) – leaves the mouth full of moisture and delight.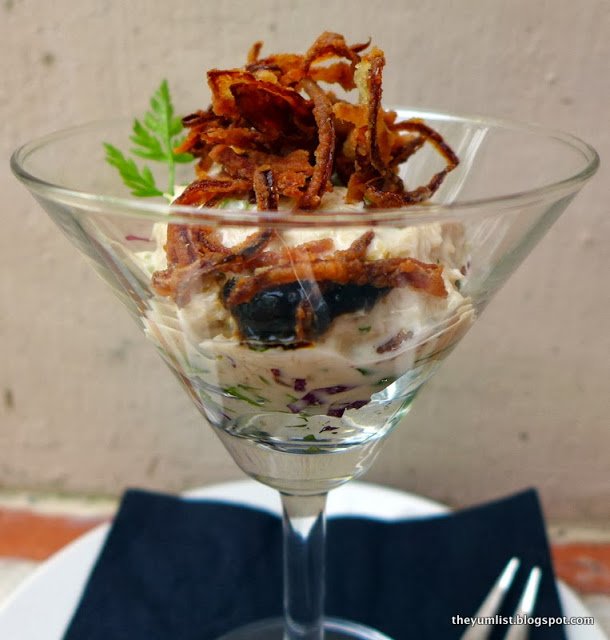 Crab and Prawn Martini
Compressed Beetroot Salad with Stilton and candied walnuts comes on a long white rectangular platter. Firm thin rounds of pickled beetroot fan the length of the plate. They're topped with crumbled pungent blue cheese, crunchy caramelized nuts, seeds and fennel and, thin swirls of orange zest. It's perfectly balanced – sweet, herby, tangy – and goes well with both the white and red wines.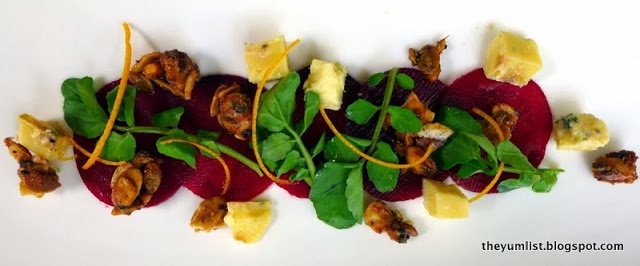 Beetroot and Stilton Salad
Salmon Fishcake ensues and assures us that there is no chance that a dreary old fishcake will ever find its way onto one of Chef Gordon's menus. It's pure fish (and loads of butter). There's no potato or other fillers holding it together. It's full of unadulterated, big fishy flakes of pink. It's double pan coated in breadcrumbs and the butteriness of the innards is stabilized with sharp wild rocket and gastric onions. The wedge is decorated with a token piping of mashed potato and black and red caviar.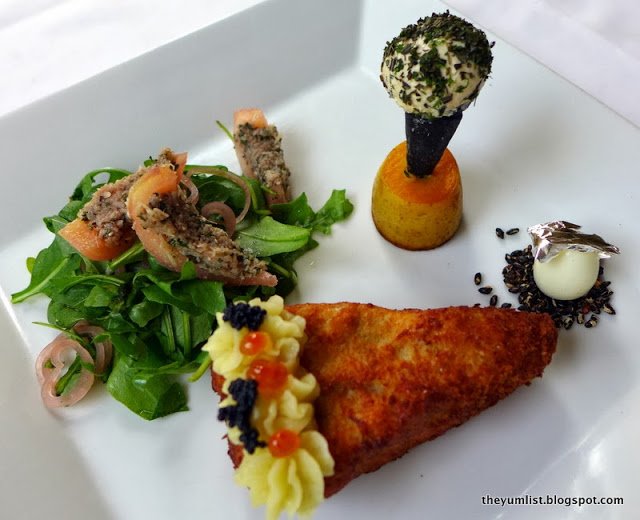 Salmon Fishcake
It's not enough though to only 'wow' us with a fabulous version of fishcake, each tiny adornment is carefully thought out too. A Cornetto of squid ink pasta filled with saffron fondant potato, spears an orb of sweet potato, and sprouts a bud of smoked salmon and horseradish. A quail egg sits atop crunchy black wild rice with an edible silver flake resembling a fine shaving of aluminium foil. Biryani powder seasons the rice adding some aggressive spice to the otherwise smooth egg. Tomato wedges are spread with a paste of anchovies, Parmesan cheese and truffle oil. It's a lot to contemplate and, we savour each bite slowly.
line-height: 14.25pt;The Duck is served two ways. A confit of the leg epitomizes the best of this technique. A superbly crisp skin encases juicy, soft, full-flavoured flesh. Julienned carrot and zucchini cushion the bird. Round slices of duck breast are pink and tender, siding the limb with a distinction of body part and cooking method. A medley of red and green lentils, wheat, corn and split chickpeas are just cooked and add a grainy firmness opposing the soft flesh. Beef and bronzed chicken jus is a smoky rich sauce swirled around the plate, lightened by the legumes but enhanced by the red wine, achieving a seesaw of balance.  A web of deep fried noodles adorns the plate giving an Asian garnish.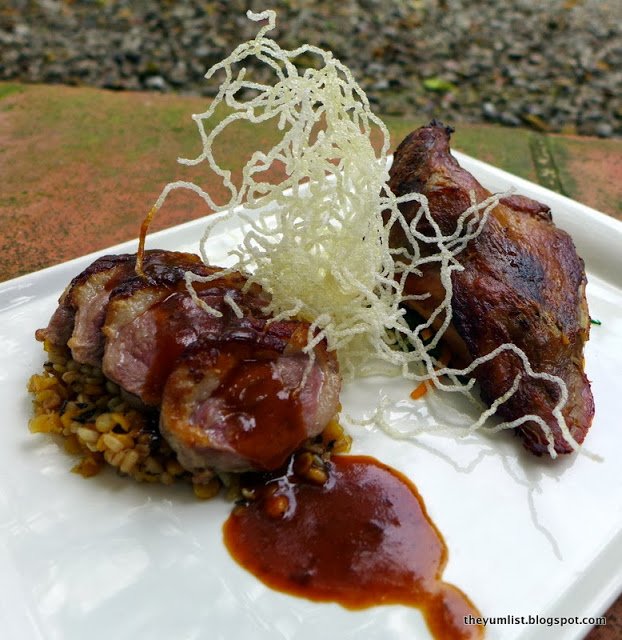 Duck Breast and Duck Confit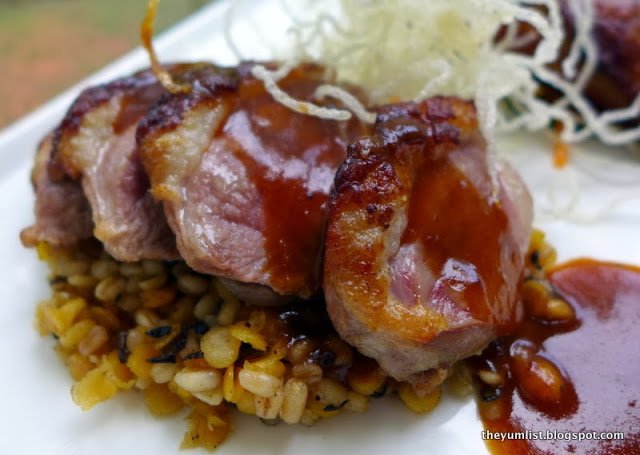 Duck Breast
"Just" Strawberries and Cream the chef smiles mischievously, as he pours a hot strawberry sauce over frozen yoghurt cubes, panna cotta cream and the most divine super-crumbly Viennese short bread (which is not as sweet as the traditional biscuit) that I've ever tasted. The hot liquid reacts with the icy yoghurt creating geysers of steam, which bubble and erupt continuously until we have slurped every last drop. Chef adds, "I wanted something traditional for this British menu, but thought I'd liven it up just a little."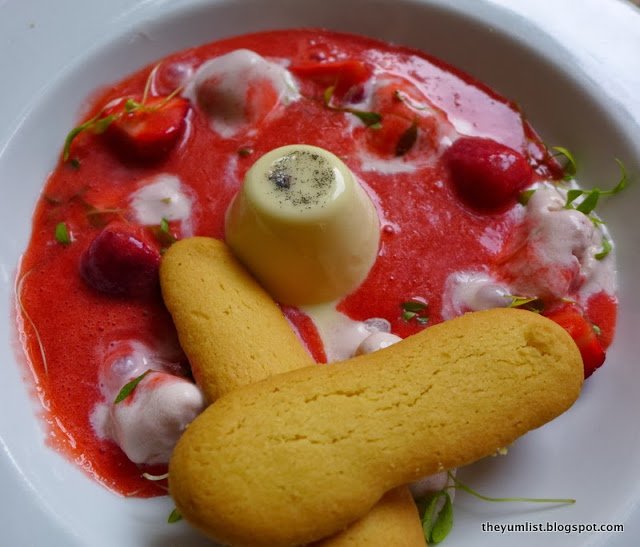 Strawberries and Cream
The second dessert, Banana Chocolate Fondant with Butterscotch Ice Cream is a cylinder of moist banana cake towering the end of a plate. A beige ball of creamy gelato teams up with caramelized banana ovals to complement the star attraction. And… while this dish doesn't bubble, it does ooze. Upon breaking the spongy shell a thick dark chocolate sauce flows from the core. Mum and I are quick with this one. The boys don't stand a chance.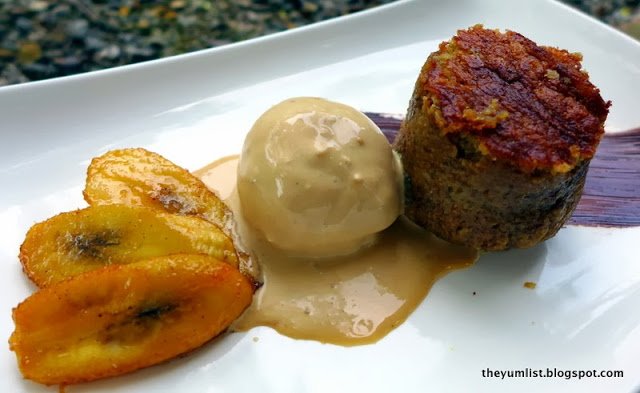 Banana Chocolate Fondant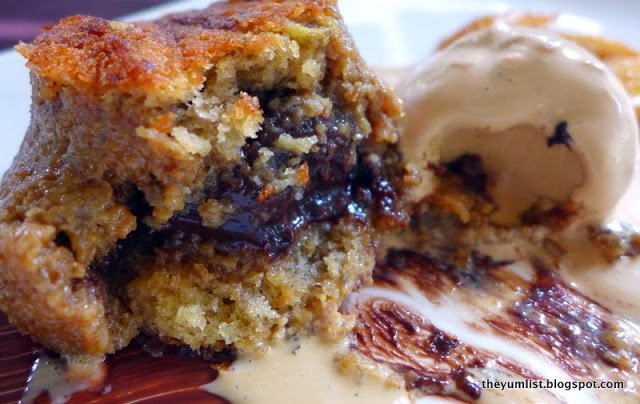 Chocolatey Insides
Chef's Signature Butter Fudge with Vanilla Salt merits an article all on its own (but I'll spare you from my saliva filled fantasies on this occasion). Salt flakes take away the big bang of sweetness and fool you into eating more… until your eyeballs begin to vibrate from sugar overdose.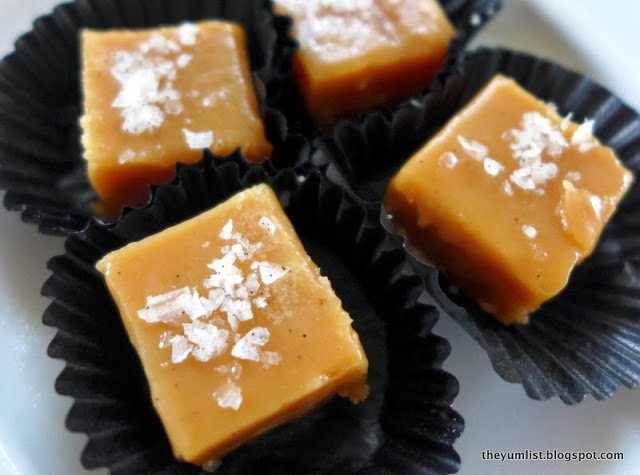 Butter Fudge with Vanilla Salt
You may begin to think we're a little crazy, but we're on our way back to KL and don't want to miss out on sampling chef's spruced up version of afternoon tea, so we continue…

A Revamping of Afternoon Tea
Afternoon tea has long been a popular tradition at Suffolk House Restaurant. The setting is conducive to tea in the garden with an elegant round of sweets. Last visit however, we found the ambience to far outshine the quality of food. It's all taken care of now though and, while a couple of old faithfuls remain, a number of new items smarten the offerings.
Two tiers of scones and savouries are sided with a tray of sweets as part of the set.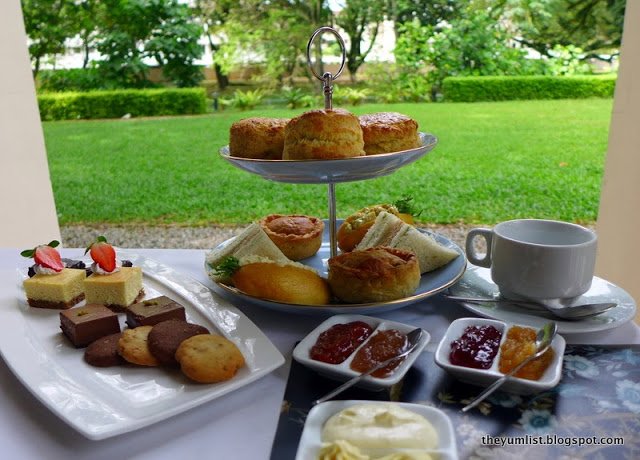 Afternoon Tea Set
Bridge Rolls are packed with Coronation Chicken and Egg Mayo fillings. Traditional triangles of Smoked Salmon and Cucumber are crustless and made on a mix of soft wholemeal and white bread slices. The classic Chicken Pie is an item that just can't be left off the menu, as it is so well loved by Penangites. The recently introduced Venison and Cranberry Pie however is truly rave-worthy. The pastry is light and flaky and packed with meat. A little sauce coats and flavours the filling, but by no means bulks it up. This is so good it will soon also be available on the a la carte dinner menu.

The tray of sweets includes: chocolate mousse squares with a cake base; cheesecake; and crunchy chocolate and nut biscuits. The BFG (Black Forest Gateaux) Tiffin Squares however are the ingredients for sweet dreams. They're crunchy, gooey, rich and decadent. I don't have any more belly room, but these keep finding their way to my mouth.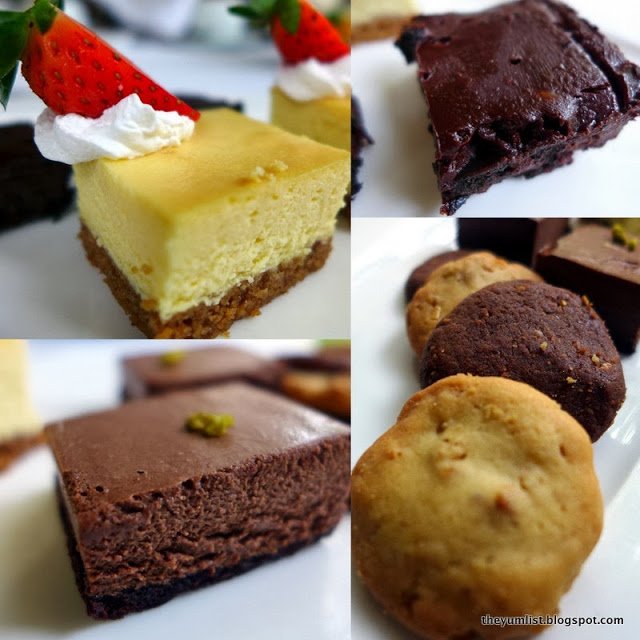 Sweets from the Afternoon Tea Set – The new BFG  (top right) is heavenly!
And… now it's time to taste the scones. Breathing is paused. A drop of sweat runs down Chef Gordon's cheek. Hubby's eyes are wide and dad is looking like "come-on-like-this-bloke-has-a-chance," as mum takes her first bite of a Citrus Kissed Scone. She tries it first on its own and, then with each of the four different types of home made jams and cream. She declares a faint hint of citrus, just enough to make the scones interesting but not overpowering. The exterior is crusty (mum personally prefers a soft top) with a dense and doughy, but still light texture within. For me, it's the type of consistency that makes you want to lick the mass that's stuck in your teeth with your tongue in numerous sweeps of pleasure. They pass the test. Mum pronounces them well made. Hubby digs in and dad follows. I later wish I had the cunning to swipe one for the trip home before the boys made them disappear.
Chef Gordon smiles with relief. We're all happy and can't wait for a return visit.
line-height: 14.25pt;Reason to visit: incredibly delicious with a tad of cheekiness in creations by Chef Gordon, lovely heritage building, garden setting, all the new menu items
Suffolk House Restaurant
Suffolk House
250 Jalan Air Itam
10460 Penang
Malaysia
+6 04 228 3930
Open daily 12
noon – 11pm
* Pork free