So we'd read the Trip Advisor reviews and sought advice from expats living in Yangon and, all leads steered us to the Sunday Brunch at Traders Café for a fun weekend dining and wining experience.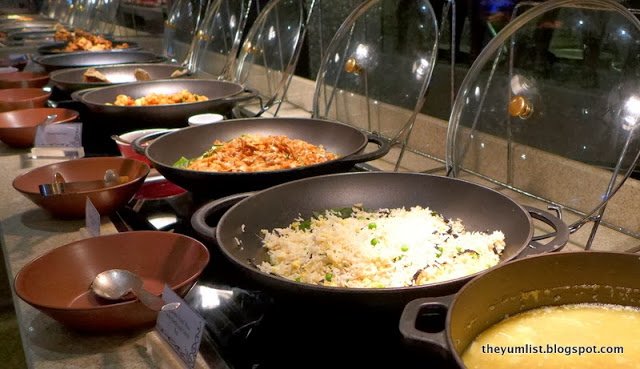 Asian Inspired Dishes
Abuzz with expatriates, the restaurant was full when we arrived and alive with that energy that only seems present on non-working days. The sound of bubbly bottles popping added to the festivity and a line-up of hopefuls, who hadn't made a reservation, waited at the reception trying their luck for a table to open. Packed with foreigners, it felt like a social club with tables intermingling and enjoying the free flow wine, beer and bubbly. Friendly conversation dominated the air as the crowd lingered throughout the afternoon and the joviality intensified.
An exhibition of international dishes unfurled across the room with Japanese, Chinese, Indian and Western cuisine making strong appearances. Chefs crewed the counters whipping up meals on the spot and customizing them to individual preferences, guaranteeing freshness and allowing personal choice. With too many dishes to talk about, below I list our personal highlights:

Dim Sum
Fresh local seafood, including fat prawns, crabs, mussels and clams were iced and rapidly disappeared from the display (only to be replaced minutes later). A sashimi counter was very popular and the chef manning it worked tirelessly throughout the feasting session as customers pointed to the fish they'd like and he skillfully sliced it into soft pieces of tenderness.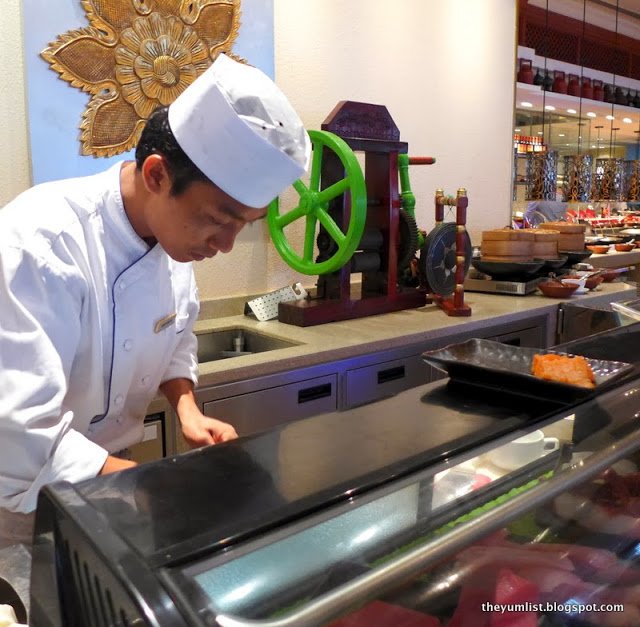 Sashimi Chef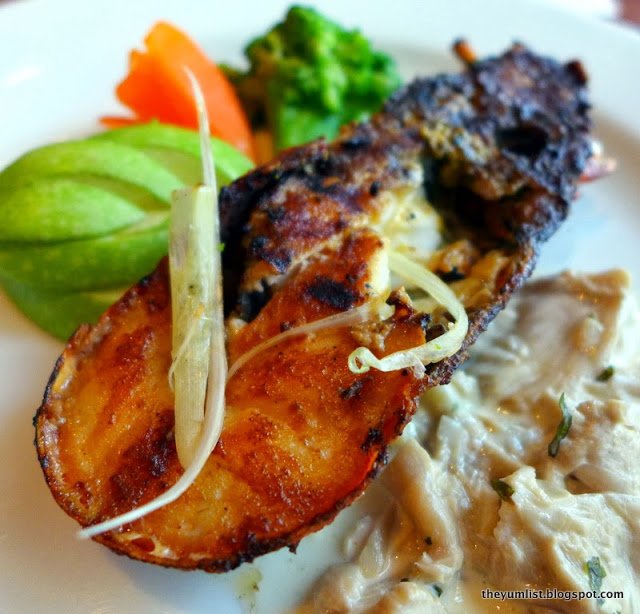 Grilled Lobster – worth waiting for
The noodle station too was popular. Both Chinese and Japanese noodles could be ordered seasoned with condiments of your choosing and bulked up with your personal selection of protein and vegetables.
Grilled items were whisked off the buffet at the speed of lightning but too briskly topped up. Obvious care was taken to ensure maximum succulence. As the chef encouraged me to wait a few minutes for a mouthwatering crustacean he told me that it's best cooked a la minute. If too many are cooked in advance he says they "lose their joy." So I waited for the joy, and found he was right. A couple of minutes delay was awarded by luscious plump flesh with a subtle smoky infusion from the barbecue.
The Indian section too was something special. Hot naan straight out of the tandoor and, butter chicken, both merited second servings.

From the dessert buffet, hubby lapped up multiple servings of the bread and butter pudding, crème brûlée and numerous cheesy and mousse-y concoctions. House made ice cream and the crepe station got repeat visitors and I was happy with a spread of fresh fruit and European cheeses.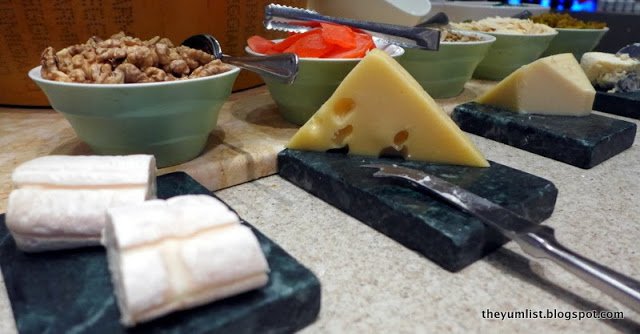 Cheeses
An article on the brunch can't be written without mention of the super friendly and efficient staff. Plates were quickly swept away, glasses speedily refilled and warm smiles and explanations of dishes available at the slightest raise of an eyebrow.
The Sunday Brunch is excellent value! $31 nett gets you: a wonderful spread of international dishes, many made on the spot; and a free flow of soft drinks; juices; red, white and sparkling wine; draught beer and a selection of tea and coffee including a variety of espresso based drinks such as café latte, cappuccino and long black.

Reason to visit: One of the only hotel buffet brunches in the city, an excellent feast especially when you've been traveling and need a good dose of Western cuisine, free flow beer and wine, good value, an easy spot to meet other foreigners

Traders Hotel, Yangon
223 Sule Pagoda Road
GPO Box 888
Yangon, Myanmar
+95 1 242 828
Buffet Breakfast: 6am-10am
Buffet Lunch: 11:30am-2:30pm
Buffet Dinner: 6:30pm-10pm
A La Carte Daily 24 hours
Sunday Brunch runs from 12pm – 3pm every Sunday. Bookings are highly recommended.