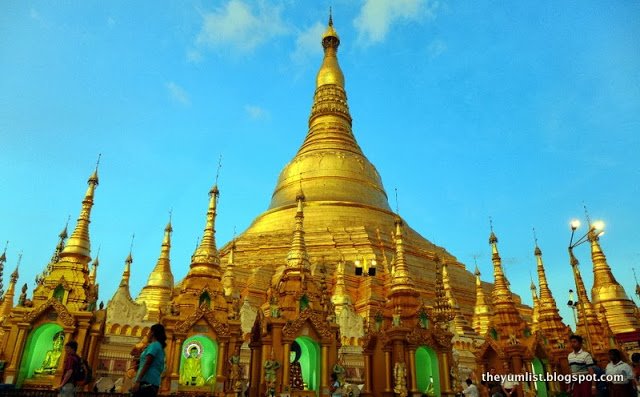 Shwe Dagon Pagoda at Sunset
Traders Hotel, Yangon, Myanmar
In the newly developing commercial capital of Myanmar, Yangon, there are limited hotels from which to choose.  A couple of restored colonial buildings made into high-end accommodation will leave your credit cards maxed, while budget to middle range options might leave you unpleasantly hot and bothered due to recurrent electricity disruptions. There is one choice however, that will leave you pleasantly surprised and your wallet rather happy too – Traders Hotel, Yangon.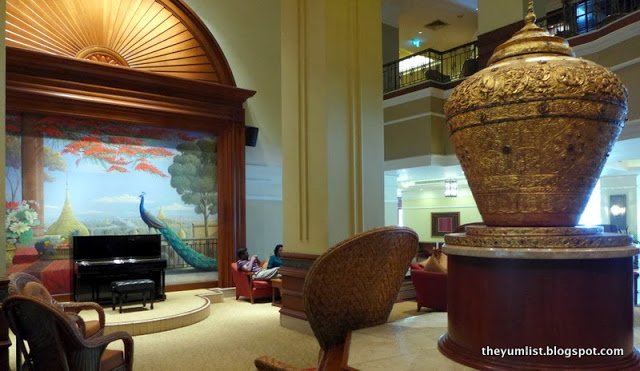 Artwork in the Lobby
Run by the Shangri-La group, standards in Traders Hotels around the world are consistently good. Faced with limitations of the local environment, this Traders property in Yangon does a marvelous job of bringing international standards to a challenging locale.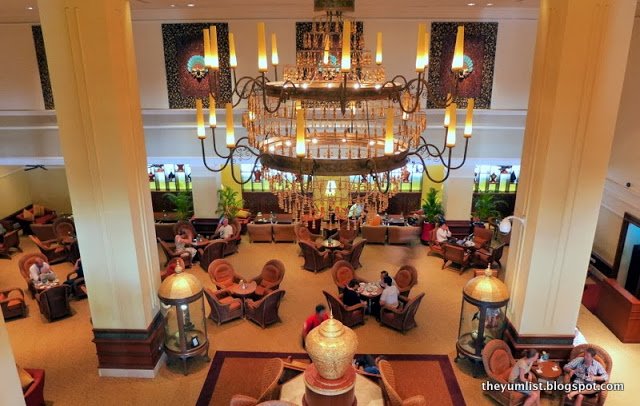 The Lobby
Views Worth Sipping a Glass of Wine Over
The magnificent Shwe Dagon Pagoda glows to the north, the Sule Pagoda beams to the south and, viewed from all sides of the hotel is the great Yangon River. The generally low roofscape is punctured with sharp church steeples and, beyond the river a lush green plain fans out. The Traders Club Lounge is the perfect viewing platform for this splendour.
Magical morning sunrays are caught reflecting off gold leaf coated peaks over breakfast, while cocktail hours see colours morph into a mesmerizing display of beauty as crepuscular light replaces the brilliant illumination of day. On a clear day, the landscape can be viewed for miles around due to the fact that Traders Hotel is one of the tallest buildings in the city.

View from Traders Hotel Yangon
Pagodas, Markets and Restaurants at Your Doorstep
Sitting in the heart of the city, culture and sites are easily accessed by foot from Traders Hotel. The Sule Pagoda is a block away. A number of markets are also within a five-minute walk. Heavily populated with street vendors, crammed shoplots and stalls selling a cacophony of local delicacies, the surrounding area appears to be the buzz of commercial excitement.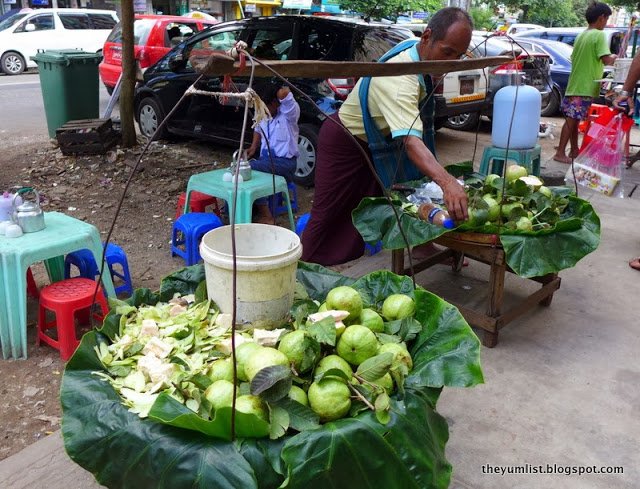 Fruit Vendor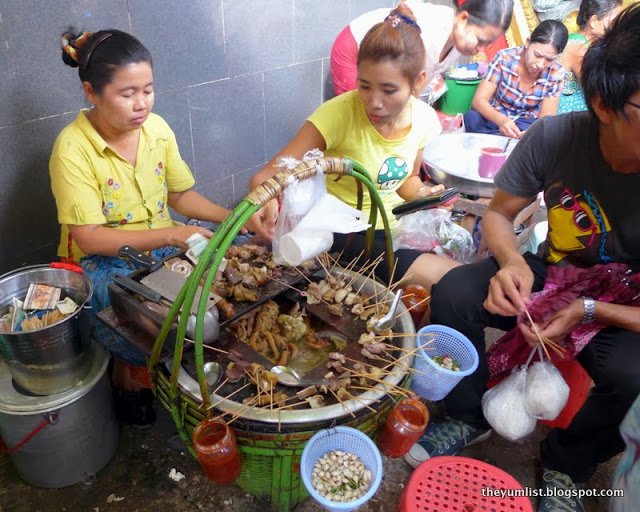 Street Food
Comfortable Respite from the Tropical Heat on the Street
While an adventure on the street should be on the agenda of every traveler to Yangon, it sure is nice to return to a cool, clean and comfortable climate. Traders Hotel Yangon provides all of the conveniences of modern life. Recently refurbished, expect to see soft fresh carpet, lots of marble and some beautiful local art pieces.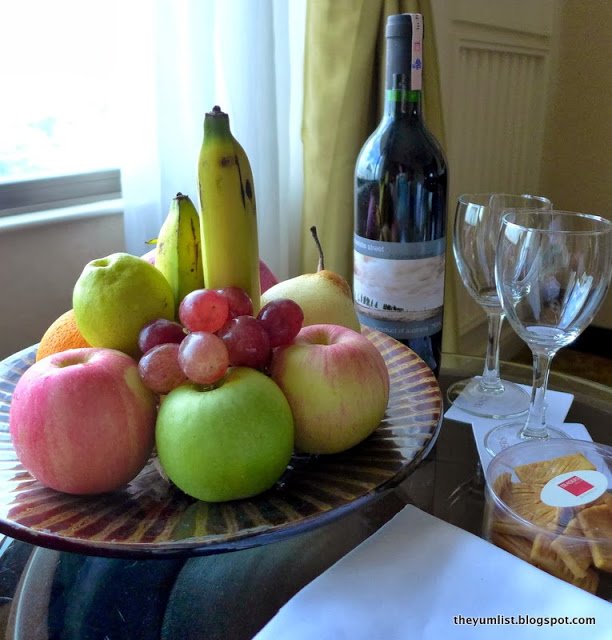 Fruit and Wine Welcome
Our accommodation, a Traders Club King room, provided ample space to recuperate from a warm day of excursions. On the 20th floor the downtown area and Yangon River were viewed from the large window. A day bed and, desk with ergonomic chair, made extra places to relax and, the bed was supportive but covered with soft bedding and lush pillows.
Traders Club Floor Room
A huge TV screen brought international channels to the room and the standard mini-fridge, safe and, hot drink making facilities provided further comforts. Slippers, robes, a welcome fruit bowl and, turn down service completed the amenities we expect from Traders.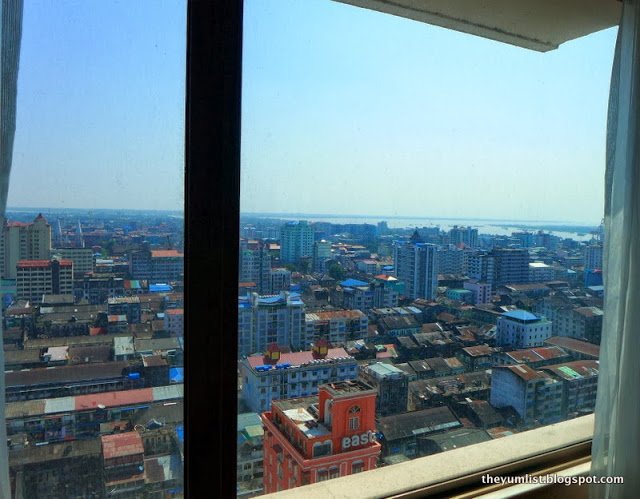 River View from Room
The newly spruced up bathroom was decked with marble and fitted with a bath and shower, sink and toilet. A full slew of products including shampoo and conditioner but also loofah and various grooming tools were topped up daily. All in all it was an agreeable space promoting rest and rejuvenation in between a hectic schedule of sight seeing.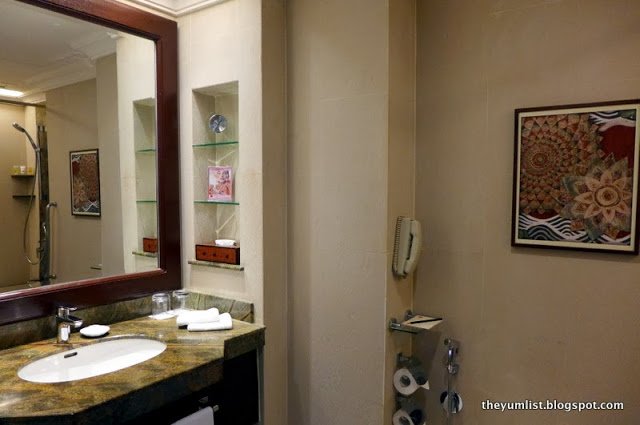 Bathroom
Health, Relaxation and Beauty
A crystal clear pool was a popular spot to refresh from the heat. Dotted with deck chairs and umbrellas, and shaded by palm trees, the rippling waters offered cool respite from the tropical humid sultriness of the city.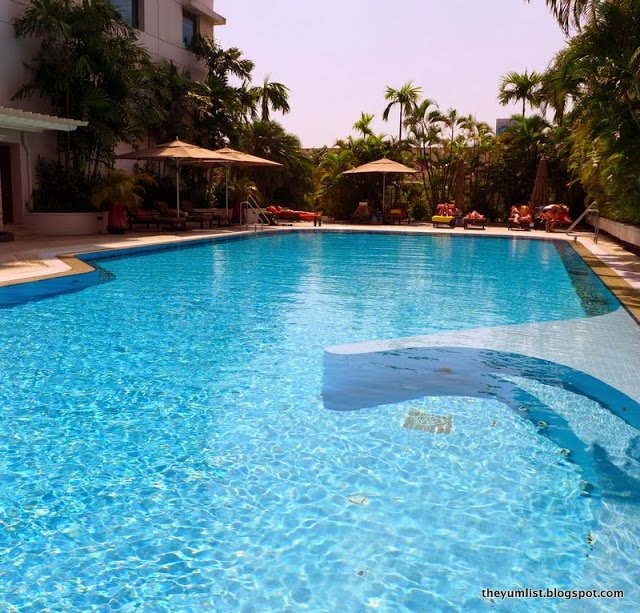 Pool
A fully equipped gym was in excellent condition. Most cardio machines were connected to TV with the added option of listening to your own tunes via an iPod connection. First-class maintenance seemed obvious with all equipment in good working order including monitors and headphones. Towels, water, fruit and various reading material showed that attention to detail that Shangri-La properties are known for. Jacuzzi, sauna and steam room supplemented the set up.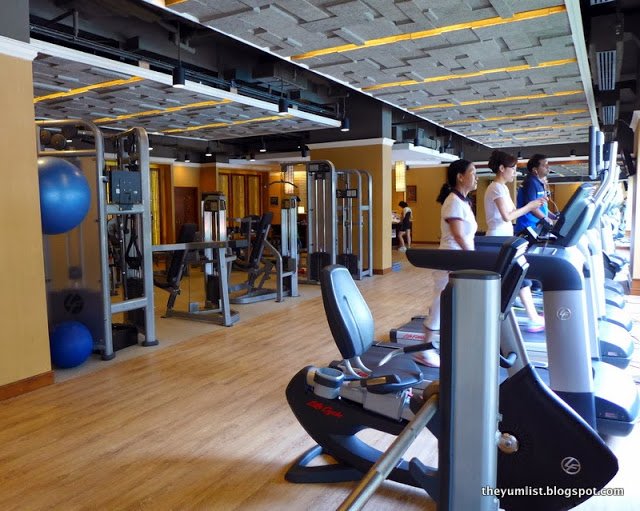 Fully Equipped Gym
While we didn't have time to try out any treatments, a spa offering a decent list of relaxation and beauty treatments looked appealing and reasonably priced for a 5 Star hotel.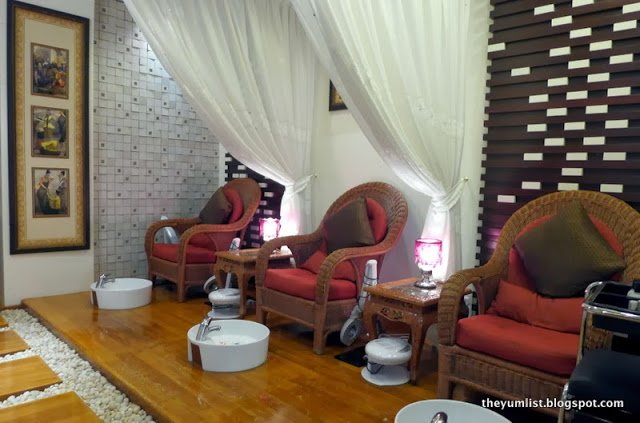 Trader's Spa
Plenty to Eat and Drink
Staying in a Traders Club room gives very handy benefits: buffet breakfast in the morning; tea, coffee and soft drinks throughout the day and; cocktail hours with alcohol and nibbles in the evening. Smaller eaters might even say it's enough to not have to eat anywhere else. Those with a heftier appetite will find breakfast filling and the rest a pleasant pre-dinner experience. Either way, the views from the Club Lounge are spectacular making it an agreeable place for a peaceful bite and drink.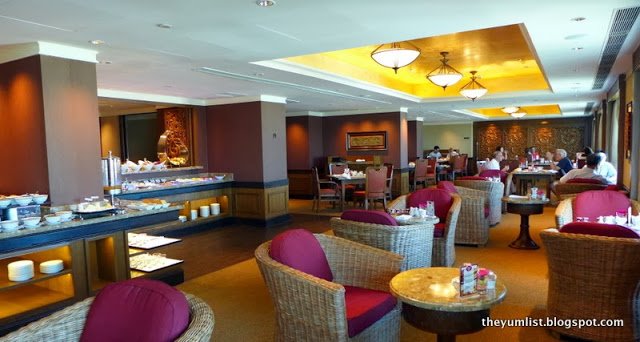 Traders Club Lounge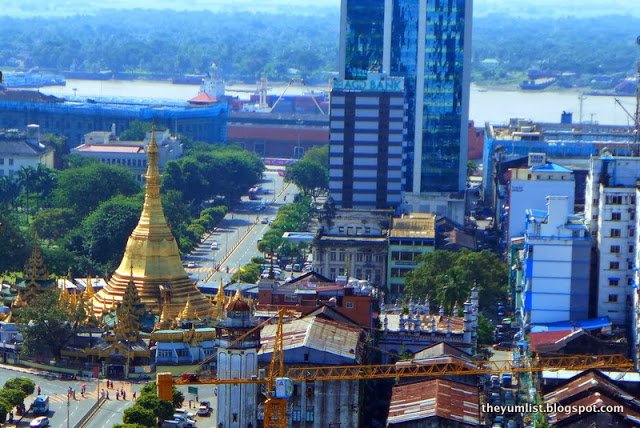 View from Club Lounge
Traders Café is the hotel's all day dining restaurant. Offering international buffets for breakfast, lunch and dinner and an a la carte menu in between, it's a one-stop shop for finding something to soothe every craving. We experienced the Sunday Brunch and found it excellent value as it included free flow of red, white and sparkling wine and beer alongside a luscious spread of Western and Asian dishes. Very popular with expats, the place was abuzz on the weekend and makes a great place to meet foreigners. Don't miss the barbecued lobster made a la minute, the sashimi cut on the spot and a magnificent counter of sweet treats.
There are other food and beverage outlets too such as a Chinese restaurant, bar and poolside dining. We didn't have a chance to experience these outlets though as we were too busy on the streets seeing the sights. These locations however looked promising, at least they were tastefully decorated, and on a longer stay would definitely warrant some exploration.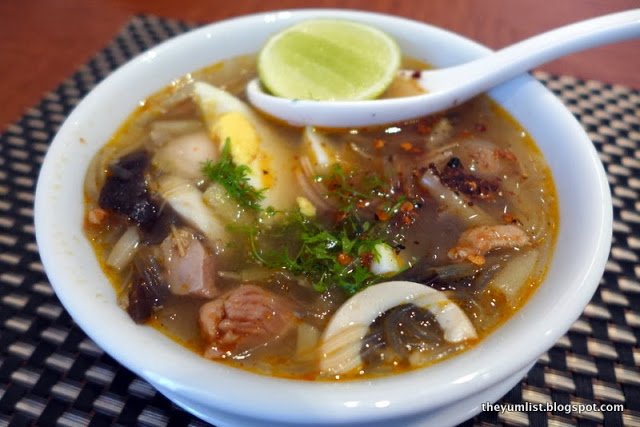 Burmese Soup – chicken, vegetables and glass noodles – be sure to check out the daily rotating offerings on the buffet. The local soups are delicious!
Traders Hotel, Yangon, with its location, modern comforts and, Club Lounge is an excellent choice for accommodation in the heart of the commercial capital of Myanmar.

Reason to visit: Shangri-La service; Traders Club rooms and Lounge with spectacular views of the Shwe Dagon Pagoda, Sule Pagoda and Yangon River; good food and beverage options; facilities in superb condition

Traders Hotel, Yangon
223 Sule Pagoda Road
GPO Box 888
Yangon, Myanmar
+95 1 242 828