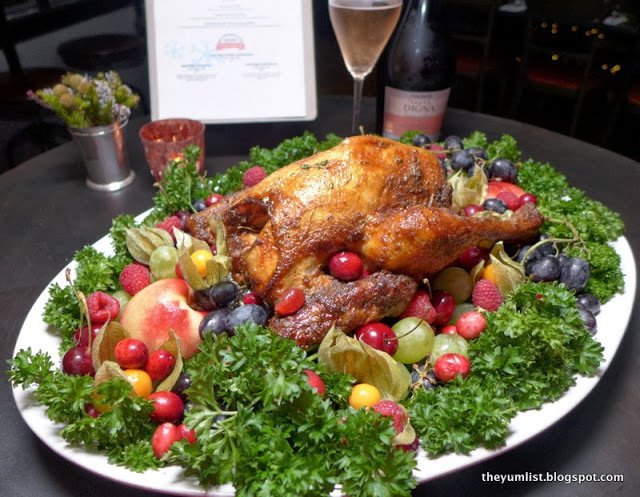 Christmas is Coming…
Acme Bar and Café, Festive Seasonal Menu, The Troika
Words by Kirsten Durward
Photos by The Yum List (Monica Tindall)

Looking for somewhere to enjoy a jazzy Christmas meal? Look no further than ABC at the base of the Troika, with its plate glass windows framing foliage discreetly festooned with tiny twinkling lights. Elegant wreaths of muted red poinsettia with bundles of cherries, muted big band music, with clinking glasses and laughter complete a lively and light atmosphere to try a dish from the 'ABRACADABRA' Festive menu.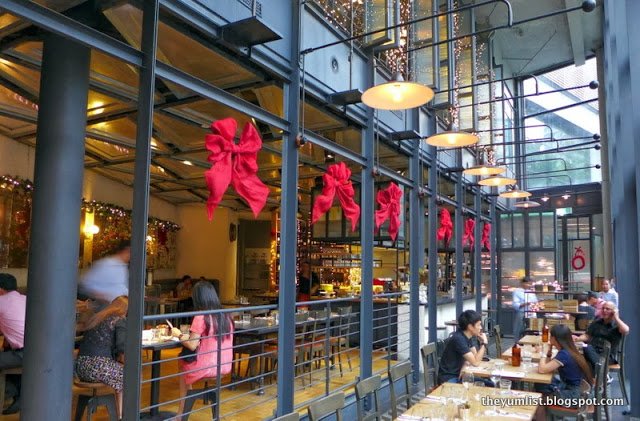 Acme Bar and Coffee
From the traditional pots and pans section of the menu we are offered thick medallions of Baked Sweet Potato (RM17 ++) crispy on the outside and soft and moist on the inside. They are colourfully well coated with oregano and parmesan breadcrumbs to dip in a mayo that is more lemony than chili zing.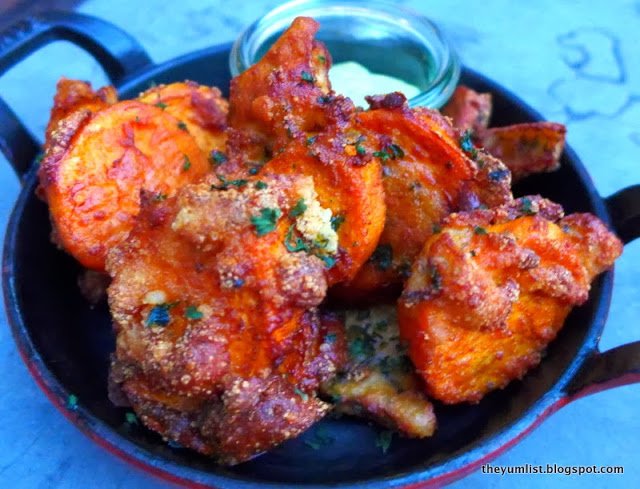 Baked Sweet Potato
Our second pan is prettily presented under a trio of bread sails. A deeply reduced fennel sauce reminiscent of ratatouille swathes our Meaty Balls (RM25 ++) in richness. Another hearty dish!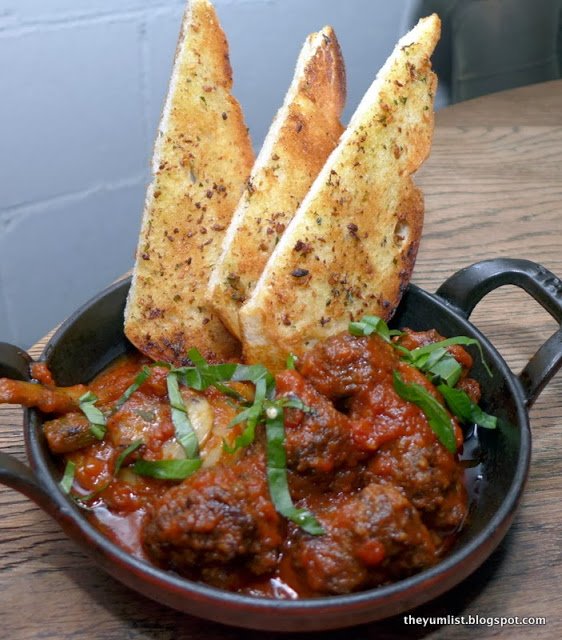 Meaty Balls
A Rustic Vegetable Soup (RM23 ++) lives up to its name being chock full of zucchini, carrot, peppers, celery, mushroom and filling barley. The slithers of fine garlic bread are soaked in the tomato-ey broth of the dish. 'My kind of soup!' trills Monica, personally I'd have like a bit more of a bite to the chili pesto.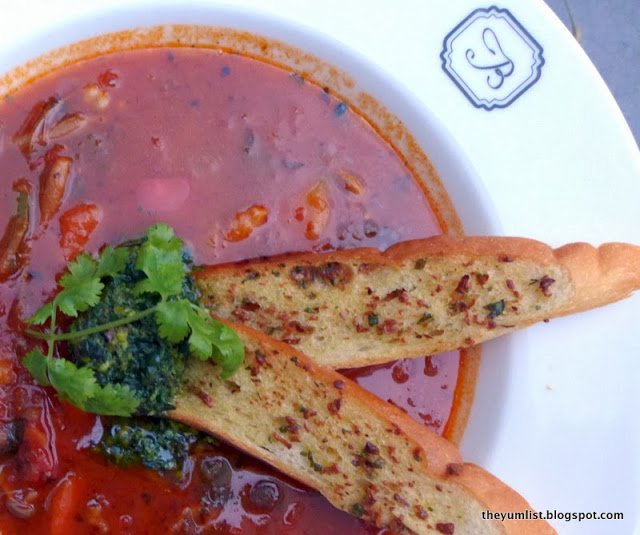 Rustic Vegetable Soup
Crusted with chipped pistachio Duck Breast Fillet (RM59 ++) is a generous portion, smoky and salty to taste. The sweetness of the balsamic beetroot chunks help to cut through the denseness of the meat, resting on a duo of giant asparagus. A light side of potato fondant completes this man-sized dish.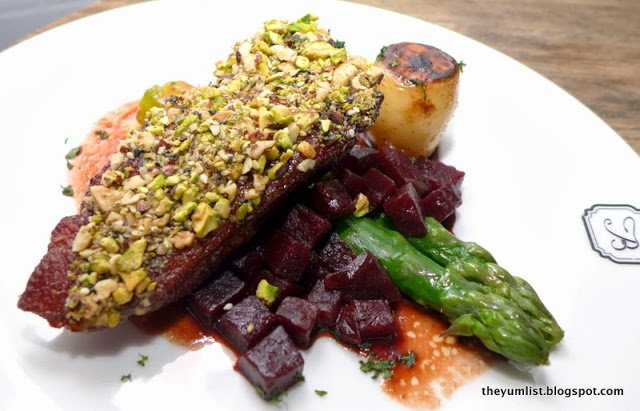 Duck Breast Fillet
Blood Orange Ice Cream with crystalized caramel and orange reduction sauce is from the Christmas set menu. The orange citrus peel flavour dominates the ice cream and sauce, while the crispy caramel serves as a bed to spoon it from. Be prepared to get sticky, it's a messy dessert!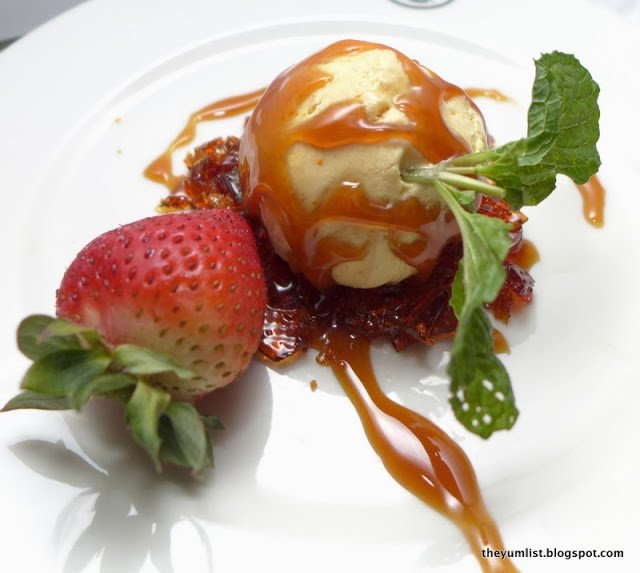 Blood Orange Ice Cream
With our tastings we delight in a serving of pink bubbly (RM159++ bottle), the balloon glass somewhat reminiscent of a Christmas bauble as it catches the reflective light. The sparkling wine is light, refreshing and very sippable; something to bring a seasonal smile to your face.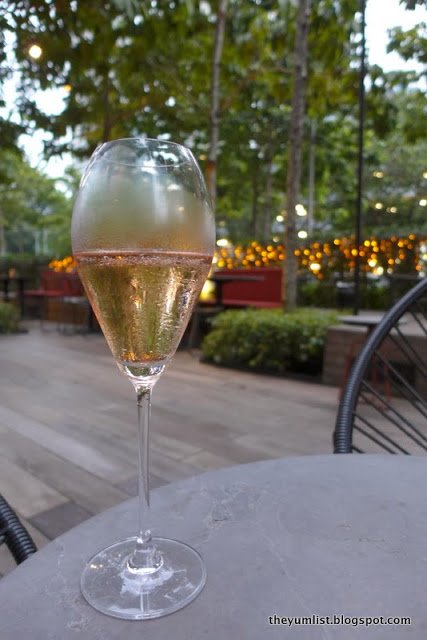 Santa Digna Estelado Sparkling Rose
The 'ABRACADABRA' Festive menu is being promoted for the whole of the Christmas season and ABC also offers a 4 course Christmas Set Menu with a choice of main dish.

Reasons to visit: jazzy Christmas atmosphere, hearty portions of interesting food.

Acme Bar and Coffee (ABC)
Unit 1 The Troika
19 Persiaran KLCC
50450 Kuala Lumpur
Malaysia
+6 03 2162 2288