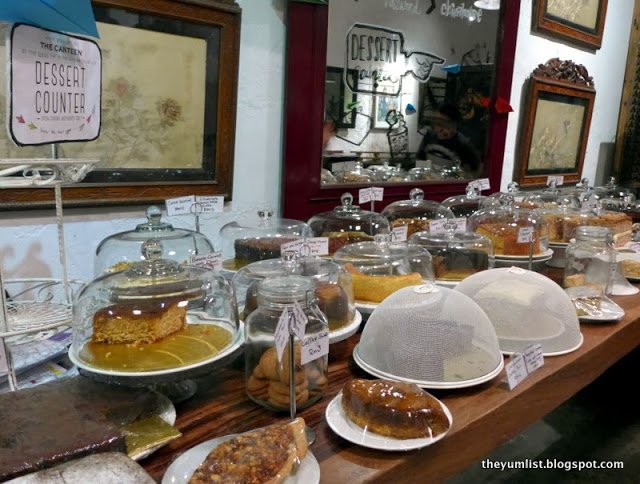 ONE of the Dessert Counters at China House Penang
China House Penang
No trip to Penang is complete without a visit to China House. Art, food, wine, live music and, a decadently delicious line up of the most mouthwatering sweets you're likely to come across anywhere in the country, consistently keep the crowds returning. So… of course, when I'm showing my mum and dad around the island I love, China House was high on my "must show" list.

Arriving Friday evening after an early escape from work in Kuala Lumpur, we stopped into China House for dinner before we even checked into our hotel. Thoughts of tiramisu, carrot cake and wonderings about the latest sweet inventions the team had come up with had our tummies rumbling the whole trip.

China House has one of the more extensive drink lists on the island offering excellent coffee, cocktails, beers and  a decent selection of dinner wines. We all chose our poison buying us a little time to fully take in the menu.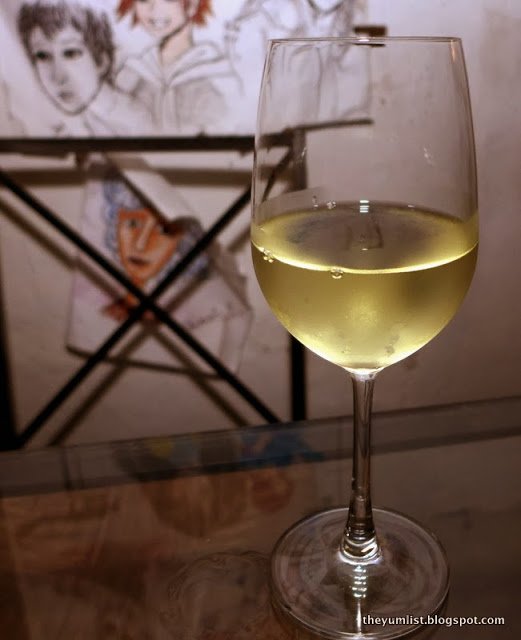 Peter Lehmann, Unoaked Chardonnay, Australia RM22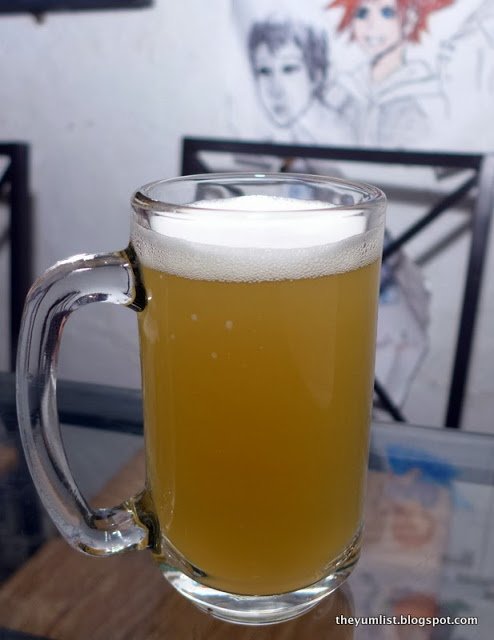 Stella Artois RM22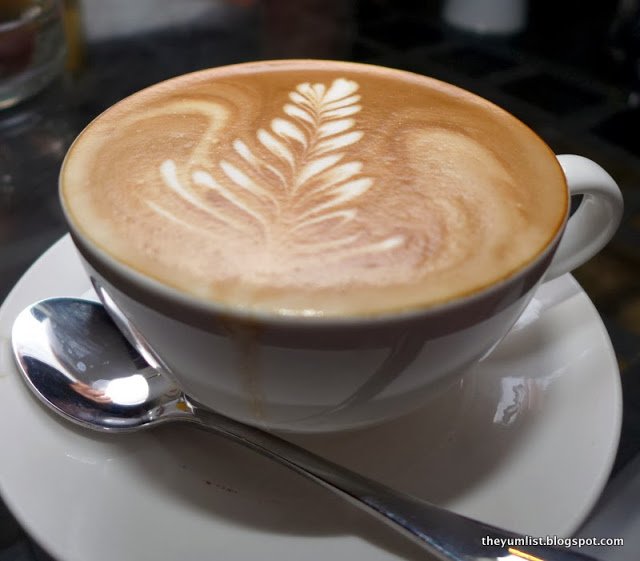 Cappuccino RM10
Restraining ourselves not to begin with dessert, we thought it best to start with something savoury. We're always impressed with the range of dishes on the menu. It's a good dose of Western with a healthy infusion of Asian.

Corn and Basil Soup (RM16) comes as a giant pond of jade green. Garnished with a lemon salad, the citrus adds both texture and a sunny zing to the liquid. We all enjoy this dish, but dad really loves it and, with the big puppy-dog-please-give-me-more look in his eyes, the bowl eventually gets passed back to him.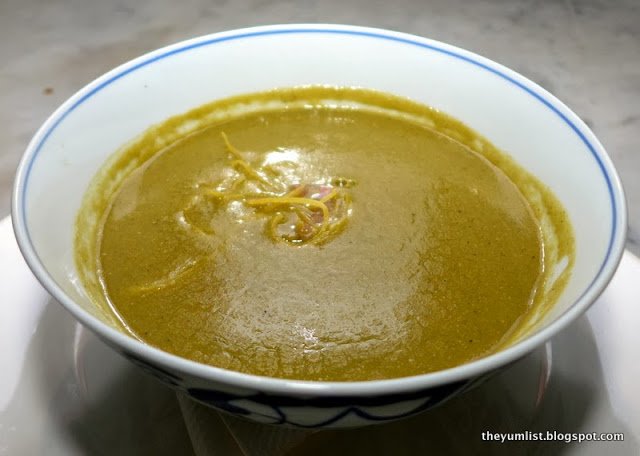 Corn and Basil Soup
The Bento Box Special (RM38 for 1 person, or RM70 for 2) is a great deal and perfect for people who don't like their foods to touch. A tray is divided into four boxes with an additional individual container for soup. The Glass Noodle Salad with Thai Basil Pesto and Crushed Peanuts is fresh and tangy. The Pumpkin and Leek Vichyssoise is airy and deliciously set off by a sprig of green herbs on top. Arancini with Thai Spiced Chicken and Cheddar is a favourite all round. Shame we agreed to share, as this is a popular item and one is not enough. The Crispy Spring Roll Stuffed with Seafood Tofu and Julienned Vegetables is obviously cooked quickly at a high temperature producing a crisp grease-free casing with garden fresh veges inside. A Tabasco Yoghurt Dip is a wonderful punch in the back of the throat. The big hit of spice is sure to have daredevils diving in for more.  The Braised Duck Thigh with Tomato and Mushroom (Marengo Style) comes in a pool of sauce perfect for soaking up with the Buckwheat Steamed Rice with Ginger Flower. We'd definitely order this again.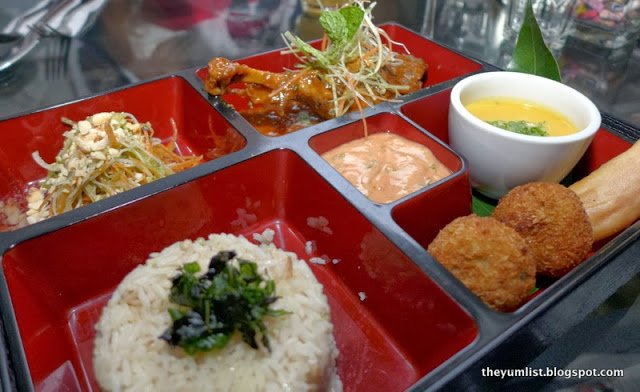 Bento Box
The Beef and Guinness Pie (RM34) arrives with a light flaky pastry packed with chunks of meat and just enough gravy to coat the flesh, but not too much to make the pie soggy. Roasted pumpkin, braised green peas, basil and harissa yoghurt make delicious sides.  My mum says it's better than hers. Dad looks at her, unsure as to whether or not he should agree, but later he confides that she's right. It is the best Guinness Pie they've eaten.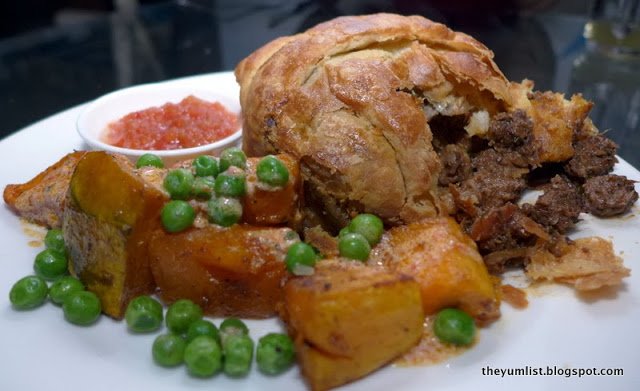 Beef Guinness Pie
Carnivore hubby can't resist the Mixed Grill (RM46). Creamy chicken tikka, homemade lamb sausage and beef patty are accompanied by turmeric potatoes, chili jam, chermoula and yoghurt sauce. I love the sweet spicy jam. Mum thinks the herby oil dip is fab and pairs perfectly with the lamb. Hubby, lover of all things creamy, is scooping up the yoghurt dip by itself, while dad, country man at heart, prefers to savour the taste of real meat without any dressings.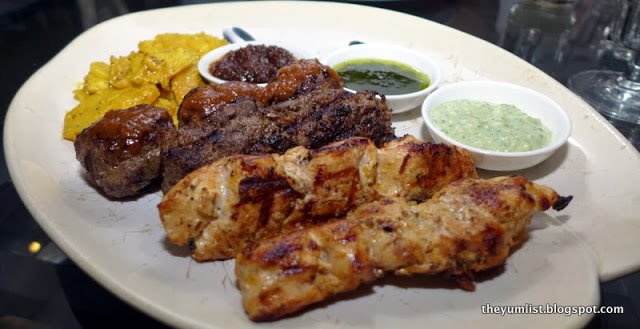 Mixed Grill
Braised Beef Ribs (RM46) has the table wondering as to whether the animal on the plate is a cow or a dinosaur. A giant bone extends over the plate and tender flesh is falling off it. Braised in red wine, a parsley sauce and turmeric potatoes support this hearty dish.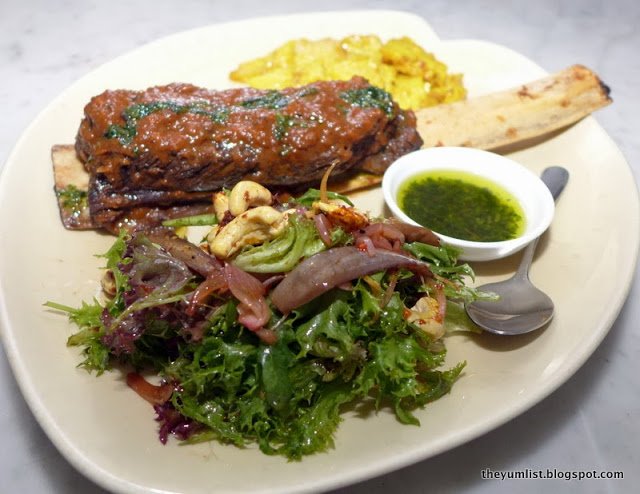 Braised Beef Ribs
Finally it's time for dessert and, knowing I'll take too long to decide, I send mum, dad and hubby off to browse the entire room of sweets. Giant slices are ideal for sharing. Half slices are also available if you're on your own so you can try two or more varieties. It's really hard to choose!

They come back with three plates. I'm surprised at their moderation, but apparently mum has reeled the boys in threatening an early morning walk if they didn't show some hint of self-restraint.

Lemon Curd Cake is based with a chocolate sponge. Thick waves of lemon curd and crunchy meringue turret the top. I guess it's like getting two cakes in one. Clever!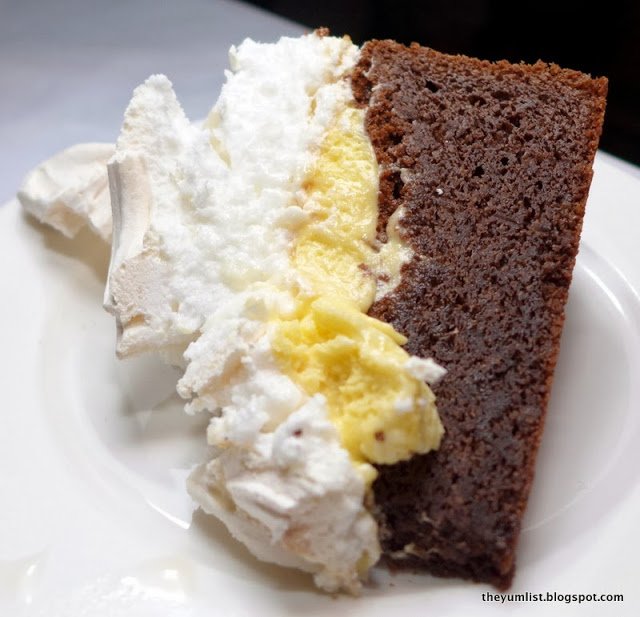 Lemon Curd Cake
Carrot Cake is a simple recipe done very well. Thick rows of cream cheese icing are blanketed between moist cake layers. It's a tower to be shared with a loved one (I try to convince hubby) or greedily coveted (hubby tries to convince me).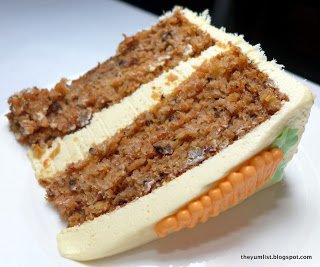 Carrot Cake
The winner of our all round affection though is the Caramel Cashew Cheesecake. A thick layer of sticky caramel holds whole mounds of nuts and a velvety smooth cheese is rich, tangy and mildly sweet.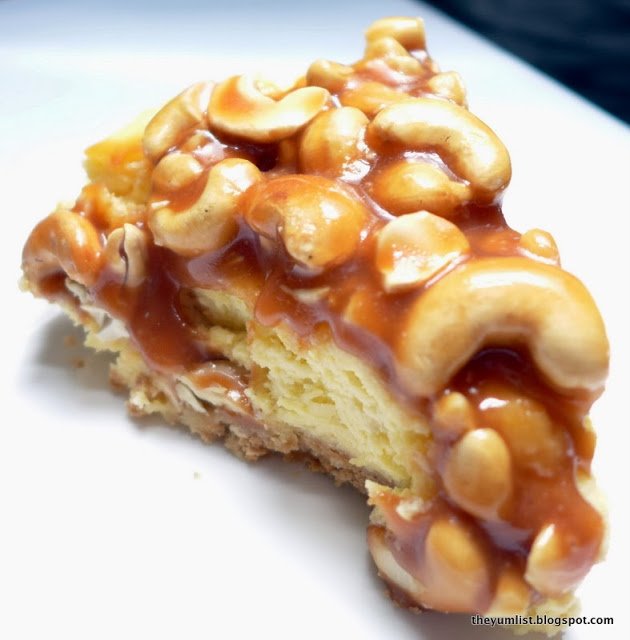 Caramel Cashew Cheesecake
We're stuffed. Very happy. Dad asks if we're returning here for morning tea. Mum rolls her eyes. Hubby, with cheesecake still clinging to the corner of his mouth answers, "Of course!"
Reason to visit: gob-smacking cake selection, inspiring environment, lovely selection of Western and Asian cuisine

China House Penang
153 Lebuh Pantai
Georgetown
10300 Penang
Malaysia
+6 04 263 7299