guEST @ The Intermark
The BIG Group never fails to impress and constantly holds its establishments to the highest of standards. Its latest venture, guEST (yes, you read that that correctly), is no different. Hidden inside another BIG outlet, Beast, guEST oozes exclusivity, class and top-notch dining. Operating on a pop-up restaurant concept, guEST only opens for events and/or private dining, providing a space for personalised gastronomic events.

A mirrored sliding door within Beast itself is your entry point, welcoming you into a world of plush armchairs, Victorian lighting and one heck of a kitchen. Housed in a glass kitchen (fully equipped with all the essentials a top chef might need – chandelier included), the talent behind guEST's innovative cuisine whip up plate after plate of gastronomic goodness, in full view of diners. If that's not pressure, I don't know what is…
But guEST rises to the occasion and delivers on so many fronts. The menu is ever-changing, and we had the opportunity to sample its latest offerings together with exquisite wines from Vintex, a renowned vineyard in Bordeaux, famed for its fine merlot and cabernet sauvignon wines. Armed with an array of both red and white wines, needless to say, we got off to a fantastic start.

You can't go wrong with Foie Gras and guEST serves this in a big way (no pun intended). Creamy foie gras served on poached pear, in dark cherry and white balsamic reduction – this dish was pure class.
The next course, poached egg on soft polenta with truffle oil, may not sound like something most diners would be keen on, but this gem of a dish is a firecracker. The egg yolk practically melts into the polenta, creating a gooey consistency but forming a dizzying trio of flavours.
My favourite of the lot was the lamb loin. Although not the hugest fan of the Brussel sprouts it came served on (childhood preferences are tough to shake off), the lamb slices came served with a brown mint jus that was to die for.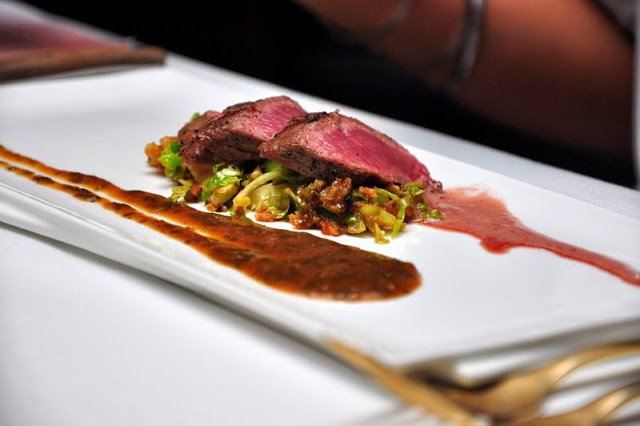 Lamb Loin
Char-grilled beef tenderloin was up next with tomato and arugula salad, along with truffle hollandaise. Not as rich sounding as it comes across as, the truffle hollandaise balanced the smoky flavours of the tenderloin.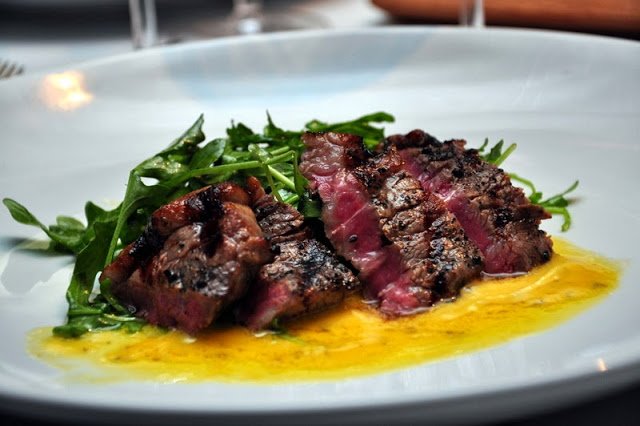 Char-grilled Beef Tenderloin
Sweet dark chocolate pudding with vanilla ice-cream is a sophisticated crowd pleaser in almost every dessert category, and guEST's version is a hit with many a sweet tooth. Warm pudding on cold ice-cream is a surefire winner and guEST nails it.
Besides showcasing its culinary prowess, guEST also hosts local and international chefs perfecting their skills in the gastronomic arts. The space also serves as a platform for aspiring chefs to practise their craft. From university graduates to those who embarked on self-study, guEST acts as a launch pad to their careers in the F and B business.
It might seem like an ambitious venture by BIG, but guEST lives up to the hype. No doubt, an intimate and sophisticated dining experience awaits your discovery within the glossy walls of The Intermark.
guEST
Ground Floor, The Intermark 182 Jalan Tun Razak,
50450 Kuala Lumpur
+603 2163 5732