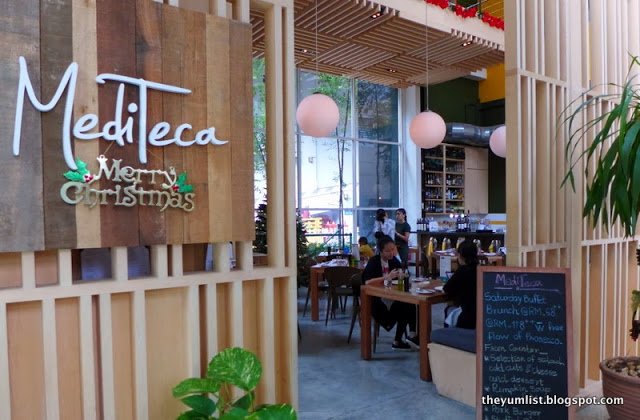 Mediteca, Fraser's Place
MEDITECA
Mediterranean Wine and Tapas Bar
Saturday Bubbly Brunch
Words by Kirsten Durward
Photos by The Yum List (Monica Tindall)
(Mediteca has changed management since this article. We have not yet been back to check out the latest.)

As Sunday Brunches and lunches are plentiful in Kuala Lumpur these days, a few clever restaurants are now offering a Saturday option. Mediteca, a relatively new place on Jalan Pinang has just launched a Mediterranean Table d'hote style menu, which is light and fresh, and delightful in presentation. The restaurant's concept appears to be elegant and modern, with light flooding in through floor to ceiling two story windows. A sense of Nordic style pervades with the blonde wood, high ceilings and open staircase.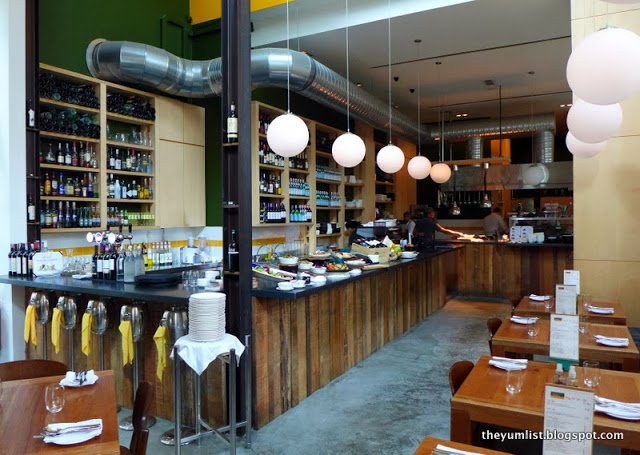 Mediteca, Downstairs Dining
Water is immediately offered, one of my benchmarks of a really good restaurant. But I've just quenched my thirst from the warm morning of tennis, when a delightful looking bottle of Prosecco arrives. It's a Val D'Oca: Vendita Prosecco di Valdobbiadene Superiore. Delicate bubbles fizz into the glass, settling into a pale golden sparkle that we can't wait to taste. We toast our good fortune once again and take our first sips in appreciative silence. We agree that it's the perfect light accompaniment to a Saturday lunch.
Prosecco
And on that note, our tummies rumbling, it's time to eat! We head for the salad bar, which holds contrasting delights such as pickled red cabbage, marinated chickpeas, tomato cucumber salad with crumbly feta, fresh green leaves. We all love the roast veggie platter, herby and varied. There are certainly plenty of options, and veggie friends will certainly be happy, but Caning and I concur that our favourite is the slender, creamy pasta with ham dish.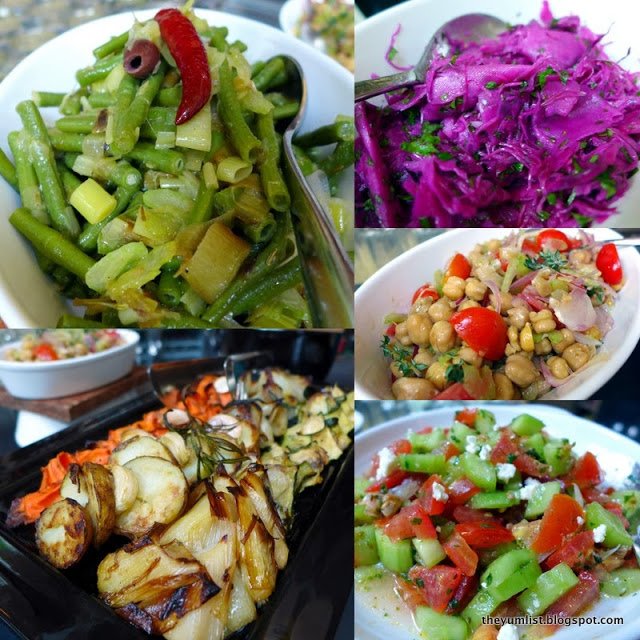 Appetizer Buffet
In the opposite corner of the restaurant sits the cold cut carving counter. I walk over for a nose, and eye up a rather delicious looking sausage. Owner Riccardo claims to have the freshest possible sausage and ham in KL as he directly imports it himself. Ooh can't wait to have a taste. Everything is carved freshly, plated simply and set on the table. It's a generous serving, accompanied by original home-made pickles that we delight in mixing and matching with the jambon sec, choice of hard and soft cheeses, and some very flavourful Italian and Spanish sausage samples.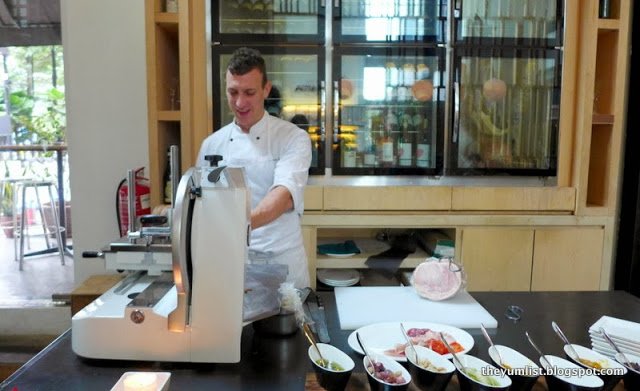 Chef Riccardo Slicing Some Cold Cuts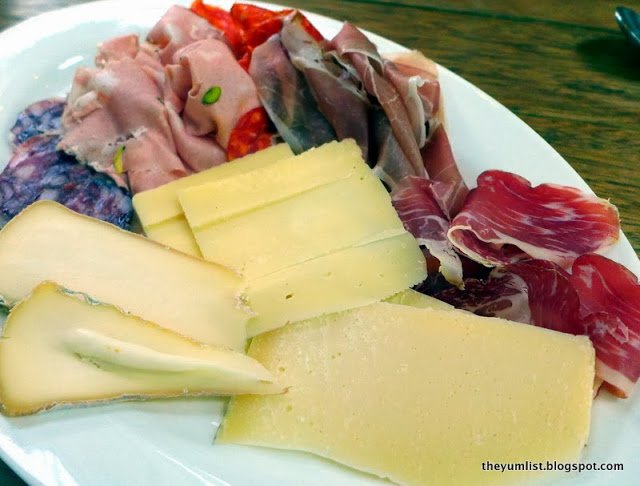 Italian Cold Cuts and Cheeses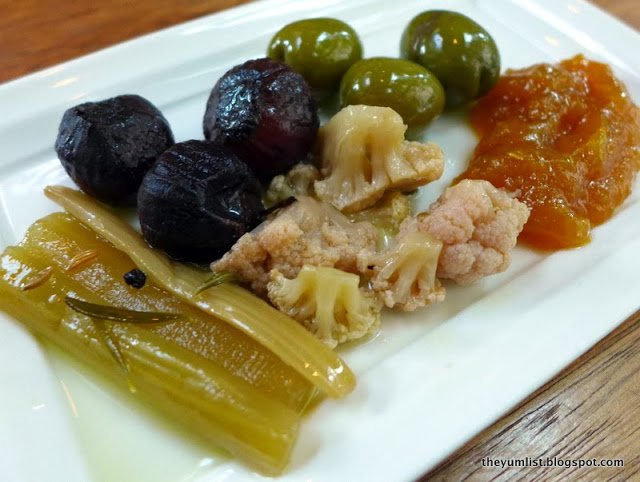 Home Made Pickled Vegetables
Following the cold comes the warm. A colourful pumpkin soup arrives, rural style, served in a mini casserole style dish. We certainly love the presentation of the soup.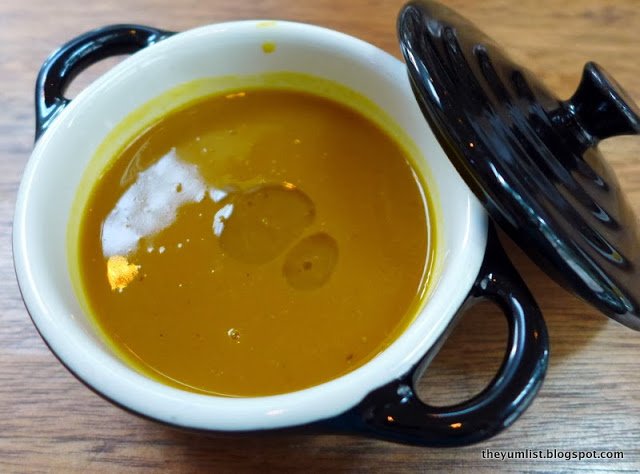 Pumpkin Soup
For main, each week there is a choice of three dishes, but vegetarians would have to request in advance. This week our first tasting is a chunky pork burger complete with a thin sheet of melted cheese, and a side of tasty salad. Caning is in raptures over the pork 'It's fantastic!' Well that's the response you would get from a keen meat eater. What makes the dish though, is the homemade fig jam with star anise. This scores a definite Yum, and we wish we could carry some home.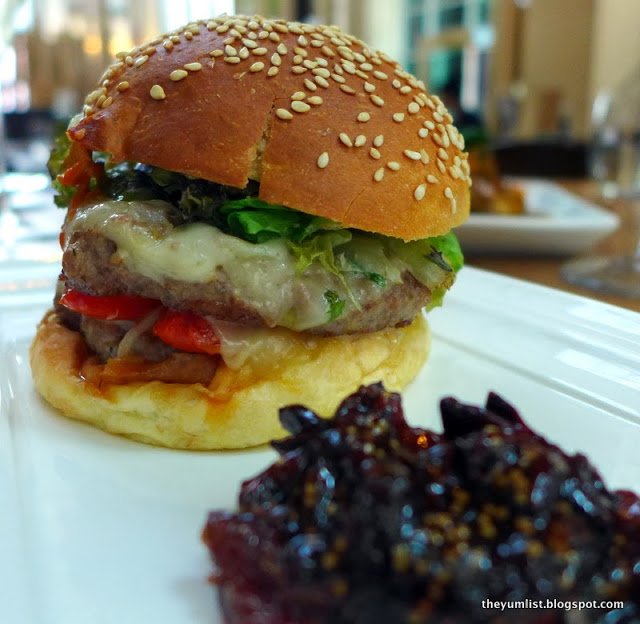 Pork Burger
The plating of the chicken echoes the clean elegance of the restaurant. We pause in admiration before attacking with competing knives, each determined to get a good taste of what looks like a truly delicious stuffing. And it is! Pecan and Feta combine for a crunchy and toothsome contrast to the juicy chicken and clear yet tasty sauce. Yes, something I wouldn't mind eating again, a whole portion to myself this time though!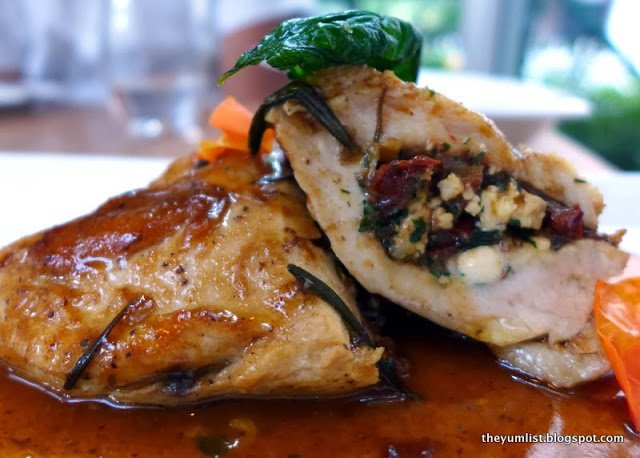 Stuffed Chicken Breast
The fish is Monica's favourite, light and fresh. A delightful moist, firm piece of snapper wrapped in wafer thin zucchini slices, just melts in our mouths, flavoured by a delicate balanced reduction. It's so easy to overcook fish, but this chef has timed it perfectly.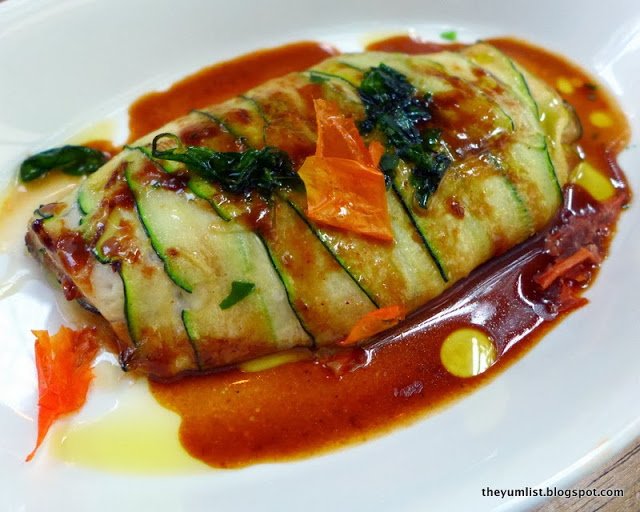 Baked Fish in Zucchini
Dessert is light, with a fresh fruit salad, a hint of mint for that Mediterranean tang. Caning and I are more impressed by the ricotta lemon tart, which has a smooth texture and a lightly citric flavour. Caning actually helped himself to a piece at the beginning, with the salad buffet, but wasn't shy of going back for two more pieces with a charming grin.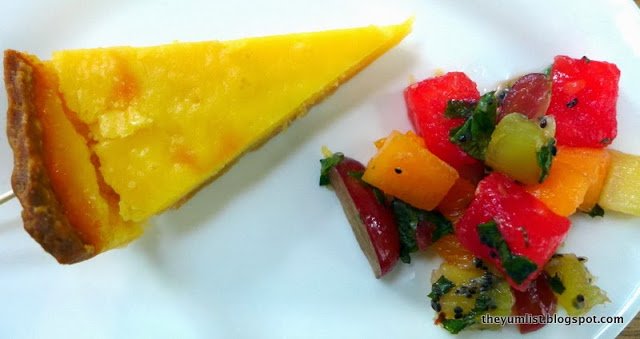 Lemon Ricotta Tart with Fresh Fruit Salad
We feel very satisfied, but not stuffed, which is perfect when you have a few errands still to run on a Saturday afternoon. This is a great option for a relaxed lunch with friends, or a family outing. The unhurried style of service was very relaxing, yet you always felt that anything you wanted was on hand. Water glasses were refilled constantly and Prosecco was poured whenever needed.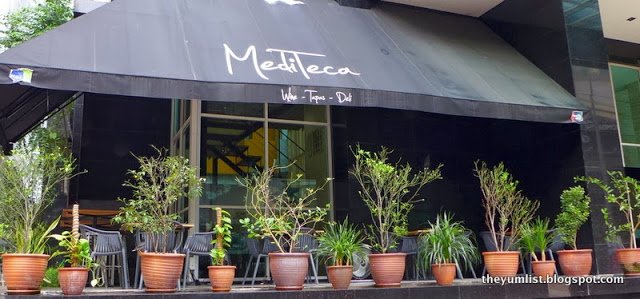 Mediteca, Fraser's Place
Mediteca offers tapas, a la carte menu and lunch set menu throughout the week. Also for those who want to treat themselves at home, there's a certain range of ready-to-eat meals, as well as fresh deli produce and baked goods. It's definitely something new in KL.
Brunch is offered every Saturday from 11:30am – 3:30pm and is priced at RM68++ per adult and RM118++ with free flow prosecco. Children below 12 years old eat for free.

Reasons to visit:  Freshly carved cold cuts, good value, deliciously light and satisfying food, attentive service.

Mediteca
Lot 163 Fraser Place
Jalan Perak
50450 Kuala Lumpur
Malaysia
+6 03 21812426
+6 03 21611106