Ril's Bar Cocktails
Words by Polly Szantor
Photos by The Yum List (Monica Tindall)

When you approach Rils Restaurant, you can tell that it's a classy joint. The black and white tiles are as distinctive as the handles on the glass doors, and when you climb the stairs to the cocktail lounge, the dark red, velvet curtain shouts refinement. Inside, you're immediately transported almost 100 years back in time; it feels like a wonderful place to relax.

We were delighted to meet James Barker, the new cocktail creator extraordinaire at Ril's. How fortuitous that Ril's owner met him at Caravan in London and whisked him here to Malaysia. When he mentioned this I initially thought that he was living in a caravan in the UK capitol, which was quite confusing, and that was before I tried his cocktails!
James wanted to serve his drinks one by one so that each of them would be absolutely fresh. He is passionate about his work, and was as eager to tell us about his creations as we were to try them. He was happy to share the ingredients but prefers to keep the proportions to himself. "I like my drinks to stay slightly shrouded in mystery," he admitted, and we agreed that this is an excellent idea.

We began with a Black Butterfly (RM40): Angostora 7 Rum combined with rose syrup, Amaro Montenegro, and Fernet Branca and garnished with a rose bud and a twist of lemon. For perfection, the ingredients should be cold and slightly diluted with ice. The cocktail is then strained over fresh ice. This drink fluttered in a herbal, floral direction ending in a lingering syrupy bitterness, complex and very adult.
A tangy sourness and a tinge of bitterness dominate sweetness in the Apa Apa Apple (RM38). Angostora 7 Rum is mixed with Aperol (an Italian Aperitif) lime, gula Melaka and grapefruit bitters then topped with apple foam. Created by Ril's waiter, Emran, this is two drinks in one… it's delicious to drink through a straw but sipping delivers the overtones of foamy apple. I loved the tanginess of this drink, in fact it was so lip-smackingly good that I sipped my way through it rather too quickly.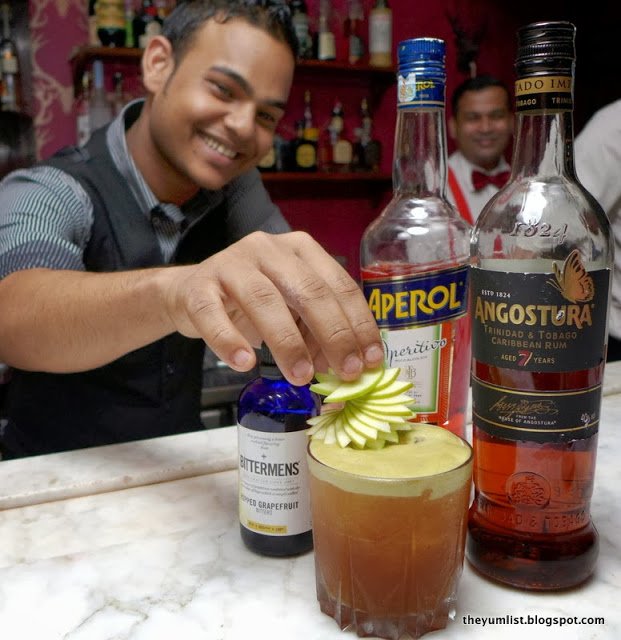 Apa Apa Apple
The house rum is Angostora 7, and it combines beautifully with Campari, pineapple juice, lime and sugar garnished with pineapple foam in the classic Jungle Bird (RM38). There's a very grown-up burst of bitterness that delights the tastebuds… what a lovely combo!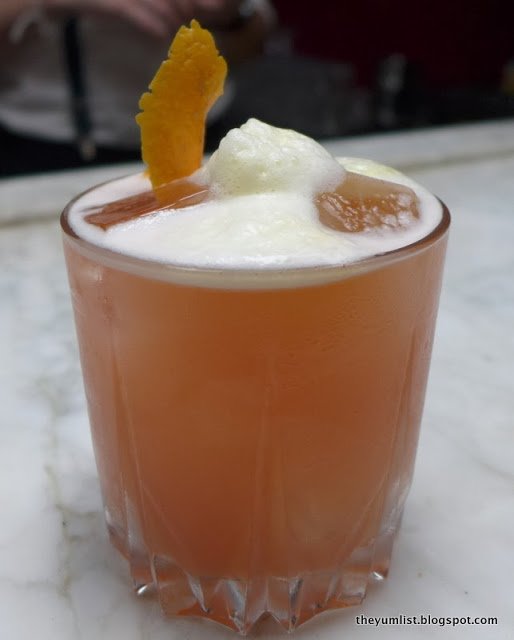 Jungle Bird
We were treated to a little lesson about making an Old Fashioned, all of which are priced at RM38 This popular cocktail, invented to cover the taste of bad whiskey, is very easy to make, but not so easy to make correctly. It takes time, careful measuring and practice to get it just right. In a nutshell, the Bourbon Old Fashioned was a combination of Angostora Bitters, Demerara sugar, and Bourbon, in this case Wild Turkey 101. Rimming the glass with flamed orange peel was a very special touch.
I preferred the Rum Old Fashioned where the liquor was mixed with maple syrup, lemon zest and Xocolatle Mole Bitters, which gave just a waft of chocolate to the drink.
Best of all was the Tequila Old Fashioned. Organic Blue Agave syrup joined Don Julio Anejo aged Tequila, then James added his own magic, one of his many home-made Bitters. Ril's Xeste 3 Bitters is a spicy combination of saffron, cardamom, goji berries, ginseng and vanilla. This drink had a spritz of peated whiskey, giving a gentle smoky haze to open, followed by intense head notes of premium Tequila, with hints of cardomom and saffron for the finish.
Six cocktails in, and James decided it was time for something a little stronger, the Corpse Reviver #2 (RM42), which was first listed in the Savoy Cocktail Handbook in 1930. The combination of Gin, extra dry Vermouth, Cointreau, 68% proof Swiss Absinthe and lemon juice is complex on the nose. It hits the palate with sourness that slowly morphs to aniseed, ending with fennel and lemon. Whoof, I could get to really enjoy this type of cocktail tasting!
On the lighter side, the Southside (RM38) is similar to a French 75. Muddled mint and sugar is shaken with the house Gin (Tanqueray), lemon and ice, then it's topped with Prosecco. The minty flavour cuts through the sweet and sour centre of the drink, while the Prosecco tingles the tongue. Love it!
For something festive we tried one of the Christmas Cocktails, which hadn't yet been named. Gin was mixed with almond syrup, lavender, Ril's Song of Solomon Bitters and a gin-soaked cherry, then topped with Champagne and garnished with pine needles and Christmas toys. This was a fantastic celebration of flavours and The Yum List liked it very much.
The most special drink that James prepares is the Transatlantic Belle. Did I try it? To tell you the truth, I'm not quite sure, as that's where my notes end, but I can certainly recommend an evening at Ril's Bar. The bottom shelf house pourings are all premium brands and there are top shelf offerings for the discerning imbiber.

Reason to visit: For real cocktails prepared by a real mixologist – these drinks are definitely not for sissies!
Most cocktails are priced at RM32, and there's live jazz on Friday and Saturday nights.

Ril's Bar
30 Jalan Telawi 5
Bangsar Baru
Kuala Lumpur
Malaysia
+6 03 2201 3846
+6 016 315 7195