Word by Polly Szantor
Images by Dianne Brydon
The culinary team at the Impiana KLCC Hotel, led by Executive Chef Helmut Lamberger, has created an array of festive flavours to welcome the Year of the Horse. The Prosperity Buffet Dinner is all set to tempt you with a lovely selection of dishes.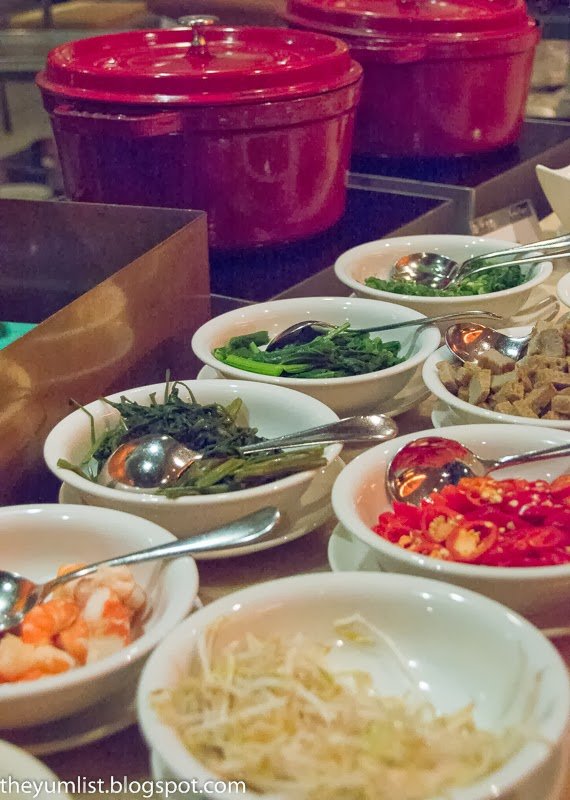 Live Cooking Station
Begin your meal with that fun and fancy 
Malaysian CNY treat, Yee Sang. Tonka Bean Café is offering 3 varieties – Vegetarian Crystal Pear, Soft Shell Crab and Norwegian Salmon 
ranging in price from RM38 to 78++ for 5 people and from RM58 to 128++ for 10. 
These special Yee Sang tossing platters are available from 11am to 11pm between 
January 17 and February 14.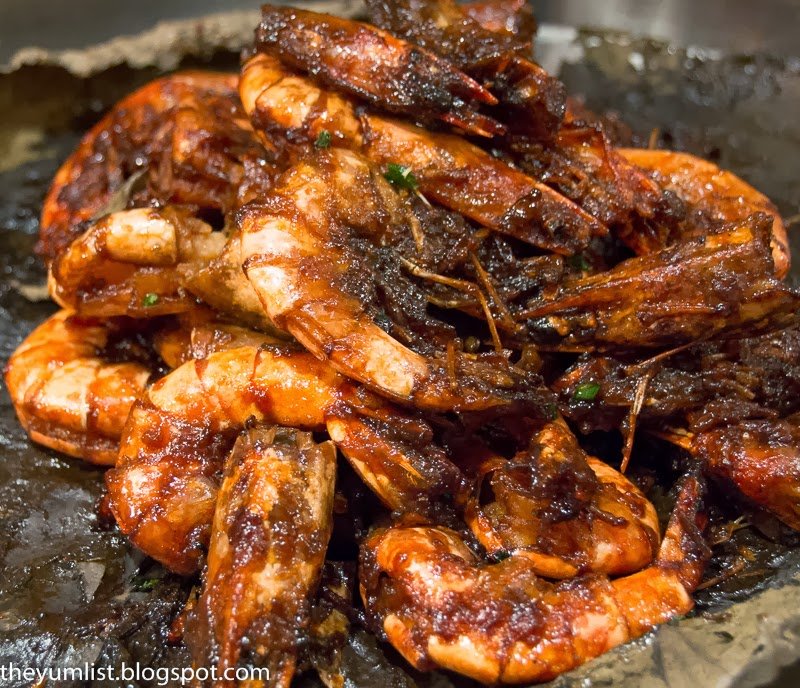 Marmite Prawns
There's make-your-own Yee Sang at the buffet table too, plus you can create your own Caesar Salad in a bowl hollowed out of a huge wheel of cheese, rather a clever idea. There are plenty of fresh, healthy salad vegetables and dressings to go with them, but my eyes lit up when I saw the beautiful display of seafood in the cold section. I especially enjoyed the Salmon Sashimi, which was perfect, but the Smoked Salmon came a close second. The Mussels, Oysters and large Poached Prawns were delicious, and not at all watery. There are Chinese cold options too – Jellyfish with Szechuan Paste and Sesame Seed, Thai Octopus and Vegetarian Duck Rolls.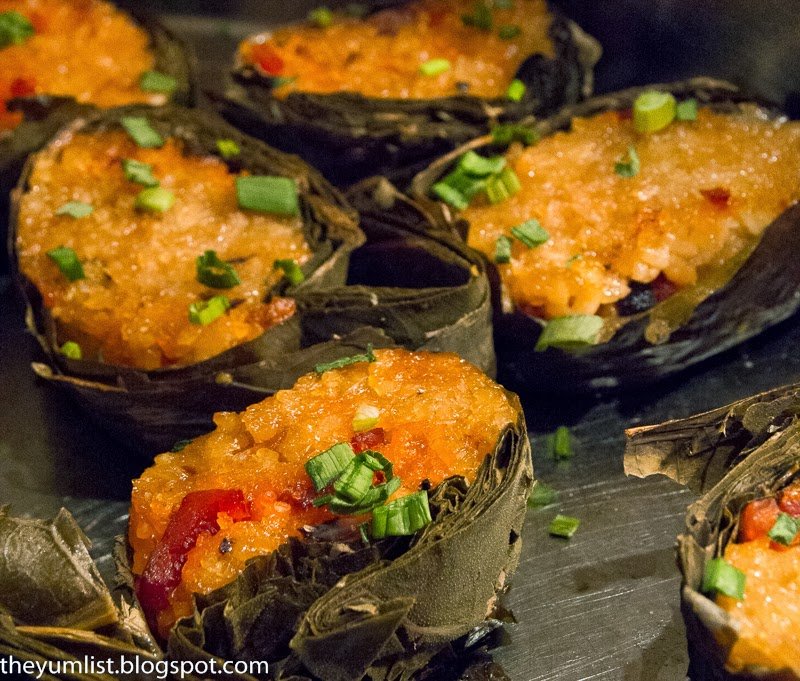 Lotus Leaf Sticky Rice
There was a choice of soup, Wild Mushroom or Fish Maw with Sea Cucumber and Crabmeat, and it would be difficult to pick my favourite, as they were both extremely good. I liked the Chinese Hot Appetisers too, Katafi Prawns, Char Siew Chicken Spring Rolls and my favourite, Mini Taro Balls, light and crispy outside, and soft and creamy in the centre.
There's a good selection of hot main courses to choose from at the buffet table, including Malay and Indian favourites such as Tandoori Mutton, Dhal, Rendang Daging, Kari Ayam and Sayur Lodeh. There are Western options too. The Grilled Chicken Breast on Polenta was simple but nicely done and I especially enjoyed the Herb Crust Sea Bass with Lobster Corn Bisque with it combination of rich flavours.
You can walk on over to the live cooking stations to discover Chinese food, including Udon Prawn Mee, Fish Ball Noodle Soup and Fresh Wok Daily Vegetables. I tried the Roasted Duck, and it was perfect – very tender and not at all greasy. The hot Chinese dishes are in this area, and include Smoked Chicken with Ginger Mousse, Szechuan Braised Beef Ribs with Bean Curd Skin, Marmite Tiger Prawns, Steamed Garoupa and Steamed Lotus Leaf Sticky Rice with Dried Oyster and Mushroom. I had to try the cute, Braised Abalone Money Bags, which were very tasty, but my favourite here was the Braised Longevity Noodles with Shredded Scallops and Yellow Chives. I only had room for a little sample, but it was full of flavour and very appealing.
Desserts include Malay Kuih, flaky Pineapple tarts, assorted French Pastries, cute little Crystal Bunnies, Deep-fried Nien Gao, French pastries and many other choices. To round off the meal, you can make your own sundae. There are 6 flavours of Baskin Robbins Ice Cream with all the toppings to make you feel like a kid again.
This Prosperity Buffet Dinner is available from 17 January to 13 February, Monday to Saturday from 6:30pm to 10:30pm. It's priced at RM98++ with 50% off for children aged between 6 and 12.
Reason to Visit: To enjoy a CNY buffet
with local and international food in a vibrant, festive atmosphere right in the heart of the city.
Tonka Bean Café
Impiana KLCC Hotel
13 Jalan Pinang