Usually the top floors of hotels are occupied by presidential suites and executive lounges. Not at the W Taipei. Valuing the country's culinary traditions, importance is given to the culture's greatest obsession, food! As such, the hotel's modern Cantonese restaurant, Yen, is awarded priority, occupying prime position at the summit with a bird's eye view of the city below.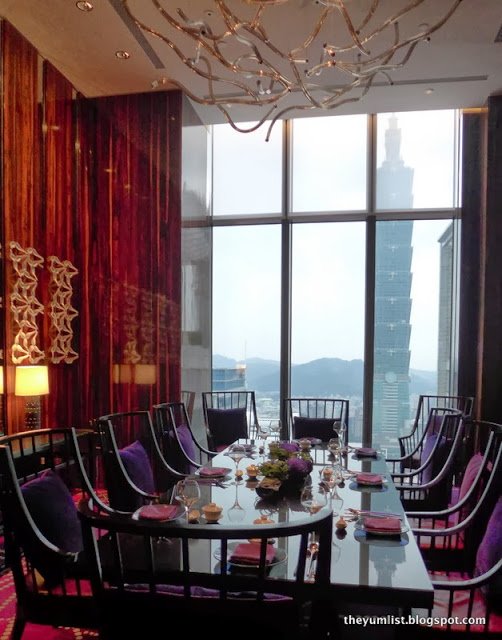 Private Dining Room
Stylish W design paints the scene with double story windows casting natural light on the shades of shimmery purple, grey and blue that hue the room. Lustrous black round tables fill the room, separated by giant fish trap like dividers. Caged lanterns hang from the ceiling, while ceramic lights gently illuminate the walls from down low.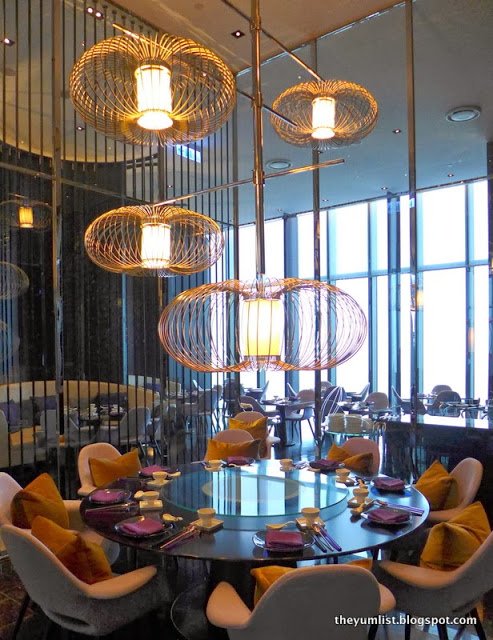 Yen, W Taipei
A fabulous show kitchen is backed by a glossy laminated wall, which is textured with cake tins and cups creating unique mosaic appeal. Roast ducks hang from metal rods and bamboo dim sum baskets look alive with clouds of rising steam.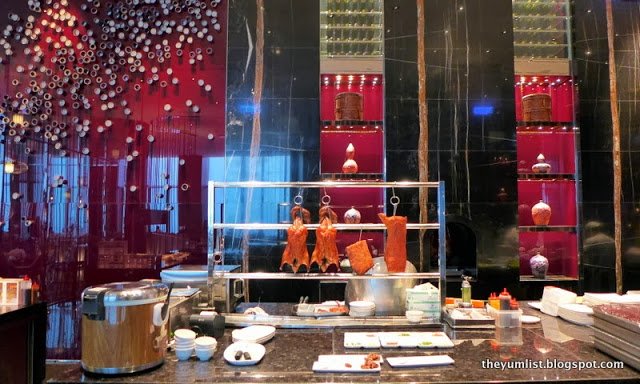 Open Kitchen
We're here for lunch, but we're thirsty and have noticed the snazzy Yen Bar next door. Our first order is a cocktail.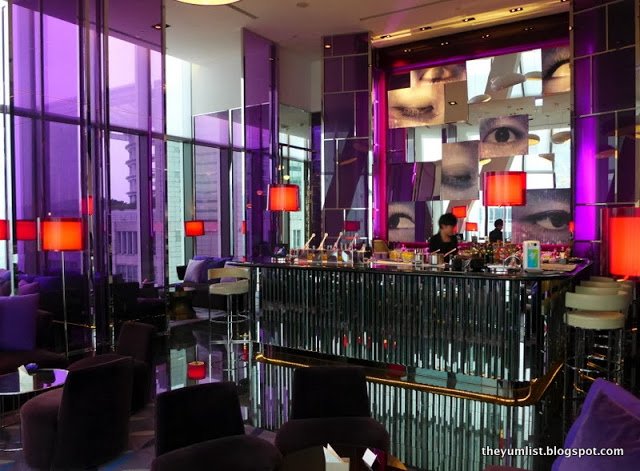 Yen Bar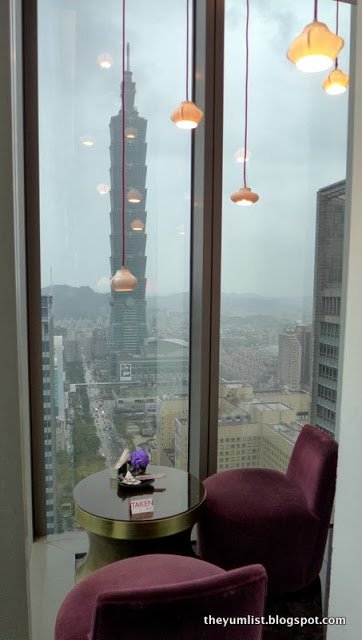 My Favourite Spot in Yen Bar!
Yen Bar tea infused concoctions grab our attention, but our favourite by far turns out to be the Oolong Fizz. Glistening in a highball glass, condensation frosts the sides and a dried tea leaf garnish gives the cocktail thirst quenching appeal. A deep golden bottom graduates to a transparent top, so we give it a good stir before tasting. It's refreshing with a bitter taste of tea at the end. We love it.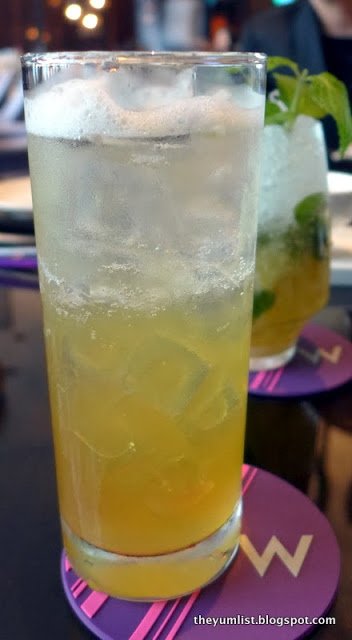 Oolong Fizz
A Green Tea Mojito, adorned with a sprig of fresh mint and sprinkled with dried tealeaves, is pale kaki in colour and muddled over crushed ice. Flavours are well balanced, beginning with a touch of sweet and finishing with a hint of tang.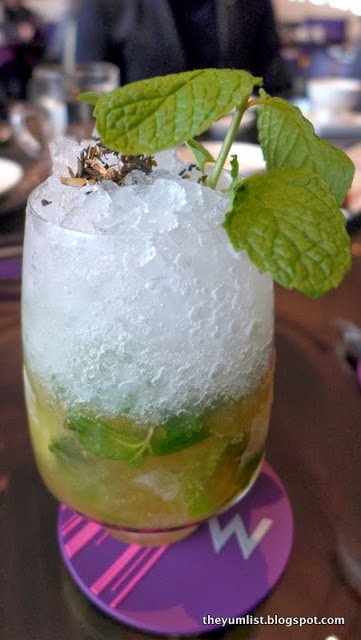 Green Tea Mojito
A highball glass contains the Afternoon Tea mix of Earl Grey, vodka, cranberry and soda water. The fruity start is offset with an aromatic bite at the end making you want to drink more. Do beware of these cocktails! While they taste innocent enough, upon standing, I realize that each really packs a punch. (Just the way I like it.)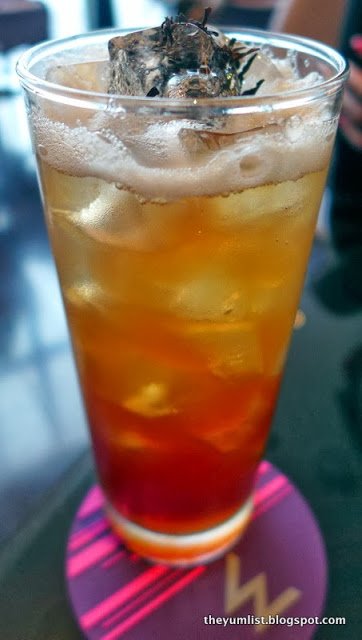 Afternoon Tea Cocktail
Taiwanese pride themselves on using local ingredients and we're happy to see this reflected in the menu. While we're deciding what to order, chef's whim of the day, dried fish, is placed on our table. Dry and sprinkled with sesame seeds, it provides a tasty chew as we ponder the menu.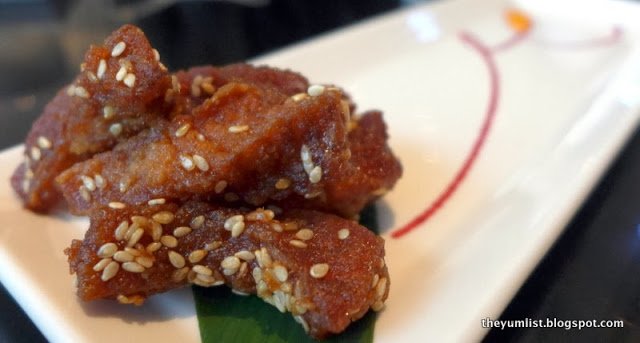 Amuse Bouche – Dried Fish
The Pearl Pumpkin Bisque with black truffle and crab-shrimp paste ($NT600) comes highly recommended by our waiter. Corn fed chicken from Taiwan is used for the broth, which is given a golden glow through a local pumpkin infusion. A shrimp ball mashed with truffle is crowned with golden flakes and black caviar. It tastes like superb Chinese cuisine, but is plated as an elegant Western dish. We're intrigued by the use of recipe and adornment and, can see why staff suggested it.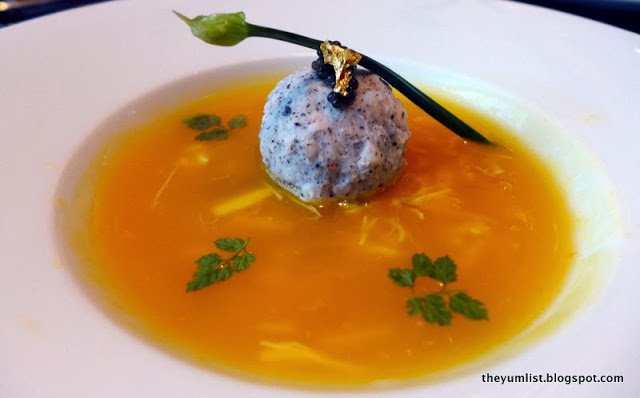 The Pearl Pumpkin Bisque
Wok Fried Seasonal Vegetables (NT$480) is a mountain of green water lily tangle. It's fresh, lightly oiled and cooked, offering a slight resistance to the bite. It makes our insides feel good and our Pop-Eye inspired health conscious is at ease too.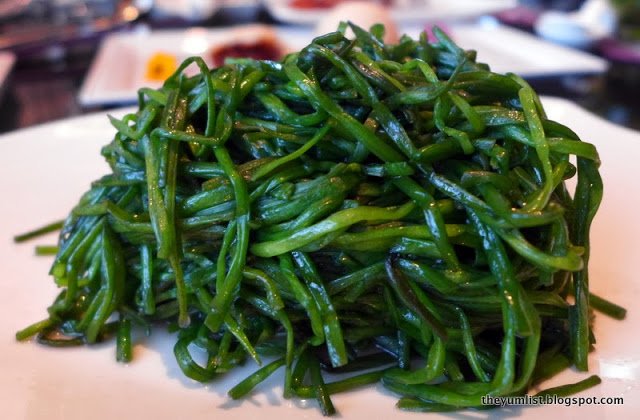 Wok Fried Seasonal Vegetables
Yen is popular with its lunchtime dim sum so we pick two of the highlighted signatures on the menu. Black Truffle and Mushroom Dumplings ($NT210) arrive in a steaming bamboo box. Semi-transparent parcels capped with blobs of caviar feel clean and fresh in the mouth. We find them an energising change to the traditional offerings.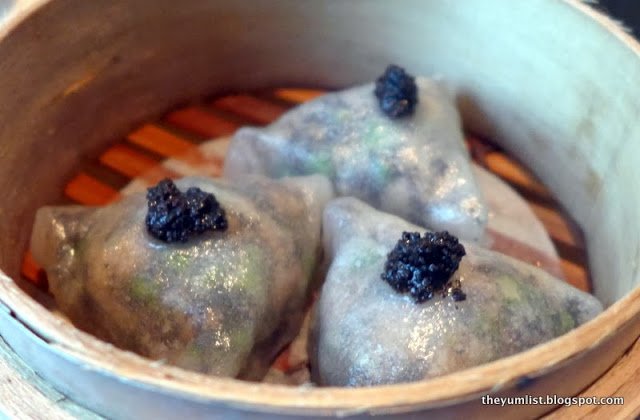 Black Truffle and Mushroom Dumplings
The next is an incredibly delicious, saliva-inducing, what-dreams-are-made of Baked Barbecued Pork Bun with Sugar Frost (NT$300). It's faintly connected to other pork buns we've tried with the juicy sweet meat gravy in the middle, but it goes way beyond expectations with a unique pastry that is dry, flaky and nectarous. An artistic swirl of sauce leads up to the buns and on to an edible flower, but this slick decoration is unnecessary. Once you taste these buns, you won't care how they're presented. All you'll consider is how to get some more. Our eyebrows raise and a goofy smile commanders our faces with every luscious bite. We'd love another round of these, but sensibly leave space for the rest of what we've ordered.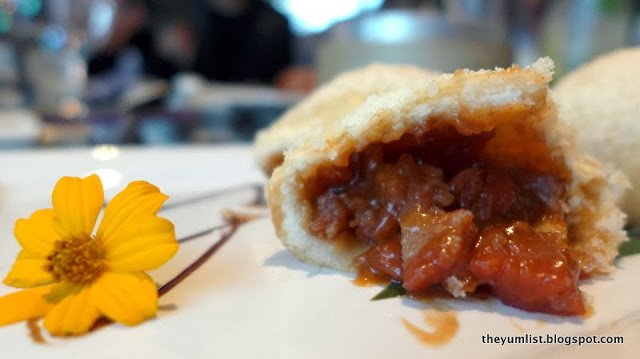 Baked Barbecued Pork Bun with Sugar Frost
Cantonese cuisine is known for excellent barbecue, so from the grill we must request. A Barbecue Platter (NT$880) allows us a choice of two meats. We choose duck and pork. Hong Kong Style Roast Duck comes from a farm nearby Taipei. The skin is crispy and the flesh tender. Roast Fortune Suckling Pig is cubed precisely exposing a cut of half meat, a quarter fat and a quarter brittle skin – just wonderful.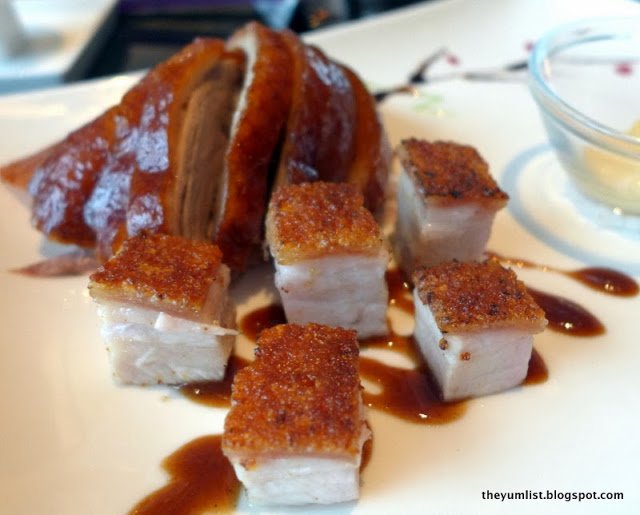 Barbecue Platter
Fried Rice (NT$780) with chicken, pumpkin and black truffle seems all too much to squeeze in after the line-up we've just consumed. However, the first spoonful rewards us with plump separate rice grains, juicy pieces of meat and sliced asparagus, leaving us no choice but to finish our bowls.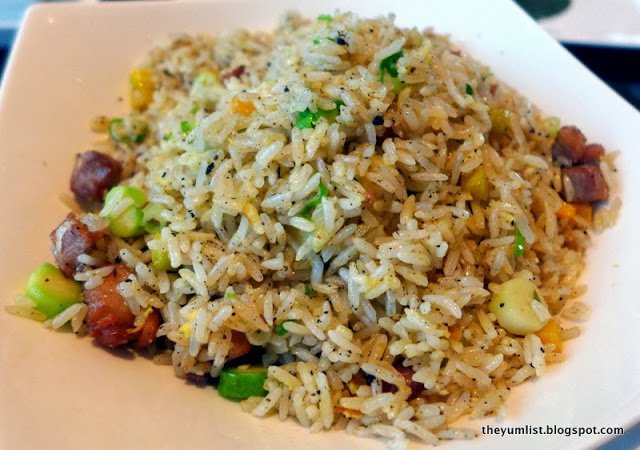 Fried Rice
Needless to stay, there is always room for dessert and, we are ever so grateful for the talent of the chef for our final item today. Creamy Egg Tarts (NT$180) dissolve in a heavenly disappearing act in our mouths. Flaky buttery pastry encases a creamy custard filling, leaving a viscous paste to linger between our teeth. It makes us want to lick up every last speck with our tongues. These tarts have a well-deserved reputation for being some of the best in Taipei – quite the achievement in a country with a reputation for turning the preparation of the tart into an art form.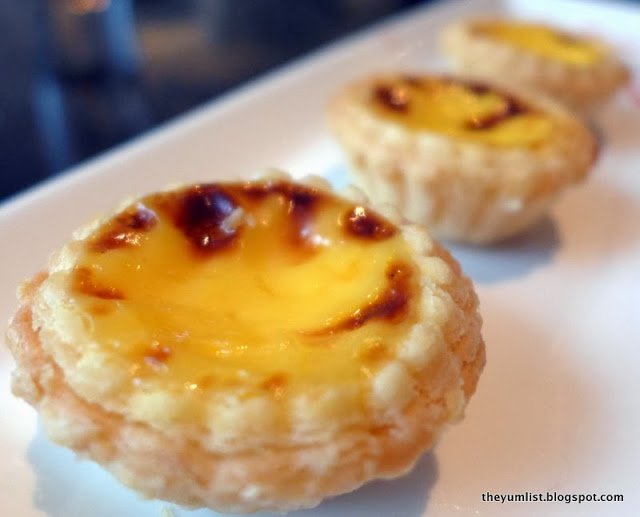 Creamy Egg Tarts
Although we're full to the brim, our thoughts mull over the idea of taking home some Pork Buns and Egg Tarts. But the rest of Taipei awaits and we leave them as a sweet idea, enticing a return visit.
 
Reason to visit: Chic design vibe; Oolong Fizz cocktail; Roast Fortune Suckling Pig; Baked Barbecued Pork Buns with Sugar Frost; Black Truffle and Mushroom Dumplings; Creamy Egg Tarts.
 
Yen, Cantonese Restaurant
W Taipei
10 Zhongxiao East Road
Sec. 5 Xinyi District
Taipei 110
Taiwan
+886 2 7703 8888