Words and images by Polly Szantor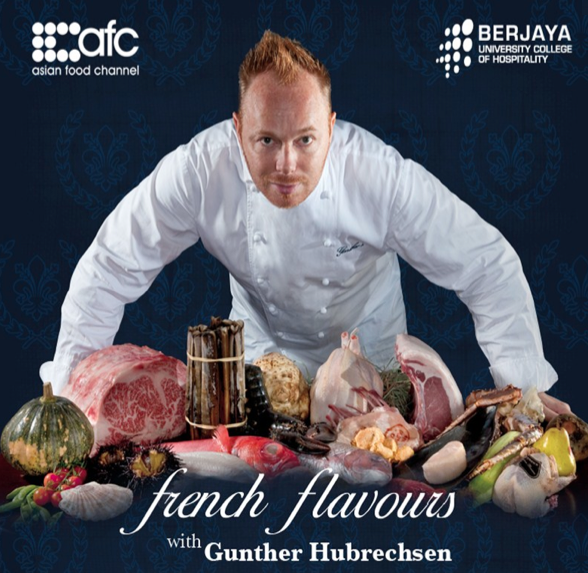 I recently had the
opportunity to watch a rising star in action at Berjaya University College of
Hospitality. Belgian Chef Gunther was in town for "French Flavours with Gunther Hubrechsen", a collaboration between the college and the Asian Food Channel incorporating cookery demonstrations and special dinners to promote his unique passion for "natural cuisine". Chef Gunther began his training in
Belgium at the tender age of 16, before climbing the ranks to Sous Chef under
Alain Passard at the Michelin three-star Parisian restaurant, L'Arpège. Here, he
learned about the natural, organic ingredients that would colour his philosophy
of cooking.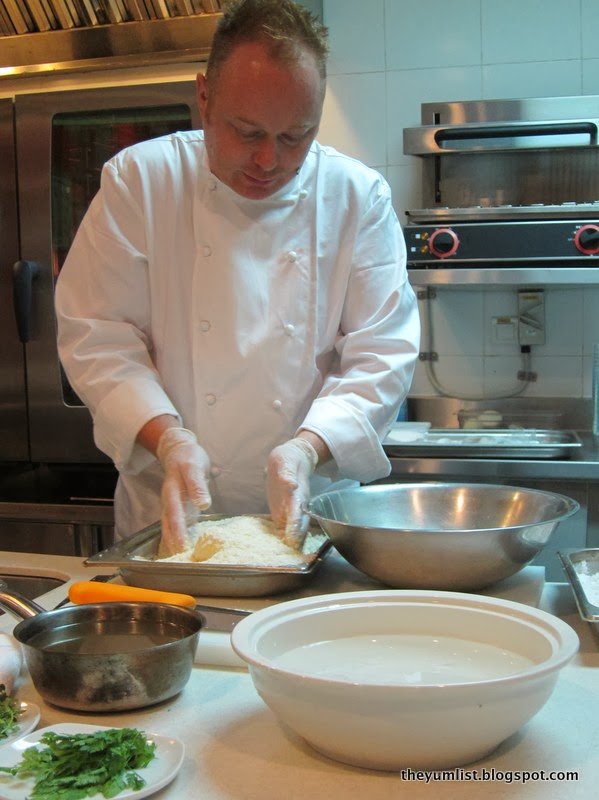 Preparing Crispy Eggs
In 2002 he took a leap of faith and moved
to Singapore, finally opening Gunther's Restaurant there in 2007. He has won
numerous awards including Outstanding Caterer of the Year at the World Gourmet
Summit Awards in 2012, and his restaurant has recently been included in the
inaugural list of Asia's 50 Best Restaurants for 2013.
Chef Gunther chose Crispy Egg with Pumpkin
Coulis and Black Truffle for the first part of the demonstration. Steamed pumpkin
was blended with milk, butter and salt to form a velvety sauce. The eggs were
soft boiled, shelled and rolled in flour, egg wash and egg crumbs, then
carefully deep-fried for a few minutes. The eggs were halved then each half was
nestled on its own pumpkin coulis bed and given a final topping of shaved black
truffle. The resulting dish was wonderfully creamy with a lovely, light crunch from
the crispy breadcrumbs.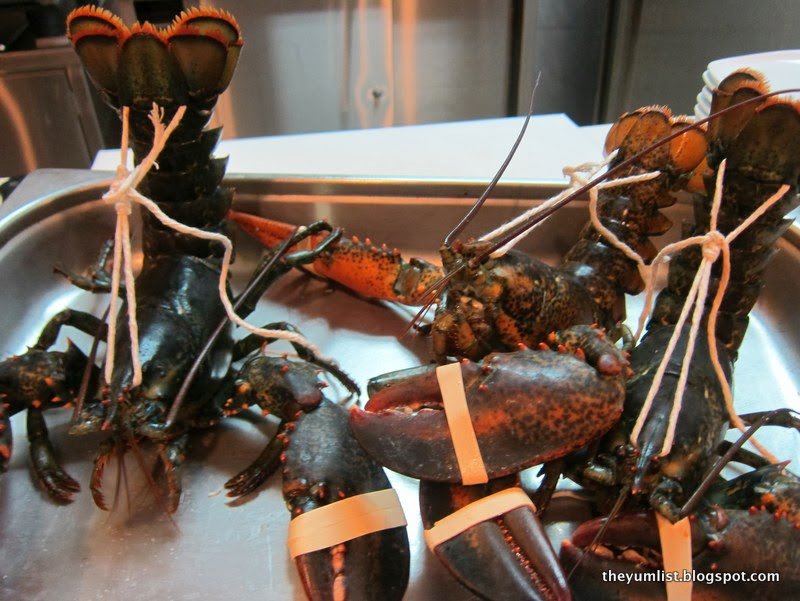 Ready for the pot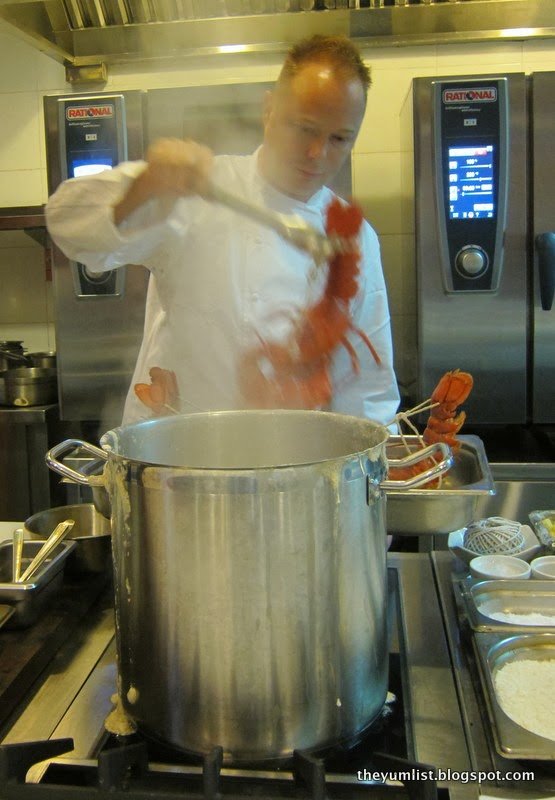 Perfectly cooked lobster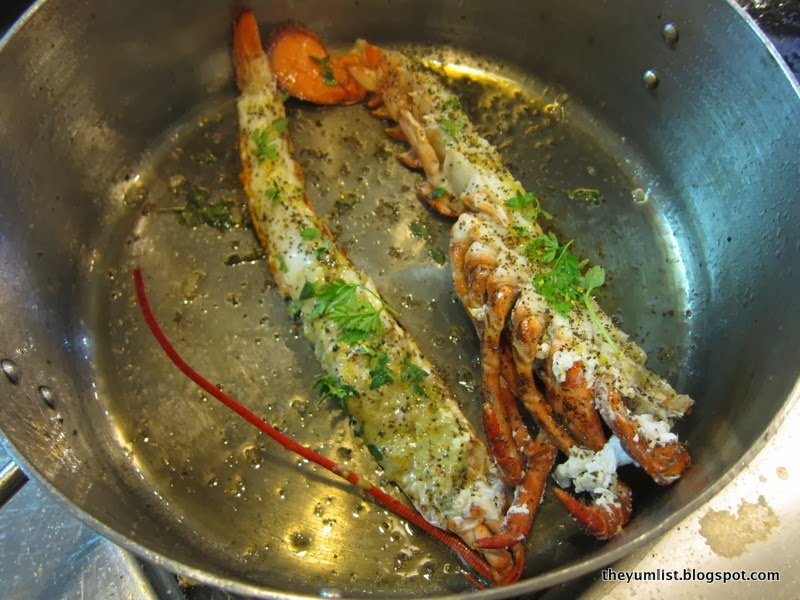 Finishing touches
The second dish was Lobster with Fresh
Tomato Sauce and Pilaf Rice. I love it when chefs share tips, and I learned how
to cook a perfect lobster from Chef Gunther. It should be removed from the pot
before the section of the tail closest to the body becomes red. Coming from Nova Scotia, Canada, where prized lobsters are caught in the warmer months, I should have known that. It'll certainly be handy for when I next visit. The lobster was
cut lengthways and lightly sprinkled with salt, pepper and fresh herbs. This
dish was also superb, with a buttery tomato sauce and a smattering of rice,
fragrant with lemongrass and ginger.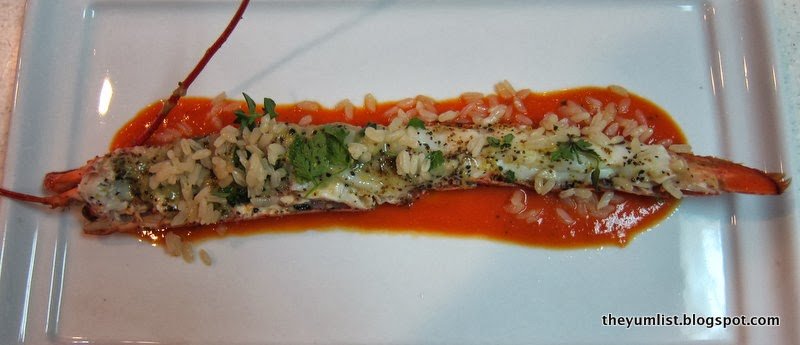 Delicious lobster
I had the pleasure of enjoying Chef
Gunther's five-course dinner at Samplings on the Fourteenth, Berjaya Times
Square Hotel. His signature Cold Angel Hair Pasta, infused with truffle oil and
topped with Sevruga Caviar, was divine while the Lobster and Crispy Eggs were
even better than at the earlier tasting. Rare Grilled Wagyu Beef was served with
roasted sweet corn and paper-thin slices of potatoes baked in cream, followed
by a fine Apple Tart a la Dragées with vanilla ice cream.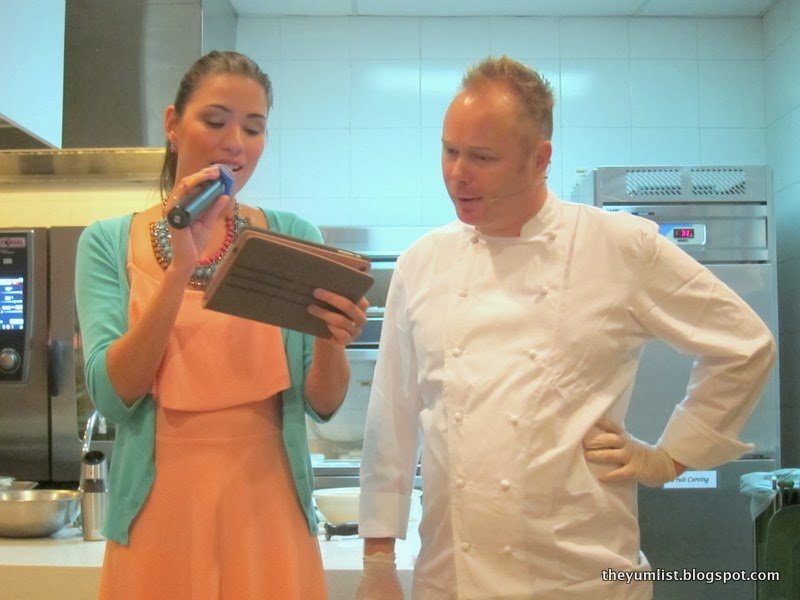 Almost time to relax
It was indeed food to remember, but as Gunther says on his website, "However flamboyant it might seem, what
I am doing here is simple, honest cooking that comes from my heart." Without a doubt, he is passionate about his art, and it was delightful to watch him create classic French
recipes, gently shaped with his own personal touch.
For more information about Singapore's award-winning Gunther's Restaurant please visit: