Words: Kristin Cosgrove   Photos: Monica Tindall
I've always enjoyed my meals at La Risata, whether pizza with the kids or a romantic dinner out with my husband. The food is consistent and the convenience of the Ampang location is a huge plus. I also like the ambience, as it is suited to almost any occasion, falling somewhere between "fine" and "family". Unfinished brick walls give a rustic, cozy feel and the wooden tables have the quaint worn quality you find in well-loved establishments. Upstairs, one finds a cozy private wine room, perfect for an intimate event, or entertaining clients.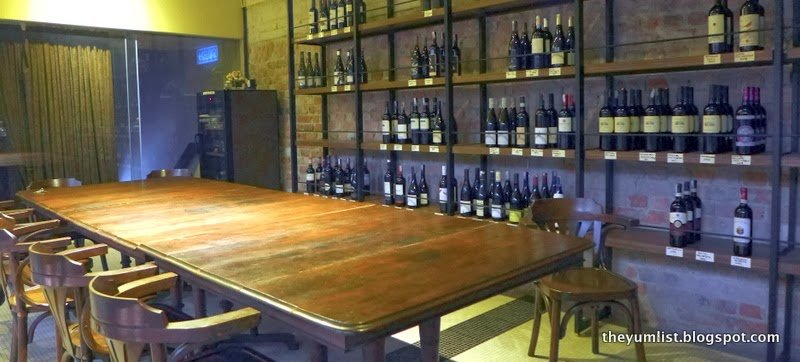 Private Wine Room
La Risata has recently acquired a guest chef, Italian Andrea Genio, who is assisting the restaurant in up-grading its menu, and revamping some of the dishes to make them even more authentic and true to Italian Cuisine. Food at La Risata was already good but with Andrea's fine-tuning it is getting even better. Young, energetic and quick-witted at the tableside, Andrea whipped up a surprise menu for us at a recent tasting, including some of his new dishes and February specials.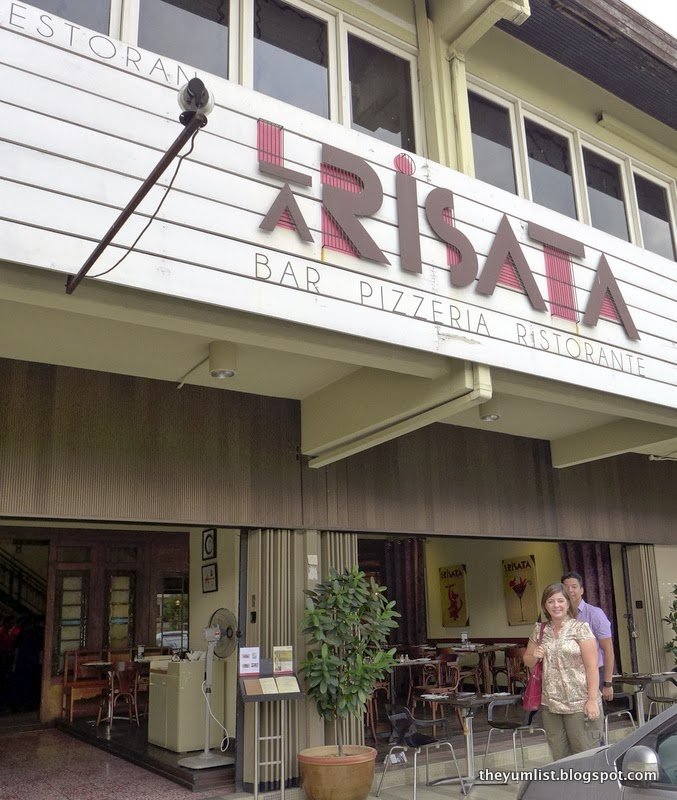 La Risata, Ampang
To set a festive mood, Chef Andrea uncorks a bottle of Sieur D'Arques Premiere Bulle, a sparkling wine that dances across the tongue like Champagne. From the Limoux region of France, this type of sparkling wine holds the distinction of being the first sparkling white wine produced in France, much earlier than Champagne. I instantly love it; the Sieur D' Arques has an extremely clean taste with no aftertaste. Our group's mood is instantly raised from content and curious, to excited for the meal to come.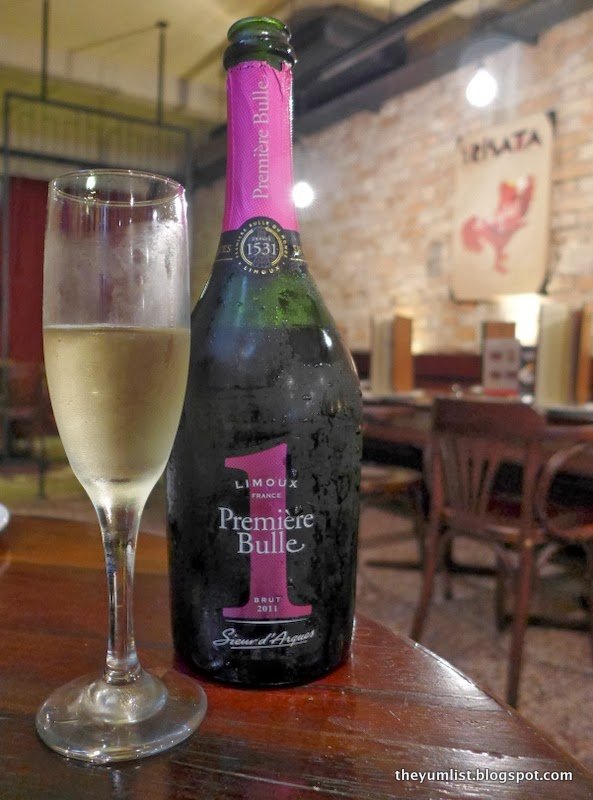 Limoux Premiere Bulle
The Limoux is an apt pairing with our appetizer, the generously sized Carpaccio di Tonno Rosso (RM38); it is easily enough for two to share. The tuna is exceedingly fresh and holds a very mild flavor, enhanced by the richness of olives and the crunchy shredded fennel. For me, the highlight of this dish is the sweet and tangy orange slices, an unexpected citrus accent that blends surprisingly well with the dish's other ingredients.
Carpaccio di Tonno Rosso
Before we are served the next surprise dish, Tagliolini al Tartufo (RM38), Chef Andrea slyly places a plate on our table with an upside down bowl covering its contents. He instructs us not to peek while he brings out the next course. We are intrigued. After he we are served a bowl of house-made egg noodles topped with a sunny, intact egg yolk, he reveals a fat truffle hiding under the bowl. Monica gives a little squeal of delight and Andrea grates the truffle over the top of the noodles. This is the bianchetto truffle, one of the most famous wild truffles of Italy. Andrea tells us to mix it all together before tasting and we oblige. The result is a fresh and buttery cream sauce that drips tantalizingly from the firm noodles. This, unsurprisingly, is my favorite dish of the evening. Who can resist fresh noodles and cream sauce?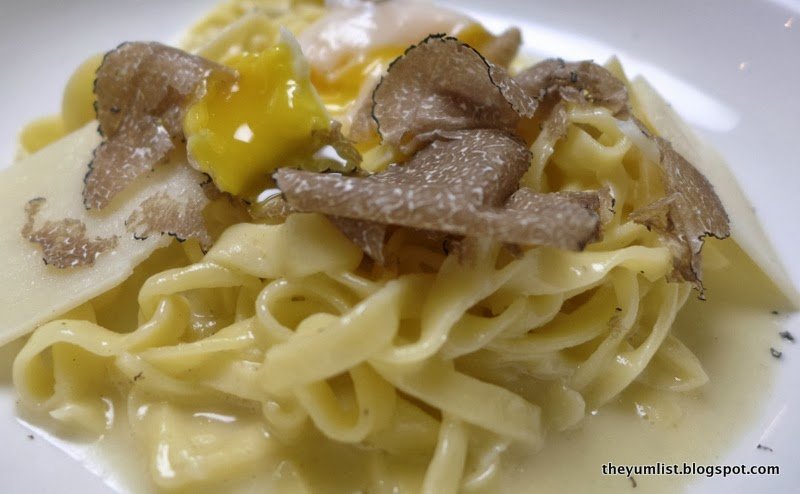 Tagliolini al Tartufo
If you love cod, be sure to try the Merluzzo Selvatico in Crosta di Erbe Con Patate Viola (RM75) which will only be available at La Risata for a limited time. The fresh Norwegian cod is topped with breadcrumbs, parsley and other herbs, giving the fish a pop of taste, texture and color. The meat is surrounded by purple potato sauce and wild rocket dumplings, which taste like dabs of mashed potatoes.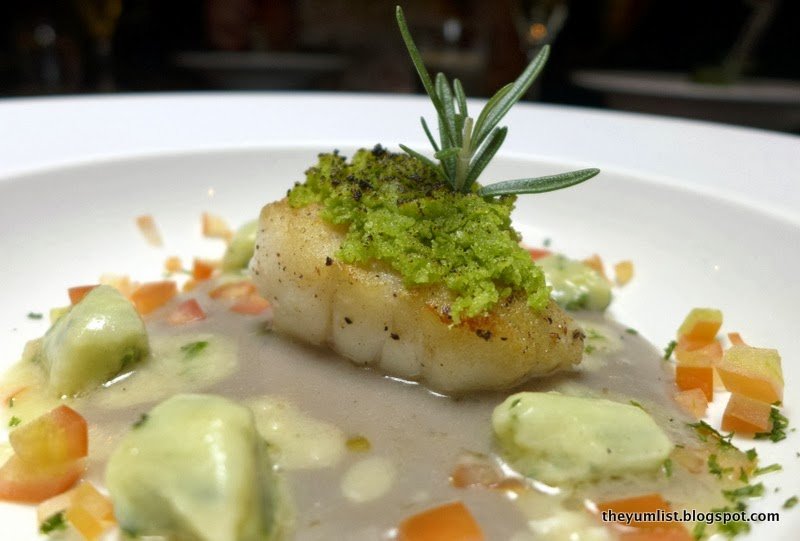 Merluzzo Selvatico in Crosta di Erbe Con Patate Viola
The combination of freshness and meaty goodness has us raving about the Controfiletto di Agnello con Panzanella in Agro (Seared lamb loin served with panzanella salad and marsala wine reduction, RM75) The lamb is seared and paired with a sweet and tangy wine reduction. The flavor is so good that only a small amount of sauce is needed for the meat. Between bites we rest our palate with a bite of the panzanella salad – an incredibly fresh combination of cucumbers, red peppers, bread cubes, tomatoes – absolutely refreshing after the strong lamb flavor.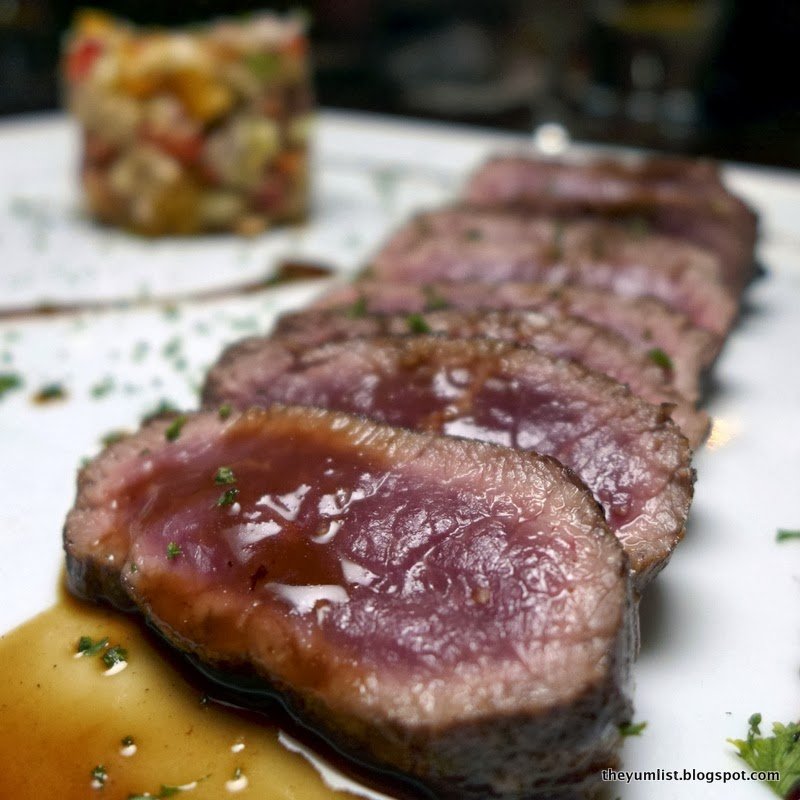 Controfiletto di Agnello con Panzanella in Agro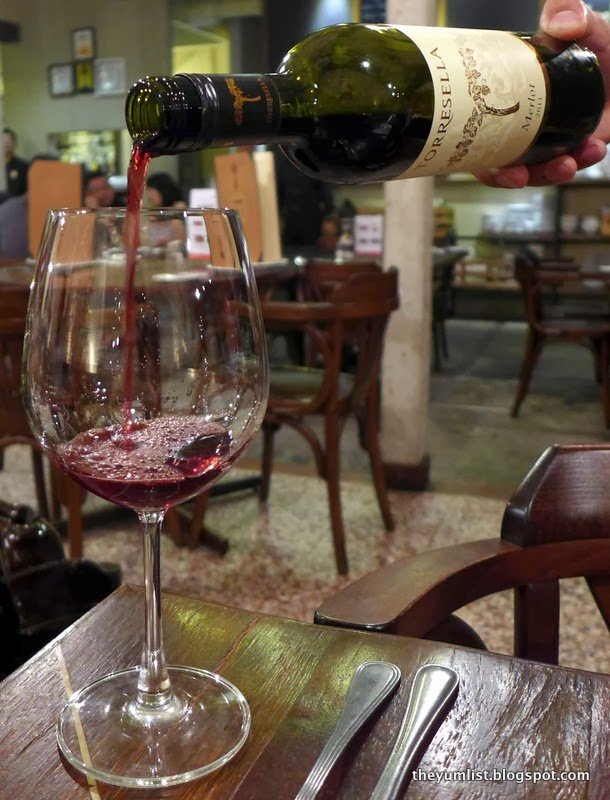 House Pouring Red Wine
We also try the Red Wine Braised Beef Cheek from the Valentine's menu (which is obviously no longer available, but I mention it here because it was extremely delicious and would be good for a special event where one can tailor the menu). The very lean meat has a wonderful smoky flavor and comes with oven-baked pumpkin and potato cake.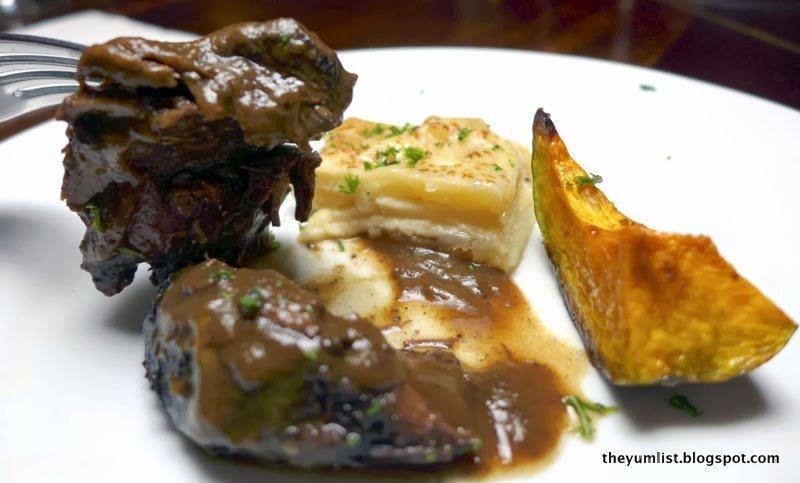 Red Wine Braised Beef Cheek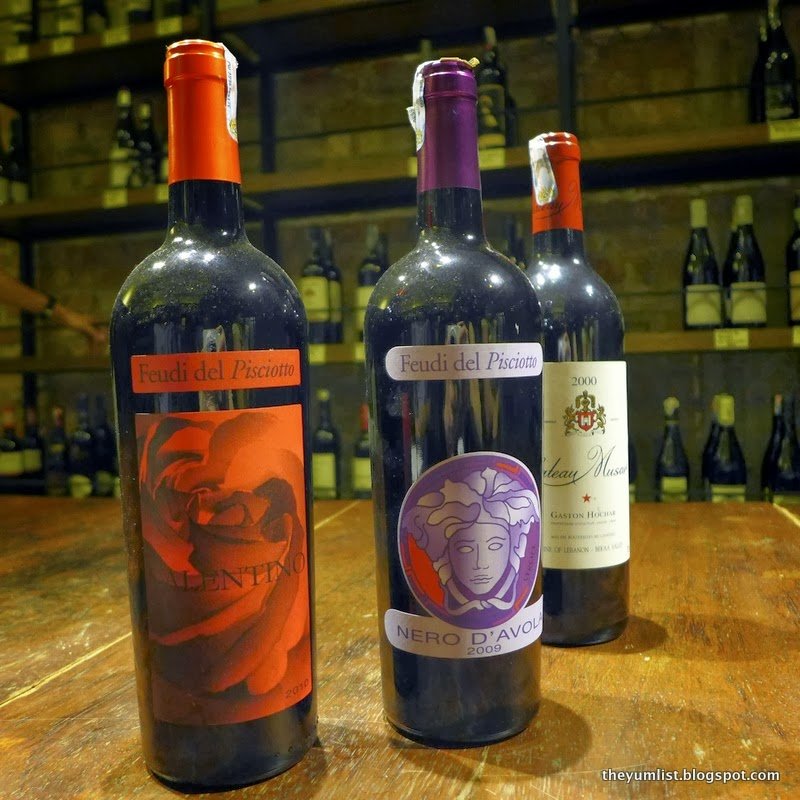 Designer Wines
As a finish, Chef Andrea escorts us upstairs to the wine room, where he gives us a look at the many wines on offer. We make our way to the large lounge area upstairs and enjoy a few minutes of chatting at the bar, where we are given…
"Errr, what's this?" I ask.
"Chef's cocaine," says Andrea with a laugh. "You're supposed to suck it through the straw.
Apple Martini and "Chef's Cocaine"
Well, we'll try anything once – it's for our dear readers after all – and after a few sips of our heavenly apple martini we get down to it. We suck the fine powder into our mouths and are immediately smiling and laughing at the surprise menthol taste. I won't tell you what it is, but if you have the opportunity, try it!
"After all," says Chef Andrea, "Eating should be fun!"
Reason to Visit: A new chef means new dishes worth trying, some only available for the month of February, a relaxed atmosphere great for special occasions, date nights or even family dining.
La Risata
16 Pesiaran Ampang
55000 Kuala Lumpur
Malaysia
 +6 03 4252 6269
Lunch : 12.00pm-2.30pm
Dinner : 6.30pm-10.30pm