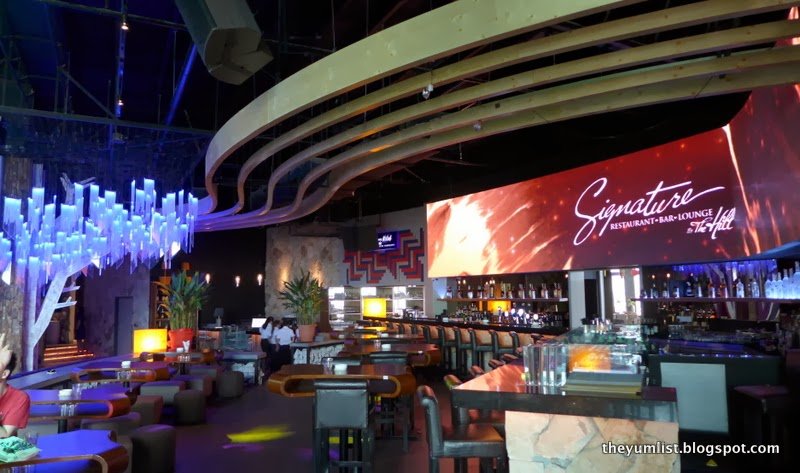 Signature – Restaurant, Lounge and Bar
The Roof, Signature – Restaurant – Lounge – Bar
Our ears pop as the elevator climbs swiftly to the top floor
of the office block, 1 First Avenue, in Bandar Utama. We're headed to The Roof
– a food, beverage and entertainment hub housing five distinct outlets. The
doors open and we're met with decisions.
Should we veer left to visit the sports bar, Score, where
the crowd is lively and football stars agilely negotiate their way around a
field on the big screen? Maybe head towards the leather sofas and lush ambience
of Malt and Leaf to sip on a whiskey or puff on a cigar? Or should we head up
to the rooftop bar, Stratosphere, and enjoy the 360 degree view of the city and
greater Klang Valley for sunset? Perhaps, later in the evening, a boogie on the
dance floor of the nightclub, Play, might be in order? But, no… we're not ready
for any of those. Not just yet. We're hungry and tummies must be listened to,
so we turn right and enter Signature, The Roof's restaurant, lounge and bar.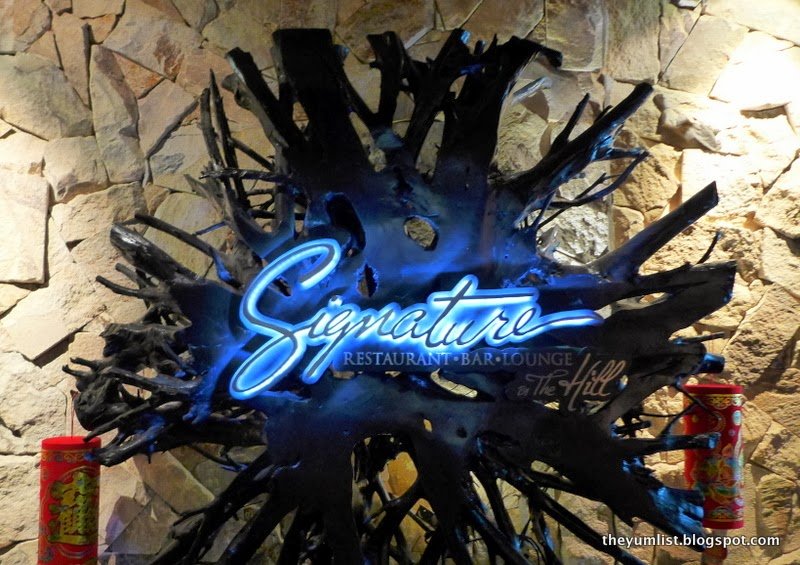 Signature – Restaurant, Lounge, Bar
Strong lines and geometric design denote the entrance. A
giant tree like sculpture grows in the centre of the room sprouting towards the
bar and lounge. There's a stage for live music in one corner and, a giant wall
length screen above the bar. The display flashes with patterns and forms,
almost keeping the beat with the electronic music pumping from the speakers. It's
late afternoon and tables are beginning to fill with twos and threes, seemingly
enjoying an after work beverage. We want a meal, so continue further in to the
dining area, which adjoins, but is privatized somewhat from the bar and lounge.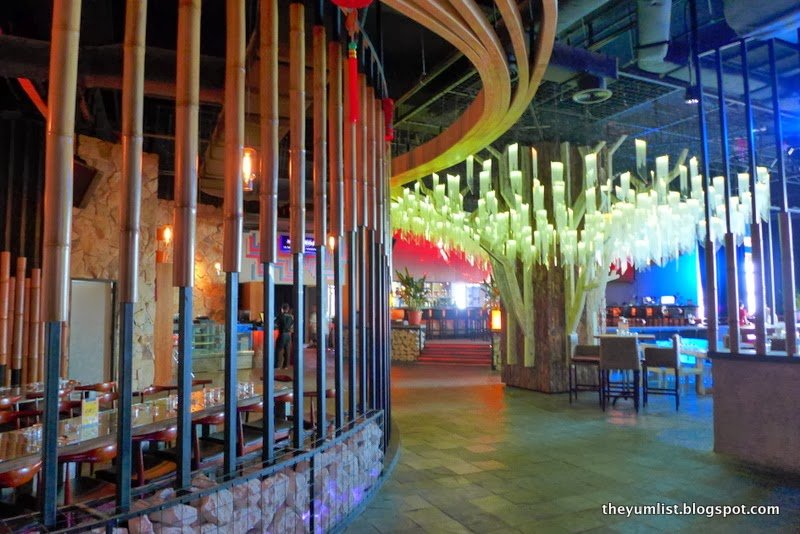 The Entrance to Signature
Tall windows curve around the circular restaurant. A dark
grey slate tiled floor provides a semi rustic appeal. White tree silhouette
motifs mark the windows and are echoed in the room by sculptures in a 3D reflection
of the flat 2D shapes. A ring of bleached timber lowers the roof and, a
chandelier of exposed filament light bulbs hangs from the middle. I'm guessing
though that most diners don't pay too much attention to the décor. The
magnificent city and low mountain ridge views are far too grabbing, causing all
eyes to constantly gaze up and out. Without doubt, the best tables are by the
windows – so come early or make a reservation.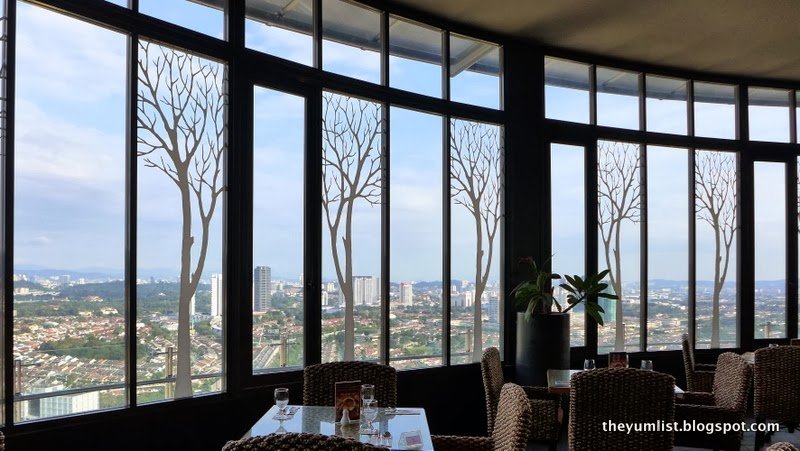 Views from the Dining Room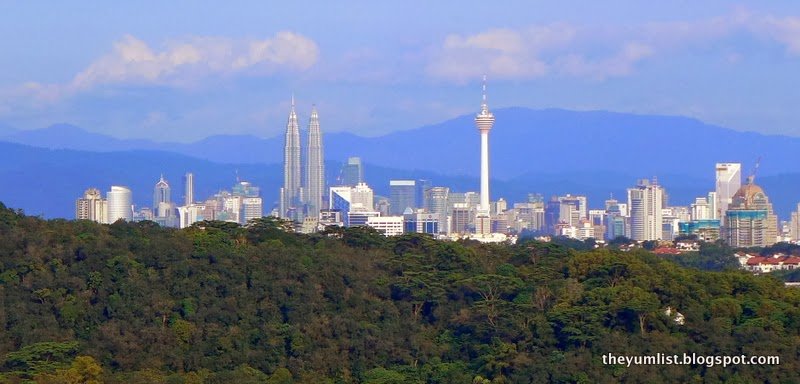 Great views!
We're seated by the window and, woo hoo (!), lucky us, we've
arrived in time for Happy Hours (5pm – 8pm), which offer three-for-one beers
and two-for-one cocktails. There are a number of Signature cocktails on the
menu making it hard to choose, so we simply take the first two and, decide that
if they're great, we'll continue working our way down the list.
The Convent Garden (RM32) combines Hendricks gin, cucumber
and smashed apple into a refreshingly cool blend. Xmas in June (RM31) mixes Belvedere
vodka, Frangelico, organic blueberry jam and a squeeze of citrus. It's purple!
A slice of lime contrasts the top. It's icy cold and tastes like a purple gummy
bear.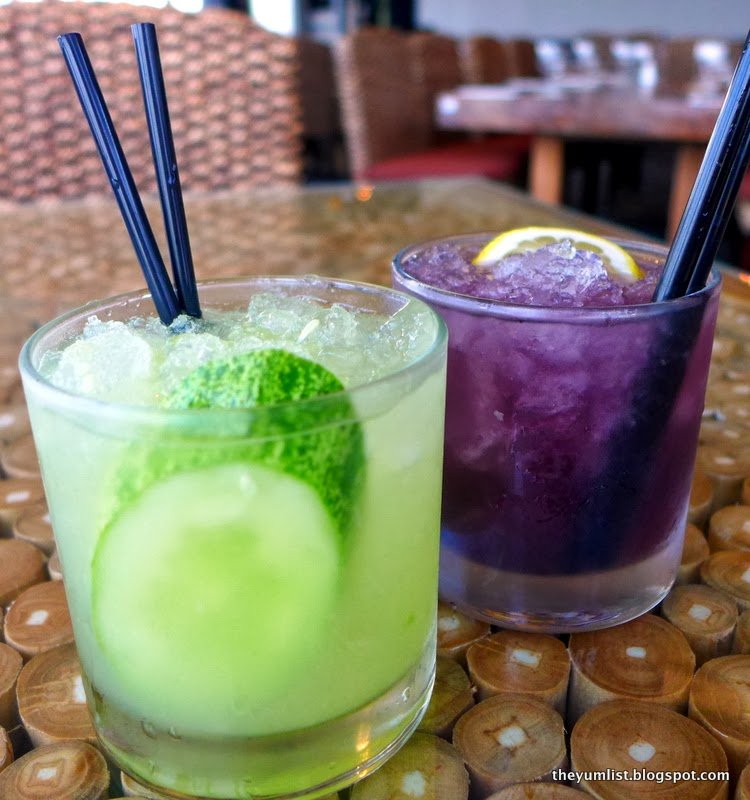 Happy Hour Cocktails – Two for One! – Convent Garden and Xmas in June
There's beer too. French, local, Japanese and Dutch beers
are available on tap. International beers are also for sale by bottle. Hubby
spies the Pure Blonde (a low carbohydrate beer from Australia) that he loves to
drink when we're home. So, thirst is quenched and it's time to eat.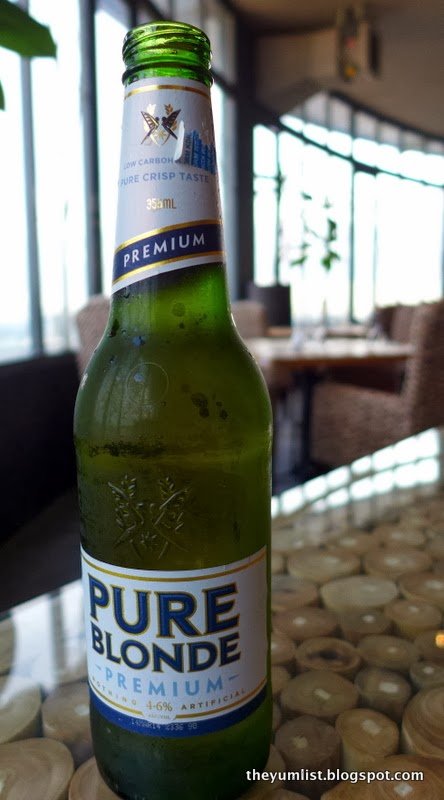 Pure Blonde
The menu is a motley mix of Asian and international fusion
cuisine. All dishes look familiar, but each comes with an artful twist.
Leaning Tower of Caesar (RM22) beefs up the traditional
salad with the sweet addition of fresh mango and Italian air-dried beef. A
mountain of Romaine lettuce leaves form the centre and, two long sticks of
garlic bread lean like scaffolding up the sides. Finally their house made
dressing is drizzled over the top, which ends up dripping down the flanks like
melting snow off a building. Fresh and crisp, it's an acceptable take on the time-honoured
recipe.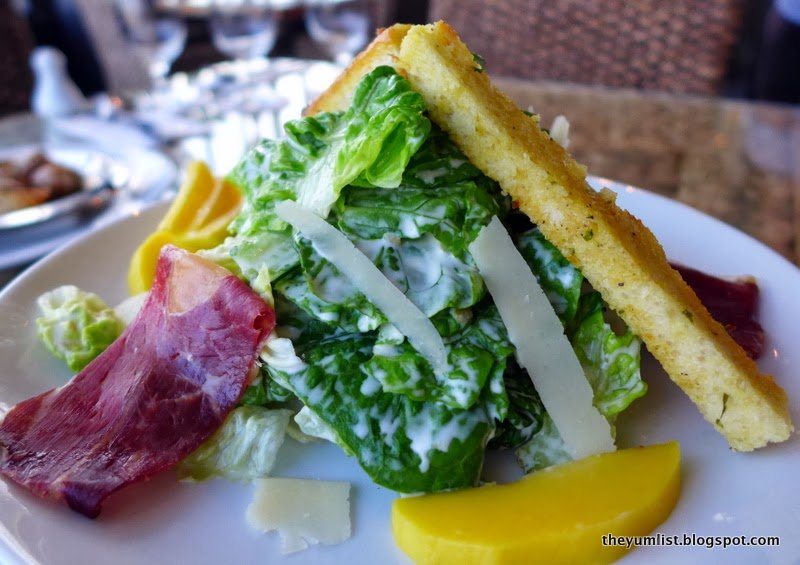 Leaning Tower of Caesar
Escargots a la Bourguignonne (RM28) are baked French snails
with herbed butter. Make sure you attack these while they're hot. Melted butter
drips from the sides as we stab the mollusk with the fork. They're rich and
creamy and disappear so quickly that our dining companion asks if we'd like to
order more.
Escargots a la Bourguignonne
The Giant Meatball "Bomb" Linguine (RM39) comes with a braised
monster-sized ball of minced beef. It's served atop a bed of linguine and, sautéed
in tomato sauce. Appearing a little tough at first slice, persistence in the
cut pays off, as a surprise is tucked away in the middle – a hard-boiled egg. The sauce is a traditional tomato with an airy
touch of spice augmenting the end. Hubby enjoys the simple tastes of this dish,
which sends him off into his familiar rambling about "mama's cooking."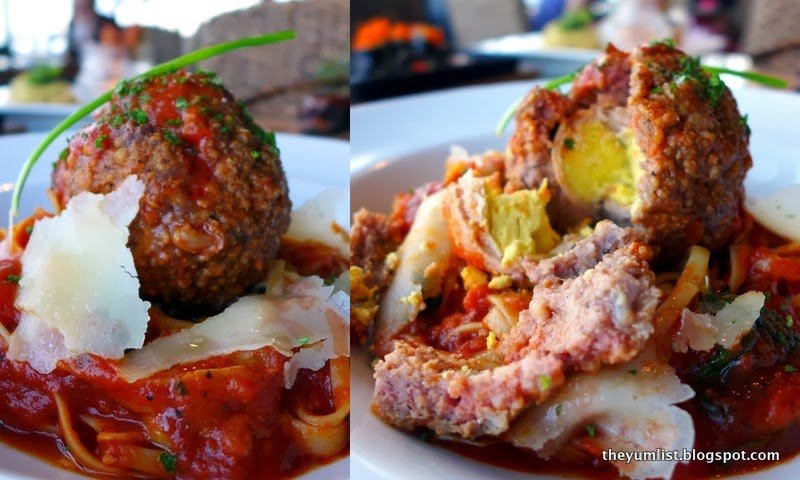 Giant Meatball "Bomb" Linguine
A jet black plate with bursts of red showcases the Scallop
Black Aglio Maki (RM45). Squid ink spaghetti sautéed with olive oil, garlic and
chili is topped with grilled scallops wrapped with seaweed and crowned with
Tobiko caviar. It's a fetching dish and also finishes with a light bite of
spice.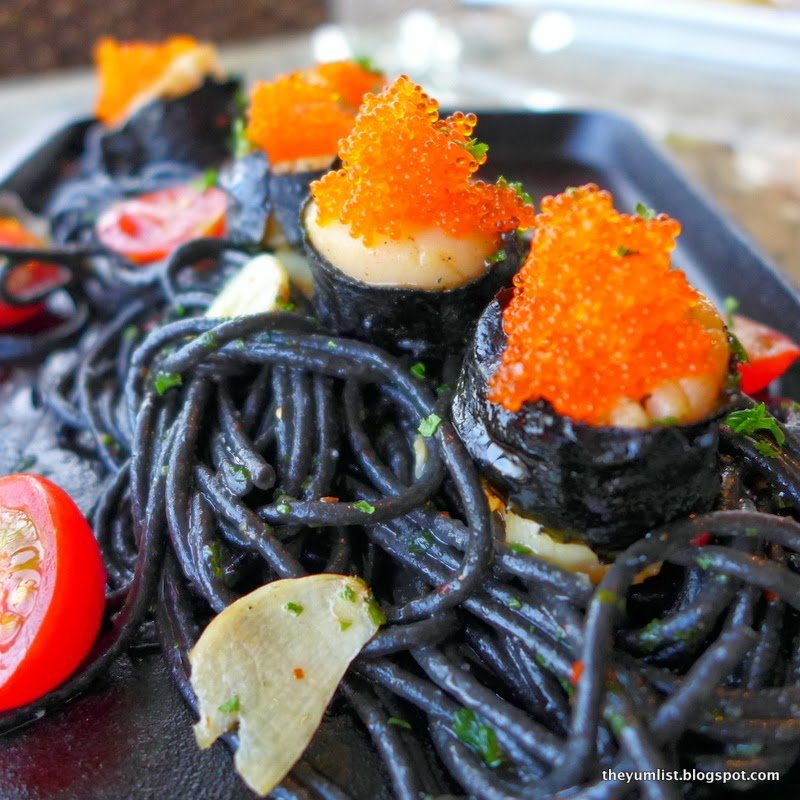 Scallop Black Aglio Maki
Grilled King Prawns (RM55) arrive in an open topped cookie
jar. On the side a tangle of spaghetti is bordered by asparagus and coated with
a herbed crème pasta. Ebony caviar crowns it all. The sauce is scrumptious –
creamy and spicy. We scoop it out of the jar and slather it over the pasta.
When the pasta is gone, we guzzle up the last of the liquid by the spoonful.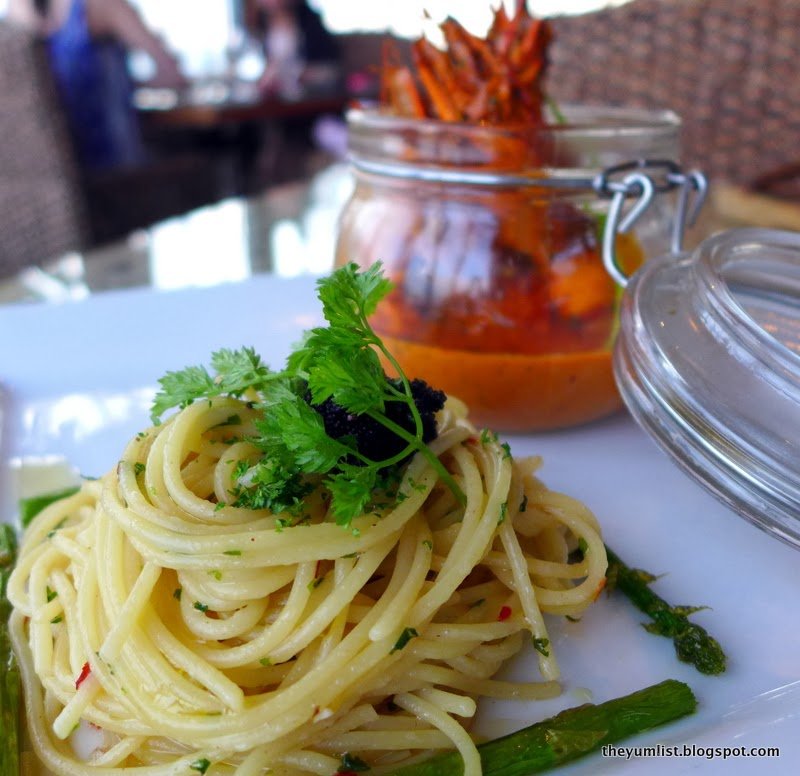 Grilled King Prawns
The next dish is presented and our eyes, becoming the size
of bread plates, signaling to us that we've over ordered. Brontosaurus Beef
Ribs (RM93) truly are of dinosaur proportions! Expertly prepared crisp potato wedges
in a metal bucket accompany the meat. A few green leaves seem more of an
adornment than a salad. The flesh is tender and the sauce sweet and piquant.
Hubby gives it the thumbs-up and recommends it to all carnivores reading this.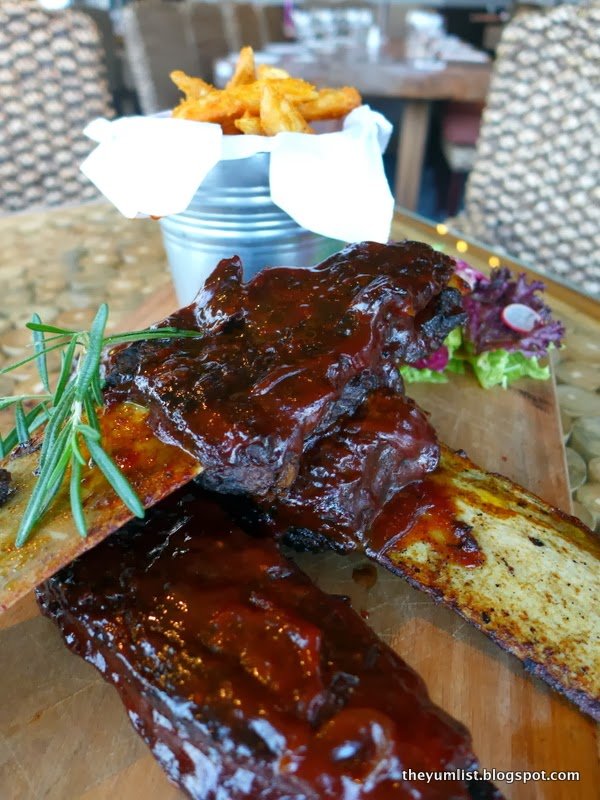 Brontosaurus Beef Ribs
Imperial King Prawn Noodles (RM42) are Signature's interpretation
of KL's Sang Har Mein. Fresh king prawns, seared king scallops, squid and fried
crispy noodles sit in a rich egg gravy. We find it best to break the noodles so
that they mix with the gravy. As they soften, a mix of textures develops – soft
and crunchy – which has a great feel in the mouth. The side of soy sauce and
green chili helps bring out the flavours in the dish. Our local friends note
that perhaps a touch more rice wine would perfect the recipe.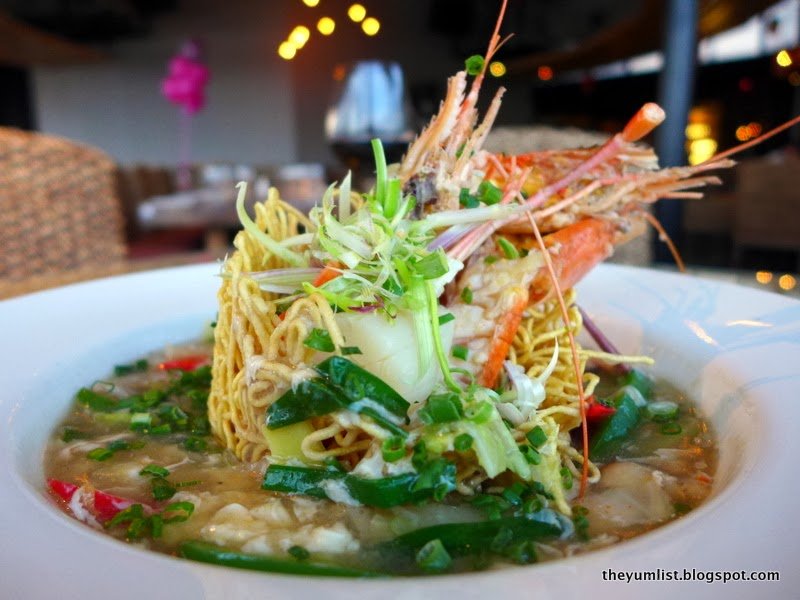 Imperial King Prawn Noodles
It's time for dessert and we order the suggested signatures.
Spicy Chocolate Lava (RM22) is already spilling over half of the plate with the
additional sauce on top, but when broken open, the whole plate is filled with a
rich chocolate ooze. A subdued suggestion of chili gives it a subtle lingering
agitation as an after effect. Adornment of Kahlua infused mascarpone, tops a
berry compote and, mixes well with the liquid cocoa.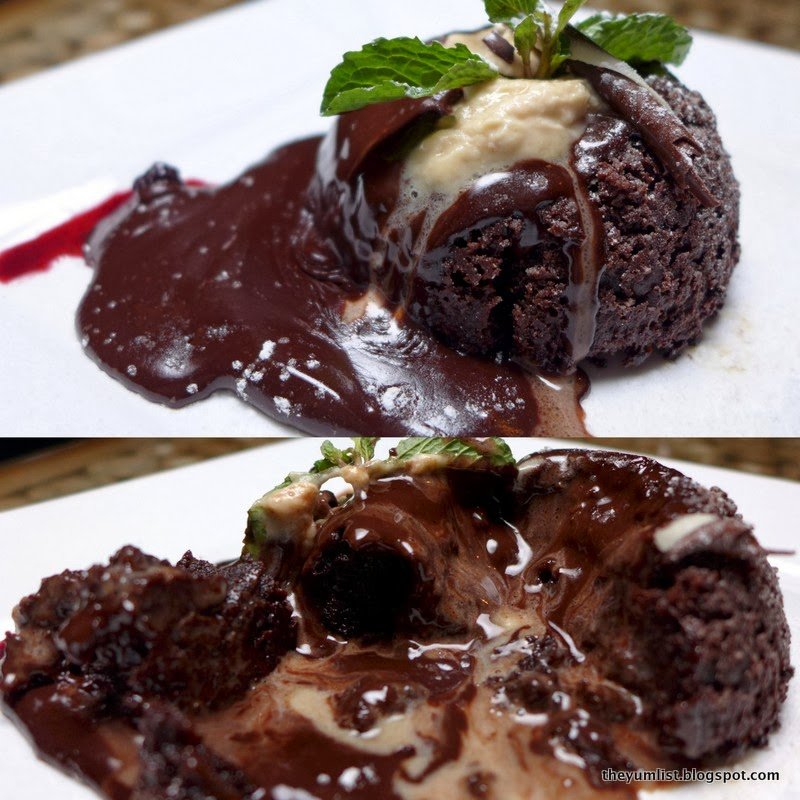 Spicy Chocolate Lava
Ginger, coffee and vanilla flavour three pots of the Trio Crème
Brûlée (RM19). This threesome makes hubby thrice as happy. The caramelized
sugar surface breaks with a crack and unveils a rich creamy brûlée. We each
have a different favourite. I enjoy the classic. Hubby relishes in the coffee
and our dining buddy likes the tang of the ginger.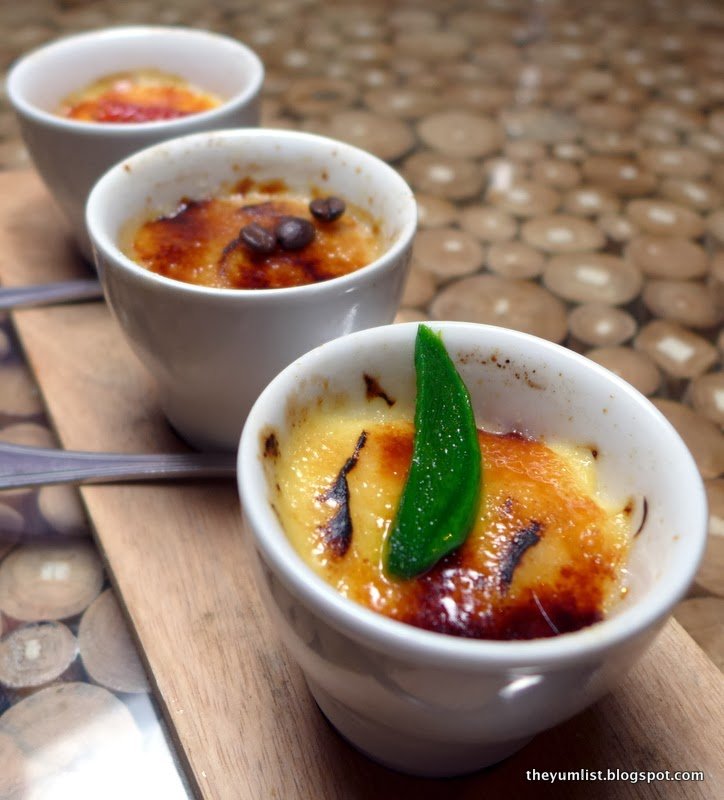 Trio Crème Brûlée
Wines are not yet available in a comprehensive list by the
glass, but I'm told they are working on buffing up the selection. Actually as
we're dining, we witness new stock being added to the shelves. For now however,
if you desire wine with your meal, consider ordering a bottle.
Overall we find the food prettily presented, with a
welcoming homey taste. Hubby is reminded of his mum, which is usually a good thing
when it comes to food, so Signature at The Roof, just might be on our revisit
list.
Reason to visit:
fantastic views; good-looking food that tastes like mum's cooking; Trio Crème Brûlée;
Brontosaurus Beef Ribs; Grilled King Prawns; Escargots a la Bourguignonne.
Signature
The Roof
Sky Level
1 First Avenue
Bandar Utama
47800 Petaling Jaya
Selangor
Malaysia
Open 5pm – 2am (Monday to Friday)
11am – 2am (Saturday and Sunday)
Park in 1 First Avenue car park. After 7pm you can have your ticket validated and pay only RM3.
There are two sets of elevators. One only goes to the 20th floor. You need the other one that goes to The Roof, which is the 30th floor.