Tamarind Springs, Jungle-Luxe Dining
We descend the candlelit pathway into a jungle paradise. Lush tropical verdure borders the trail and Chinese lanterns gently rock to and fro in the soft breeze. As we continue, our eyes are drawn by flickering flames and, our ears caressed with the whispers of running water and chill Buddha Bar tunes.
Tamarind Springs is an open walled pavilion perched in a corner lot of the KDE Golf Club. From some vantage points it overlooks the palm tree flanked fairways. Other roosts face the magnificent jungle. Teak furniture, Asian sculptures and carvings are backed by deep red walls. It's a sensuously warm and inviting ambience.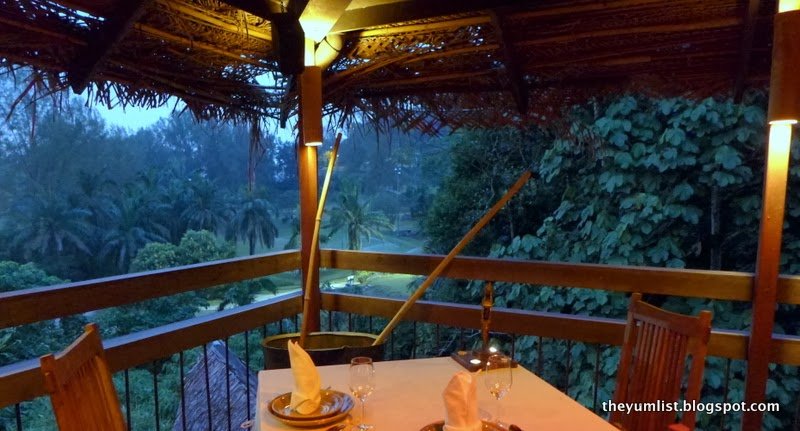 Fairway Views
Once a hidden sanctuary, the setting of Tamarind Springs is so glorious, that it couldn't be kept secret forever. I still know expats who speak in hushed tones about the restaurant, as they don't want their hideaway to be overrun with customers. Too late! It has such a reputation that bookings are necessary just about any night of the week.
Complimentary Nibbles and Lemongrass Juice
Wine is just what is needed to muse on the natural design of our surrounds. And… the list is impressive. No less than 20 wines by the glass and 16 pages of varietals from around the world grace the menu.
A Cloudy Bay Sauvignon Blanc from Marlborough, New Zealand (RM39) is my choice. It's a lovely drop to sip on its own, but also partners nicely with our seafood starters. Hubby is happy with his bubbly Chandon Brut from Yarra Valley (RM32) and, it plays a dual role, as a fine solo act or playmate, just as well.
We're impressed with service. Uniformed to match the setting, the staff are confident and attentive. I'm astonished not only by the competent level of English the staff possess, but also the willingness to use it to openly and thoroughly communicate with guests. They're delighted to assist with our choices and we soon have our dinner ordered.
An appetizer of Norwegian Salmon Carpaccio Tossed with Mango Salad launches our culinary expedition. It's one of the most popular items on the menu (Thai Mango Salad) lushed up with seafood. The creamy salmon balances the sharp acidity of the dressing and tartness of the green fruit.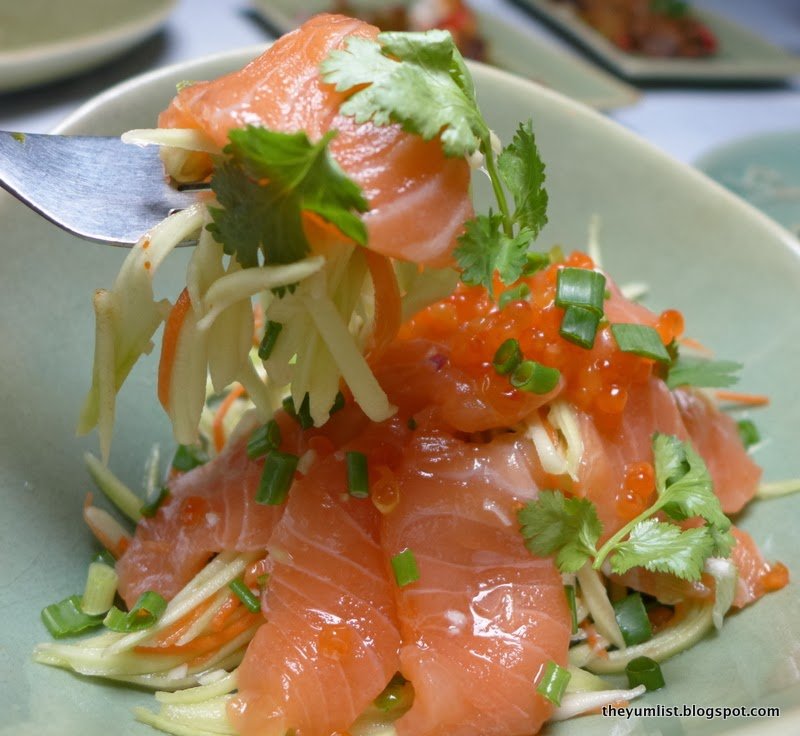 Norwegian Salmon Carpaccio Tossed with Mango Salad
We LOVE the Pan Seared Marinated Scallop Topped with Cream, Chopped Onion, Carrot and Garlic. Hubby ponders between bites, "How do they get the seafood so fresh?"
Pan Seared Marinated Scallop Topped with Cream, Chopped Onion, Carrot and Garlic
Grilled Chicken Wrap with Fruit and Herbs is served with a slightly spicy BBQ sauce. It epitomizes the word, "fresh" with its garden leaves and crispness. It too is a winner.
Our bubbly and sauvignon blanc proved fine companions for the starters but need to be changed to something a little smoother and sweeter for the spicy dishes that come next. Something bold and fruity, perhaps a sweet Riesling would be a good choice.
Cream of Crabmeat Tom Yum comes in a celadon green bowl. Crab flesh floats to the top centre and a herb garnish adds a burst of colour to the orange hued broth. Pumpkin thickens the cream enhancing a deceptively smooth ingress, but ends with a surprising kick reaching underneath the tongue and hitting the back of the throat with a sharp slap. It's another victor.
I know I'm going to adore the Steamed River Lobster with Grilled Vegetables Topped with Passion Fruit Vinaigrette before I even taste it. Yellow passion fruit pulp glistens on top and, pan roasted potato and red capsicum shape a hint of a Western side. The crustacean is firm in texture, cooked perfectly, and an occasional crunch on a black fruit seed assures us the sauce is made from real passion fruit.
We eat the Grilled Cod Fish with Caramel Sauce with care as it has an occasional bone. The sauce is sweet and the fish moist and flaky. Prepared with precision, it's sure to please the masses.
Braised Australian Beef Loin is hubby's favourite. He adores the gentle Rendang style sauce that is not as intense as some traditional versions. He has this one polished off before I've even had a chance to reach in for a second forkful. Actually, hubby has been pleasantly satisfied with most recipes tonight for their reduced level of heat in comparison to local standards. We imagine though, that the chef would be more than willing to strengthen the burn for palates better adapted to the blaze.
The nutritious twist on a traditional rice side makes my healthy conscious smile when eating the Brown Rice mixed with Carrots, Peanuts and Mushrooms. A significant mound is packed with much more than in listed on the menu. Chestnuts, egg and fresh herbs all bulk add to the ingredients.
A lovely local inspiration completes the meal with Black Glutinous Rice with Vanilla Ice Cream, Mango and Strawberry. This dish proves similar to the well-loved Thai mango sticky rice. The glutinous rice however has long black grains mixed into it adding a nutty texture. The velvety ice cream crown replaces the salty coconut milk and, a burst of colour is thrown in with chopped strawberries.
Hubby is unusually quiet for a few seconds while eating his ice cream. Suddenly though, there's an outburst of flapping hands and exclamation, "Oh my god, you have to go underneath, there's something under the ice cream." I can only roll my eyes (inside my mind) and smile sweetly, "It's delicious isn't it?"

Bodies and minds resisting, we finally haul ourselves away from our dreamlike nest. We ascend the stairs content and, grateful for a small chance to digest our immoderation. Thoughts of whom we can share this place with infiltrate the conversation and we're soon making plans of a return.

Reason to visit: gorgeous tropical forest setting; Indo-Chine cuisine that can be adapted in spice level to suit an uninitiated palate; excellent drink menu
Tamarind Springs
Upper Level Jalan 1
Taman Tun Abdul Tazak
Selangor, Malaysia
+6 03 4256 9300
Lunch: 12pm – 2:30pm
Dinner: 6pm – 10:30pm