Words by Kristin Cosgrove
Photos by Monica Clear and Kristin Cosgrove
For a limited time only….
The Taste of
Indonesia promotion at Mandarin Oriental's all-day dining outlet, Mosaic, is a
must visit for anyone who loves a good culinary adventure. But better hurry, it's only on until 16 March!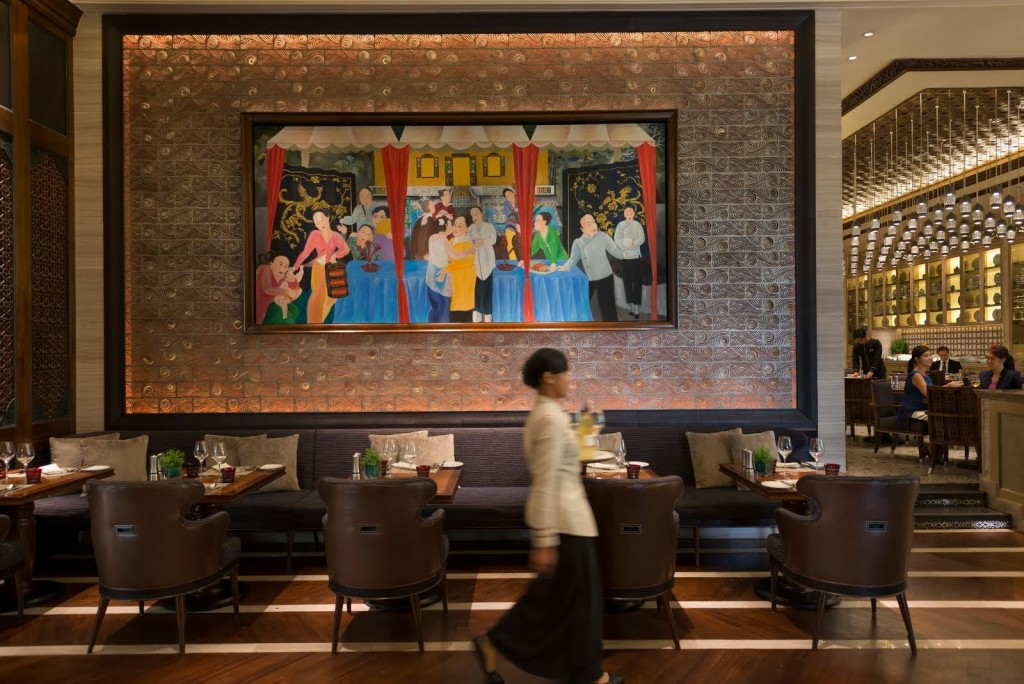 Mosaic's Elegant Dining Room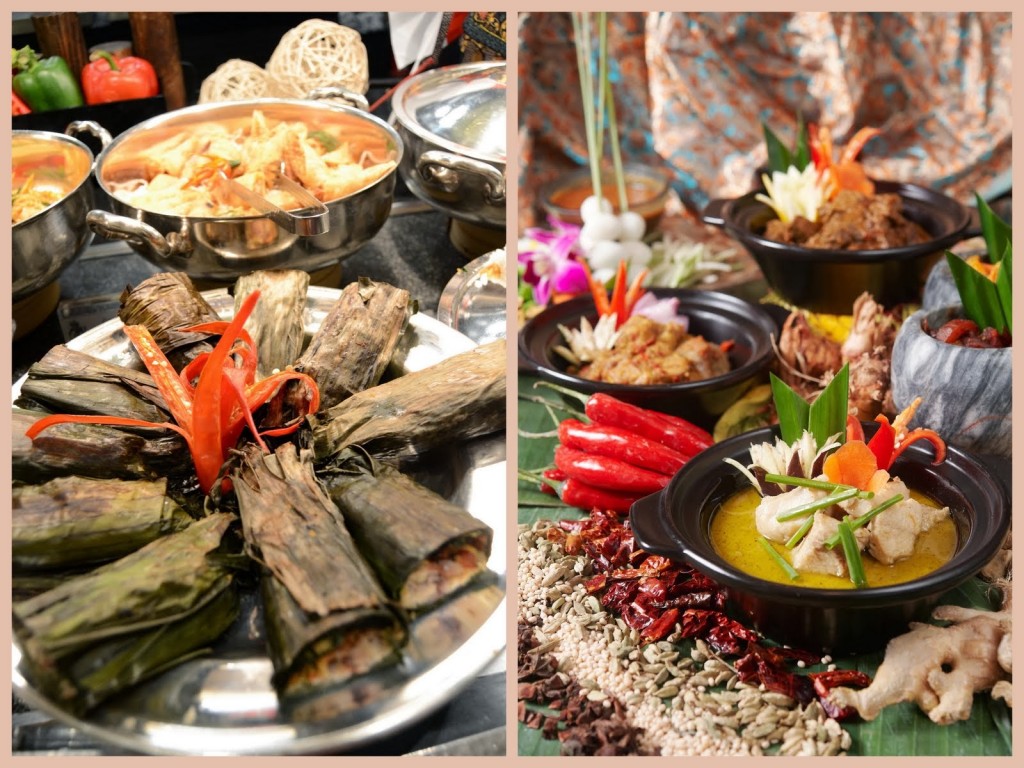 Otak-Otak (left) is available as part of the Taste of Indonesia promotion at Mosaic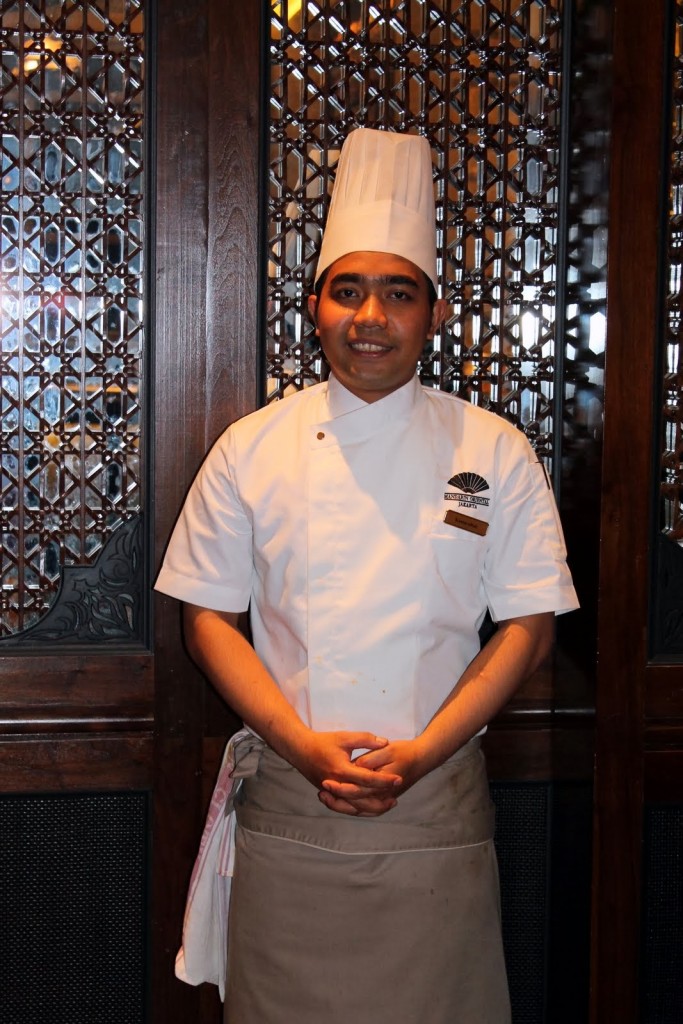 Guest chef
from The Mandarin Oriental, Jakarta, Chef Komarulloh has prepared an array of cherished
traditional dishes from his home country, tempting the palate with three rotating menus.
"Indonesian food is special because there are so many spices and
ingredients that go into each dish, and they often take a very long time to
prepare," says Komarulloh.
My date and I are thrilled at the
chance to sample many regional dishes from the vast archipelago at the launch of the Taste of Indonesia promotion, which kicked off with traditional dancers and the dreamy sounds of a gamelan in the palatial lobby.
| | |
| --- | --- |
| Indonesian dancers at the promotional launch | The dining room at Mosaic |
Indonesian cuisine is as varied as its islands and it is rare to have so many regional specialities on offer in one place outside of Indonesia. There are plentiful starters to choose from, including my favourites: Lumpia Warisan from Java and Salad Ayam
Bumbu Bali, a delicious cold salad of shredded chicken with a special Balinese
dressing. Other tempting options include
Salad Nangka Muda (young jack fruit tossed with coriander, plum sugar and
spices) and Selada Cumi Cage Hijau (chilled squid ring and green chili sauce) among many others.
| | |
| --- | --- |
| Hot main dishes are also bountiful with hearty rice dishes like Nasi Goreng Kampung and Nasi Tutug, fresh seafood such as Udang Goring Mentega (fried tiger prawns), Ikan tongkol Balado (chunky tuna cooled in red chili paste) and vegetarian options including Tumus Kangkung (stir-fried water spinach) and Tumis taoge cabe hijau (stir-fried beansprouts with tofu). | |
| | |
| --- | --- |
| | |
| | |
| --- | --- |
| | |
| | |
| --- | --- |
| | |
Chef Komarulloh has fired up the grill for Satay Ayam, which is spicier and less sweet than the Malaysian version, along with Ikan bakar muara karang (grilled fish with chili), Satay udang (prawn), Iga bakar (grilled marinated beef ribs) and more.

Other dishes on offer include braised bean cake Tempe Bacem, steamed fish cake, Otak-otak, grilled lamb skewer Satay Tegal, spicy wok-fried beef Tongseng Sapi, Gulai Nangka, grilled fish Ikan Bakar Bumbu Kecap, Nasi Uduk, braised oxtail soup Sop Buntut and grilled barbeque chicken Ayam Taliwang.

The Indonesian desserts are not to be missed! They are alongside Mosaic's usual beautiful line-up of chocolates and cakes.

Traditional Indonesian Desserts


In addition to Indonesian cuisine, one can expect to find Mosaic's familiar offerings including the tantalizing seafood bar, a bread and cheese selection, a noodle station with all the fixings, and western favourites.

Tantalising seafood options

Bread and cheese table

Enjoy the Taste of Indonesia for lunch at RM 108++ or dinner at RM 138++ per person, but only until March 16th!

Reason to visit: A rare chance to experience a wide variety of cherished Indonesian specialties in the beautiful confines of Mosaic's elegant dining room.

Mosaic
Ground Floor, Mandarin Oriental

Kuala Lumpur City Centre
, Malaysia

+6 03 2179 88881
www.mandarinoriental.com/kualalumpur