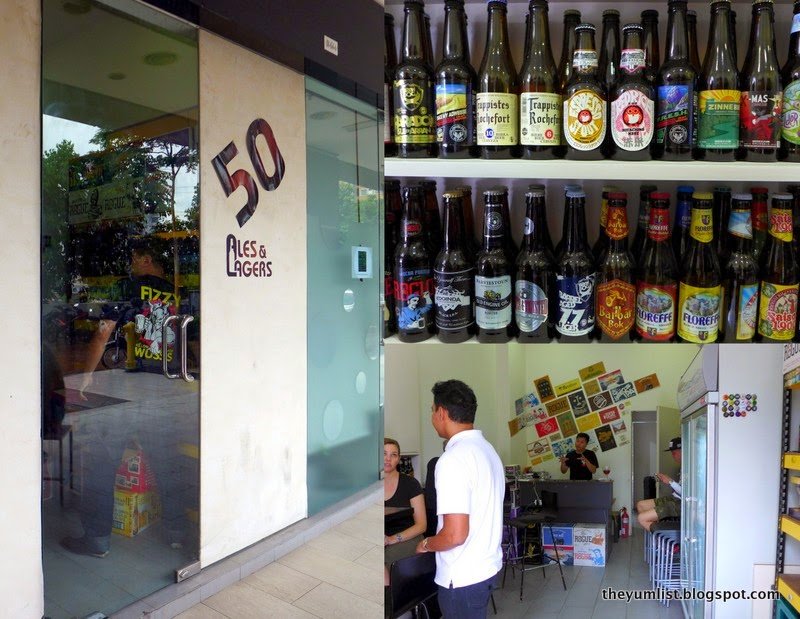 Ales and Lagers
Ales and Lagers
Lager than Life
Words by Sam Gibbs
Photos by The Yum List (Monica Tindall)
As a reasonably down to earth Australian, the honorable beer has been part of my life for a considerable period of time. As with most Aussies we love a deliciously cold brew and generally require little persuasion to fill a glass with the wondrous golden liquid and quaff it with consummate ease.
Until just a few days ago I considered myself reasonably expert in a fair variety of mainstream brews ranging from stouts and Guinness through to the silky smoothness of Kilkenny and the tawny bite of Tooheys Old and, not forgetting of course the light and refreshing Carlsberg. I thought I had it all down pat. Well that was until, with minor insistence from the illustrious editor of The Yum list, I was invited to Ales and Lagers, nestled in a side row of Publika, Solaris Dutamas.
Whilst a wee bit tricky to find, the added effort of wandering the vast labyrinth of Publika will surely help to work up the thirst you will need for this extraordinary venue. Don't be fooled by the unassuming décor, the almost nonexistent effort to provide any real ambience or the paper printout of 'Ales and Lagers' beside the door. If beer is what you love then this place may well represent the epitome of the ultimate beer garden, a veritable oasis of liquid bliss, even one may go as far as saying an ultimate beer reflexology experience for the tongue and taste buds.
We made ourselves at home next to shelves packed with a multitude of bottled brews. Labels such as 'Dead Guy Ale', Brew Dog and India Pale Ale lined the cooler and adjacent shelves, a complex tapestry of labels, colours and strange logos to match.
Under the guidance of our host Kennhyn, a self-professed beer lover, we began our liquid odyssey with a mild and refreshing Belgium beer, Saison 1900. At just 4% it can be described as a light summer beer with a clean crisp flavour and sharp finish.
From gentle beginnings we then ascended/descended into more unknown territory with the next brew from Rogue 'quaintly' named Dead Guy Ale. Replete with a ghoulish label, Dead Guy Ale is certainly a drink to remember. Next began the unusual and very pleasant experience of testing the bouquet of the beers we were sampling. One normally reserves this for wine only, but make no mistake the significance of aroma when drinking boutique or micro brewed ales. Dead Guy Ale is distinctively cherry and raisin on the nose. The ale is delicious, full bodied with a distinctive licorice flavour and long bitter afterglow. I love dark beers and this one was no exception with its pleasant golden tawny color.
Next off the rank was the Victory California from Headwaters Pale Ale. With its very enticing passion fruit bouquet, pleasantly bitter flavour and a grapefruit aftertaste, this medium bodied beer was a light golden colour and 5.5 % proof. For those who like a sharp citrusy flavour then this is your baby.
No sooner had we downed this American mustang we moved back to Belgium for what was most definitely one of the stars of the show. The Eicht Kriekenbier (try saying that after a few pints), began with an amazing fermented cherry aroma, followed by an engaging sour palate and ongoing distinctly cherry flavor. This unusual but very delicious beer is fermented for eight months. For the last five of the process, real cherries are added to the brew to impart both a delightful colour and distinctive flavour to this exciting beverage.
Staying in Belgium we then sampled the XMAS Zinnebir, a dark brooding bitter with a persistent creamy head.
By this time Kennhyn was ready to take us back to the USA with the oddly named Hop Ottin IPA from Anderson Valley. This coppery coloured brew has a strong and robust savor and, as described by the makers, a lacy head. Apparently this was the beer of choice of the recently departed American clients who made Ales and Lagers their preferred oasis whilst holidaying in the region.
As with all great firework displays Kennyhn made no exception with his grand finale during his 'pyrotechnic' demo of amber fluids. The strangely named Paradox Grain from Brew Dog not only excelled in my mind, but can be placed on the podium of the top three beers I have ever tried. Paradox Grain is a dark stout packing a whopping 15% proof and a complex palette with distinctive whiskey and caramel flavours. To my amazement this is imparted to the brew as a result of a maturation process finished in real whiskey barrels. Apparently this is part of a symbiotic process of sharing barrels with whiskey makers in Scotland who covet the distinctive elements of beer maturation in their barrels as part of the whiskey ageing process. The effort brew dog makes was not lost on me. Nor were their quirky and hilarious descriptions of the brewing process that includes lines such as, "Our approach (to beer brewing) has the same contempt of the mass beer market that the old school punks had for pop culture."
All in all Kennhyn is unquestionably a master of his trade. Whilst the setting is what one might describe as more a laboratory for beer consumption, make no mistake when I say that the experience was an eye-opener and certainly a novel broadening of my horizon of micro brewing and exotic beers. Apparently there is expansion in mind, with a larger oasis for his clients a possible proposal in the future.
Beers range in price from a moderate RM16 for a 250ml bottle all the way to RM90 for the larger bottle sizes or more exotic brews. The range changes constantly so you could come every week and try something new.
Even if you are not a great beer lover I would say that a visit to Ales and Lagers is an essential pilgrimage for anyone with an adventurous heart and a penchant for something completely different. Maybe if you are visiting Publika for dinner or a night out, a session at this humble hole-in-the-wall with its extensive entourage of international beers should be factored in.
Reasons to visit: incredible selection of craft brews; fun cosy pub-like ambience; super friendly atmosphere; constantly changing choice of beers.
Ales and Lagers
(next to Studio KL, the row above Fiercer and Urbano e Fresco)
D1-G4-06 Solaris Dutamas
No. 1 Jalan Dutamas 1
50480 Kuala Lumpur
Malaysia
+6 012 262 8171