For an unforgettable and truly magical experience in Bali, we book in for a spa treatment followed by a cliff top candlelit dinner at Karma Spa, at Karma Kandara Ungasan.
Karma Kandara Resorts certainly know how to make the most of a location and the cliff spa, overlooking the grand Indian Ocean epitomizes this ideal. More of a wellness retreat, than stand-alone spa, Karma Spa combines beauty, healing therapies and fitness facilities all in one venue.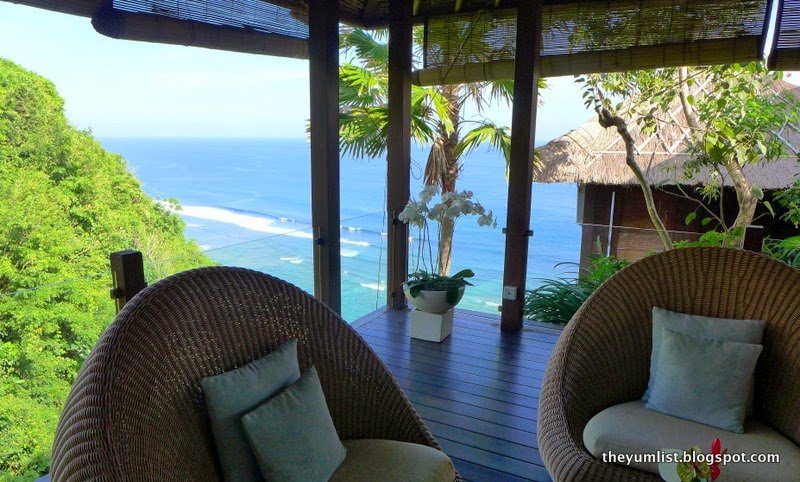 Spa Waiting Area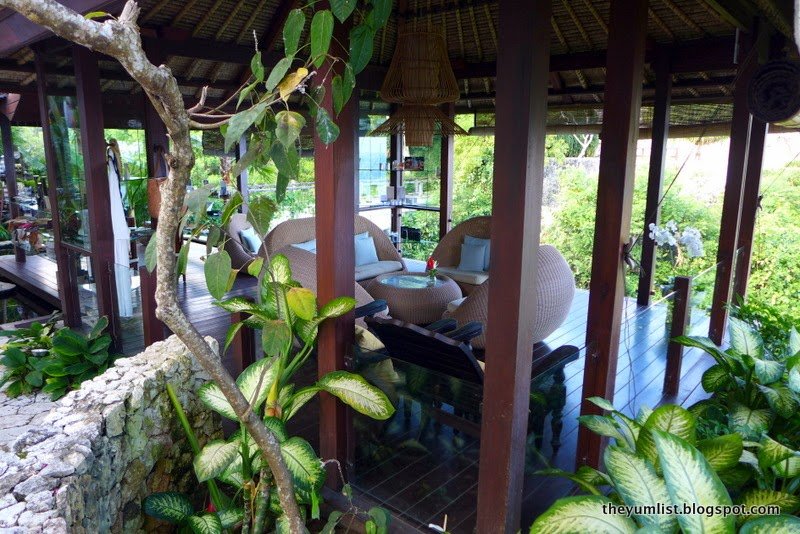 Lounge
We've signed up for a massage followed by a romantic candlelit dinner on Karma Spa's very own private deck. We're expecting grandness but are still unprepared for the breathtaking experience blessed upon us.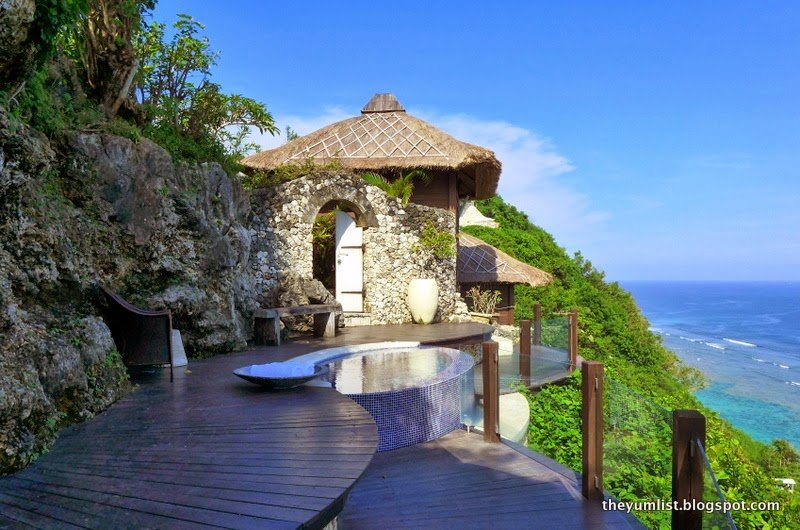 Private Spa Deck with Whirlpool, Infra Red Sauna and Shower
Spa villas jut out from the bluff, with glass windows rubbernecking the glorious wild coastline below. The best way to enjoy the service is with the windows open to hear the soothing sounds of the waves rolling into the shore. Taking a good gander before our treatment begins, our minds are filled with aquamarine seas and pristine beaches.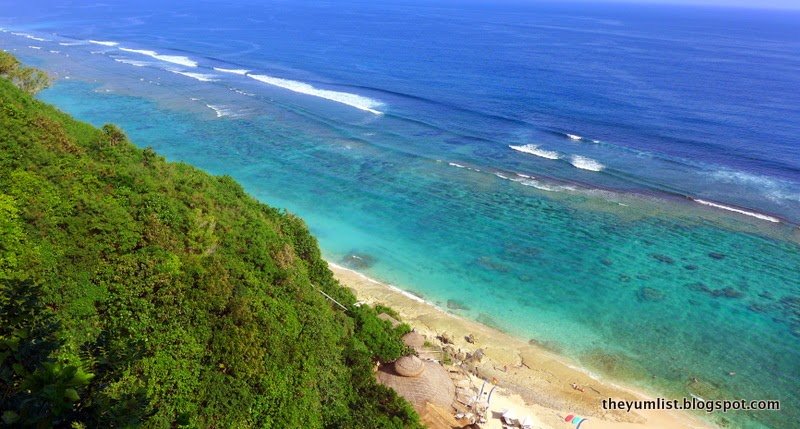 View from Spa
Hubby takes the Karma Rhythm Massage (75 minutes IDR 1150), combining Shiatsu pressure point therapy with the long deep strokes of traditional Balinese healing. Extra attention is given to neck, shoulders and back and focus on the right pressure points promises to boost circulation and promote wellbeing. I've signed up for the Intuitive Balinese Massage (75 minutes IDR1150), a local therapy, which promises deep tissue engagement and a final relaxed result. The therapist's strokes are slow, long and strong, easing tension from my body and soothing me into an almost hypnotic state of peacefulness. We're both impressed with our therapists, but even more so with the stunning environment. Just being here inspires tranquility and happiness.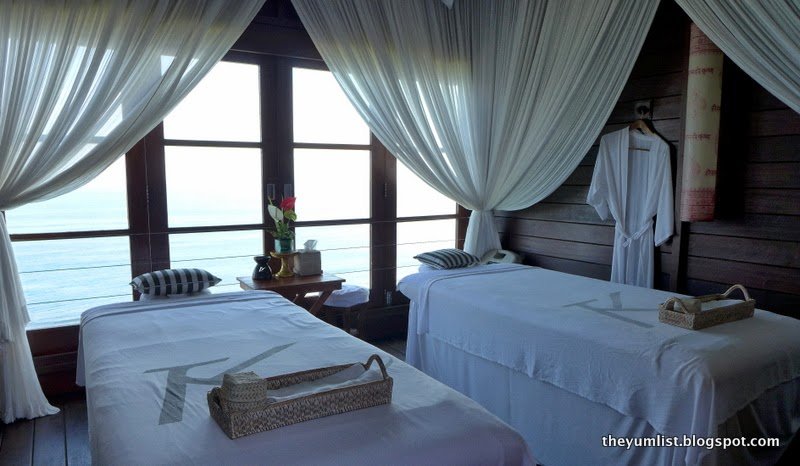 Spa Treatment Room
Left alone to luxuriate in the after effects of the treatment we change into kimonos and then stroll next door to the spa's exclusive deck. A wooden balcony drops off the side of the cliff, with only a glass barrier between us and the ledge. Lush greenery and the rocky bluff face provide a protective wall, privatizing this sensational retreat. The view directly below is of crystal clear aquamarine water and beyond of the golden sunset reflecting off the clouds and the sea.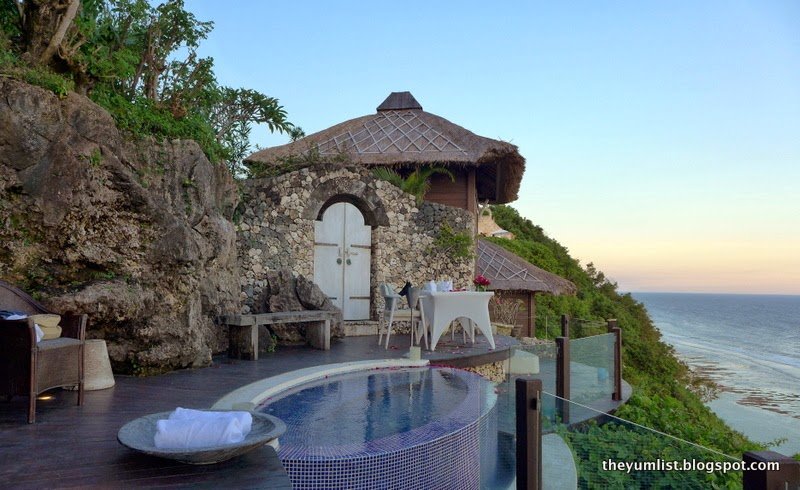 Magnificent Location
A whirlpool with an infinity edge centres the space and this is where we spend the next half hour in absolute heaven, barely believing the beauty of this place and our fortune to experience it. Dressed again we call our butler and he seats us at our rose petal adorned table for two.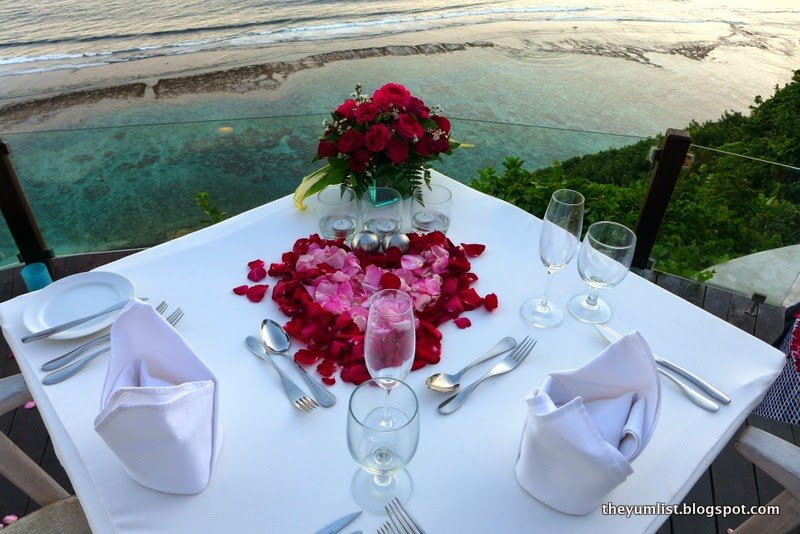 Rose Petal Decorated Table
The only way to begin such a magnificent evening is with a bottle of Champers. Karma Kandara has a good variety too. From sparkling, to mid range to high-end drops, there's something on the list for everyone's tastes and budgets. We choose Duval Leroy Brut (IDR150) for its aromatics and full flavour. Made from pinot and chardonnay grapes it works well as an aperitif but also continues well with our food choices.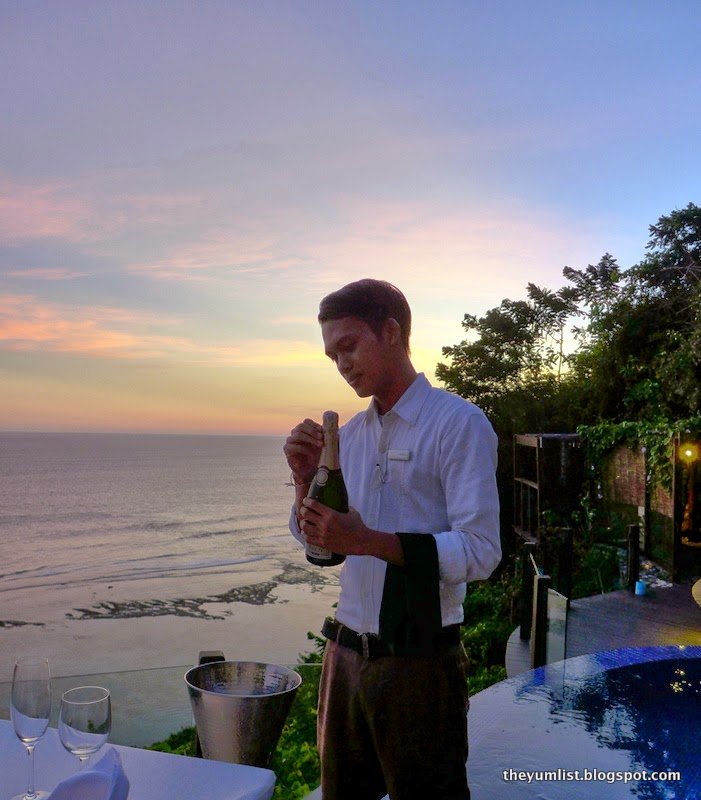 Time to Pop the Champagne
Organic greens and beets are mixed with Hokkaido scallop tartare and an oyster emulsion to form the Baby Organic Beets Salad (IDR130). It's elegantly presented with thin rounds of beetroot basing crisp greens. The middle is striped with a slender slice of brittle toasted bread and, finally a round tower of tender white seafood peaks the top of the plate. Incredibly fresh, we scrape the salver clean.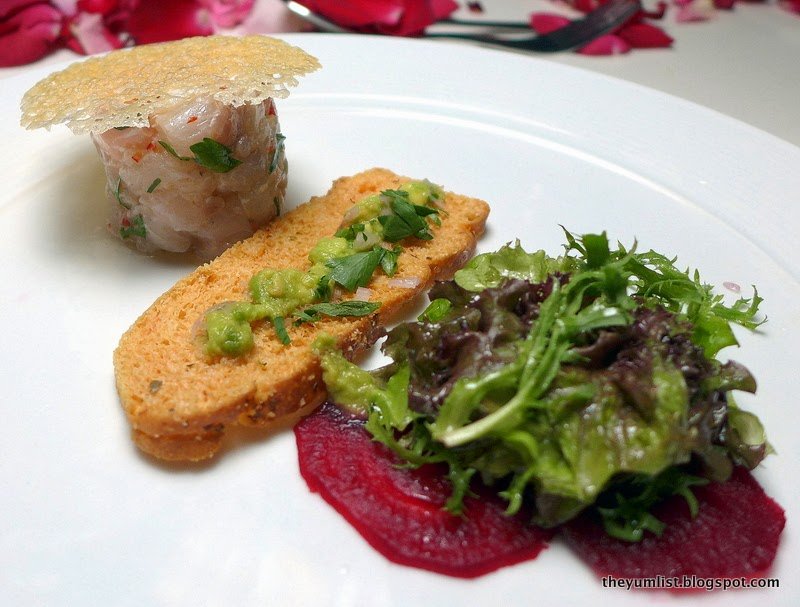 Beet Salad
Lobster (IDR150) is hubby's idea of heaven on a cliff top and comes chilled with fennel cream, sea urchin, citrus and dill. Again, a gorgeous plating entices the eye and pleases the stomach. Fennel is whipped into a fluffy delicious mousse and forms a lined pattern interspersed between orbs of crustacean. Micro greens are sprinkled in a row across the top and stripes of beetroot sauce finish the design. Tasting as though it has been pulled directly from the sea, we're both delighted with this starter.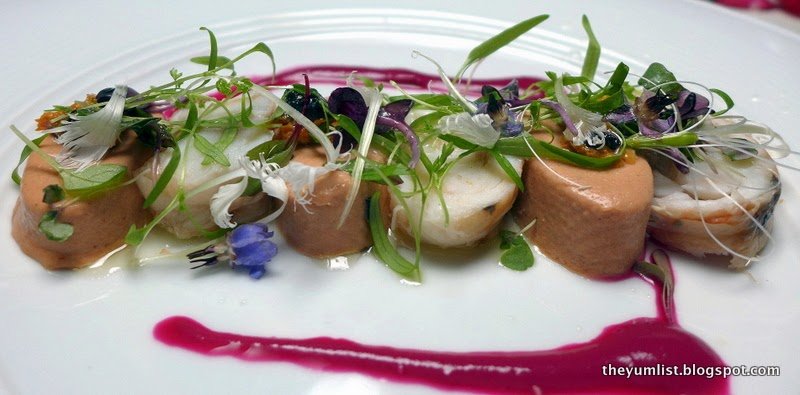 Lobster
Our waiter is a sweetheart. He takes numerous photos of us, suggesting different angles and poses to make take-home memories of our visit. He explains each dish and seems truly pleased to be serving us and working at Karma Kandara. He says he wakes up tired in the morning, but when he arrives to work he feels surprised by the majestic view and refreshed by the natural beauty.  We feel the embodiment of Balinese hospitality shining though our humble waiter, Hendra.
The mains are next and we are asked if we'd like time to digest or if we'd like them served quickly. We are luxuriating in the experience so want to drag out every moment. "When they're ready", we say, "no hurry."
My Fillet of Cod (IDR200) is plump, moist and flaky. Broccoli puree, quinoa, miso, cockles, asparagus and sea urchin foam pledge a colourful side array of health. I'm thrilled with my dish, but hubby, who is a fussy fish eater, even forks half my serving and smiles happily as he devours it.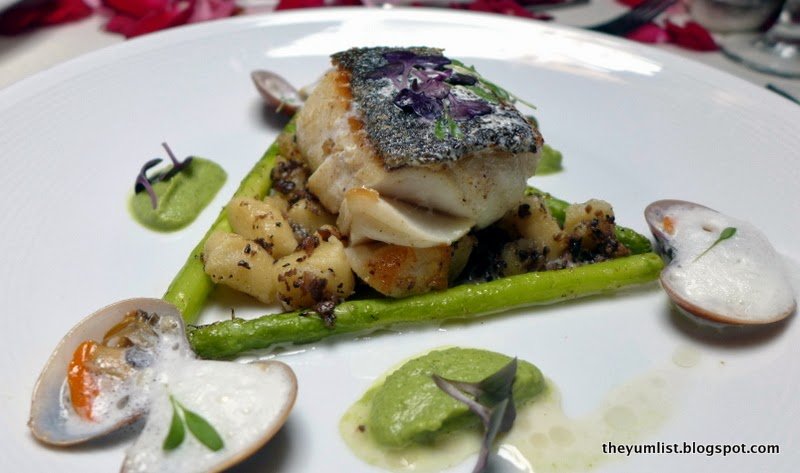 Cod
Executive chef of Di Mare, Miles Belfield, is famous on the island for his Char Siu Pork Belly (IDR210), and so hubby uses this as an excuse to indulge in this sinful pleasure. Spring onions and butternut squash tag along, but the sticky decadence of the sweet charred outsides and melt-in-the-mouth middle is what opulent dreams are made of.
Char Siu Pork Belly
My sweet ending is a Frozen Raspberry Mousse (IDR80) with a lemon gel, natural yoghurt and fromage frais sorbet. It proves a light and refreshing ending, leaving me feeling gleefully content, but not lethargic and stuffed.
Hubby decides the Buttermilk Cheesecake (IDR80) will complete his meal nicely. The velvety top is mild in flavour but buttery in texture. Two merengue globules flank the edges adding a saccharine crumble to the creaminess.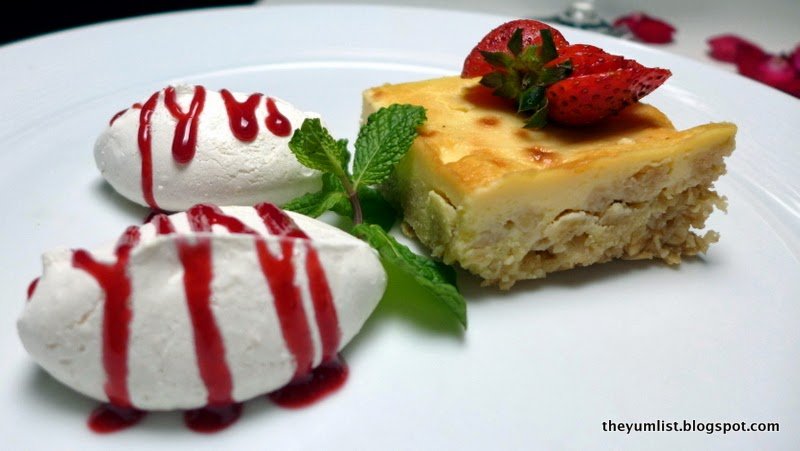 Buttermilk Cheesecake
We feel incredibly lucky to participate in this wonderful arrangement. It's a once in a lifetime experience – perfect for proposals, anniversaries, birthdays, special occasions, or just an awe-inspiring unforgettable moment in Bali. Karma Kandara will take care of your needs and ensure a remarkable evening that will lodge in your memory forever. This is a date not to be missed when staying in Bali. Karma Kandara can make dreams come true.
Reason to visit: enchanting, stunning and unbelievably romantic setting; the perfect location to propose, make-up, or just create a lifetime memory with your loved one.
Karma Spa
Karma Kandara
Jalan Villa Kandara
Banjar Wijaya Kusuma
Ungasan, Bali, 80361
Indonesia
+62 361 848 2200