The arrival to Karma Beach is just as much a part of the awe-inspiring experience as the club itself. An 85 metre hill tram glides guests down a striking limestone cliff. An alternative route of 350 steps is too a rewarding path. Dropping from the bluff top, lush greenery borders the immediate edge, while the glistening aquamarine water and wild coastline pull the eye further across the seascape and to the rugged beauty that awaits below.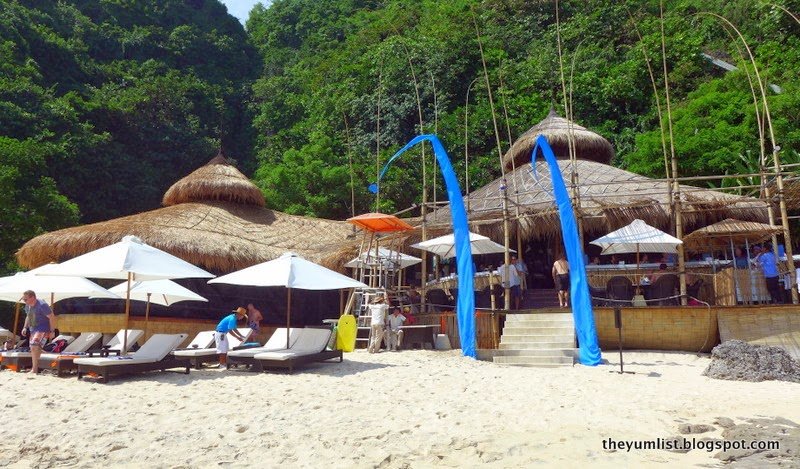 Karma Beach
A circular shaped 'hut' houses the restaurant blending into the natural surrounds and providing a cool place to sequester oneself from the midday sun. Beach beds, white umbrellas and grey box lounges rim the beach, leaving a small clean section of golden sand to frolic in. When the tide is low, a lagoon is made visible, with a coral reef giving lots for snorkeling enthusiasts to see.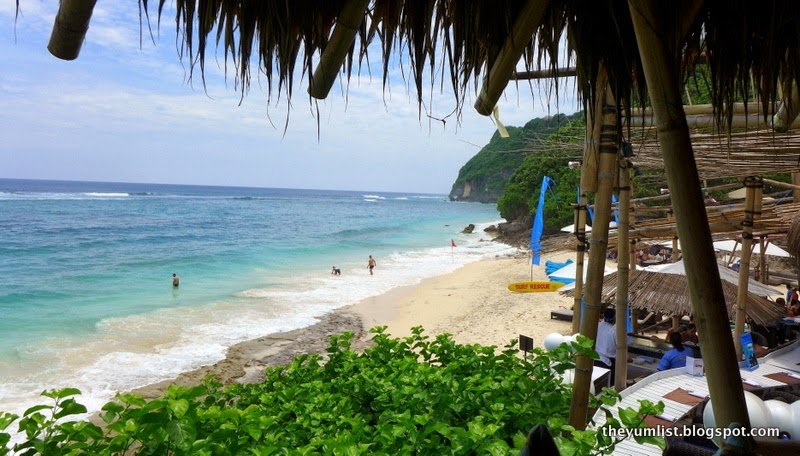 Beach
Daily DJs provide a hip, chilled vibe where the music seems in sync with heart beats, causing breathing to slow and heads to gently bop. From 1pm – 7pm daily, spin masters infuse a relaxed groovy energy into the ambience.
It's a beach so cocktails are an appropriate start (at least we think so!). From The 5 Senses menu, hubby chooses the Woo Woo (IDR160), which highlights the sense of touch and blends vodka with fresh fruits to deliver a wonderful texture to the mouth. Slices of orange, lemon, lime, a sprig of thyme and a maraschino cherry provide garnish in a whisky glass.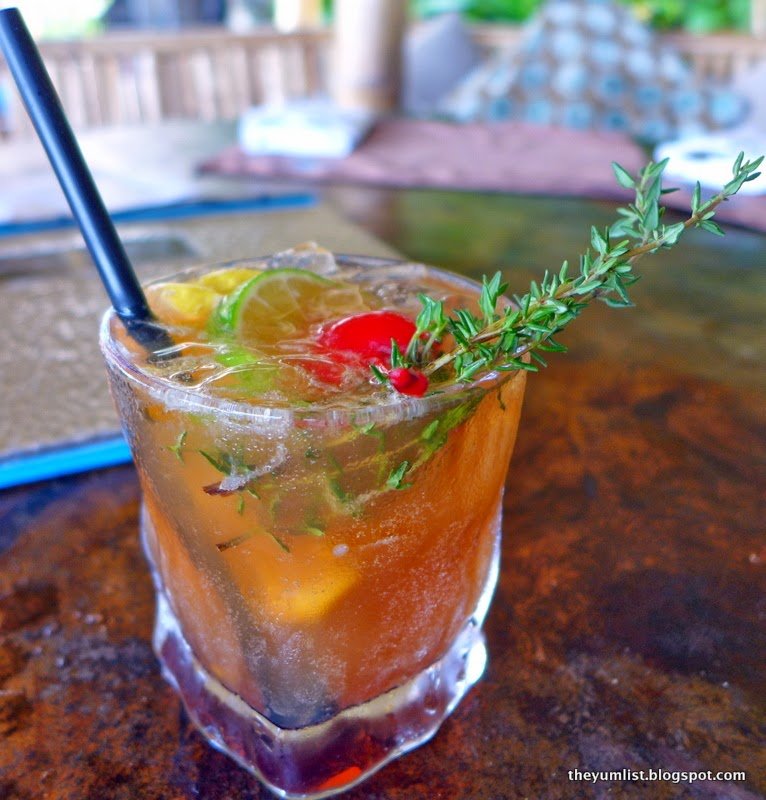 Woo Woo Cocktail
El Matador (IDR160) comes in a short cocktail glass and focuses on the sense of hearing. This Tequila based beverage delivers a mellow sound to our ears courtesy of pop rocks and bubbles.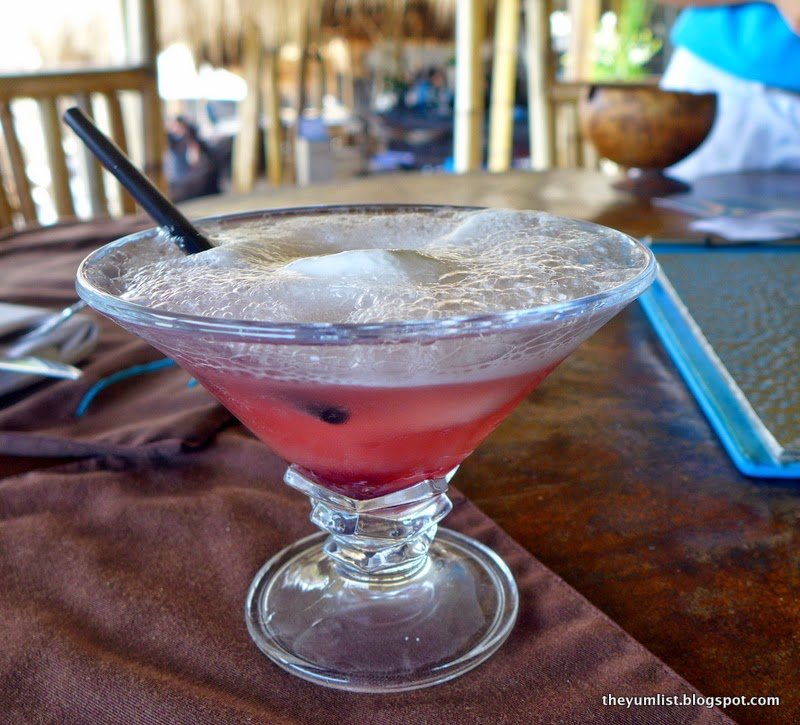 El Matador
From the 7 Chakras menu I go with The Solar Plexus Chakra (IDR160). Served in a martini glass and garnished with a fresh slice of mango, it mixes gin with fresh mango, lime juice, apricot brandy and local organic honey. The gin softens the sweetness of the mango forming a refreshing burst to palate.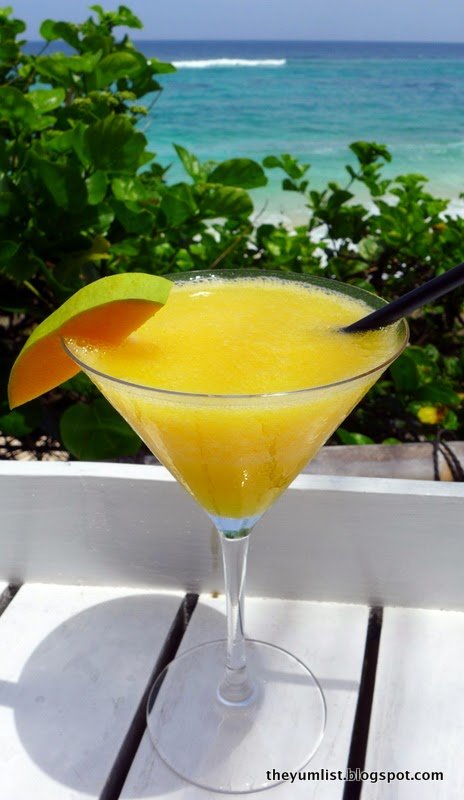 7 Chakras Cocktail – The Solar Plexus
We're sitting in The Boardroom, a round tree house like pagoda covered with a thatched roof and made comfortable with cushioned couches. A fantastic solid wood table made from a giant tree trunk and a huge cross-section of the bole centres the room. It feels rather special perched above the crowd, and as such, is a popular spot, so if you'd like to ensconce yourself here, do book ahead.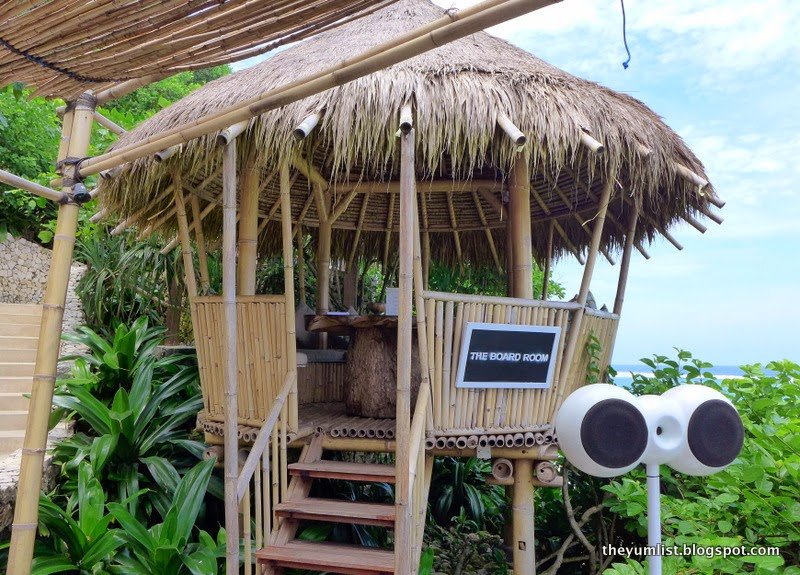 The Board Room
Karma Beach must be one of the only beach bars with a sushi station, with requests fresh rolled to order. A wood fired oven cooks up thin crust pizzas and, of course, there's a list of fresh seafood to tempt the palate. We're rather pleased with the wide selection of healthy options and as such get to ordering.
Ahi Tuna Salad (IDR140) is starred as a chef's recommendation. Oven-dried tomatoes, roasted garlic, grilled Portobello mushroom and feta cheese is dressed with aged red wine vinaigrette. Beautifully presented, I'm hesitant to spoil the chef's careful arrangement. Each piece of tuna is individually rolled in black and white sesame seeds and topped with crumbled cheese and juicy tomatoes. Fresh leaves provide a garden base and garlic filled mushrooms top the plate. A splash of soy sauce brings out the flavour.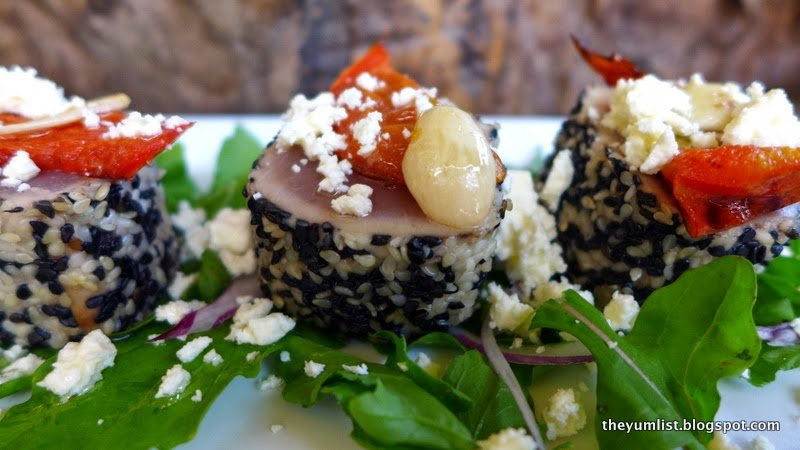 Ahi Tuna Salad
Our cancelled Watermelon Gazpacho (IDR85) arrives anyway, despite hubby's protests that he doesn't like 'cold soup'. Chilled with a drop of extra virgin olive oil and supple chunks of fresh crab, this soup wows the table. "It's a knockout," cries hubby in surprise, "You must order this dish!"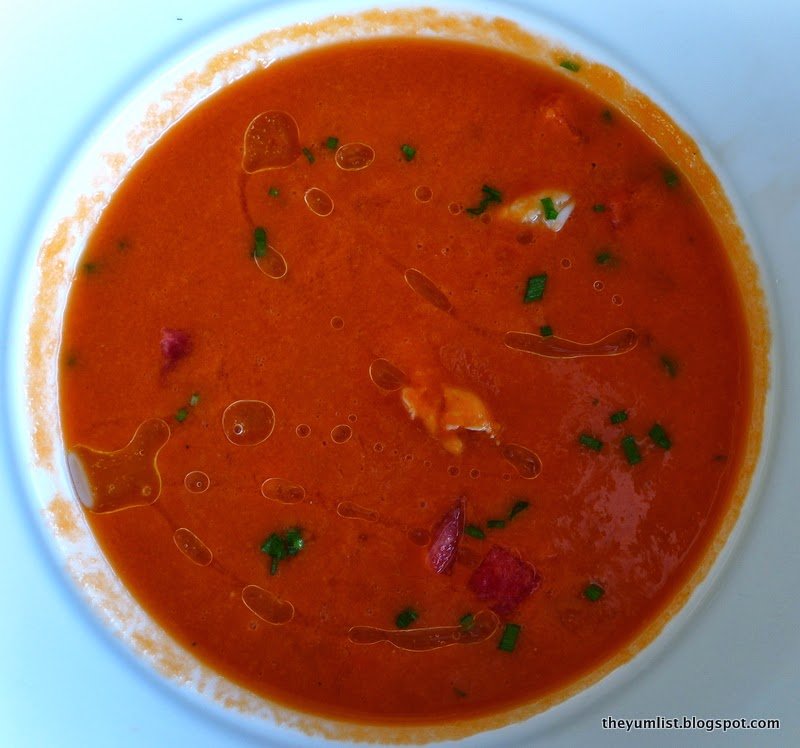 Watermelon Gazpacho
Watermelon and Feta Salad (IDR100) seems like a perfect selection for this warm beach weather. Cubed sweet watermelon is sprinkled with savoury sheep's milk feta, sweet basil dressing and surrounded by crisp romaine lettuce (so crisp we're guessing it was just picked). It doesn't quite meet our expectations though as we were imagining something with a bit more of a punch. It's mildly sweet and smooth however and we can see its appeal.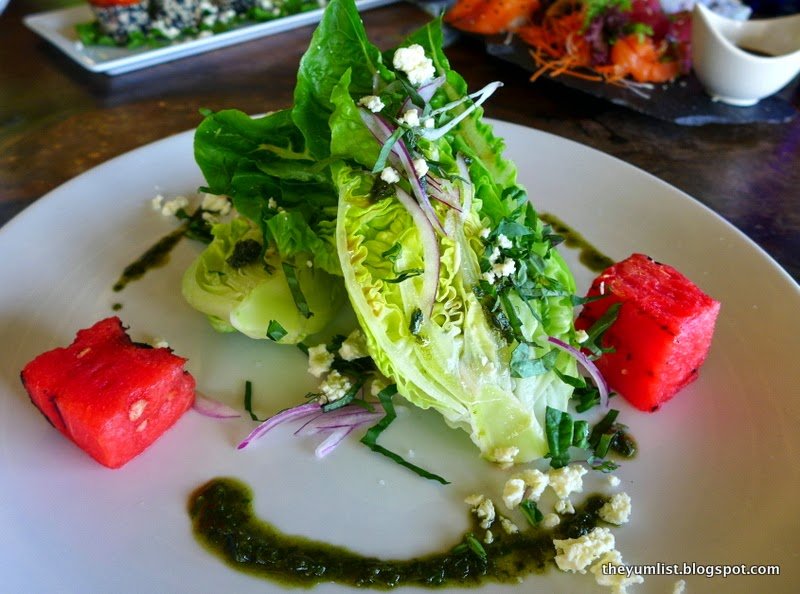 Watermelon and Feta Salad
Hubby is tempted by the Gorgonzola and Chorizo Pizza (IDR160). Who wouldn't be? What a combo! It promises local wild mushrooms, extra virgin olive oil, creamy mountain gorgonzola, mozzarella, sea salt and Portuguese chorizo sausage and it proves fantastic. A super thin crust holds the ingredients, which demonstrate a satisfying mix of savoury leaving us licking our lips ready for another slice.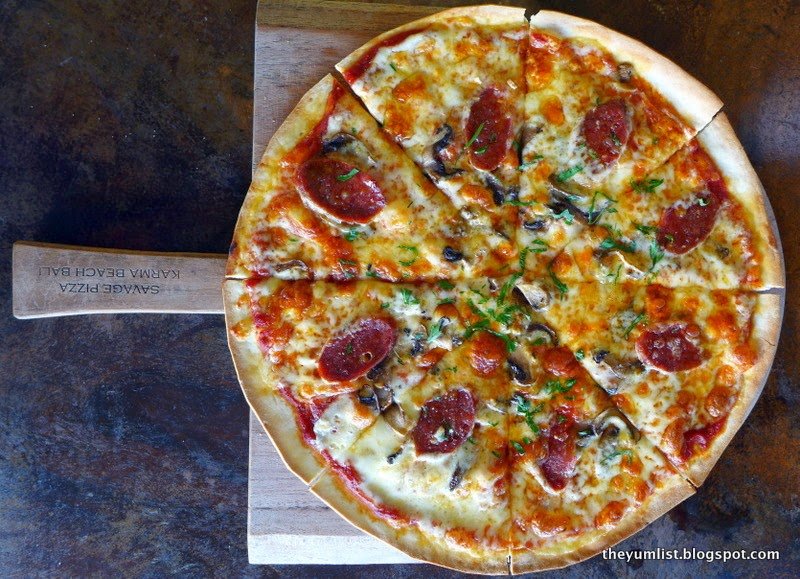 Gorgonzola and Chorizo Pizza
With a dedicated sushi chef it seems like a no-brainer to order some rolls. Karma Oishi Plate (IDR240) offers two rolls, six nigiri and six sashimi of the chef's choice. Presented on a slab of slate that seems as though it was shaved from the very cliff face that we're sitting under, the platter is quite a spectacle for the eye. Bushy salad leaves provide a garden bed with shredded carrot and radish sprouting in between the rolls. Each is fresh and the platter is soon finished, but we find the eel to be particularly delectable.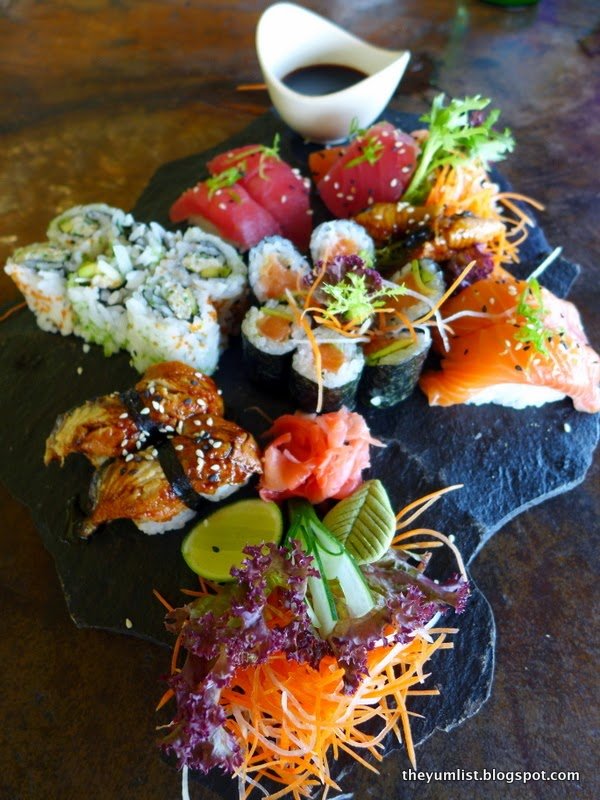 Sushi Platter
Fish of the day is Sea Bass (IDR140). It's grilled and we can have it either Indonesian style, which is spicy and sides with rice and vegetables, or Mediterranean style, (our preference) brushed with garlic oil and accompanied with salad. The flesh comes juicy and falls into magnificent flakes with the touch of our knives. A simple side salad is all that is needed as an accompaniment.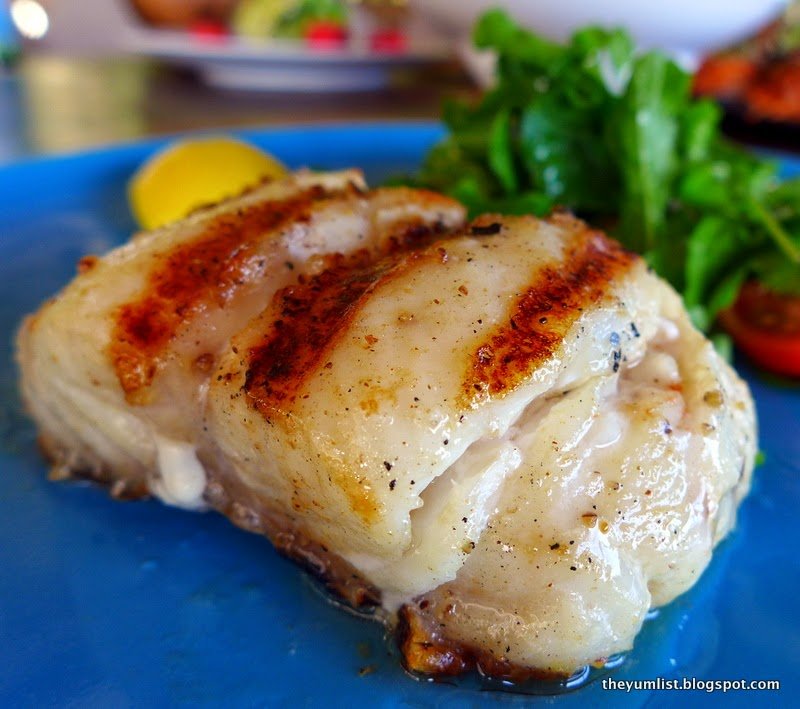 Fish of the Day – Sea Bass
Dessert can't be missed. The Sizzling Platter of Hot Chocolate Brownies (IDR65) comes with smooth vanilla ice cream, which melts within a minute or so of arrival. Chocolate sauce sizzles on the ebony hot plate and the warm chocolate triangles are sticky, dissolving into sweet goo in the mouth. Yum!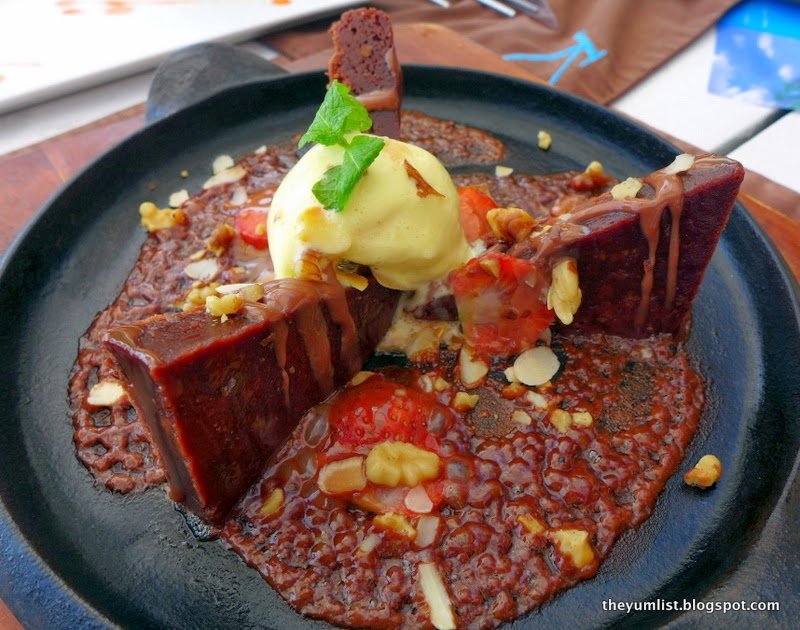 Sizzling Brownie Plate
I predict Hubby's order of Passion Fruit Cheesecake (IDR65) before he even looks at the menu. A passion fruit coulis tops a very light creamy cheese. It's more of a whipped mascarpone texture than a cheesecake. I'm lucky to have got my spoonful of this deliciousness first before hubby gets a taste as now he is moaning and declaring it, "Delicioso!" and… soon… there is none left.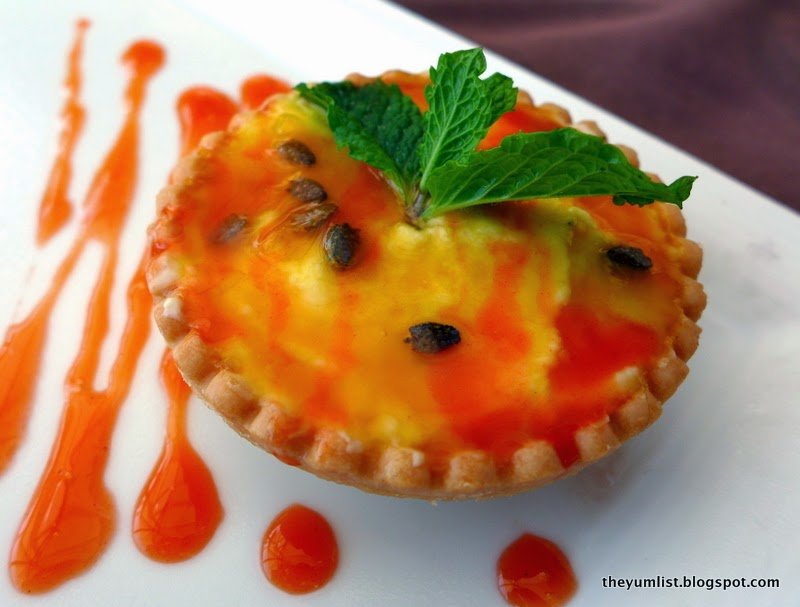 Passionfruit Cheesecake
Karma Beach is open to in-house guests and visitors too. Those not staying at the resort are charged an IDR250 000 fee which included entry, use of the beach and a 100 000 food and beverage credit.
Karma Beach is undoubtedly one of the best beach clubs on the island and we highly recommend it as a 'must visit' when in Bali.
Reason to visit: awesome beachside setting; hill tram arrival; Watermelon Gazpacho; Karma Oishi Plate; Gorgonzola and Chorizo Pizza; fish of the day; Sizzling Platter of Hot Chocolate Brownies.
Karma Beach
Karma Kandara
Jalan Villa Kandara
Banjar Wijaya Kusuma
Ungasan, Bali, 80361
Indonesia
+62 361 848 2200