Entering the InterContinental Bali you can't help but slow your pace of breathing. The grounds are expansive, lined with palm trees and backed with the sea. Smiles and soft bows greet all who arrive.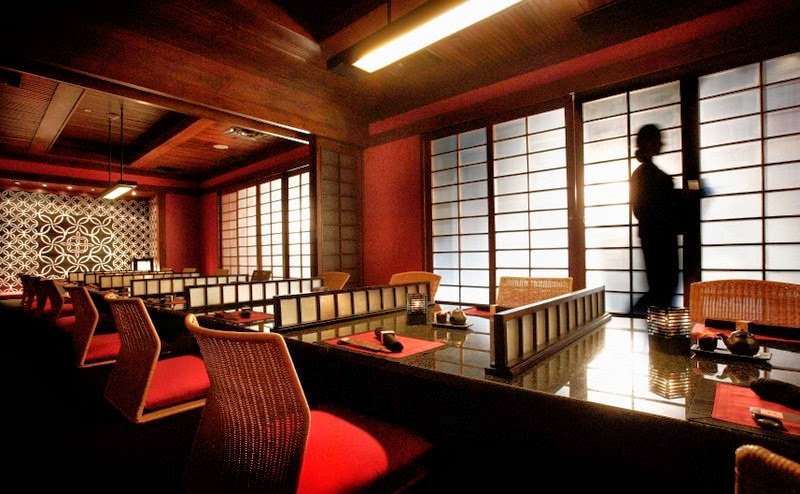 Dining Room
We're here to dine in InterContinental Bali's Japanese restaurant KO. A peaceful walk guides our arrival and perfectly manicured gardens mark the entrance. Three distinct ambiences cater to a variety of desires. The Sushi Lounge and Bar is ideal for sushi and other authentic Japanese dishes. The Tatami Room offers traditional floor style seating with the same menu as the main dining room. Finally, the Teppanyaki room amuses with the live entertainment of chefs turning the preparation of our meal into a top-notch juggling act.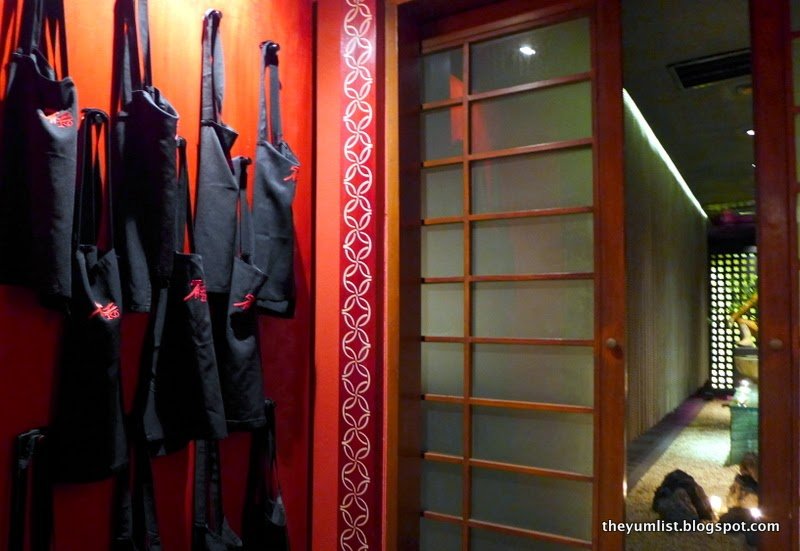 Things Could Get Messy – Wear an Apron
Of course sake is on the menu, but as hubby says, "We're in Bali! On the beach! We need a cocktail!"
Luckily KO is very happy to oblige with a complete list of Kaze, KO and Mizu Cocktails.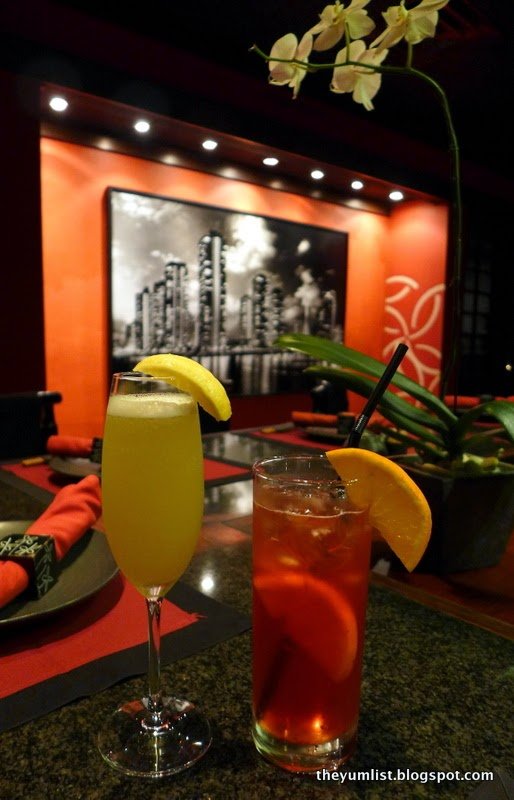 Sake Cocktails
I start with the Shiro Bellini (IDR200), which features Calpis (a Japanese uncarbonated soft drink) and white peaches charged with plum sake and prosecco. Lightly frothy on top, garnished with a wedge of lemon and, served in a champagne glass hubby (who has nabbed it before I've even taken a sip) declares it, "Fine fuel for conversation."
Hubby tries the Monella made with Bombay Sapphire gin muddled with pink grape fruit, orange plum sake, Campari, lemon juice and topped up with tonic. A highball glass carries this beverage and I'm rather fond of the stronger flavours, which don't tickle hubby's sweet and soft predilections. A switch of beverages makes us both perfectly content.
As is often the case, hubby and I can't agree on what to order so we leave the chef to settle our disagreements with whatever he pleases to send.
The appetizer comes as a trio of petite items. Wagyu gyoza with shitake mushrooms are pan seared in a light rice paper roll, sunk in carrot puree and crowned with seaweed. It proves a crispy mouthful with a distinct taste of beef. Dots of fig balsamic lead the eye to rock shrimp tempura with a creamy spicy sauce, which is soft and juicy. Finally pink Tasmanian salmon sashimi, with a shaving of radish, is balanced with a gently spicy mayonnaise. A scarlet edible flower provides pretty trimming.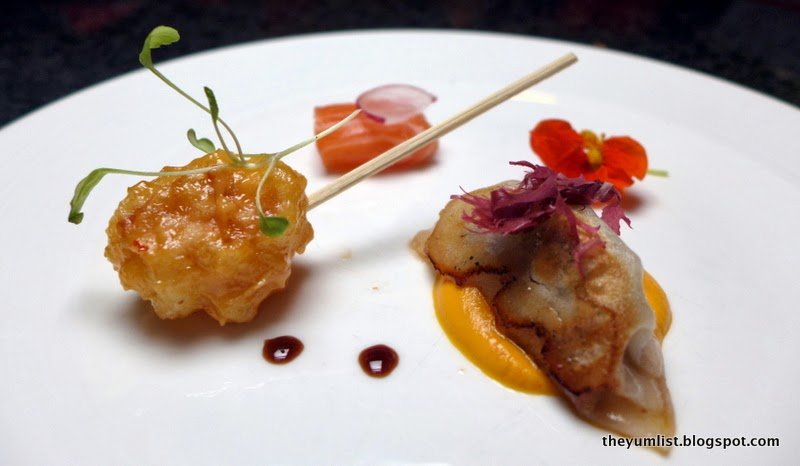 Appetizer
Now it's time for the barbecue and not only does the chef stand before us and politely introduce himself, so does our waitress for the night. Then, the show begins! Chef streaks the hot plate with a line of flammable liquid, warns, "Fire!" and strikes it alight causing a line of red and orange fingers to reach for the ceiling.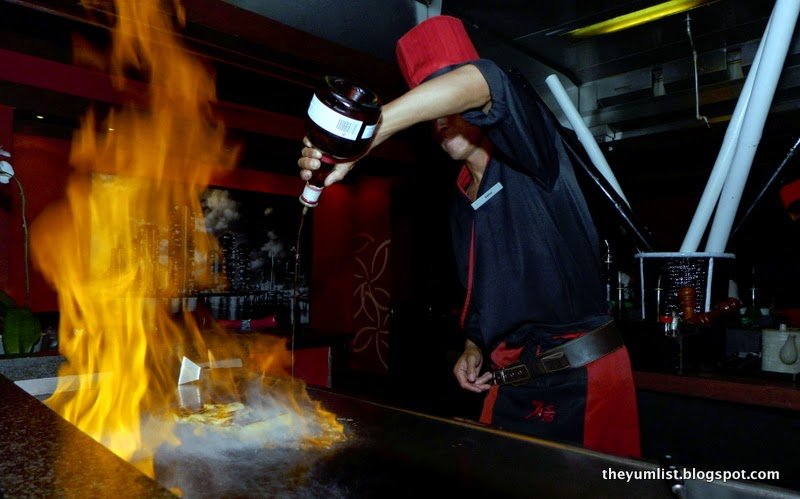 "Firing" Up the Grill!
Mixed vegetables, comprising bean sprouts, red and yellow capsicum, onion and zucchini are fired on the grill as chef performs some juggling theatrics with the salt and pepper shakers. Further seasoned with butter and soy sauce, it's a delicious nutritious start.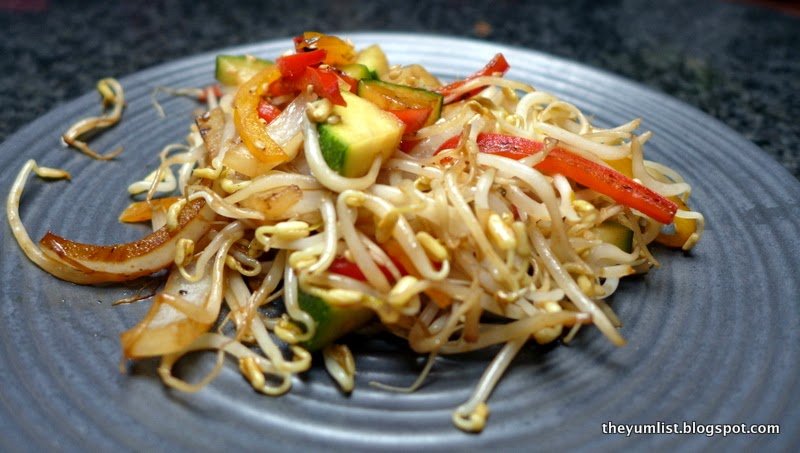 Mixed Vegetables
A trio of sauces is presented to provide additional zest to each course. Vinegar and soya (ponzu) is good for seafood and fish. A creamy sesame seed dipping provides the perfect complement for vegetables and, the ginger sauce is ideal for meat.
Mixed drinks are empty so it's time for sake! We like it hot and the Hakushika Shika (IDR180 carafe) hits the spot with its deep flavour and smooth fruity fragrance. This is a versatile sake and we later sample it chilled. Both varieties are satisfying with hubby preferring the cool temperature and myself the warm.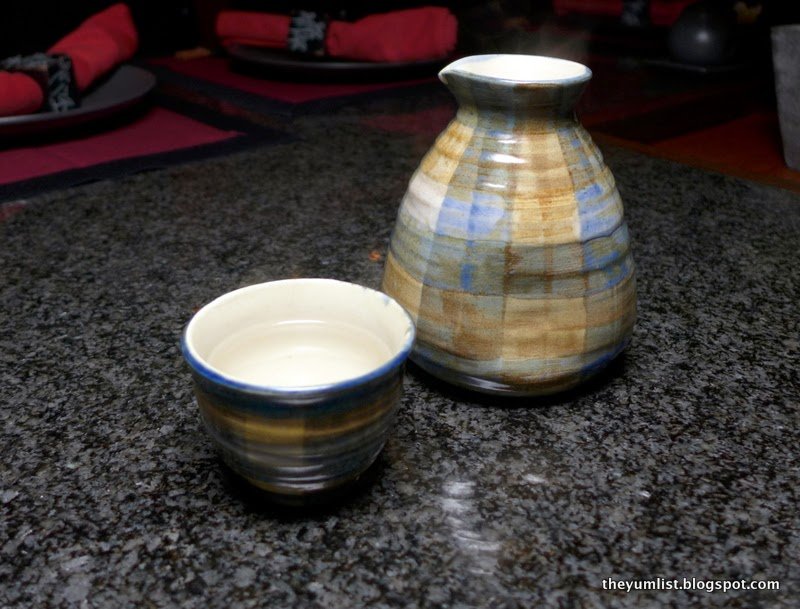 Warm Sake
Our chef advices us that the prawns, "are going to fly," as he skillfully sways them on his spatula side to side and upside down without loosing a single crustacean. A percussion session continues with some rhythmic banging and tossing of the salt and pepper shakers. Next he calls, "Ready for the bin!" as he slices and tosses the tails of the shrimp into his chef's hat one by one – all the time maintaining an ear-to-ear smile. The shrimp is encased in a trace of creamy sauce (not the all too common drowning) and has a wonderful firm yet juicy texture. The hot sake brings out the ocean in the arthropod.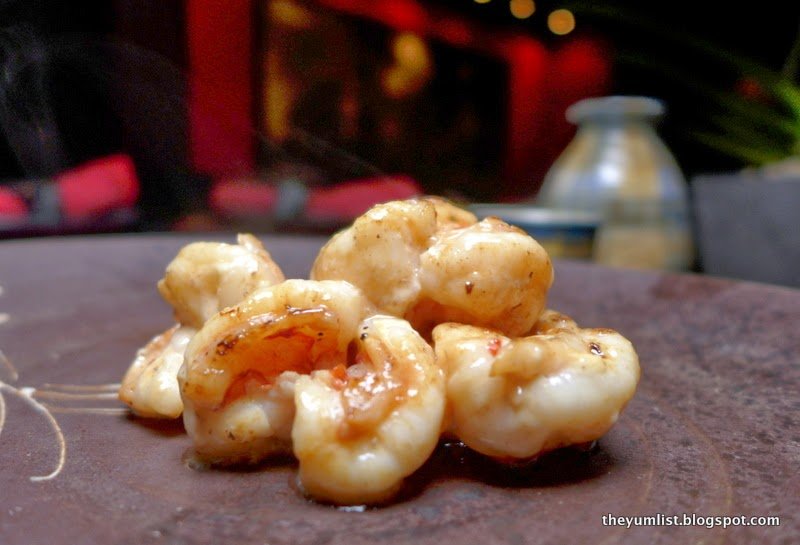 Shrimp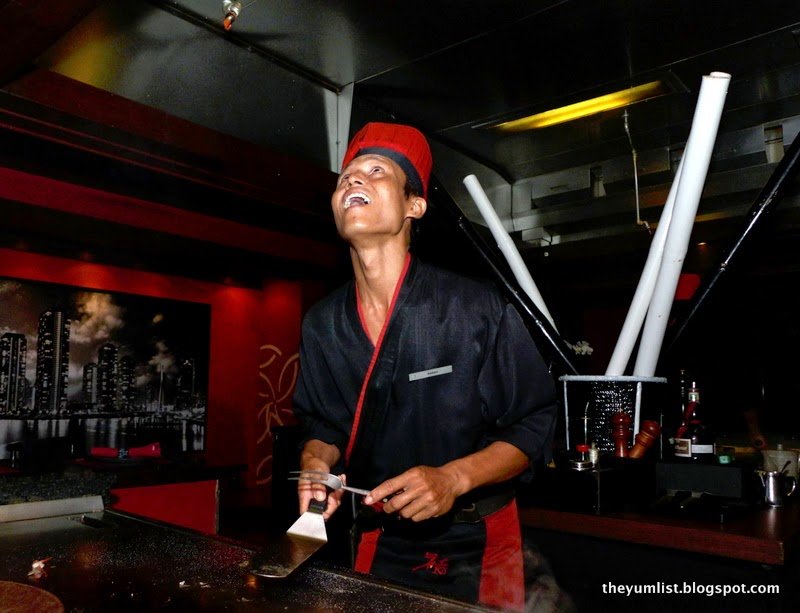 Catching Shrimp Tails
Barramundi fillets with onion rings and asparagus are barbecued with butter and ponzu sauce, a splash of soya and white wine. Chef cooks the sauce separately and then expertly plates each dish, drizzling the
sauce over the top. The finale is a squeeze of lime forced with the edge of the knife. Serving dishes are hot – a small but important detail. We taste the dish and find the flesh softly caramelized on the edges and flaky and moist within. Everyone is quiet for a few minutes as we contemplate the deliciousness of this simple preparation.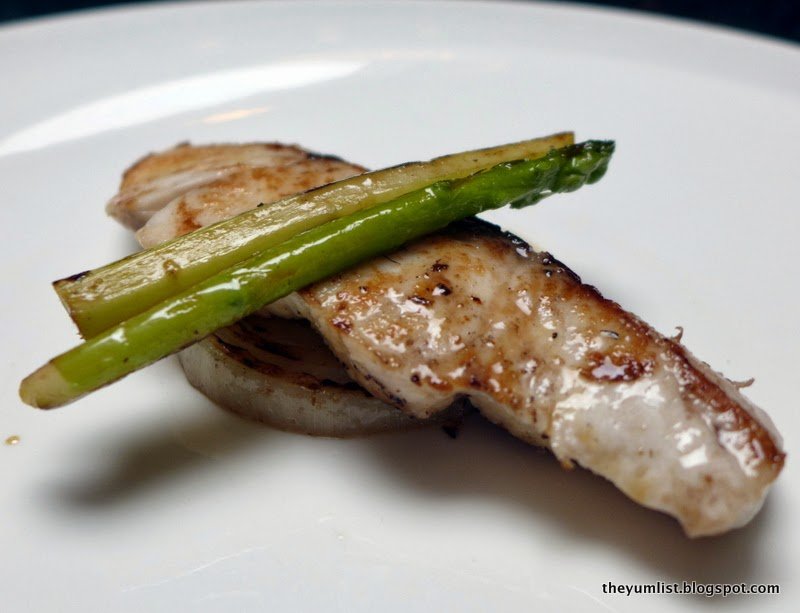 Barramundi
Chef has eggs standing upright and we know he's up to something. Eggs are cracked into bowls and with a whirl of the hands, a long snake of an omelette soon appears on the grill. I'm told chef will cut from the opposite end so reposition my camera there. Soon a percussion beat, increasing in speed, has the whole restaurant clapping and stamping in unison as the pace accelerates. Soon I'm covered in egg slices, which makes everyone giggle. The egg pieces remaining are mixed with finely chopped onion, spring onions, carrots and rice, to make an appetizing mid course.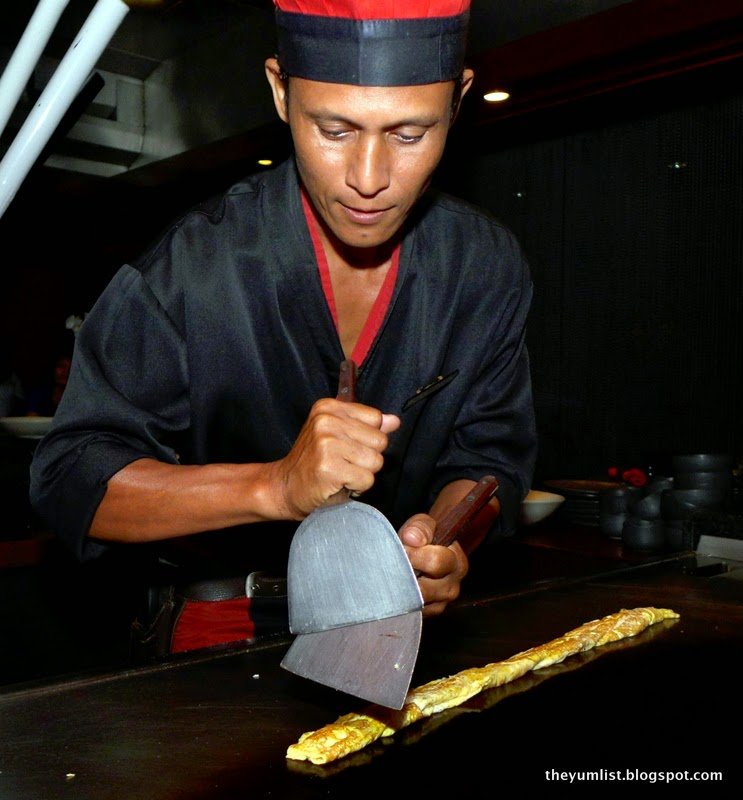 Look out! The Chopping Begins!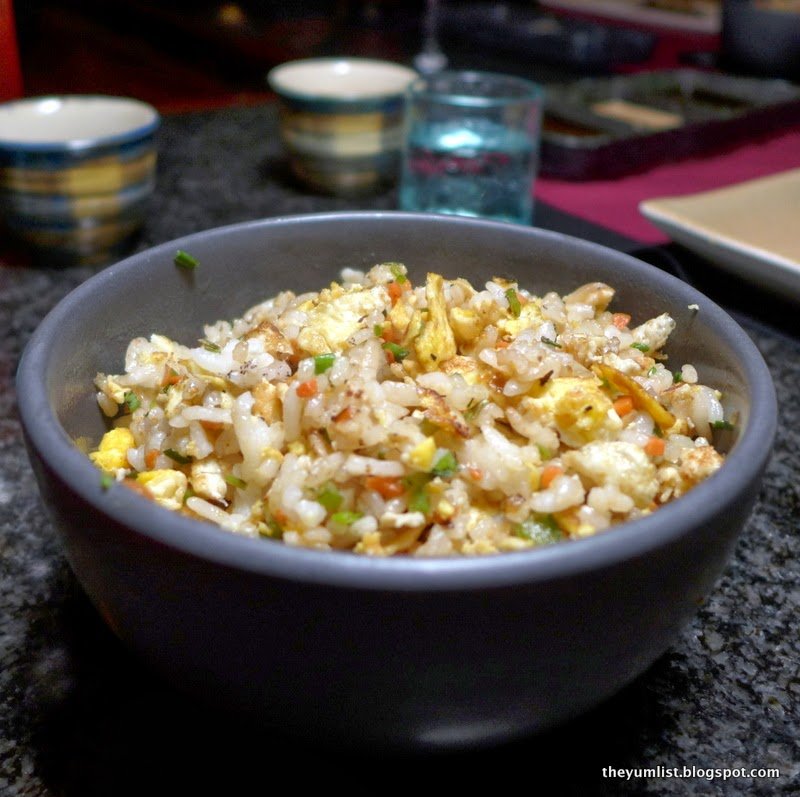 Fried Rice
Wagyu beef of marbling 8 – 9 follows on the grill. More acrobatics with utensils proceeds and chef's grin couldn't be wider. Hubby can't help but become involved in the commentary and I think he'll soon be dancing to the rhythm of chef's thumping. "Fire," is cautioned again and the grill is afresh with flame. Shimeji mushrooms are an adept side for the beef and Miso Soup arrives at the same time too.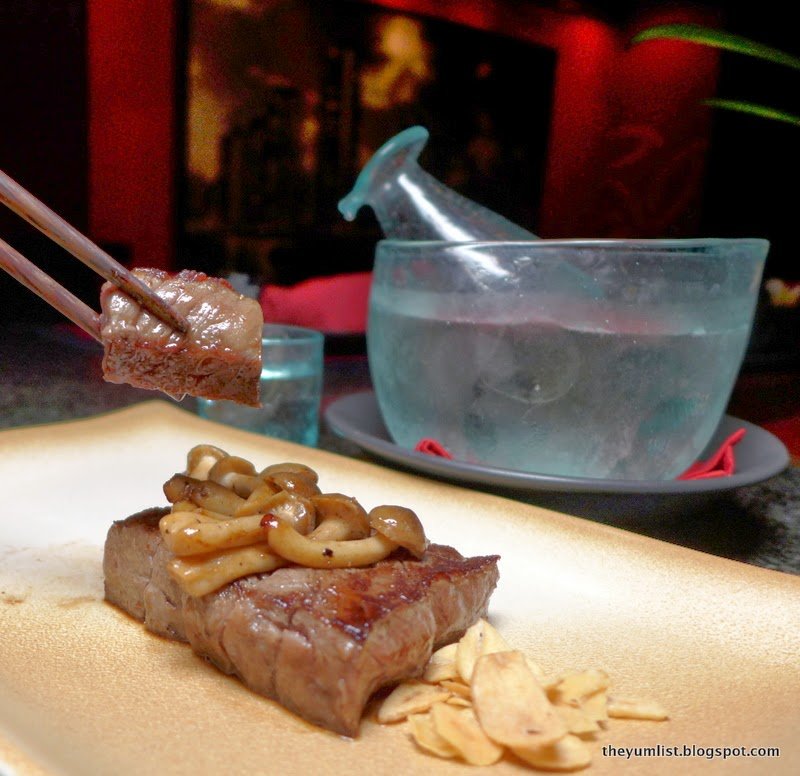 Wagyu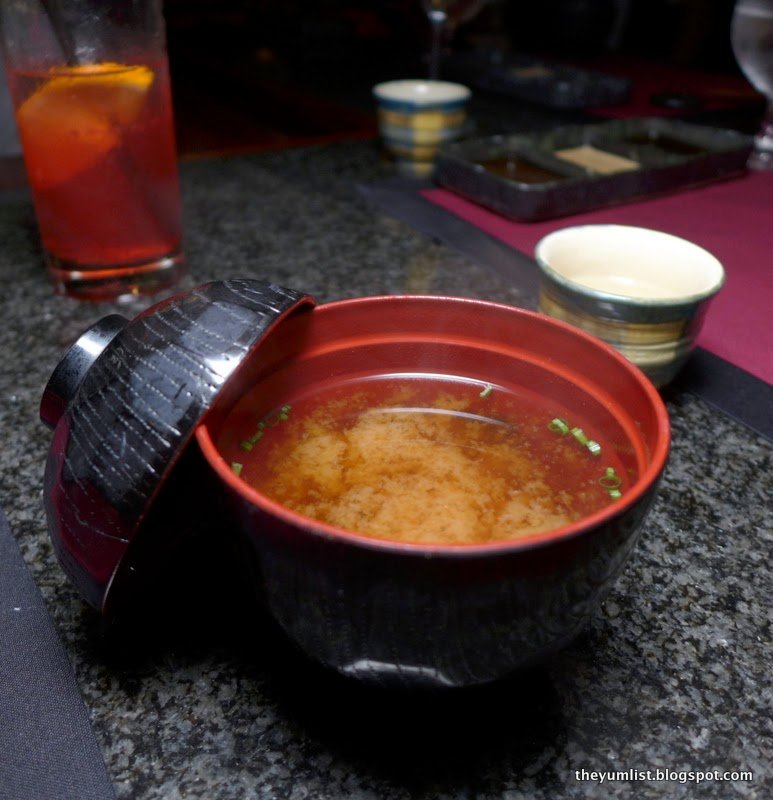 Miso Soup
We're full and ready to leave, but chef says there's dessert! Okay then, we can stay a little longer. A plate of bananas, strawberries and thin pancakes soon turn up on a platter in front of the grill.
Banana Teppanyaki with Tofu ice cream is a roll of banana pancake topped with a teppan-fried banana, fresh strawberry and drizzled with a caramel sauce. The ice cream is velvety smooth with a distinct soya taste. It ends the meal well. It's funny how we were all "so full" but yet we end with plates cleaned.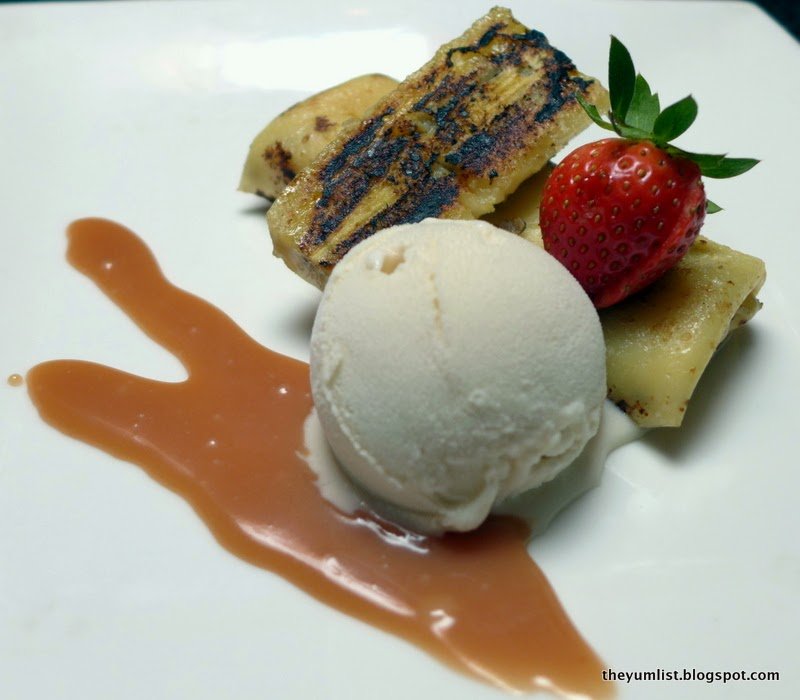 Banana Pancake with Tofu Ice Cream
Tuesday night is perfect for sampling EVERYTHING on the menu at KO, with an "all you can eat" night. Choose unlimited servings of seafood, poultry and red meat accompanied by vegetables, miso soup and steamed rice for as little at IDR450++ per person for food only, include free flow of wines for IDR700++ and wine and hot or cold sake for IDR900++ per person.
Friday evenings holds the Toyko Night special where eight dishes from a selection of 15 are priced at IDR480++ per person. Free flow sake cocktails can be included for IDR780++ and free flow sake cocktails and hot or cold sake can be purchased for IDR930++ per person.
Reason to visit: fine Japanese cuisine in a stylish setting; a whole lot of food juggling fun.
KO Restaurant
InterContinental BaliResort
Jalan Uluwatu 45, Jimbaran
Bali 80361, Indonesia
+62 361 701 888
Open daily 6:30pm – 10:30pm