Mozaic has been one of those names synonymous with an exceptional food and beverage experience in Bali for as long as I've been visiting the island. Executive chef James Ephraim, formerly sous chef at the highly esteemed Mozaic Ubud, is now in charge of the relatively new Mozaic Beach Club in the south.
While Ubud's branch is known for its degustation experiences in a romantic garden setting, Mozaic Beach Club offers the same meticulous attention to quality cuisine, but in a more relaxed coastal format. A prime focus on sourcing the best of South East flavours is evidenced in both ingredients and seasonings, however the concept is clearly contemporary with an imaginative use of native product.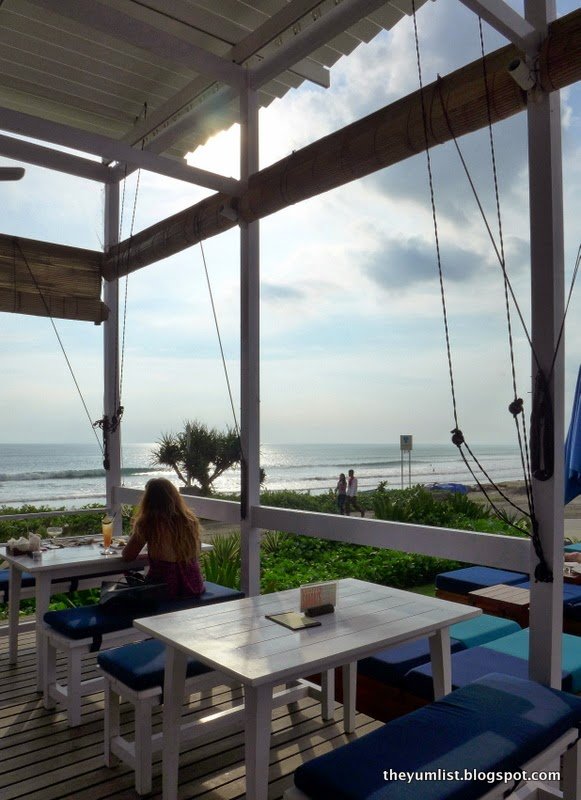 Sunset Views From the Verandah, Mozaic Beach Club, Bali
Mozaic Beach Club is positioned to capture some of the most picturesque sunsets on the island, so we arrive late afternoon, in time for tapas, cocktails, a bistro meal and a magical farewell to the day. There's a fine dining section upstairs, but we're seated on the lower deck for the casual, beach bar setting.
Making the most of its fantastic location, Mozaic Beach Club lubricates guests with sunset promotions daily from 4pm – 7pm. Selected cocktails, house wine and sparkling and house spirits are complimented with small bites for a bargain IDR70K.
Cocktails and Sunset Vibes
Hubby tries the Passion Mint Mojito with light rum, passion fruit puree, mint leaf, lime Monin mint syrup and soda water. The blend of rum and fruit breathes a distinctive tropical reminder. Hubby loves this drink and would order another if I didn't insist on "variety for my readers." 😉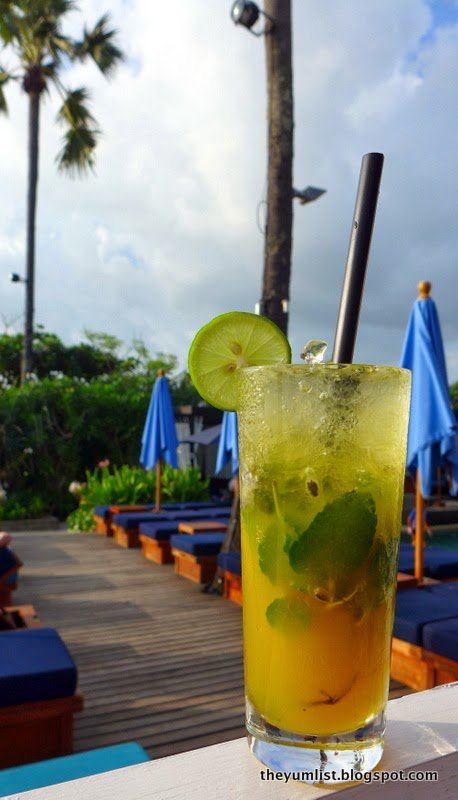 Passion Mint Mojito – hubby's favourite
It doesn't take much convincing and he has ordered the Citrucity before I've even had two sips of my concoction. Tequila, Triple Sec, orange, lemon and kemangi (Indonesian basil) are combined making a refreshing cooler.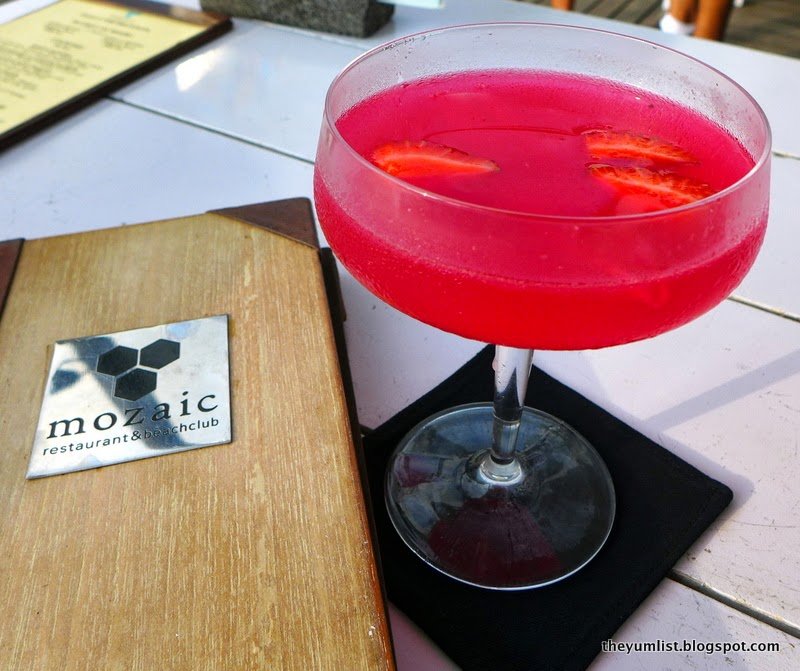 Strawberry and Ginger Flower
I have a little addiction to ginger flower, so the Strawberry and Ginger Flower special has my attention. Mixed with vodka, strawberry, grenadine and fresh lime, it's a blush pink in colour and, in my opinion (hubby's not in agreement) a wonderful contrast of sweet and sour.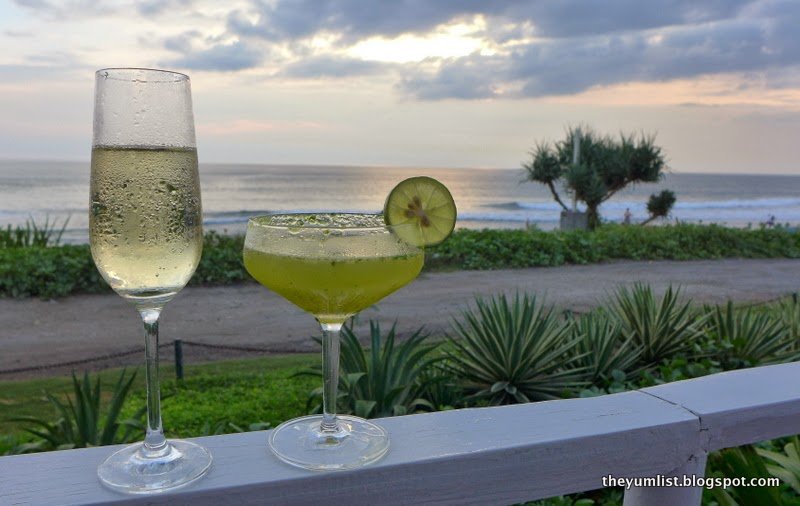 Sunset Cocktails – Prosecco and Citrucity
My second swill is a NV Prosecco, 7 Cascine DOCG Spumante from Veneto Italy, also excellent value as part of the sunset promotions.
Tapas
In the afternoon warmth we're more in the mood for hydration than hunger satiation so Chef's Set Tapas (IDR200k per person), with a range of light bites is appealing. Freshly baked bread is lushly shown up by Black Truffle Chouquette as the introduction.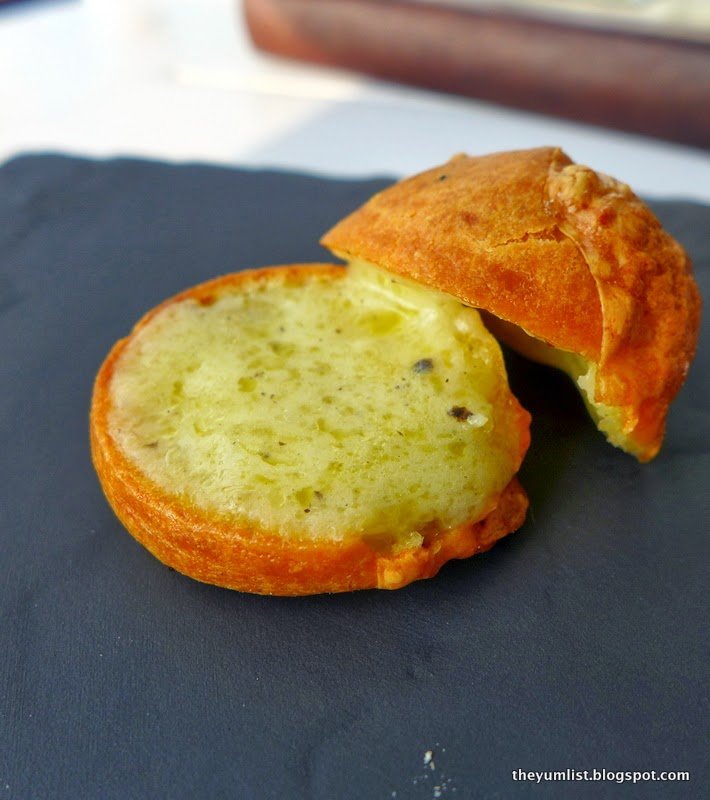 Black Truffle Chouquette
A strip of ice freezes herbs to add a chilled base to the Sashimi of Fresh Seafood. Gem lettuce acts as a shell for the raw fish and a faintly sweet dressing with a tang of citrus complements the oceanic bite.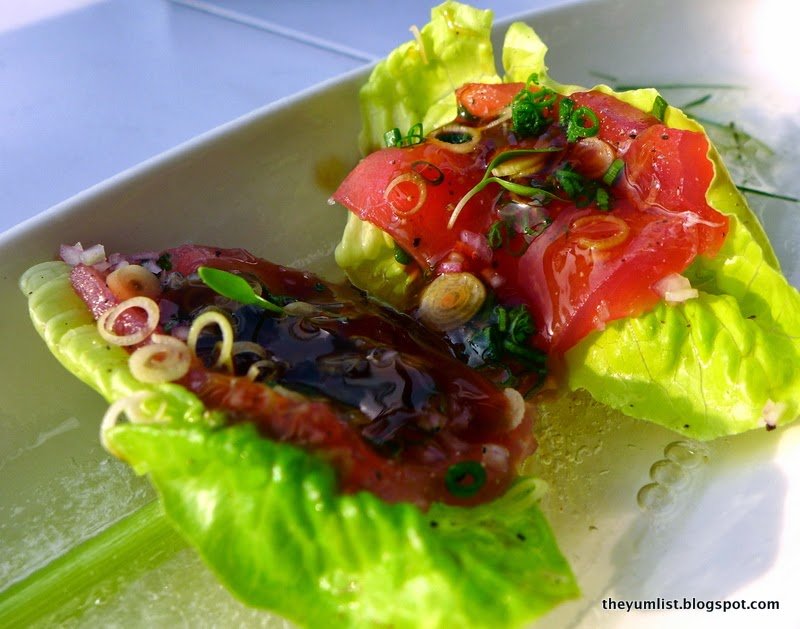 Sashimi of Fresh Seafood
Chilled cucumber yoghurt accompanies Smokey Sea Bass Cromesqui, which are marvelously warm and oozing with a creamy filling. Black breadcrumbs supply a striking base and the dip brings an additional but unnecessary complexity to something that is already fabulous on its own.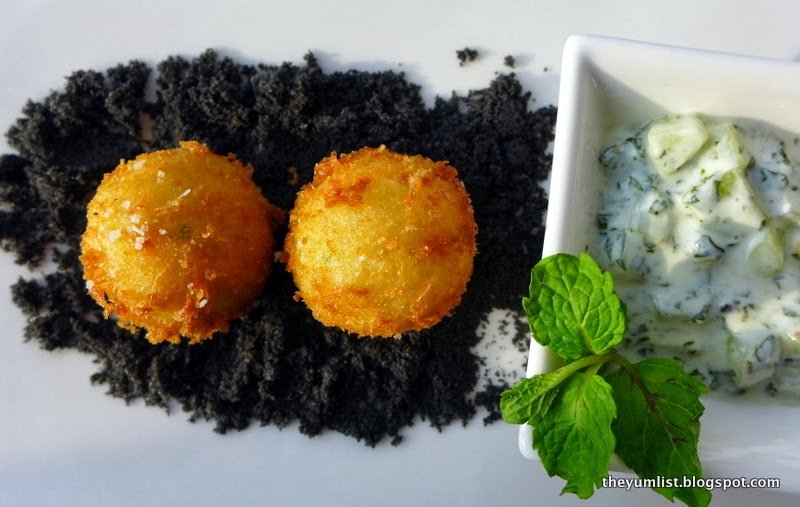 Smokey Sea Bass Cromesqui
Seared Baby Octopus is elevated with crispy pork belly, fuji apple and kaffir lime gel. Presented in a wooden bowl, two large pieces of legs are tender and dissipate quickly in our mouths. The fruit adds a gently sweet dressing and a bounty of finely chopped spring onions marks the dish with a garden inflection.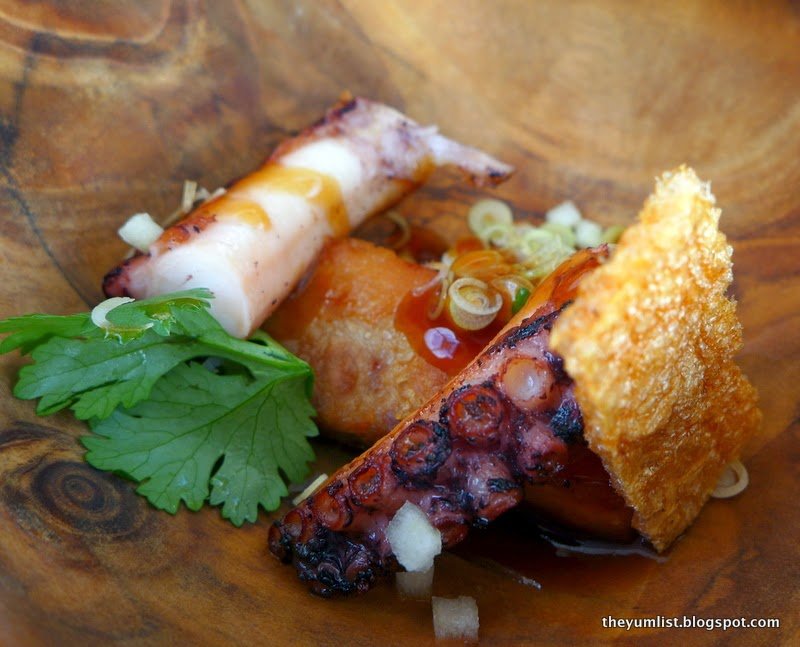 Seared Baby Octopus
Mozaic Mini Wagyu Burger pleases hubby to no end. The juice drips from the side of his enormous smile as he declares, "Fantastico!"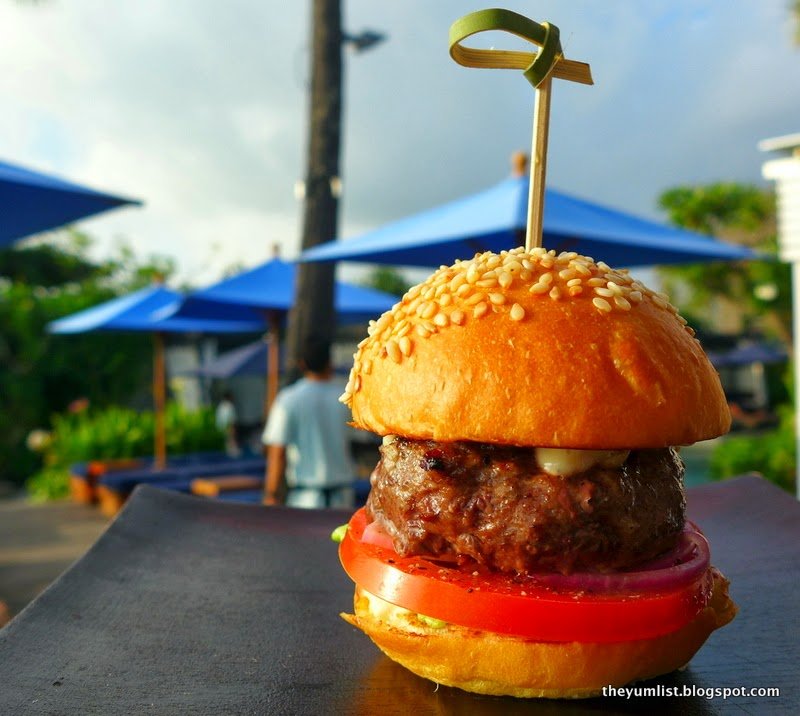 Mozaic Mini Wagyu Burger
A sweet cacao delicacy completes the set with a jar of Valrhona Chocolate Mousse and, a delicious surprise of candied orange cinnamon bubbles hiding underneath the pudding. Creamy, light and aerated, it's pretty fabulous for a tapas style dessert.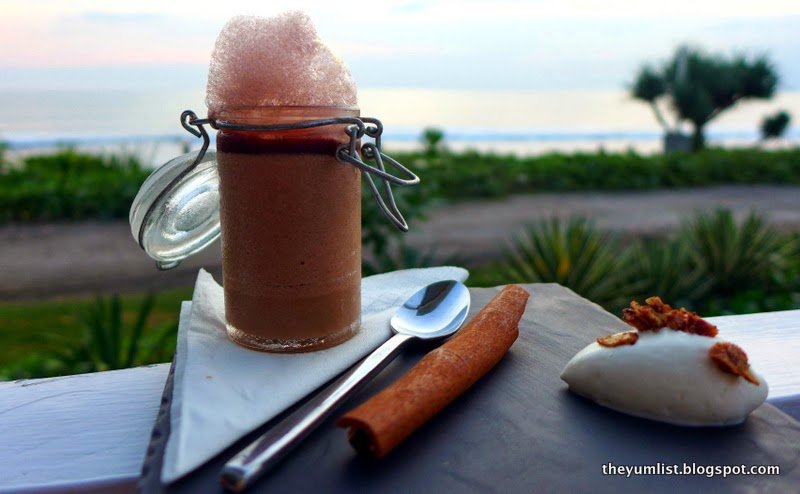 Valrhona Chocolate Mousse
These are no ordinary tapas. Small in size, but grand in imagination they excite us to see what else is on the menu.
As the sun lowers, the sea breeze is allowed to take over with its cooling properties. Also as the night progresses the DJ spun music graduates to a deeper beat and hubby starts poking the air with his head and doing some rhythmic hand movement resembling a cobra dancing to the flute, that he thinks looks cool. Music's good.
Bistro Set Menu
In perfect timing for the opening of our appetites as well as the sun's farewell, the three course Bistro Menu (IDR295K net) begins at 6pm. Choose from three appetizers, four mains, two of five sides and one dessert for a wholesome and filling sampling of what Mozaic's Bistro bill of fare has to offer. I'm happy to see a vegetarian option in each section.
Appetizers
Tempura of Aubergine with a Japanese dressing and bonito flakes encases moist soft vegetable in a light airy batter. The dressing is made seem sweeter with the contrast of the savoury fish shavings. It's well done and worthy of a repeat order.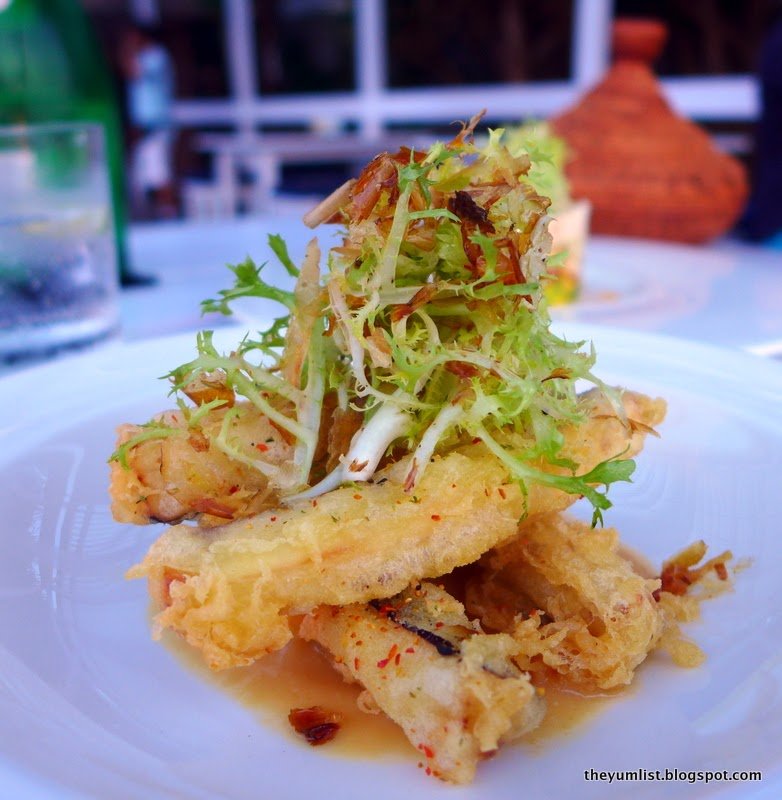 Tempura of Aubergine
Soft Poached Blue Swimmer Crab forms a circular tower. Layers of buttery avocado, Spanish chili, cherry tomatoes and petite crispy bread squares, yield a colourful support. It's an elegant dish, with the well-defined taste of the ocean heightened by the sprinkling of chili powder.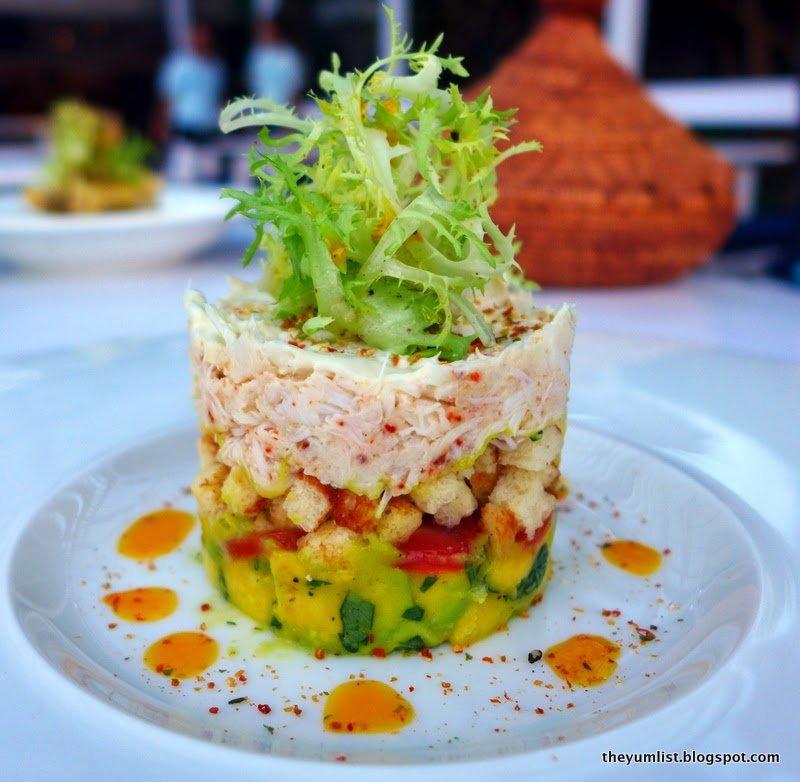 Soft Poached Blue Swimmer Crab
Main Course
Chargrilled Scotch Beef Fillet is hubby's choice. Field mushrooms, onion rings and confit of tomato are spiced up with Mozaic's pepper sauce. As a side he requests the seasonal salad with mustard and, grilled corn on the cob with a spiced butter (which is confusingly sweet and salty and resembles a melted lemon butter with a bit of spice). Done medium, the meat's a deep rose pink in the middle and slices with minimum effort.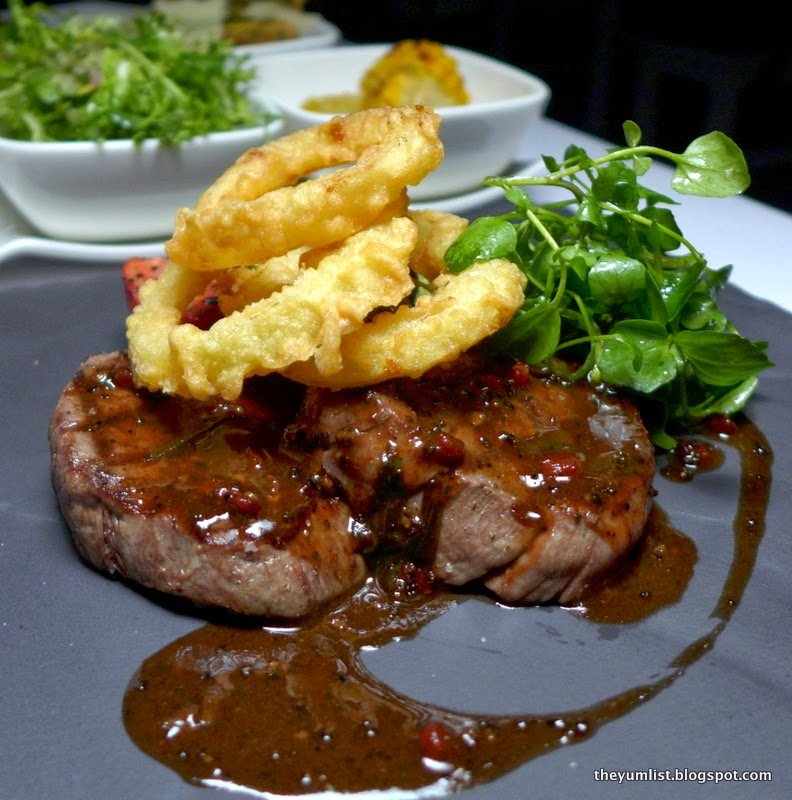 Chargrilled Scotch Beef Fillet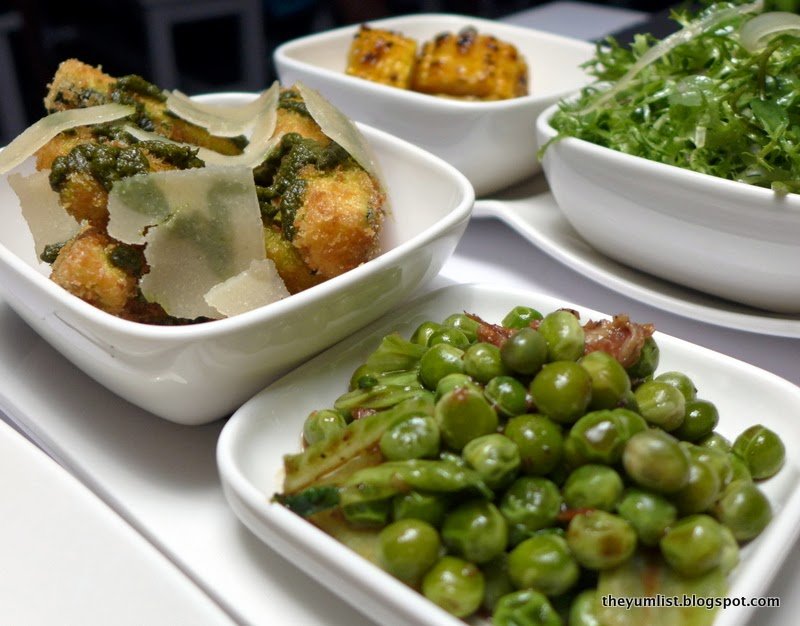 Side Dishes – Salad, Grilled Corn, Courgettes, Minty Peas
Catch of the day, sea bass, comes with salted lemon, pumpkin puree (which has a vague sweetness) and curry leaf butter. Succulently juicy, the fish is faultlessly cooked and the accompaniment raises this plate far above the standard seaside grill. I side it with green peas that are flavoured with smoked bacon and mint and, courgettes with a basil pesto and Parmesan. Both go beyond the expectations of a side order and have a whole flavour profile of their own.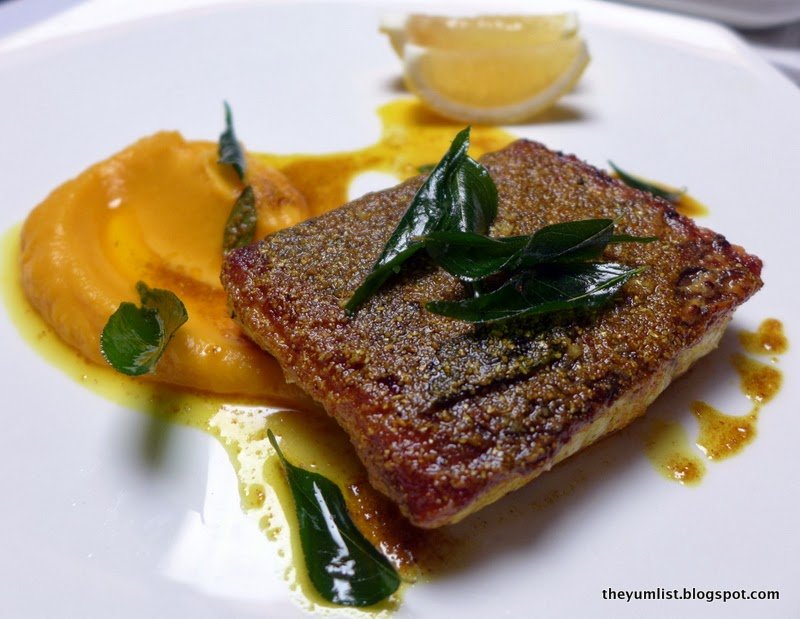 Catch of the Day – Sea Bass
We find the meaty main familiar and a good standard comforting plate, while the fish is a model example of how a common dish can be perked up with a touch of imagination.
Dessert
The dessert of the day is a Ginger Flower Gelato (Yay! My ginger flower lust is fulfilled twice in one menu!). Bedugal strawberries with kaffir lime leaf and a black truffle rice wafer complete a characteristically local inspiration. Surprisingly, both hubby and I agree that this is a fine denouement.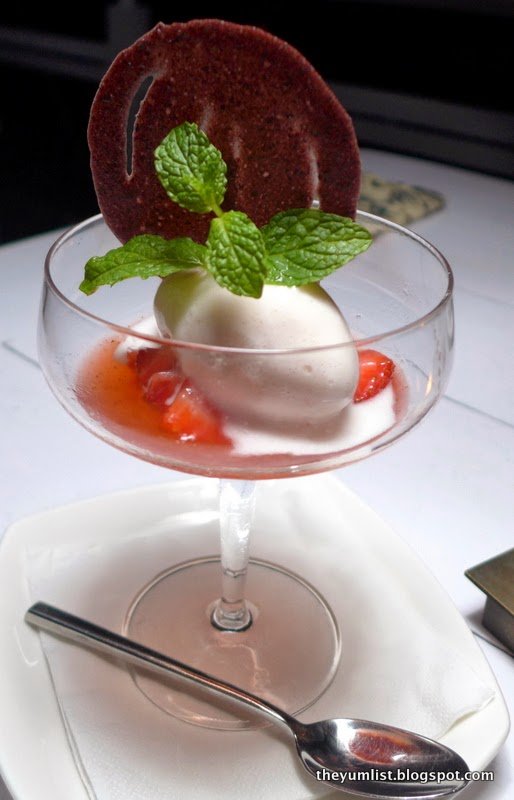 Ginger Flower Sorbet
Our experience at Mozaic Beach Club has been relaxed and delicious. We spy their finer dining area upstairs and make a mental note to return to explore the upper deck on our next visit to Bali.
Mozaic Beach Club at Night
Reason to visit: good value sunset cocktails; Passion Mint Mojito; reasonably priced bistro set menu;
excellent tapas set; Tempura of Aubergine; Catch of the Day; Ginger Flower Gelato.
Mozaic Beach Club
Jalan Pantai Batu Belig
Kerobokan
Bali 80361
Indonesia
+62 361 473 5796
Open 10am until midnight
Reservations at the dining room are highly recommended