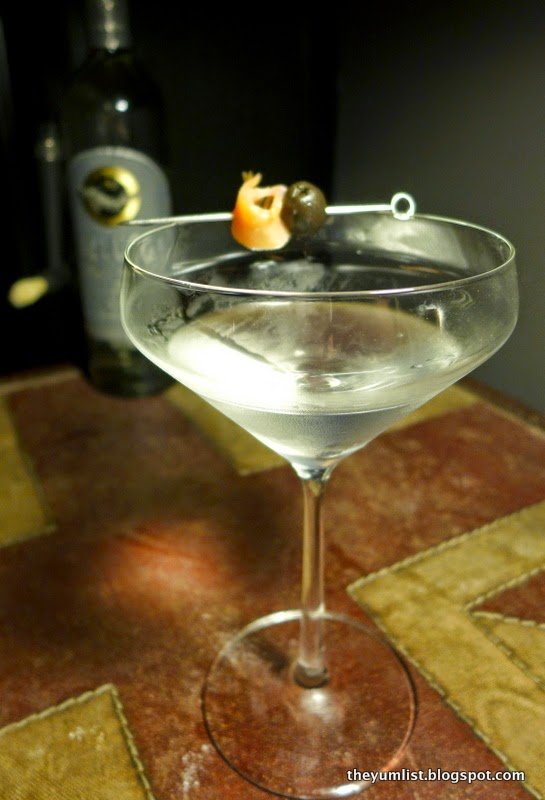 Beluga Martini
A Taste of Aristocracy at Mr. Brooks
Words by Han San Hau
Photos by The Yum List (Monica Tindall)
I should've known better than to sport an understated argyle polo shirt tonight. Not even the black leather Beatle boots I polished twice the day before could compete with the Balenciagas, Ferragamos, and Louboutins reflecting light off spherical pendant lights resembling astronaut helmets. The place simply reeks with class, and if you missed that "Top Hat" reference it might be a good idea to brush up your vocabulary on high society before attempting to engage in conversation, lest someone references Fred Astaire and you thought he was the lead singer of an indie band.
No, the fine people luxuriating in this gin and cocktail bar wouldn't even bat an eyelid in your direction if you couldn't distinguish a macaron from macaroons (
educate thyself
) or pronounce mille-feuille correctly. With only a Sunbeam Alpine marking its entrance with a number plate spelling out MR. BROOKS, the wrenches and tools hanging along the walls of this conspicuous makeshift garage cleverly camouflages a hidden door, which opens up to reveal a hidden society…
The allure of this place lies in its stealth: its name bounces off the lips of a privileged few like a code. Even its interior bespeaks a sort of privacy that can only be afforded by those willing to pay the hefty price tags attached to its premium spirits. On that note, come in with a card unless you're brave enough to reveal those crinkled bank notes you've sat on for the past couple of hours because you've been stuck petrified on your barstool from sheer intimidation and the only thing you could manage was a Fruit 'N' Nut cocktail which, incidentally, is the cheapest item on the menu at RM50.
Tsk tsk.
Mr. Brooks caters to the expensive and is unabashed in being expensive. Why not? There aren't many places around KL that provide sophistication and comfort the way this place does. It is at once a gentleman's private parlour, a lady's drawing room, the literary intelligentsia's den, and the perfect filming location for The Godfather with its plush seats and dimly lit lamps. Winston Churchill would've fit in nicely with a cigar in one hand and a glass of his namesake Pol Roger champagne in the other.
Tonight is a special night at Mr. Brooks as guests have gathered to witness the presentation of Russia's finest creation imported directly from the famed Mariinsky Distillery—a shimmering Beluga. Crafted with the nobility in mind, the spirit exudes power through its rich and complex flavour that pairs beautifully well with the array of morsels up for grabs. Everyone has their favourite pairing, mine is the dried apricots, but the grand prize ultimately goes to the succulent smoked salmon canapés provisioned by one of the most respected purveyors of smoked fish in the UK, John Ross Jr.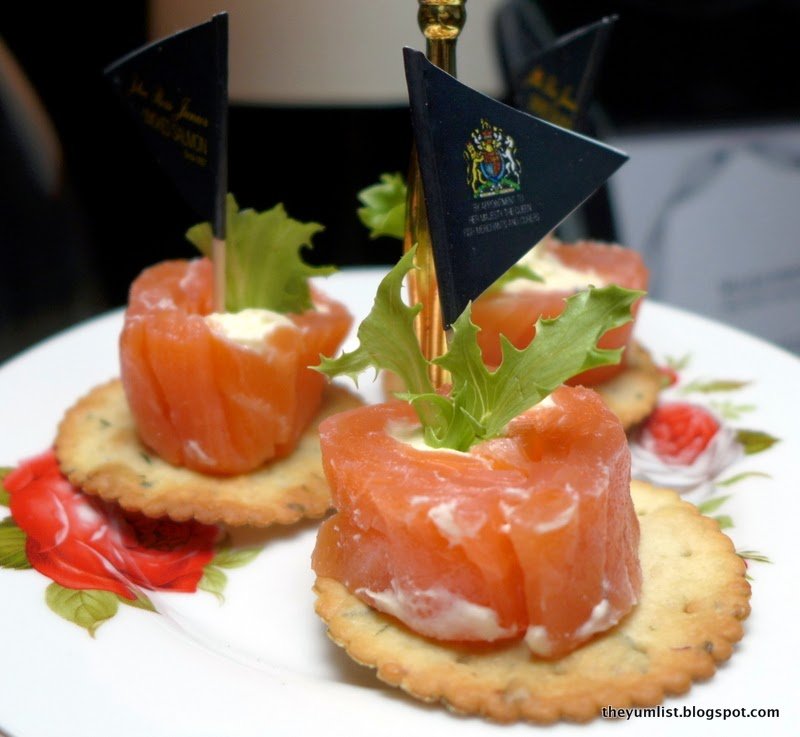 Smoked Salmon

Smoked Mackerel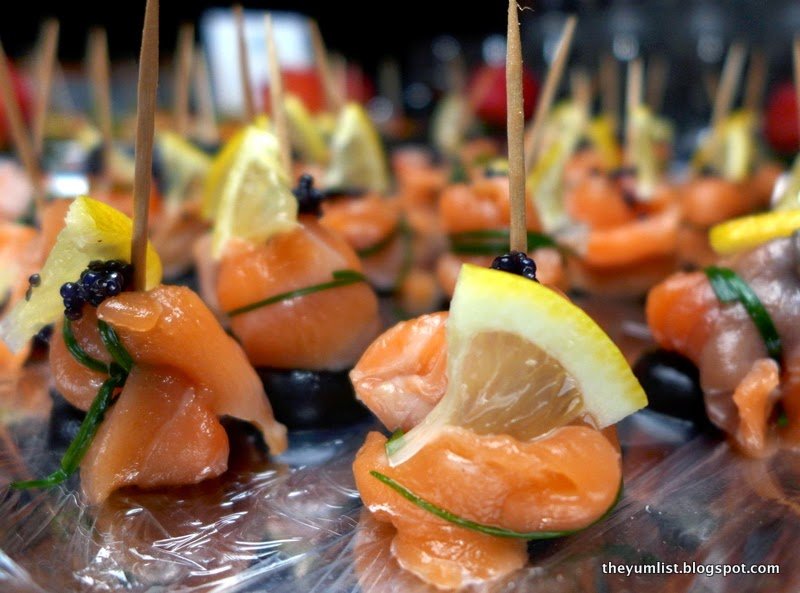 Smoked Salmon
The vodka comes in two varieties: the flagship Beluga Noble and the limited edition Beluga Gold Line, which of course is the highlight of the night. As its brand principal, Nikolay Klyuev explains, "the ceremony of opening a Beluga Gold Line bottle is an expression of status and the epitome of luxury". Each Gold Line bottle is crafted by hand, comes with its own serial number, and stoppered with sealing wax, which can be removed with the accompanying mini hammer.
As someone who suffers from a stereotypical Asian flush and whose esophagus couldn't even handle third degree burns from a glass of cognac, the Beluga Gold Line is incredibly smooth. It's not something one would, or should, consume in large quantities unless they're trapped in an icy mansion tucked in the deepest regions of Siberia. It's fascinating how something that looks and tastes so crisp can warm up the body so quickly; I suppose that's why the Russians drink it. The Gold Line's flavour clings onto memory, as if striking the cerebrum with an inability to forget that single blessed moment of having sampled a taste of liquid aristocracy.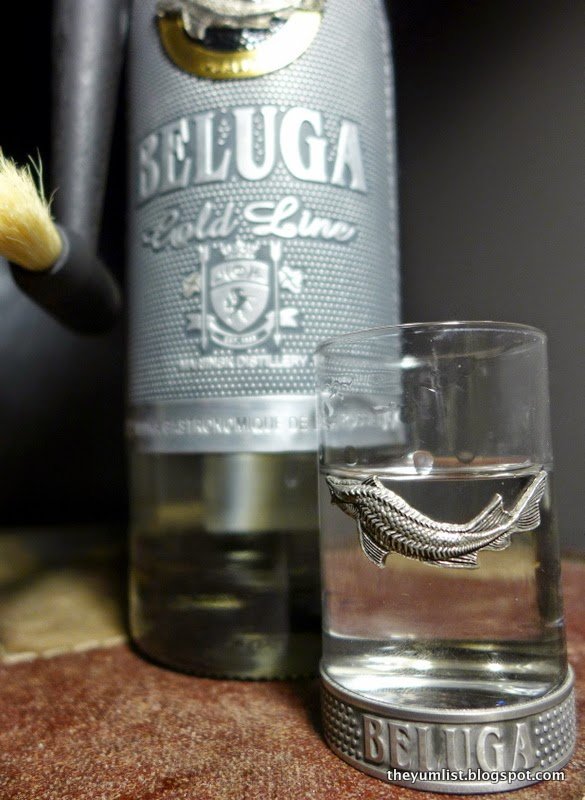 Gold Line Beluga Vodka
Other intoxicating options are available to guests such as the Beluga Martini and the Beluga Moscow Mule, both of which infuses the Beluga Noble in their composition. I prefer the Moscow Mule for its playfulness with ingredients and the hint of sweetness, though not to the extent of heavily flavoured cocktails, thank heavens.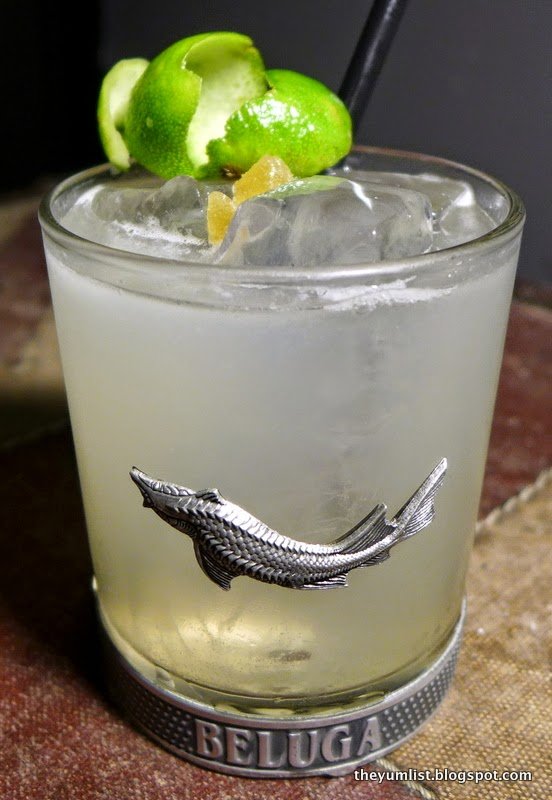 Russian Mule
With the amount of alcohol I've imbibed, I'm thankful for the plush seats, the light electro swing music, and the notes I've taken down before my drunken stupefaction consumes me as I drift off to an alternate Mr. Brooks where time is compressed and I was in the company of luminaries such as the Fitzgeralds… Ian Fleming… Truman Capote… What an ensemble of characters, and what a location to house them all.
Reasons to visit: the impressive display of premium pours and spirits; elusive locale with an interior that utilises the best of modern fixtures against a backdrop of vintage motifs; the air of exclusivity and privacy.
Mr. Brooks
Level 3, Bangsar Shopping Centre
285, JAlan Maarof, Bukit Bandaraya
59000, Kuala Lumpur
+603 2282 0241