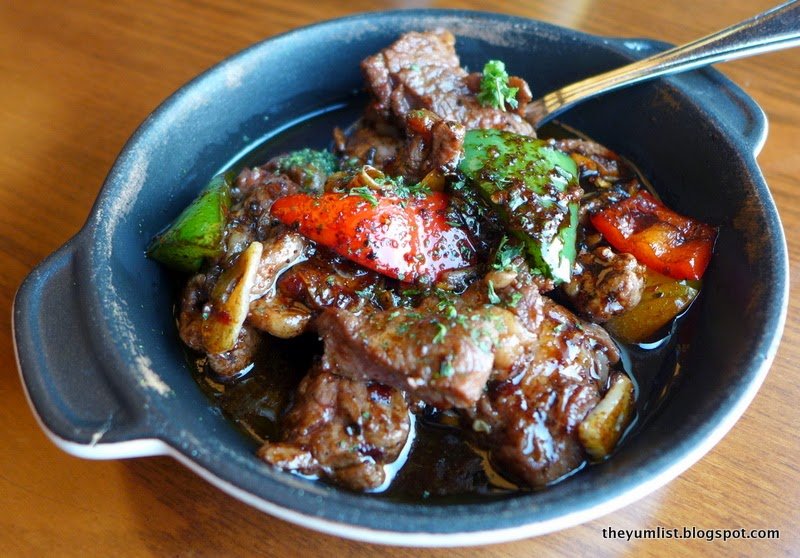 Comfort Food at Gastro Sentral, Le Meridien – End Cut Black Pepper Beef
Gastro Sentral, Le Meridien Hotel Kuala Lumpur
Words by Monica Clear
Photos by The Yum List (Monica Tindall)
Gastro Sentral at Le Meridien has, literally, thought of everything. From the carefully composed music soundtrack playing at just the right volume and the ambiance lighting that dims at sundown, to the magnificently creative concept of comfort food with local flair, served at affordable NETT prices inclusive of all taxes (could this be the beginning of the end to "plus, plus?), Gastro Sentral award-winning chef Sazli Nazim B. Ismail is spot on with his cuisine and signature bubblies.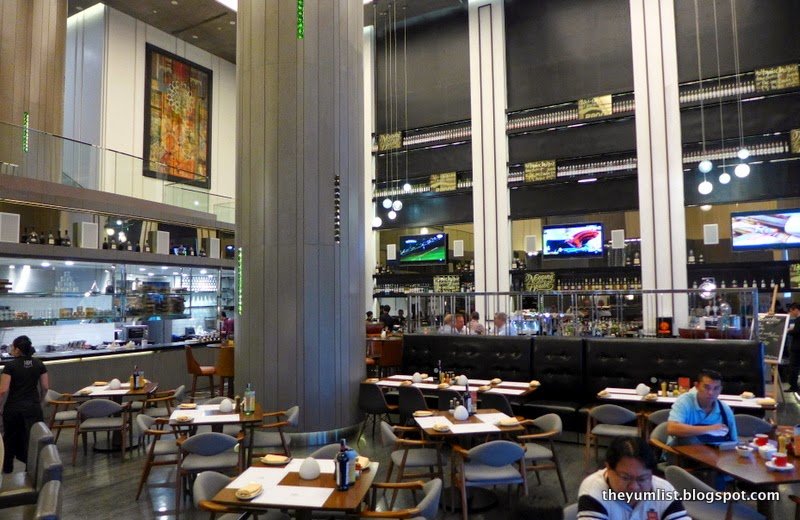 Gastro Sentral, Le Meridien, Kuala Lumpur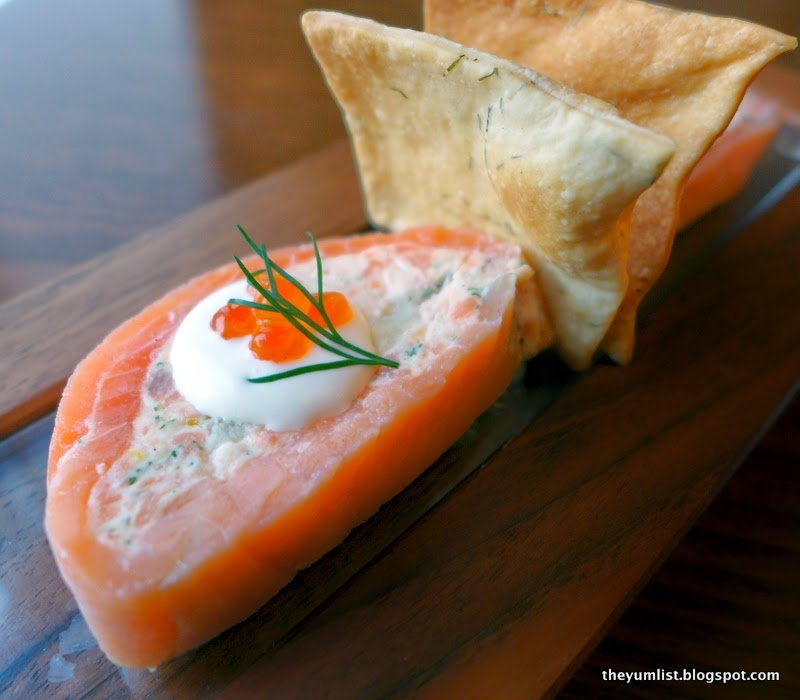 Salmon
A local flair, you ask, what could that mean? Well, get ready for a fun ride. We began with the signature bubblys, which are reasons in themselves to come to Gastro Sentral: Hibiscus, Fleur, Lychee and Orange. Each one a lovely shade of pastel, only slightly sweet in flavor, and bursting with palette-cleansing bubbles amidst the delicate sprinklings of petals and fruit slices. Love at first sip.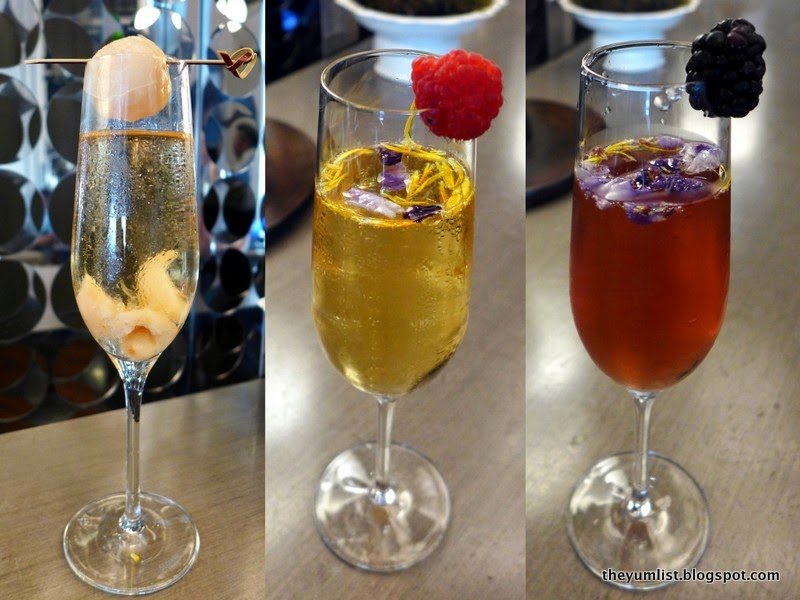 Signature Bubbly Cocktails
To start the meal, a varied tapas selection – available only in the evenings – was served. Molten Fried Prawn Cake arrived first with four small squares of delicious and crispy prawn cakes, served with a spicy salsa and roasted red pepper sauce. Next came the Chili Lamb, Cucumber Raita and Mini Pita, consisting of tangy, slightly fiery meat, which was easily cooled by dipping the mini pitas in the cucumber sauce. While not everyone's idea of comfort food, I believe lamb and cucumber is a marriage made in heaven, and this dish was a delightful wedding. Lastly, we tried the Cheesy Pepperoni Toasted Tramezzini – a delicious triangle of oozing cheese and spiced pepperoni sandwiched between crispy and buttery flatbread; sure to bring out the grilled-cheese-loving child in all of us.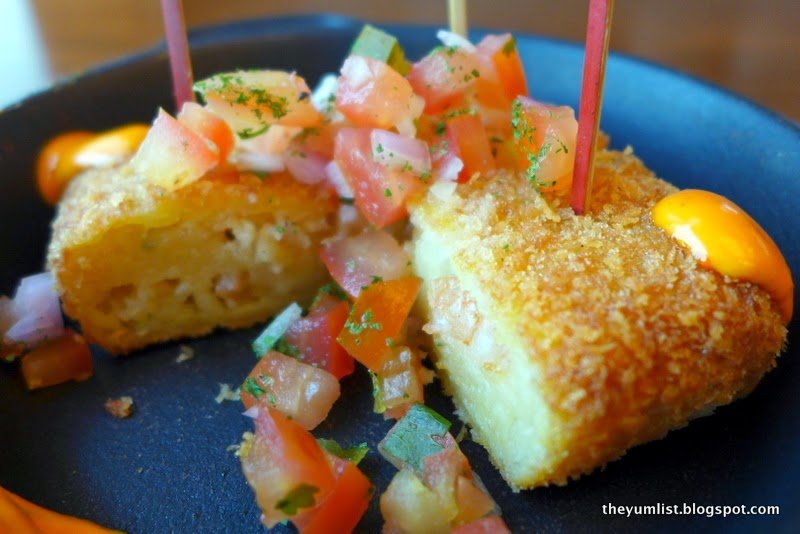 Molten Fried Prawn Cake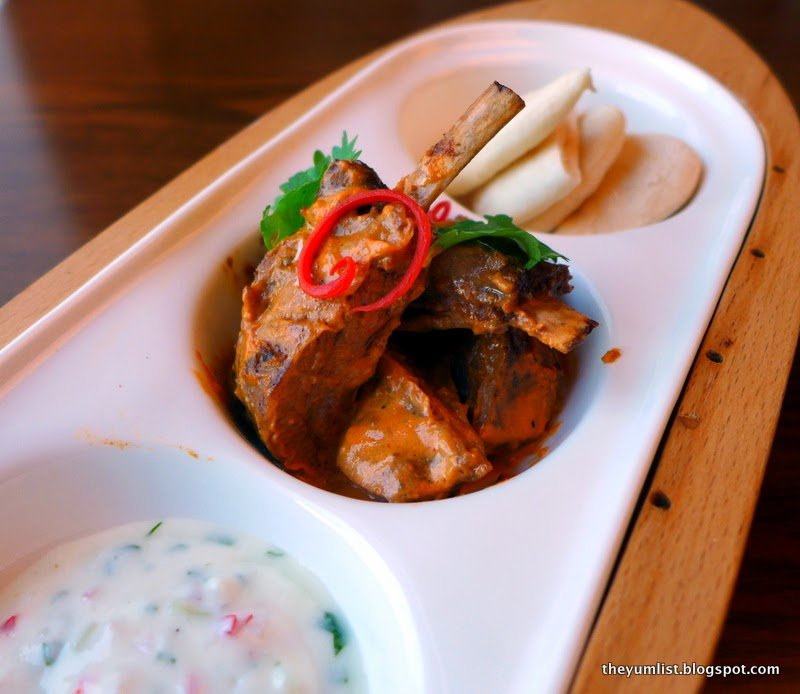 Chili Lamb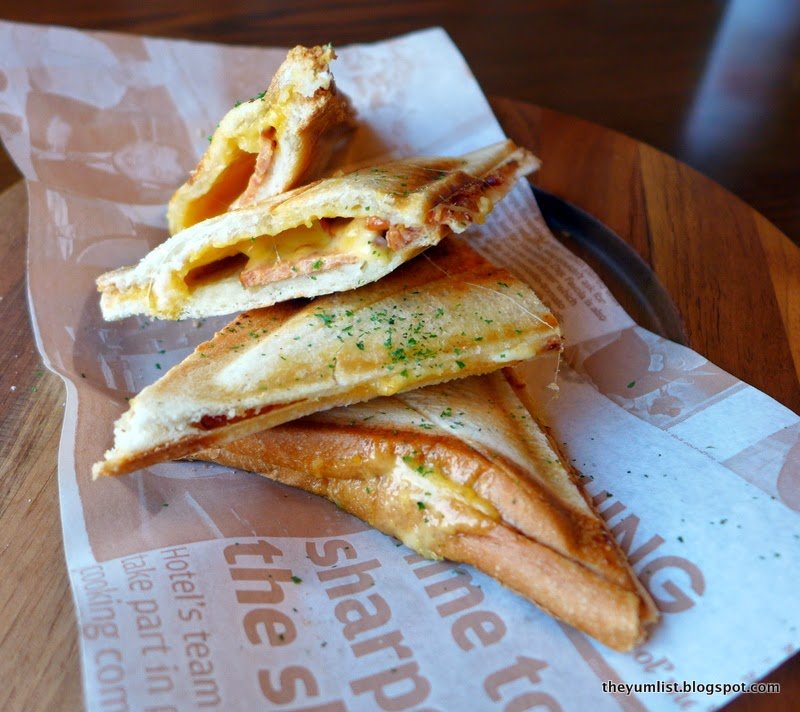 Cheesy Pepperoni Toasted Tramezzini
With the comfort food concept beginning to unfold, selections from the Main Menu were offered up. We started with a Spiced Oxtail Soup served with a tower of baguette slices. Legend had it around the table that the chef conceptualized this soup during his travels around Malaysia, inspired by locals slurping away a similar dish at food stalls. With its warm and rich, gravy broth, chunks of tender meat, and magic blend of popular local spices including cinnamon, cardamom, and chilies, I found myself going back for my own slurps in between other dishes.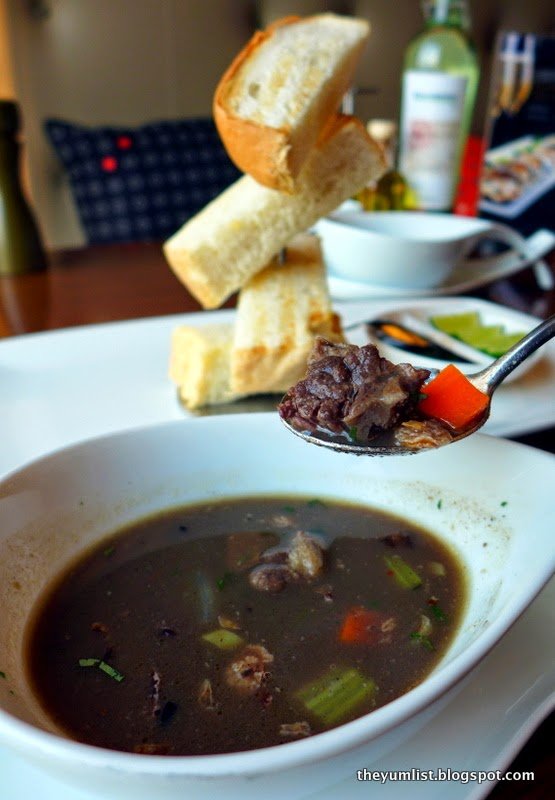 Spiced Oxtail Soup
Named after the specific pasta shape utilized in this dish, the Sichuan Gnocchetti Sardi offered a pleasing blend of pasta, chicken, and cashews with the traditional Sichuan flavors that make up late night cravings at Chinese food restaurants around the world. Served with garlic toast, this was a dish that easily stood alone in satisfying a comfort food fix of chewy pasta and flavored chicken.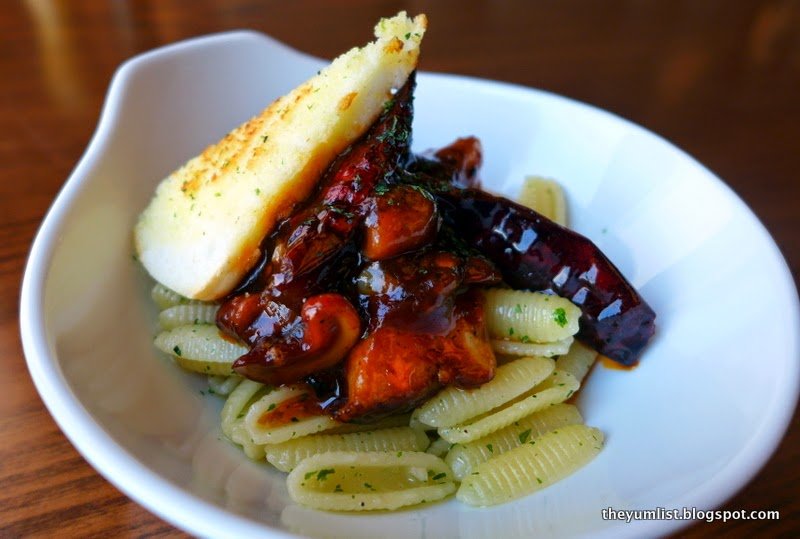 Sichuan Gnocchetti Sardi
Probably the biggest crowd-pleaser, however, was the visually interesting and palette pleasing Citrus Marinated Butter Cod Carpaccio. Traditional Carpaccio is a typical Italian dish made with very thin slices of beef and served with a marinade. This version, made with melt-in-your-mouth buttery cod was bursting with citrus flavor and glide-in-your mouth texture. To round out the smooth and delicate sensation, the dish was served with an equally pleasing side of avocado cubes with fish roe and a small dish of thin sesame noodles with Thai spices. A delightful and creative twist on traditional Carpaccio, with a true local flair of fish and citrus.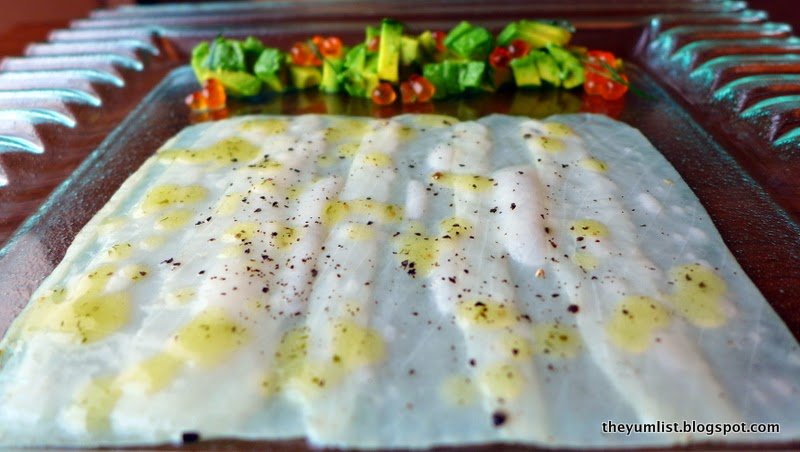 Citrus Marinated Butter Cod Carpaccio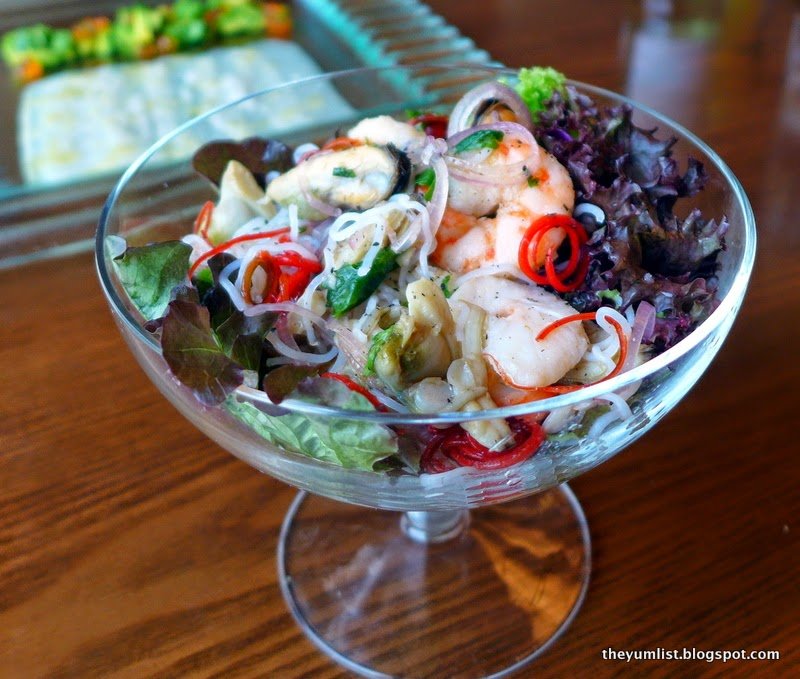 Thai Seafood Salad accompanies the Citrus Marinated Butter Cod Carpaccio
If Malaysia itself has a comfort food, I would venture to say it is Satay, and the next dish highlighted this with glee, as a traditional French loaf of Chicken Terrine with satay spices raised the creative bar on comfort food. While terrine may be an acquired taste to many, it was hard to not find something to appreciate in this generous portion of loaf slices served on a plate with cubes of fruit jelly and a side dish of pure peanut butter. This dish might tickle your children's taste buds, as it did ours.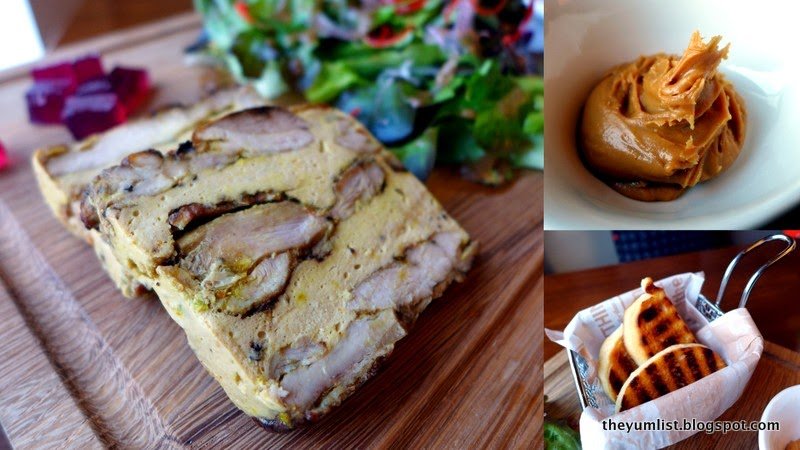 French Loaf of Chicken Terrine
Almost as a finale to a fascinating and tasty dishes we already sampled, were the tried and true, but hard to serve well Charcoal Grilled Lamb Spare Ribs. Slathered just right with extra BBQ sauce for dipping, there was a distinct satisfaction in the tenderness of the meat and the sticky fun of finger food. The surprise of this dish was a side of what appeared to be traditional potato croquettes, but turned out to be dense and chewy battered bundles of sticky rice. Sticky rice done right feels like it will put meat on your bones, and this dish was a double-whammy. Yum!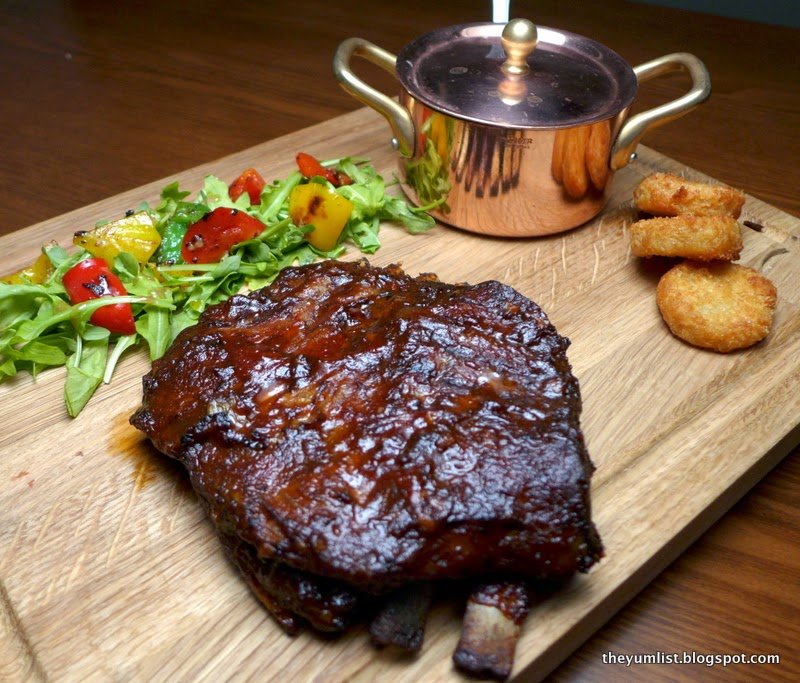 Charcoal Grilled Lamb Spare Ribs
Hard to believe we left room for dessert, but having learned early on that each Le Meridien Hotel serves a signature éclair, we planned ahead. At Gastro Sentral, we sampled the signature Mascarpone and Salted Caramel éclair and the Banana and Mango éclair. Both were generous on the vanilla custard filling and full of light pastry freshness. The flavors worked wonders together, the former playing on a hard to resist combination of sweet and salty flavors, and the latter offering samples of sliced fruit amidst the delicate pastry. For the more traditional tasters, Gastro also offers classic vanilla and chocolate éclairs that will jet set you to a café in Paris with each bite.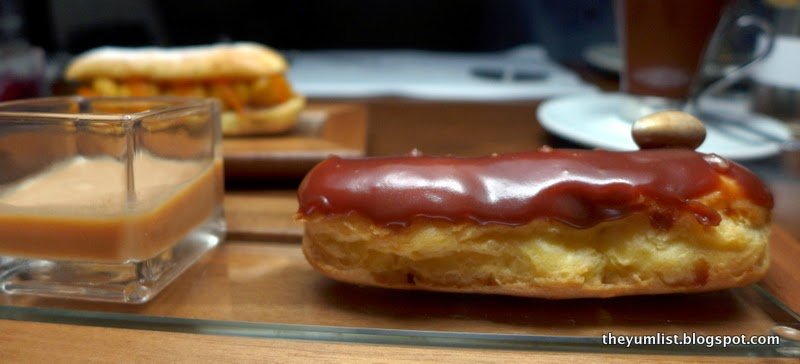 Mascarpone and Salted Caramel Eclair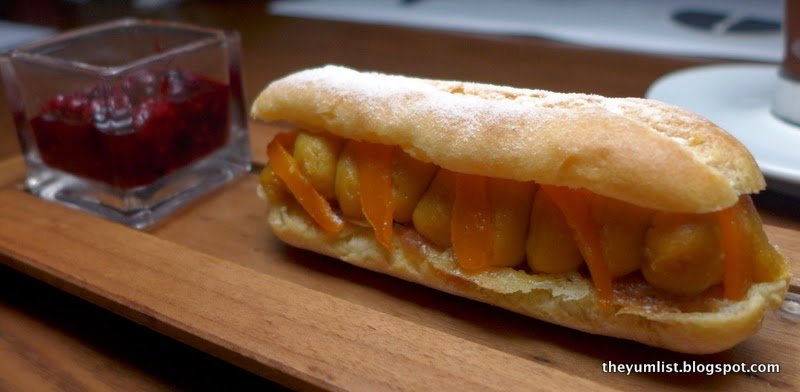 Banana Mango Eclair
Persuaded by our hostess to also try two of the most popular desserts on the menu – Hot Chocolate and Aunty Margaret Butterscotch Cheesecake – our night ended in true comfort food bliss. I mistakenly thought the Hot Chocolate would be served as a drink, but it instead came in an elegantly sculptured glass with a spoon for eating. At my first bite, I was transported back to the homemade fudge sauce my mother used to make for my brother and I as a special treat. A dessert that jogs a fond childhood memory is rare, but this Hot Chocolate – at 75% cocoa – is rare, and extraordinary. Don't miss it.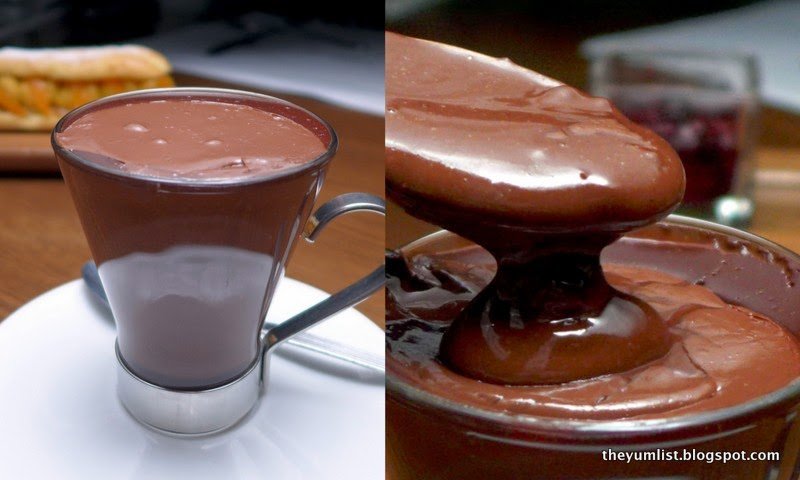 Hot Chocolate
The Cheesecake was equally indulgent, with its biscotti crust, smooth base, and fresh strawberries. Catering to the differing tastes, dipping sides included salted caramel, mixed berry, and whipped cream. My guess is that we all have an Aunty Margaret in our lives, but even she can't make Cheesecake this creamy.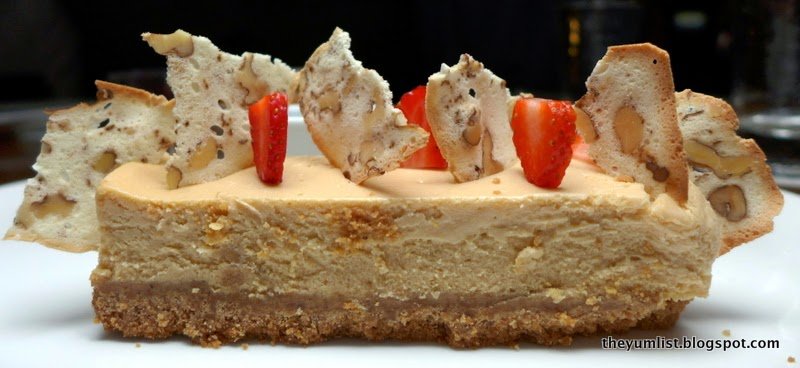 Aunty Margaret Butterscotch Cheesecake
You are encouraged to go and enjoy your own journey of comfort goodness, local taste, and childhood memories at Gastro Sentral (at NETT prices!). You won't be disappointed.
Reasons to visit: signature bubbly cocktails; comfort food with interesting twists (never a boring dining experience); Cheesy Pepperoni Toasted Tramezzini; Citrus Marinated Butter Cod Carpaccio; Hot Chocolate; Aunty Margaret Butterscotch Cheesecake.
Gastro Sentral
Lobby Level
Le Meridien Kuala Lumpur
21 Jalan Stesen Sentral
Kuala Lumpur Sentral
50470 Kuala Lumpur
Malaysia
+6 03 2263 7434