Words: Kirsten Durward
Photos: Monica Tindall
Well, dear readers, you already know how much I love Pisco Bar's distinctive European feel, but every time I revisit, the dedicated trio has come up with another idea for food, drink or just simply enjoying yourself in their delightful, charming and welcoming space. Whether for a group night out, a one-to-one catch up with a friend, or even on my own for a bite of tapas and a drink before taking in a movie, I always find that Pisco has hit the sweet spot between warm hospitality and gentle innovation. Before 10pm, you'll find a wonderful local bar atmosphere, a gentle buzz, while late night fun seekers will find shots, spinning and party time on two floors into the wee hours of the morning. Europhiles can enjoy Tuesday night film evenings in a comfy chair, and families can relax on Sundays with children's entertainment upstairs while adults socialize downstairs.
Tonight we're here to meet new Spanish chef Basilio and try a few of his newly conceptualized 'Mar y Montana' dishes. Mmmmm sea and mountain, let's see what is to come…   Upbeat music hums from the wall speakers, and safely in the warm glow we feel far the storm that rages outside, ready to fortify ourselves with good food and drink.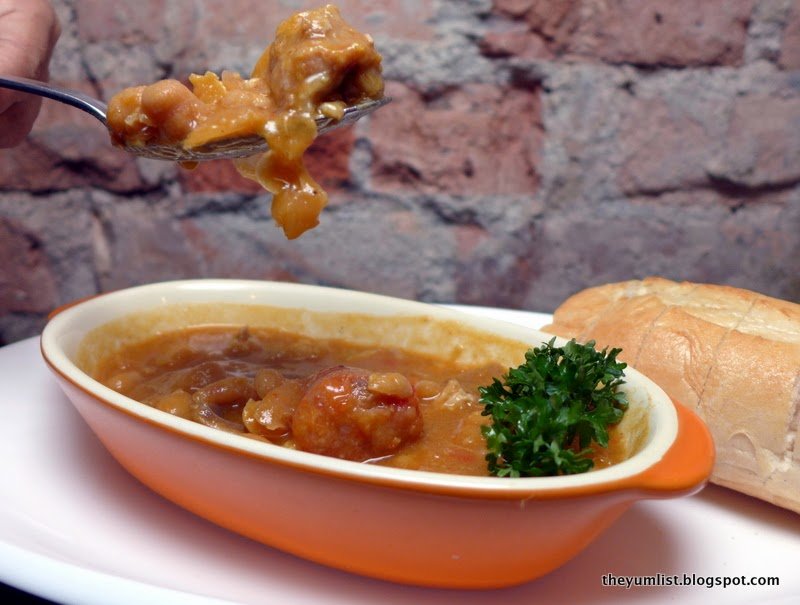 Pork Stew – Divine!
It's happy hour so we start with the happy hour 'special' Caipiroska (10RM++). A good strong lemony zing to start your night with, and the price is right, so don't miss out! Although Pisco also has a happy hour range of wines by the bottle called the 'Happy Bucket', with a selection of bottles up to 30% off Tuesday – Thursday and all day Sunday, we decide to try the regular offerings by the glass for RM27++.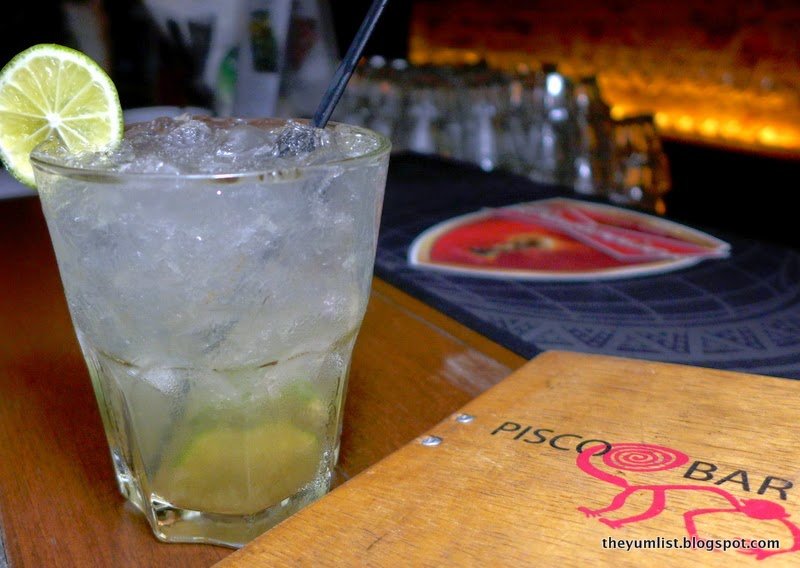 Caipiroska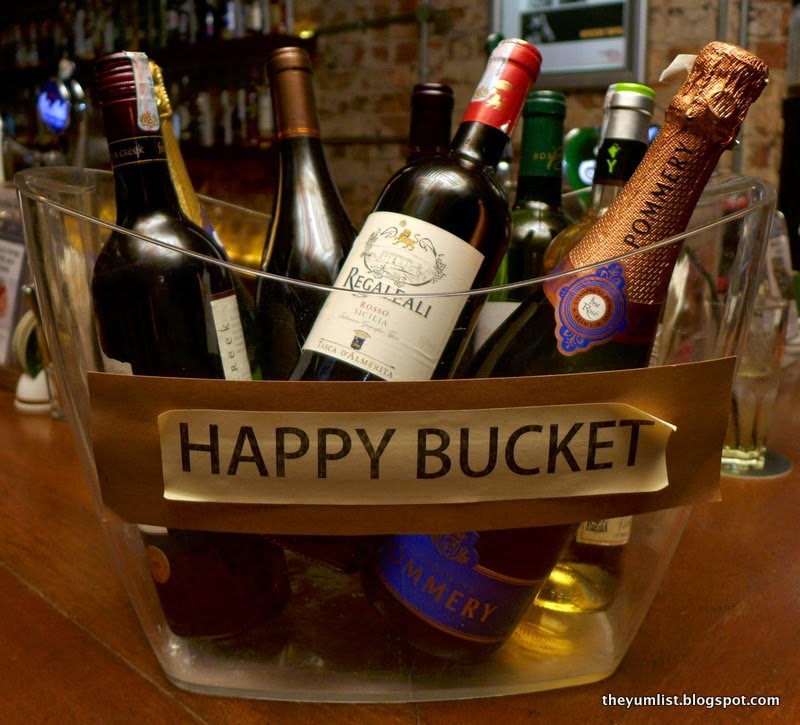 Happy Bucket
The Cabernet Sauvignon Merlot, Marques de Luz, Navarra Espana is a dry and very slightly perfumed red wine. It's pleasant drinking, good for meatier dishes and I'm sure would go well with that platter of cold cuts and cheeses I've just seen walking by!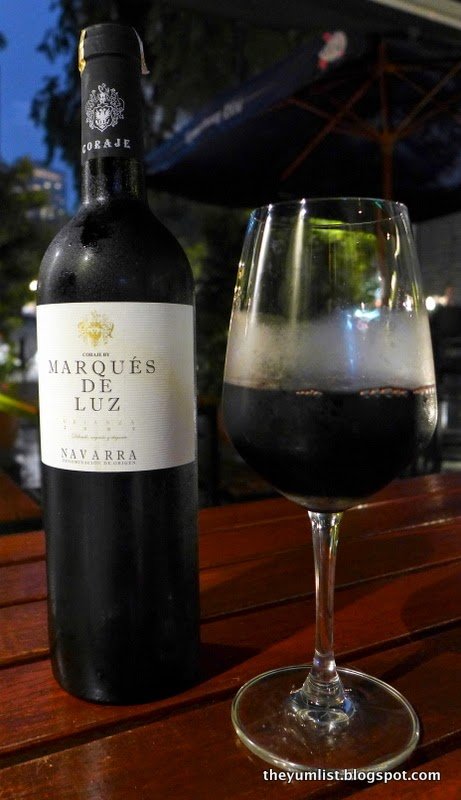 Cabernet Sauvignon Merlot, Marques de Luz
The Nudo is a slightly golden full white wine, medium dry that grows rounder in the glass, and goes down fine with a dish that has a slightly spicy edge. We find the price very reasonable for the area.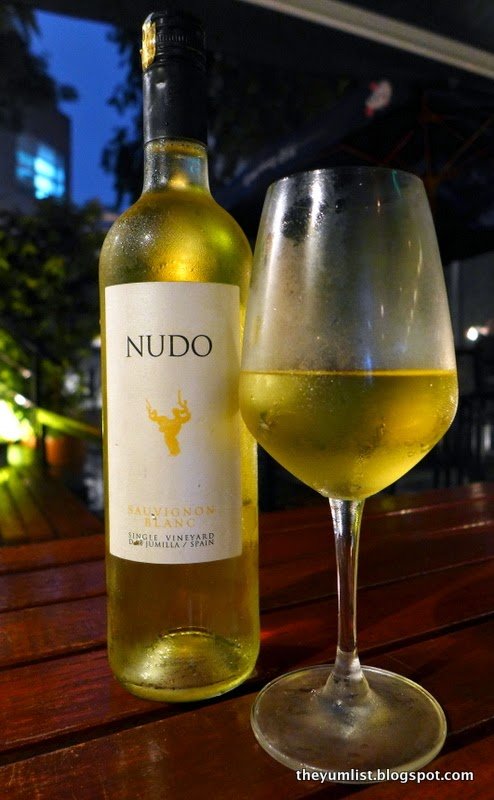 Nudo Spanish White
The new 'Spanish' influenced menu is introduced quickly with our first dish. Just seared Tuna Tataki (24 RM++) with a clean cool inner melds with warm ratatouille atop a thin crisp short crust pastry. Just a hint of spice brushes the tongue as this nicely caramelized bite slips down our eager throats. We're off to a good start once again.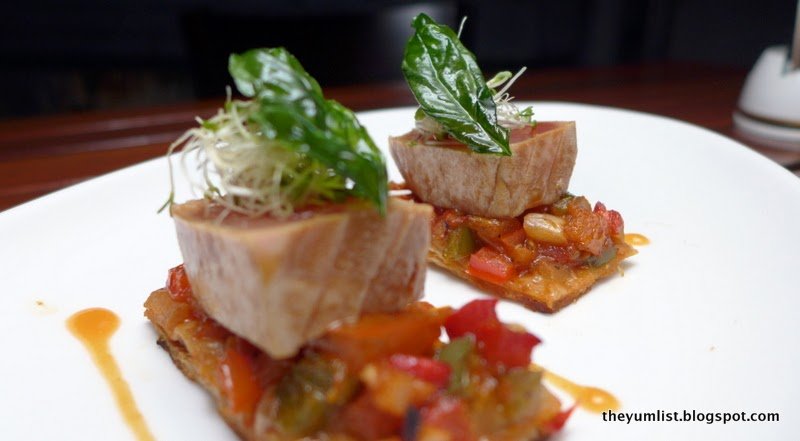 Tuna Tataki
Crispy edged yet supremely moist Pork Belly (RM32++) melts in my mouth. The soft taste is given a slightly salty hit with the curious combination of thinly sliced Iberico ham and soft fresh prawn. The three flavours nestle together with a slender light apple puree to create a clean, neat bundle of porkiness that makes us all feel happy. It's a happy dish. Happy 'comida franca' says Caning, and we all agree, straightforward tasty food without too much adornment.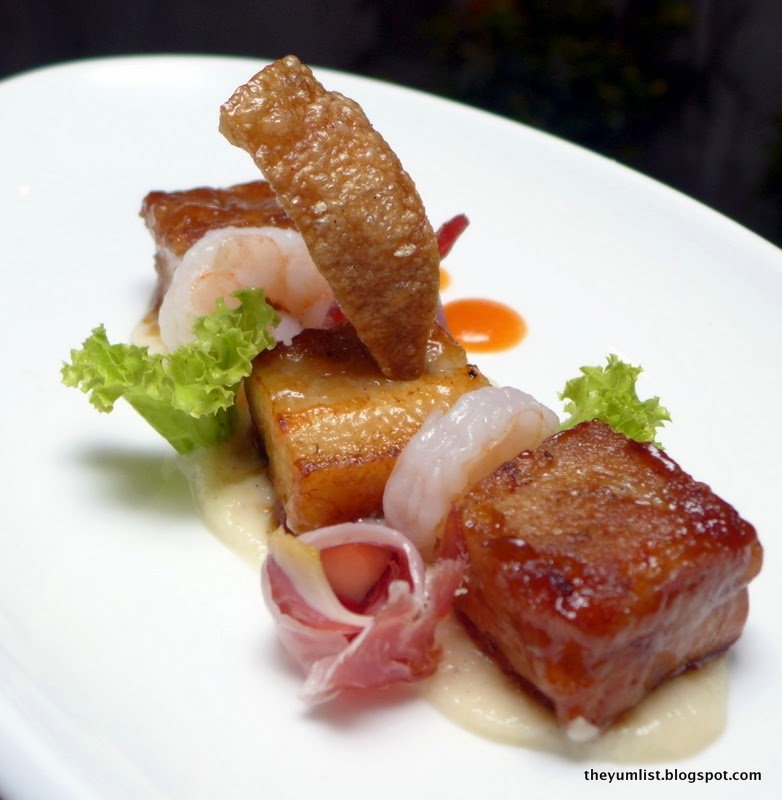 Pork Belly
Fabes con Almejas is a traditional dish and one of the slightly more filling ones on the menu. The winey buttery bean-thickened sauce has us spooning away slurping up the herby taste of Spain and sucking back the finely salted cockles. This is a great dish for a rainy day!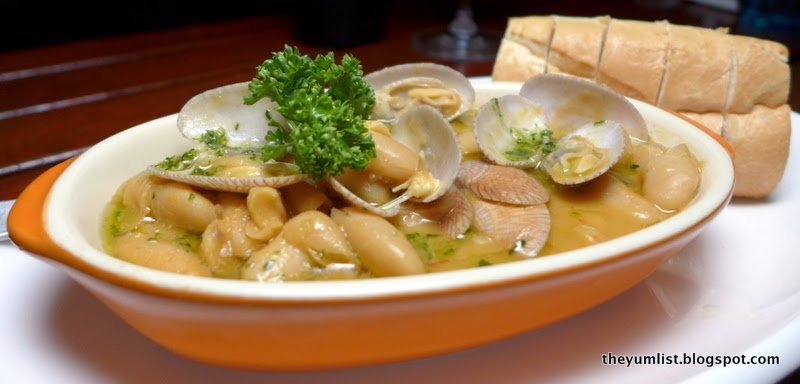 Fabes con Almejas
The pan-fried Lemon Sole (RM32++) is so herby light and crisp, that every mouthful is just more-ish. The fact that it's teamed with Jamon Iberico just about finishes me off. Balanced on a risotto that has great biting texture on the tongue, with a hint of balsamic cutting through the thickness. Seriously if I had to choose just one of these dishes tonight, it would be this very cheesy Parmesan rice with light fish. No contest.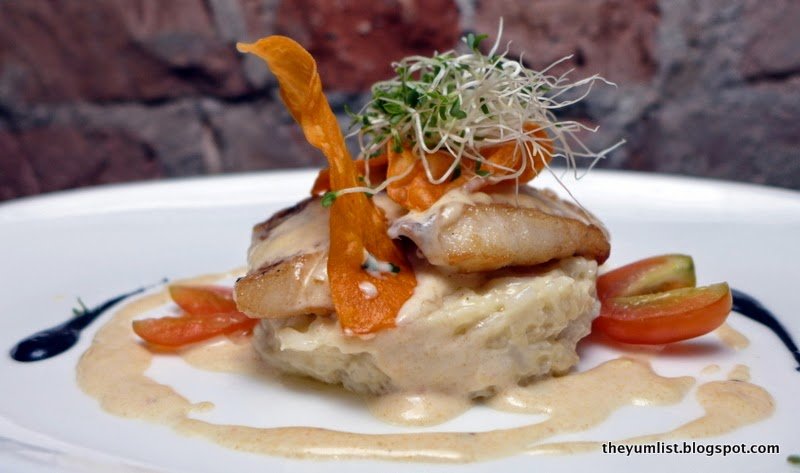 Lemon Sole
I'm a bit cheeky and comment how much I enjoyed a Black Pudding dish on a previous visit. Nico excitedly explains that they have a new concept of a black pudding volcano, which I must try. Must?  OK. Will! A quail egg nestles in the 'crater' which Monica cuts happily as she snaps and we ooh as it oozes down the 'slope' soaking into the 'soil'! I consider black pudding to be one of my national dishes so I'm pretty fussy about it. But the gooey egg makes it even more moistly delicious. It's another yum for me!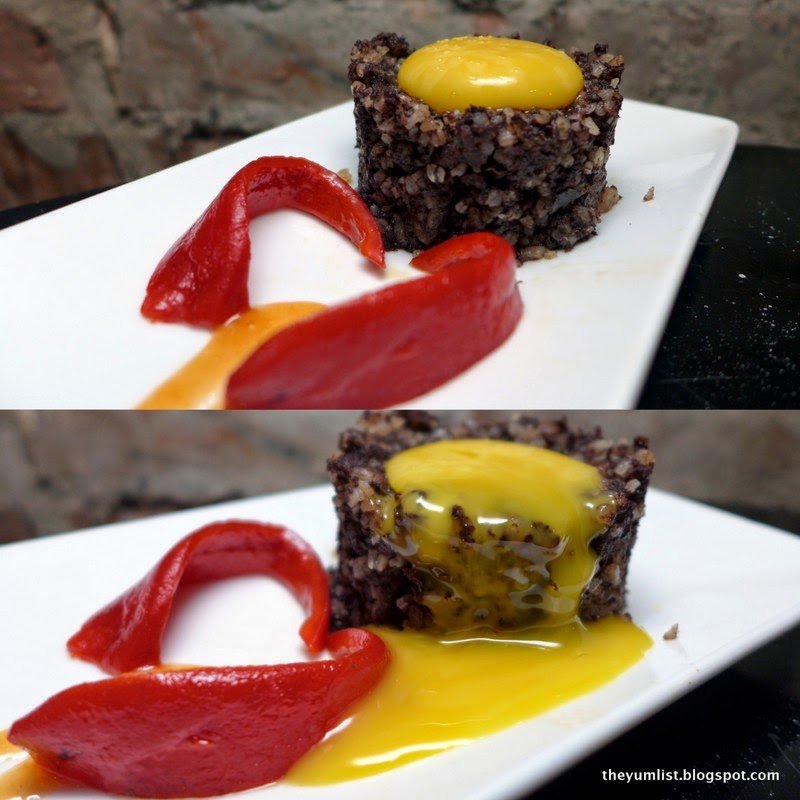 Morcilla with Egg
Although we are pretty stuffed already we are pressed to try Torrijas. A new dish to me, this turns out to be thinly sliced, cinnamon spiced sweetly soaked French bread.  If you've ever had French toast, this is a delicate upmarket version served with homemade apple chutney. What a great way to end the night! Nicely done. Not too sweet and heavy but definitely cuddlesome and snugglesome and perfect for a stormy midweek evening.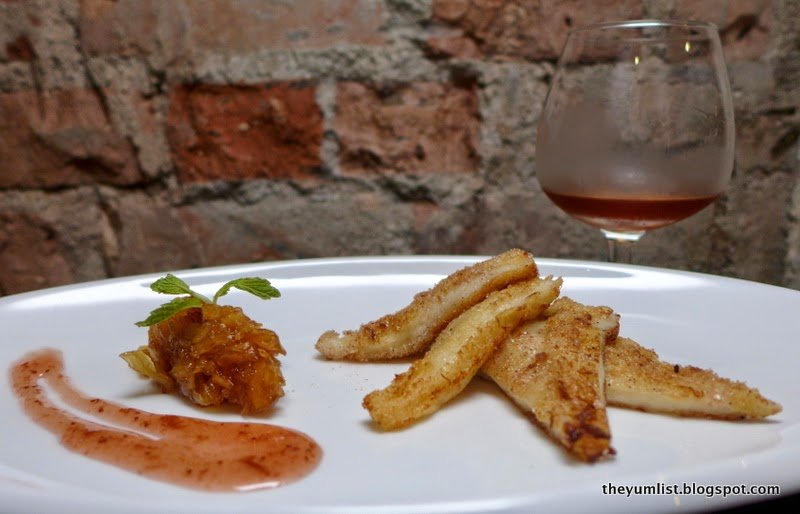 Torrijas with a glass of Pacharan Patxaran
Our delectable dish is complemented by Pacharan Patxaran, which we are told is a Basque liqueur made from the endrina fruit. It holds a very fresh and unusual flavour. Fruity, soury, sweet with a bitter edge, it's definitely a liqueur to try for an unusual and original ending to your night out
The song surging over the speakers 'I feel the earth move under my feet, I feel the sky…' Seems just perfect to me as we relax and enjoy companionship in the mellow atmosphere. Smiles abound and eyes connect enjoying all the very best that an evening has to offer. A cocktail shakes in the background blending in with the mix of languages that drift to my ears, laughter and clinking glasses, and once again I get the sensation of being European. We've had a wonderful start to the evening and now it's time to step upstairs with our drinks, to enjoy a Spanish movie, awesome!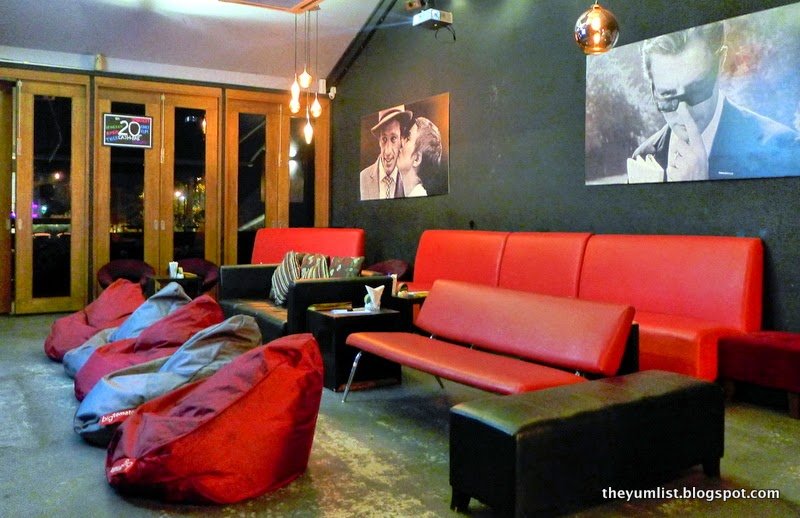 Set up for a Movie Upstairs
Reasons to visit: brilliant European ambience; a wide range of classic and original tapas: beautifully presented food that tastes great.
Pisco Bar
29 Jalan Mesui
Off Jalan Nagasari
Kuala Lumpur
+603 2142 2900