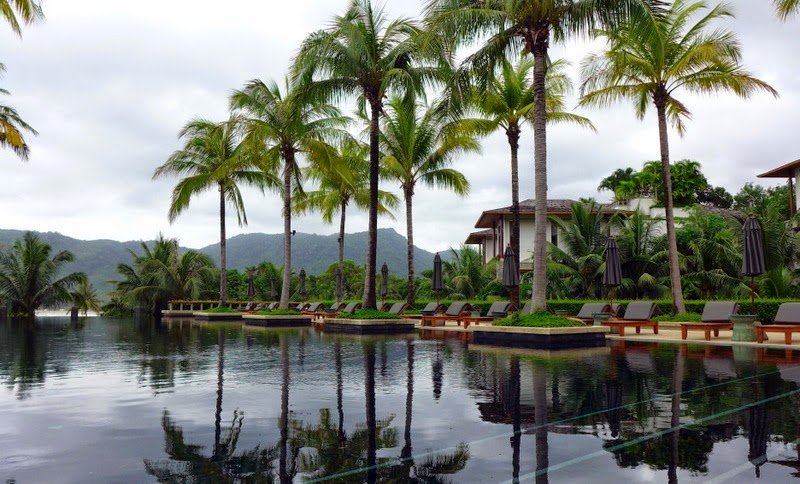 Andara Pool
Andara Resort and Villas, Phuket, Thailand
Andara Resort and Villas is sequestered away on the west coat of Phuket overlooking the Andaman Sea. Perfect for a secluded getaway, the property offers a collection of villas and suites especially designed for "high-end, fun-loving customers."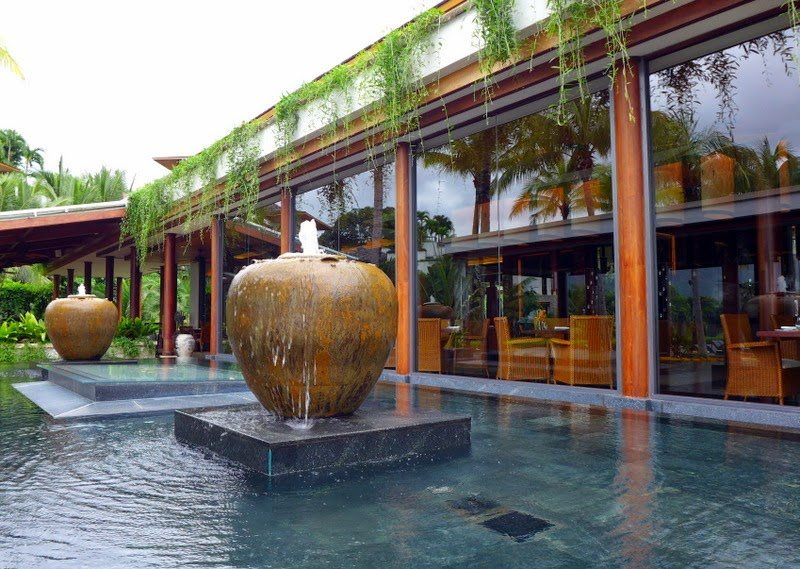 Andara Resort and Villas
Anyone who has visited Hong Kong should know the popular party and restaurant strip of Lan Kwai Fong. This street of diversion was developed by the group of the same name, who is also responsible for the creation of Andara Resort and Villas. Founder, Allan Zeman, saw the potential of Phuket for catering to luxury travelers after constructing his own dream home on the island. It was this inspiration that first conceived the upscale property of Andara.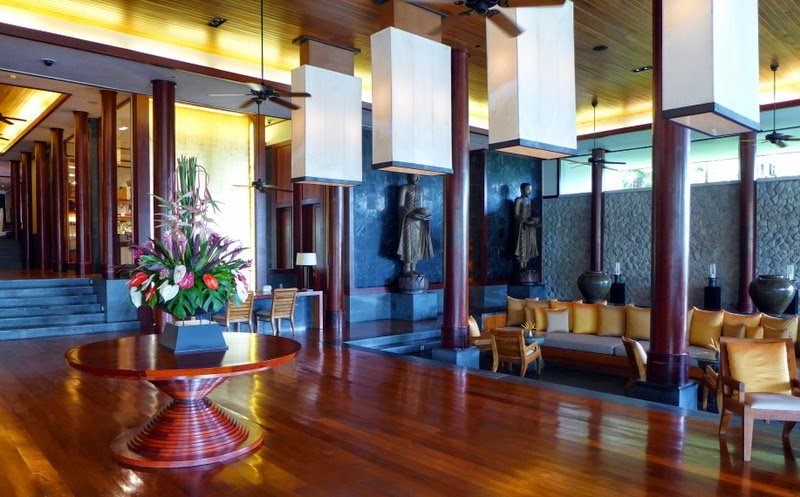 Andara Lobby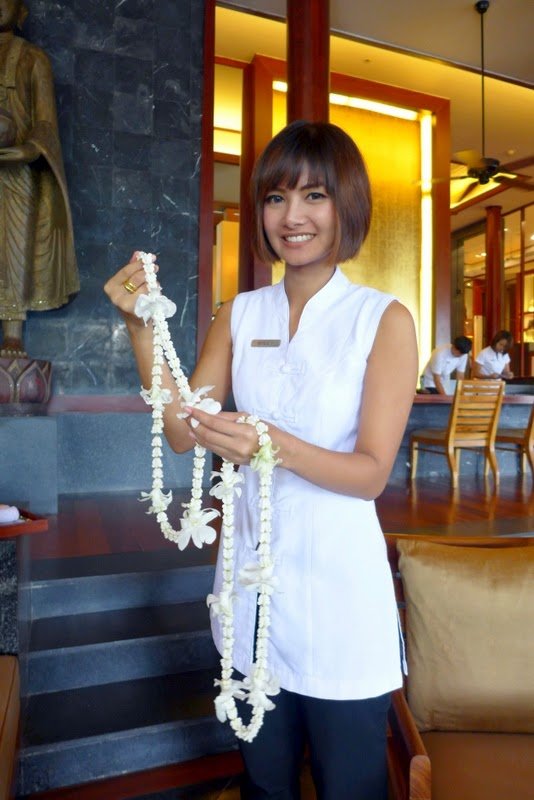 Andara Welcome – this is just the beginning of some of the most attentive service we've experienced on the island.
The resort is a 30 minute drive from Phuket airport with easy access to world-class golf courses, shopping and restaurants. The exclusive villas and suites creep up the hillside gifting each accommodation with magnificent views of the ocean and postcard perfect vistas of the sunset, but entertainment and mingling with the crowd is only minutes away.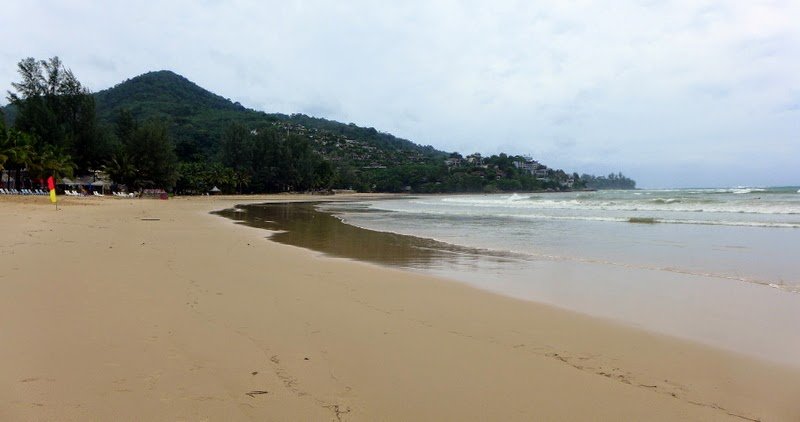 Kamala Beach
Accommodation
Consisting of three to six bedrooms, the Andara Pool Villas are ideal for families or groups traveling together, while the Andara Residences comprise one to four bedrooms and so too are suited for those traveling in more than a couple, or guests who insist on the luxuriousness of space.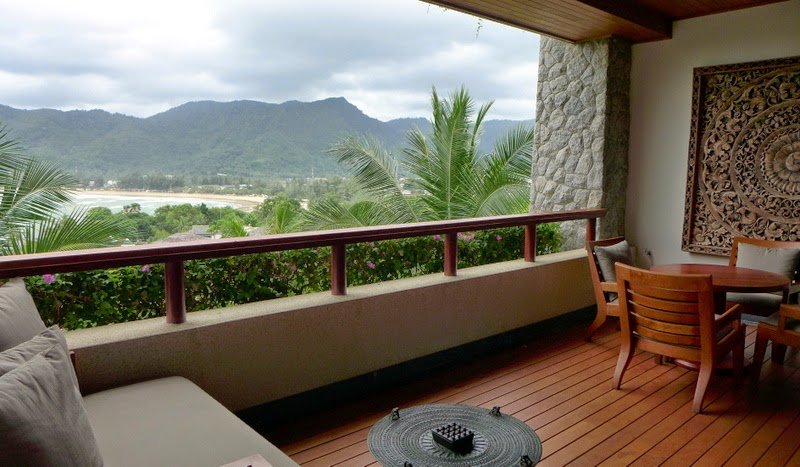 Suite Balcony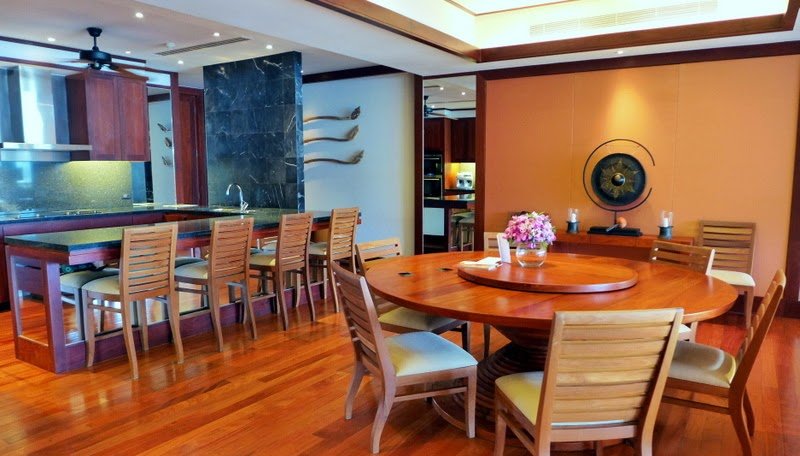 Suite Kitchen and Dining Area
We're booked into a two bedroom Terrace Suite. Luxury is found in all the details but is ever so prominent in space. A generous 183m2 holds two bedrooms, each with their own ensuite bathroom, modern kitchen and, a dining and living area that opens onto an outdoor terrace with stunning views of the Andaman Sea.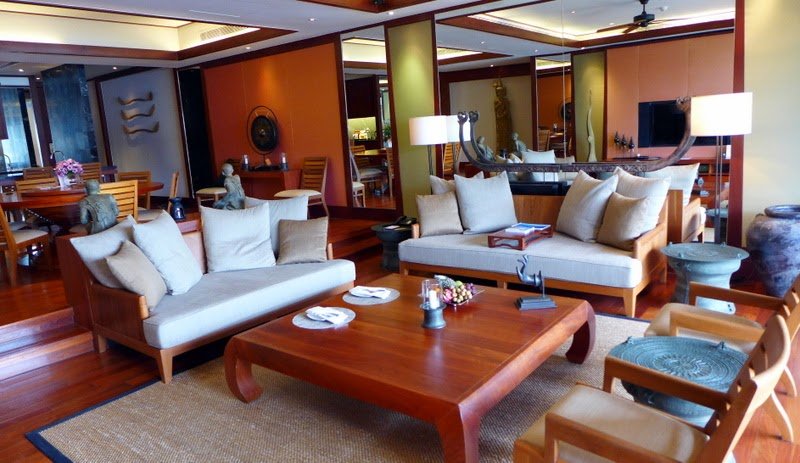 Suite Living Room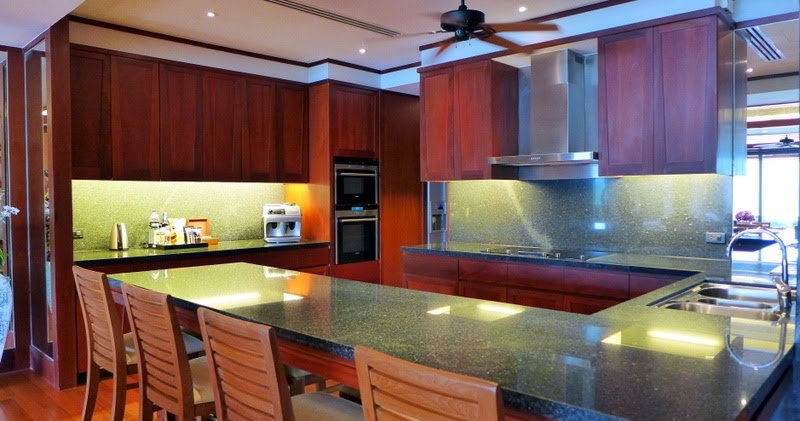 Andara Suite Kitchen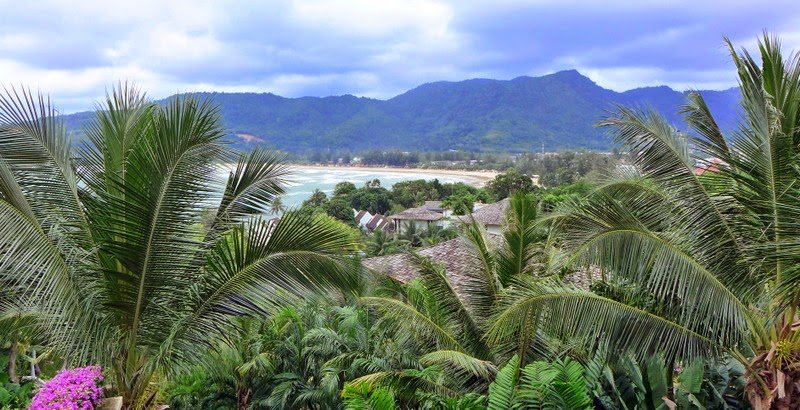 View from Suite
Jim Thompson fabrics and custom designed silks issue a colonial taste of Asia, while a BOSE sound system, three LCD TVs with satellite channels and complimentary Wi-Fi, place the resort firmly in the 21st century. Again, it's the trivial facts that delight. Mood lighting changes the ambience with five different settings: mood; day; night; read; and late. Lush bath products line the shower and double sinks and, light cotton robes and cushy slippers further enhance comfort. Icemaker and quality mini-bar items are appreciated, but my true love is for the coffee machine that grinds beans the moment before pressing a fine espresso.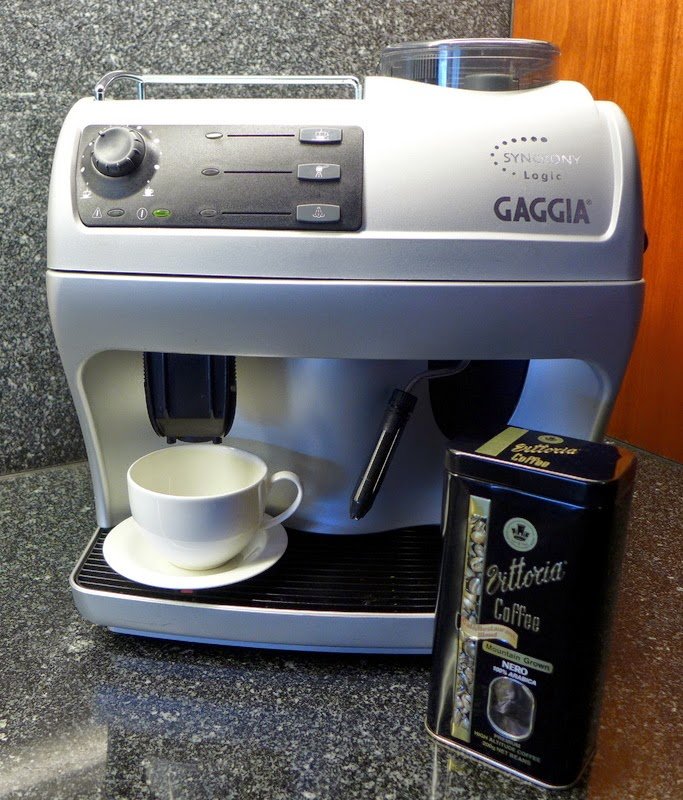 Coffee Machine in Room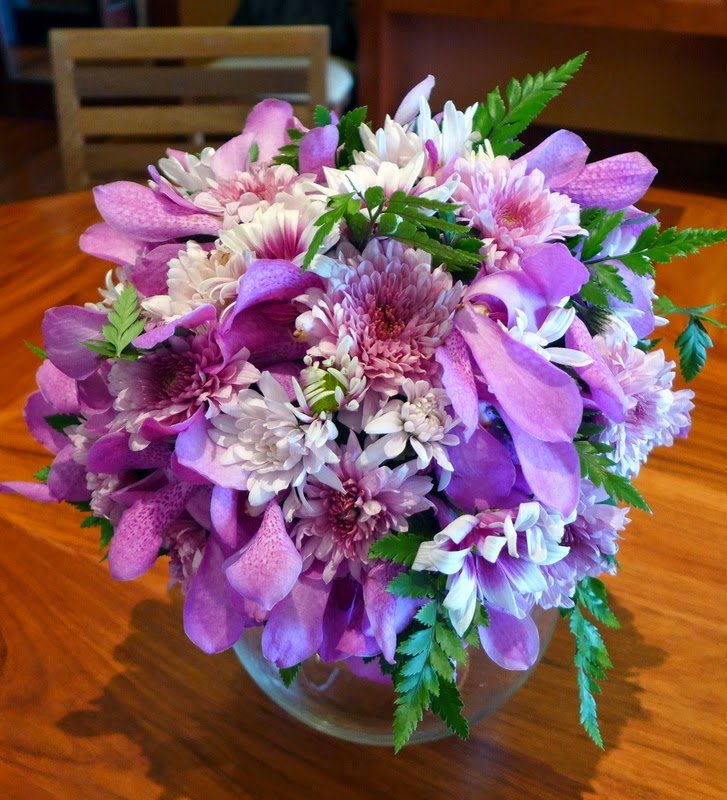 Fresh Flowers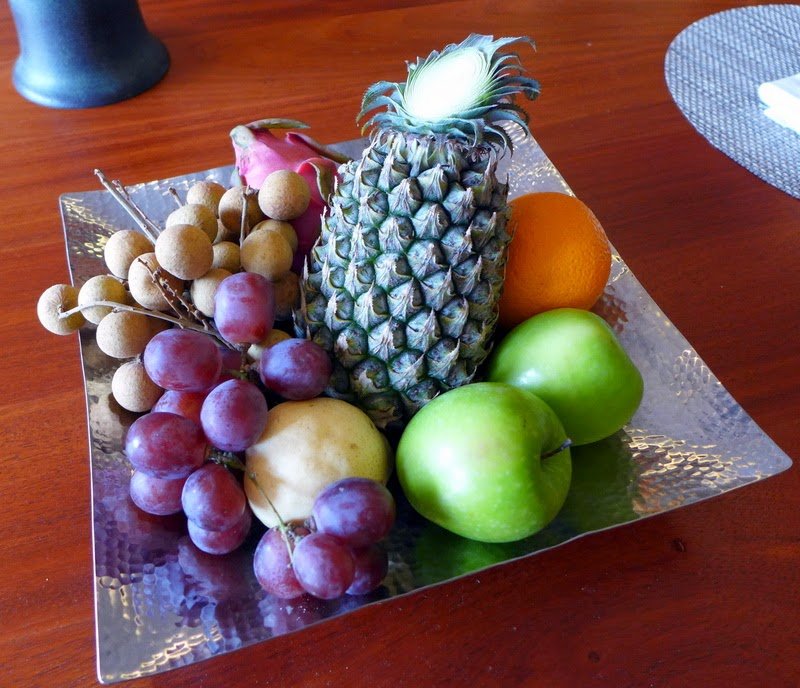 Welcome Fruit
The living area is split level, with the kitchen and dining area raised and, the lounge sunken. Warm woods create a comfortable yet stylish atmosphere and the touches of vases holding freshly cut flowers and a bowl of tropical fruits further contribute to its congeniality. Timelessness in style is appropriated with sturdy solid wooden furniture and classical Thai artworks bequeathing a distinctively local setting.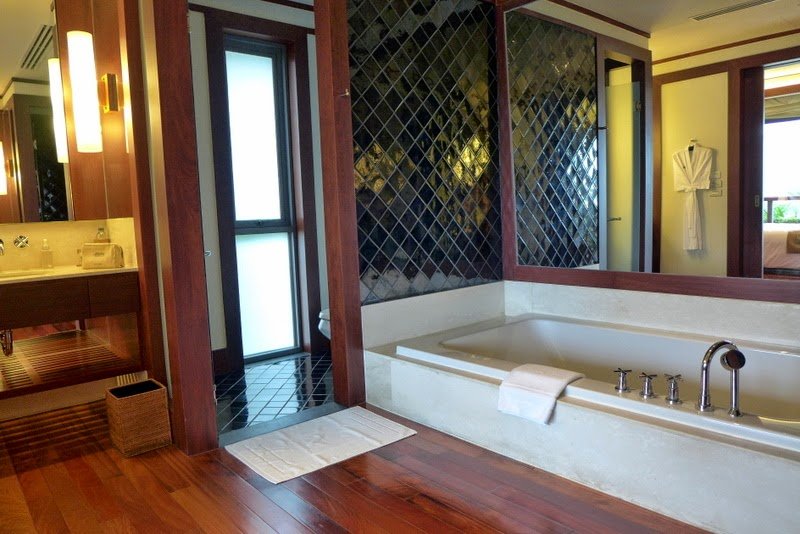 Master Bathroom – difficult to see in this picture, but the tub is really deep!
Bedrooms are grand with streams of natural light, or turned into cool dark havens with blinds and black out curtains for a restful night's sleep. Too conducive to a sound forty winks are the beds donned with wonderfully soft linens and numerous supple pillows. The master bedroom revels in floor to ceiling glass sliding doors, which open up to mind-clearing vistas of Kamala Beach and headlands.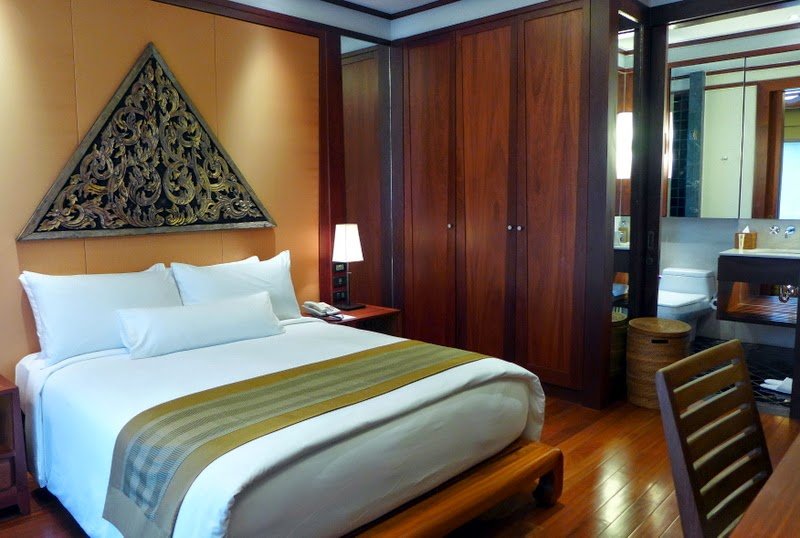 Second Bedroom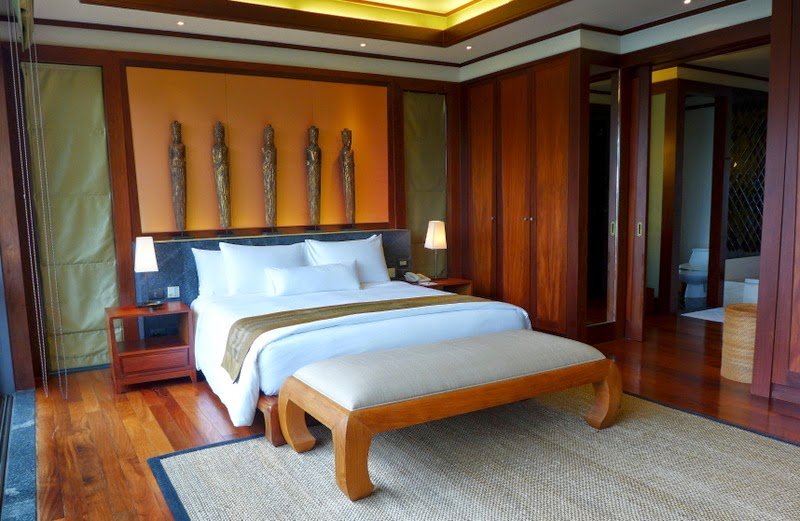 Master Bedroom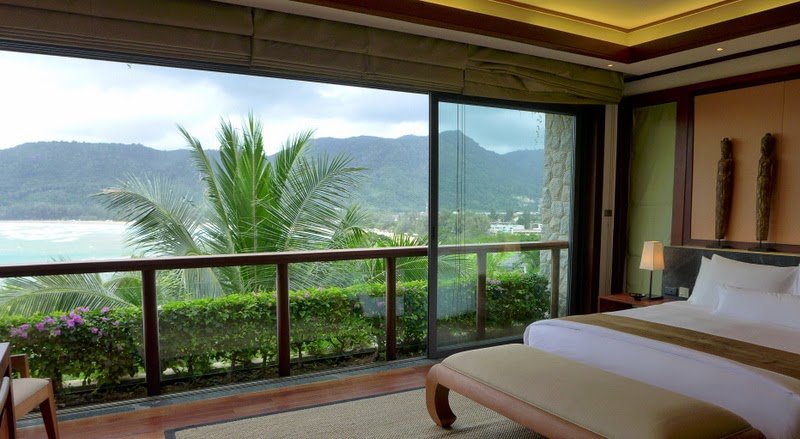 Suite Master Bedroom
This self-contained sanctuary, with its magnificent panoramas and careful attention to detail is difficult to leave. When hunger pangs begin to twang however, look no further than Andara's SILK restaurant.
Dining
Chef Ooy heads the team at SILK restaurant, serving up fine authentic Thai cuisine with panache and grace. There are plenty of Western offerings too, but our taste buds yearned for something local. Thai art and lofty ceilings mark the air-conditioned interior, while casual opium beds provide a poolside alfresco experience to pleasure in SILK cuisine.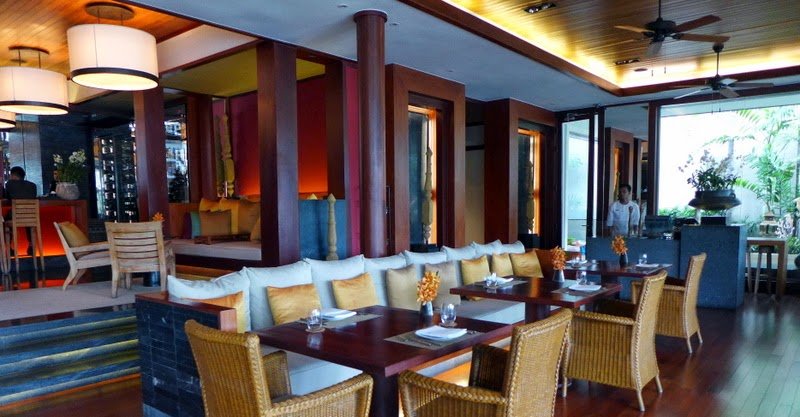 SILK Restaurant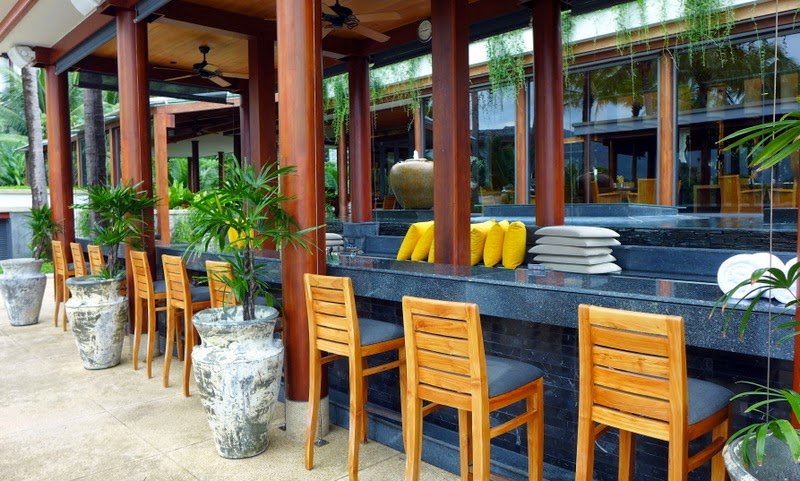 Andara Pool Bar
Characterised by the use of extremely fresh ingredients and complicated blends of herbs and spices, Chef Ooy credits her mum with the mouthwatering recipes that make up the menu.
For starters don't miss the Thai satay with its peanut sauce much smoother and a tad sweeter than the Malaysian version. The pomelo salad is a mouthful of freshness with a light coating of rich sauce that we hear takes two hours to prepare. Deep fried tofu in a coconut curry is an incredible treat too – be sure you order it! Chef Ooy's personal favourite dish though is deep fried sea bass with herbs, so know that taking the chef's recommendation is a wise choice too. Of course mango sticky rice is an all time classic ending, but the chocolate mousse is a commendable Western diversion.
For those who'd like to try their hand at recreating some of these delicious flavours themselves, Chef Ooy conducts Thai cooking classes Monday, Wednesday and Friday.
See what we cooked up here.
Facilities
Luxury continues to breathe its opulent breath in the
Andara Spa
where a superb range of treatments are designed to hush the mind, soothe the body and invigorate the soul. The best of both East and West are utilized in forming the menu and, the facilities are supported by a beauty salon and steam room.
Take a peek insidethis beautiful spa here.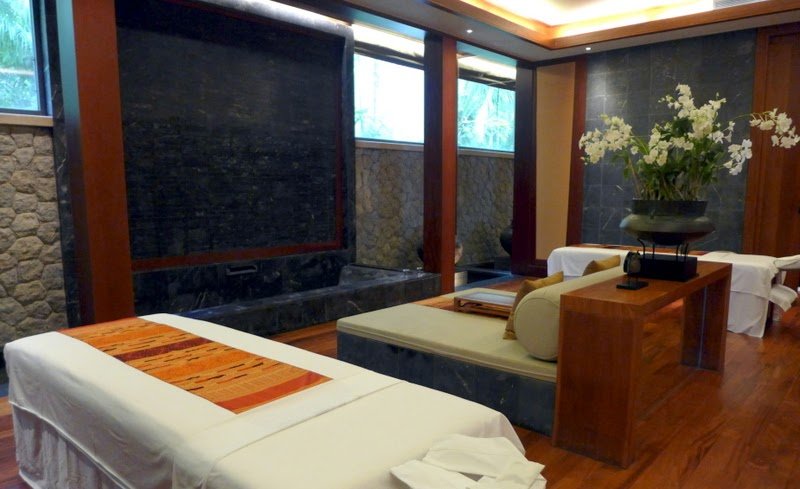 Andara Spa
Kamala Beach is just a five minute shuttle ride away. Get some sun and sand or take a wander through Kamala village for a dab of retail therapy or a taste of local restaurants. Kids Club staff will keep children engaged in a host of fun activities, while the adults too enjoy some playtime. Back at the resort an alluring pool is lined with sun chairs and palms and overlooks the picturesque bay.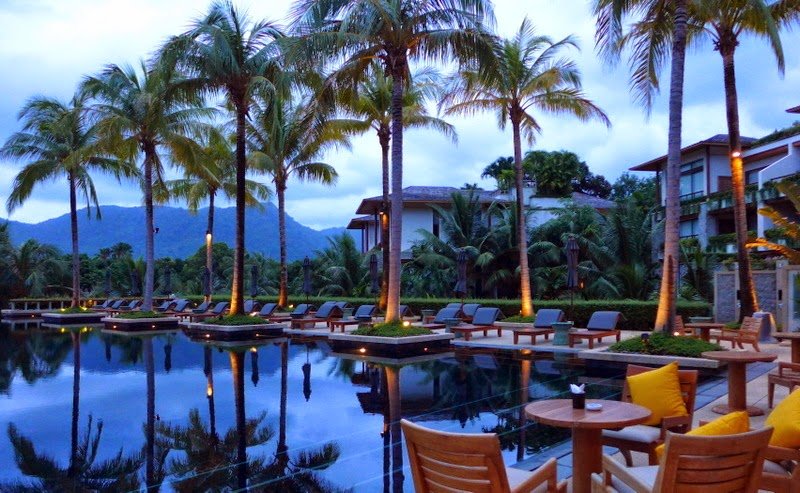 Andara Pool at Dusk
We took full advantage of the mouth-watering local cuisine and exotic island cocktails during our visit so the Andara gym saw a lot of us throughout the course of our stay. Precor aerobic and strength equipment provided all that we need and the personal touches of complimentary water, towels and fruit made the experience just that tad more enjoyable. Fully trained fitness personnel assist with the operation of equipment and, furnish a personal and professional touch that is rare to find in many properties. Tennis courts and scheduled activities such as yoga, muay Thai and, boot camp too keep the active full of vim and vigour. Our last morning saw us working out with a muay Thai instructor. It was one of the best workouts I've ever had and my only regret is that I didn't arrange a few more sessions during our stay.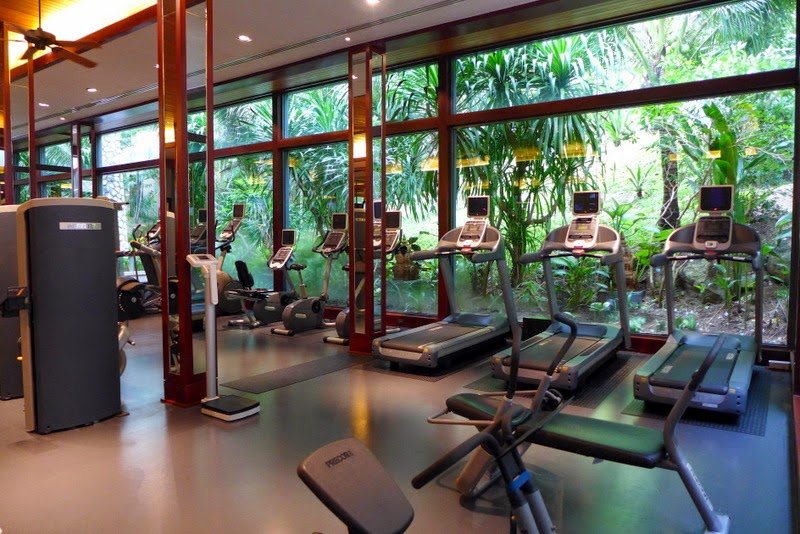 Andara Gymnasium
Such an attractive setting also needs care and protection to ensure the natural beauty remains for years to come. The team at Andara Resort and Villas is a key member in the founding and running of the Kamala Green Project. Recognizing that the world, including Phuket is in a waste management crisis with landfills at capacity, roadsides a dumping ground, oceans filling with plastic and overfishing of the same, the team runs a full time private sector supported initiative in collaboration with the local government for waste pickup and community education that will support a clean and green Kamala.
Andara Resort and Villas in Phuket must be visited to be believed. Words cannot narrate with sufficient accuracy the generosity in space, sumptuousness of cuisine, caring nature of Thai service or the dazzling beauty of the location. Andara Phuket is a haven comfort, serene nature and an unbeatable dedication to luxury.
Reasons to visit: secluded luxurious retreat; grandness in space; incredible attention to superb service and in providing every comfort imaginable; easy access to airport and the liveliness of public Phuket.
Andara Resort and Villas
15 Moo 6, Kamala Beach Kathu,
Phuket 83150
Thailand
+66 0 76 338 777