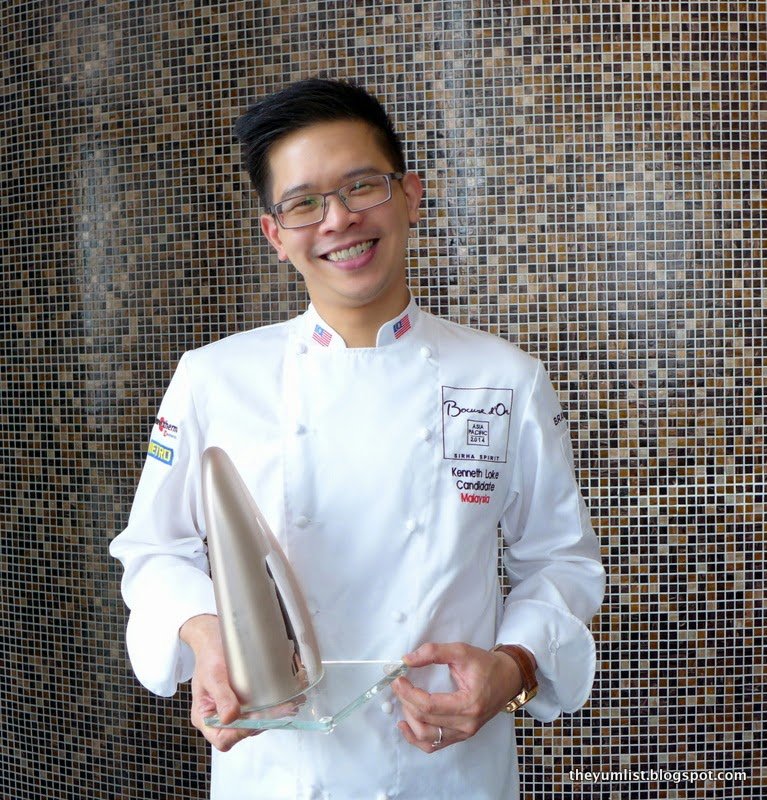 Chef Kenneth Loke – Malaysian Representative for the Bocuse d'Or Competition in France.
Words by Brooke Keel
Photos by The Yum List (Monica Tindall)
Scrumptious food, a competition, and a good cause? Sounds like a recipe for what's on the menu at the Berjaya University College of Hospitality's Samplings on the 14th, and a winning combination it is! We arrived for what was not simply a lunch and food/restaurant review, though the food was excellent and enough to write about in and of itself. The Yum List was lucky to have been invited to a Q&A session with the heads of the Bocuse D'or Academy here in Malaysia as they presented their medal winning chef, Kenneth Loke, who took home the bronze at the recent and much celebrated, Bocuse d'Or chef competition in Shanghai.
Malaysia's chef representative, Kenneth Loke, shared with us his experiences in the Bocuse d'Or competition thus far, and explained the challenges that await him in Lyon, France at the world famous competition finale as competing chefs from South America, North America and Asia Pacific all head to Europe for their final test. Kenneth will be one of only 24 competing chefs faced with the task of preparing two dishes, one meat and one fish, which will incorporate a balance of east and west. Specifically, he will be challenged with preparing a meal which is both pleasing to the European palate while representing his own culinary heritage by infusing a Malaysian twist through the infusion of traditional spices and flavorings brought all the way from his home country. Kenneth explains that this is no small feat, as Malaysian flavors can be overpowering to those not accustomed, and he must strike the perfect balance for the judges to be impressed.
Chef Jochen Kern – Promotion Manager for Bocuse d'Or Academy Malaysia
In order to be successful in this venture, Kenneth, supported by his wife Brigette, has put in an incredible amount of time and effort to prepare and hone his talent. He has worked intensively both in Asia and in Europe with his mentor Jonas Lundgren from Restaurang Jonas, who himself won the silver medal in 2009. Kenneth is a prime example of how the academy has enabled and empowered youth to pursue their passion for cooking, even to the point of worldwide renown. The program at the Bocuse d'Or is unique in that it offers scholarships and financial support as needed to students who might not be otherwise able to follow their dreams of becoming chefs. These young chefs-in-training are subsequently able to enter into competitions, supported by the culinary program and fundraising efforts arranged on their behalf by the Bocuse d'Or Academy. Fundraising dinners are offered, and private scholarship donations are welcomed, as students and competitors are often in need of financial support. Kenneth's journey has been promoted thus far by the academy in its gathering of financial contributions as he goes forth to represent Malaysia in Lyon in a few months time, and the Bocuse d'Or will continue to raise funds on his behalf and to support the other would-be competitors in their training at the academy.
When Kenneth goes to Lyon to compete, he will bring a small team of five to six peers to support and assist him behind the scenes, but when the heat is on he will be on his own in the kitchen, preparing 28 plates of food in precise intervals over 5 ½ hours. A combination of exact timing, beautiful presentation, and perfectly flavorful dishes will be evaluated by the judges. The balance of Malaysian flavorings and French style cooking has been something Kenneth has been working on and tweaking over the past months, and his goal, if not only to win, is to bring Malaysian food culture abroad and share his passion for cooking.
We wish Kenneth much luck in his final leg of the competition, and hope he will bring home the gold! To be part of his journey and to promote future youth in their dreams of being successful chefs, the
Bocuse d'Or Academy
invites you to support their efforts by taking part in its gourmet dinners with wine pairing, or take a certified cooking course offered to the public. One can also become a supporting member, which allows for discounts and other privileges. For enquiries and to get involved, you can contact the academy at (03) 2687 7078 or by email at
[email protected]
.
Additional information: