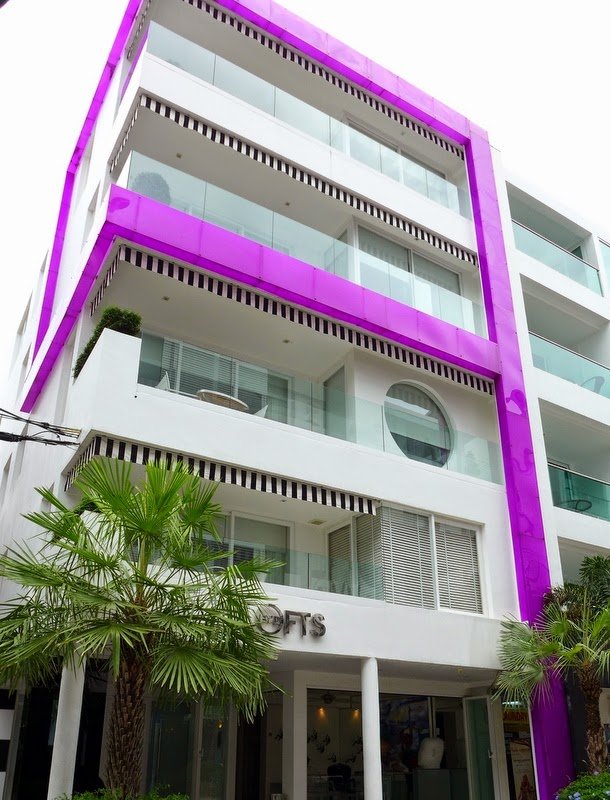 BYD Lofts Serviced Suites and Apartments
BYD Lofts Boutique Hotel and Serviced Apartments
While some tourists flock to the heavily commercialized area of Patong Beach, others run to the other extremes of the island to avoid it. The most densely touristed area on the island is the place to carouse in the
innumerable bars and, frolic and flirt in the sun and sand. Home to a naughty night scene, bustling shopping district and some of the best and worst restaurants on the island, Patong Beach can be somewhat overwhelming. It's definitely not for all travelers, but for those who want to experience it at least once (or more), BYD Lofts Boutique Hotel and Serviced Apartments is the place to stay.
While centrally located just 200m from Patong Beach, BYD Lofts is just far enough from the thumping hospitality strip to form a tranquil haven devoid of noise and the bustling commotion found just minutes away. Not only is this boutique hotel a peaceful oasis in distinct contrast to the tourist district nearby, but too an art filled sanctum inspiring magical dreams and creativity. Bright paintings with thick fat brushstrokes of vivid primary colours add merriment to the walls. Thanks to a local artist, SUTHIRAK, the property breathes excitement and mimics the vibrancy of the area.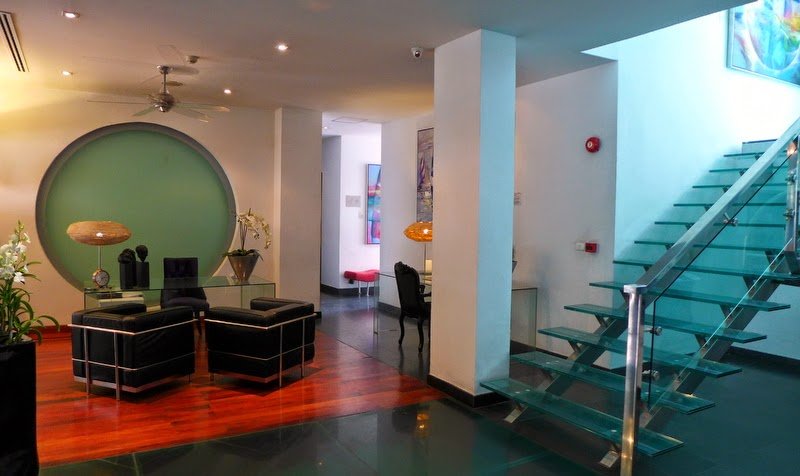 Lobby
Our One Bedroom Suite Grand Deluxe Apartment with Pool Access is a generous 100 square metres. A large bedroom, separate bathroom, fully equipped kitchen, living area and sizable balcony compose the apartment. It's contemporary in design with shiny floors, glass and lots of white. Lines are clean and straight with smooth surfaces and, functionality is a key principle. While the look is uncluttered there is sufficient adornment in paintings and interesting furniture pieces, which add colour, texture and lighting, to make the space comfortable and inviting.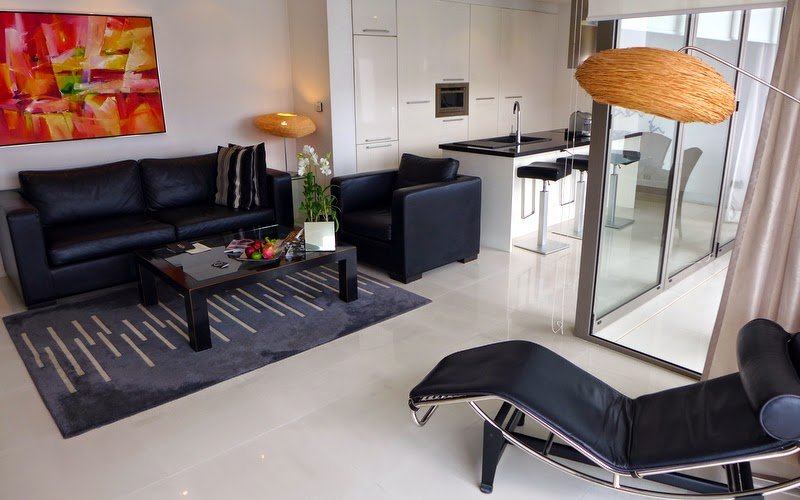 Living Area
The king size bed is dressed with high-quality 400 thread count Egyptian cotton linens. A goose down feather duvet and pillows make it even more soft and snuggly. Premium fittings, white tiles and luxury bath products characterise the bathroom and plenty of drawer and counter space is welcomed.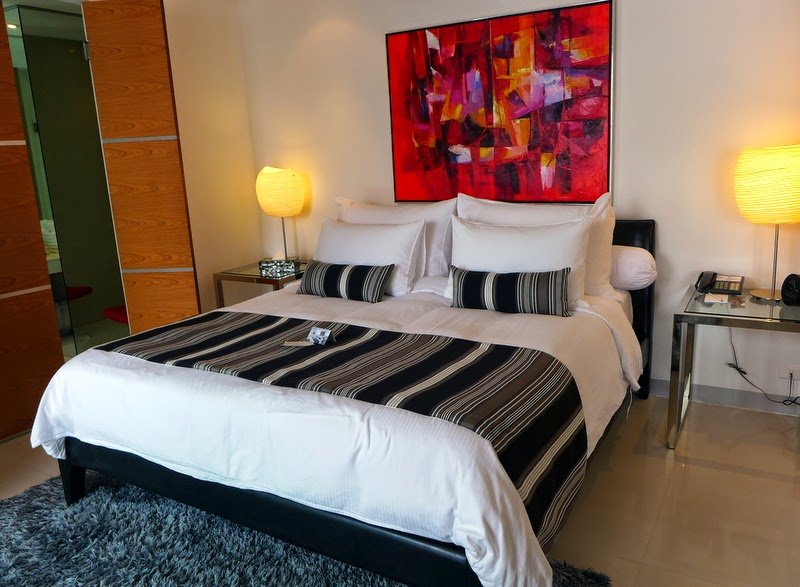 Bedroom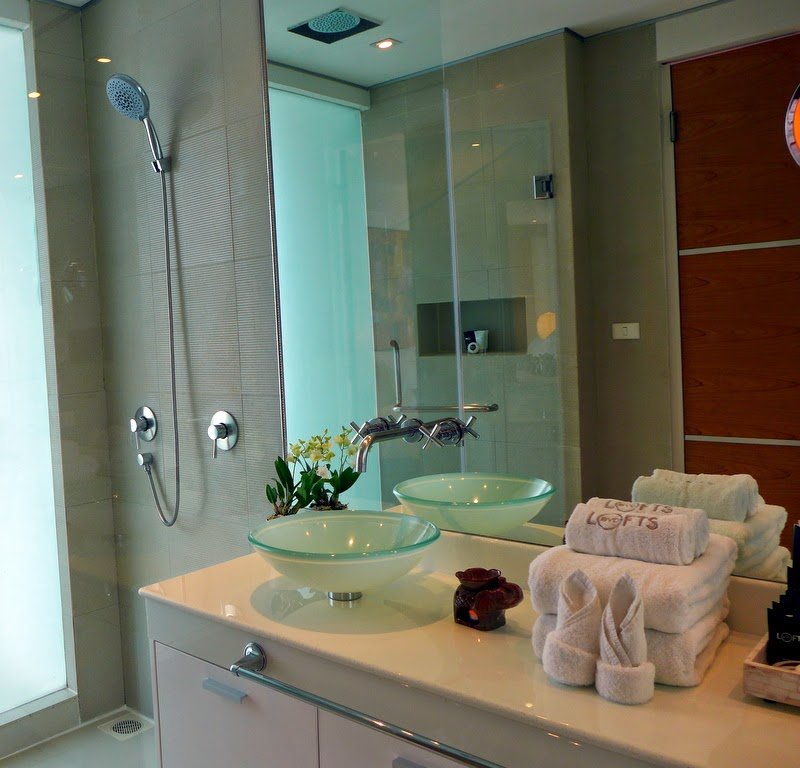 Bathroom
The living area benefits from a 42 inch LCD TV and, free high speed Internet is available throughout. A home theatre and surround sound system beg you to plug your iPod or iPad into the docking station to set your own ambient music. There's a large working desk we both give initial consideration for writing, but decide the outdoor terrace or soft leather couch work much better for our relaxed styles.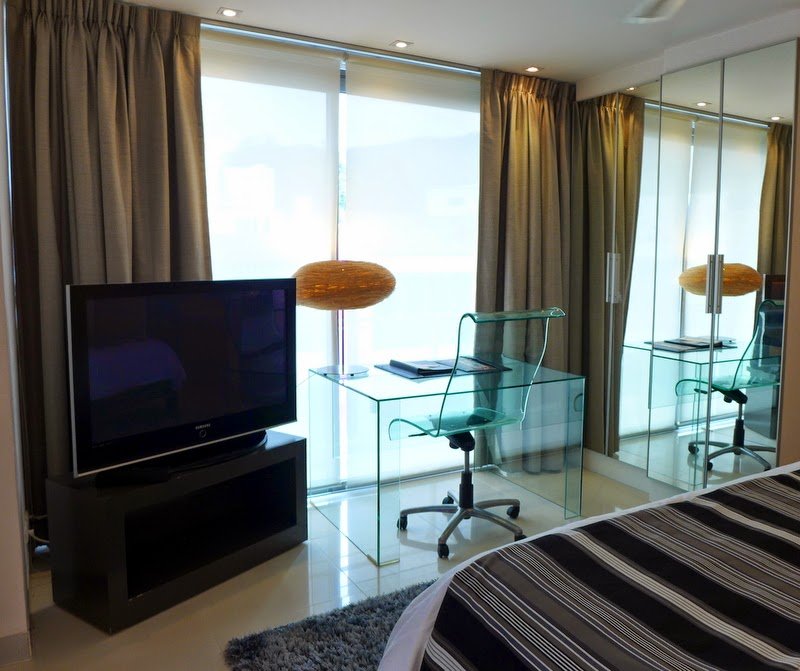 TV and Desk in Bedroom
The kitchen is decked with Tekka and Franke appliances, more than sufficiently equipped to whip up a gourmet meal. Just looking at the streamlined food preparation area makes us want to cook in and we start wondering whether or not we should cancel one or two restaurant visits to give us a chance to do so.
Sturdy and tasteful outdoor furniture encourages us to sit on the terrace enjoying early morning coffee and later evening nightcaps. The glass balcony gives us a clear view of the street and potted plants are a refreshing touch of green.
It's from this balcony we're granted direct pool access. Located on the fourth floor, this rooftop pool is a compact piece of serenity from the bustling streets below. Decked with red-cushioned sun chairs and ending with an infinity edge, it makes a welcome refreshment after a day of checking out the Patong sites or an early morning dip to start the day.
The Bar and Bistro offers all day dining featuring both European and Thai cuisines. Expect to see salads, soups, decadent desserts and classic dishes from both sides of the world such as Chateaubriand and Sesame Fried Tuna. The Bar and Bistro is complemented with a wine shop with a quality selection of cheeses, cold cuts and, wines from around the world all available to take home.BYD Lofts is also conveniently located within walking distance of some of the best reputed restaurants in the area.
The 9th Floor
,
Joe's Downstairs
and,
Baan Rim Pa
are just minutes away.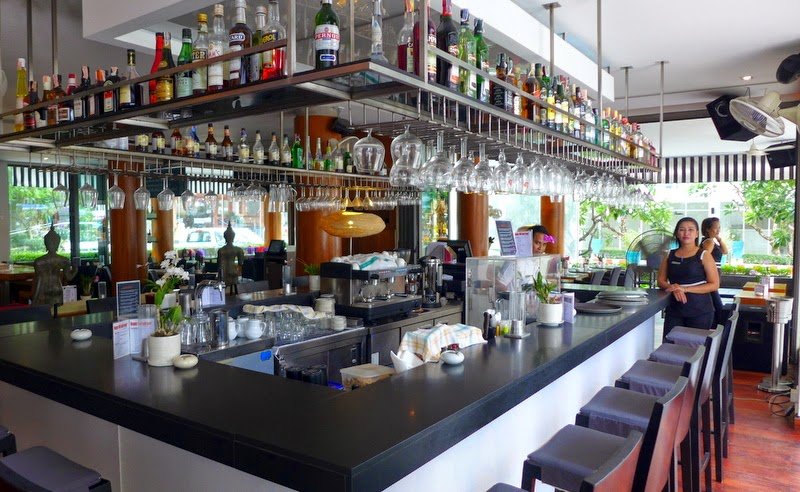 BYD Bar
For those wanting to experience the action of Patong beach in small (or larger) quantities, BYD Lofts Boutique Hotel and Service Apartments is a clean, contemporary property to make your base.
Reasons to visit: great location in a quiet street in Patong yet walking distance to the action; very good value; contemporary clean design.
BYD Lofts Boutique Hotel and Service Apartments
5/28 Haad Patong
Patong Beach
Kathu, Phuket
Thailand
+66 076 343 024