"It's more than a meal. It's an experience. It's a destination restaurant." Nicola Scaramuzzino, Mozaic's general manager, tells us. "We don't expect everybody to like everything. It's about being playful with food and  challenging perceptions." And… with over 10 years of having the reputation as the best restaurant in Ubud, pressure is high to keep up the standards.
Reservations are a must and guests are assigned bookings 15 minutes apart. This ensures supreme service and the finest culinary journey possible. Arriving a few minutes earlier than our reservation gifts us with time to enjoy an aperitif in the lounge.
A sleek modern ambience is furnished with cubed stools, white lounges and a dramatic red feature wall – shiny and laced with ornate whirls of black. Deep red cushions, chandeliers and crystals keep the vibe sensual as do chilled beats, which seem to infiltrate the veins coaxing us to relax and encouraging a state of mind for an epicurean evening.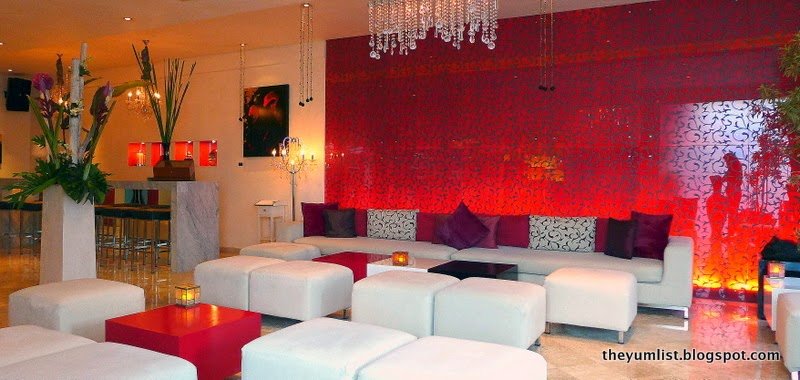 Mozaic Lounge
Cocktails are made with the same philosophy as the cuisine – Western technique using local ingredients. Frozen Passion (Rp. 110 000) takes hubby's fancy and mixes Jose Cuervo, triple sec, spiced syrup, lime and fresh passion fruit. Icy cold, it's presented as a glassful of crushed ice with a mound of passion fruit pulp floating on top. Half rimmed with salt you can choose to sip Mexican style or not.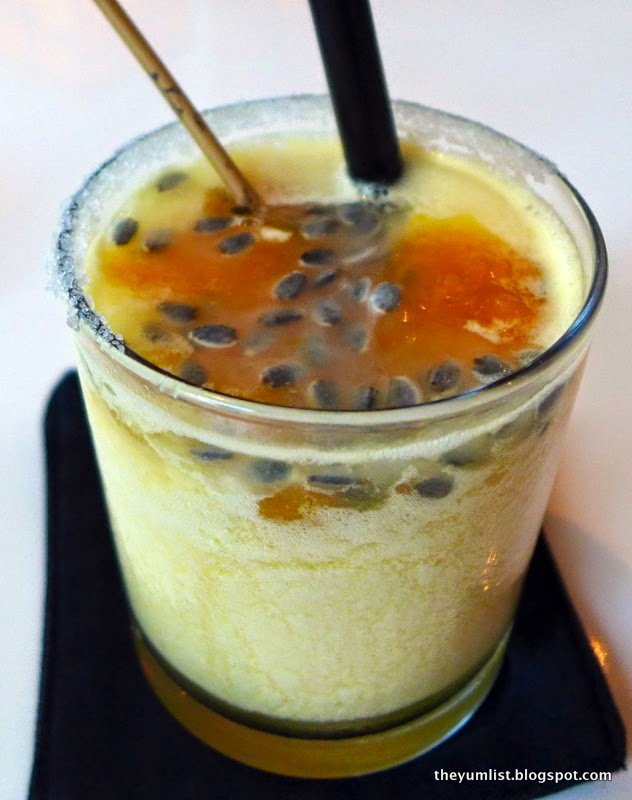 Frozen Passion
Chris' Delight (Rp. 110 000) blends Campari, Cointreau, lemon, ginger, syrup and coke to make a signature drink, the namesake of owner and chef, Chris Salans. A slice of lime and wedge of orange act as garnishes. I wouldn't usually order a drink made with cola, but the soft drink and Cointreau tame the sharpness of the Campari, lemon and ginger, making it easy drinking.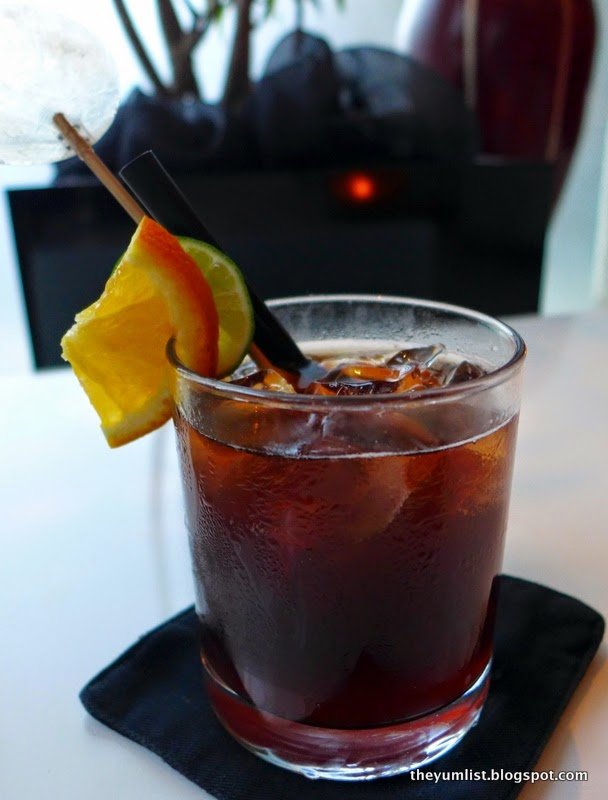 Chris Delight
A trio of savoury chouquettes topped with Parmesan and a sprig of fresh basil accompany the drinks. We pop the entire pastry in our mouths and allow the warm Edam cheese and truffle mixture to take over. Pre-dinner drinks in the lounge transition us smoothly from the street to the restaurant, but don't truly prepare us for what's about to ensue.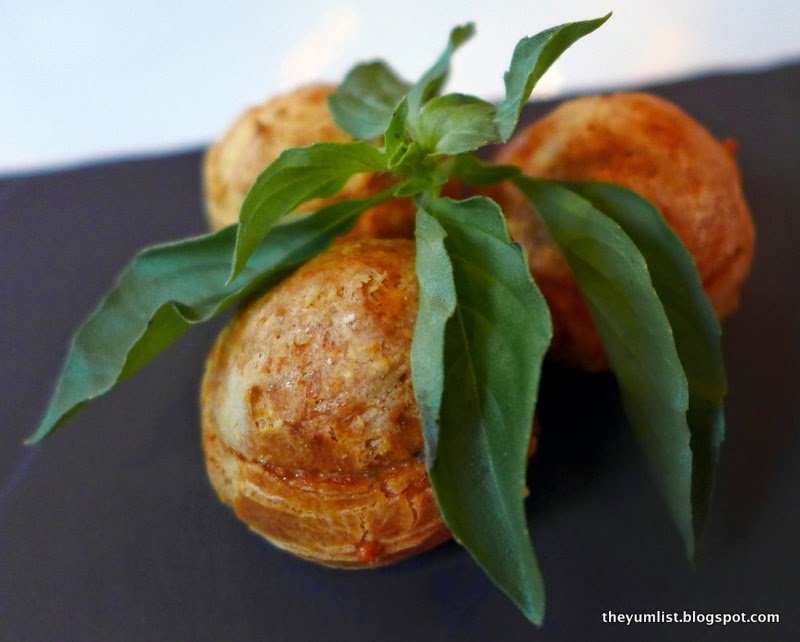 Savoury Chouquettes
Shifting from indoors to outdoors is like walking through the Wardrobe in the Chronicles of Narnia. The modern glam interior is fast forgotten as we enter the enchanted landscape. Stepping onto a stoned path, lit with gently flaming torches and enclosed by tropical foliage, we are led down the garden path to our table.
The lush verdant environs of Ubud are celebrated in this garden dining setting. A bamboo forest walls in one side with the open kitchen enclosing the other, and tropical plants skirt the space at either end. Not to worry if it rains, an identical air-conditioned room mirrors the set up in the case of inclement weather, so reservations are transferred with minimal disturbance to undercover.
White clothed tables are dressed with a single candle and beautiful wine glasses, and are softly illuminated with a drop down lamp. The sultry voice of a female songstress croons old slow tunes from the quality sound system. Glass mosaics add splashes of contemporary colour, connecting the indoor ambience with the al fresco space.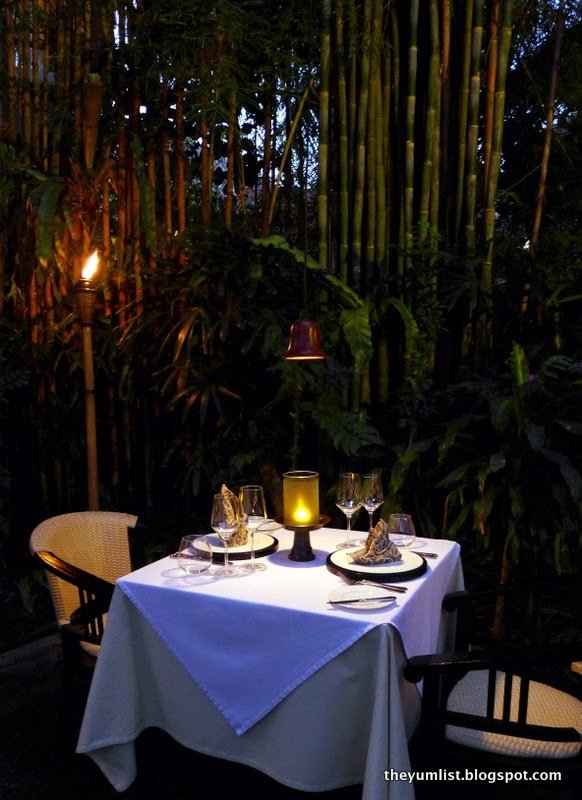 Dining Table  in the Mozaic Garden
Our waiter explains the four menus available at Mozaic: Chef's tasting menu which showcases Mozaic's cuisine; a Surprise menu that uses only the finest, rarest and most precious ingredients; a Vegetarian menu which encompasses a little of each of the other menus; and a six course Discovery Menu (Rp. 700 000) which is what we try, lured by the promise of fresh seasonal Indonesian ingredients prepared with French cooking techniques.
A Rp. 250 000 corkage fee applies to guests who would like to bring their own wine, but why not try the suggested wine pairing? Premium wines can be paired with each dish for an additional Rp. 850 000, or regular wines for Rp. 550 000. We highly recommend the premium wine match. It's the icing on the cake of an already special menu and magical setting.
Introducing us to the delights to come, an amuse bouche, a calamansi lime cloud, is served with mandarin jelly and star anise. With the texture of an uncooked meringue, a cloud is a fine description. A delicate trace of sour is left on the roof of the mouth. Dutifully fulfilling its purpose of opening the appetite, it's a fine beginning hinting seductively at what's ahead of us.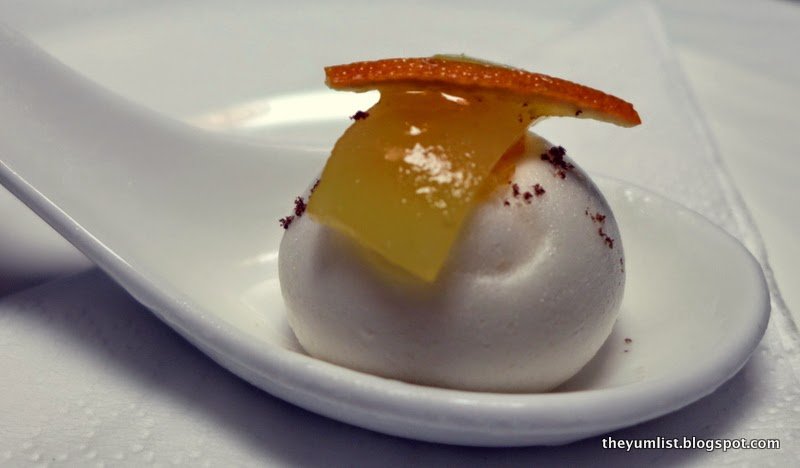 Amuse Bouche
Our waiter is back. This time with a platter of the local ingredients that will be featured in the Discovery Menu. Each is described and we're encouraged to touch and smell them. Again he returns, topping our water glasses and placing two warm breads on our plates. A dark caraway roll does well with the salted butter, and a mini baguette with bean sprouts is soft and pasty in the mouth, perfect on its own.

Local Ingredients Used in the Discovery Menu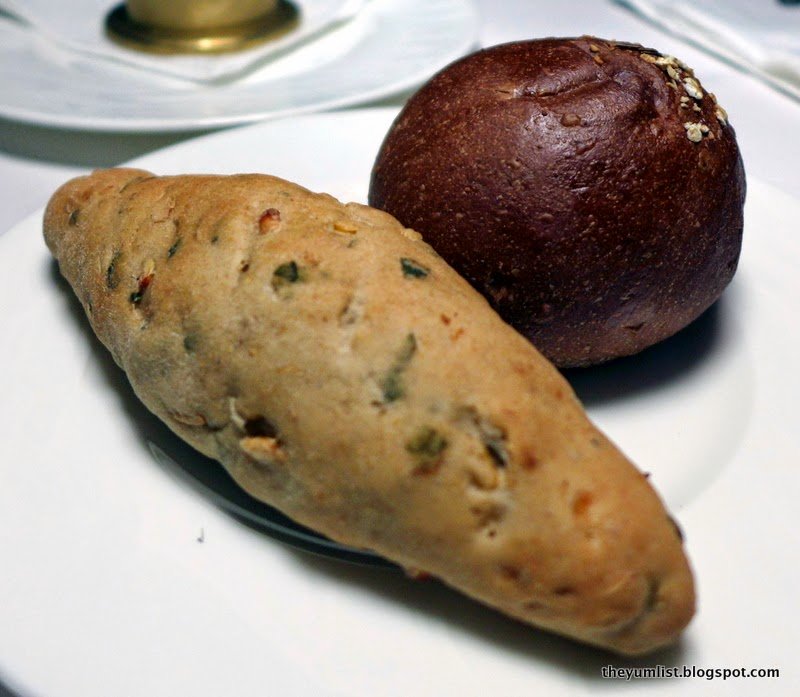 Bean Sprout and Caraway Breads
We're deeply breathing the crisp air and soaking up the natural surrounds when the first plate arrives. Kemangi and Tabia Bun presents yellow fin tuna tataki encrusted with Balinese long pepper. It's accompanied with a lemon basil pesto, which is fabulous, ridding any desire for a squeeze of lime. Fresh pomegranate kernels brighten the sides but are an essential burst of juiciness when combined with the pesto and fish, elevating the overall experience. Returning to the pesto, it's so good hubby has scraped up every last drop with his last piece of bread. I'd like to take the lemon basil pesto home in a jar. Please.
Kemangi and Tabia Bun
While I don't detect the pepper in the dish until the very end, the wine pairing brings it to the forefront. Astrolabe Sauvignon Blanc 2010 from the Kekerengu Coast of New Zealand exhibits young pineapple on the nose, is crisp in the mouth and has a medium finish.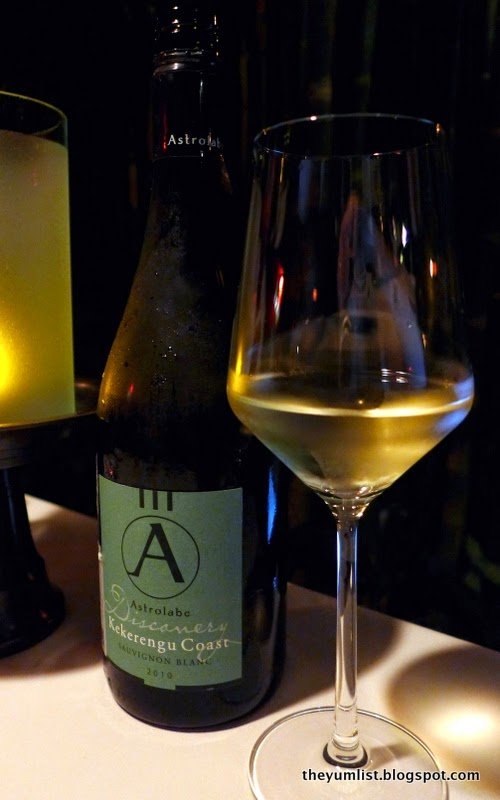 Astrolabe Sauvignon Blanc 2010
Seared Tasmanian Salmon continues the ocean theme and is laced with a tart kaffir lime dressing in the Jeruk Purut. A spiced fennel and almond salad tangle the top and two kaffir lime jelly cubes are placed either side. A delicate caramelization encrusts the salmon, which is wonderfully moist within. Don't forget to slice a tiny segment of jelly to add to the combination. A sublime synergy is in play between the ingredients, with the finely shaved fennel, lime, fish and wine too all frolicking joyfully in the mouth. I have to concentrate to discern the almond, as it's not immediately evident in texture, but rather present in a faint trace of savour.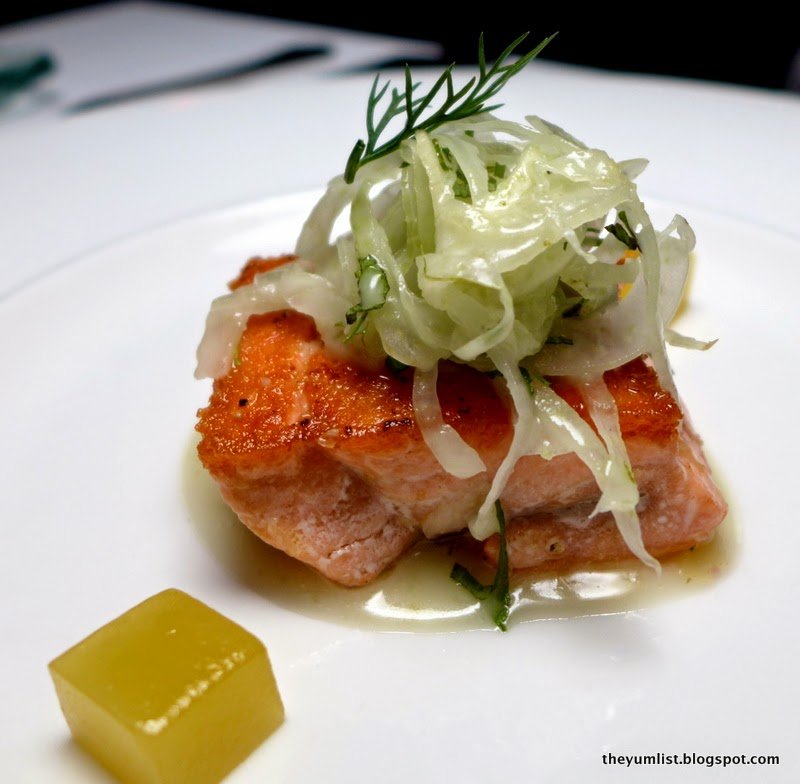 Jeruk Purut
The partnering wine is a Barth René Grand Cru Marckrain Muscat 2006 from Bennwihr, France. I detect aromas of ripe fruit with hints of honey and flower petals. It's rather light on the palate and I find it best enjoyed in combination with the fish.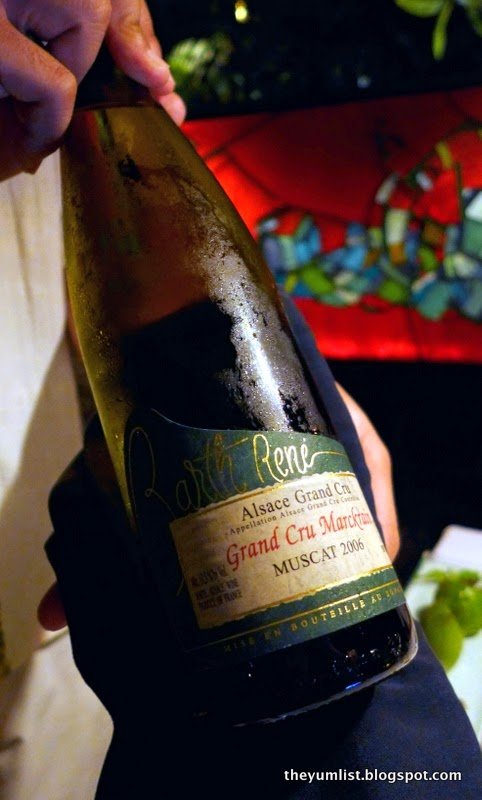 Barth René Grand Cru Marckrain Muscat 2006
Kluwek sees slices of roasted duck breast elegantly placed atop a sweet Balinese Kluwek puree with hazelnuts and strips of mango jam. A petite wedge of foie gras sits apart and small pieces work well to balance out the overall complexity of this plate. Sweet and rich see-saw with the mild tartness of baby mango and the nuttiness of the black and white sesame seeds.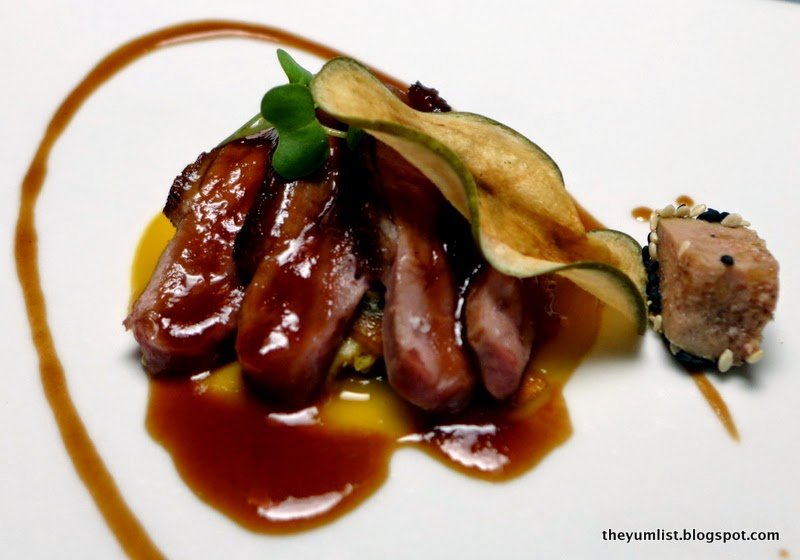 Kluwek
A merlot, cabernet and syrah blend makes a fitting pairing in the Le Macchiole Bolgheri Rosso 2009 from Italy. The freshness of the fruity aromas match the perkiness of the tropical fruit, while the balanced acidity slices through the rich duck and supple tannins are left in the mouth in a medium finish.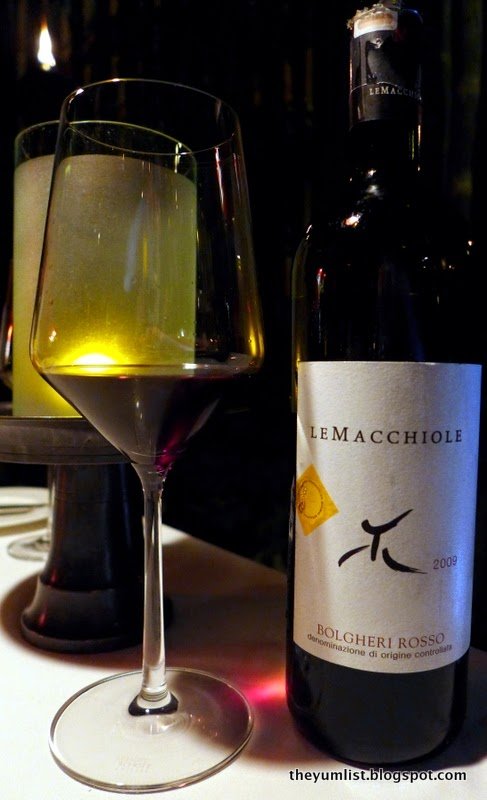 Le Macchiole Bolgheri Rosso 2009
It seems that even Mozaic is not immune to the love of crispy pork belly that has recently swept across Asia, and prepares it in their unique manner in Babi Guling. Sauteed kailan coronates the top of the juicy pork, and a spiced Balinese roast pig broth pools the bottom of the dish. As I'm smelling the freshly poured wine match, I can hear the crunch from hubby's mouth giving away that the skin is delightfully crisp and see that it's served apart as a thick wafer. Before I've had a chance to taste any part of the dish for myself I also hear, "Mmm, the puree is delicious."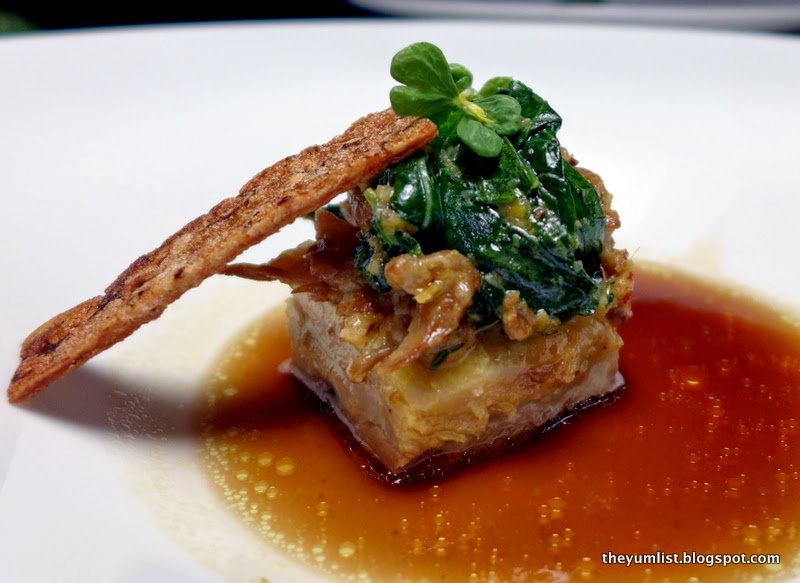 Babi Guling
I soon learn for myself how, "Wow," this dish is. Certainly I've had pork belly that is just as good in terms of texture, soft flesh, melt-in-the mouth fat and crispy skin, but what sets this rendition apart from the rest is the seasoning. The Balinese blend of condiments – onion, garlic, turmeric and galangal – leaves our tongues tingling around the edges and our fingers eagerly spooning up the final drops in the bowl.
The separate side of potato puree is indeed velvety and suited perfectly well to soaking up the remaining broth. "I love the potato," hubby says finishing off the last bits in his plate and glancing towards my not yet half concluded bowl. But… I stare him off with a warning of, "Don't even think about it chamo."
North America enters the tour of wines from around the world with a Stags' Leap 2010 Petite Sirah from Napa Valley. The wine is great with a perfect harmony of soft tannins with round flavours of berry and light spice. It's fantastic with the main and would work equally well on its own, but seriously, I'm so distracted by the pork that this lovely wine it not getting the attention it deserves.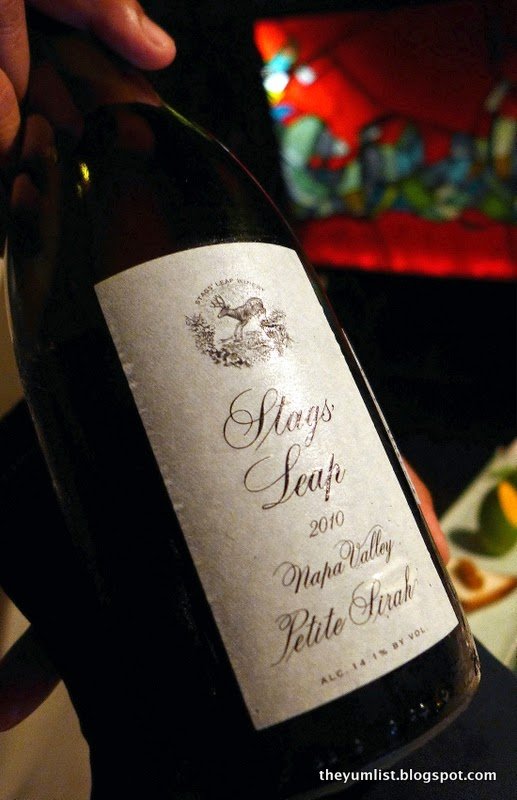 Stags' Leap 2010 Petite Sirah
A fresh sour sop sorbet, Sirsak, removes the last threads of pork fat left in our mouths with its grapefruit gelée and Campari emulsion and readies us for dessert.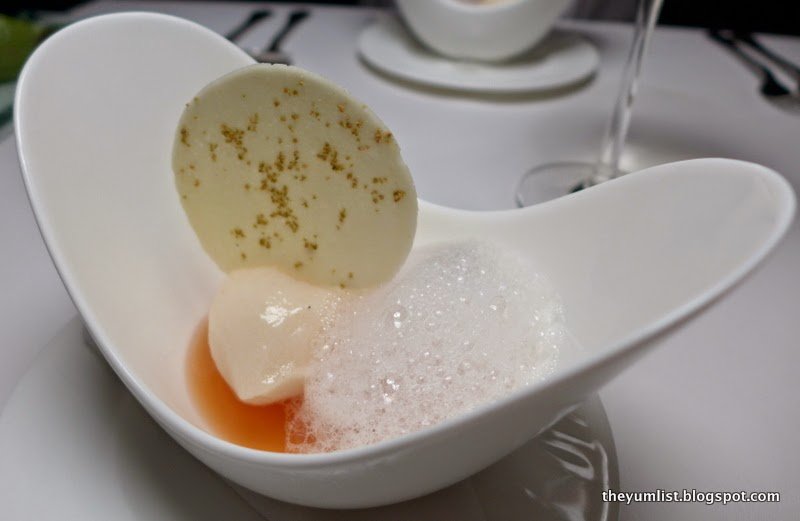 Sirsak
We're gleeful to see a pairing with this pre-dessert course and find the Joh. Jos. Prum Wehlener Sonnenuhr 2004 mirrors the sour sop with a mixture of both sweet and tart. It's lightly minerally on the nose, but in the mouth furnishes soft fruit in the middle, terminating with a subtle zestiness.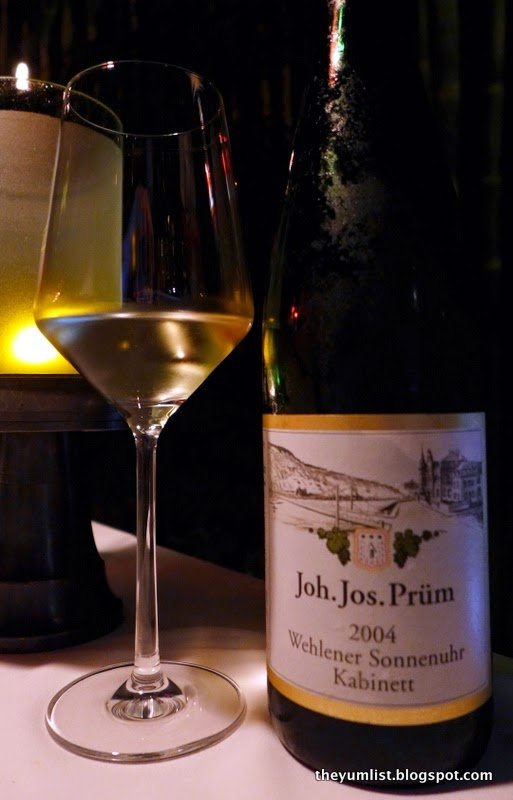 Joh. Jos. Prum Wehlener Sonnenuhr 2004
Kacang Kenari combines the Kenari nut into a curry parfait. It's creamy and smooth, like a light unbaked cheesecake, but a distinct curry taste in the palate causes a slight confusion. Tiny cubes of marinated fruit continue with the curry seasoning and separate the plate from an orb of star fruit sorbet. Candied baby star fruit complete the course with a true taste of indigenous ingredients. I'm not too sure if I love it or loathe it. My plate is clean though so I guess the former is the case. 😉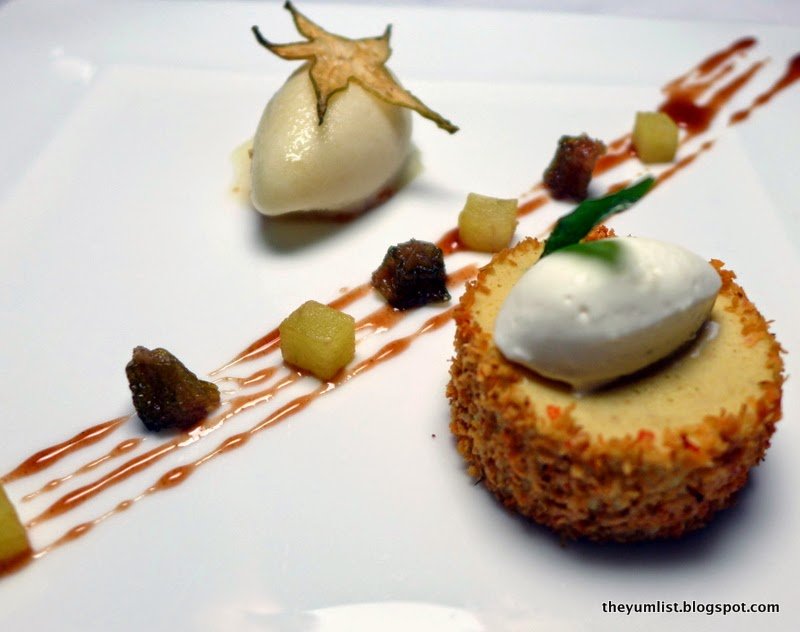 Kacang Kenari
Cadillac Chateau Barreyre 2005 from France provides a blend of semillon, sauvignon blanc and muscadelle, with a bouquet of flowers, ripe apricots and honey. It's sticky, leaving long legs in the glass. Too it encourages the curry flavours to come to the forefront of the palate, but also does a nice job of rounding them out with its sweetness.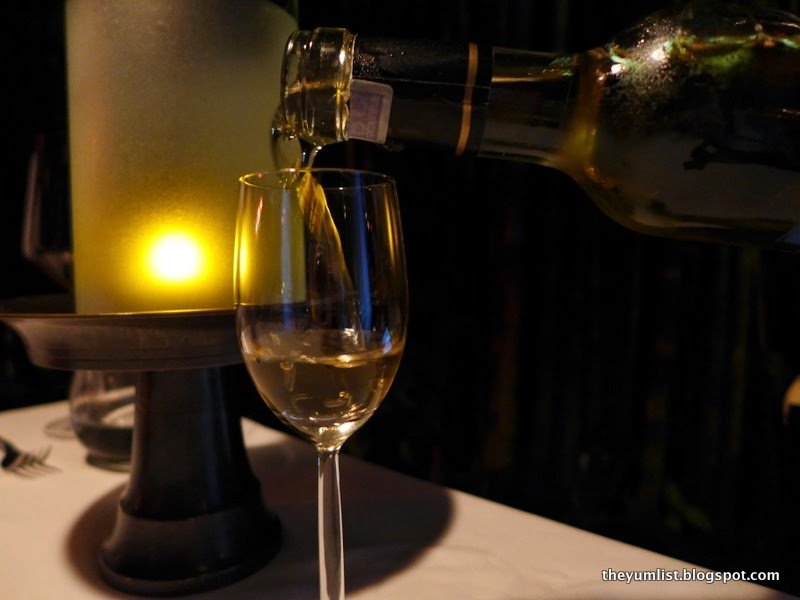 Dessert Wine
It has been an incredible evening of creative cuisine, excellent wine pairing and superb service, in a knock-out setting. The wine pairing has left us satisfied but not tipsy, and the food gratified but not stuffed. Enraptured with the elegance and charm of Mozaic from all vantage points, we highly recommend a visit yourself.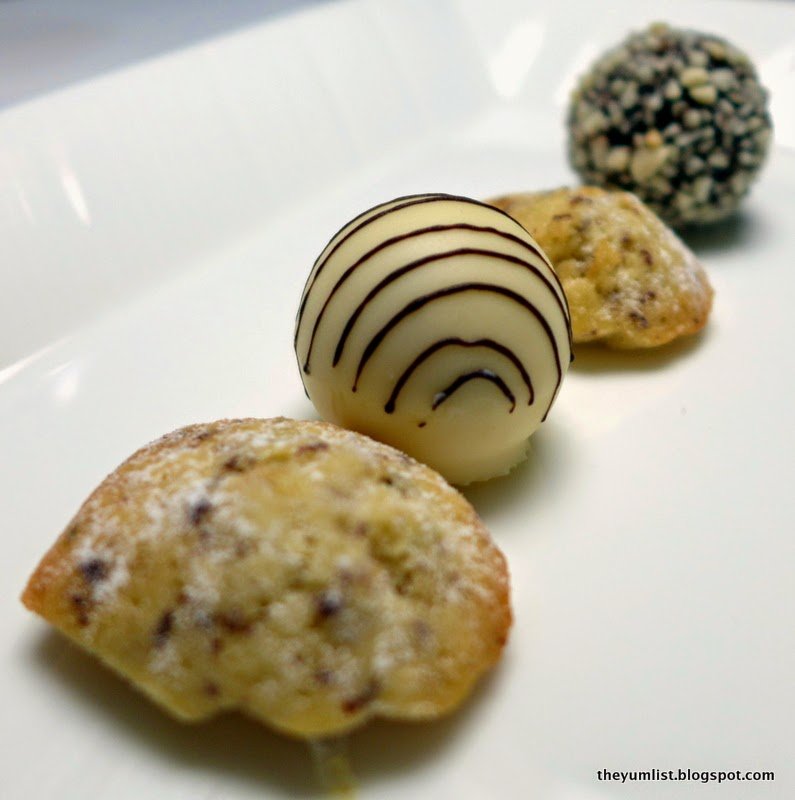 Petite Fours
Reasons to visit: enchanting garden location; traditional French cooking techniques utilizing local ingredients; tasting menus are well worth pairing with the premium wines.
Mozaic
Jalan Raya Sanggingan
Ubud, Bali 80571
Indonesia
+62 (361) 975 768
All prices are subject to 21% government tax and service charge.
While dress code is casual, please note that sleeveless shirts and beachwear are not allowed.