This dish was created as a healthy light fish option on the menu. It covers all the important ingredients that our bodies need and is perfect in hot tropical temperatures. It fits fantastically well with a glass of sauvignon blanc for a lunch on the terrace overlooking the Andaman Sea. With a touch of Asia the dish is developed with a strong Mediterranean influence. Over time the tuna in sesame crust has become one of our most requested dishes on the menu.
Tuna & Vegetables
Ingredients: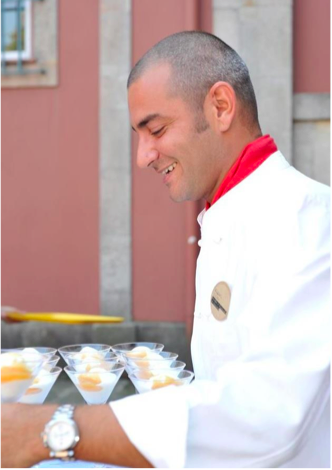 Chef Miguel Cirne
120gm Tuna Saku
50gm Sesame seeds
Olive oil
Salt
Juice 1 Lemon
Baby carrot
Zucchini
Mushrooms
Asparagus
Method:
Cut the tuna and season it with salt, pepper and lemon juice just before cooking.
Grease tuna with olive oil and coat with sesame seeds. Bake or pan grill as preferred.
This tuna is served rare… and the color is beautiful.
Season the vegetables with salt and olive oil. Grill.
Humus
Ingredients:
250gm chickpeas
2 lemons
1 level tablespoon of salt
3 cloves garlic, crushed
3 tablespoons tahini * Istanbul
Syrian pepper to taste (optional)
Method:
Soak the chickpeas for 24 hours in water. Remove excess water – but caution … it can smell quite bad!
Cook the chickpeas in salted water for 30 to 40 minutes until tender.
Place the chickpeas in a blender. Stir in the lemon juice, tahini, crushed garlic and salt.
Blend the ingredients until they are mixed well.
Beetroot Sauce
Ingredients:
1200 ml of chicken or vegetable stock
2 Beetroot sliced
1 Carrot
1 Onion chopped
1 Garlic
20 ml Olive oil
Salt
Basil
Method:
Bring the stock to boil.
Roll the beet, carrot and basil in oil and season with salt and pepper.  Add to the broth.
Cover and cook over a medium heat for 1 hour.
Puree with the wand or blender.
Arrange on a plate as shown above or to a design of your liking.