Kirsten Durward and Monica Tindall
Even if you are not staying at this splendid resort, I can thoroughly recommend that you visit the blissful Banyan Tree Spa for the day, for the afternoon or just for a simple massage. Treat yourself, I promise you will remember this experience for a long, long time. Banyan Tree pioneered the tropical garden spa concept when it opened in Phuket in 1994, with exotic Asian therapies and a holistic focus on spiritual, mental and physical harmony. The approach is a 'high-touch, low-tech' approach which emphasises the healing arts, use of natural herbs and spices, and practices which have been passed down from generation to generation. Banyan Tree promises a complete rejuvenating wellness experience, and I promise you, they completely deliver on that promise.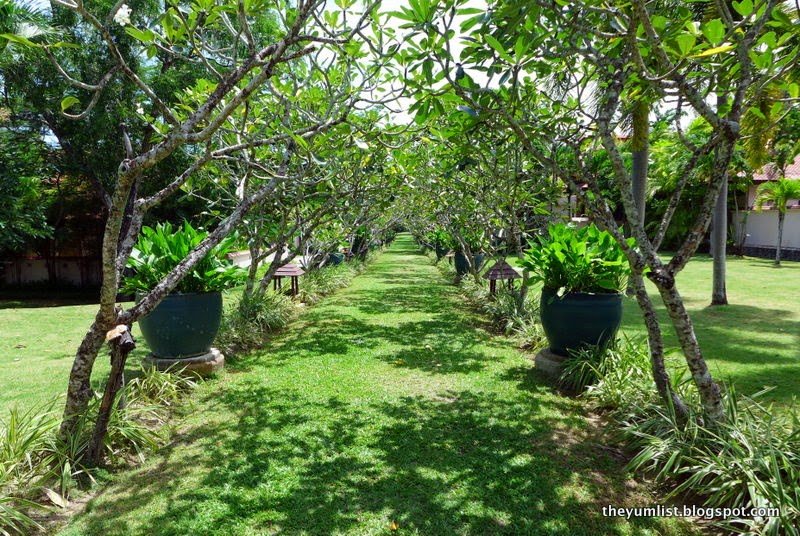 Frangipani Walkway to the Spa Villas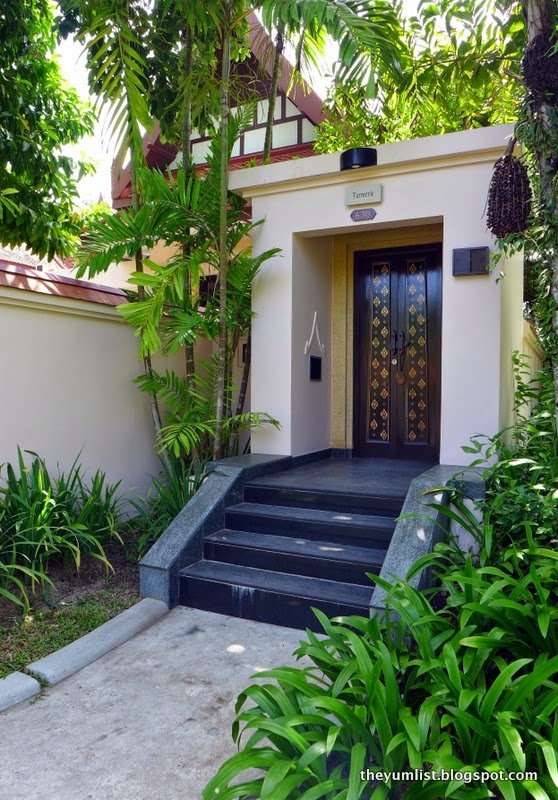 Spa Villa
Unwind thoroughly in your personal Banyan Tree Spa Pavilion, a splendid recreation of a royal Thai sala. Once the large wooden gate closes behind you, you find yourself in a hidden sanctuary complete with romantic courtyard garden. Words cannot express the sumptuous experience that you'll enjoy here, where all the sumptuous beds, seats and platforms are covered in soft green and gold silk. Undress in your private spa bathroom, complete with steam room and Jacuzzi bath. Take your treatment in complete indulgent privacy in the hands of exceedingly well-trained therapists. Rinse off in your outdoor bamboo shower before relaxing with a cup of warm lemongrass tea and a fresh tropical fruit salad.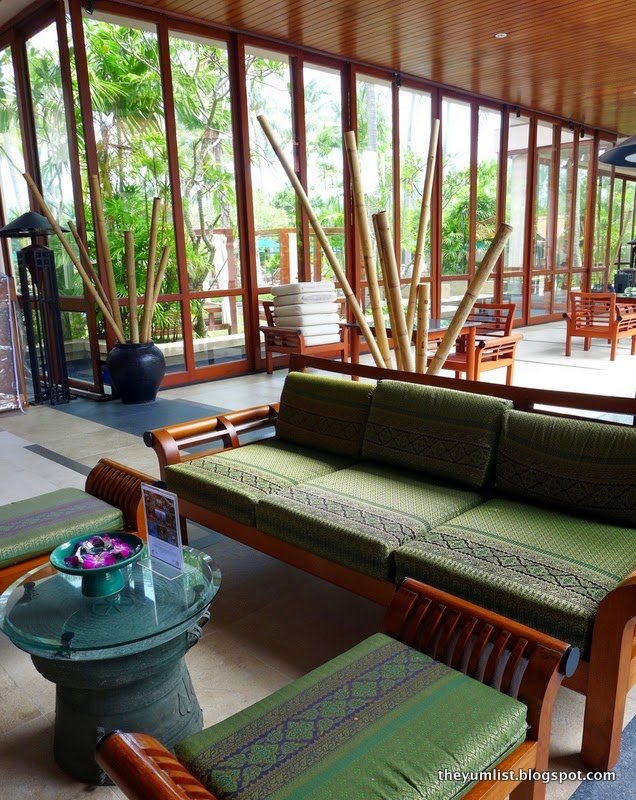 Banyan Tree Spa Lounge
We are very lucky girls today, being treated to three hours of indulgent cosseting. My blissful pathway to complete relaxation begins with a 30 minute back and shoulder massage that has promised to target my tension hotspots. I know, I know, you are thinking, I'm surprised that she has any left after all this time testing Thai spa treatments.  But you know, computers are just the bane of our existence, and every experience is truly needed. Although Banyan Tree Spa does augur well for ensuring that the trip ends on a soothing note. Aromatic oil with chamomile and rose is passed under my face; with my eyes close I inhale deeply. I love this part. The massage oil also contains Vitamin E to firm and nourish the skin. After the first few long strokes, I am completely given over. She focuses much more on my tricky parts around the shoulder and neck, but not one single touch is uncomfortable or invasive. She uses only fingers and thumbs, with the palm of the hand, the pressure just perfect as she weaves away every care in the world.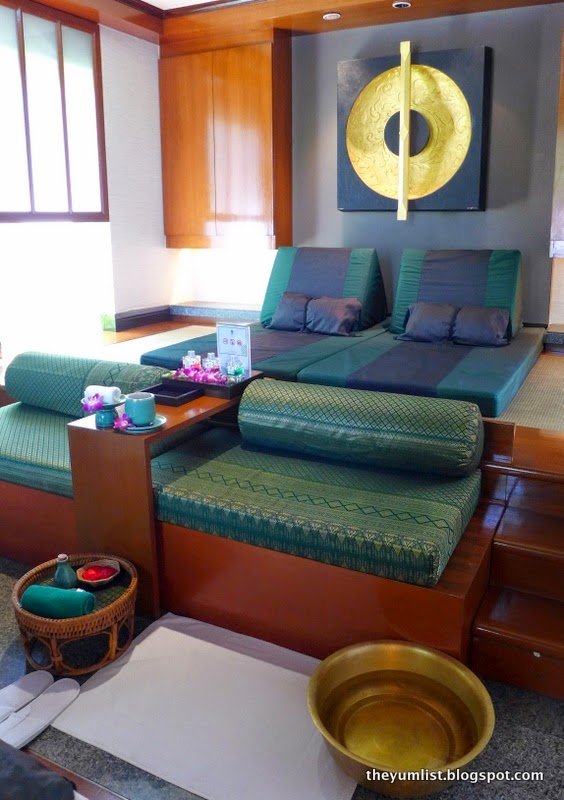 Foot Bath
All too soon it's time to turn over, and I'm pampered and plumped with pillows before receiving the most delightful, slow and thorough foot and leg massage. The pressure on specific points in my feet will rejuvenate me and boost my energy. Although right now all I want to do is drift off to slumberland. This is a talented therapist, one of the best I have experienced, testament to Banyan Tree's thorough in-house training and focus on the healing nature of touch. I feel as though I am floating on air, and only her gentle voice keeps me alert as we move onto the Banyan Brilliance Facial which will of course plump and rehydrate my skin.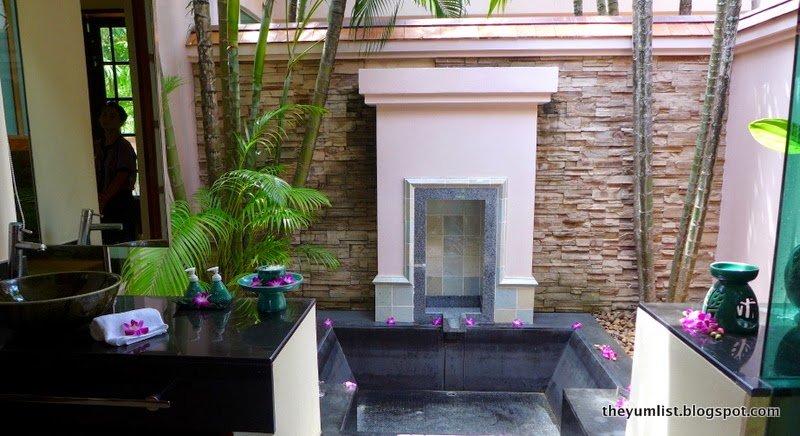 Spa Villa Bathtub
After a gentle facial scrub with a natural green tea product, the lovely therapist applies a mineral eye mask, which she tells me contains lemon and laminaria algae as well as minerals that are good for plumping fine lines and wrinkles. Let's face it; we can all use that these days! While this divine eye mask soaks in, I receive another gentle neck and shoulder massage, this time from underneath, followed by a very gentle facial drainage massage. Using all fingers in rhythm, this is so light, smooth and releasing, that I can feel myself floating off on a cloud.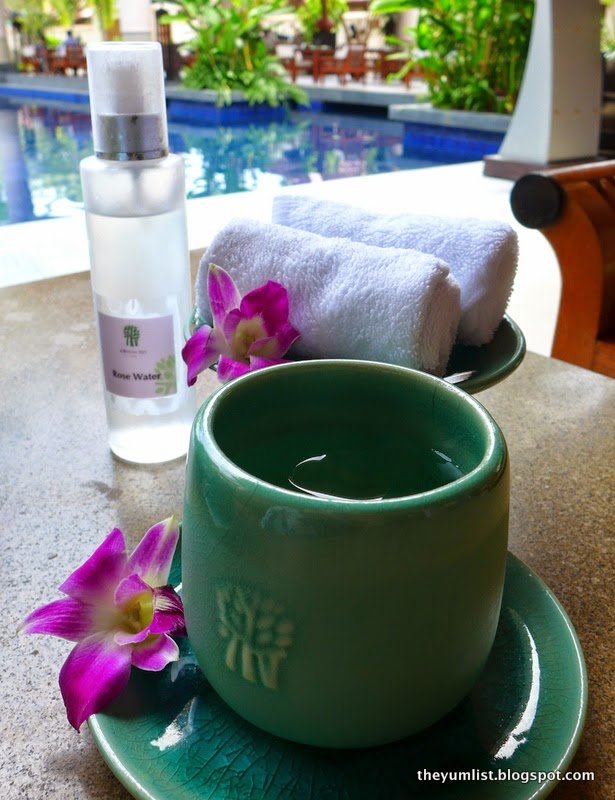 Pre Treatment Refreshment
My blissed out face is now coated in a combination cream and gel mask that comprises a tissue serum, rose water, seawater and collagen, amongst other delightful things that I fail to remember. While this soothes my sun-blemished skin, my lovely girl moves on to massage my hands and arms, and then my feet receive a little more attention too. Not a moment is wasted, and each moment is a blissful one.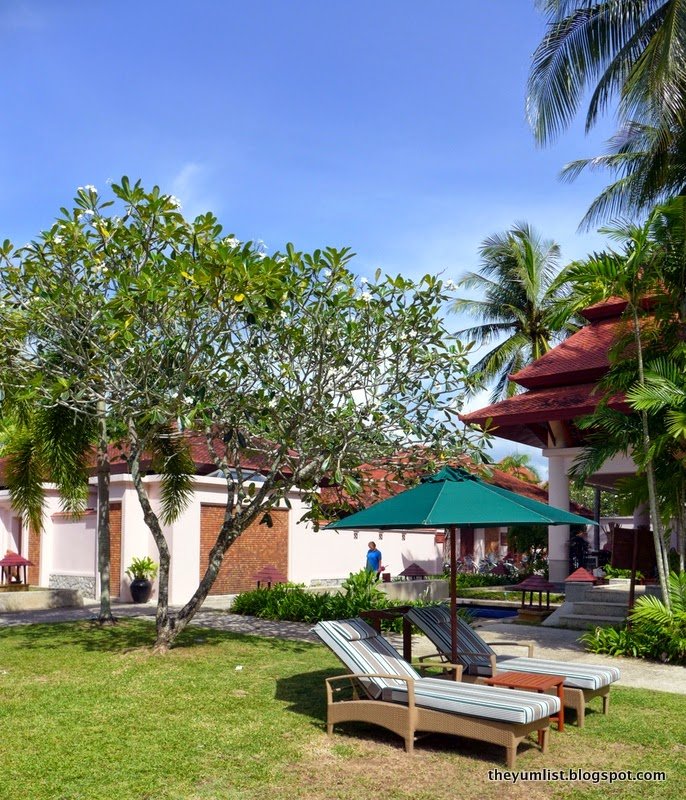 Banyan Tree Spa
An eye and lip contour is the last of eight products to be applied on my pampered face.  This is 100% active serum, with evening primrose, white indigo and red micro algae.  But my treats are not quite over. Banyan Tree takes care of every tiny detail, and a rolled hot towel is placed under my neck and rolled up and down gently. What a delightful way to end. My hands, feet and back are wiped down with further hot towels before I glide to the bamboo shower in the fragrant courtyard and glory in a hot water rinse.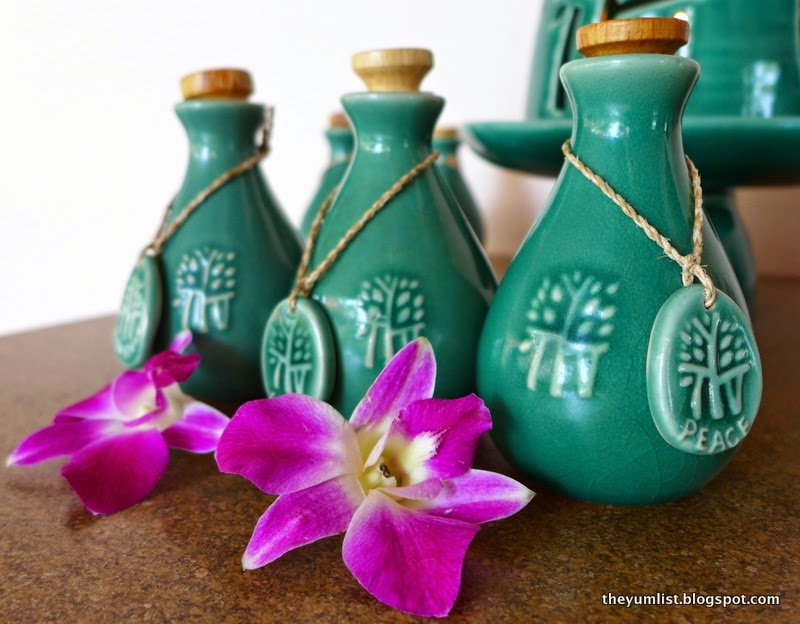 Massage Oils
Totally uplifted and, I sip on warm lemongrass tea and enjoying a tropical fruit bowl of fresh papaya, pineapple and mango, enjoying a few more moments in this complete sanctuary to finish my relaxation by the main pool area, while I wait for Monica. She is a few more minutes and sheepishly admits that she fell asleep during her Premium Age defense facial, probably due to the utter bliss of the Balancing Massage she experienced. She relates a tale of waves of long strokes using the thumb and heel of the hand, with such a perfect medium pressure that she was totally borne away. A tranquilising sensation that melted away all tension and stress. The final touch was the soft and gentle experience of the facial massage that I hear features essential oils as well as mineral extractions. I examine her face carefully and pronounce judgment that she looks both youthful and glowing!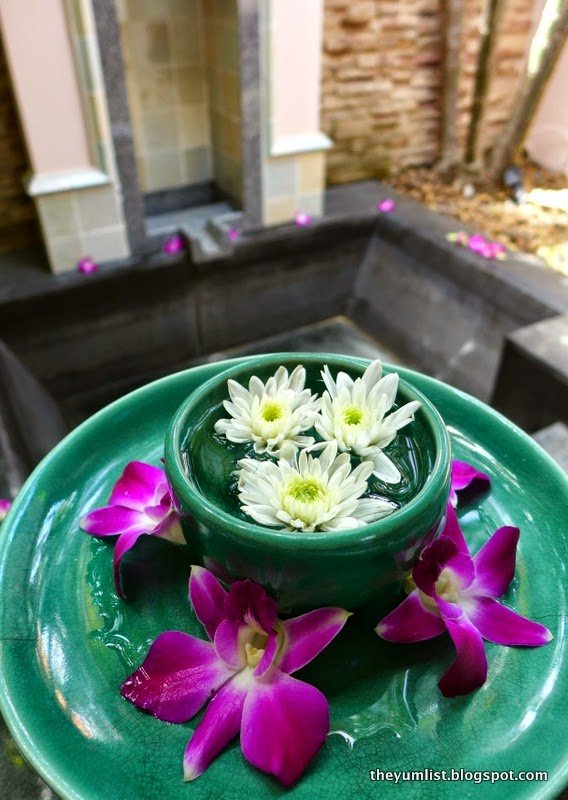 Fresh Flowers
All massages are available in either 60 or 90 minute treatments and each includes a 30 minute refreshment and relaxation time in the your sala. Like the tropical and sacred tree from which it got its name, the Banyan Tree Spa offers guests a sanctuary for the senses – a place for physical, mental and spiritual renewal. The range of treatment packages is quite phenomenal and you can enjoy anything from a 30-minute head massage to a full six hours of therapies with the same attentive care and healing touch. Next time I plan to try the Tropical Rain mist and make the most of the steam and shower facilities too!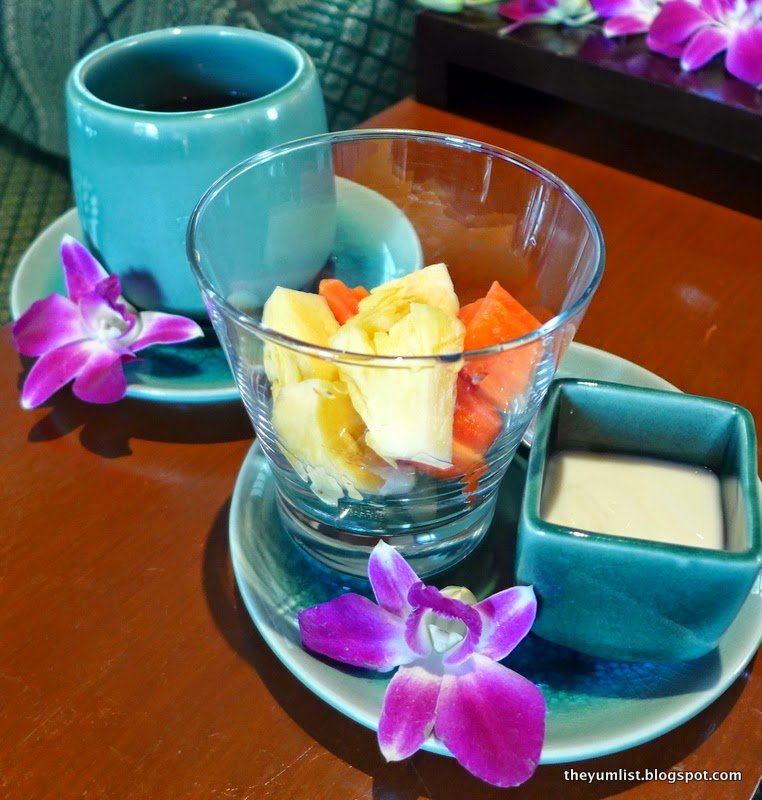 After Treatment Snack
Reasons to visit: the most relaxing and healing spa therapy you will find in Phuket; indulgent seclusion in your own private Spa Sala.
Banyan Tree Spa Phuket
33 Moo 4,
Srisoonthorn Road Cherngtalay
Amphur Talang
Phuket
+66 76 372 400