M8 Bar Sunset Cocktails at KL's Hottest New Bar
Words by Kirsten Durward
Photos by The Yum List (Monica Tindall)
Just recently I was invited to a party that was hippies versus hipsters. I don't know why anything has to be just one or the other. I'm more on the hippy side by nature, but M8, a jazzy new bar just seconds from my gate is definitely on the hipster spectrum with its black and white and chrome decor. Modern to the max yet I feel very relaxed here too. Honestly it is not often in KL that you are assaulted by a sense of space, but capturing the edge of KLCC park with an open view to the twin towers certainly does just that. We've lucked into a cool but sunny day to sample a few of the signature cocktails and snazzy bar snacks here.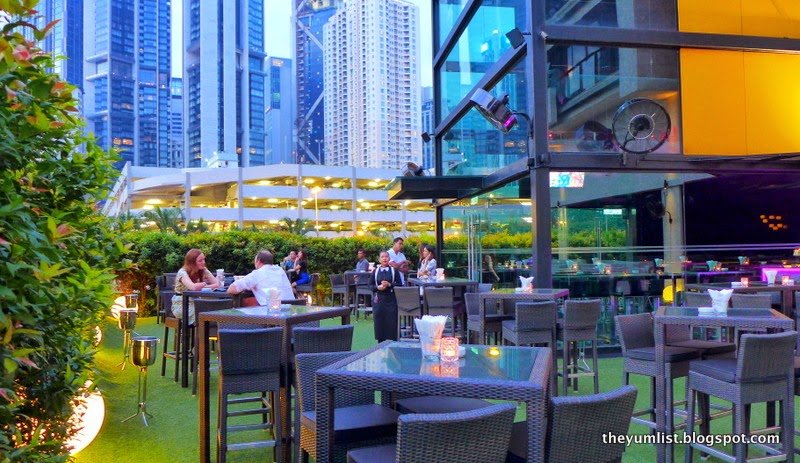 M8 Outdoor Lawn
M8 is on the ground level but boasts clear views of the sky through three story windows, and is almost completely surrounded by greenery. It's a perfect place to enjoy sunset hours and a brilliant private event venue, if you happen to be organising a party.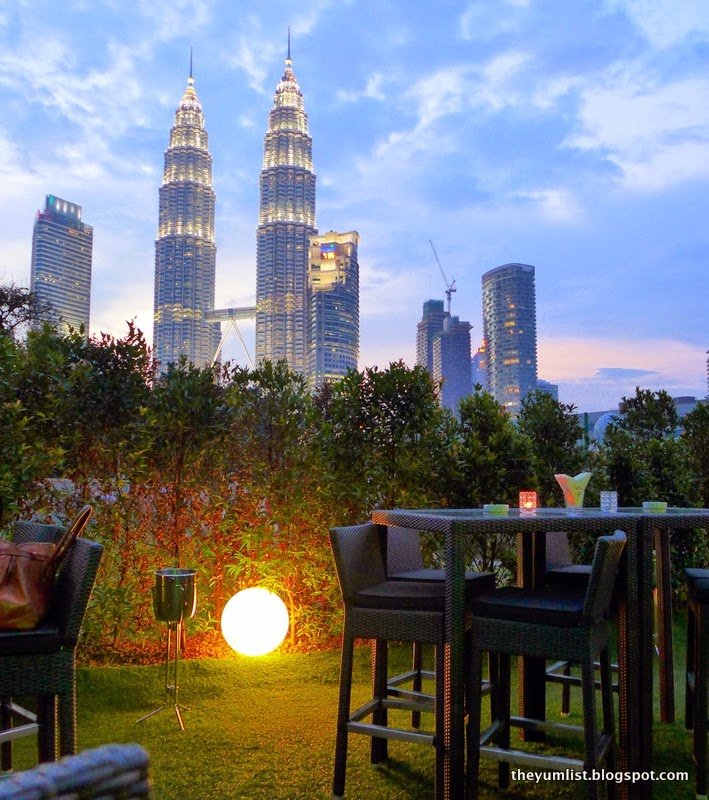 M8, Bar at Marble 8
Cocktails at M8 fall into two categories, Signature and Timeless Vintage. Of course we always want to know what is new and fresh in town so we start with some original drinks from the M8 Signature Collection.
Wolfberry 8 (RM35++) is a gin based cocktail that is served perfectly still and cold. A tangy blend of grapefruit, passion and wolf berries gives the drink its body. The Chinese wolfberry, also known as goji berry is one of the most antioxidant-rich fruits around, and some TCMs believe them to be good for vision. So what more can I say? Try a Wolfberry 8, it's good for your health!
Wolfberry 8
Mora Anatomy (RM38++) causes a few tongue trippers around the table as we practice our syllable splitting. I'd perhaps order this one early in the evening to avoid tongue twisting confusion. It's a clear, clean, light and refreshing sipper of a drink. The Galliano and Frangelico base is lightened with vanilla syrup and lemon juice and sweetened with a hint of blackberry jam. The most intriguing element is the sprinkle of Earl Grey on the top. Entirely elegant.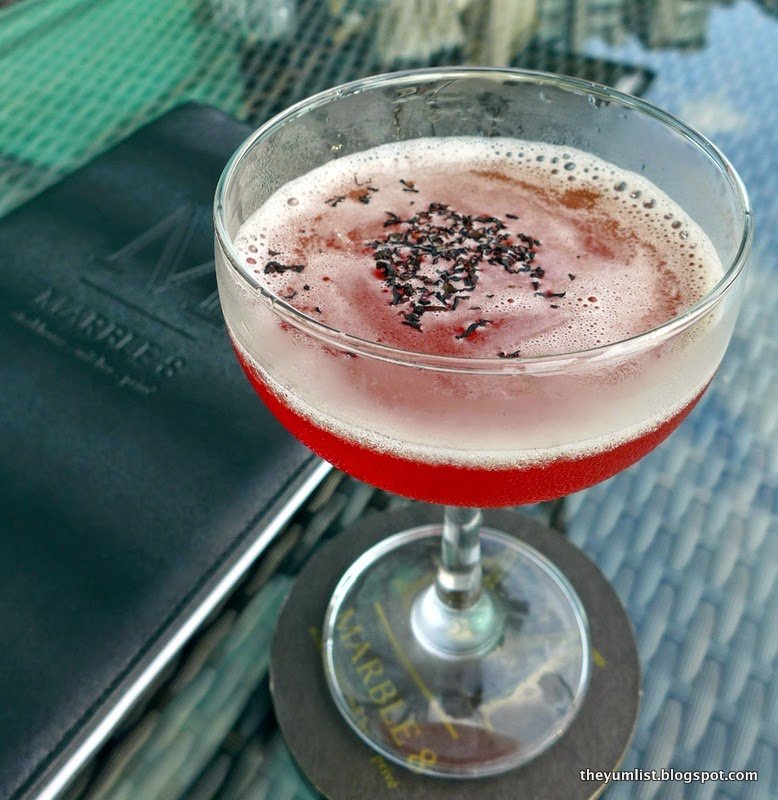 Mora Anatomy
If you love a drink that packs a punch, then the whisky based Ragged Ocean (RM57++) is the choice for you. Angostura and saffron infused orange bitters are added to a lavender-infused Cragganmore 12 year aged to make for a powerful tasting cocktail.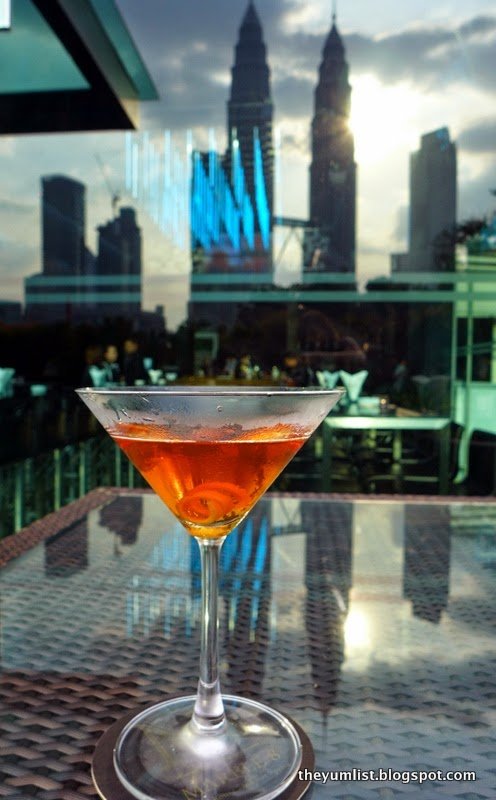 Ragged Ocean
We're tempted into the M8 Timeless Vintage Collection to try an iconic Malaysian cocktail that M8 is reviving. Jungle Bird (RM38++) was originally created at The Aviary, Hilton Kuala Lumpur in 1978. The Campari base is certainly typical of a 70's style drink, while the pineapple and lime juices add tropical notes. I'm all for reviving hey days, and perhaps a new generation of KLers will enjoy imbibing this local classic.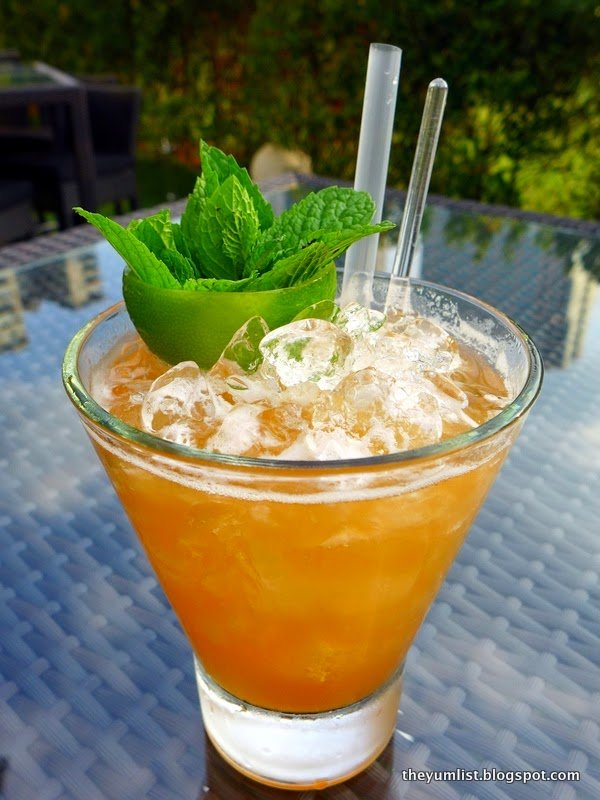 Jungle Bird
Mixed Marinated Olives (RM 22++) are a great choice to nibble on with your drink. I love the variety of colours, sizes, shapes and stuffing. The olives glisten in their bowl, nicely oiled and a yummy variety of tastes. Great idea!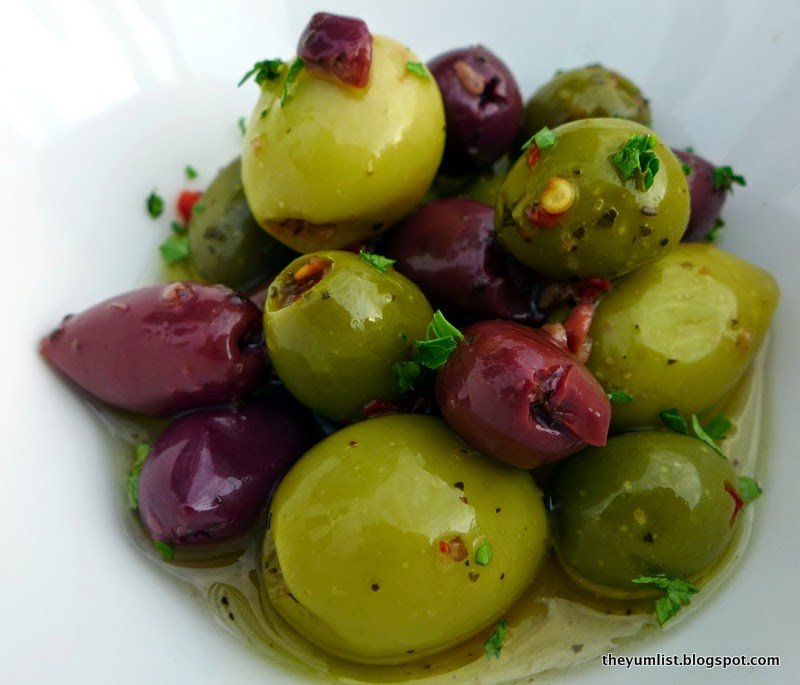 Mixed Marinated Olives
If your tummy is rumbling for a bigger bite, M8 features a few meaty gourmet style dishes, and a selection of bar snacks. From the Urban Gourmet list we try the Angus Beef Sliders (RM48++). These come served three ways, and I particularly love the plain one on black charcoal bread. Mustard, mushroom and onion marmalade is one jazzed up flavour, while quail egg and gooey brie is a sticky combination in the bun. The patties are very beefy, juicy and full of flavour; three meaty pieces add up to a decent sized adult portion with the accompanying garlic scented fries.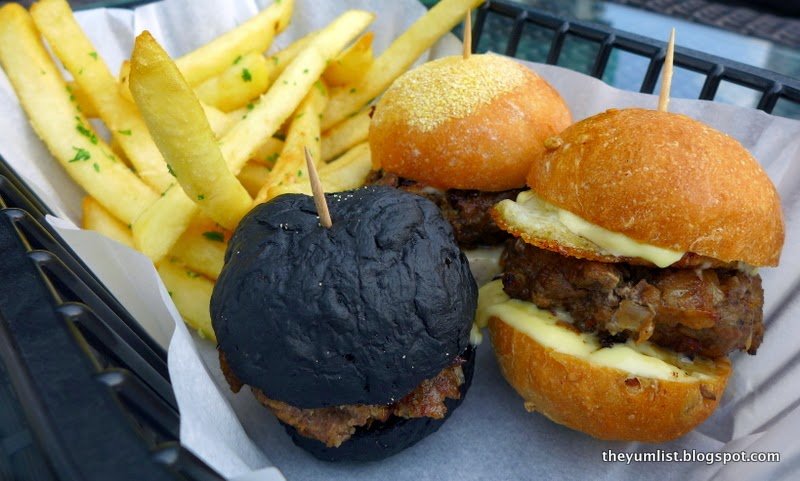 Angus Beef Sliders
Salt and Pepper Calamari with lime aioli (RM20++) cones as very slender rings with a light crisp coating. Finger food that is soft and easy to eat. The aioli is very lightly flavoured, while the salt and pepper is stronger.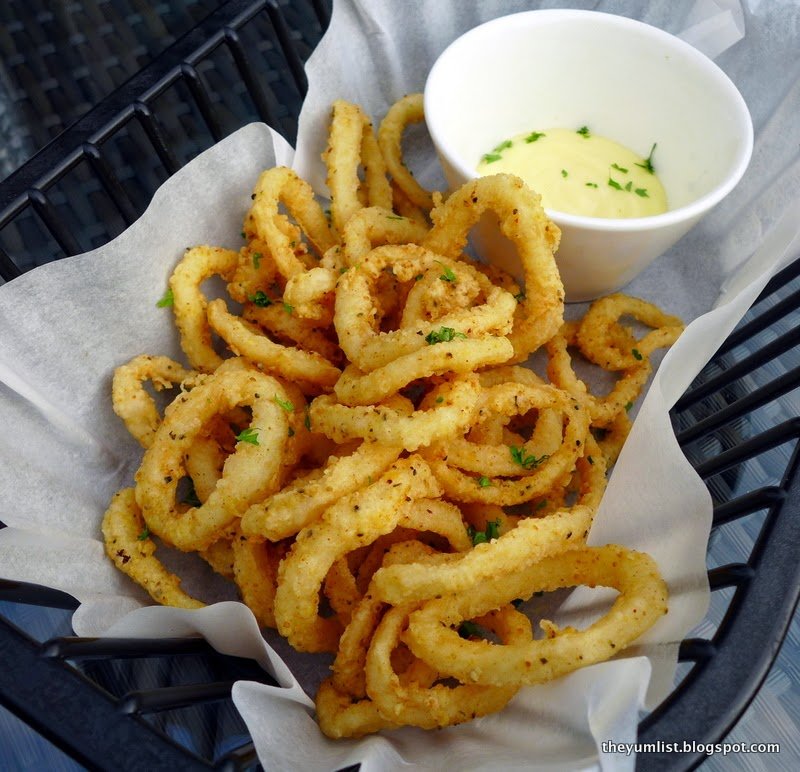 Salt and Pepper Calamari
For the sake of a growing vegetarian market in KL, we opt to sample the Bell Pepper Quesadilla (RM22++). This is a decent portion for a bar bite, with soft tortilla encasing a juicy veggie stuffing. Accompanying freshly chopped tomato, a slightly spicy chunky guacamole and a scoop of sour cream, it's enough to stop tummies from rumbling. If you need a meatier choice you could opt for the roasted chicken or spicy beef additions.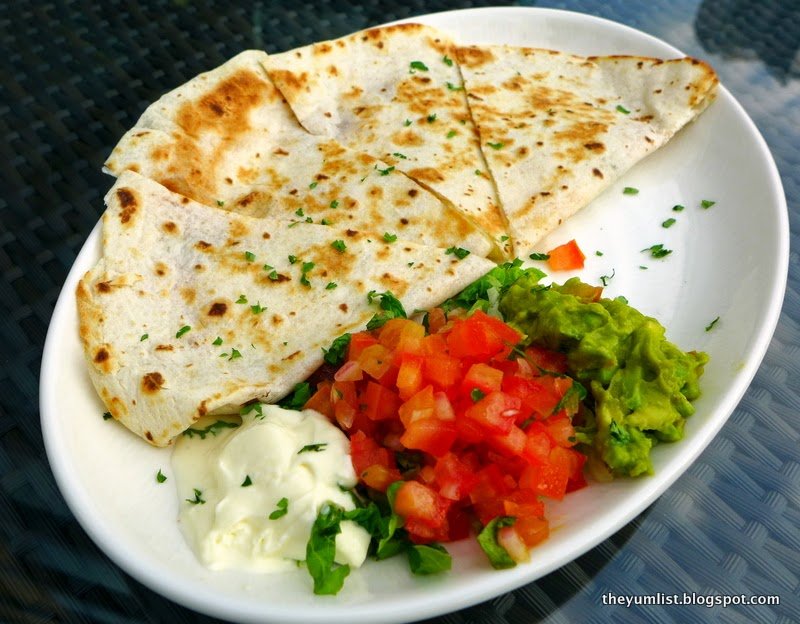 Bell Pepper Quesadilla
The Fried Buffalo Wings (RM25++) are very crispy indeed. More finger food here with a creamy smooth blue cheese dip and celery dippers.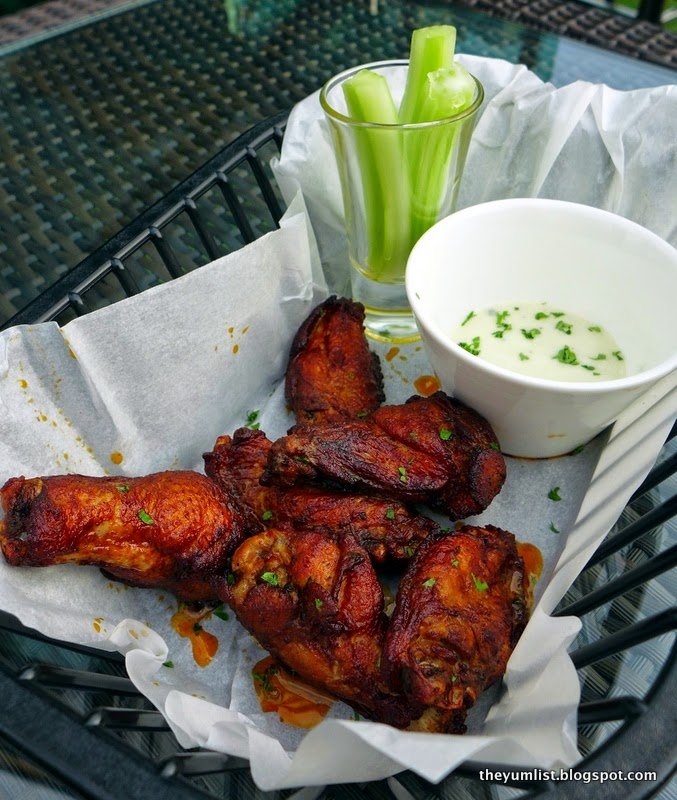 Fried Buffalo Wings
Readers will know that creme brûlée is one of my faves, and Monica just loves anything that is lemon cream. So Lemon Tart Brûlée (RM 28++) with fresh cream and seasonal berries was always going to be a dessert of choice for us. It arrives lightly brûléed in a solid pastry base. The lemon chiffon cream is delicious, one of the best I have tasted. It's so tangy and light it has us all scraping happily.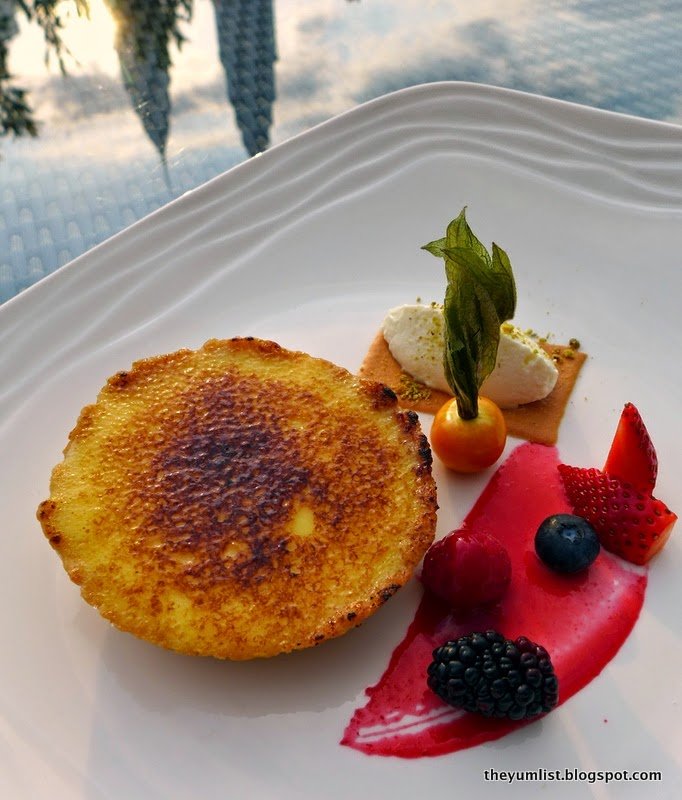 Lemon Tart Brûlée
The sun is beginning to sparkle down behind the towering peaks, and I'm enjoying watching as everything begins to be cast in a slightly golden light. It's that time of night for a post work drink, and I'm tempted to peruse the Sundown hours selection.
City Sundown immediately catches my eye and I decide it is a must try. The drink arrives beautifully presented with its neat cucumber roll and clean clear green colouring. Havana rum, cucumber and mint syrup are blended for your refreshment. Sundown hours at M8 are from 5pm to 9pm daily, and you'll find draught beer, red/white wine, champagne, some spirits and a small selection of cocktails on offer as you unwind from the day's travails.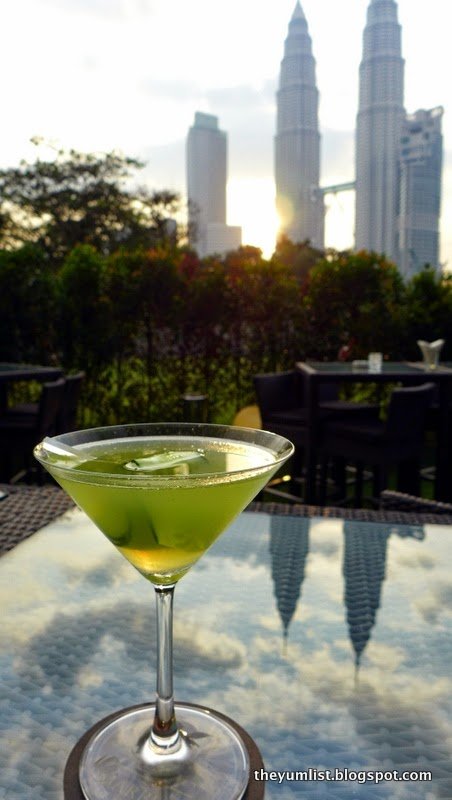 City Sundown
Reasons to visit: Space and open views in the city. Great for an afterwork drink. Music levels that support talking. Wonderful event venue.
M8 Bar is open Sunday to Thursday 5pm – 1am and Friday, Saturday and Public Holidays from 5pm – 2 am.
M8 Bar
63 Jalan Binjai
Persiaran KLCC
50088 Kuala Lumpur
Malaysia
+603 236 6030