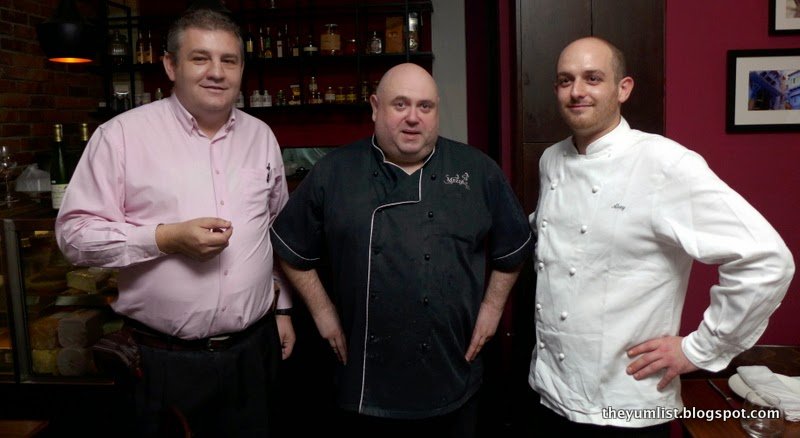 Sommelier, Mezze Chef and Guest Chef at Mezze Wine Bar and Bistro
Mezze Wine Bar and Bistro, Michelin Starred Chef This Week Only
Words by Monica Clear
Photos by The Yum List (Monica Tindall)
Mezze Bar and Bistro is a neighborhood favorite known well to The Yum List. What brings us again to Mezze is not their tried and true quality of cuisine, comfortable atmosphere and knowledagble sommelier, but a visit from guest chef Alexy Fuchs of the one-star Michelin restaurant Le Gavroche in the Alsace region of France. Together with resident chef and sommelier of the house, a creative and varied menu with wine pairings offered some gastronomical surprises that blended local flavors with the flair of France. From foie gras to Rhone River crayfish, Chef Alexy delighted us with treats straight from his suitcase to the kitchen. Plan a visit THIS week, however, as Chef Alexy is only at Mezze Bistro until Friday, August 15th.
Mezze Wine Bar and Bistro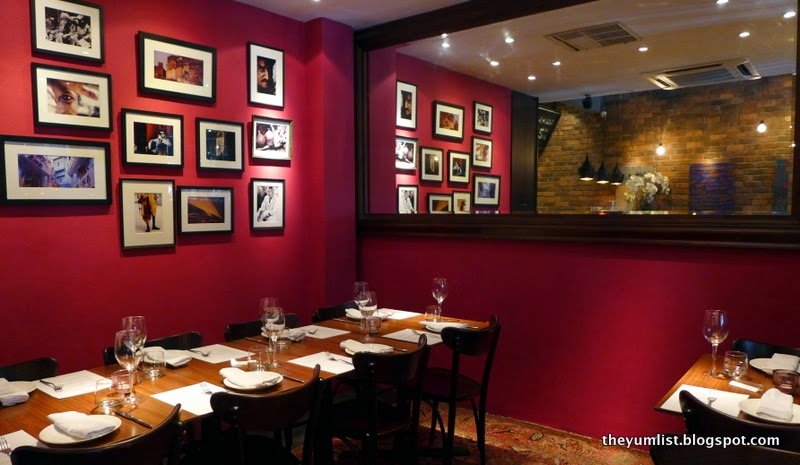 Mezze Wine Bar and Bistro
Mezze Wine Bar and Bistro
To clear the palette and get the taste buds revving, a rocket smoothie garnished with a slice of endive began our meal. Nothing subtle about the bitter flavor here; with a mixture of hand-carried vinegar from Alsace and local rocket, this drink took the green smoothie to a whole new level. And we were ready for more.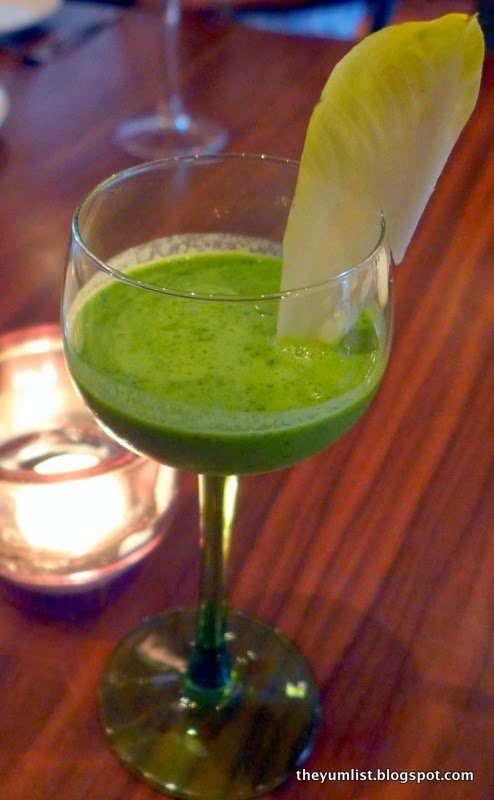 Amuse Bouche – Rocket Gazpacho
The first of two appetizers were served: small, round slices of beetroot with whipped goat cheese and sprinkles of red cabbage. Both the display and the taste were pleasing, as the sweetness of the beetroot blended well with the dollop of creamy cheese and chive topping, and the additional crunch of the thin red cabbage shavings.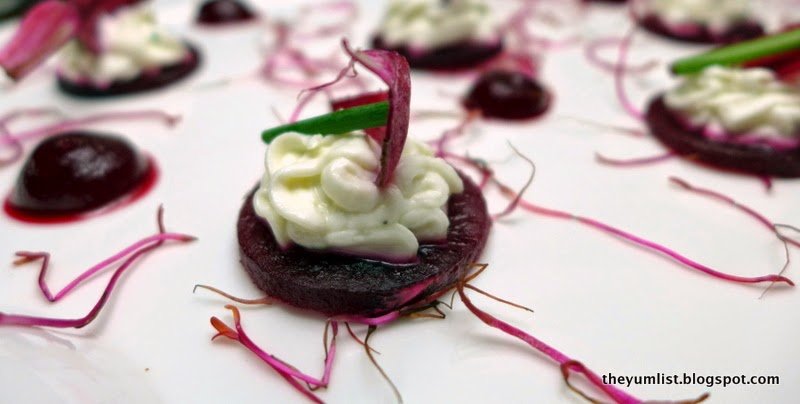 Amuse Bouche – Beetroot and Goats' Cheese
Next came a seared Foie Gras topped with roasted cashew nuts and sitting on a bed of caramelized apricots. Say what you will about Foie Gras (and there is a lot to be said about it), it is a dish that is synonymous with French cuisine and is therefore appropriately part of Alexy's menu. This foie gras was delicate, rich, and buttery, and complemented by the crunch of the nuts and semi-sweet, soft apricots. Paired with a fruity, organic Gewurztraminer (free of sulfites and pesticides), this appetizer was a true delight, one in which I rarely indulge but thoroughly enjoyed.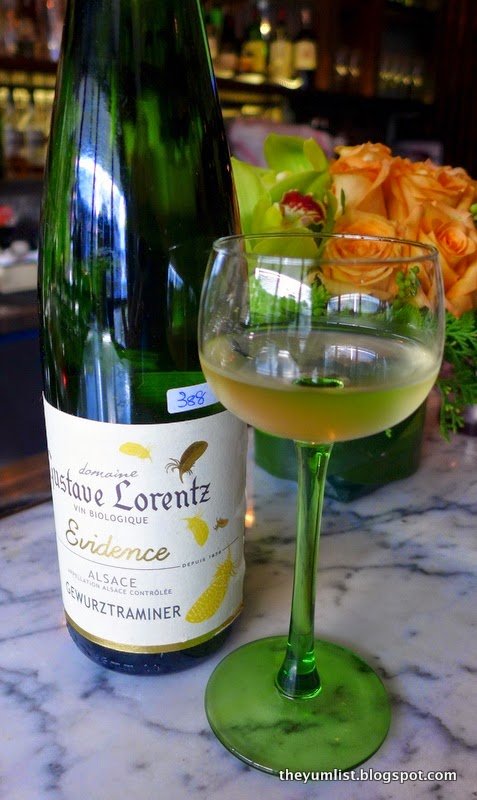 Organic Gewurztraminer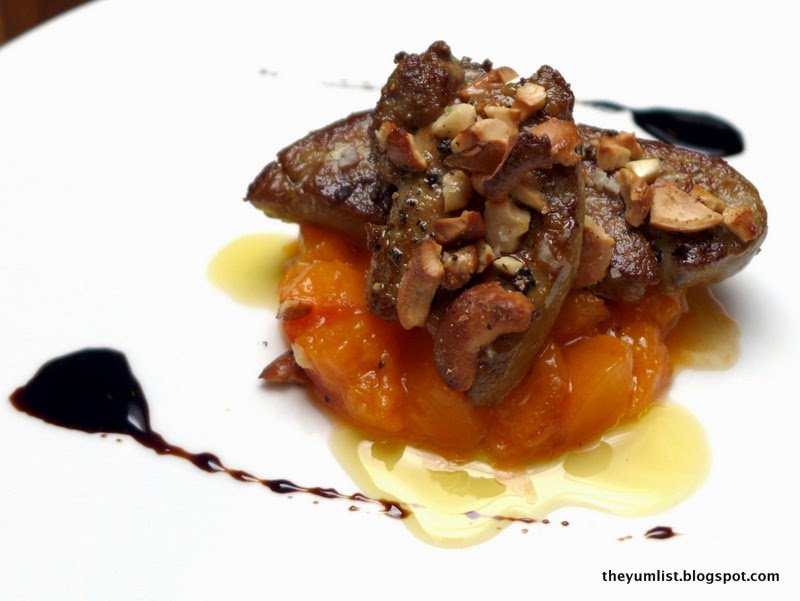 Foie Gras with Apricots and Cashews
Next came a fascinating Cream of White Cocoa Bean Soup with Sweet Garlic. Served in a cappuccino style coffee cup and so full of latte froth that the entire experience of eating it (and I did finish it all) involved reconciling the rich white garlicky soup broth taste with the outward appearance of a Starbucks latte with cinnamon sprinkles. I love it when food shakes up the on-going love affair between the eyes and the mouth, so this soup was memorable to me.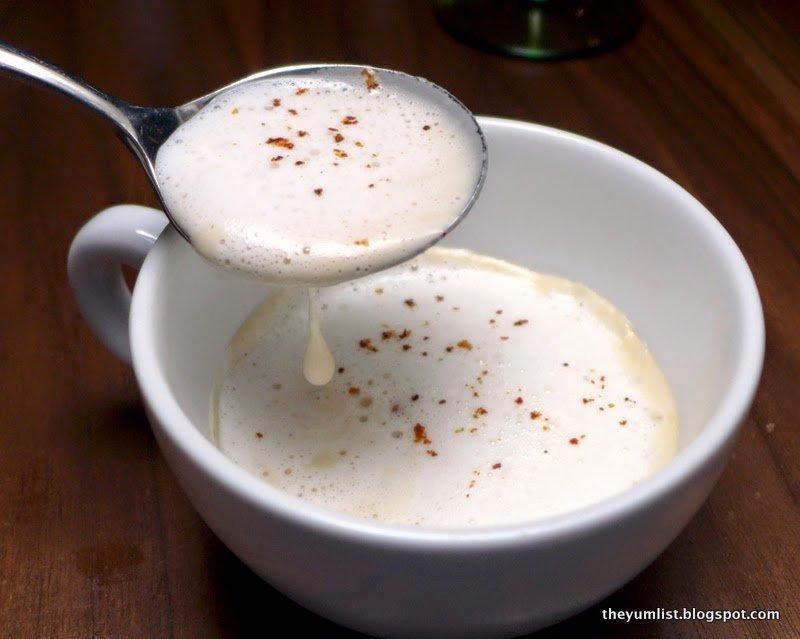 Cream of White Cocoa Bean Soup with Sweet Garlic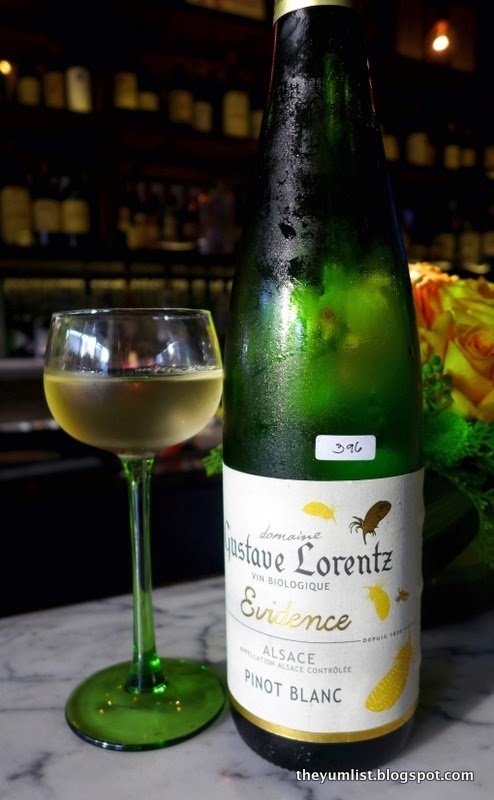 Alsace Pinto Blanc
The main courses were next, with tastings from two fish dishes, a quail stuffed with crayfish, and a veal rib rack. The first, Turbot, was a simple display of fish atop risotto, but many diners among us found this the most pleasing entree. The fish was charbroiled to perfection and the Imperial risotto with chicken jus was delicious. This dish was paired nicely with a Pinot Blanc, which the Sommelier claimed was unique to Alsace in its flavor.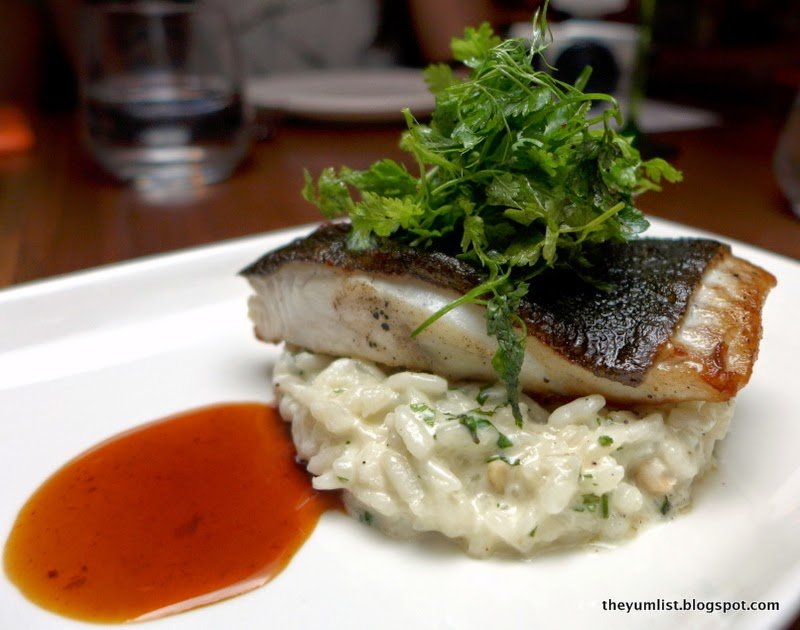 Turbot with Risotto
The second fish was a pan-fried Black Cod with bouillabaisse, fennel and saffron sauce with toast. Chef Alexy put together a lovely display with the fennel and saffron color, but this entree was the lesser favorite of the two fish.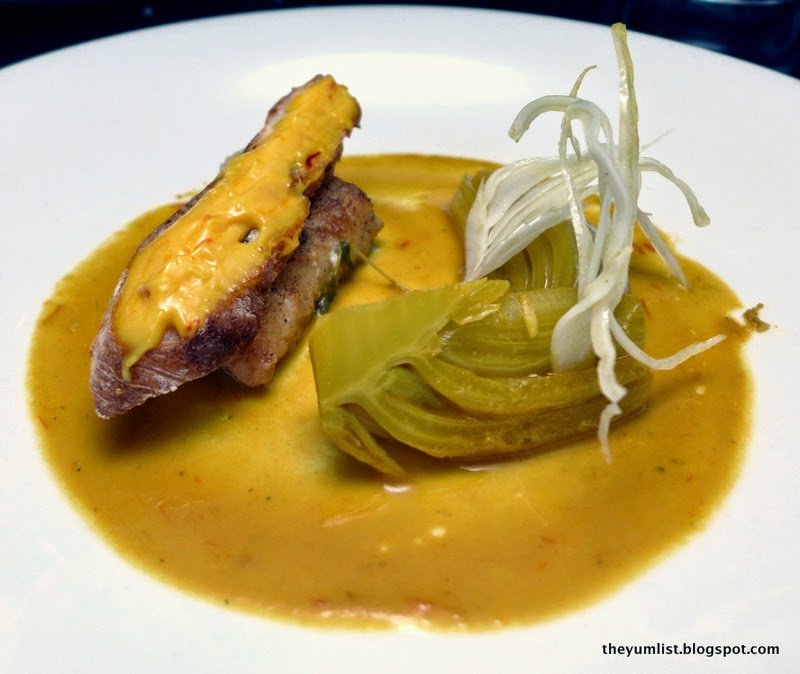 Black Cod with Bouillabaisse, Fennel and Saffron Sauce
The quail stuffed with crayfish and mixed herbs caused much conversation among the diners, as it was served with a sizeable whole crayfish atop a mound of classic mashed potatoes. Originally from the Rhine River and brought to Malaysia by Chef Fuchs, the crayfish meat was rich and slightly peppery inside the crispy, nicely cooked quail. This dish was paired with a chilled Pinot Noir unique to Alsace.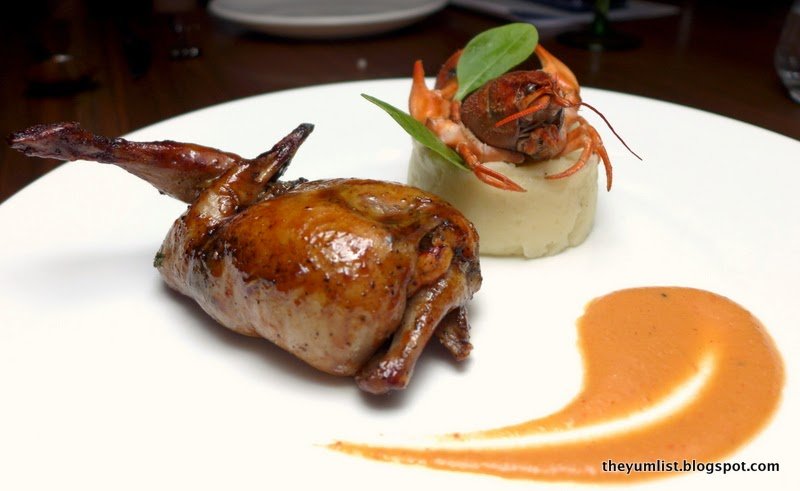 Quail Stuffed with Crayfish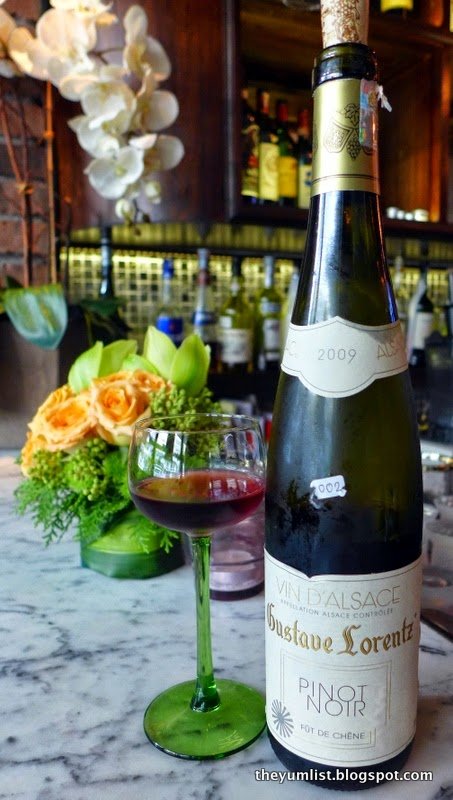 Alsace Pinot Noir
The final entrée tasting was Veal Rib Rack cooked at 50 degrees Celsius over ten hours and served simply with a beautiful display of barely blanched vegetables. Veal is another treat for me, and I found this cut to subtle in flavor, but soft, juicy and perfectly done. The vegetables were a wonderful complement to the meat.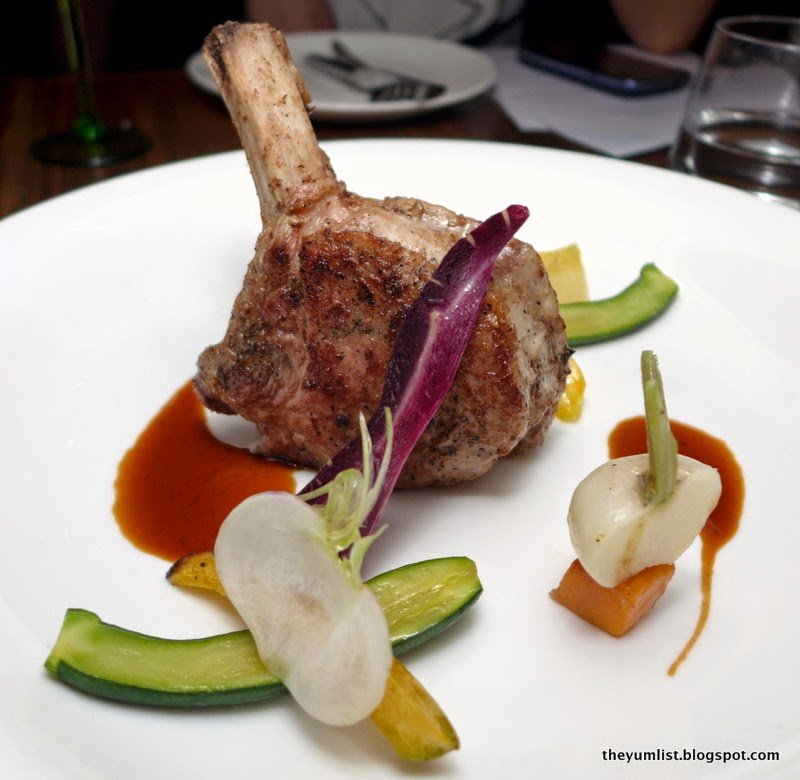 Veal Rib Rack
For dessert, we tasted a Passion Fruit Panna Cotta Cup and a Chocolate Macaroon with Passion Fruit Sorbet. With its distinct flavor and local availability, I don't blame Chef Alexy for using passion fruit in both desserts – both were successful and indulgent. The Panna cotta was a lively blend of the slightly sour fruit with the richness of the cream, and served cleverly with a thin sliver of grilled pineapple.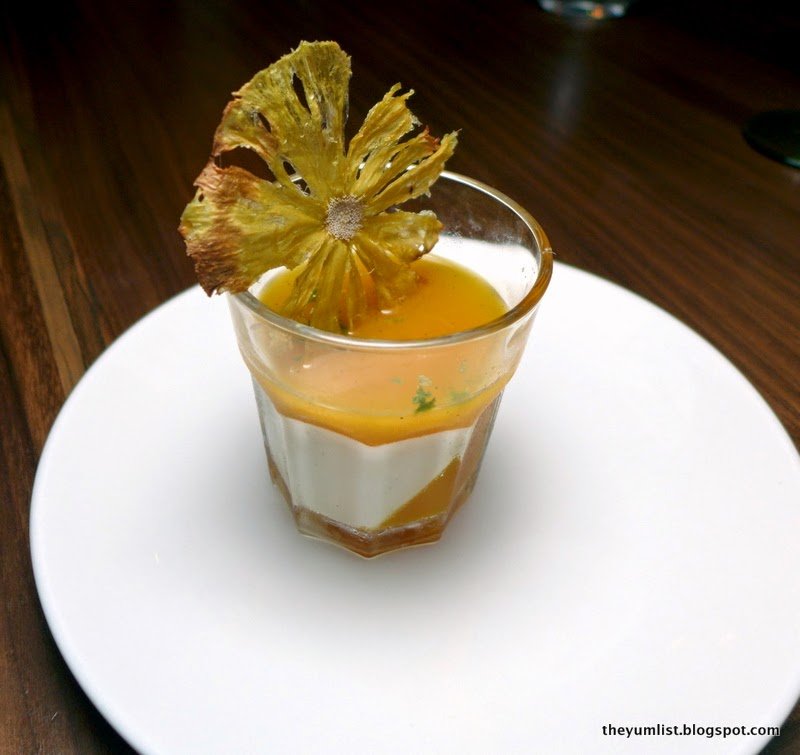 Passion Fruit Panna Cotta Cup
The Chocolate Macaron played cleverly on the local popularity of this extraordinary cookie, and was fun to eat. With a bite of cold, sweet, dripping, sorbet sharing the spoon with the crispy merengue cookie and buttercream filling, this was a delightful way to end the meal.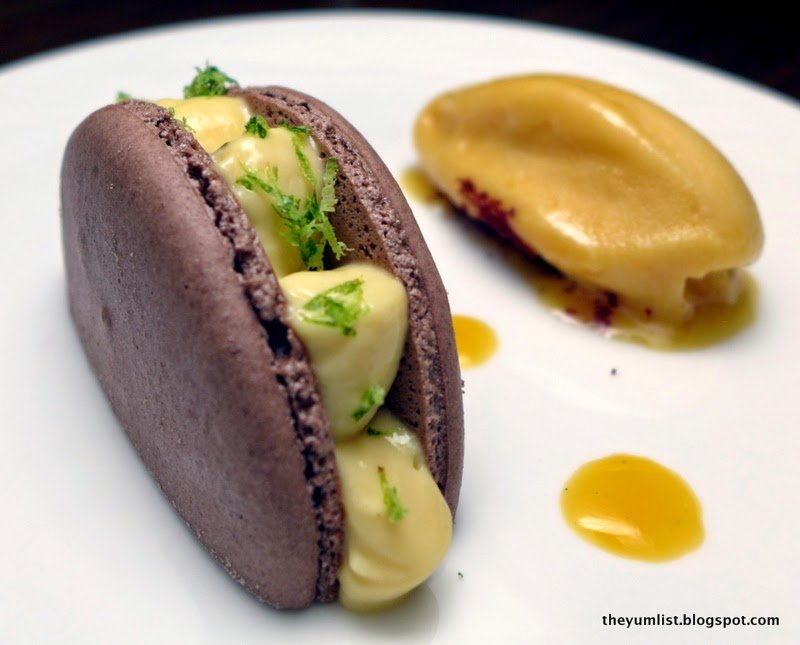 Chocolate Macaron
In pairing the desserts, diners were given an option of Eau de Vie (Water of Life) or a sweet wine, both Alsace region specialties. The sweet wine was a very nice dessert wine and the Eau de Vivre, a schnapps variety, with flavors of raspberry, sweet plum, wild strawberry and pear. If you are lucky enough to sample these, ask the sommelier how the robust pear gets into the carafe with the small neck. It's an example of how the French go to great lengths for perfection in their food and wine. Lucky for the rest of us!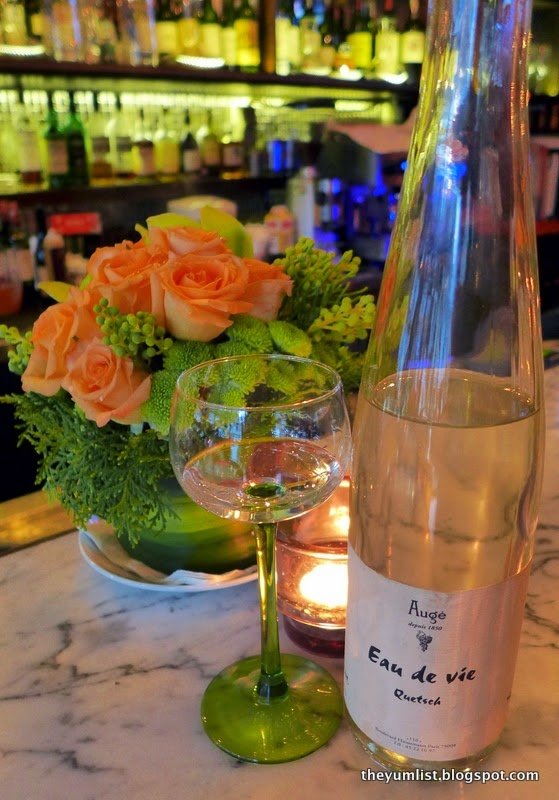 Eau de Vie
Reasons to visit: one week only to taste the menu of a Michelin starred chef in Malaysia; excellent selection of Alsace wines to match cuisine from the same region; beetroot and goat's cheese amuse bouche; cream of white cocoa bean soup; turbot risotto; desserts – Chef Alexy is a pastry king!
Mezze Lounge
132, Jalan Kasah, Medan Damansara,
50480, Kuala Lumpur, Wilayah Persekutuan
Malaysia
+6 03 2095 0122