Dubbed a 'water palace,' Kriya Spa breathes peace and tranquility from the moment we arrive. Wide cement tiles form a path over a pond, sided with cascading water features and verdant rows of manicured reeds and trees, and leads us to the open-walled spa lobby.
A smiley receptionist greets us with that warmth distinctive of Balinese service, and we sip on refreshments while confirming our pleasure, the Sweet Memories Package. Our therapists collect us personally and escort us down a breezy walkway to one of twenty four private spa villas.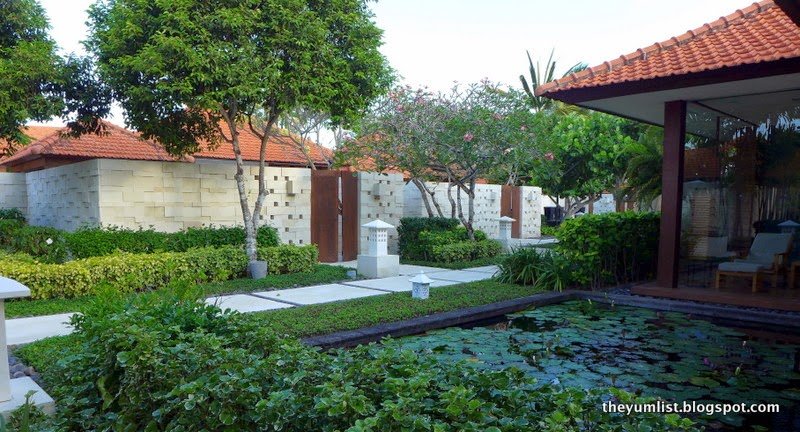 Kriya Spa
Treatment rooms hued with earthen tones of wood and beige, and adorned with locally woven fabrics and upholstery, gift the interior with a peaceful ambience that maintains a strong connection to the local culture and landscape. While inside is dark encouraging deep relaxation and mental repose, the outdoor wet treatment alcove is washed with white and natural light, stimulating the senses gently back into full awareness.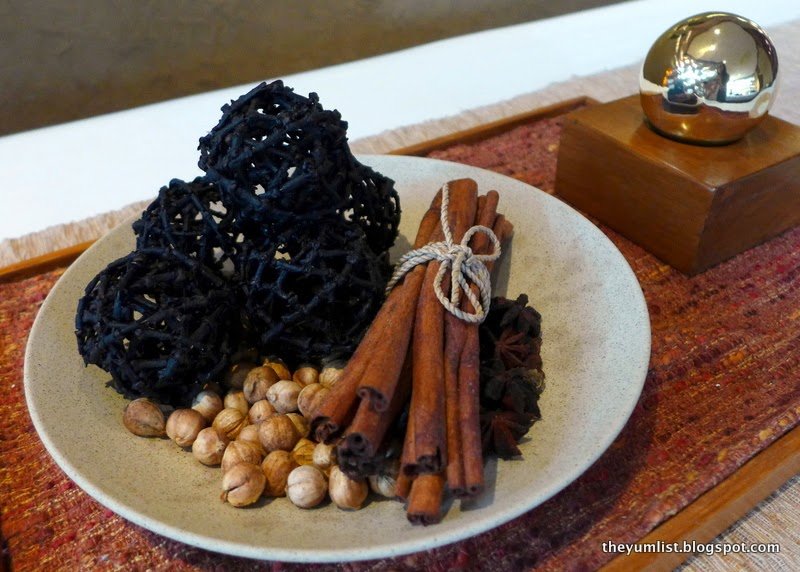 Natural Products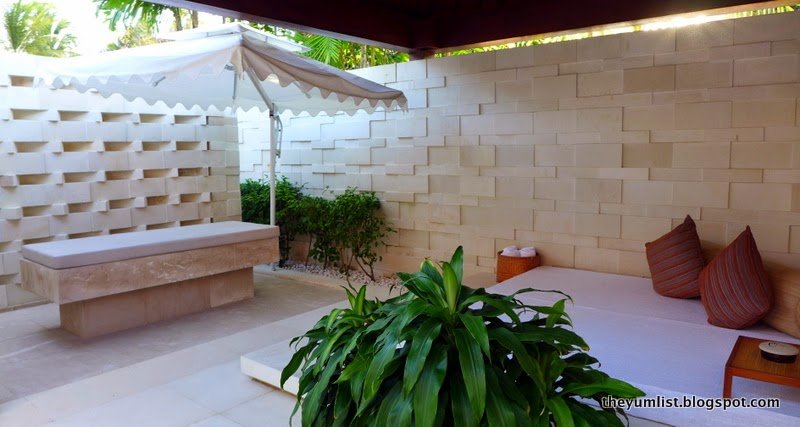 Spa Villa Relaxation and Wet Treatment Area
The four Balinese healing rituals of harmony, energy, purity and bliss are the core of the treatments at Kriya Spa. Utilization of these principals and, natural healing products native to Bali, are combined with a contemporary experience forming a blissful haven and ultimate holiday indulgence.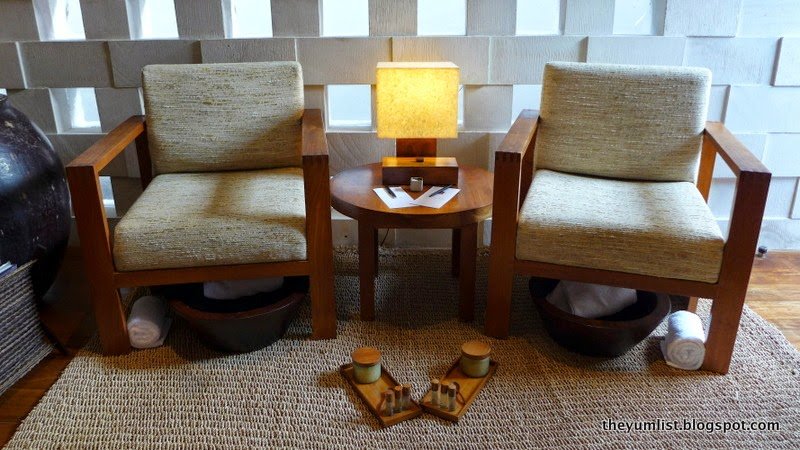 Chairs for Pre-Treatment Foot Bath Ritual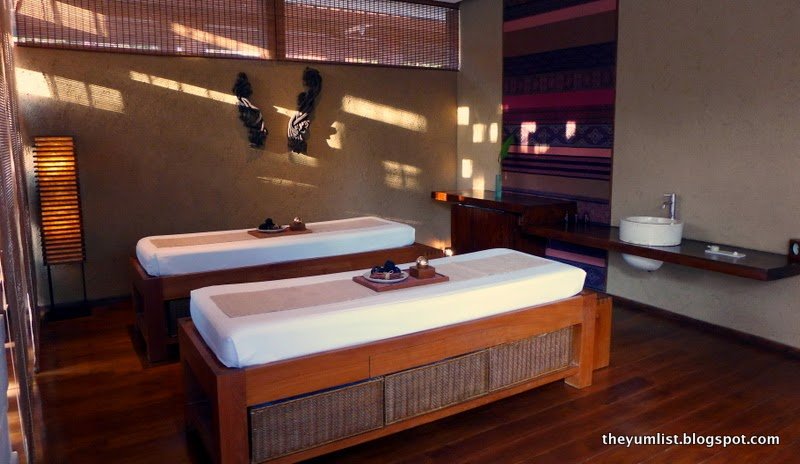 Spa Villa Treatment Room
The Sweet Memories Package begins with a Kriya welcome mint tea. A swerve from the oft served ginger or floral teas, this herb is refreshing and cooling.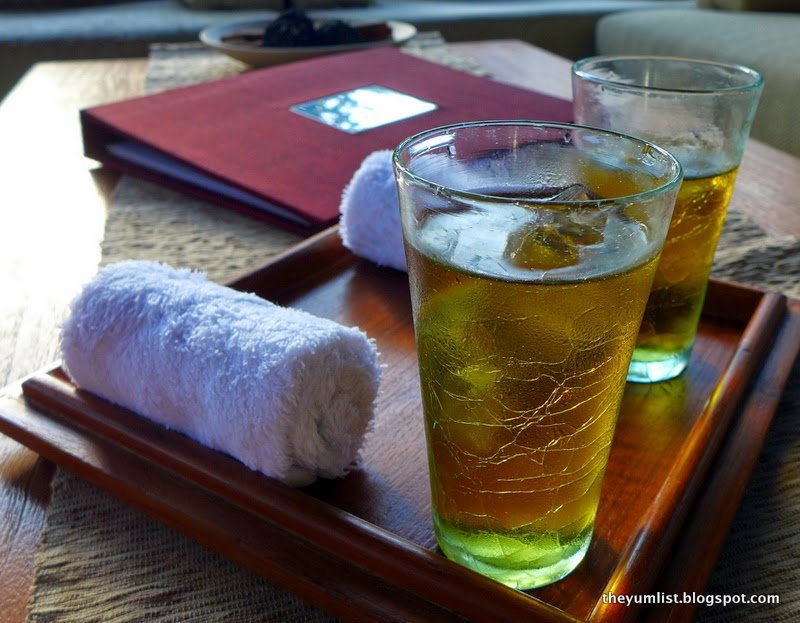 Welcome Mint Tea
An Anti-Stress Full Body Massage is the meat of the session. Lasting for 60 minutes, muscles are eased with the use of thumbs and heals of the hands pressed firmly into the body and lifting slowly releasing tension with each change in pressure. The massage oil is smooth and viscous and glides over our skin.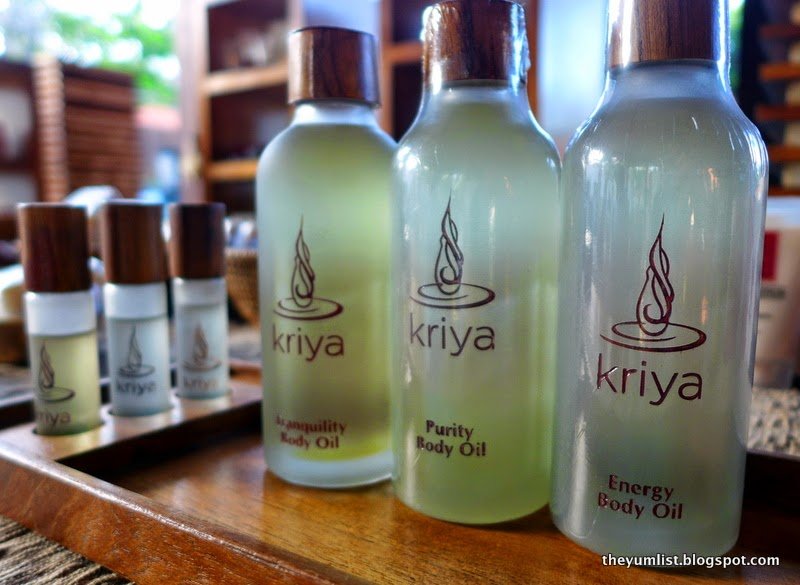 Kriya Spa Products
An hour's use of the Kriya Spa villa facilities such as soaking bathtub, plunge pool and relaxation gazebo is included with service of Kriya Spa Island Spice Purifying herbal tea throughout. After a dip and a soak, we recline on the padded daybeds contemplating what a beautiful experience it has been so far.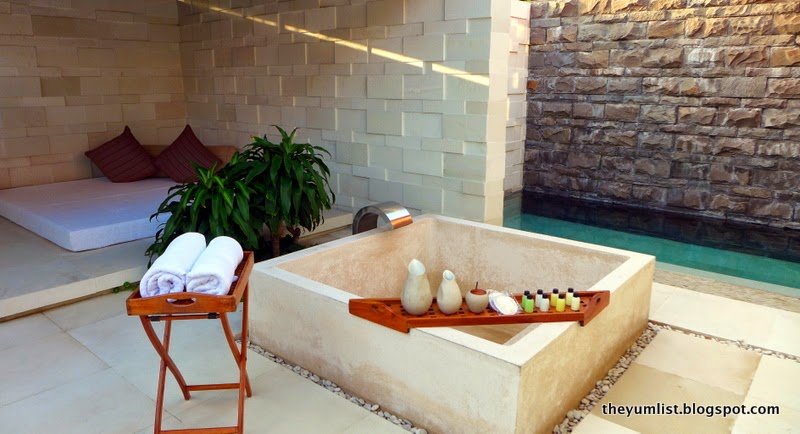 Spa Villa – Day bed, soaking tub and dipping pool
Feeling floaty and serene we head to Pesona Lounge where we take a table garden side to maximize on the scenic surrounds. It is here the Sweet Memories Package concludes with afternoon tea.
Pesona Lounge
Unlike many lobby lounges, Pesona Lounge at Grand Hyatt Bali is open walled and rimmed with gardens. A rainbow wave of lush blooming plants – green, yellow, maroon, purple and white – rolls down to the sea. In the distance wild waves rush to meet the shore, and a collision of white habitually splashes to the midground as white caps froth and swirl over the rocky headland viewed to the left.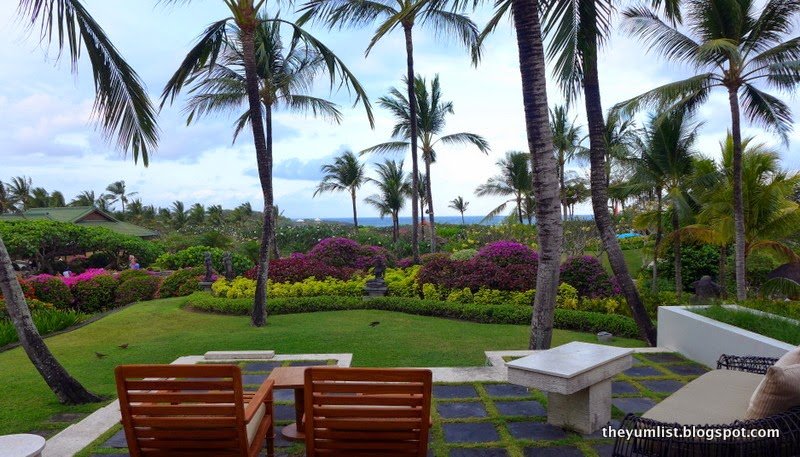 Pesona Lounge Garden Views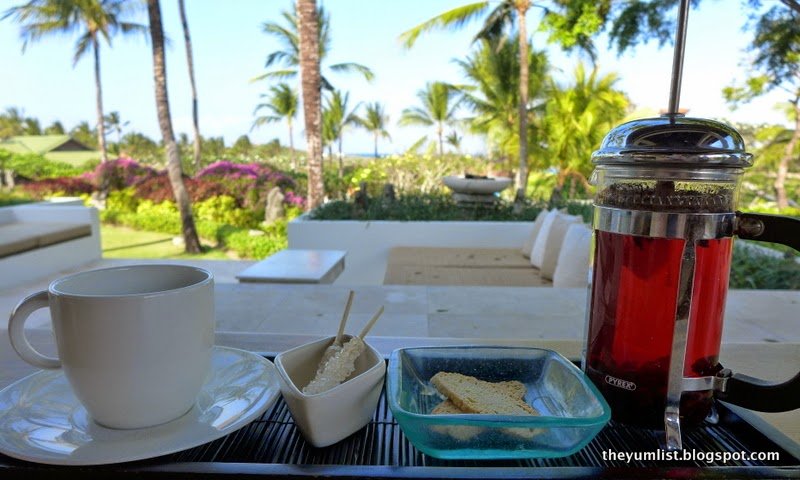 Tea
Our requests for tea or coffee are taken as two three-tiered platters of sweets and savouries are delivered. If you're counting calories, I'd skip the scones with jam and cream and go straight to the most delicious items on the plate, the éclairs. Taut oblongs of choux pastry with fat fillings of fluffy chocolate and pistachio flavoured whipped custard are again topped with icing of matching flavours. Each bite causes the thick cream to ooze from the sides, but it's not a problem as these babies are finished off ever so quickly. Two bites and they disappear like a flash of lighting. Chocolate chip cookies, coconut macaroons and small bites of opera and chocolate cakes make up the rest of the sweets.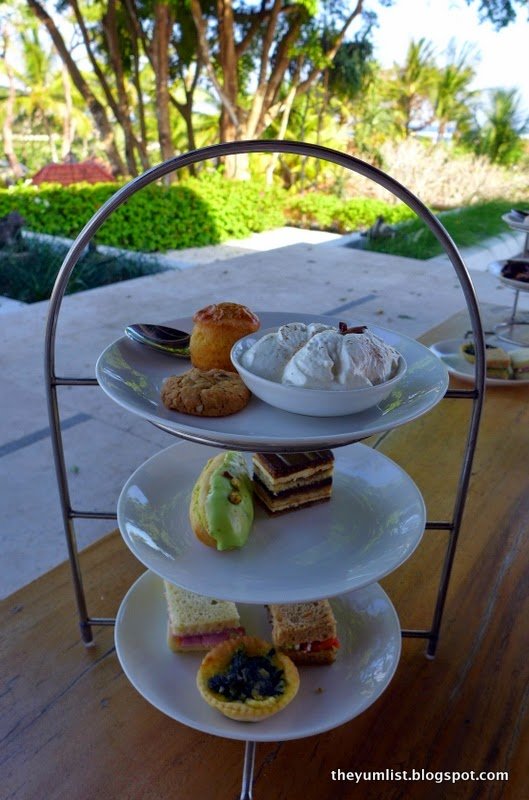 Afternoon Tea Set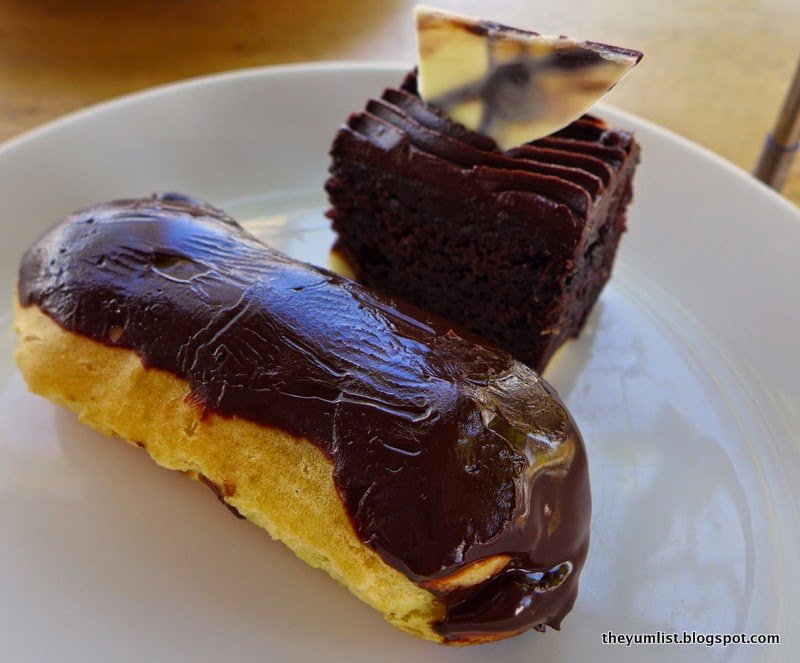 Chocolate Eclair and Chocolate Cake
Two finger sandwiches, ham and cheese, and roasted vegetable, are the bulk of the savoury plate. The veggie version has a thin spread of mustard and is on brown bread winning my affections. A vegetarian quiche completes the final layer and is packed with spinach and pepped up with a cheesy topping.
Priced at $80 USD for the one hour massage, one hour's use of facilities and afternoon tea, the Sweet Memories Package is a good deal for a luxury hotel spa. If we had time, we'd probably sign up for another session of pampering before departure.
Reasons to visit: Sweet Memories Package; beautiful 'water palace' themed facilities; bewitching garden views from Pesona Lounge.
Kriya Spa and Pesona Lounge
Grand Hyatt Bali
Kawasan Wisata Nusa Dua BTDC
Nusa Dua, Bali, Indonesia, 80363
+62 361 77 1234
bali.grand.hyatt.com/en/hotel/home.html