Little India might seem like an unlikely neighbourhood to find some of the most talked about French cuisine in the city, but indeed it is the home to some of the most frank European fare we've had on the island of Singapore.  Nestled on the ground floor of the Wanderlust Hotel, the ambience is just as cosy and unpretentious as the food.
Polished cement, exposed bricks and fat solid planks of timber compose the floors and walls. Exposed pipes from the uncovered ceiling are painted over white, where a speckling of spotlights drop down illuminating the bar and tables with a warm glow. It's worth paying close attention to the details as there are subtle surprises to be found everywhere, such as what first appear as red lampshades above the bar turning out to be bottles of red soda strung around light bulbs.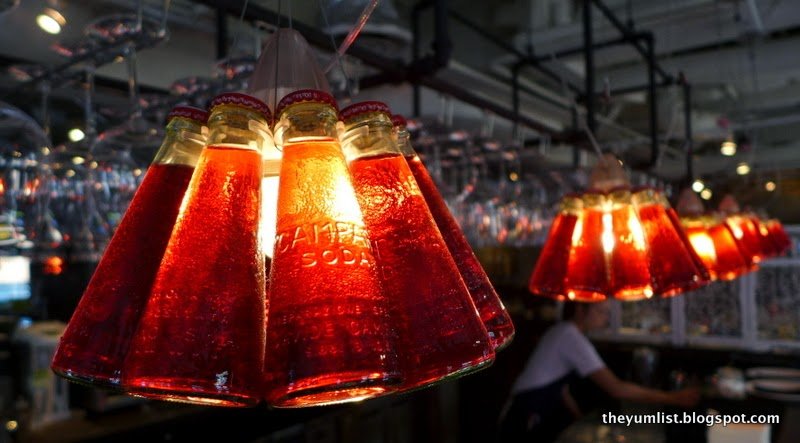 Soda Bottle Lamps
Brightly painted metal triumph chairs are gathered around recycled wooden topped tables and placed in close proximity encouraging conversation and possible interaction between reservations. Blue and white checkered napkins sit atop white plates, and canary yellow tins hold the cutlery. Water is poured from cherry red pitchers and plating is often in the form of a chopping board or primary-coloured ceramic pot.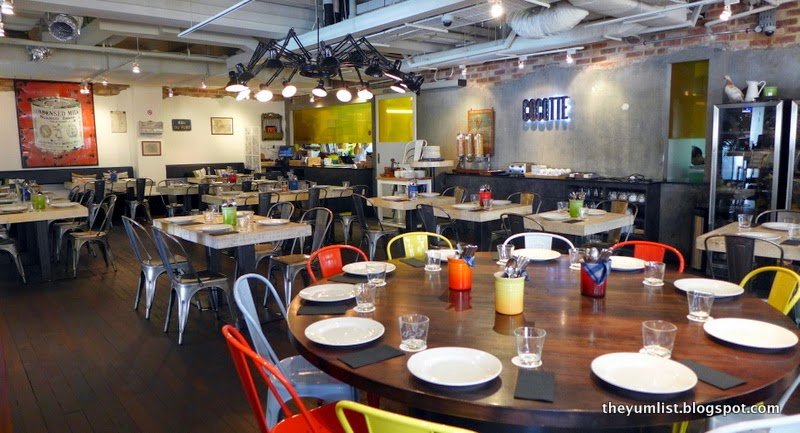 Cocotte Dining Room
Most suited for outings with family and friends, Cocotte encourages community dining by sharing big plates of rustic, freshly prepared French cuisine. Designed to bring to the forefront the ritual that threads many cultures across the world, that of sharing a meal together, please put away your devices and count your blessings for these precious moments with your chosen supping partners.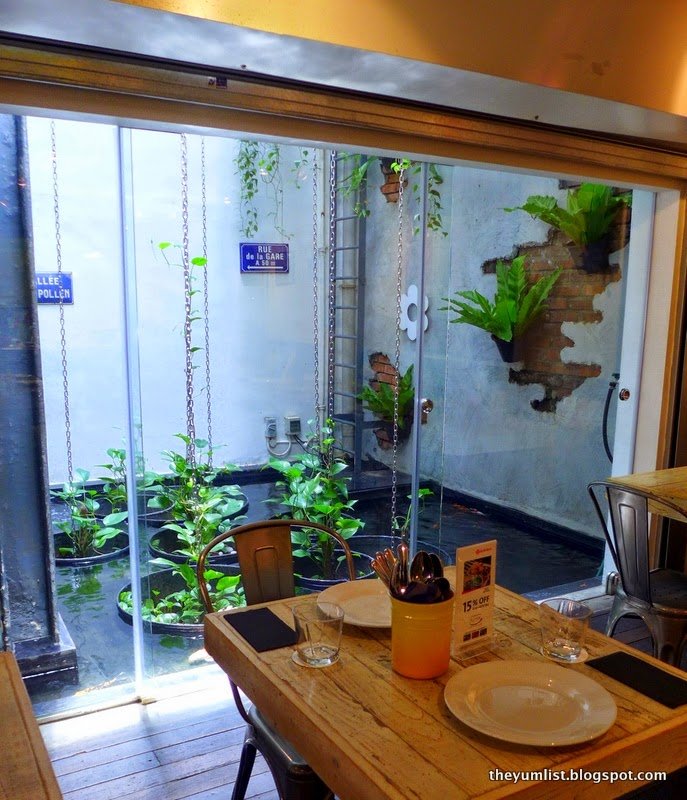 Dining Table with Hanging Garden View
Hearty and wholesome fare, typical of the French countryside, dominates the menu. Following the concept of basing dishes on fresh produce and seasonality, the offerings change with the seasons and the availability of quality ingredients. Expect to see sizeable platters of meats and amply filled dishes of comforting nourishment as popular orders on tables.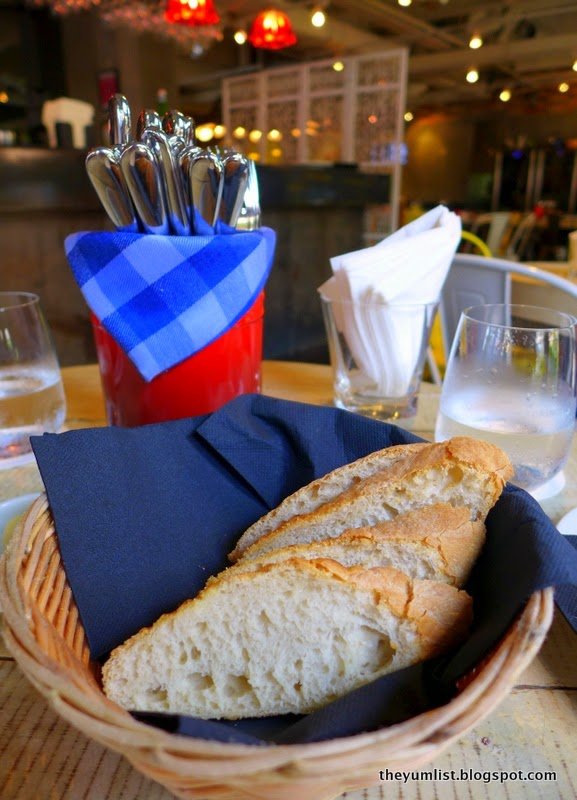 Freshly Baked Bread
Our two starting salads highlight ingredients from a newly introduced project, the organic farm project, which sources organic produce from Cameron Highlands. Not only are carbon emissions and environmental impact reduced by curtailing the distance travelled and use of chemicals, goods also taste better and fresher.
Grilled Asparagus Salad ($16) is love at first bite. A bundle of tender green asparagus provides a base for delicate splashes of colours and bursts of taste provided by watermelon radishes and wedges of beetroot. A baked goat cheese croute is a mouthful of goodness on the side, and the walnut vinaigrette leaves a light oil coating in the mouth with bits of meatiness from the toasted walnuts. Although the dish is of a bold rustic nature, attention to detail is evident in every nibble. The nutty theme is subtly carried through the entire dish with vinaigrette, toasted walnuts and the chunks of wholesome bread too containing the nuts.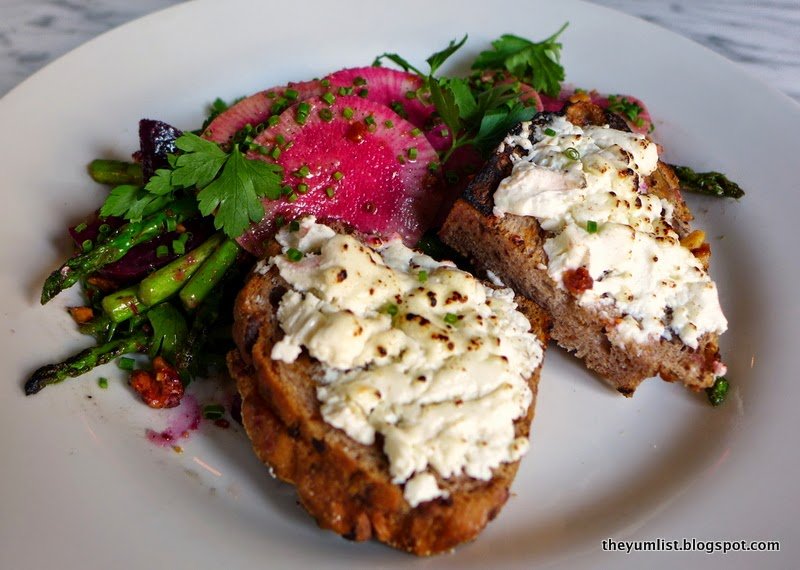 Grilled Asparagus Salad
From the brunch menu, we try the Salad of Hot Smoked Salmon ($14). The fish has been cured in house then hot smoked, resulting in a flakier texture and lighter colour than the cold smoked variety. Roasted fennel, a jumble of fresh herbs and crunchy pink peppercorns are tossed through a garden of crisp greens. Chunks of organic beets impart a tinge of deep red-purple on all they touch, and a tangerine dressing lightly varnishes it all. It's another crowd pleaser (well at least this 'crowd' of two is satisfied).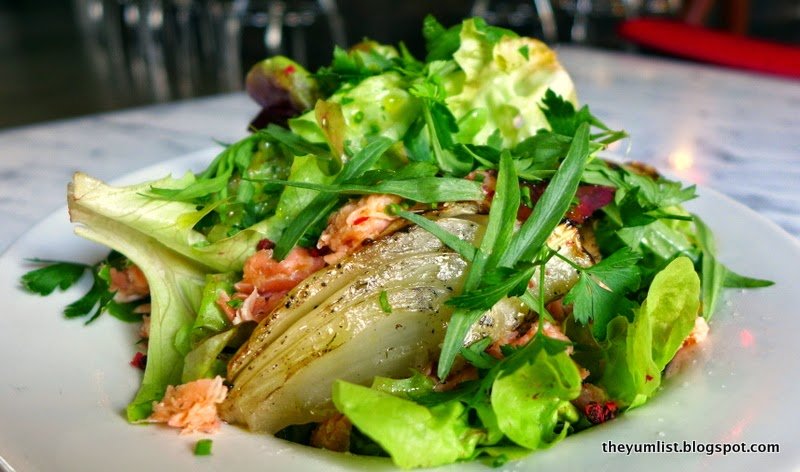 Salad of Hot Smoked Salmon
Crispy Pork Belly Confit ($28) provides a welcome French twist on this ingredient that has swept across Asia as one of the hottest items on menus these days. A crisp golden layer of skin crowns the fatty meaty bottom that dissolves on the tongue with contact. A light summery stew is a tarn for the three hillocks of pork cubes, filled with finely chopped celery, carrots, zucchini, tomato and onion accompanied with white beans and a mound of fresh herbs.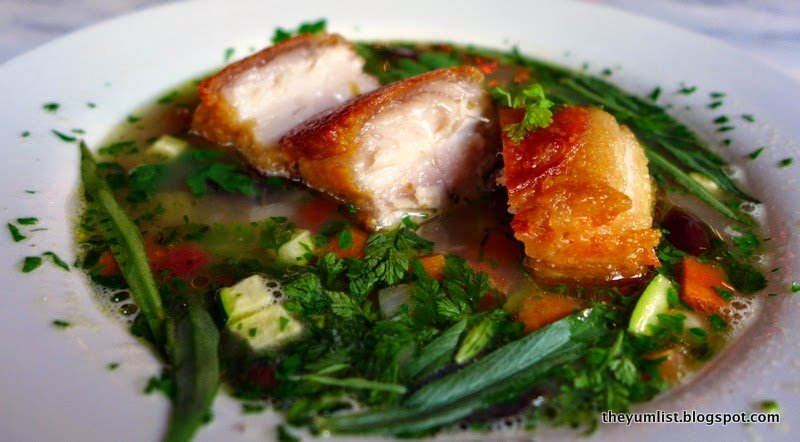 Crispy Pork Belly Confit
Roast Seabass Fillet ($26) is pepped up with olives, roasted red pepper and capers. It sits on a blanket of puffed quinoa, with small pieces of tomato and mint mixed in. Pretty pink-edged shavings of radishes speck the circumference and the whole is dressed in a gentle lemon and parsley mix. The tri-colour quinoa is not what I'm expecting. It's crunchy and seasoned so deliciously that I could eat a bowl of this just on its own. I won't though, as hubby has discovered its virtues too and is whole-heartedly digging away until our spoons clash at the scraping up of the last seed. The fish turns out to be lean, meaty, flaky and even coloured all the way through. Lovely.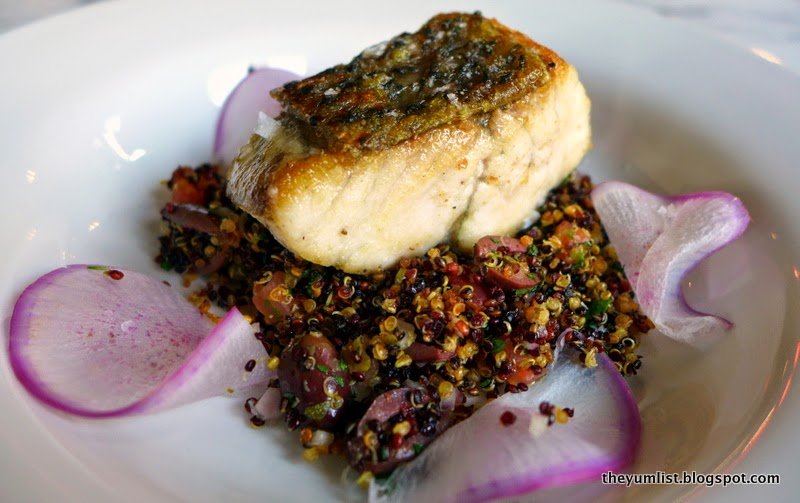 Roast Seabass Fillet
As you'd expect with a French themed restaurant, desserts and pastries have not been forgotten. An entire counter is dedicated to these sweet treats for both dine-in and takeaway. Goods are baked fresh daily and not kept from one day to the next. We ogle the enormous slices of carrot cake, with what seems to be an entire tub of cream cheese icing atop each piece, but restrain ourselves and try something a little less calorific.
Two scoops of homemade Sorbet ($7), strawberry and white peach, are smoothly textured, moderately sweetened and coolly refreshing. The Burnt Caramel Ice Cream Sandwich ($8) provides a taste of Christmas with its speculoos cookie sides. The Belgium style biscuit is dark bronze in hue, slender, crunchy and lightly spiced with cinnamon, nutmeg, cloves and ginger. The creamy ice cream middle oozes from the sides as we bite in, leaving us beaming like young children at the fun of eating this dessert as we try not to leave an ice cream dribble around our cheeks.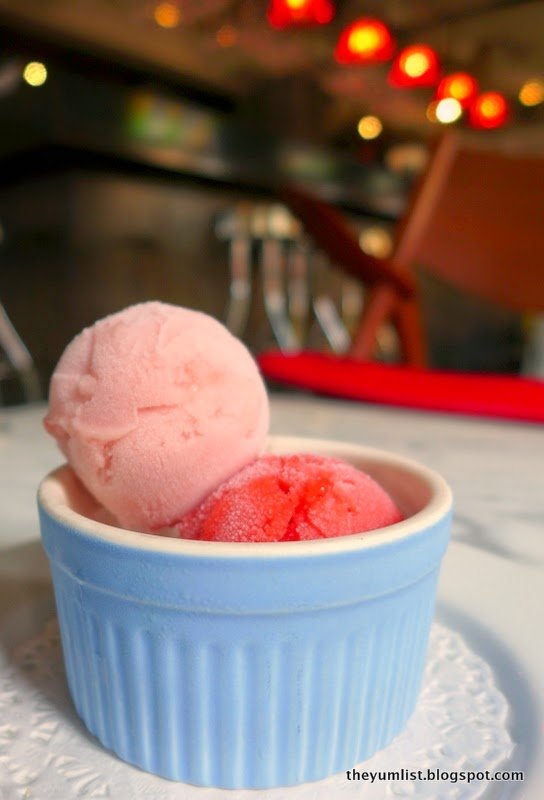 Sorbet – White Peach and Strawberry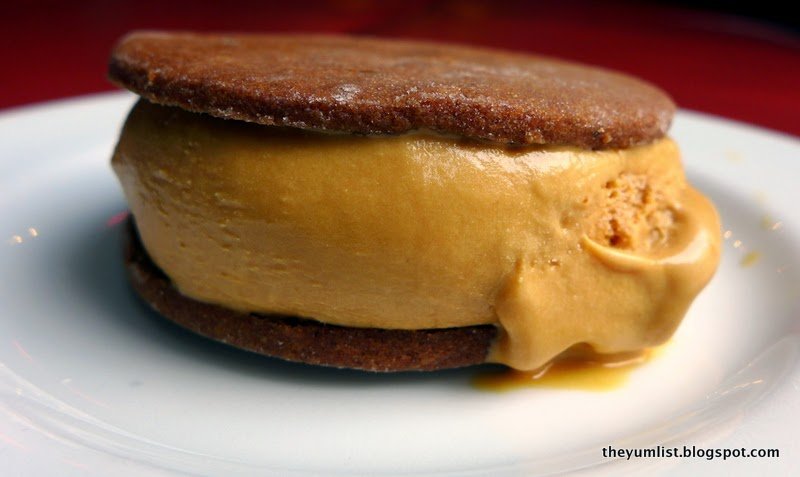 Burnt Caramel Ice Cream Sandwich
Cocotte's unassuming ambience and service is home to sincere French cuisine. For an honest-to-goodness experience, that just might fill your soul as well as your stomach, Cocotte is not to be missed.
Reasons to visit: hearty and wholesome French cuisine; reasonably priced for the quality offered; I'd reorder every item that we tried above.
Cocotte
Communal – Restaurant – Bar
2 Dickson Road
Singapore 209494
+65 6298 1188
Open 6 days for lunch and dinner. Closed Tuesdays.