New Majestic Hotel, Boutique Stay, Singapore
The lobby is awash with white. Sapphire and cerise wing back chairs make a stark contrast to the ivory paleness of the rest of the room. A bronze statue of an Asian man, naked, kneeling on one knee with head slightly bowed, takes home under the curved staircase A vividly cushioned trishaw is parked atop a cow hide rug, and a multi-hued stream of giant glass beads hang in a collective of mobiles from the ceiling. We get the distinct feeling that this will be no ordinary stay.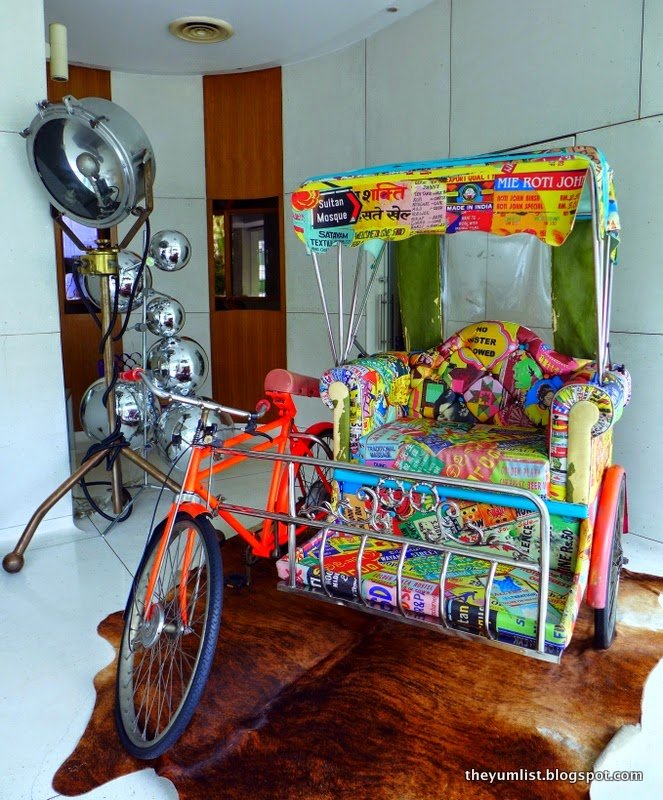 In the Lobby
New Majestic Hotel is a both an Unlisted Collection Hotel and a member of Design Hotels. Both affiliations assure a sojourn here will at least be interesting, if not inspiring. Located towards the southern end of Chinatown, it's a heritage building so interiors have been designed keeping the original structures of the property but that's the only restriction we find. Artists and architects have unleashed their imaginations with a fantasia of rooms, from light bright and quirky to dark poetic and sensual, all housed under the same roof.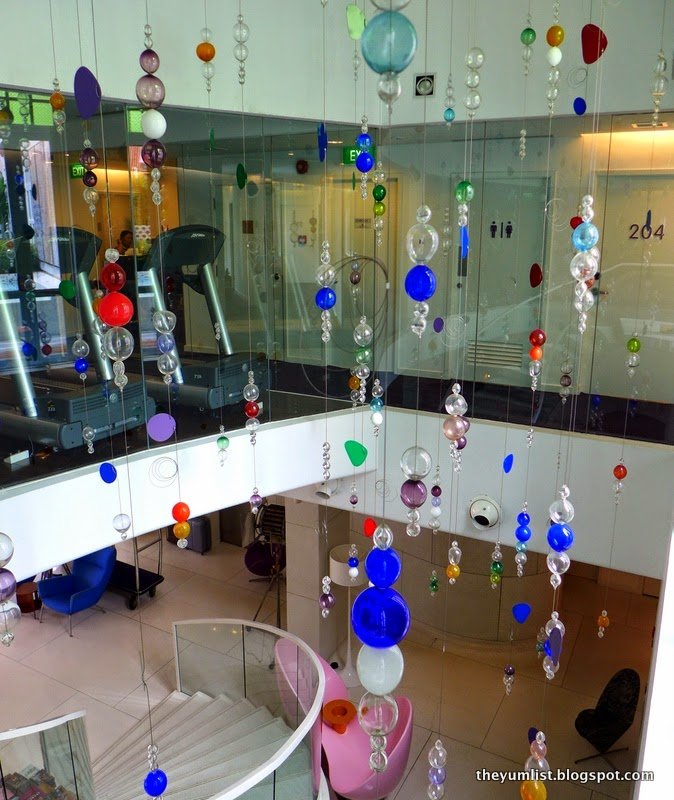 Glass Mobile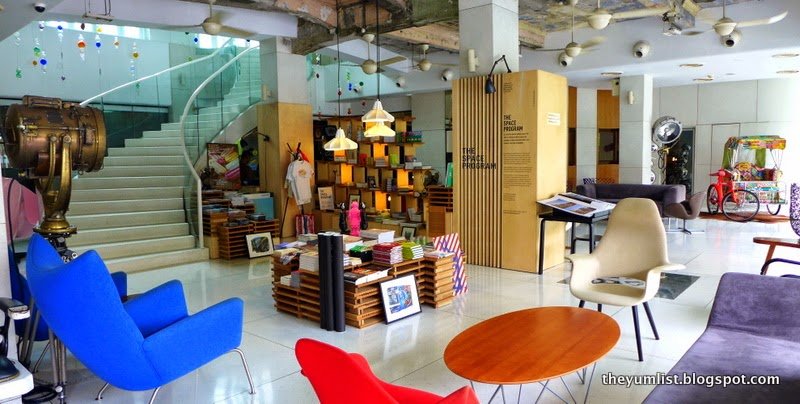 Lobby
Each of this boutique hotel's 30 rooms is distinct, the only connection being in difference. From lofts, to private gardens, to rooms with pool views every one has a special mix of vintage and designer furniture, individual colour palettes and, commissioned artworks.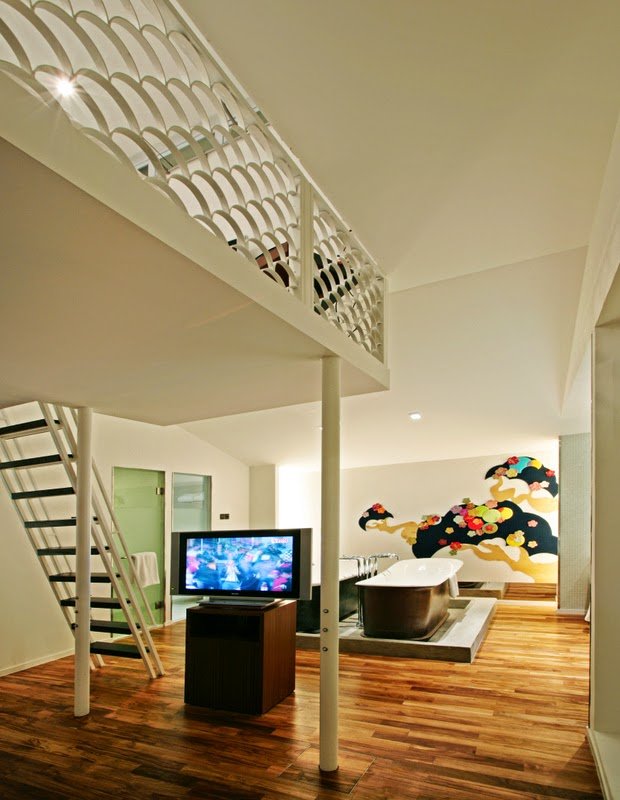 Attic Bliss Suite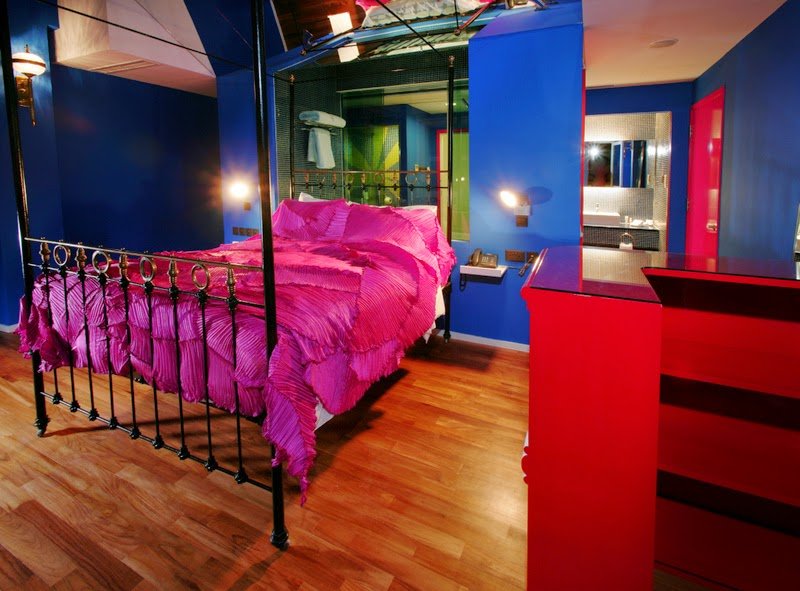 Pussy Parlour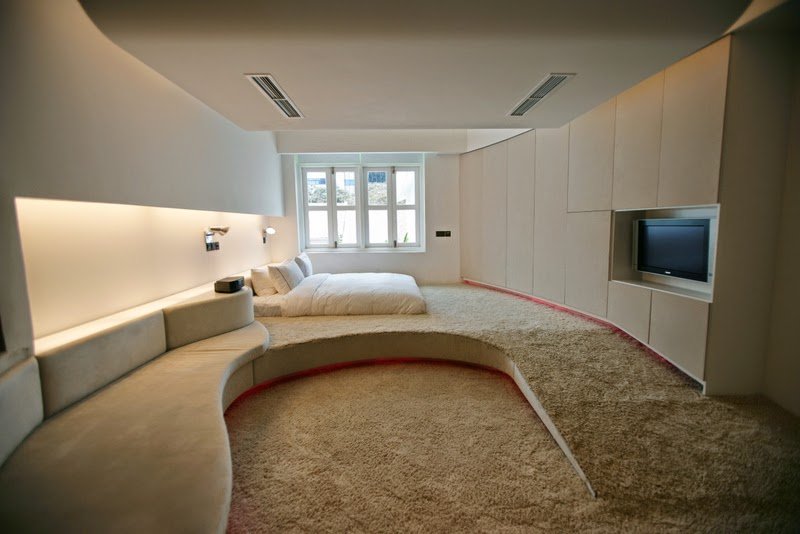 Lifestyle Fluid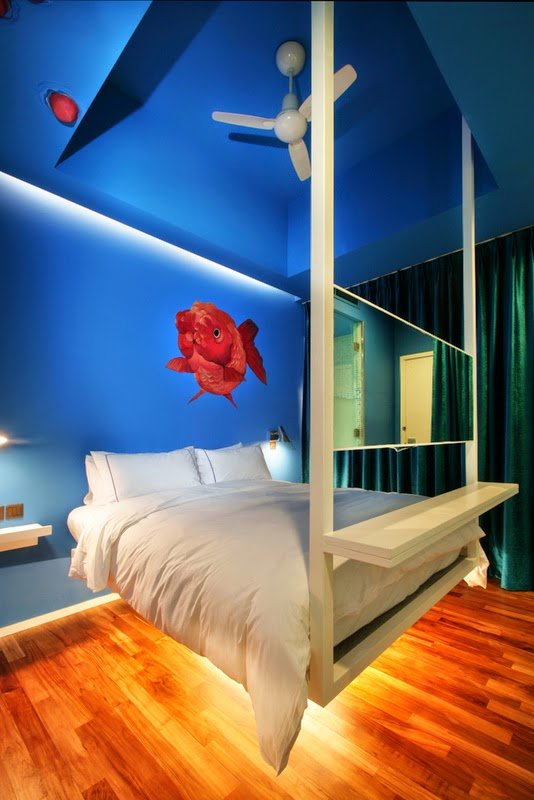 Premier Garden – A Big Goldfish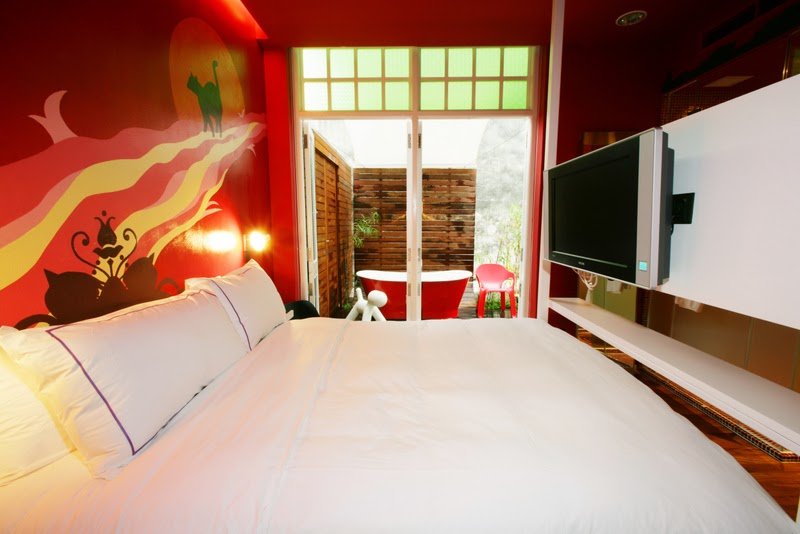 Premier Garden – One Day I Slowly Floated Away
Our Premier Pool Room, "You Define Me" is by Heleston Chew. Fitting into the corner of the hotel, the room is oddly shaped with angular mirrors fitted from the floor to the peaked ceiling of an entire wall. It's through the reflection that the anamorphic writing above the bed is decoded into the name of the room itself.
Premier Pool View Room
White walls, natural light from the pool view windows, pale timber and ivory linens serve to make the space appear much larger than it is. A desk, minibar, safe and wardrobe are concealed with flush doors and luggage can be stored under the tall-legged bed or in the hallway, too contributing to the feel of inflated spaciousness.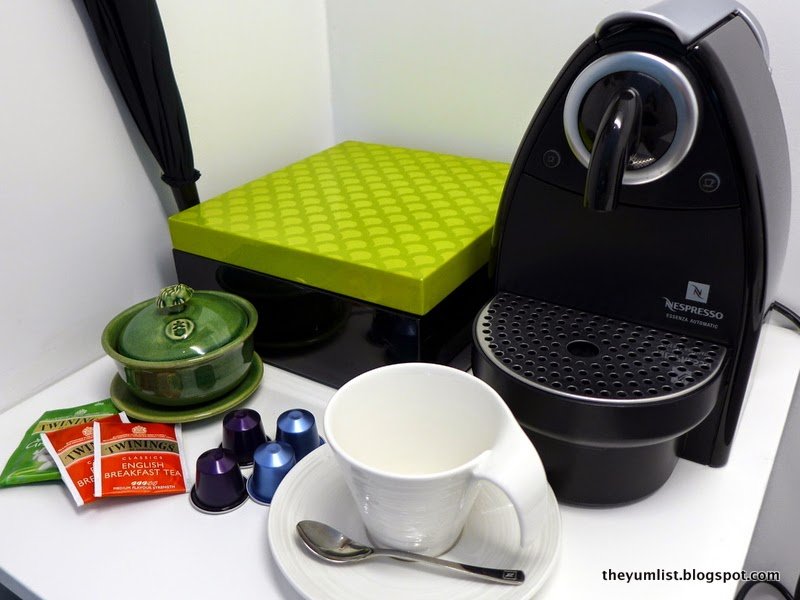 Hot Beverage Making Facilities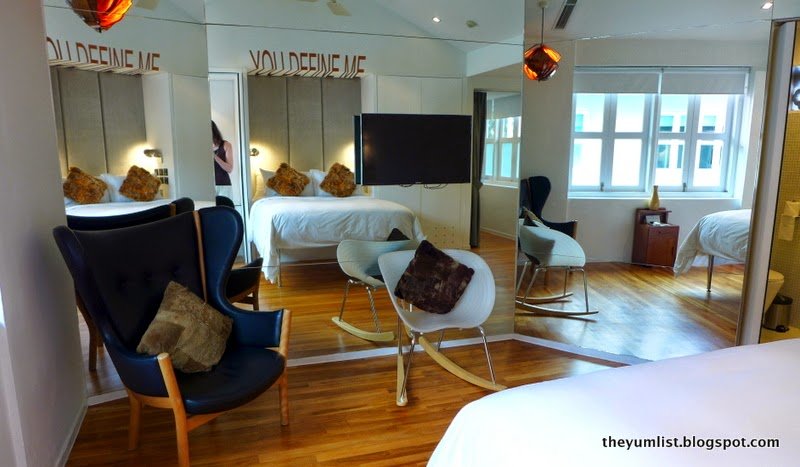 Premier Pool View Room – You Define Me
A modern rocking chair, leather wing back seat, a twisted lamp and a vintage cabinet dressed with a sandy ceramic vase, are all that's needed in terms of adornment. A queen-sized beds fits into the compact space and a little extra luxury is felt in the rain shower with hydro-massage jets. Room amenities are lush with a Nespresso machine, Kiehl's toiletries, Samsung Smart TV and Ploh bedding and bathrobes. Of course there's complimentary Wi-Fi too.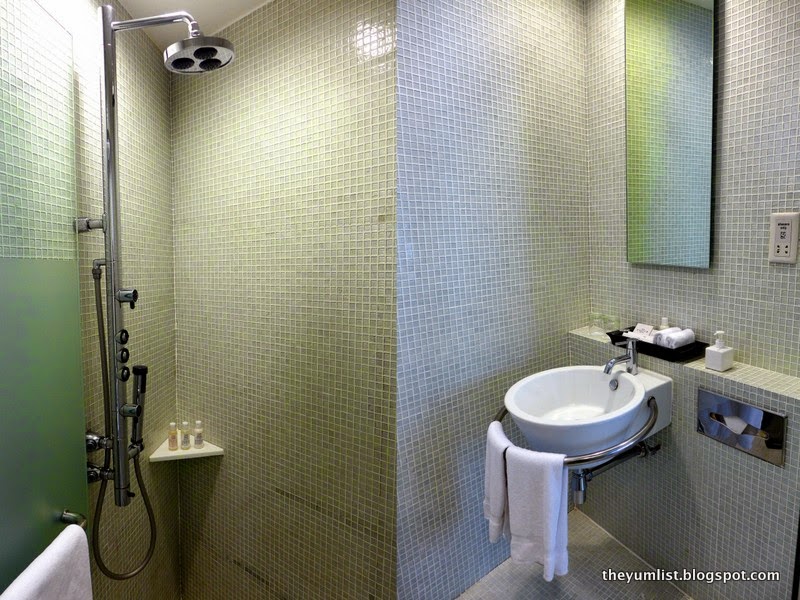 Bathroom in Premier Pool View Room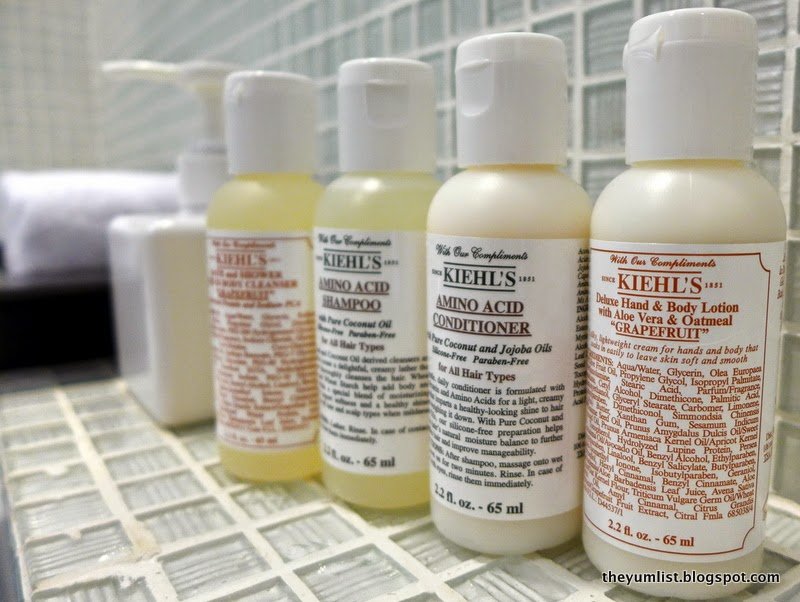 Kiehl's Bath Products
Although boutique sized, New Majestic Hotel makes a good effort with facilities by providing both a swimming pool, gymnasium and restaurant. The courtyard pool is tiled with ceramics appearing as if 1000s of coins are lying on the bottom, much the same look as a wishing pond. Bordered with a wooden deck, and framed with white walls and French doors with stained glass windows, it's a welcome dip after a day of sightseeing.
Pool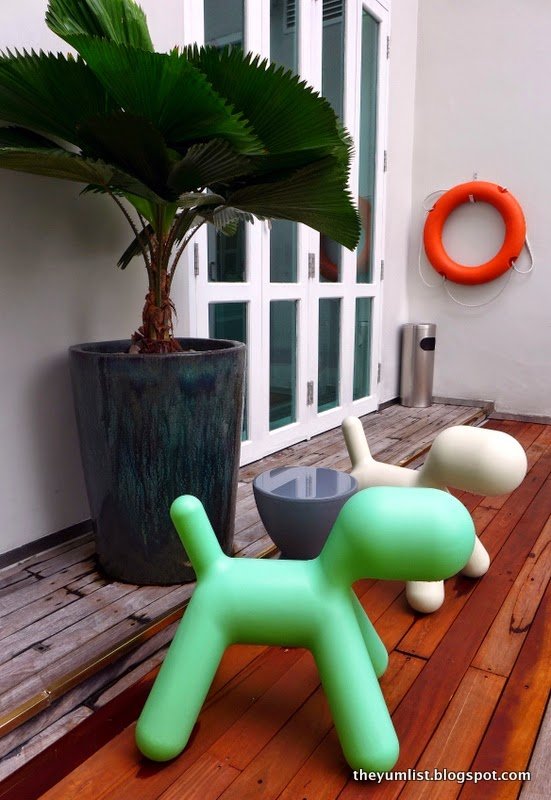 Poolside
The gymnasium has not been forgotten in the design of innovative interiors. Backed by a mural and looking out through floor-to-ceiling windows onto the glass mobile and beyond to the pool, the compact space has been well utilized. A treadmill, cross trainer, bike and rowing machine are supported by a set of tiered hand weights. Equipment is of high quality and in superb condition.
An intimate space hosts the Majestic Restaurant helmed by Chef Yong Bing Ngen. Modern Cantonese cuisine is plated as western dishes and accompanied by a good wine list for such a small establishment. A simple buffet breakfast is served here too, eggs made to order, and is included in the room rate.
There's no doubt New Majestic Hotel is up with the best of the boutique hotels in terms of amenities provided and design of rooms. Where it stands out however is in the personal touch of a Guest Experience Ambassador.
Transforming the concept of a concierge to elevated heights, an appointment with the Guest Experience Ambassador is complimentary and highly recommended to set you up with the ultimate time in Singapore. Crafted specifically with your personal dispositions in mind, an itinerary can be plotted just for you.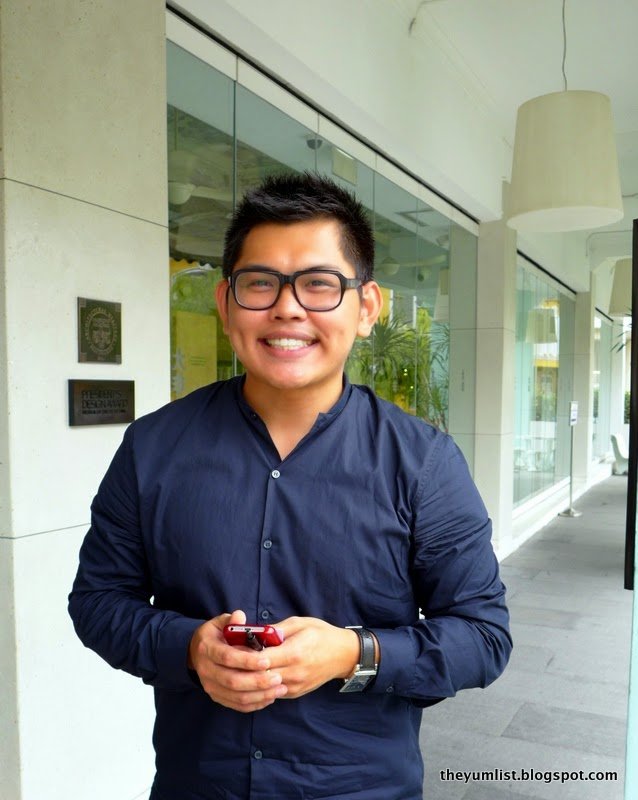 Guest Experience Ambassador
Arts? Romance? Local food? Name your pleasures. I did: healthy restaurants, some arts, perhaps a show, a couple of good jogging paths, some outdoor green activities, good coffee, bars with great cocktails… In a half hour session, we were manned with a map, with all such places highlighted, directions, modes of transport to get to them, and a feeling of admiration for our spirited ambassador, who clearly loves his job (and food!). What a fantastic start!
Manned with our individualised schedule, full of things we love to do, eat and see, we set off about the streets of the wonderful city, knowing we'll return to a place of comfort, inspiration and personalized service at the New Majestic Hotel, Singapore.
Reasons to visit: creative and inspiring rooms – we want to try them all!; walking distance to many shops, restaurants, sites and bars; a few minutes walk to the MRT station; Guest Experience Ambassador.
New Majestic Hotel
31-37 Bukit Pasoh Road
Singapore, 089845
+65 6511 4700