Words by Annelene Foss Svingen
Photos by The Yum List aka Monica Tindall
The Frisky Goat Bakery Cafe is like a home away from home. Standing outside the place you can already feel the friendly and relaxing atmosphere. Entering through the Mediterranean blue doors just confirms this feeling. This is a feel-good place that makes you want to stay for hours, listening to the French Top 40 playing around the clock, browsing the Internet using the place's free WiFi, sharing a mouth-watering homemade cake with a friend, having eggs for a late Sunday brunch or just observing the goldfish in the aquarium in the outdoor lounge area.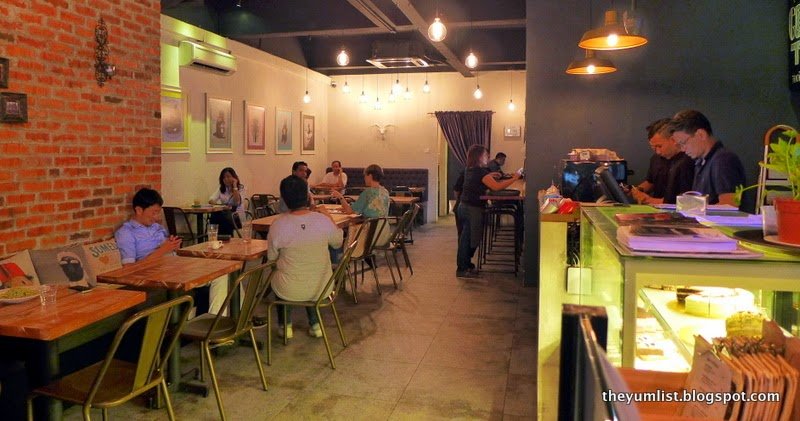 Frisky Goat
The Frisky Goat was opened in February this year by three young ladies with backgrounds in banking, oil and gas and real-estate. Sharing a true passion for food they wanted to create a neighbourhood café that would offer a relaxing friendly atmosphere. The name derives from a legend about how coffee once was discovered. According to this legend, some goats in Ethiopia became frisky and energized after having eaten berries from a bush that later turned out to be coffee beans. That was the beginning of the history of coffee, and the origin of the name of this bakery cafe.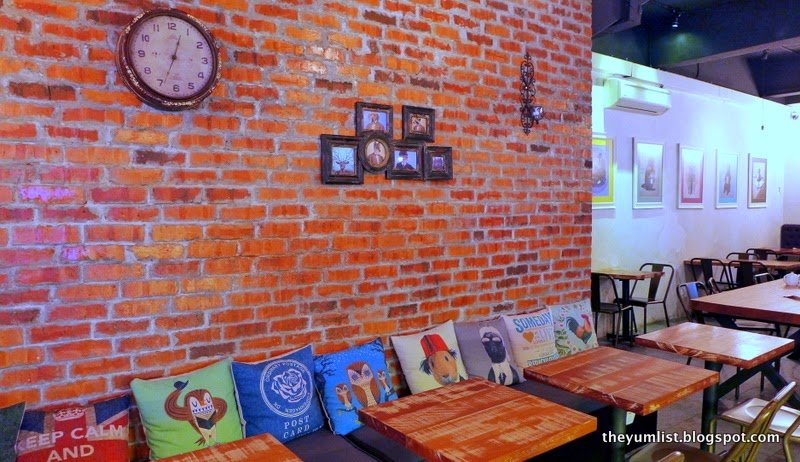 Fun Cushions on the Seating
Described as modern European, the décor consists of wooden tables, iron chairs, brick walls and some humourous wall posters. The look brings you to a bohemian neighborhood in a European town, where young people mix with old ladies eating cake and sharing gossip, and families have an early dinner with their kids. You get a feeling of belonging and wanting to stay. And people stay. The place was almost full when we arrived, even though we visited early on a rainy Monday afternoon.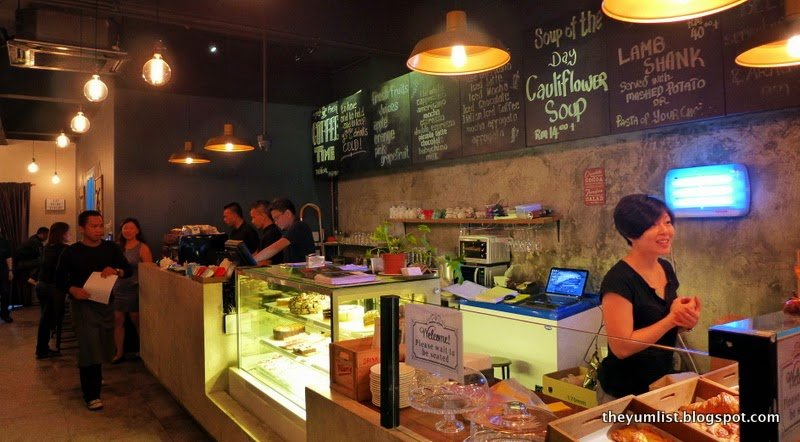 Cake and Service Counter
Bakery
The place has its own bakery that sells French inspired bread, pastry, croissants and pain au chocolate. A glass counter displays a lovely selection of cakes, all made in-house, served in enormous slices and priced very reasonably.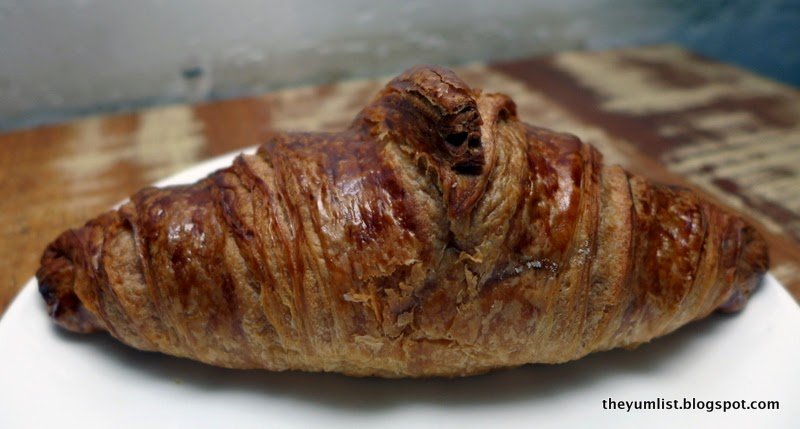 Croissant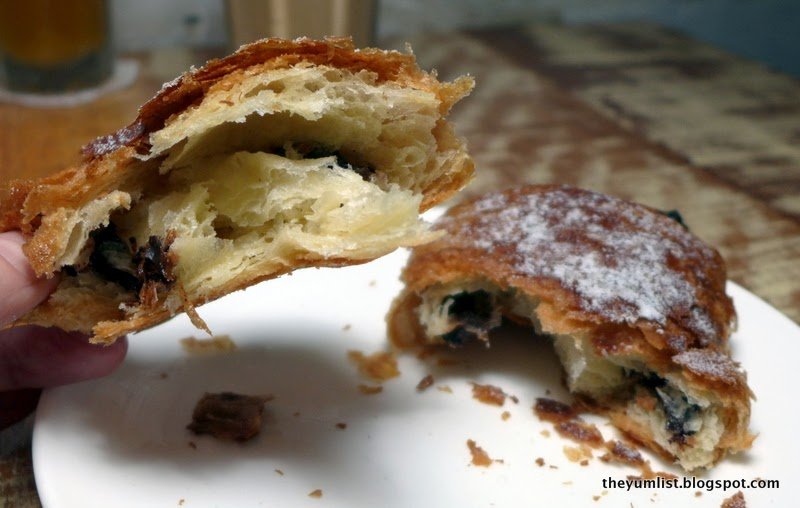 Pan Au Chocolat
Drinks
The drink menu offers a variety of coolers, soft drinks, juices, coffee and at least 10 sorts of TWG teas. You can also get beer or cider with your food or bring your own bottle for a corkage fee. We had the sweet Passion Peach Iced Tea (9 MYR), which was cool and sweet. A Flat White coffee (RM9) was made on Colombian beans and served with a double shot of espresso and plenty of milk. The Italian Iced Coffee (RM14) was just as milky and came with a big scoop of vanilla ice cream on top.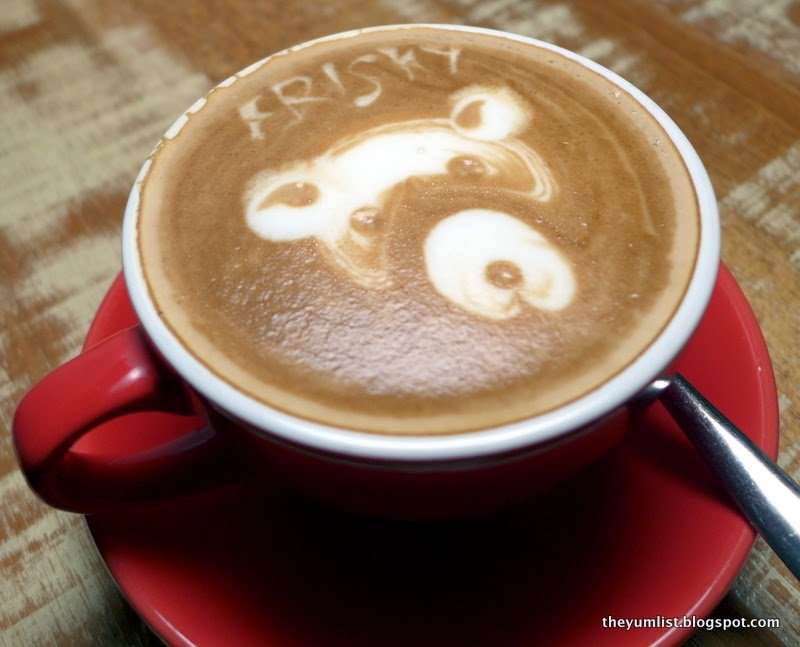 Flat White
Latte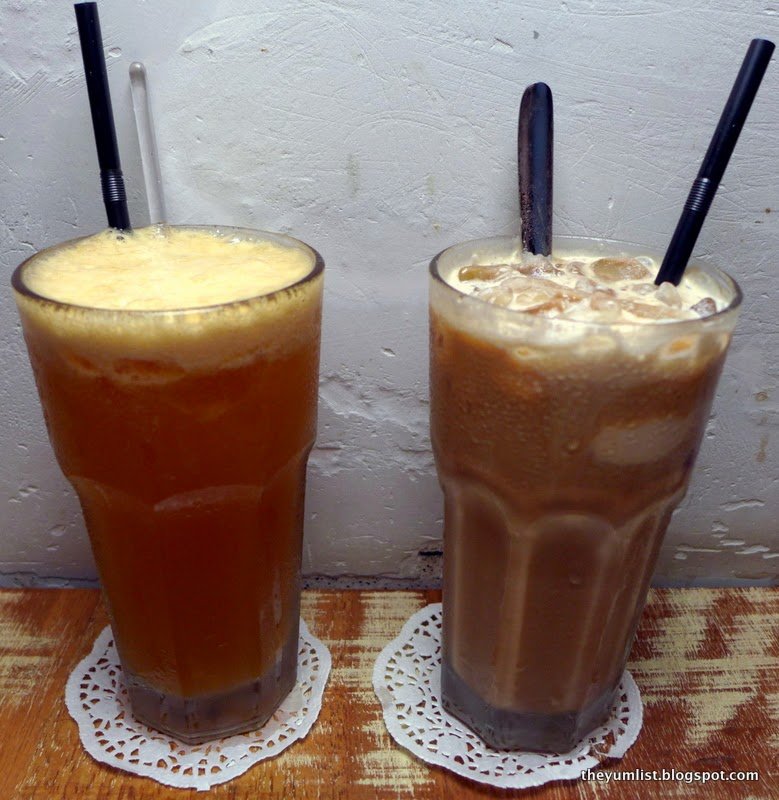 Iced Passion Peach Tea and Italian Iced Coffee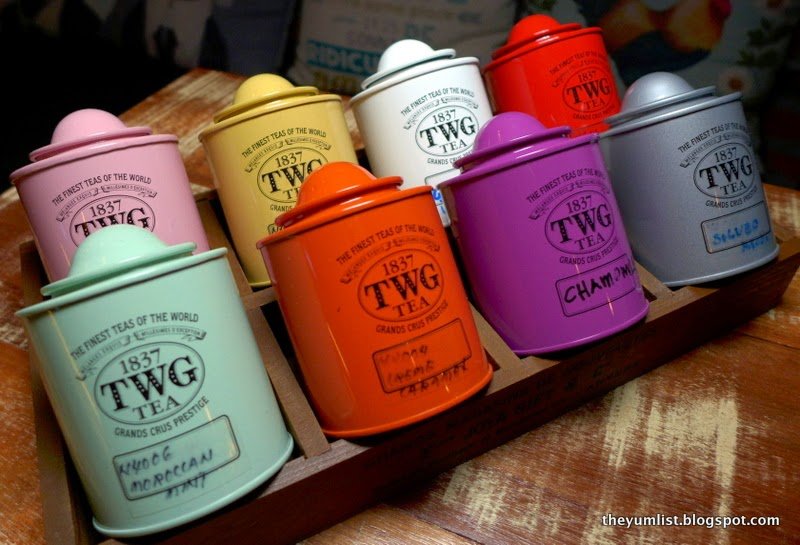 TWG Teas in Sniffer Tins
Brunch
The place has an exiting brunch menu that is served between 8am and 3:30pm. For us it was difficult to choose, but luckily we ended up with Monsieur Ben Wafels (RM17). This is a Frisky version of traditional Eggs Benedict. Perfectly poached eggs are served with wilted spinach and beef bacon, atop a crispy not-sweetened Belgian waffle. We really enjoyed the twist with the waffle. We finished every bite of this meal and still wanted more. The fact that the waffle is not sweet made it a perfect match with the eggs.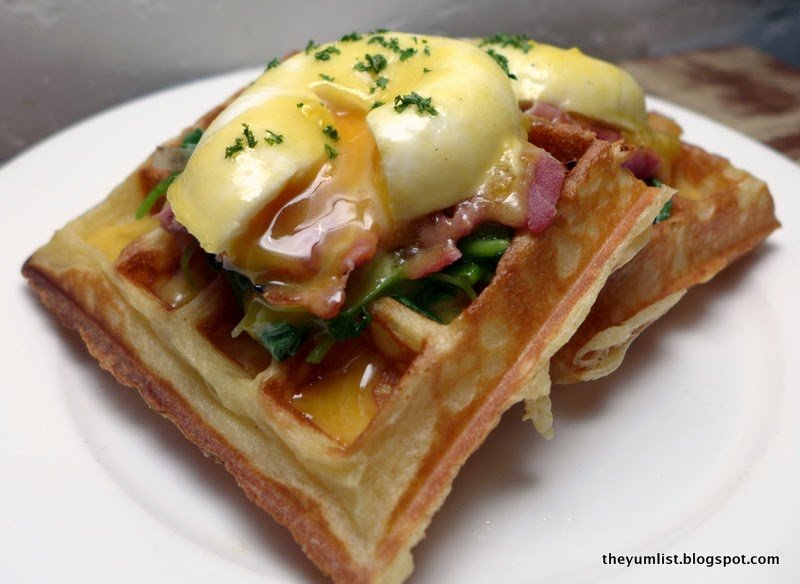 Monsieur Ben Wafels
All Day Comfort
In addition we chose a fantastic dish from the All Day Comfort Food list, namely the Croque Monsieur made like a Madame with a sunny side-up egg (RM22.90). The Croque was served the with Gruyere cheese, turkey ham and béchamel sauce, with French fries and a small crispy salad on the side. The French fries were sparkled with herbs on top and cooked in extremely hot oil making them perfectly crisp.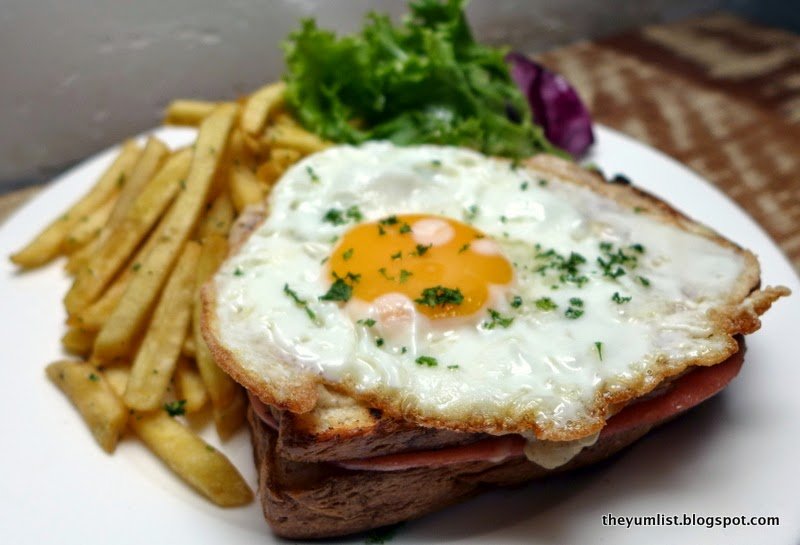 Croque Monsieur
Mains
The Frisky Goat serves some very nice mains, inspired by the Mediterranean kitchen. We had the chef's special, the Lamp Shank (RM40). It was a big portion of meat with homemade mashed potatoes and a great sauce, reminiscent of mum's best recipes. The potatoes were roughly mashed giving a rustic and comforting mouthfeel. Closing our eyes, this dish brought out a feeling of sitting in front of a fireplace with a glass of red wine, chilled night air outside and a plate of hearty food on our laps. Initially the sauce had a red wine base, but to pay respect to all members of society, the owners now make all dishes without the addition of alcohol, so their kitchen is pork and alcohol-free.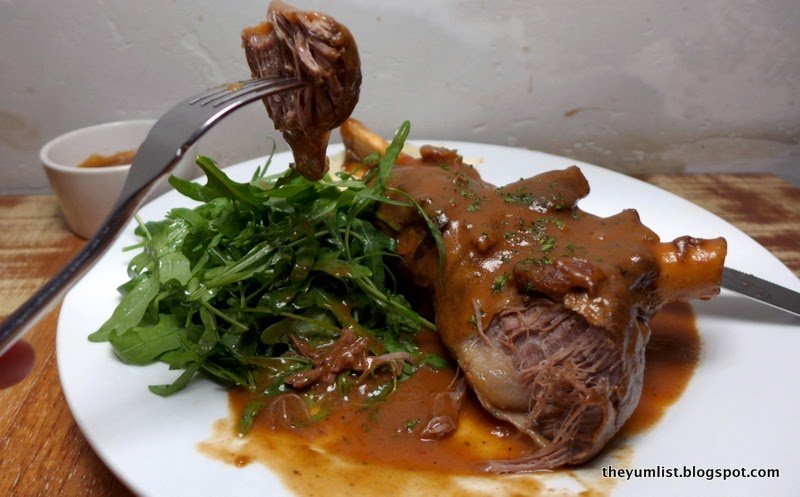 Lamb Shank
Pastas
Pasta lovers can design their own pasta dish. You can choose from four different vegetarian pasta sauces, and add a choice of four proteins to the mix for extra wadding. Add to this your favorite pasta and voila: your tailor made pasta dish is ready. We had the house specialty, the Frisky Pasta alla Puttanesca at RM26. The al-dente cooked linguini came with a flavourful sauce filled with surprises. The sauce was based on salty anchovies and chopped prawns, and spiced up with capers, cherry tomatoes and mushrooms. This combination of sea and salt, sweet and forest made us eat it all.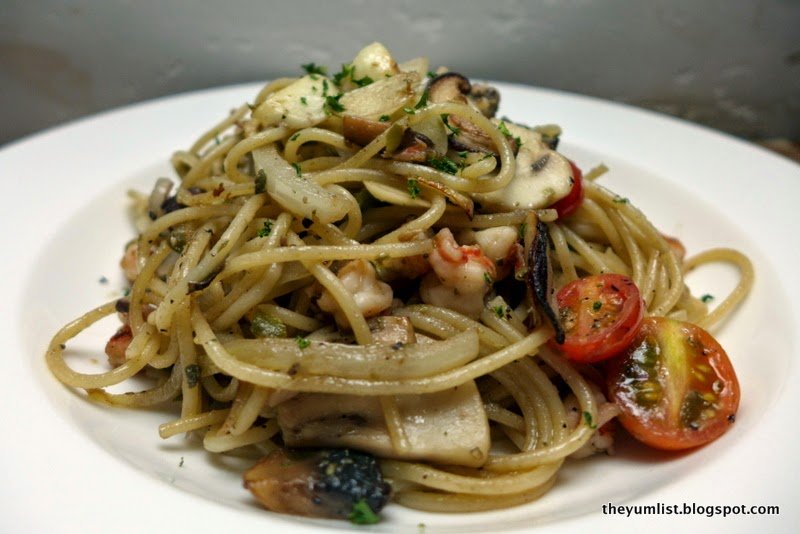 Frisky Pasta alla Puttanesca
Desserts
Cakes are made in-house at The Frisky Goat so are a must. We started our indulgence with the homemade Classic Belgian Waffles. The waffles here are fluffy and crispy, just like they should be. The Classic were delicately served with Chantilly cream, honey, butter, roasted walnuts and almond flakes. The portion was big, filled with sugar and carbs and can easily work as a lunch course for sweet-lovers.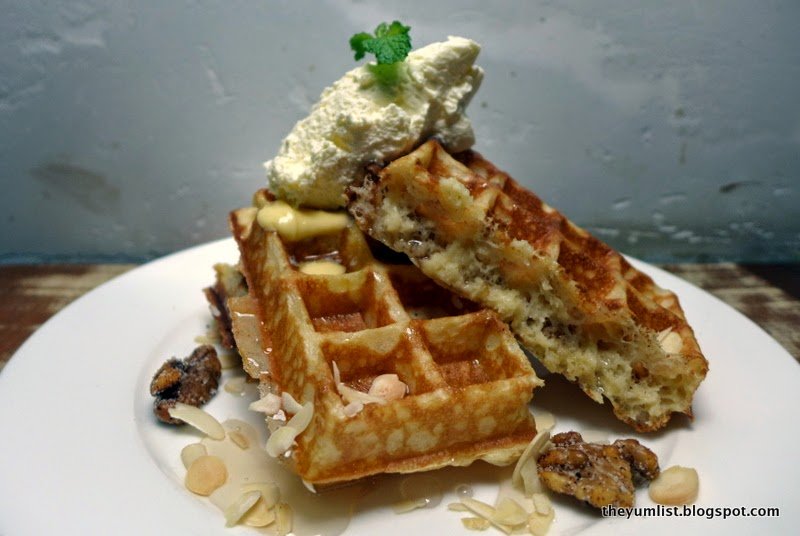 Waffles
We continued with the innovative and tempting Nutella Pavlova (RM15). This is a traditional Pavlova turned into chocolate-heaven. The meringue is made with Nutella and layered between cream, hazelnut cream and more chocolate cream. The portion is huge, yet we found we finished it down to the very last crumb.
Nutella Pavlova
We completed our exploration of The Frisky Goat's menu with their signature raspberry cake, the Red Opera (RM12). It's pretty with pink and red layers, but tastes even better than it looks. A perfectly tangled taste of sour, mild sweet raspberry buttercream and jelly, filled the many layers of almond sponge. Raspberry coloured almond nibs sprinkled on top added another level of delicate texture to this elegant cake.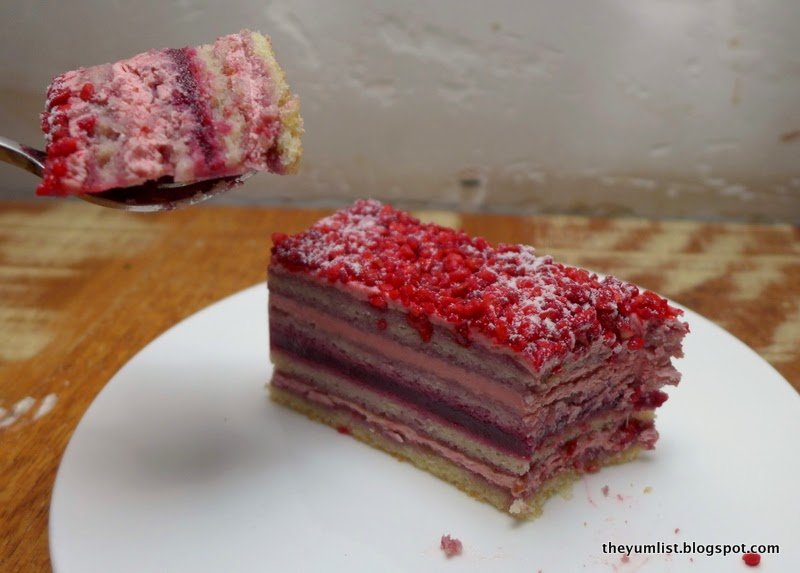 Raspberry Opera Cake
Reasons to visit: breads, cakes and pastries all baked in house; the Monsieur Ben Waffle; the Croque Monsieur made like a Madam; Red Opera; and the feel good atmosphere.
Frisky Goat
72 Jalan Burhanudin Helmi
Taman Tun Dr Ismail
60000 Kuala Lumpur
Malaysia
+6 03 7731 2965
www.friskygoat.my