Holding the Guinness World Record for "Bar with the World's Largest Selection of Commercially Available Rums," the Lobby Lounge's Rum Bar is of high interest!
A seat at the bar in the Marco Polo Hongkong Hotel is the only place for a snifter of rum or rum based cocktail: conversation with the bartender is essential for getting the best tips and tales in town.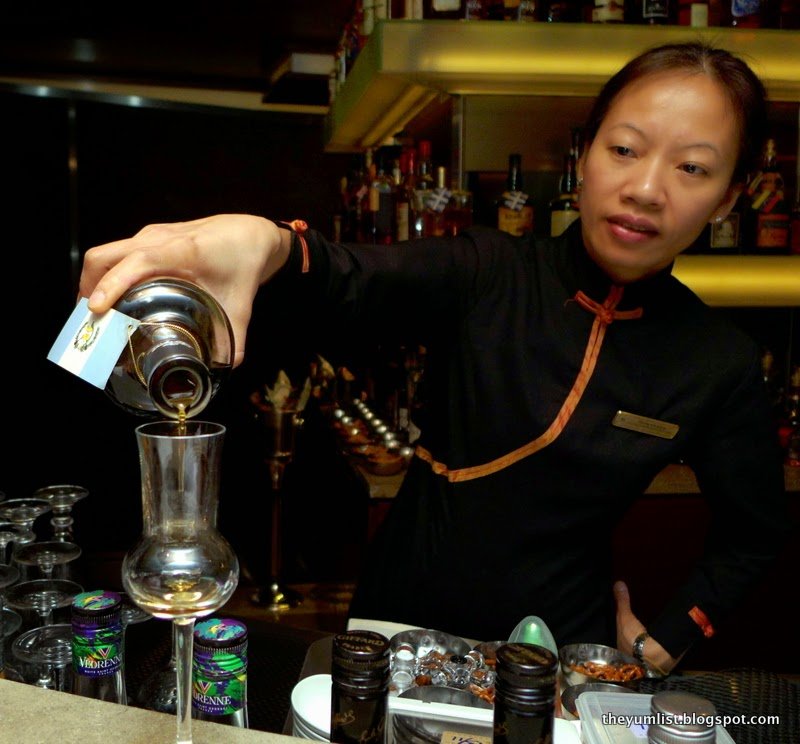 Bartender at the Rum Bar
"Known as the drink for pirates, smugglers, inn-keepers, painters, writers, (The Yum List) and Rastas," over 100 kinds of rum line the shelves, making selection challenging. Overwhelmed by choice, the Connoisseurs Sampler ($298HK) eases our decision presenting four aged rums: Havana Club 7 Years; Pussers 15 years; Rockley Still 12 years; and hubby is ever so proud to see a Venezuelan drop – Santa Teresa 1796, 15 years. The quartet arrives on a tasting placemat describing the characteristics of each. Starting from the mildest right up to the finest, we're left with a lovely syrupy viscosity in the mouth from the Venezuelan magic.
While sensible minds might stop at a tasting of four, there's nothing rational about us with the refined taste of distilled sugar-cane on our lips. Testing my allegiance to Venezuelan gold, is the Ron Zacapa Centenario 23 years from Guatemala ($398). It's wonderfully aromatic and glides over our tongues all too easily. Hubby claims to remain strong in his fidelity to his motherland, but I can see from the upturned corners of his lips that he's not 100% sure.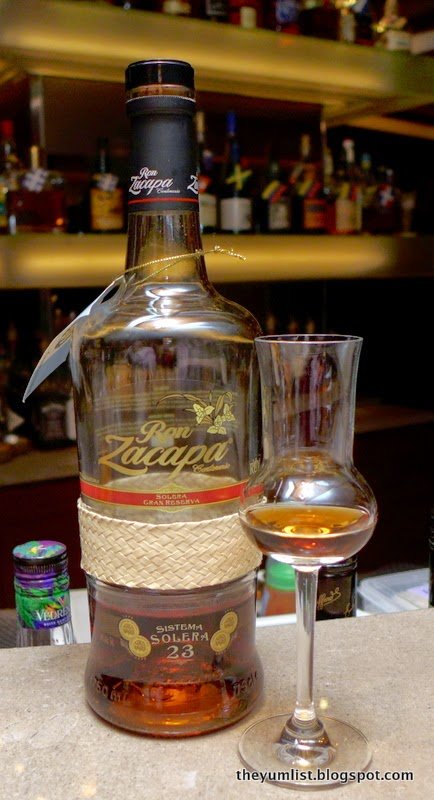 Ron Zacapa 23 Years
Quickly changing the subject, we move onto a rum based cocktail. Our bartender recommends the Hurricane ($108HK) featuring silver and dark rum, passionfruit and orange juices, lime and Grenadine. We're happy to see it's made with fresh fruit and the citrus dominance complements the caramel notes in the spirit.
Without a doubt we could spend a good few hours here, but dinner calls and we depart with pleasant thoughts of return.
Reasons to visit: World's Largest Selection of Commercially Available Rums; Connoisseurs Sampler.
Rum Bar, Lobby Lounge
Marco Polo Hong Kong Hotel
Harbour City
Kowloon
Hong Kong
+ 852 2113 0088
+ 852 2113 0808