Words: Suji Dehart      Photos: Monica Tindall
If you have lived in Asia for even a short time, you might already have had the pleasure of dining at Din Tai Fung, as I have. So you might think, "Why read a review of a place I already know and like?" Well, here's why… there are so many items on the menu, that you can't have tried them all, and we at The Yum List tried some of the house specialties that you may have missed! I actually found three new favorites — glad I ventured into uncharted territory!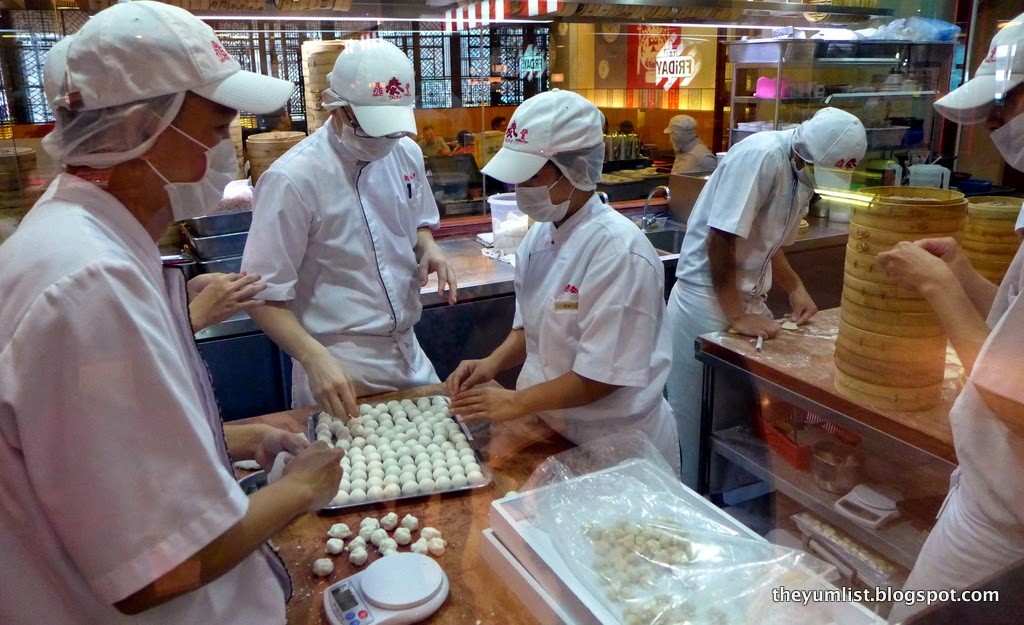 Chefs at Work – as viewed from the front glass windows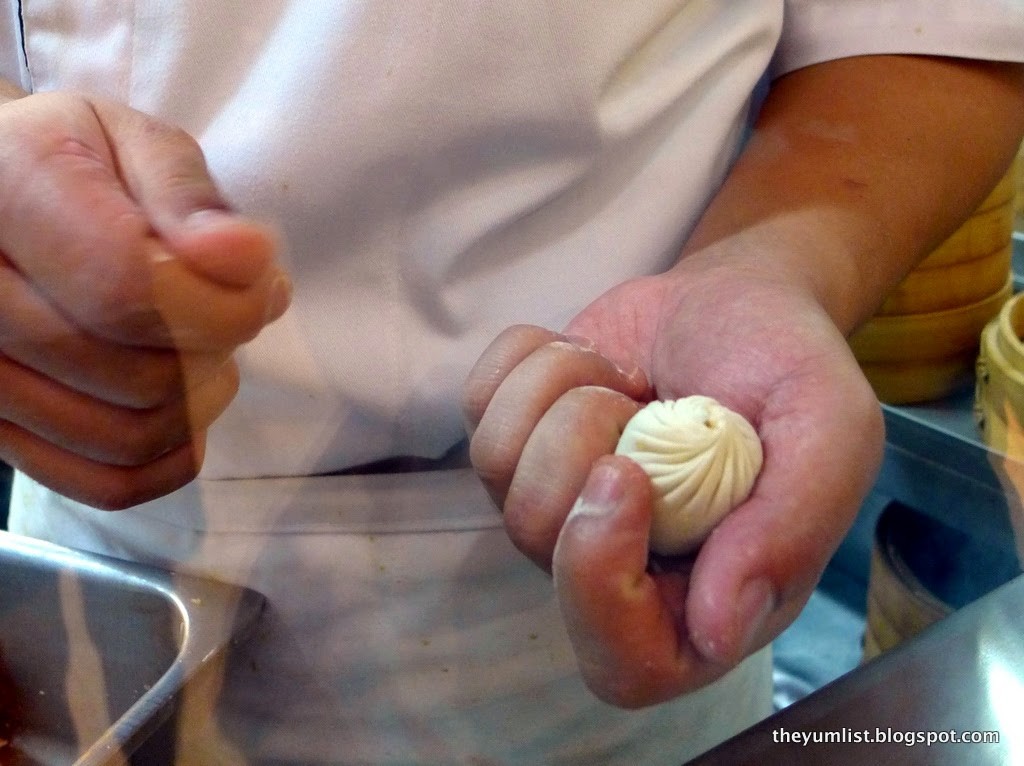 A Perfect Dumpling – 18 folds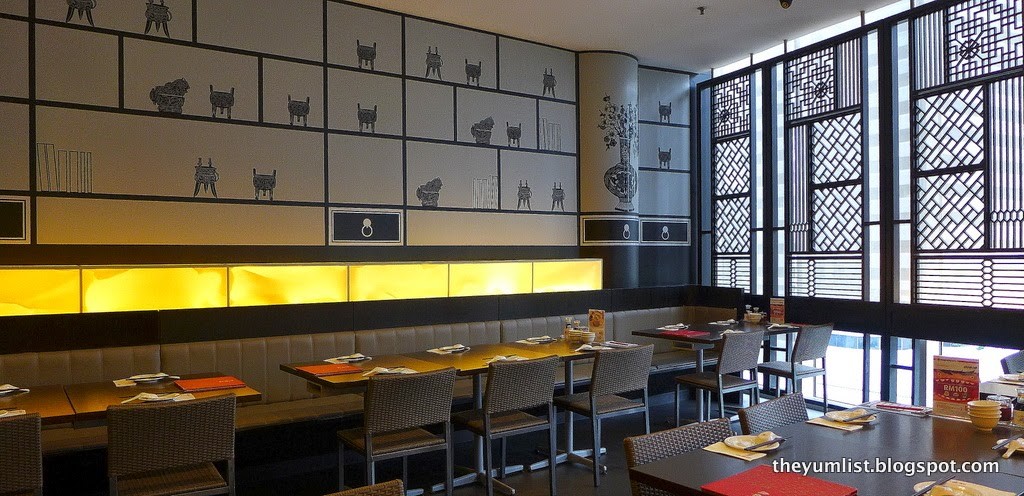 Additional Seating in the Evenings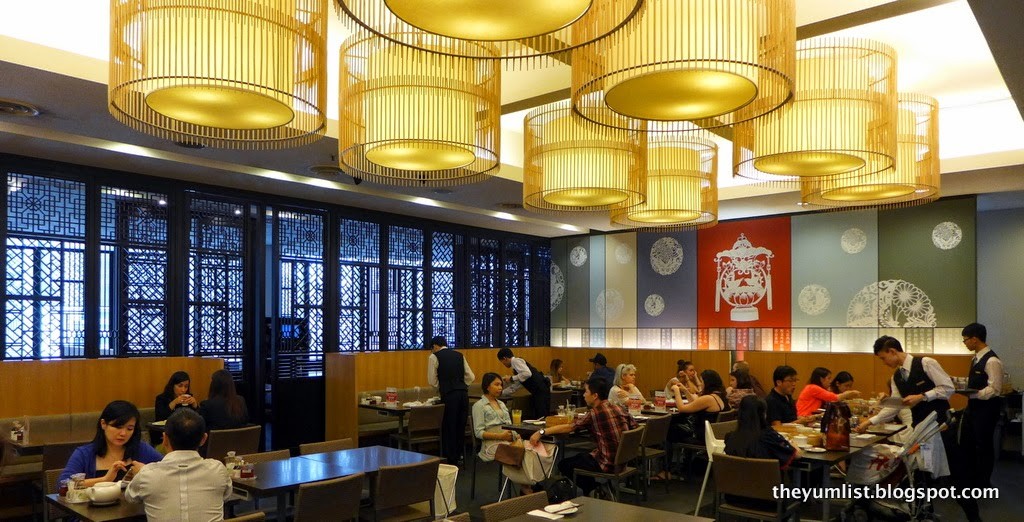 Din Tai Fung, Pavilion
We started out with drinks and three light appetizers. The Roselle drink (RM 8.90) is cold and sweet — to me it tasted like plums and hibiscus flower. It would be a nice soothing touch if you were going to have some of the spicier offerings here. The Lemongrass and Lime Juice (RM 8.90) has my vote. It is bright and refreshing, while still quite sweet. And the jasmine tea is a nice companion to all the dishes, be they mild or hot.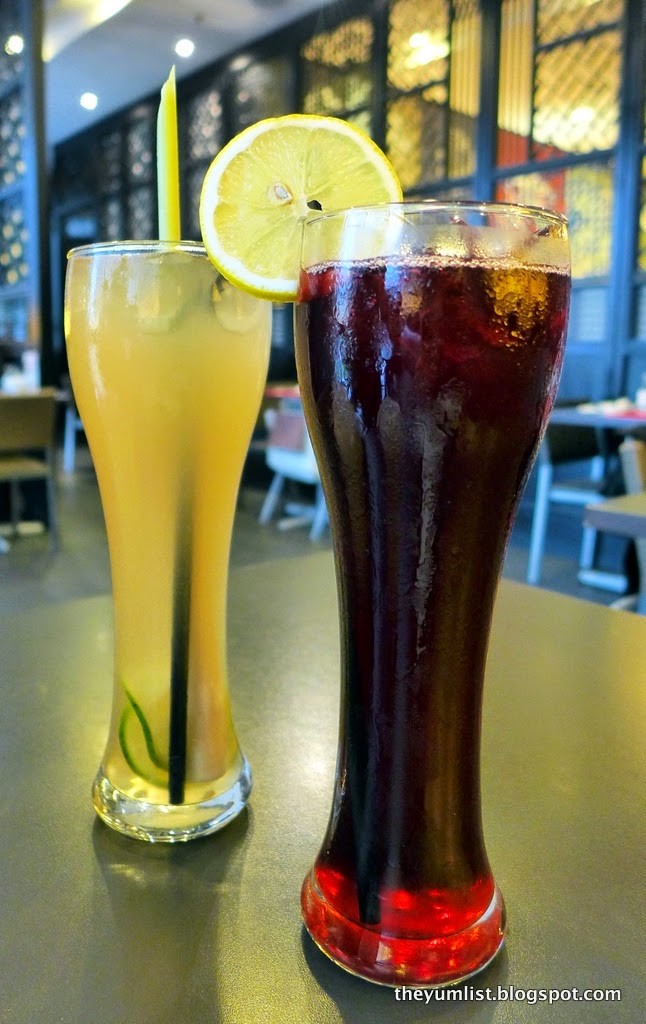 Lemongrass and Roselle Juices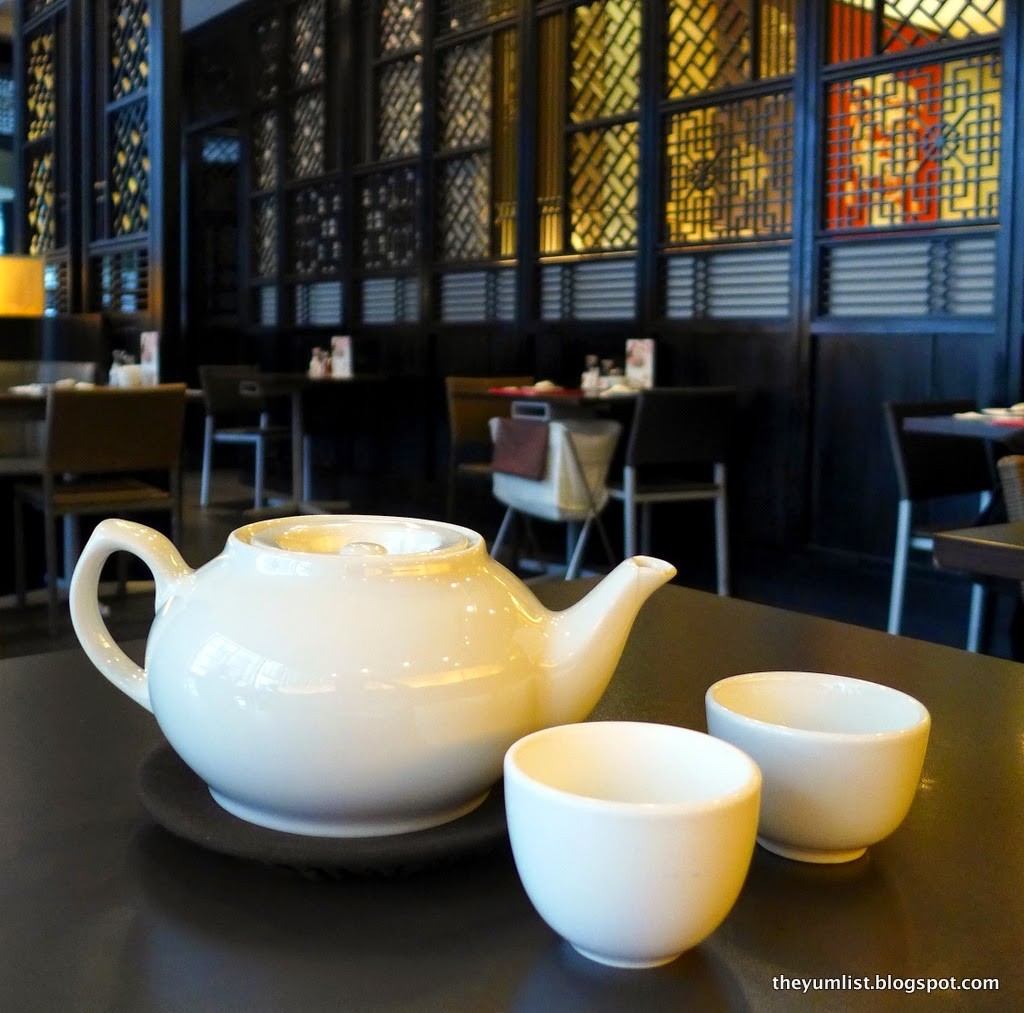 Pot of Tea
Our appetizers arrived together and it was nice to nibble between the three plates. The Shaoxing Chicken is served cold, the tender meat soaked in rice wine, giving it a mild but tasty flavor; not too salty. The spicy pickled cucumber chunks are one of my favorite dishes here – they pack a big crunch, they are spicy but not uncomfortably so, and they are guilt-free! The House Special is a mixture of dried tofu, seaweed and bean sprouts, again pickled and a bit spicier than the other two selections. The black vinegar used gives it a unique flavor.
Shaoxing Wine Marinated Chicken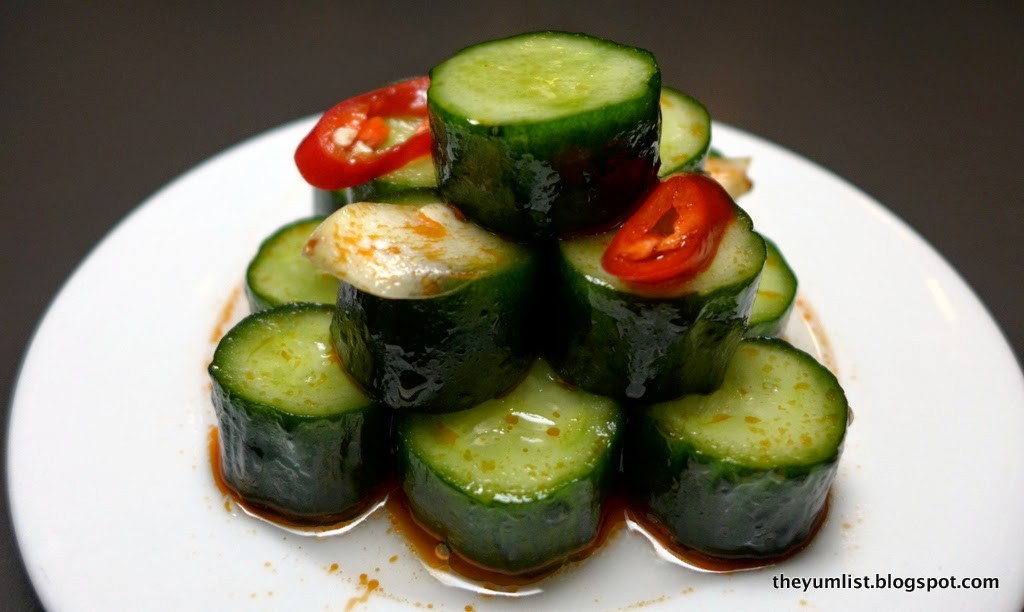 Spicy Pickled Cucumber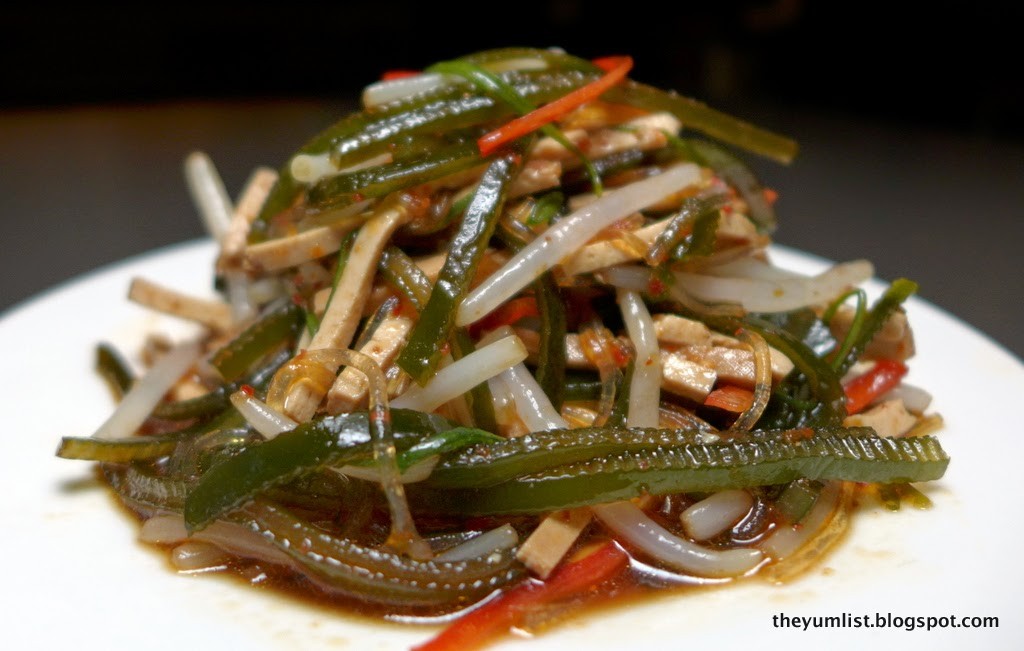 Din Tai Fung House Special时日小菜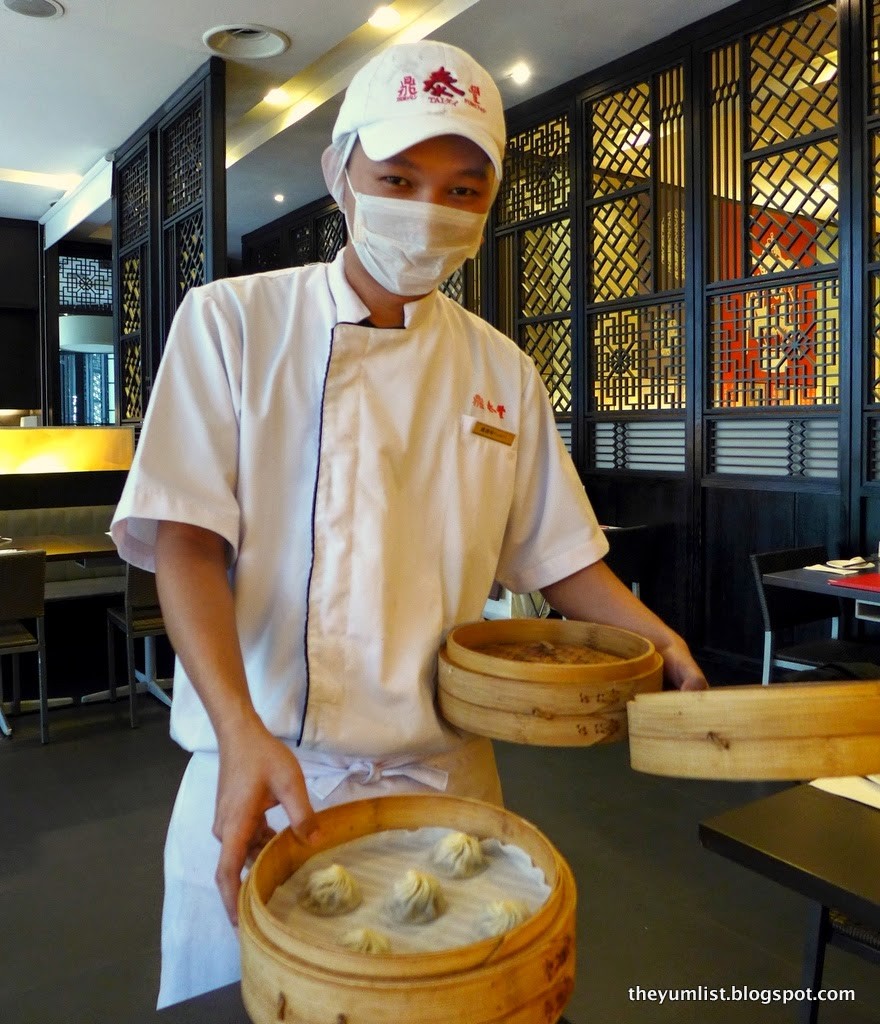 Dumpling Delivery!
Our entertaining and gracious hostess, Jessica, showed us the proper ratio of vinegar and soy sauce to pour over the little bundles of julienned ginger we had been given (3 parts vinegar to 1 part soy sauce, but personal tastes differ).
Then out came the steaming baskets of Xiao Long Bao (the smaller soup filled dumplings). To me, the pork stuffed dumplings (RM11.20 for 6) are the comfort food of China. The ginger/vinegar/soy sauce mix complements them so perfectly – a burst of flavor against the savoury juices that spill into your spoon after you take the first nibble of the dumpling. Then you can put some ginger on top of the remaining bit and finish it off.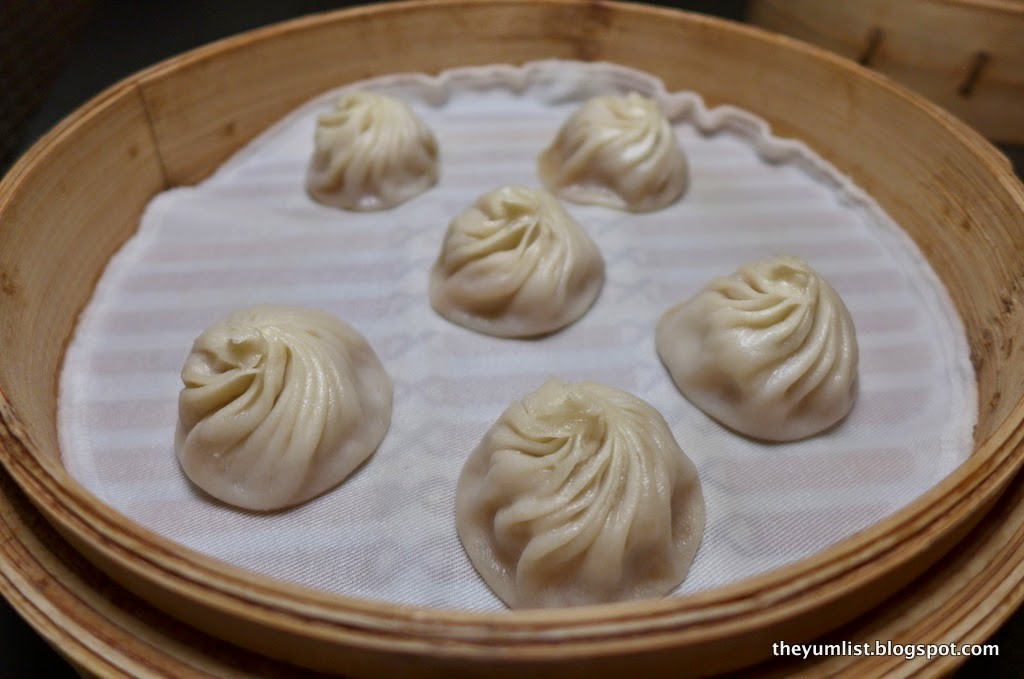 Pork XLB小笼包
A signature dish that I had never tried is the Truffle and Pork Xiao Long Bao (RM37.50 for 5). These petite steamed dumplings are so elegant — the filling has a nice slightly rough texture, and the taste of the truffles really comes through.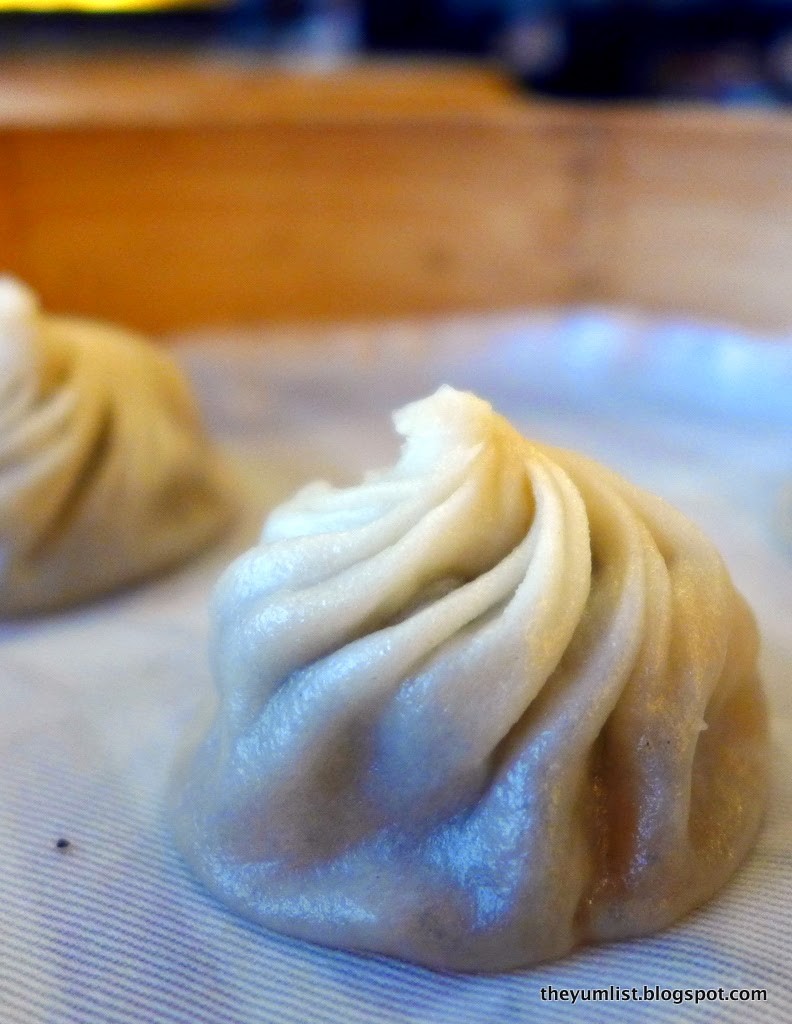 Truffle and Pork XLB松露小笼包
The next set of dumplings was my favorite – the Steamed Prawn and Pork Shiaomai (RM15.80 for 6). I nicknamed it "pork dumpling plus plus" as you get all the savoury juices and pork filling, but the added shrimp on top just takes it up a notch! Yum. Extra points for the way the julienned ginger contributes the perfect zing.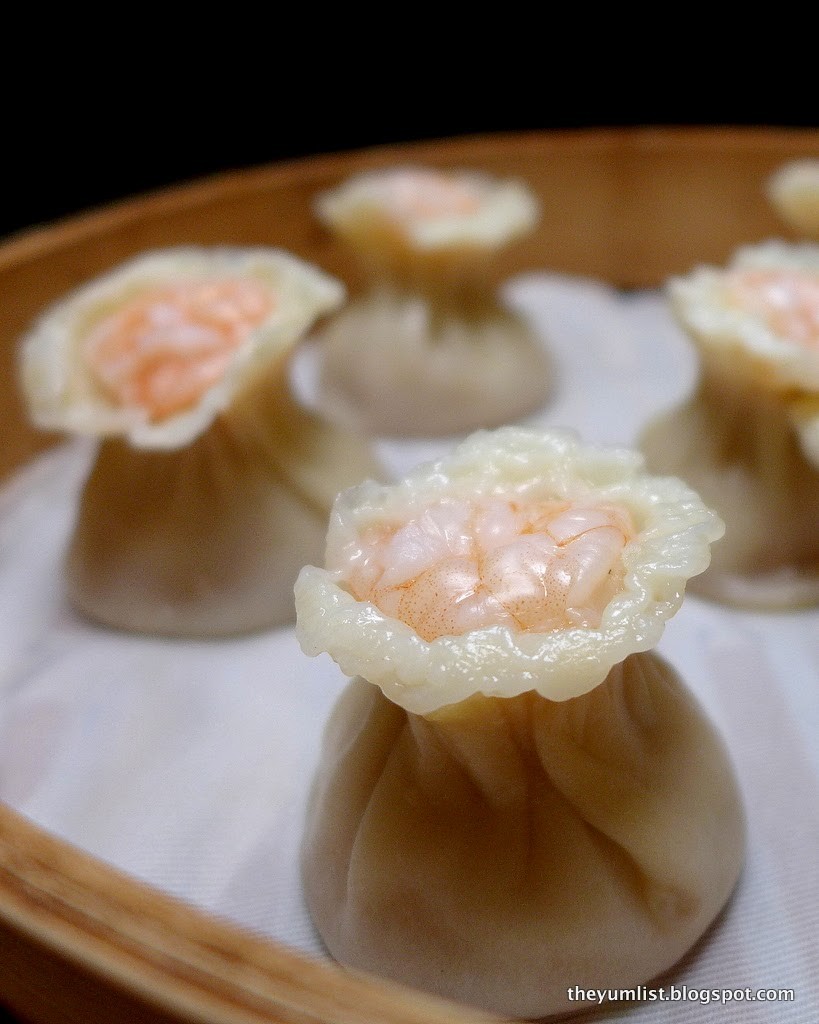 Steamed Shrimp and Pork Shaomai 虾仁烧卖
The Steamed Fish (RM13.20 for 6) dumplings are also a Din Tai Fung speciality — it is uncommon to find a dumpling that is 100% fish filling. The fresh flaky bits of fish are nice; not minced or mashed as you might expect. Spring onion finely diced supplements the mild filling well. While many of Din Tai Fung's do include meat or meat broth, the Mushroom dumplings (RM11.80 for 6) are vegetarian. The filling is a mild mix of greens and mushroom; these can be jazzed up a bit with the ginger or even a blob of chili sauce.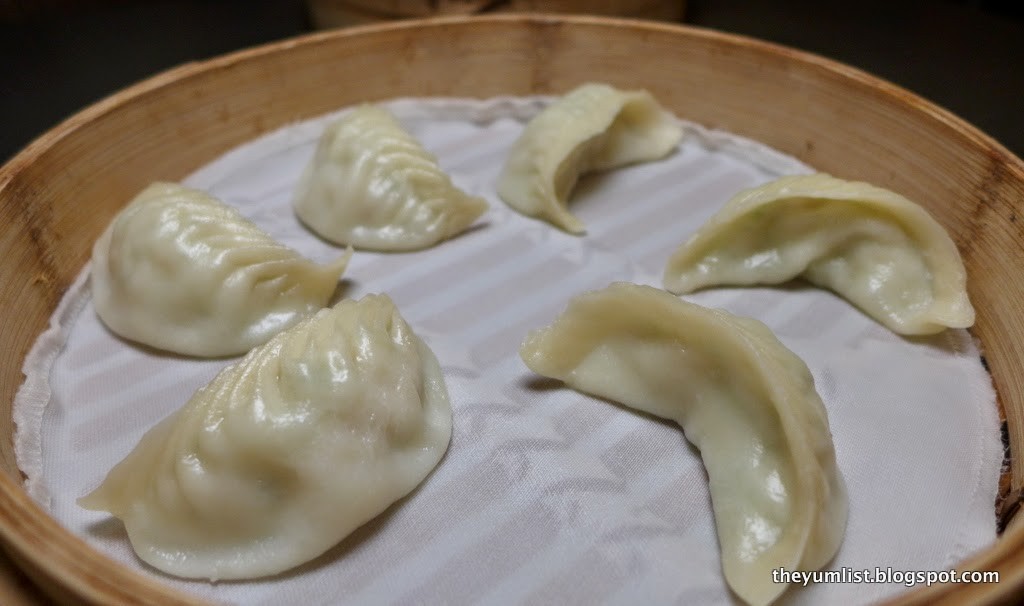 Steamed Fish Dumpling 鲜鱼蒸饺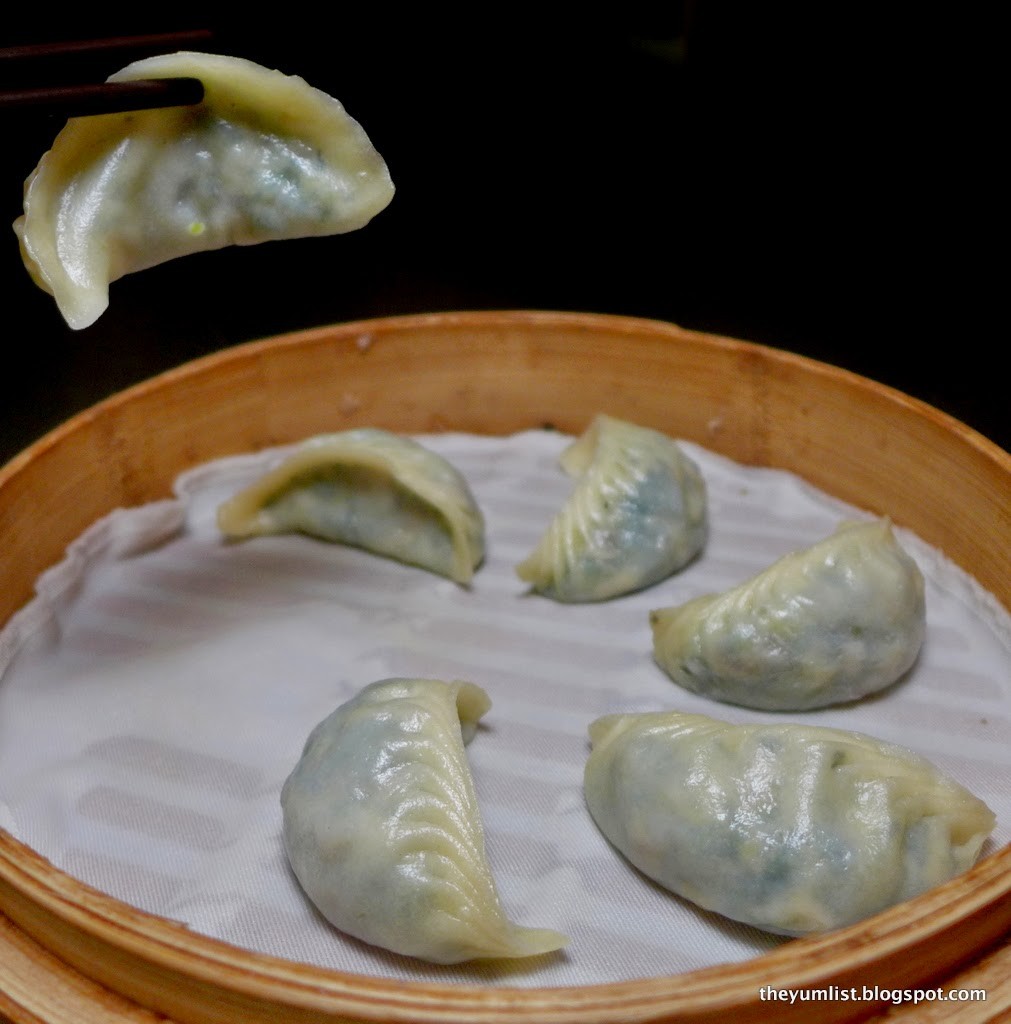 Steamed Vegetarian Mushroom Dumpling
The Vegetable and Pork dumplings (RM11.20 for 6) resting on a bed of hot chili sauce had such a unique flavor, I just couldn't place it. But when I asked about the mystery ingredients, Jessica smiled and told me it is a secret recipe. HOT and intricately spiced, this dish would be a fine mate while sipping the Roselle or Lemongrass Lime Juice.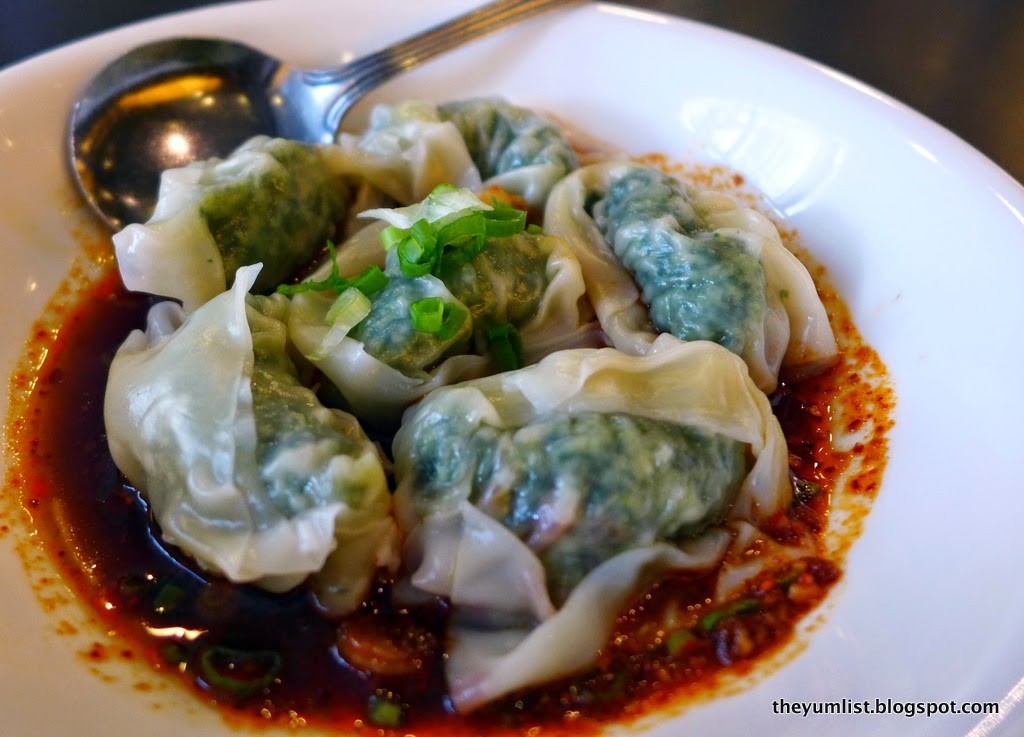 Spicy Vegetable and Pork Wonton
Moving on from dumplings, we tasted the Braised Beef and Noodle soup (RM20.50 for a large bowl). A little heavier than some of the other dishes we tried, this soup has a generous portion of beef resting on a bed of noodles, and goes quite nicely with the red chili sauce from the condiment stand. Another favorite dish of mine is the Green Beans with Minced Pork (RM21.50). These delicate beans are soft but still have a nice crunch to them and are balanced perfectly by the minced pork, which finishes just a very teeny bit sweet. I could eat a barrel of these!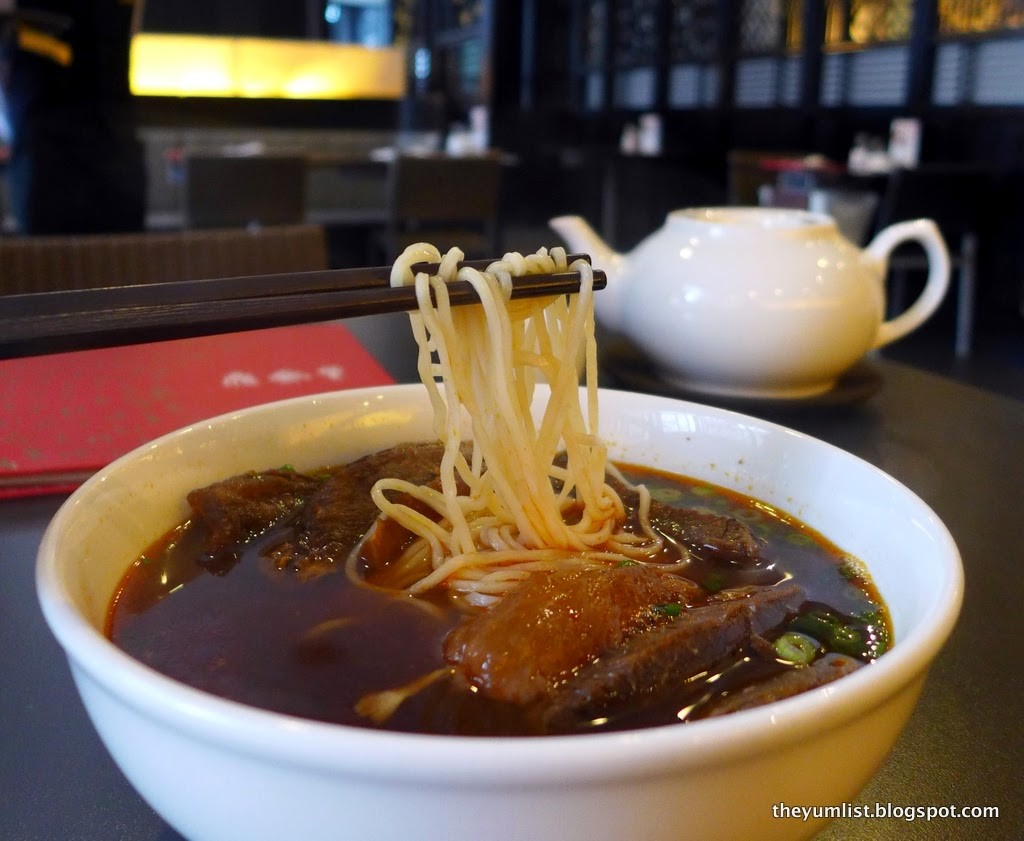 Braised Beef Noodle Soup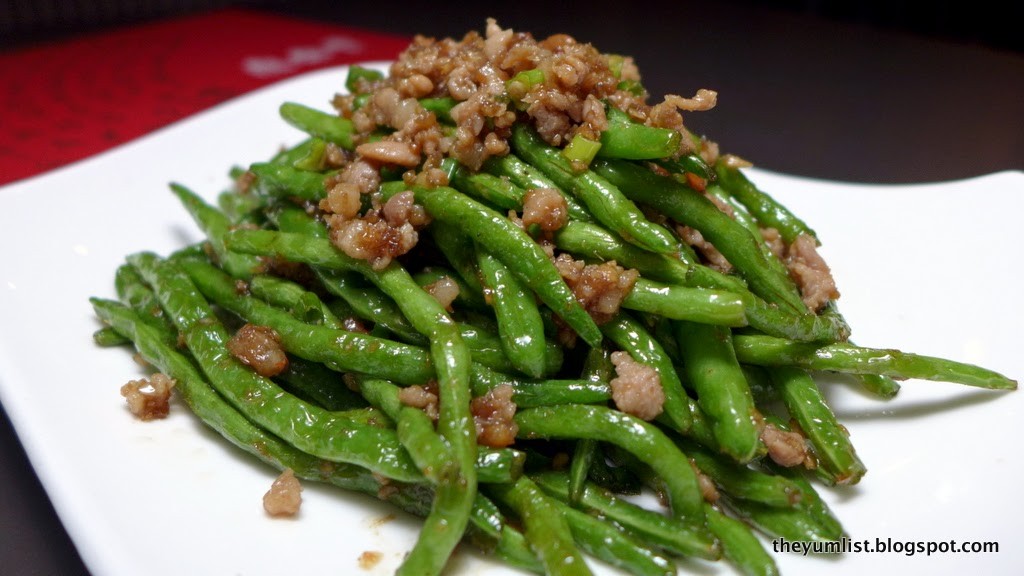 Sauteed Baby String Beans with Minced Pork
Meat lovers will enjoy the Pork Cutlet (RM13). It is not breaded, just dotted with flecks of black pepper and eminently tender. A little bit on the oily side, but delicious nonetheless. And then, my third favorite choice of the evening — the Pumpkin fried in Salted Yolk (RM17.50). Oh heavens, this is not health food (but wait, there is pumpkin in there and that is GOOD FOR ME, right?!) as it is deep fried, but you just need a few morsels of this crunchy, smooth and salty wonderment to be sated. As Jessica noted, it would be a great beer snack!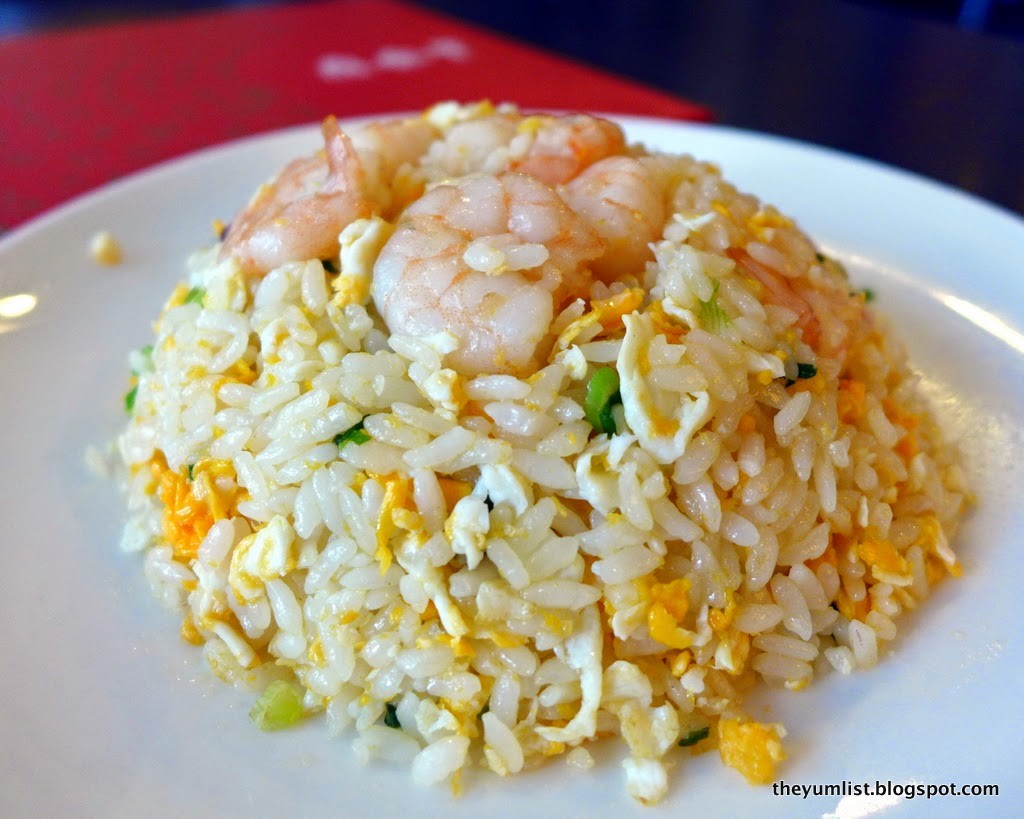 Shrimp Fried Rice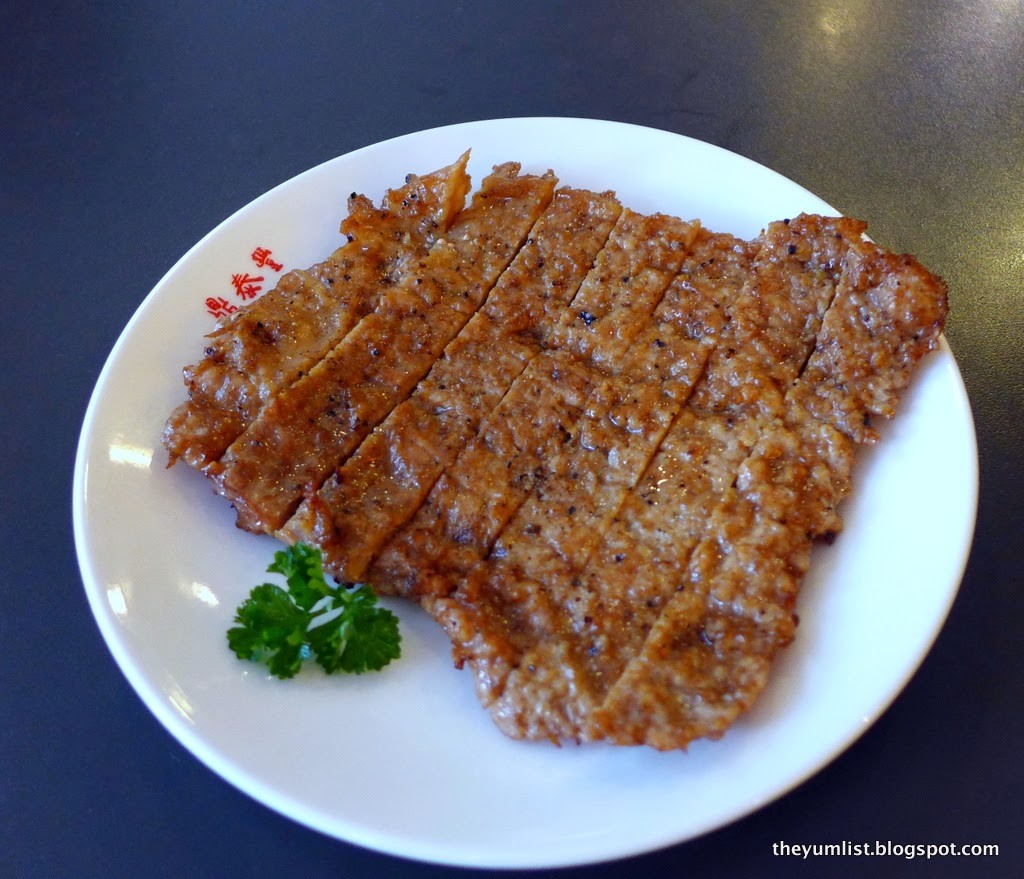 Pork Chop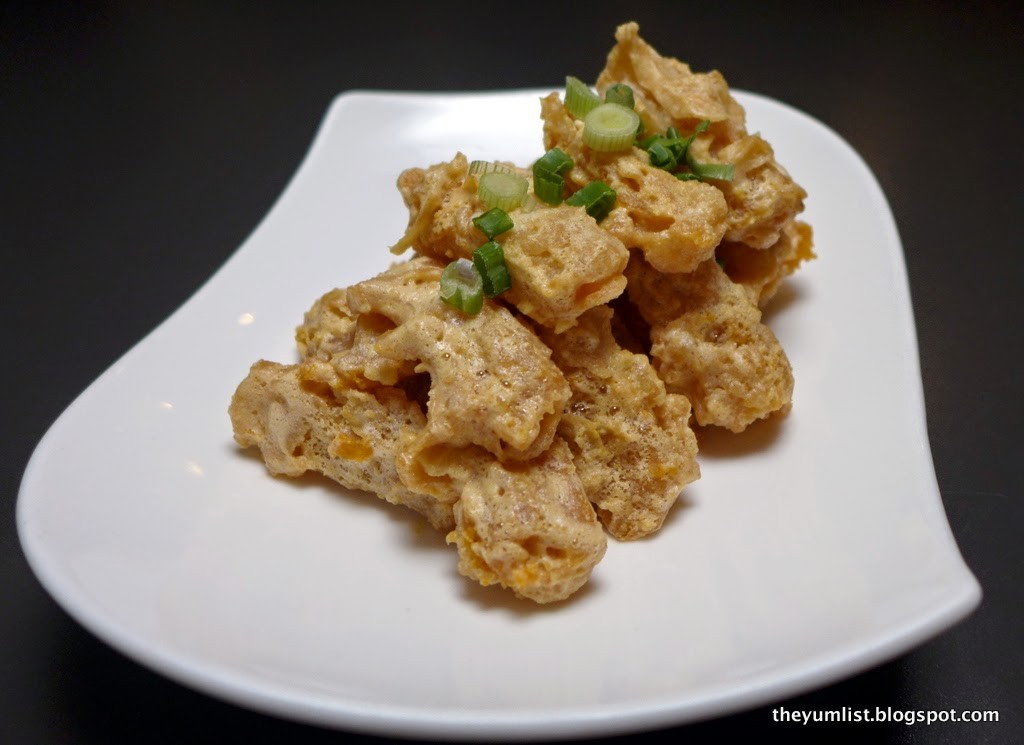 Golden Pumpkins with Salted Egg
Having lived in China for four years, I knew that dessert is not a typical menu item in many places there. But we were given three dessert selections, which give a nice sweet ending to the meal. The Red Bean dumplings (RM8.50) are just as they are described – the sweet mashed bean paste in a lightly steamed dumpling. No surprises here – a nice reliable ending to the meal. The Taro dumplings (RM 8.80) have a filling that is the texture of mashed potatoes, and are not overly sweet. The flavor of the taro, a root vegetable, come through nicely. Our final dessert option was the Steamed Chinese Layer Cake (RM6). The cake itself is much like a piece of white bread, but the two dips give it interest – condensed milk and the very tasty black sesame paste which is sweet and salty and grainy and a bit addictive!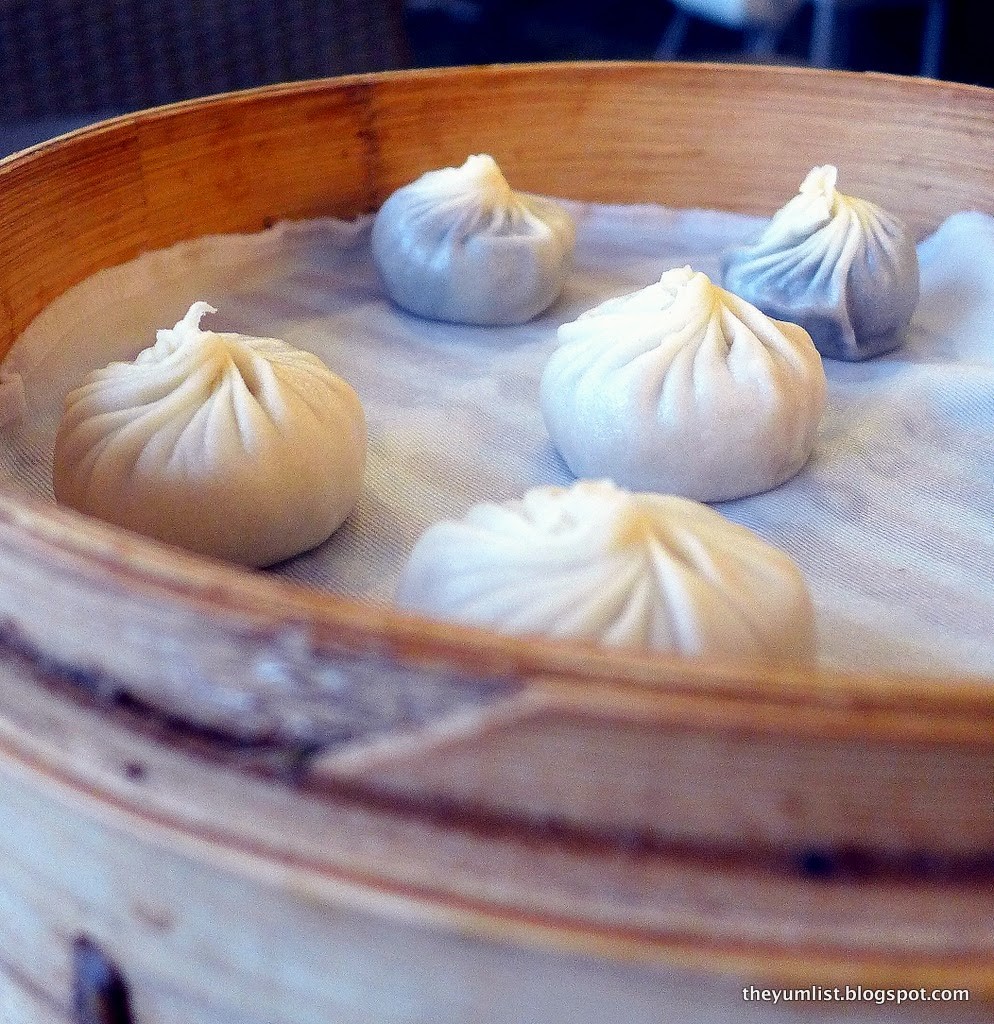 Steamed Red Bean/Taro Dumpling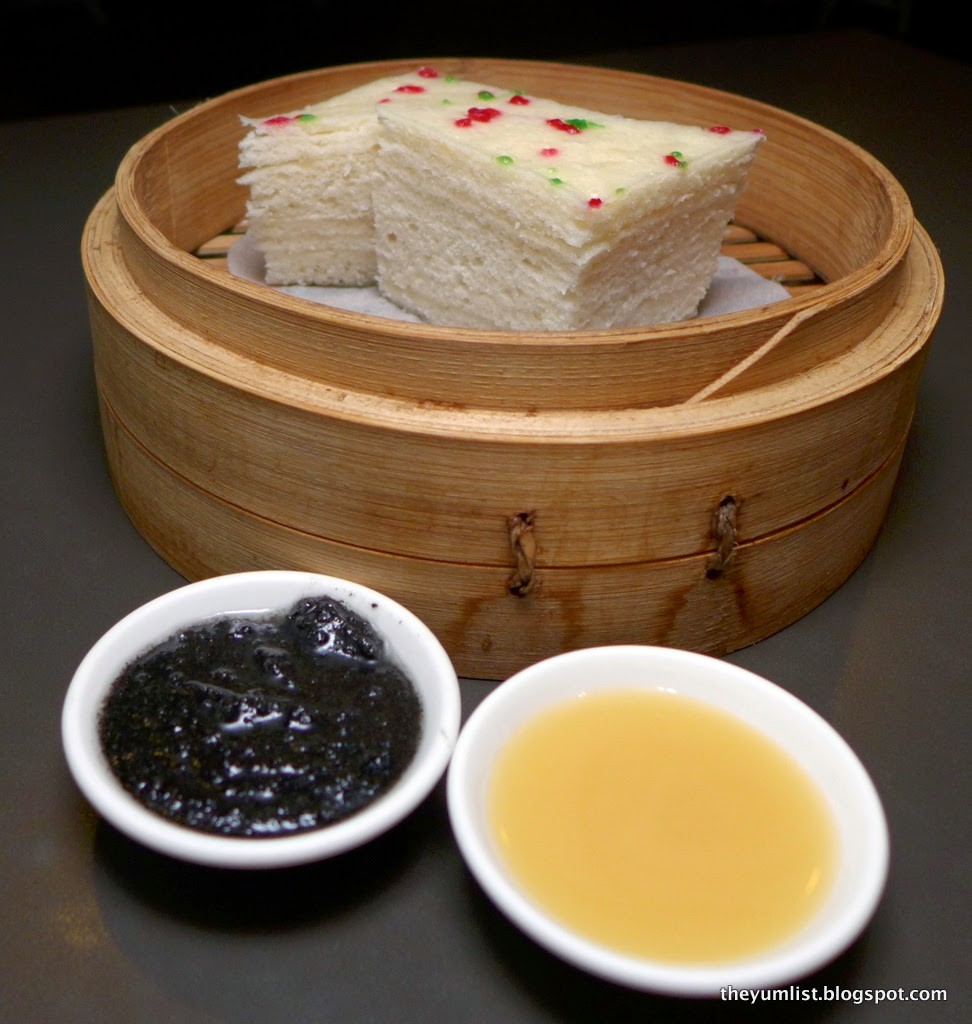 Steamed Chinese-Style Layer Cake
As I waddled out of the tastefully decorated restaurant, I felt very pleased that I had come to a place I thought I knew and found some treasures I had never tried before. I know I will be going back again and again to see what other gems I can discover! And of course, revisiting my favorites as well.
Reasons to visit: signature Xiao Long Bao; Pumpkin fried in Salted Yolk; Green Beans with Minced Pork.