Yesterday we returned to Colonial Café to dine on some of our old favourites, and with a second night at KL's most iconic hotel, we're gifted the chance of a subsequent visit. Follow this link for photos and recommendations of our previous day's samplings, and see below for our most recent tastings.
Starters
Cream of Tomato Soup (RM35) is the vegetarian option, and one that makes me very happy with its rich thick liquid made from Cameron Highland tomatoes. A base of celery, carrot, onion and herbs accord it the taste of a fresh spring garden.
After a sprightly tennis match in the morning, hubby's feeling he can take on the calories so commences with the Baked Seafood Crab Shell (RM55). Crab meat, shrimp, snapper and salmon coated in a cheesy creamy mushroom sauce stuff the crustacean casing. Baked breadcrumbs are mixed in at the last minute providing alternating mouthfuls of creamy and crispy. First dig of the fork has us both oohing and aahing over the cheesiness of the filling, and once in the mouth the loud approval continues.
Mains
Sole Meuniere (RM130) fills the length of a long oblong plate, is striped on its ridge with a line of forest mushrooms, and surrounded by a pool of nut-brown butter. The fish is perfectly cooked, moist and flaky, and obviously fresh. While the sauce is rich, reminding us of a wintery dish, equivalent in fishy terms of what a casserole might be for meat in a colder season, fresh slices of lemon break the heaviness, making a well-balanced meal.
Hubby continues his feeling of energy-burned this morning so has requested the Porterhouse Angus Steak (RM210) as main. Done medium, it's pink in the middle and browned around the edges. It's so tender and juicy it will definitely make our list of Best Steaks in Kuala Lumpur. Steak fries, wedged underneath a corner, are really just a prop to hold up this magnificent piece of meat.
Desserts
A vibrant nest of berries crown the Warm Apple and Pear Crumble (RM45), and a cinnamon custard surrounds it. My intention to just take a spoonful for tasting and writing purposes is quickly forgotten when the fruity wadding, sweet crumbly surface and creamy sauce hit the taste buds. Soon dessert has disappeared and I've more than enough content for commentary.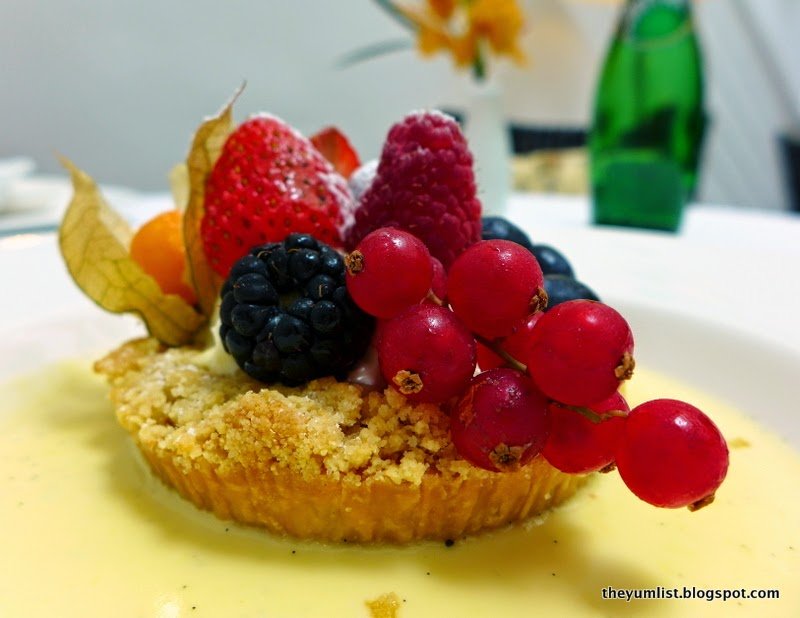 Warm Apple and Pear Crumble
Bread and Butter Pudding (RM45) fills a pot with buttered bread slices, raisins, and fresh cream, and is baked until faintly golden. Supplemented with a Madagascar vanilla sauce, this traditional last course leaves hubby beaming from ear to ear.
There's something to be said for a menu that doesn't change. We notice the same classics we tasted when Colonial Café first opened just over two years ago, and we think this stability has allowed the kitchen to consistently ensure recipes are only sent out in peak condition. The refined excellence of Colonial Café is going to make a long-standing mark on the KL dining scene, and we think it will continue to be a treasured gem amongst locals and visitors alike.
Reasons to visit:
colonial ambience, graceful service, big bold flavours, Baked Seafood Crab Shell, Porterhouse Angus Steak, Bread and Butter Pudding.
Colonial Cafe
The Majestic Hotel Kuala Lumpur
5 Jalan Sultan Hishamuddin
50000 Kuala Lumpur
Malaysia
www.majestickl.com
+6 03 2785 8000
[email protected]
[email protected]