Our first experience at Homage had hubby moaning with delight throughout the meal and I swear he slept with a smile on his face that night dreaming of the delicious degustation menu we'd demolished. I was equally charmed and, as such, we couldn't wait for our second night at Homage. This round however, with our taste buds already whet with the possibilities, we chose from the a la carte options.
To Start
I don't believe I've ever met more perfect Scallops ($21). Not only are they extremely fresh specimens coming from the pristine waters of nearby Mooloolaba, but also a fine example of flawless execution. Caramelized on the outside and sublimely tender within, we both exhale an audible 'mmm' on first bite. Nasturtium leaves from the garden are a pretty round shape, but also lift the plate with a peppery taste. Three variations of cauliflower – puree, pickled and dehydrated sponge – alongside toasted almonds, furnish multi-layers of texture and get us off to an intriguing start.
Local free-range Goat "Navarin" ($20) is moist and stringy and pervades our mouths with rich meatiness. Hand made ricotta gnocchi sport browned crusts and soft pearly cores.  Parsnip puree and crisps, and toasted fennel and cumin seed powder augment the experience even further. Scallops and goat – it's a grand opening.
Mains
A duo of faintly tanned Chicken ($36) pieces remain with their skins on, retaining their natural moisture within. Smoked local carrots criss-cross the crest livening the plate with a vibrant orange hue. Local Emmos fromage blanc and a caramelized fig not only bestow dainty adornment, but prove essential components in the overall flavour profile. The fattiness of the light whippy goats' curd equalizes the smokiness in the carrots, while the fig, when sliced finely, adds fruitiness to every bite.
Chateaubriand (650gm $100 for two – pictured below is a half portion) makes a grand entrance in a heavy metal tray. Rosy pink slices of Queensland Yagaburne free-range grass-fed eye fillet presents an old school cattle breed with natural marbling. This flesh needs no seasoning. The brown jus however, is superb and worth asking for a little bread to relish in its flavour. Zucchinis from the garden, potatoes and baby broccolini are hearty, delicious and lightly cooked allowing their wholesome sapor to shine through.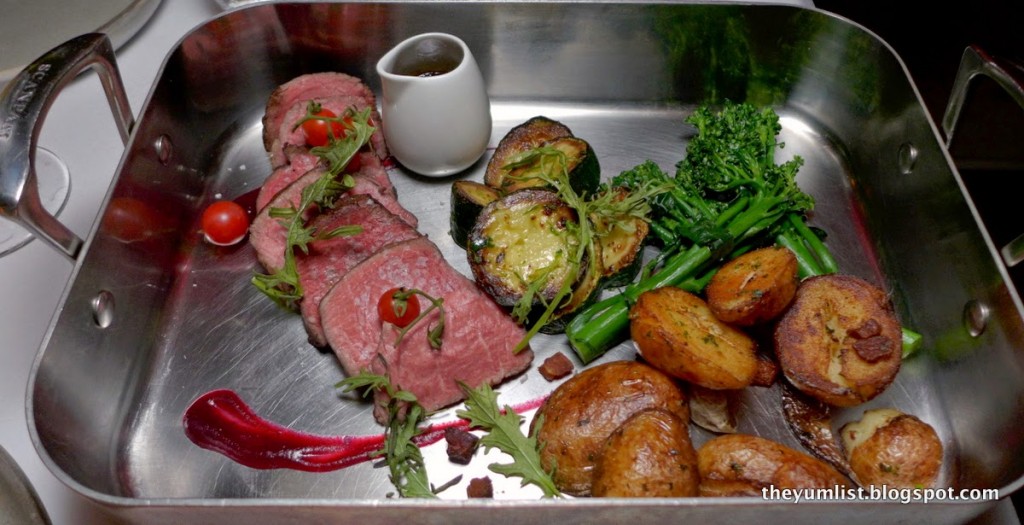 Chateaubriand
Sides
The Daily Find ($8) features a selection of local and harvested vegetables. Roasted lightly, with veggies this fresh and naturally sweet, there's no need to cook them too much.
Local heirloom Potatoes ($8) are sautéed with double smoked local speck and roasted garlic. These beauties are not sold commercially, as production is low. Again we're lucky that chef Ash is an affable bloke, as he's made friends with the grower, who supplies them to his kitchen.
As hubby forks into the Salad ($8), he declares, "This is real salad." Leaves seem to have a life of their own and almost float around the plate. Oily walnuts and a tart raspberry vinaigrette balance each other out.
The sides are all so good, I'd be perfectly happy making a meal out of these alone.
Desserts
Hubby's wholehearted moans indicate success for the Cheesecake ($15). Sous vide preparation gives it a mousse like texture. Both crunchy and pureed rhubarb gifts piquancy and diversion in consistency. Guinness and gingerbread crumb, we think, is a rather special creation. The hint of Christmas spice goes particularly well with the rhubarb, cheese, and lemon and berry gels. My reaction mimics hubby's, and we both smile moments later when a guest at a neighbouring table has a similar reaction.
Date Pudding ($15) is one of the only traditional dishes on the menu. It's proved so popular however that it can't be removed. Accompanied by a thick butterscotch sauce, crunchy honeycomb and beurre noisette (burnt butter) ice cream, the spongy pudding is lavished with mouthwatering mates. We see why it's a long-term player, and would be happy to encounter it again on a future visit.
Reasons to visit: exceptional local produce, stunning views, superb service, every single item on the menu – really, it's all fabulous, I can't choose just a few items – allow a few days to order it all.
Homage
Spicers Hidden Vale
617 Grandchester Mt Mort Rd
Grandchester
QLD 4340
Australia
1300 179 340
Opening Hours
Breakfast: 7:30am – 10am daily
Lunch: from 12 noon Wednesday to Sunday
Dinner: from 6pm Monday to Sunday