Where's the Mad Hatter? – Shook! Mad Hatter's Champagne Brunch
Photos: Monica Tindall
A leader in the arena of champagne brunches, Shook! at Feast Village in Starhill Gallery opened a new themed brunch this past Sunday with all the great food and trimmings that loyal fans have come to expect. This time, elements of the favorite story Alice in Wonderland are woven into the buffets under the arches and auspices of The Mad Hatter. The effect is both delicious and whimsical.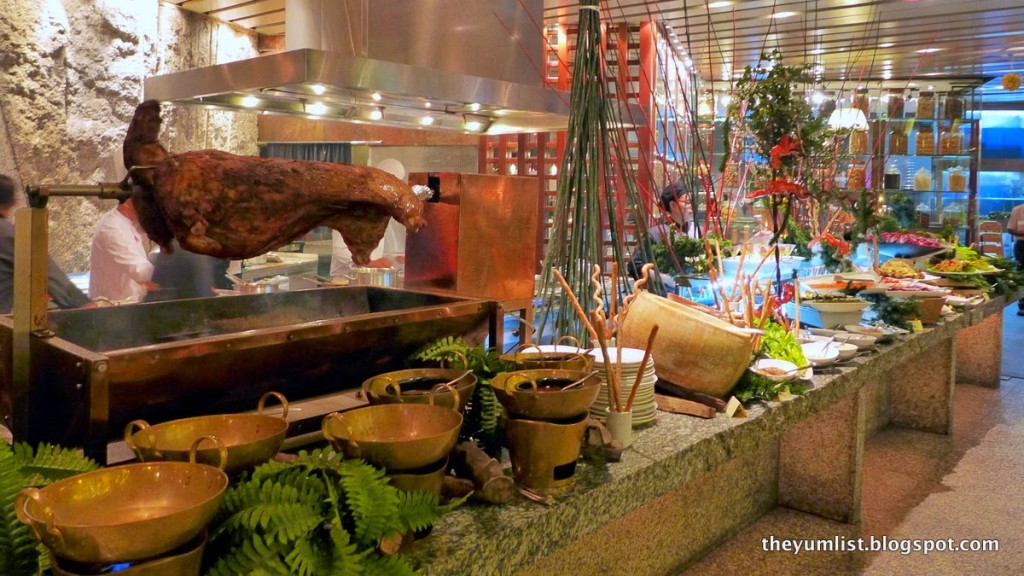 Buffet
We were greeted at the door by The Queen of Hearts, who thankfully didn't command a decapitation before we could even open our mouths to eat! The impressive spreads were dotted with icons of the story. On one table, stacks of books guarded clocks that ran both forward and backward. Doors showed the way down the rabbit hole, and arrows pointed guests in all the wrong directions. Floral arrangements in teapots set the stage for the tea party and guests could have their photos taken in the storybook garden.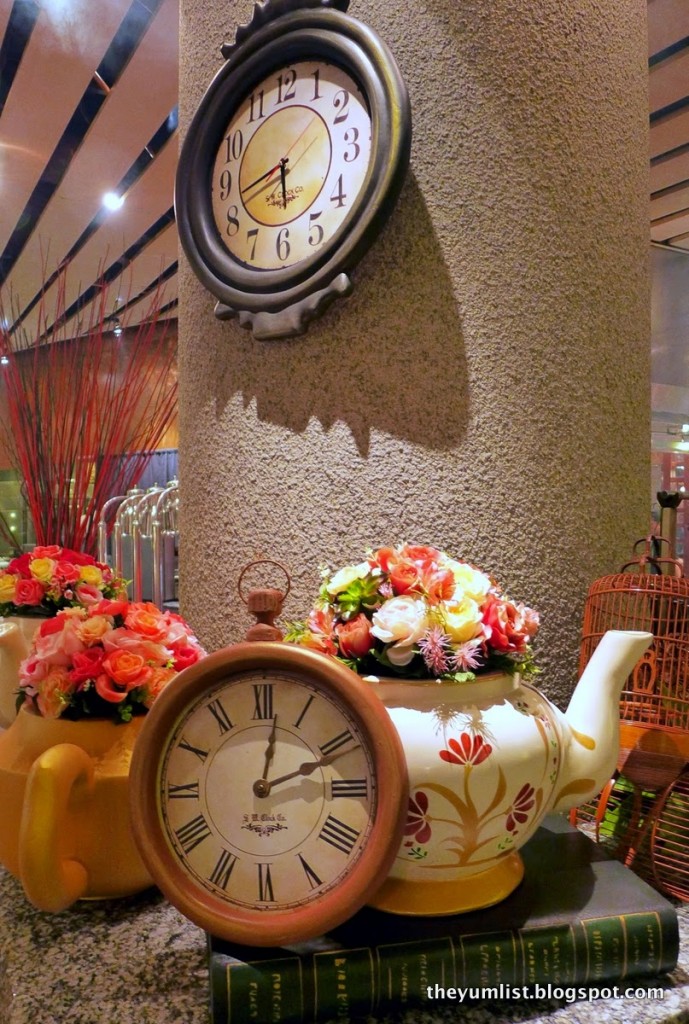 Mad Hatter Decor
More importantly, we were greeted at our table by those lovely friends Moet and Chandon. Bubbles flowed throughout our meal, with tidy waiters never more than a few steps away to refill a glass. Music flowed right alongside the Champagne. A live band performed contemporary favorites to keep the mood lively and festive.
In keeping with Shook!'s mission, the brunch buffets span four different cuisines. Walking through the array, we found everything from pasta and pizza to sashimi and curry.
Japanese cuisine figures prominently, a vast smorgasbord of sushi, pickles, udon and tempura crowned by a meter-long fish! One of the chefs delivered tuna tartare to our tables, a mound of seasoned maguro served over avocado puree in a martini glass: three bites of raw pleasure.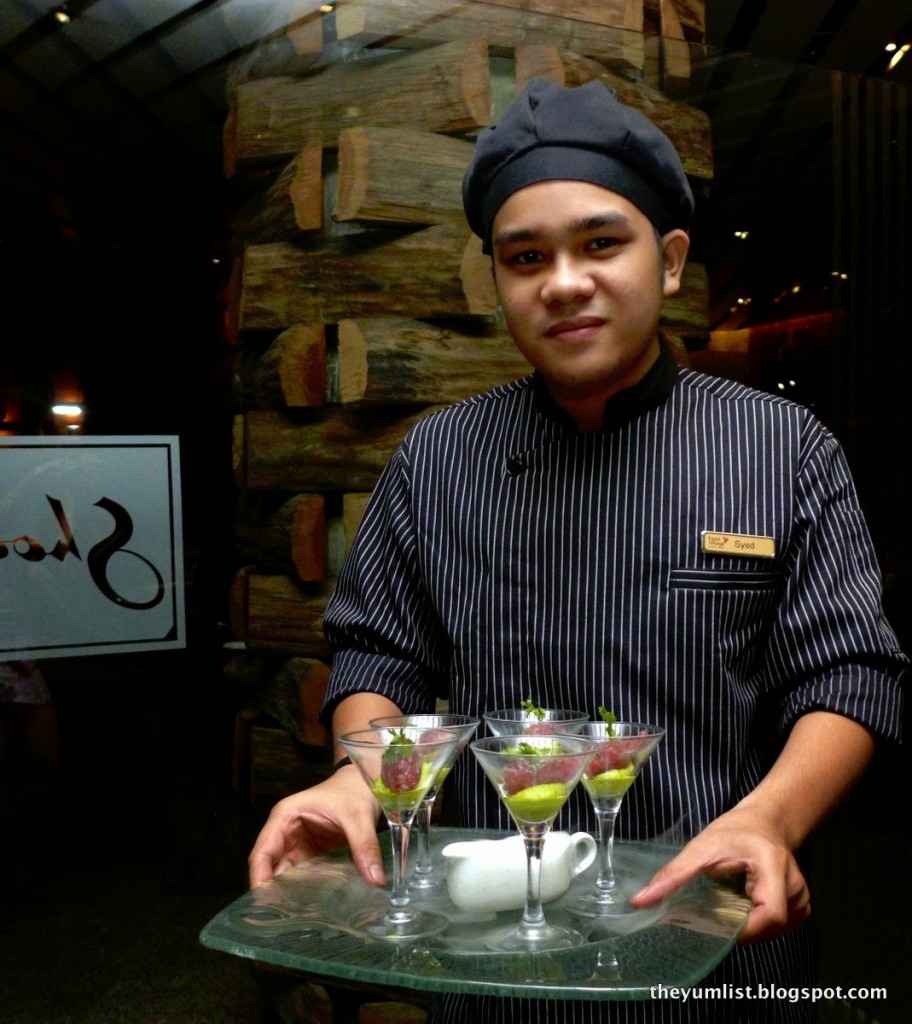 Table Service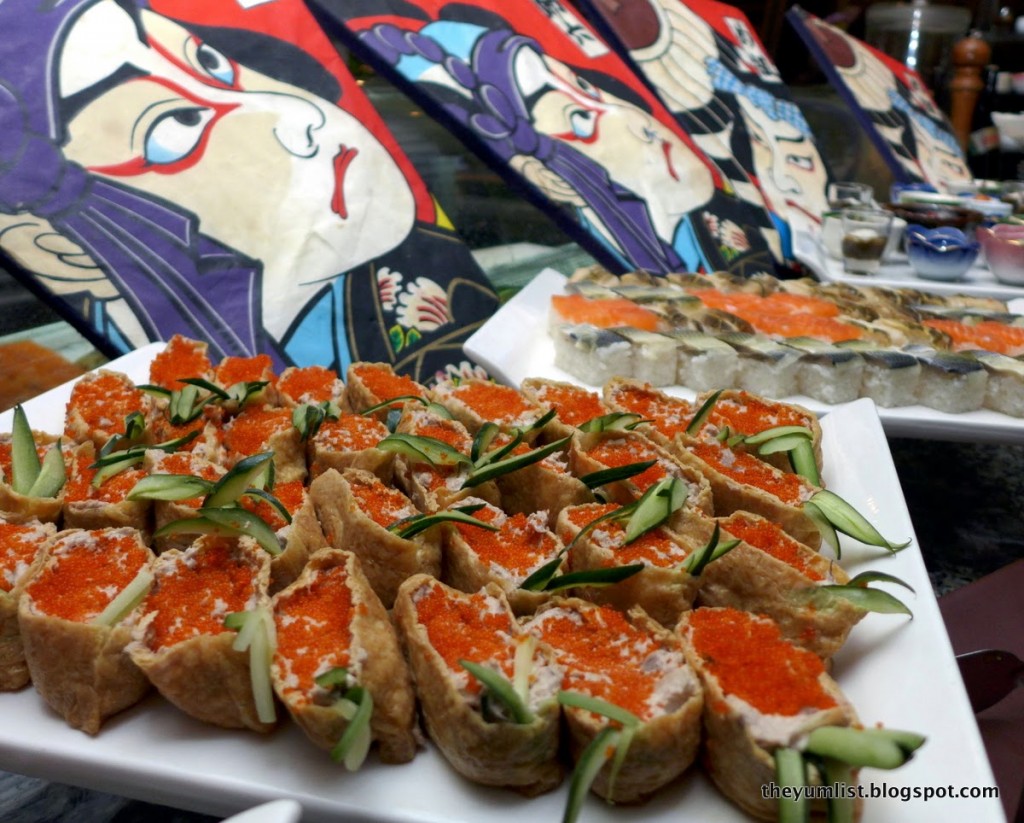 Japanese Section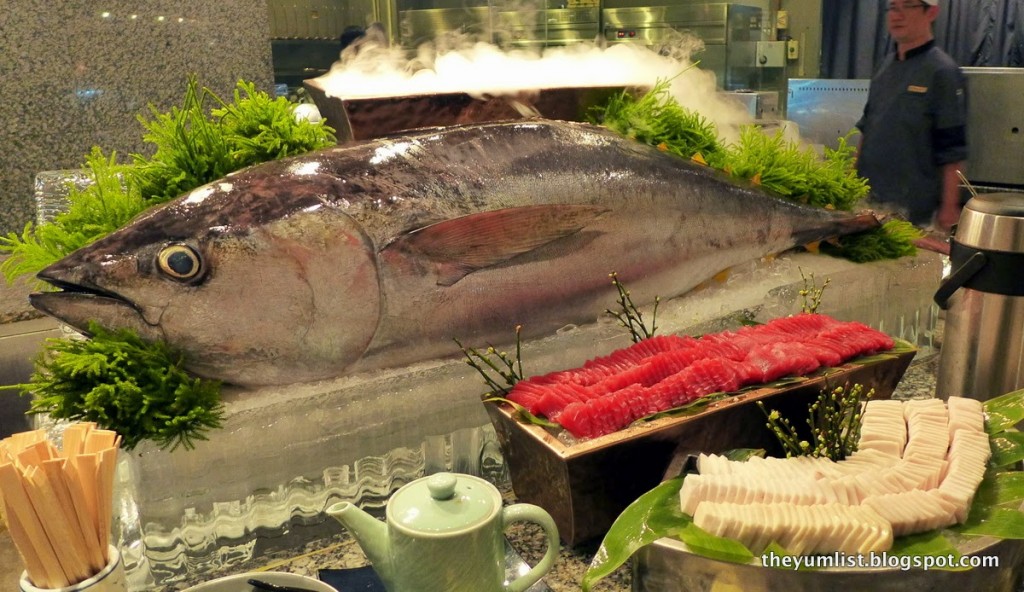 Tuna and Sashimi
Other Asian delights were available to tempt the palate. Curry lovers could enjoy the savory rogan josh and Chinese fans the spicy hot-and-sour soup. That favorite of Malaysian comfort foods, chicken rice, even had it's own station. Executive Chef Matthew Ona led me through seven different sauces for the meat. My favorites were the ginger cilantro and the uber-spicy ginger chili, all very fresh tasting.
And speaking of Chef Ona, I nearly proposed marriage to the man when he delivered a plate of yeasty cinnamon rolls to our table! They were light in texture, loaded with spice, and not overly sugary like the typical mall varieties. Delicious.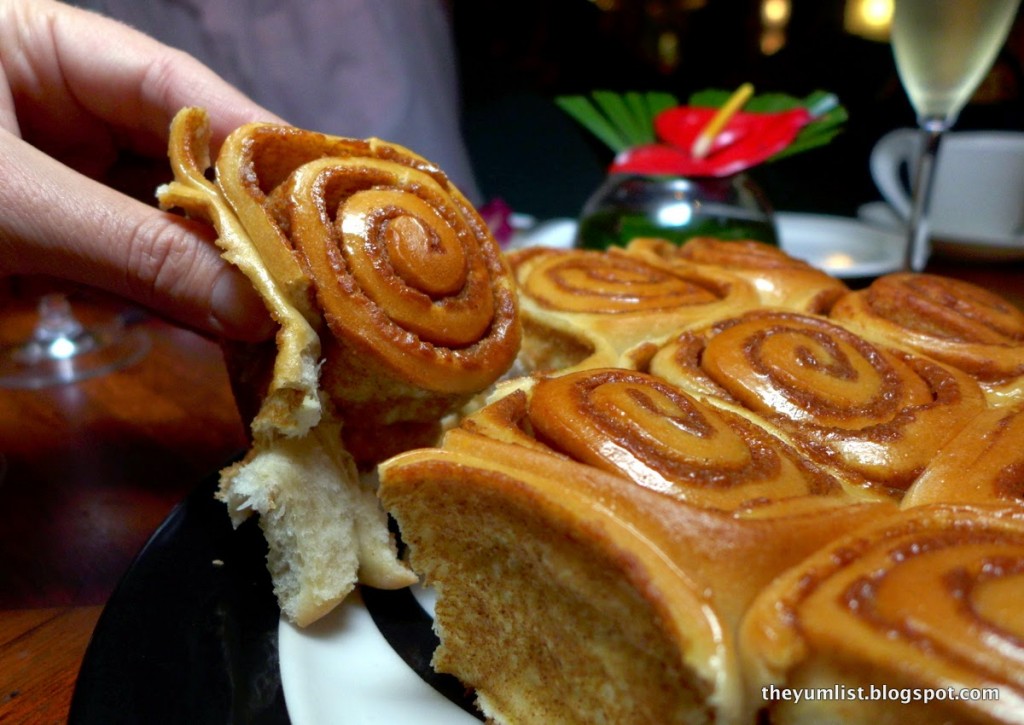 Cinnamon Rolls
On the Western side, a full roasted baby lamb on a spit captured the centerpiece. Tender pieces of the carved meat could be adorned by a number of sauces; the barbecue sauce was especially tasty, sweet and smoky with just a little bit of heat. Cumberland sausage rope and smoked brisket rounded out the carving station. Other European staples like Coq au Vin and Shepherd's pie were also tossed into the mix.
A cold seafood and salad bar was next on the journey. Platters of giant clams and Atlantic blue mussels accentuated the cones of jumbo tiger prawns. A full set of lettuce options and toppings from corn to pickled onions awaited salad lovers as well as items like the caprese torte, with cheese and tomato slices layered like sponge and frosting on a cake. Caesar salad fans were not ignored. An artful display of breadsticks and parmesan offered all the accoutrements of this classic.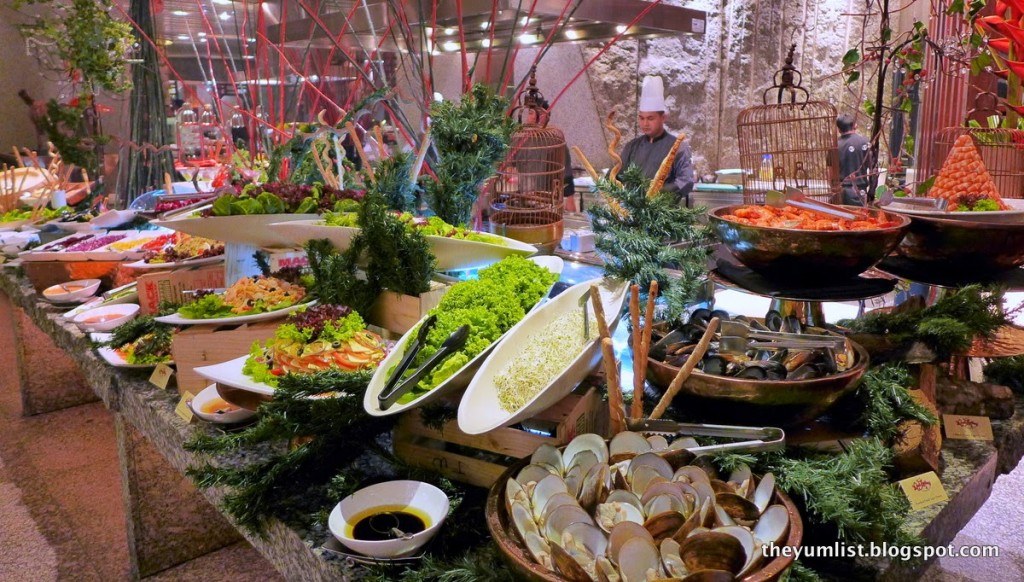 Seafood and Salads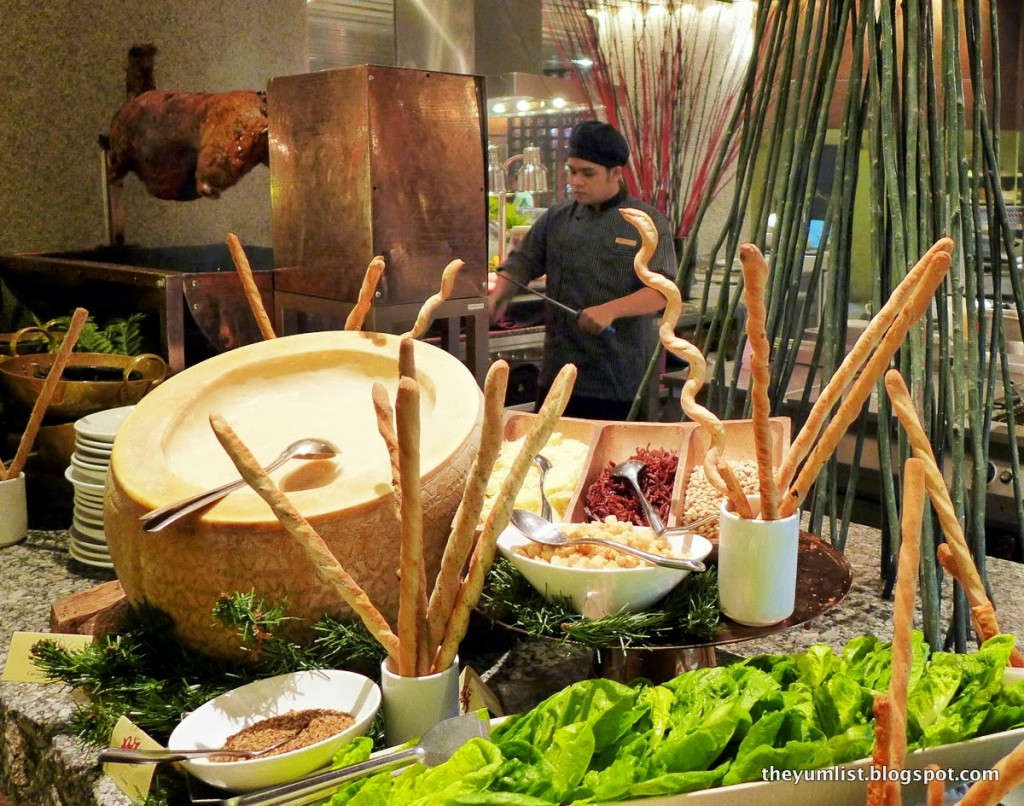 Make-Your-Own-Salad and Lamb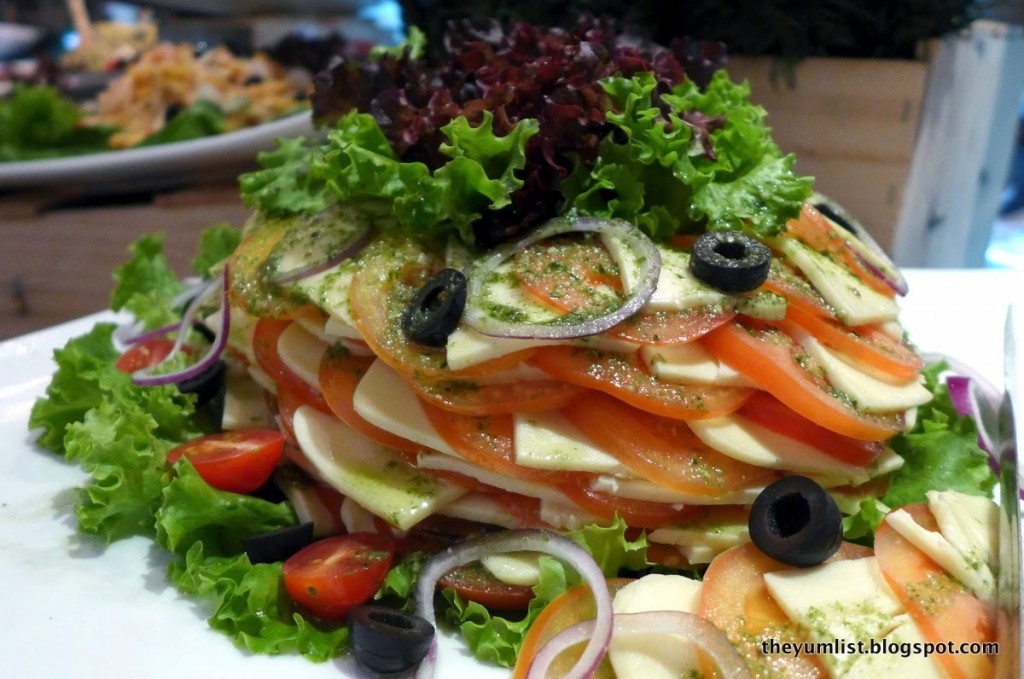 One of Many Salads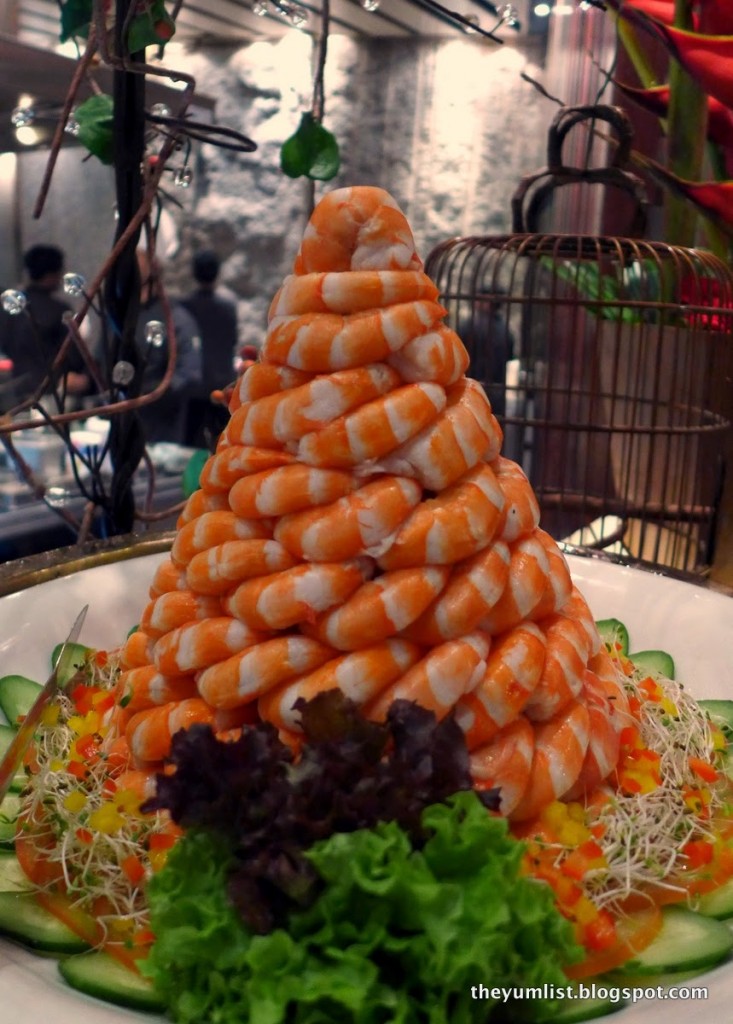 Cone of Peeled Prawns
Next step on our walkabout produced the pizza and antipasti station. Marinated vegetables and cheeses sat next to thin-crust options straight out of the wood-fired oven. Monica tried the Margarita pizza, and found its thin crust just sturdy enough to hold the abundance of cheese and fresh tomatoes. Pasta geometry followed next, with five shapes of noodles available with any of three sauces: a simple tomato, a Chicken bolognaise, and a creamy mushroom. All of these are tossed and served to order.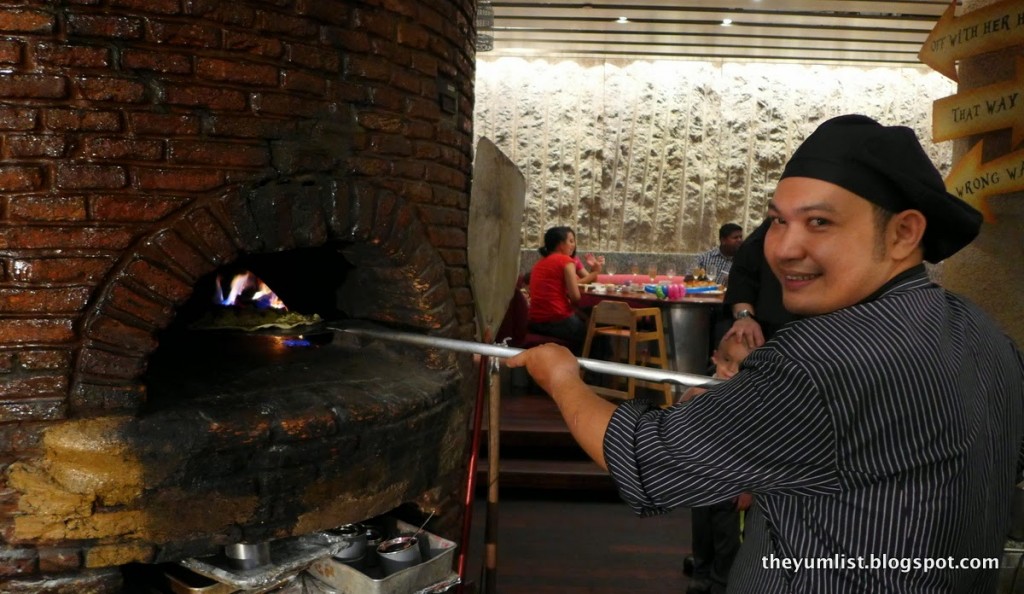 Pizza Oven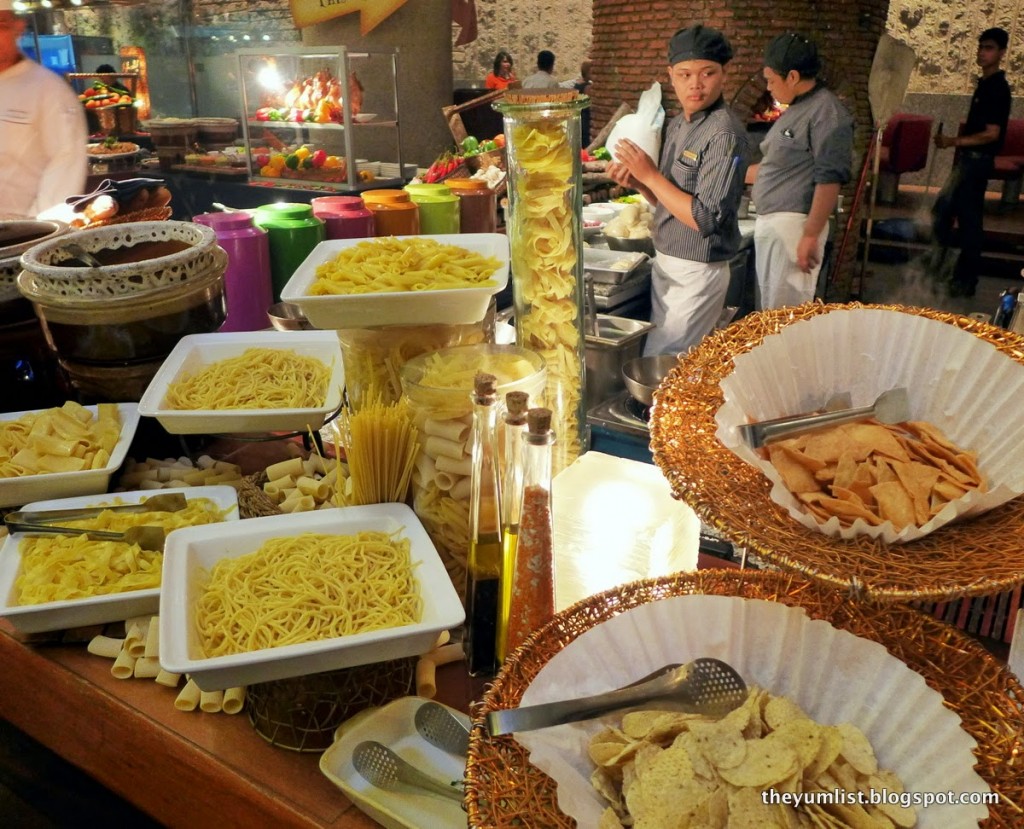 Pasta
The charcuterie section lay at the end, with its array of Emmenthal, Brie, Gouda and other cheeses on offer. Plates of cold cuts and bowls of nuts and dried fruits were presented as well, and these were a nice almost-ending to the meal.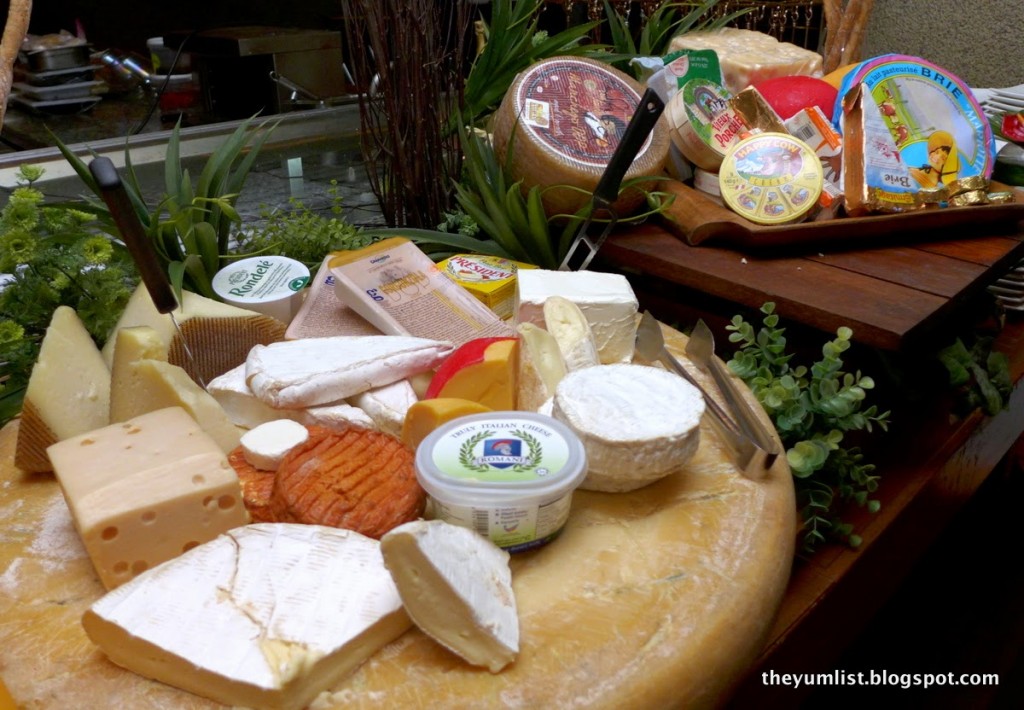 Comprehensive Cheese Display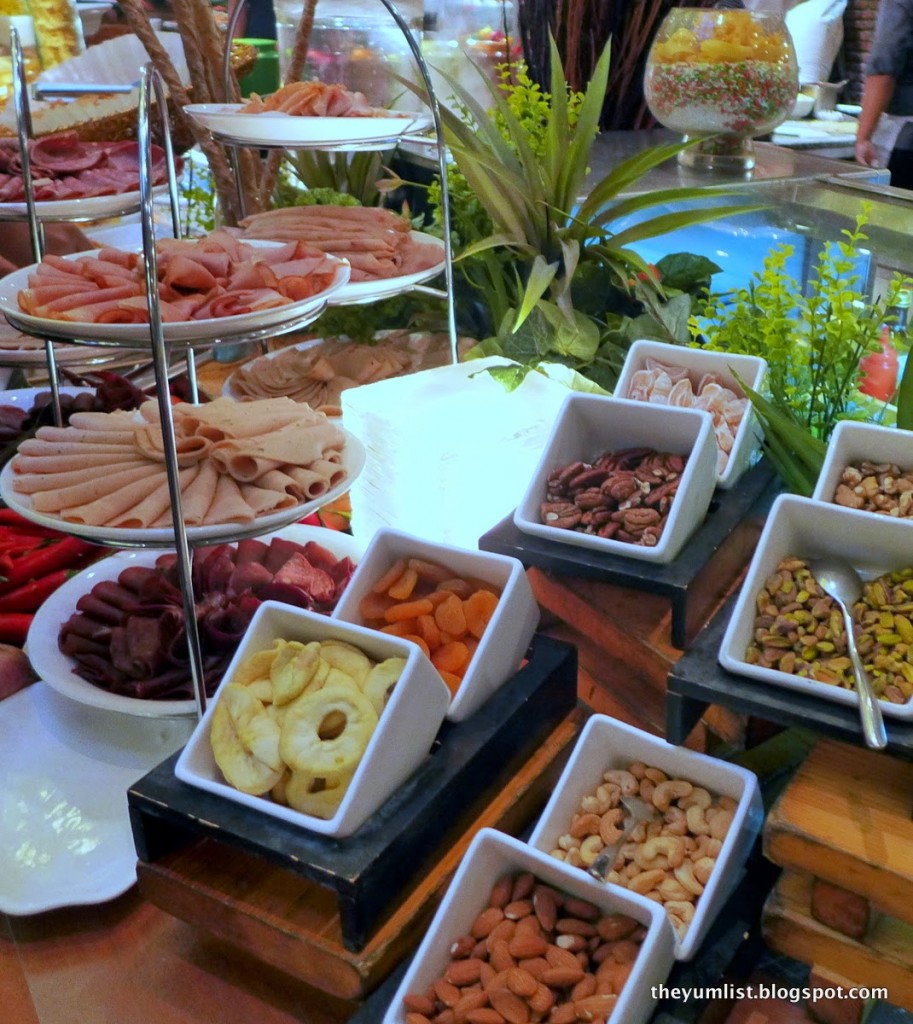 Cold Cuts and Nuts
Perhaps no section highlighted the whimsical nature of the Mad Hatter theme better than the desserts. Here we discovered meringues shaped like mushrooms, eclairs with sugar pictures of the Cheshire Cat and a veritable globe of colorful macarons to be plucked. Rainbow cakes and red velvet pillows nestled like dreamtime between chocolate mousse and creme brulee in teacups. And the chocolate fountain was PINK! I think we made three trips.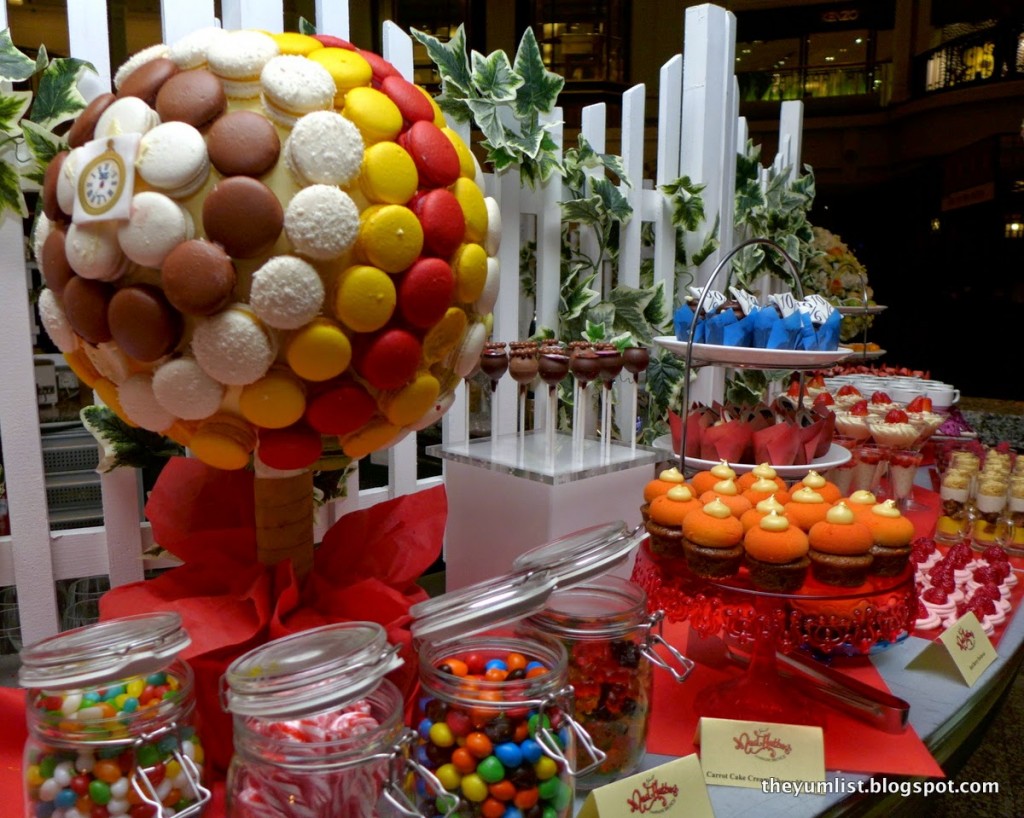 Dessert Buffet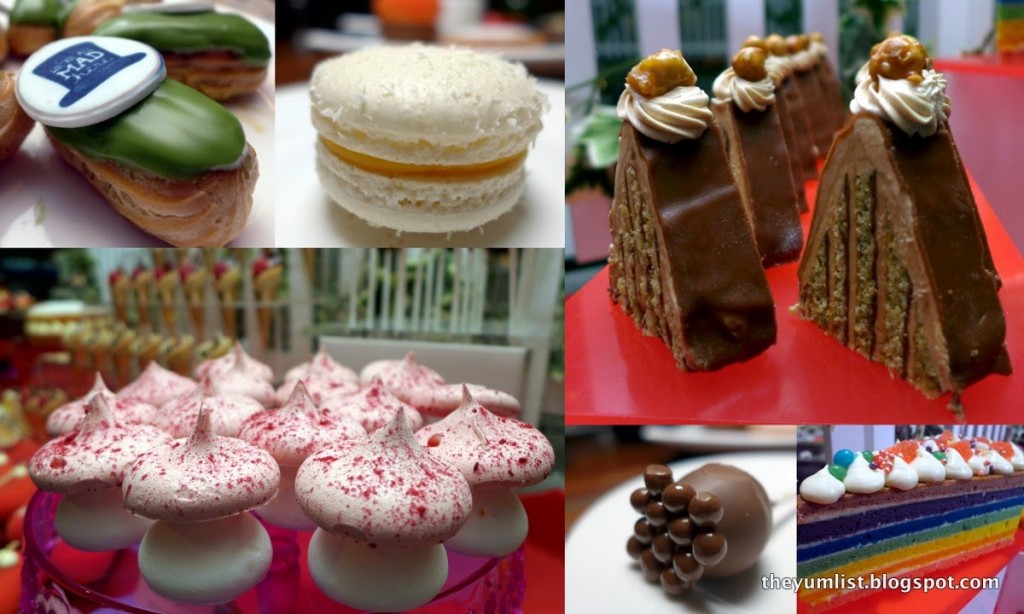 Desserts
As we took in the spread and variety of the buffet, a mime entertained guests with antics and balloon hats. We were delighted when The Mad Hatter himself paid a visit to our table. Quirky and charismatic, he charmed us with stories and magic tricks, bending cutlery and making items disappear. He even set his wallet on fire!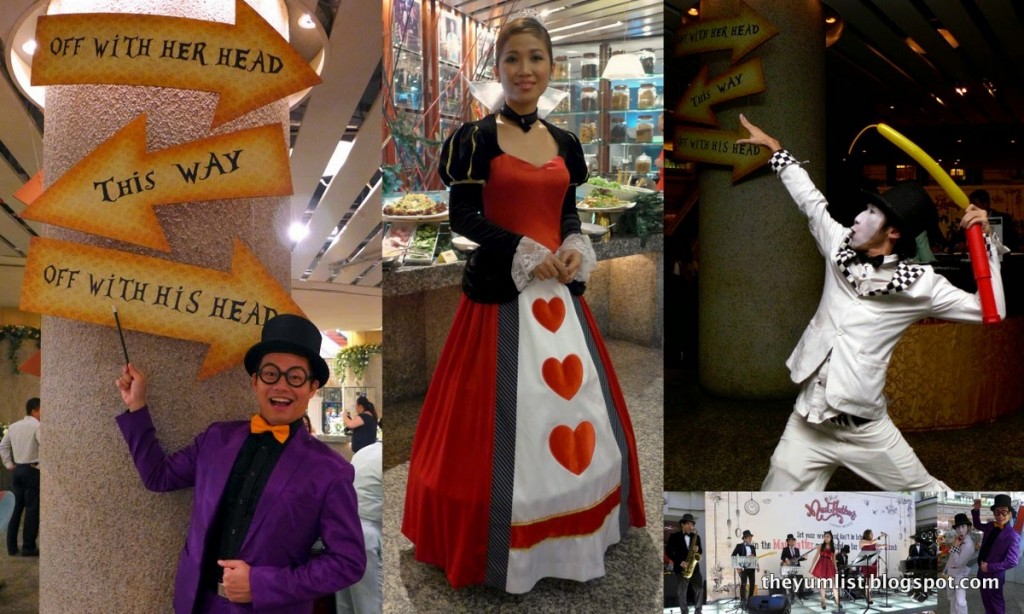 Entertainment
A light-hearted and whimsical experience awaits you and your friends at Shook!'s Mad Hatter brunch, running every Sunday from 12 noon to 4pm at Feast Village, Starhill Gallery. Champagne drinkers will be set back RM 298++ for the pleasure, while non-drinkers will pay a more modest RM 188++. Wouldn't you say it's time to bring a little Madness into your week?
Reasons to visit: Endless sashimi, whole roasted lamb, yeasty cinnamon rolls, and the unbelievable selection of playful desserts.
Mad Hatter Champagne Brunch
Shook!, Feast Village, Starhill Gallery
181 Jalan Bukit Bintang
55100 Kuala Lumpur, Malaysia
+60 3-2719 8535