Words by Ross Jones
Photos from The Hilton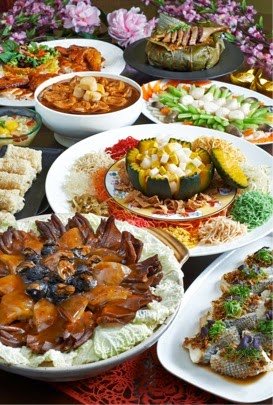 CNY Set Menu 2
2015 ushers in the the year of the Goat for all celebrants of the Chinese New Year.  This is one of the major vibrant holidays in KL and the city is filled with hues of red and gold at every street corner.  The CNY feast at Chynna is one to reckoned with. The Yum List was invited to sample one of their five set menus for this joyous occasion. This is not our first traditional Chinese New Year Feast, but for newcomers to Asia or KL, it is an experience not to be missed.
Chynna is set on the fifth floor of the luxurious Hilton, KL at KL Sentral. It is decorated in a traditional Chinese antique decor and tables are expertly placed to give the restaurant a cozy, uncluttered feel. Dining tables are round and food is placed on a lazy Susan for serving.
The meal began with a very interesting pouring of tea from extraordinarily long necked teapots. This was a Pu-Erh tea that complemented the food well. Chinese New Year meals, particularly in Malaysia and Singapore begin with a special salad-Lo Sang (or Yee Sang). This is a prosperity salad in which the diners toss the ingredients of the salad together with long chopsticks while chanting words of "Prosperity" and "Wealth." The salad at Chynna is different from any others we have tried. Entirely, vegetarian (it is usually served with fish), this one included a steamed Japanese Kanzai pumpkin (grown in Malaysia) and Korean pear. This was a great twist on the salad and we would highly recommend it. The steamed pumpkin was soft enough to eat the rind and the pear offered a great crunch.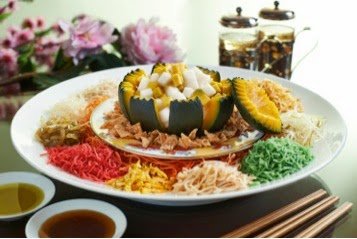 Premium Kanzaki Pumpkin and Korean Pear Lo Sang
The fried rice was different than we had eaten before: this contained preserved duck meat that had been wrapped in a lotus leaf. This added an interesting twist to an old favorite.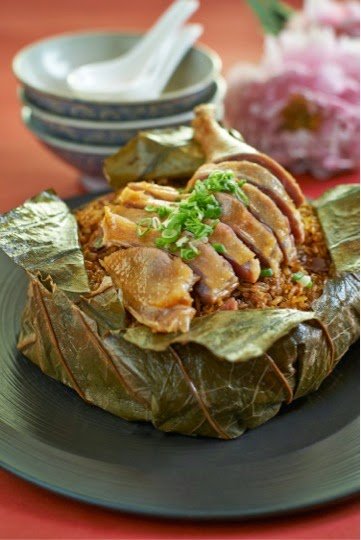 Fragrant Fried Rice Wrapped in Lotus Leaf with Preserved Duck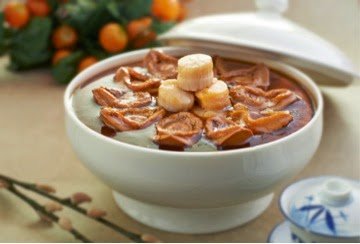 Braised Abalone Soup with Dried Scallop and Fatt Choy
The soup served was a rich superior broth with braised abalone and dried scallop. We both agreed that this was the richest broth that we had ever eaten. The chef was very proud of this soup and his efforts were apparent in this creation.
Our next course was a meat course: Applewood smoked chicken and claypot stewed sea cucumber with goose web. The applewood chicken reminded us of the smoked meats of our Southern US roots and was one our favorites. It had a full bodied smoky flavor and fell off the bone–just like home. The claypot was our "adventure" food. It was my first time watching Sarah eat goose feet (or any feet for that matter) and that alone was an experience; she pulled it off like a champ. I found it to be full of flavor, but like all feet meat, it's never quite meaty enough. The flavor was excellent and for lovers of traditional Chinese cuisine, not to be missed.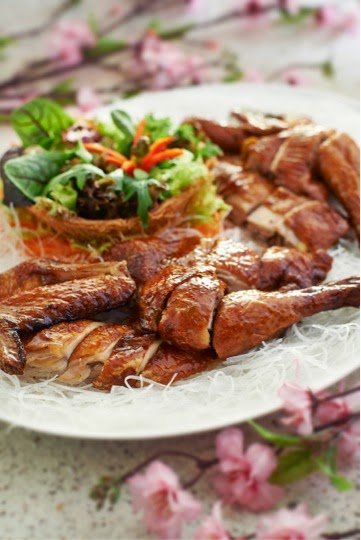 Applewood Smoked Chicken
The seafood portion of the meal contained two of my personal favorites: steamed grouper, this time with dried shrimp, pickled vegetable, and chili; and salted egg yolk prawns with lily flower. The steamed grouper was very fresh and seasoned well. Salted egg yolk prawns are a favorite with both Sarah and I and we found ourselves wanting more of those. The addition of the lily flower was a great twist and separates this from other prawn offerings around town.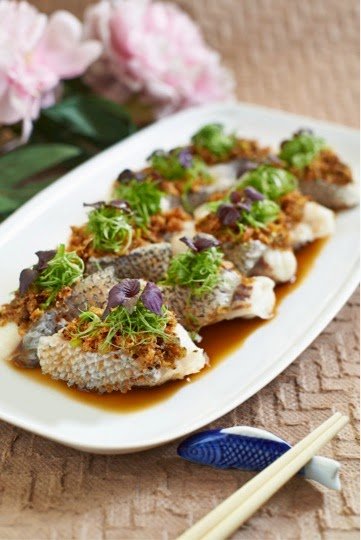 Steamed Tiger Grouper Chunks with Pickled Vegetable, Dried Shrimp and Chili
Dessert for this meal was a lemongrass jelly with dates and apricot. This was a light and refreshing experience to end a possibly very heavy meal.Chynna does an excellent job with Chinese New Year Feast. They present a varied selection, five different set meals for a variety of costs, and the food is expertly prepared. If you are searching for a traditional experience in beautiful environment, please consider this choice!


Reasons to visit: unique cultural experience, prosperity in the New Year, great Chinese food


Chynna
Level 5
Hilton Kuala Lumpur
3, Jalan Stesen Sentral
Kuala Lumpur Sentral, 50470 Kuala Lumpur,
Wilayah Persekutuan Kuala Lumpur
Malaysia