Words: Araceli Barrera Arismendi    Photos: Monica Tindall
*** Sadly, La Mexicana is now closed.
Guess who has added some more delicious and scrumptious items to their already colorful menu? La Mexicana! Chef Carmela, the wonder woman behind the scenes and the creator of tasty goodness, has done it again with more Mexicano (Mexican) bites to move her regular customers and to entice new foodies into her charming and delightful gem of a restaurant. Carmela never ceases to amaze The Yum List team. Her innovative way to continue to spice up the family business and to not settle for mediocre food continues to blow us away.
As I entered the grounds of La Mexicana, as always, I felt as if I had stepped into a piece of home. The huerto (garden) situated in front of the kitchen grows fresh herbs and cactus. The restaurant is adorned with wooden tables and chairs donning brightly hued flowers and in every nook and corner there are decorative Mexican ornaments. One just feels ready to dive into the menu to experience some good ol' abuela's (grandma's) authentic Mexican cooking. Without doubt, The Yum List team was ready to begin nibbling and oohing and aahing over the new dishes.
Starters
CAMARONCITO "LOCO" (RM48)
Ingredients:  Crispy fried baby prawns with guacamole, four tortillas and salsa verde
Experience:  Oh, man, these tacos are DELICIOUS! The crispiness of the baby prawns along with the soft warm corn tortillas make this dish absolutely perfect. Of course, you can't forget to spread the fresh guacamole and top the taquito (small taco) with the limey, green chili sauce to enhance all the flavors and textures that explode in your mouth.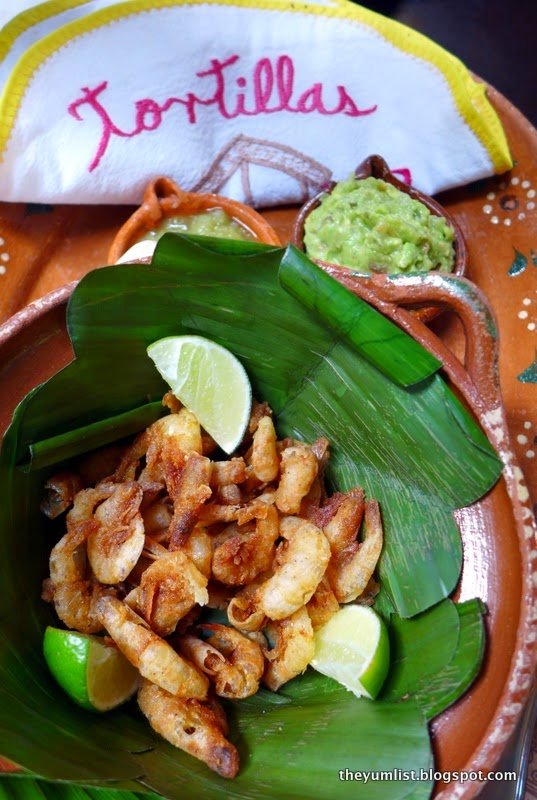 Camaroncito "Loco"
MUSHROOM TACOS (RM24)
Ingredients: Three corn tortillas stuffed with mushrooms smothered in a secret sauce
Experience: A vegetarian's delight. One of the many reasons we love La Mexicana is that there are options for both carnivores and herbivores. The mushrooms are hearty and the sauce is made to perfection; this veggie dish will delight your entire palate.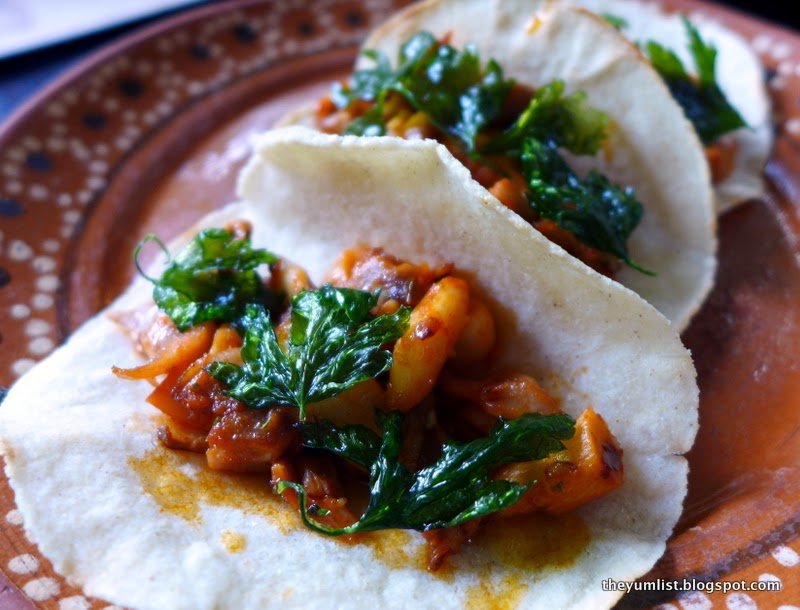 Mushroom Tacos
CALDO DE "COLITA DE RES" (RM24)
Ingredients: Rich ox tail soup, carrots, fresh tomatoes, potatoes and green beans
Experience: This particular recipe was used in the novel and movie, Como Agua para Chocolate (Like Water for Chocolate) written by Laura Esquivel. As in the story, this soup brings a warm and happy feeling to our hearts. A particularly light soup, the tomatoes and potatoes work together to create a delicious and fragrant broth.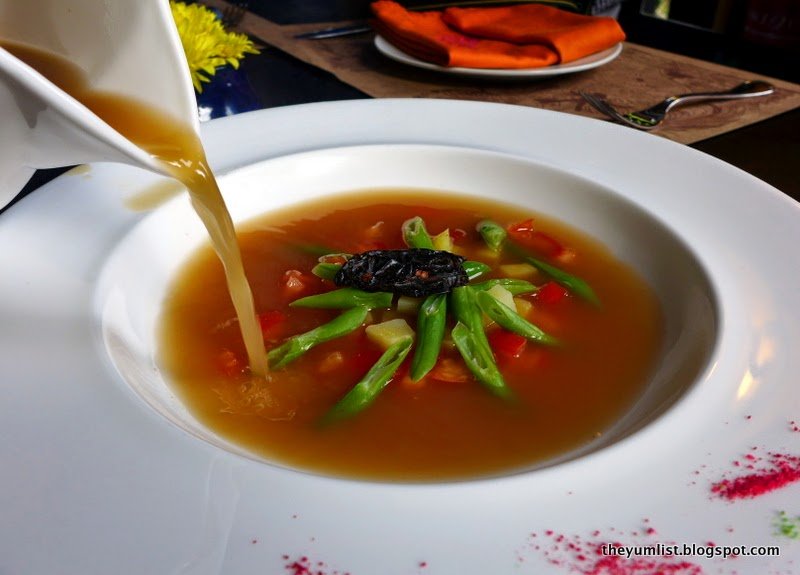 Caldo de "Colita de Res"
ENSALADA "CESAR" (RM48 serves 2 persons)
Ingredients: Fresh lettuce, anchovies, egg, Parmesan and amaranth croutons
Experience:  I learned that the famous "César" salad was first born in Tijuana, Mexico in 1926 by Italian chef Cardini! This César salad is absolutely gorgeous. I usually don't order this salad in restaurants, as the dressing is often too thick and overbearing, but Chef Carmela has added her flair allowing the natural freshness of the romaine lettuce to shine above her house made dressing.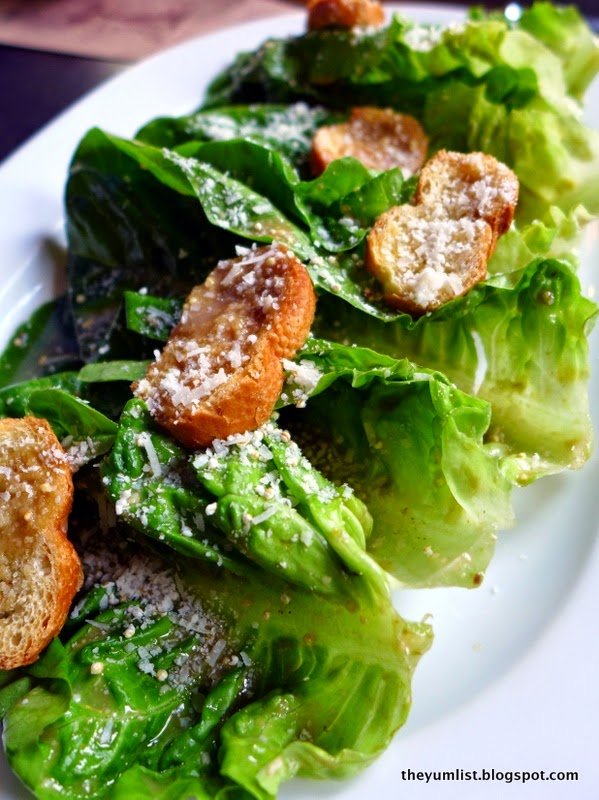 Ensalada César
Mains
PESCADO SARANDEADO (RM70)
Ingredients: Chargrilled filet of snapper, secret adobe marinade recipe from the Acapulco coast, guacamole, four corn tortillas and salsa verde
Wine Pairing: L.A. CETTO, Sauvignon Blanc 2012 from Valle de Guadalupe – La Mexicana now offers Mexican wine from the popular wine region of Guadalupe located in Baja California, Mexico. The fruity flavors pair well with many of the dishes on the menu, especially the Pescado Sarandeado.
Experience: When I heard that Chef Carmela was going to add Pescado Sarandeado (chargrilled fish) to the menu, I was taken back to the happy first time I had this style of fish in Puerto Vallarta, Mexico. The fish is marinated in various spices and grilled until crisp and golden. The white rice and corn along with the side of guacamole served with the fish make a filling plate.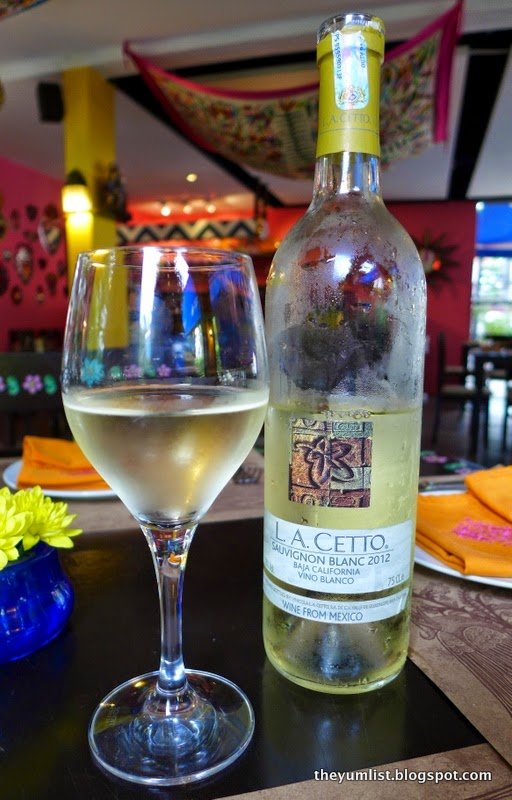 La Cetto Sauvignon Blanc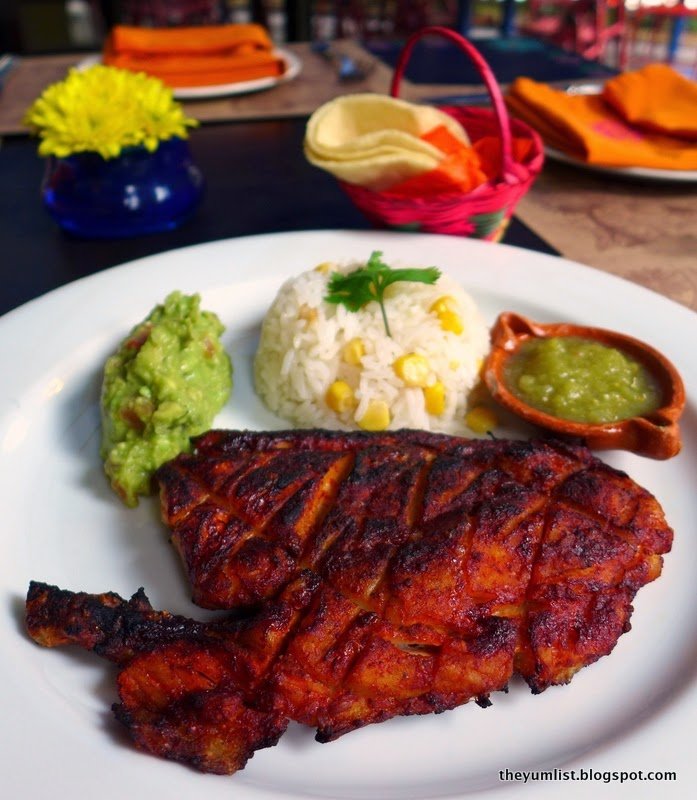 Pescado Sarandeado
"PATO GUERRERO" (RM80)
Ingredients:  Breast of Duck marinated in ginger, and pan seared in pink pepper and rock salt, bathed in salsa of tamarind, chili morita and a dash of Tequila, accompanied by a green salad with amaranth
Wine Pairing: L.A. CETTO, Petite Sirah 2011 from Valle de Guadalupe. This is considered one of the top 10 wines in the Valle de Guadalupe region. Spicy and oaky, this wine pairs well with the new main on the menu, Pato Guerrero (Duck Breast).
Experience: The marination of the duck breast is finger licking good. The ginger along with the salsa of tamarind and chili, make this meat so delicious and flavorful.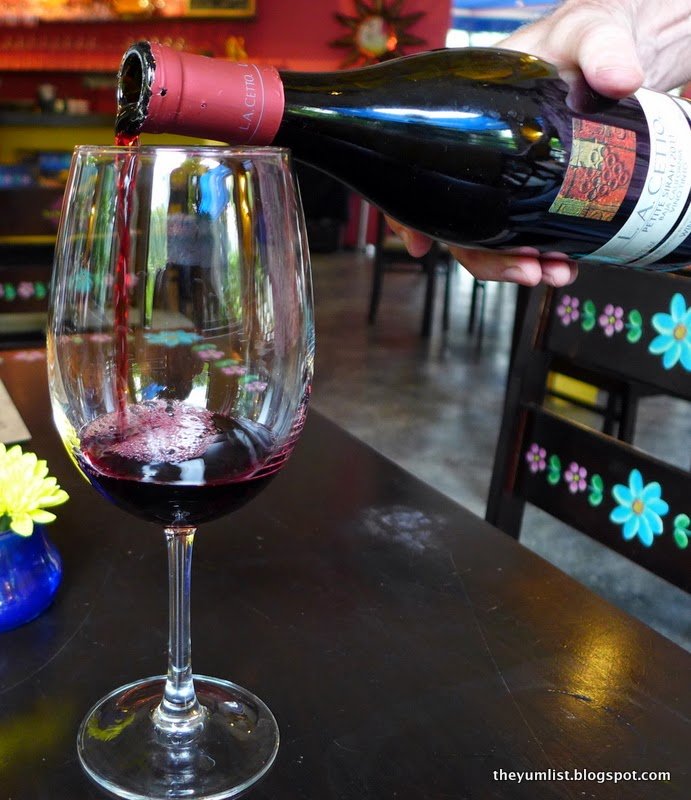 La Cetto Petite Sirah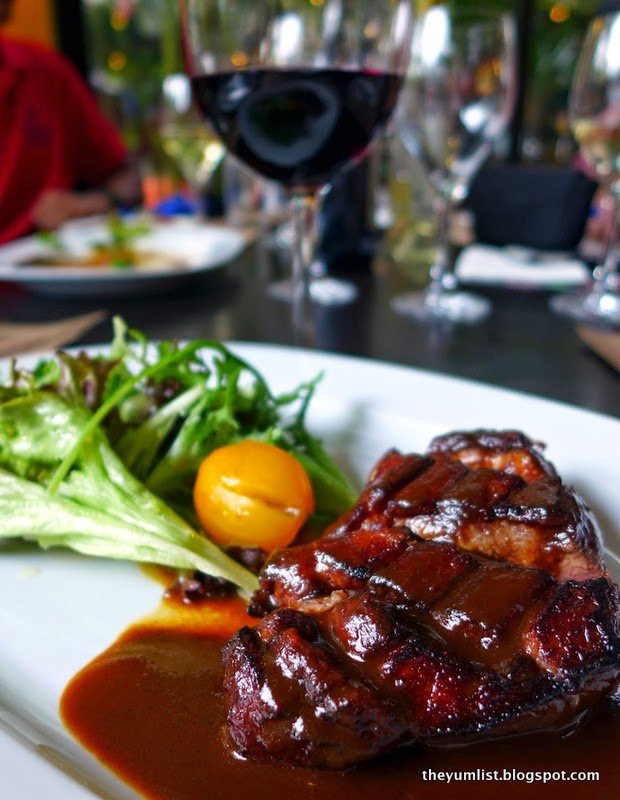 Pato Guerrero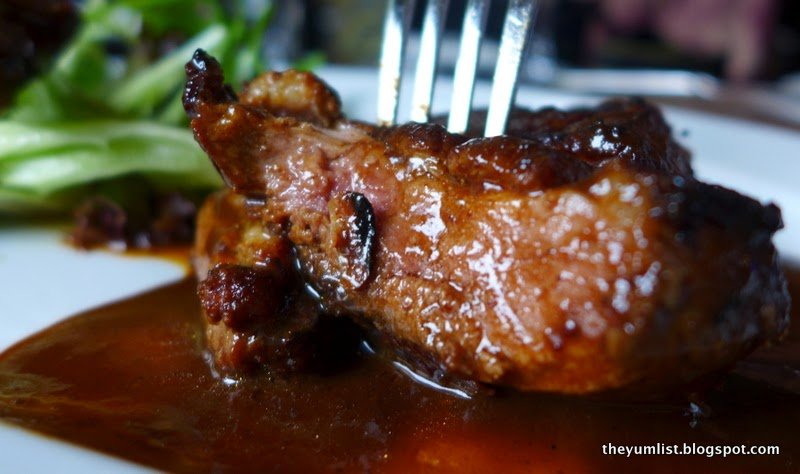 Duck Close Up
Desserts
"PASTEL IMPOSIBLE" (RM25)
Ingredients: Flan, chocolate cake and caramel sauce
Experience: WOW! Absolutely Divine! The flan (my fave) layered on top of the chocolate cake melts in your mouth. The caramel sauce dresses it up and the sweetness is magical. Warning: When sharing, cut in half and put on separate plates. This is the type of dessert that can be finished all too quickly because it is so yummy.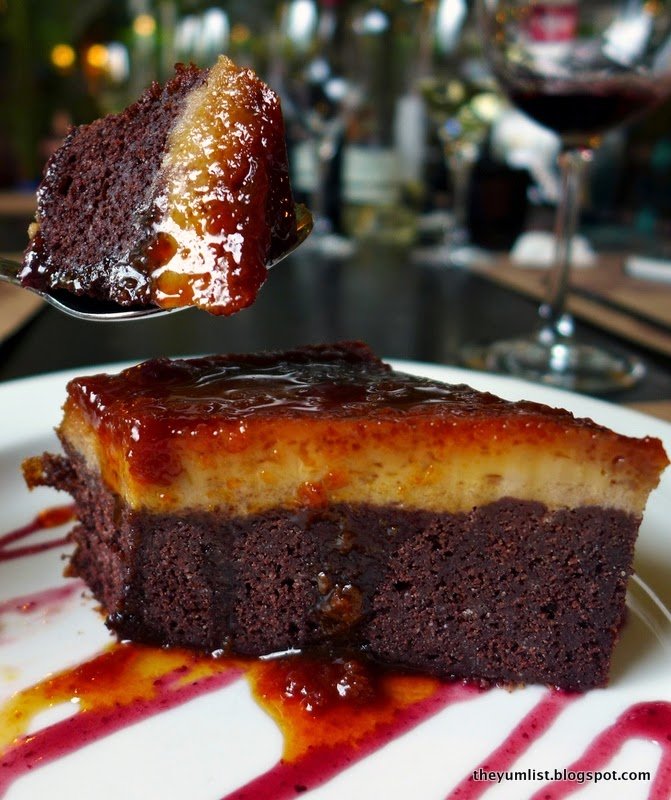 Pastel Impossible
"CHURROS" (RM15)
Ingredients: Deep-fried dough served with chocolate and cajeta (caramelized milk) sauce for dipping.
Experience: You don't go to a Mexican restaurant and not have churros. This golden brown fried dough dipped into the chocolate melts in your mouth. Just like potato chips, you can't just have one churro!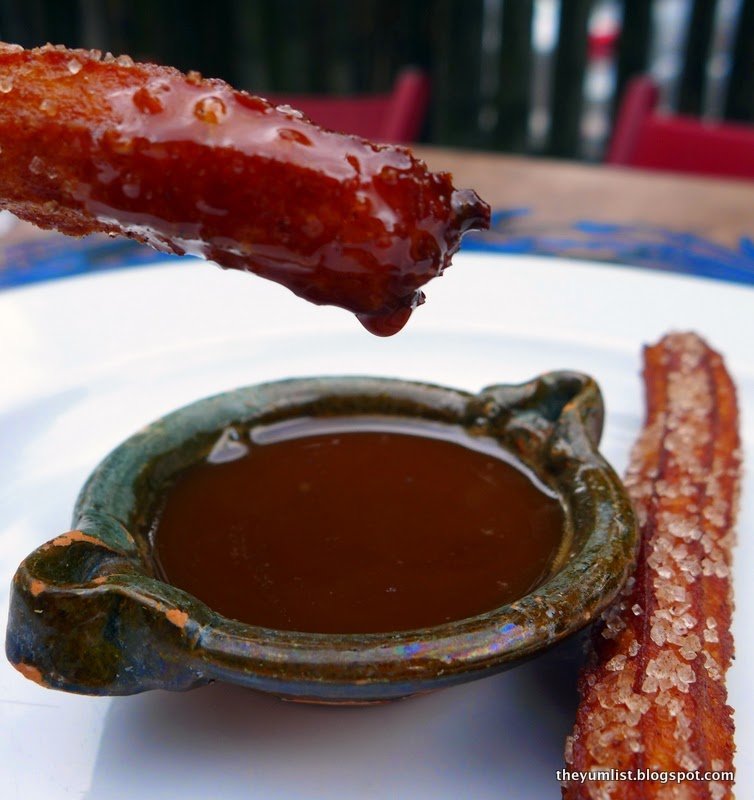 Churros with Caramel Sauce
Once again, The Yum List Team was blown away with the new items on the menu. We look forward to returning, as we know Chef Carmela does not settle for anything less than the BEST!
Reasons to visit: authentic Mexican food – don't miss the Camaroncito "Loco" and Mushroom Tacos, colorful ambience, vegetarian options, best Margaritas in the city.
La Mexicana
Terrace at Hock Choon
Jalan Nibong (off Jalan Ampang)
Ampang, 50450 Kuala Lumpur
Malaysia
+6 03 425 35251