Words: Margaret Elizabeth   Photos: Monica Tindall
Many of you will already know and love Acme Bar and Coffee (ABC) so you will be as excited as I was to see what new creative twists appear in their Good Seed, spring menu. Stepping into ABC you feel quality in the simplicity of the line and form of the décor and expectation that you are in for a treat.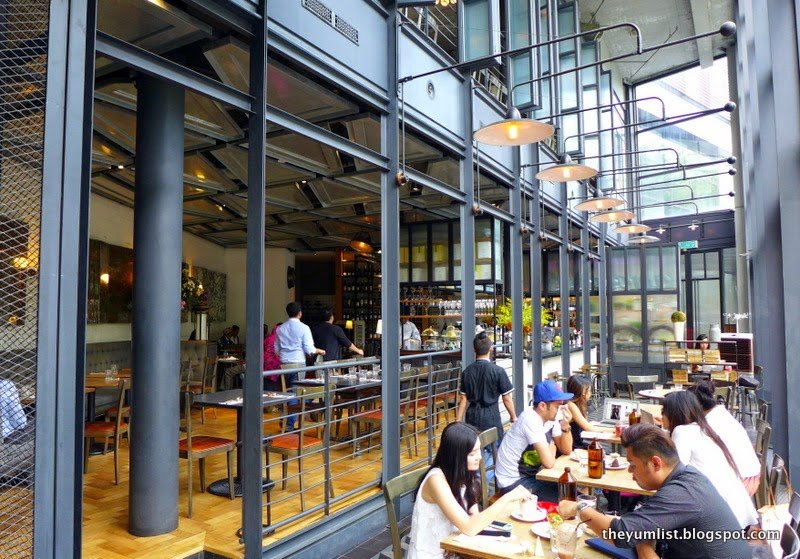 Acme Bar and Coffee (ABC), Troika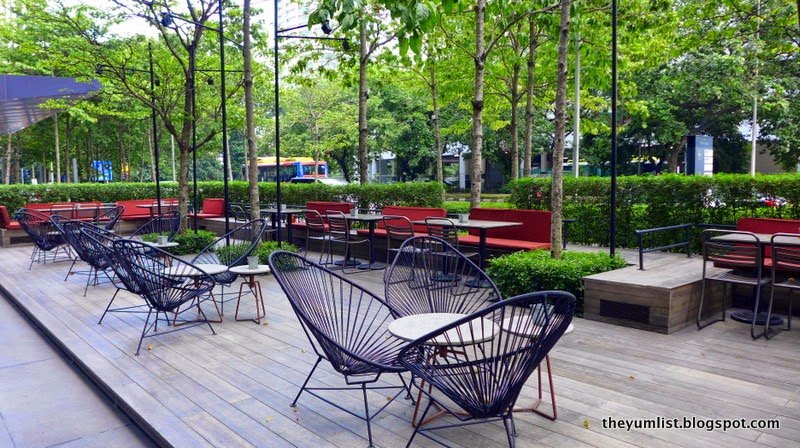 Outdoor Patio
Crostino Troika is a trio of light, crisp and slightly caramel flavoured crostini with three styles of topping: fluffy feta with a creamy texture paired with mushroom; salmon gravlax on a bed of organic (yes you can taste the difference) scrambled eggs; and spicy duck chorizo that frankly was divine.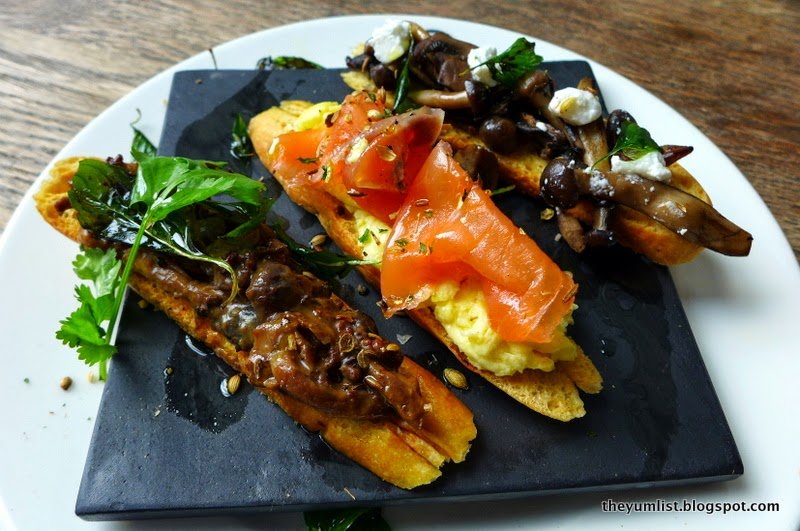 Crostino Troika
Next course, Corn Chowder, with a chunky and fresh corn niblet texture that you just know is good for you, is delicious too! The tempura on the soft-shelled crab pooled in the chowder was understated and completely yummy. The dish is dusted with sumac and garnished with coriander creating an appealing visual of natural tones that call you to, "Eat more. Eat more." I was happy to oblige: who wouldn't?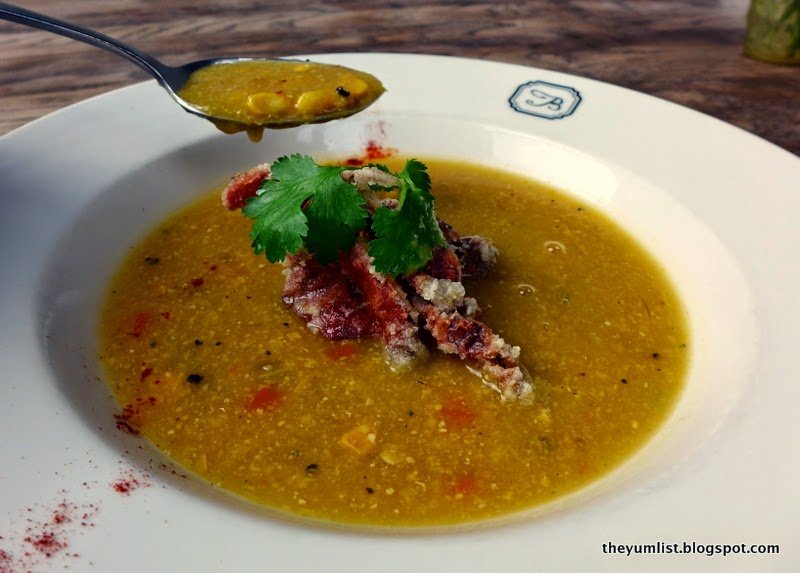 Corn Chowder
I was pleased to see that curled fennel was on the menu in Avocado Grapefruit and Fennel Salad. This salad includes the inventive combination of the ingredients in the title and delicate, peppery rocket imported from France, spiced Rice Krispies with coffee coriander, and chilli vinaigrette. Every component was top notch and the amalgamation of the textures and tastes created a dish that was a textural sensation. The avocado and grapefruit stand out as prime examples of how great clean unprocessed ingredients can be. The vinaigrette highlighted the features of each component while lifting the dish to the, "I must have that, level."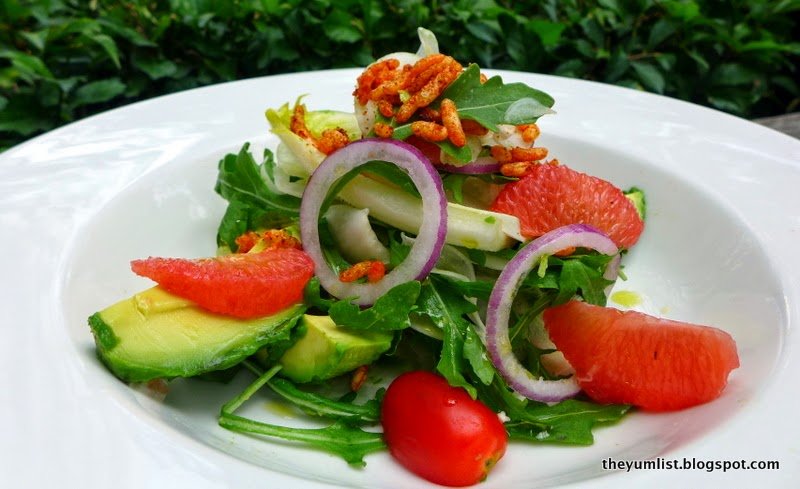 Avocado Grapefruit and Fennel Salad
The concept behind the 2015 spring menu is the Good Seed: wholesome, hearty, new born and vibrant. This is something that Acme Bar and Coffee do par excellence. Their passionate and worldwide mission to source only the best produce clearly stands behind this concept and is seen in the assiduous detail that is planned and balanced in each dish.
A new flavour for this spring at Acme Bar and Coffee is freekah: an ancient grain of roasted, young green wheat. This was a new grain for me and I loved the novelty and the flavor: slightly chewy and a unique clarity of flavour that evokes a concentrated taste of fermented goodness. Freekah appears in a number of dishes on the spring menu, we tried it in a main course, Seafood Freekah Paella.
Quite frankly, freekah is fabulous! This dish is one of those moments where Acme Bar and Coffee show their great skill in delivering just that little twist of playfulness where east meets west.  Freekah as paella provides a perfect base to hold crawfish, squid, black mussel, herbs and coriander aioli.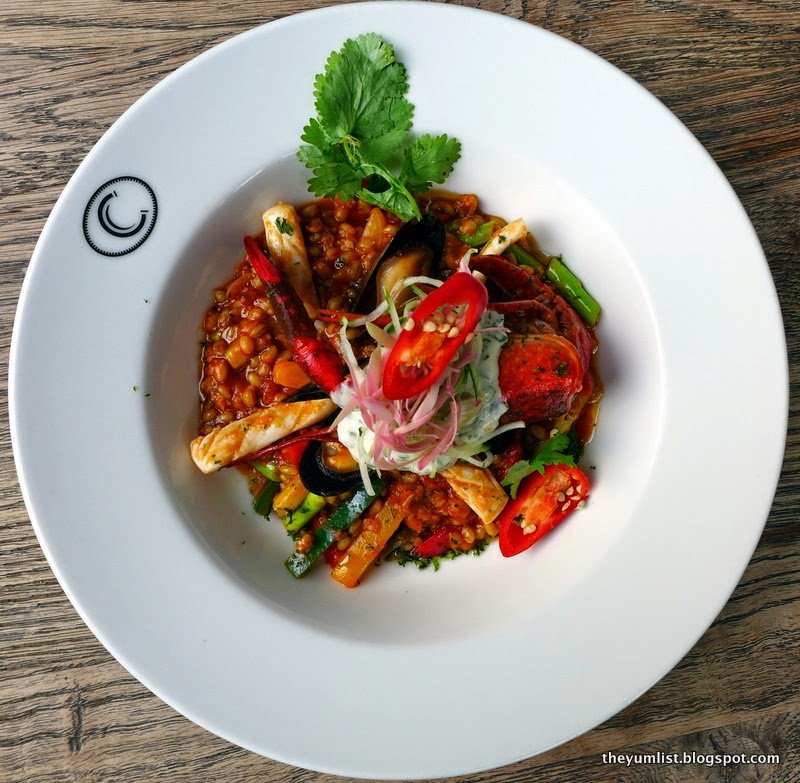 Seafood Freekah Paella
Finding great tastes from around the world and melding them in original ways is a feature of food design at Acme Bar and Coffee. Chimichurri, a green sauce traditionally served with roast meat from South America, appears in two main dishes on the spring menu. Sizzling Spring Chicken Hot Plate with roasted aromatic vegetables is served with chimichurri and sage jus on the side so that none of the sauce evaporates in the sizzling cocotte before it reaches your table. The organic chicken nestles in an artful display of roasted vegetables making this a hearty meal with the feel of country goodness and home.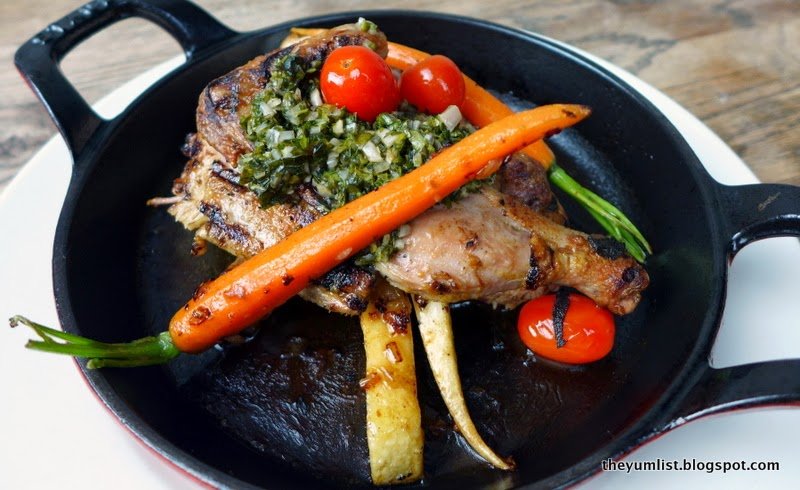 Sizzling Spring Chicken Hot Plate
Chimichurri dip is also served with Charred Angus Flank Steak and celeriac chips. This plateful of deliciousness resembles a bouquet of country colours. Deep red flank steak is sumptuously sauced with chimichurri, stuffed red tomatoes, apple jam and a rosette of celeriac chips. The balance of flavor, texture and design makes this my favourite main course. Every aspect of the dish subtly complements the other and the sweet and sour counterpoint of the celeriac is very pleasing.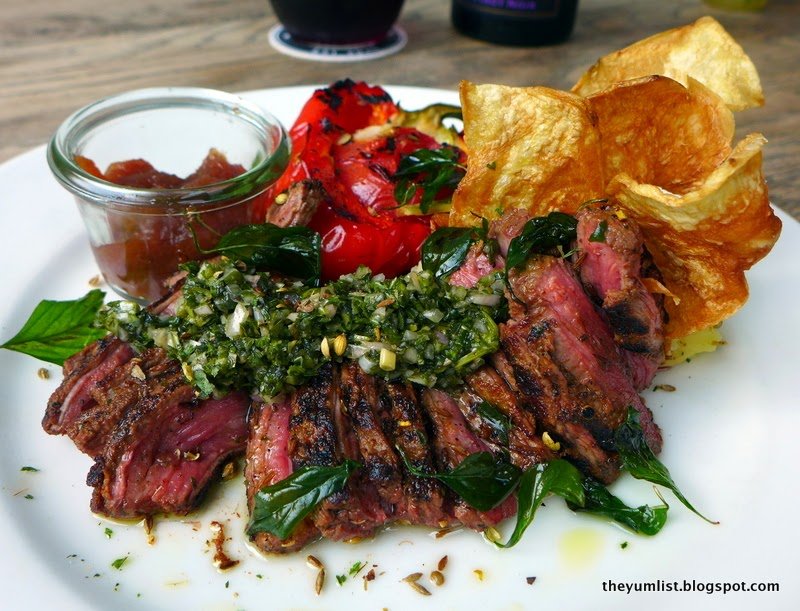 Charred Angus Flank Steak
Throughout the menu the portion sizes are well thought out so there's just enough room for dessert. Mango Pistachio Roulade and Apple Cinnamon pie are definite winners in the dessert stakes. The roulade is a tower of light mango and cheesecake topped off with a layer of mango fruit, garnished with mint. The joyous intensity of mango was harmoniously offset with the pistachio and cheesecake notes.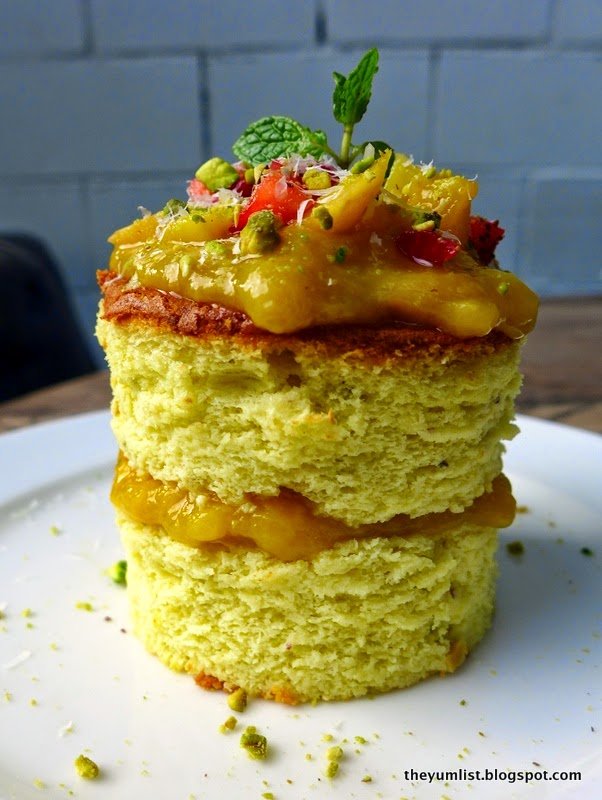 Mango Pistachio Roulade
It was love at first sight when the Apple Cinnamon Pie appeared. It is a satisfying wedge of marbled rich brown and appley white filling with a biscuity, cinnamon crust. This dessert is proudly homely and quite right too. I ate mine with my vanilla ice cream sprinkled with cinnamon. There is a Milo ice cream alternative that I will be bringing my son back to try – he loves apple pie, ice cream and Milo, I wonder if the chef had him in mind when he created this dessert? Once again the Acme Bar and Coffee balancing of flavor and texture is a winner.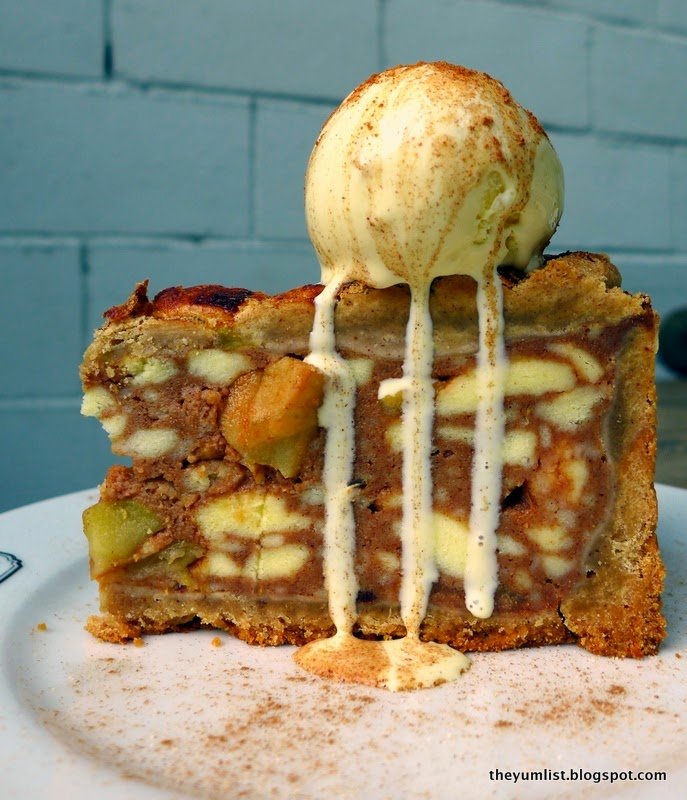 Apple Cinnamon Pie
Acme Bar and Coffee pours as much tender loving care into its drinks menu as it does for the food menu. We imbibed red and white seasonal wines from Le Val France. The wine maker describes Le Val wines as "the best from our garden" making it the perfect accompaniment for the Good Seed menu. The pinot noir had a delicate flavor with notes of cherry that went well with my Charred Angus Flank Steak main course, and I enjoyed the freshness of the sauvignon blanc with my seafood and salad courses.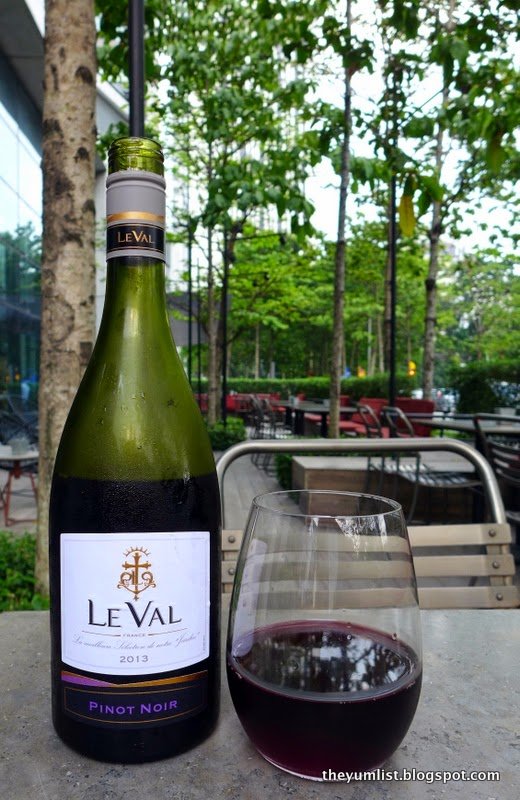 Le Val Pinot Noir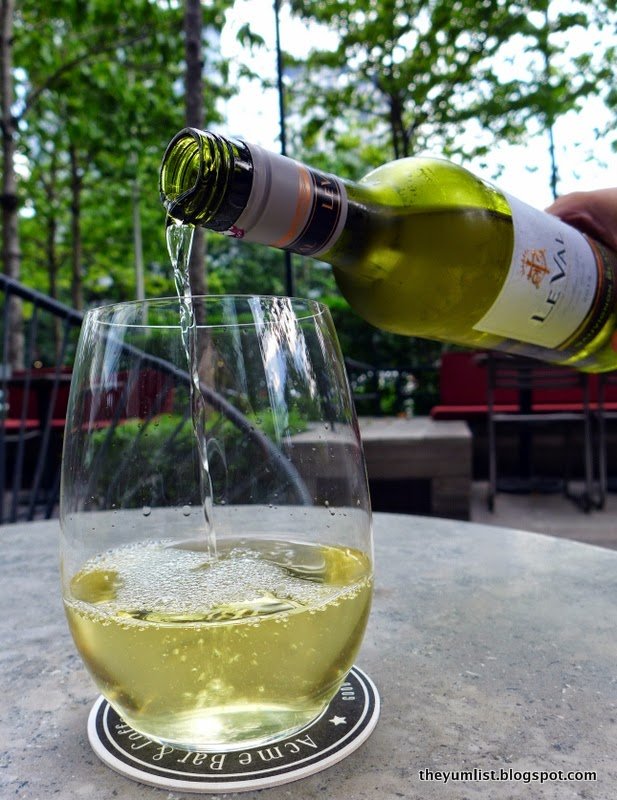 Le Val Sauvignon Blanc
Acme Bar and Coffee excel at everything they do and of course, coffee is no exception. They own two of the ten La Marzocco Strada machines in Malaysia renowned for extracting the very best from hand picked and roasted beans. ABC source their single origin, Lintong beans from the highlands of Sumatra with De Gayo label, "Where all is family – own, grow, farm, roast, package and distribute." De Gayo and ABC with their passion for purity and quality make for perfect drinking partners.  If you are a tea lover, Acme Bar and Coffee also provide a selection of superior teas from Tea Forte's Signature Teas.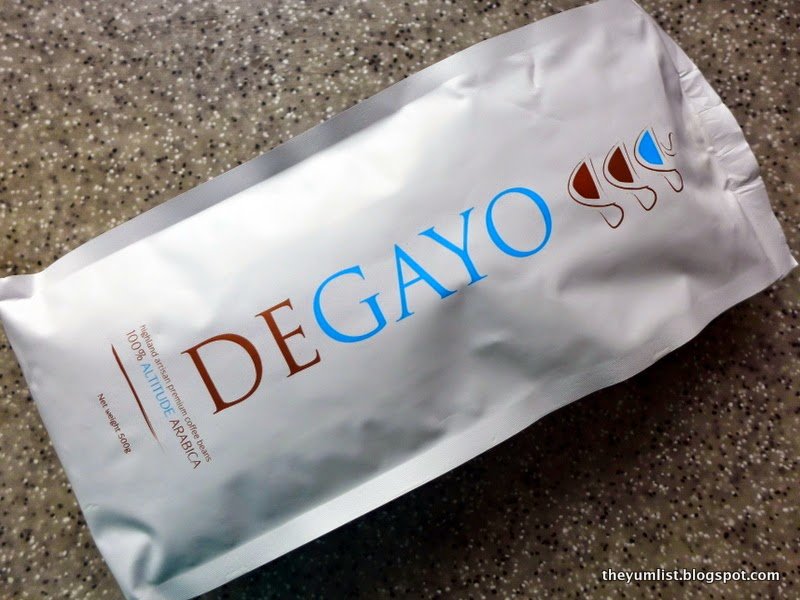 De Gayo Coffee
The night that I visited Acme Bar and Coffee, the bar served Reyka Vodka from Iceland. I am certain that this vodka rates on quite a few; "Best Vodka Ever" lists. There was a purity of flavor about it that may have something to do with the distilling process. The water comes from Arctic springs that filter through lava rock to be distilled in a hand crafted process by Reyka. The vodka was served with a splash of lightly fizzed tonic and a wedge of grapefruit that symbolised the unity of the food and drinks concepts at Acme Bar and Coffee. Everything fresh, everything pure, everything balanced and everything wholesome.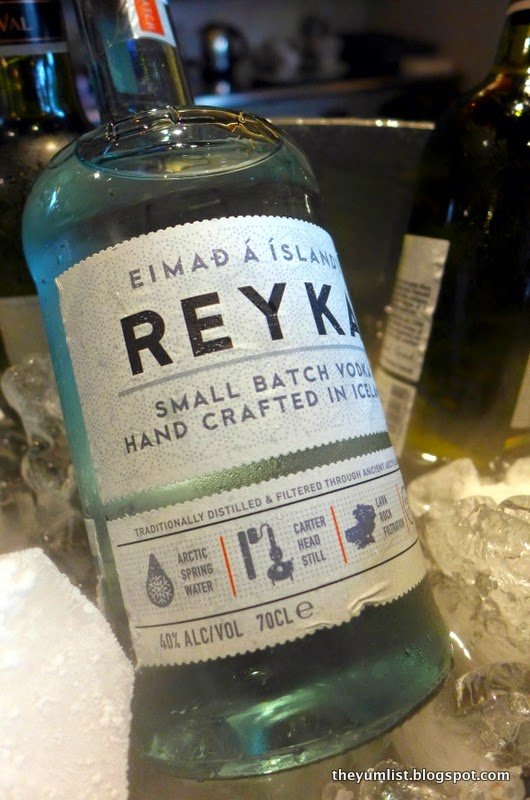 Reyka Vodka
This is a mantra that ABC live by and it shines through their uncompromising search for organic foods from sustainable, traceable and Fair Trade sources through to the Seed Boxes on sale this month. The Seed Boxes are a garden to table education initiative from Eats Shoots and Roots that encourages people to reconnect with where their food comes from. My box contained six seed varieties for me to grow at home and the proceeds from each Seed Box (RM45) sold will be donated to the Malaysian Nature Society.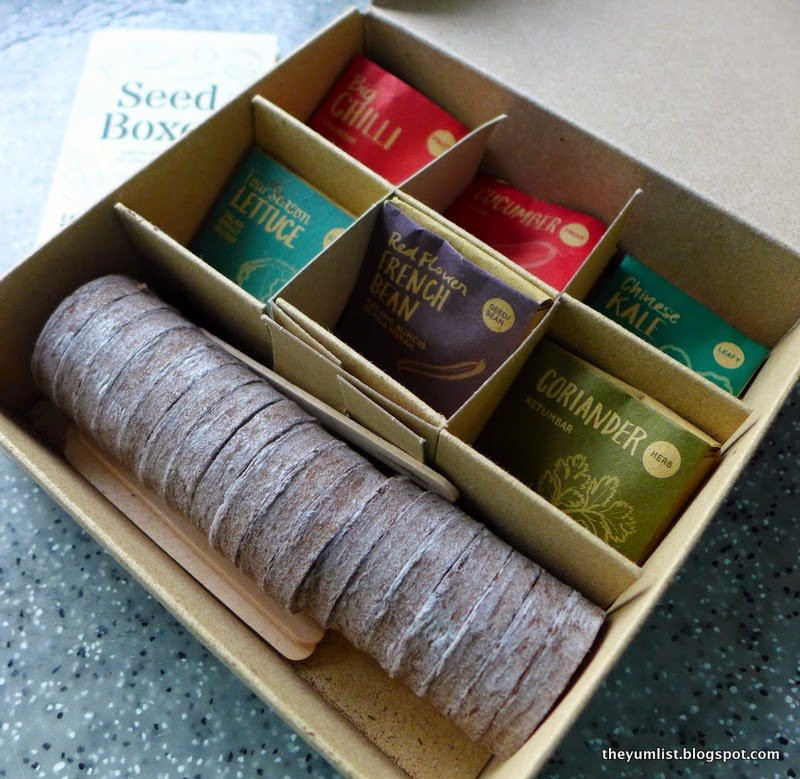 Seed Box
Overall I had a wonderful dining experience at Acme Bar and Coffee. I ate delicious food that was actually good for me and had conversations with interesting, like-minded people. I felt welcome and had my adventurous food palate challenged and entertained. Acme Bar and Coffee is a holistic, bistro dining experience, no wonder it is so popular. Acme Bar and Coffee does the right thing and it does it very well.
Reasons to visit: Freekah – I have already told you that it is fabulous- try freekah in Salmon Gravlax and Freekah Salad or Seafood Freekah Paella. The crispy, crunchy freshness of Avocado and Grapefruit Fennel Salad and my favourite dish the Charred Steak Angus Flank Steak. Drinks wise I would visit ACME Bar and Coffee just for the hand crafted Reyka vodka and fun atmosphere.
Acme Bar and Coffee (ABC)
Unit 1 The Troika
19 Persiaran KLCC
50450 Kuala Lumpur
Malaysia
+6 03 2162 2288